Planning your wedding can feel overwhelming. All of the little details can start to build up until you fear you cannot take on the whole event by yourself.
In times like these, we suggest reaching out to your partner, friend, family, or even a professional event organizer for help.
Today, we will be your friend, and we will guide you through this seemingly complicated special day.
We have broken down the main aspects below, so you can scroll to the area you need the most help with. We have also organized the subheadings into dated priorities. 
The first point on our list will help you with proposals, as that's the first step to getting married. Use us like a checklist and slowly make your way through your preparations.
Your wedding day will be magical, simply take a deep breath and follow our lead.
Before we get started, we want to say a quick hello to all of the readers from JeanettesBride.com.
We have recently acquired the website, and hope that all of you lovely readers stay to enjoy our content.
Proposals
The best way to propose to someone is to pick out their main interests and find a way to make them romantic.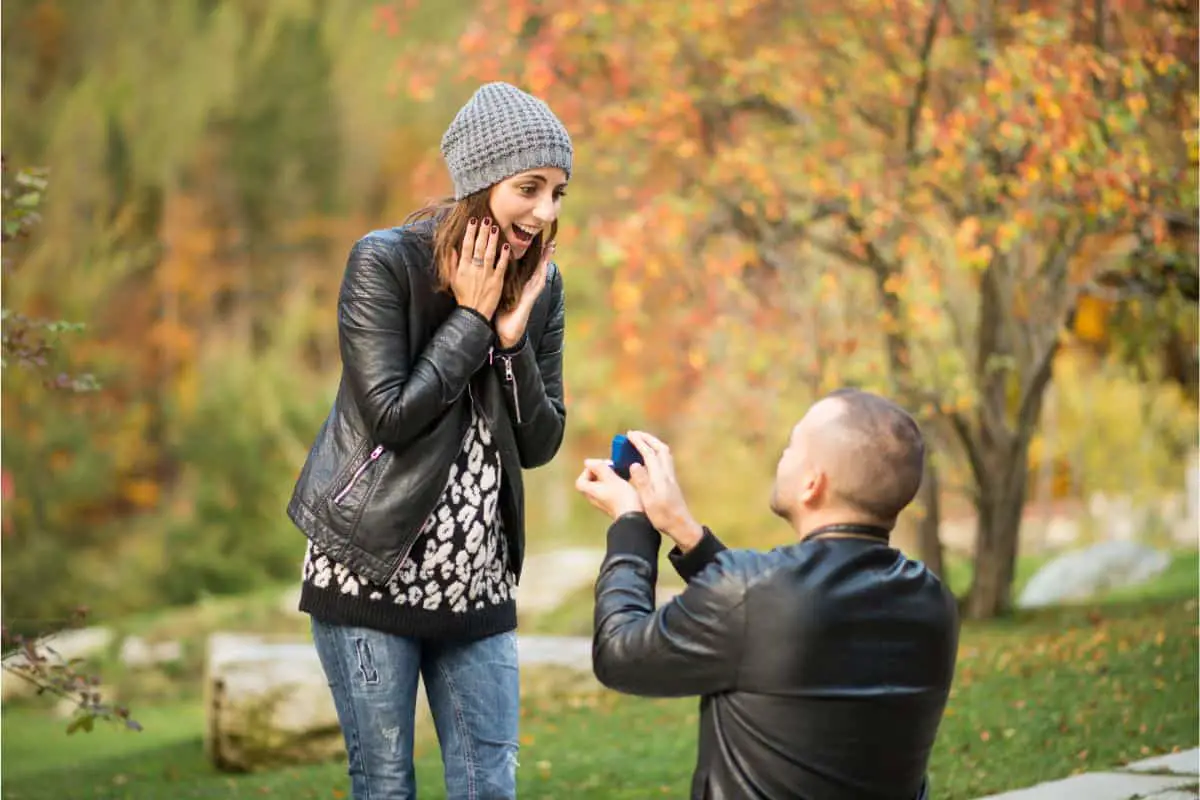 If they enjoy hiking, perhaps take them to a beautiful landscape, and when you reach the peak choose that moment to get on one knee. 
This is a simple idea to help you gauge where your proposal should be and how you can make it feel personal to the two of you.
However, if you want something grander, and all-encompassing then perhaps you should take on these ideas below.
Location
Sometimes the best source of inspiration is your partner's favorite TV show or movie. Take Beauty and the Beast as an example.
In this movie there is a grand dinner scene to the music "Be Our Guest", there is an insightful library scene as Belle realizes that Adam isn't simply a "beast", and there is a well-maintained garden where the two slowly get to know each other.
Knowing that your partner loved this movie, you may want to find a cool location that reminds them of this film while also connected to the two of you.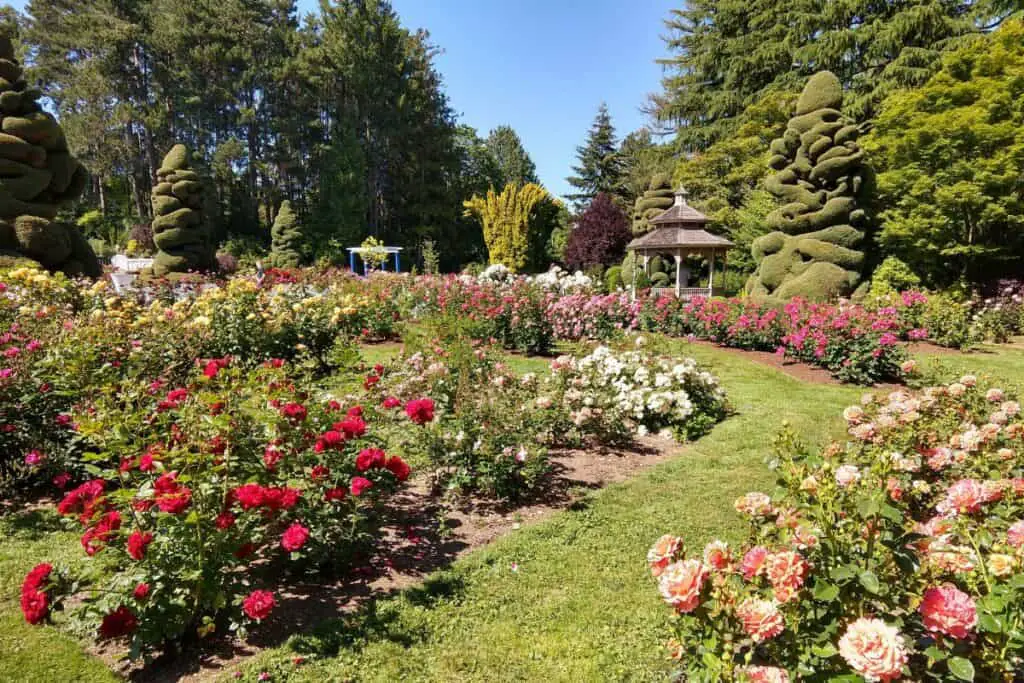 If you like walking, you may want to propose in a rose garden.
If you enjoy food and cooking, then perhaps a romantic restaurant or a home-cooked meal with "Be Our Guest" playing in the background.
Or maybe you take your partner to a large historical library and while they are taking in the majestic backdrop.
When they turn around, they'll notice you on one knee, completing the magical moment..
Creating A Moment
Keeping to our Beauty and the Beast theme as an example, you want to create a moment to truly enhance the proposal.
This could mean laying petals on the ground, using a ring that uses their favorite quote, or adding to the moment with make-believe.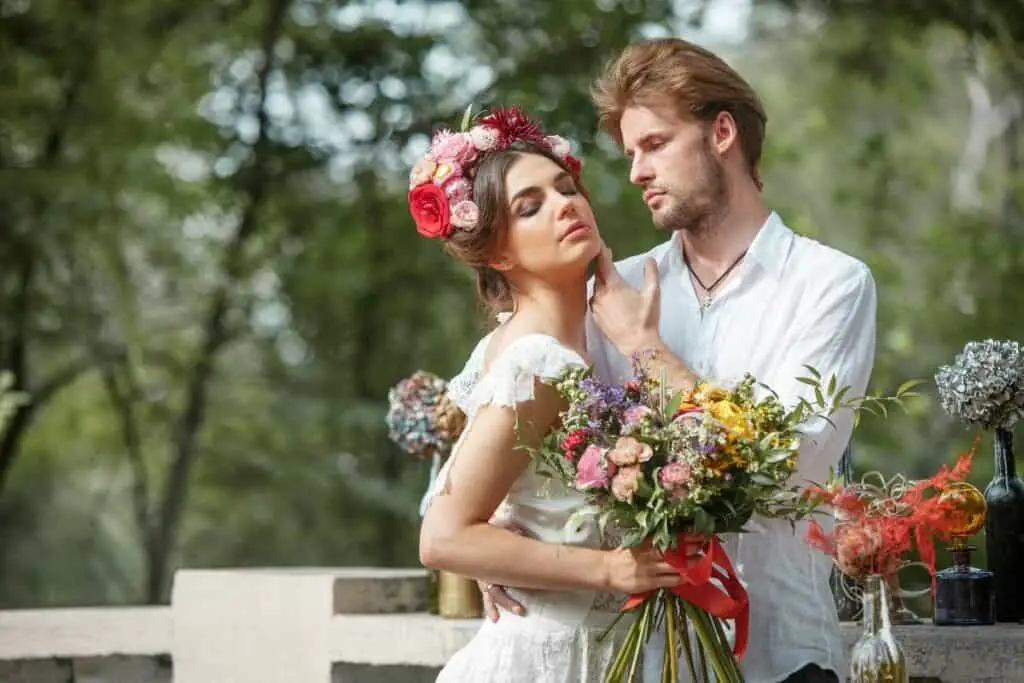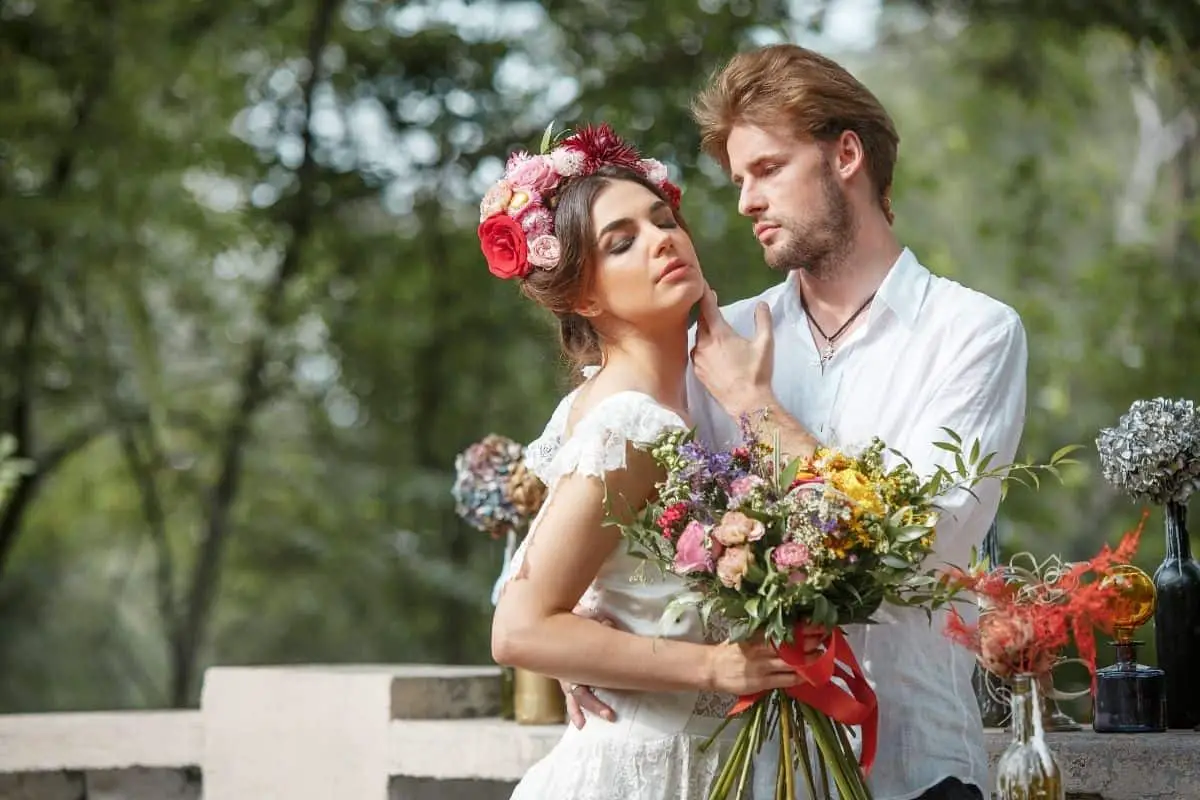 When we say "make believe" we don't mean dressing up as the characters, although that may sound great to some couples.
Instead, we mean re-creating the magical moments of the show, movie, book, etc.
In Beauty and the Beast, there is a cinematic dancing scene. You could take dancing lessons, to give your partner the ability to live in that moment.
It will feel intimate, and personal, and give them that glowing feeling like the first time they watched the film.
Taking a step away from Beauty and the Beast, you can instead follow something similar to Cinderella.
A Cinderella-themed proposal might consist of a horse and carriage ride around a beautiful European location, where your future fiance is then taken to a beautiful building and has to walk down a grand staircase to you on one knee at the bottom.
We might be using a lot of Disney concepts in these examples, but they are easy to turn into romantic moments.
You can even use them without an overly Disney connection by simply picking one of the multiple ideas.
Taking Photos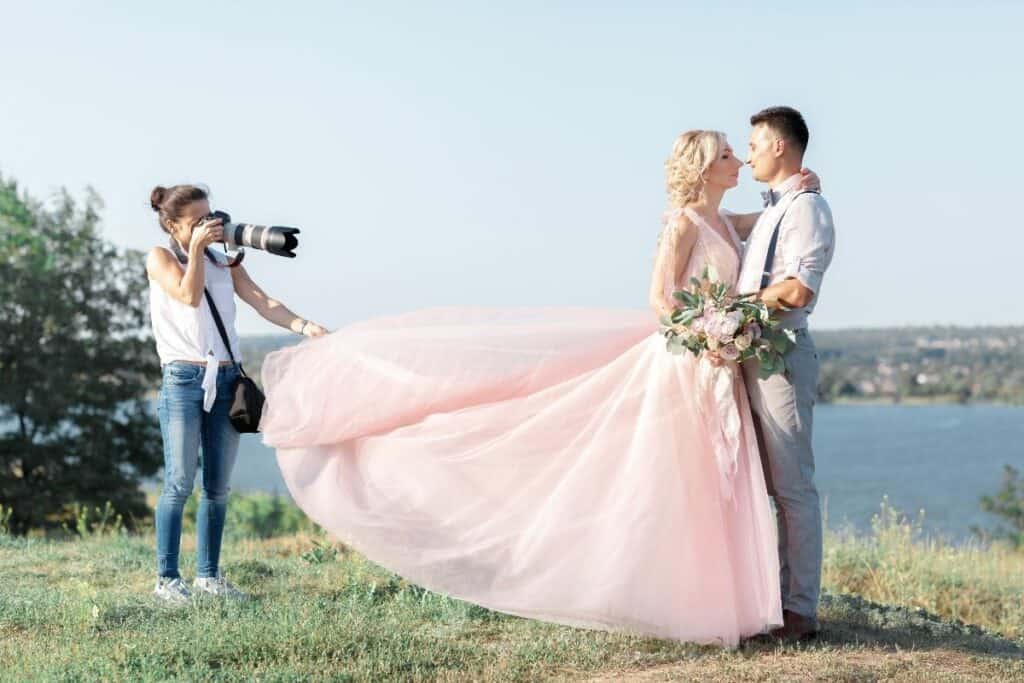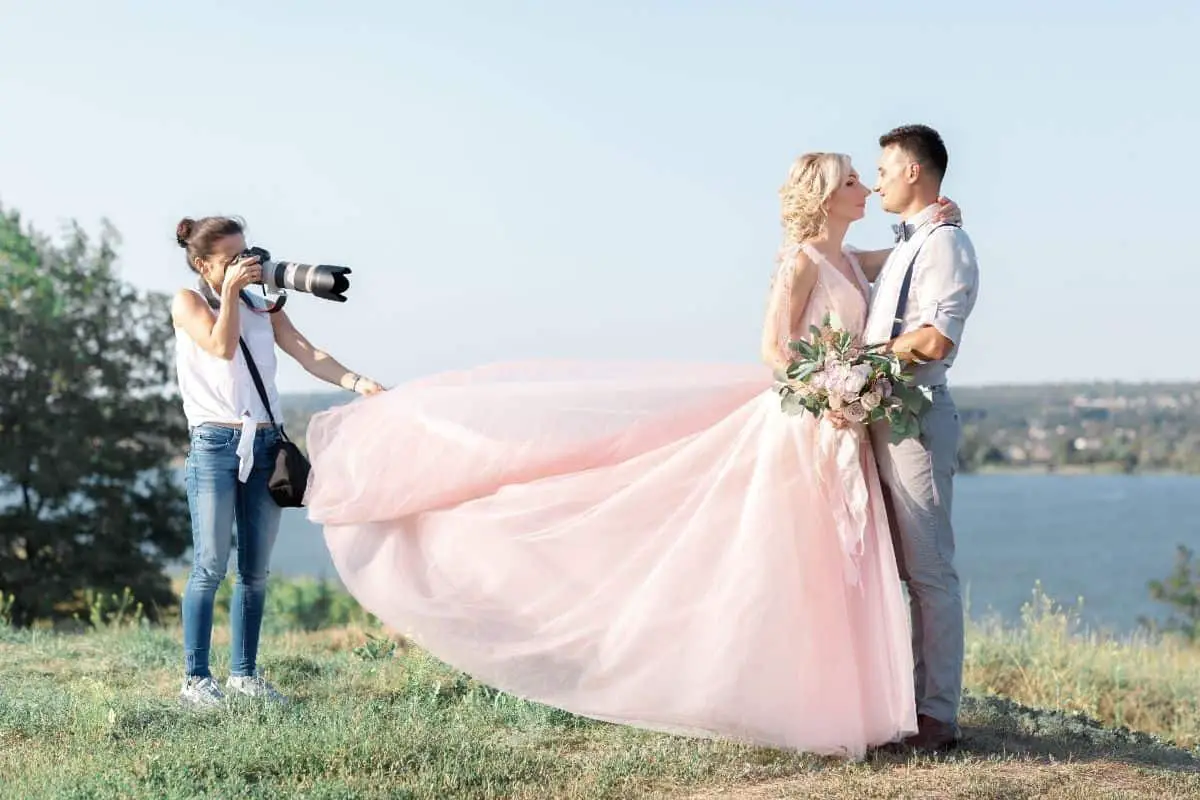 Taking photos of your proposal is often the hardest part of capturing the moment. The easiest way to do this is to hire someone or ask a friend to take a photo as you propose.
However, you need to make sure that the location you pick is beautiful otherwise the photos won't be as magical as they should be.
If you were in Disneyland, you could use these romantic spots as possible locations for your photos.
Picking Your Bridesmaids
Once you're engaged you will need a team of people to help you get ready for the big day.
These people will help you organize your guests, communicate with your partner, set up the music and so much more.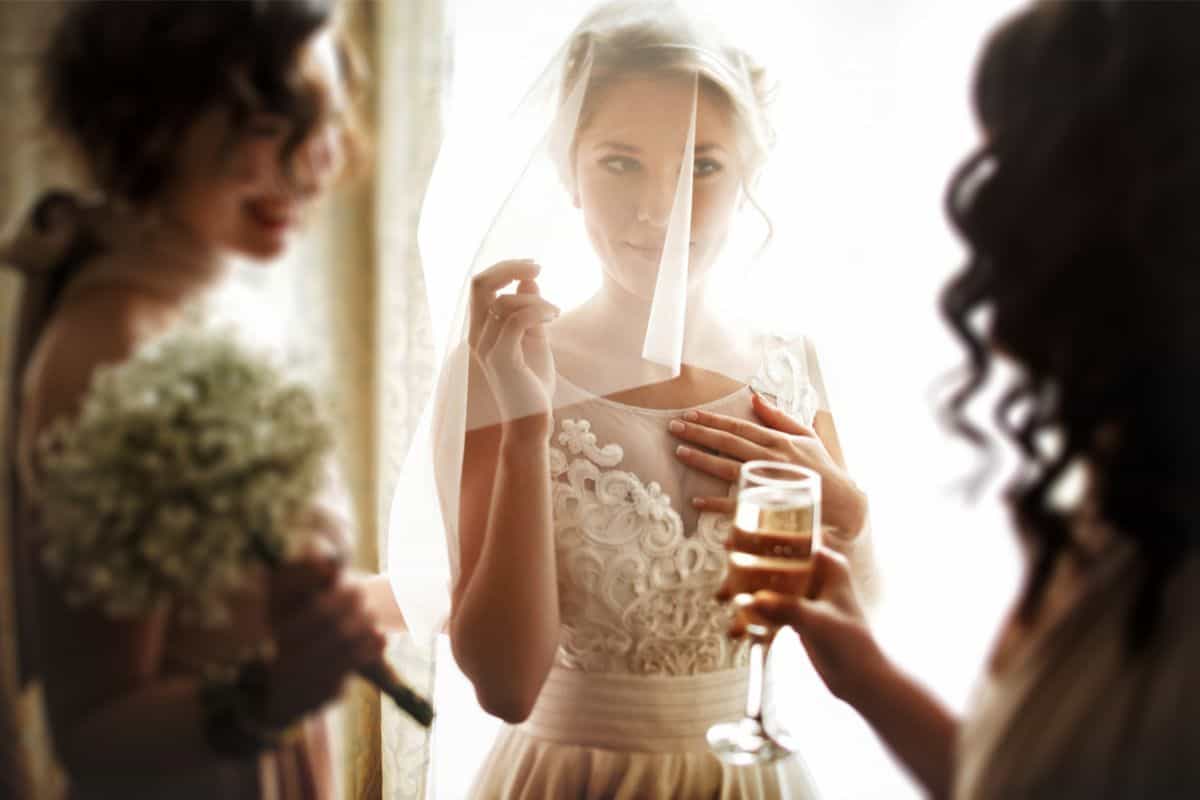 They should be those who you trust the most. You know they will understand your vision and keep you calm during the most important day of your life. 
You may end up hurting someone's feelings by not choosing them, so before you send out bridesmaid invite cards you should consider all of the possibilities.
It might be easier to give someone the title, so they don't become a nuisance later, or you may not want this problem person to have too much control over your day.
Think about it before settling on your group.
A Fun And Unique Idea
One fun way to ask your friend or family member to become a bridesmaid is to offer them a bridesmaid proposal box.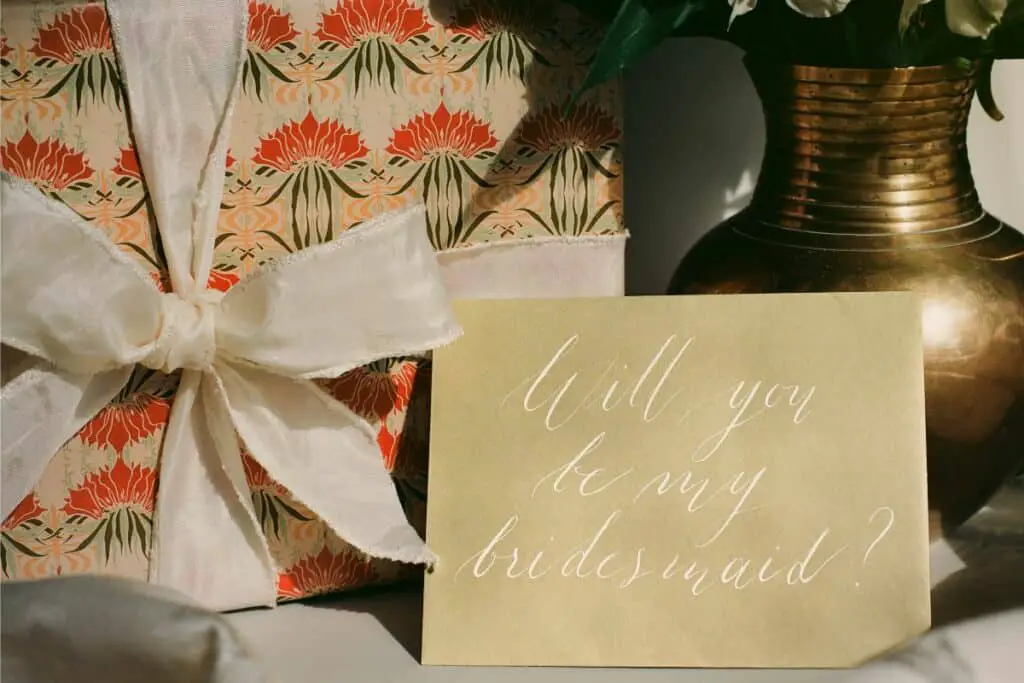 A proposal box contains all of the fun moments in your life with this prospective bridesmaid, including old ticket stubs, pictures of adventures you went on, printouts of screenshots from captions on social media, and so on.
You can also buy your friend something meaningful about your friendship, as well as a personalized gift for being a bridesmaid (such as a robe).
If the idea of giving one to every bridesmaid is too expensive, you can always prioritize this idea with the maid of honor.
Click on our link above to see some ideas to put in the bridesmaid proposal box.
The Showers And Parties
After you get engaged, you'll want to tell your friends and family so they can celebrate with you.
You can do this with a simple message, sure, but you want to make this moment special.
From now until the final day on your honeymoon, everything is about you and your love for your partner.
Engagement Parties
This is why you need an engagement party. We have a complete list of how to plan the party, including themes, activities, and decorations in this link here.
However, we will briefly describe what you should be aiming for.
First, you need to decide if you want a formal party or a casual one.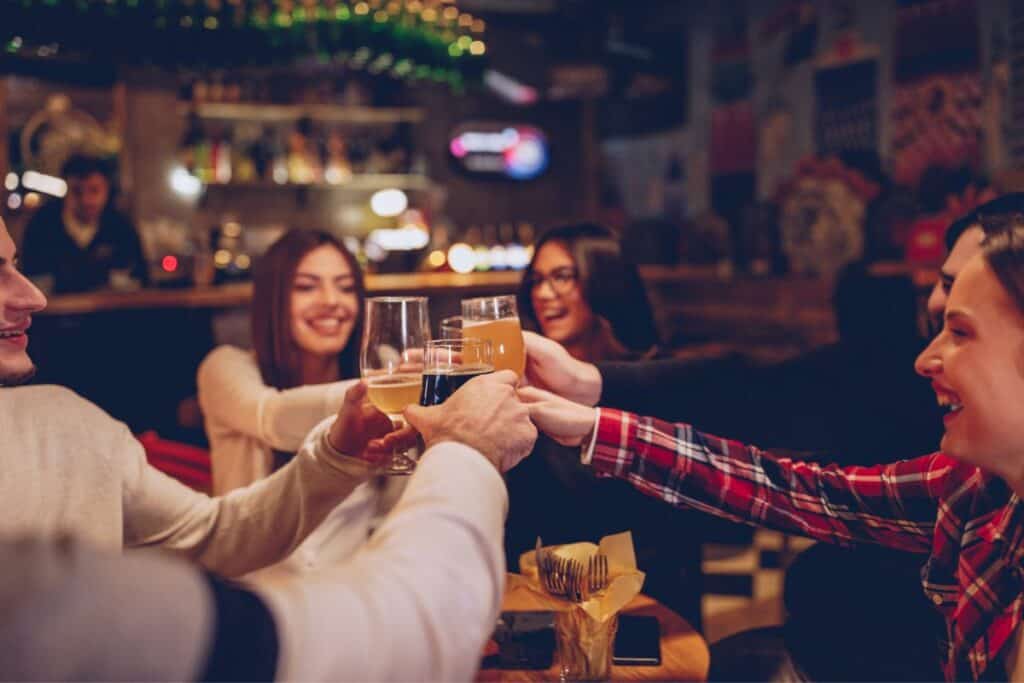 Knowing that you can aim for a location that matches your vision, most people opt for a dinner to surround the event, this could mean a restaurant, BBQ, home-cooked meal, cocktail party, etc.
When it comes to decoration, you want to use a theme that marries your two personalities together.
That could be travel, TV shows, games, beauty, or sport. Anything will work, but pick a style you both enjoy and run with it.
Once you have a style in place, you can work out your budget and start buying decorations that fit within that figure.
When it comes to games, you can have a quiz based on your life or create bets on what's going to happen at the wedding (first to get drunk, if anyone falls over, etc).
You should also ask your married friends what they experience on their wedding that they wish they avoided. Knowing what went wrong, can help you get it right.
Bridal Shower
You might be asking what a bridal shower is. In short, it's similar to a bachelorette party or hen do, but focuses more on gift-giving to the bride, over having a good time together with friends.
There are other small differences, which you can see in the link above, but the main idea of a bridal shower is to create a formal or sophisticated farewell to single life.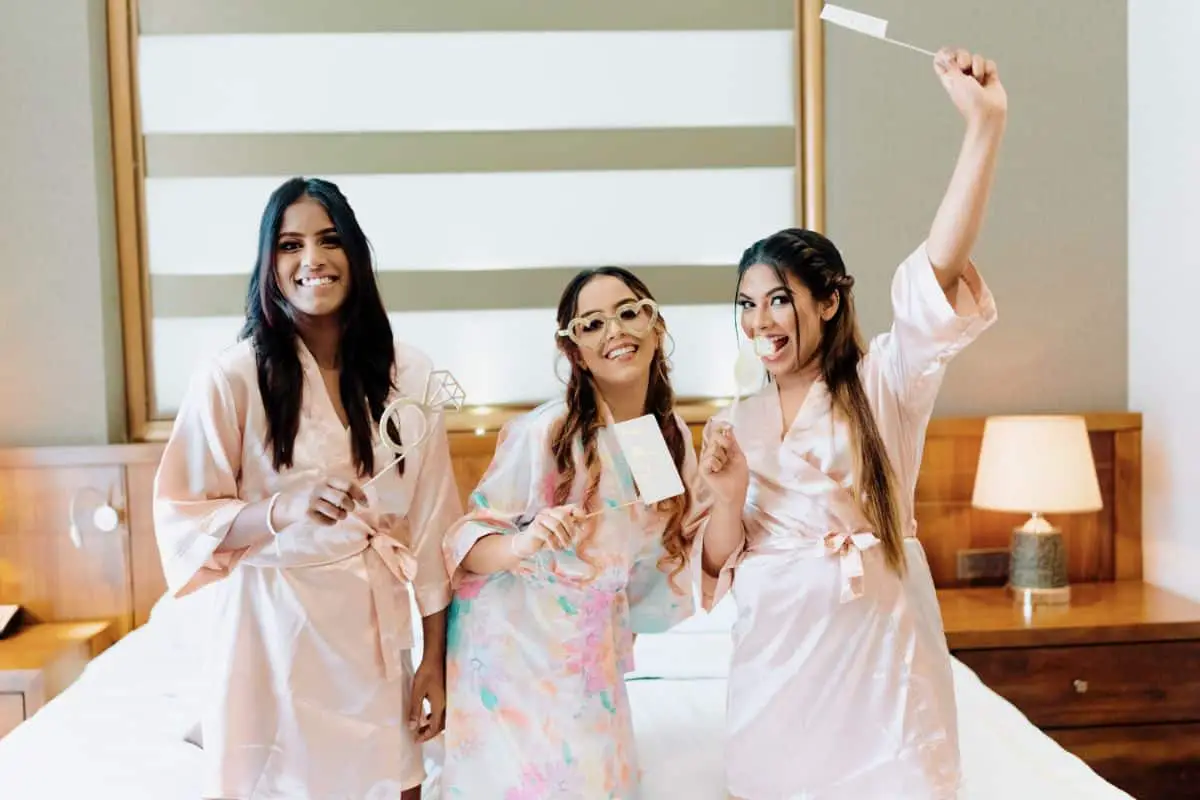 Who Creates Them
The shower is normally created by the bridal party, such as your maid of honor and the bridesmaids.
The cost is normally spread among everyone apart from the bride so that the financial burden isn't added to the rest of the couple's money concerns. 
What Do You Do At A Bridal Shower?
At these parties, the bridesmaids should be reminiscing about their life with the bride before this marital change in her life.
Showing embarrassing moments, and hilarious adventures and reminding the bride that she is an individual.
These memories can then be carried into her marriage as a reminder that being a couple doesn't mean losing yourself.
We have a list of fun bridal games for your bridesmaids to set up, creating a fun party for everyone to get involved with.
Themes In A Bridal Shower
The best bridal showers have a theme. We have started this guide with Disney ideas, so we will continue down the same rabbit hole – this time with Alice In Wonderland.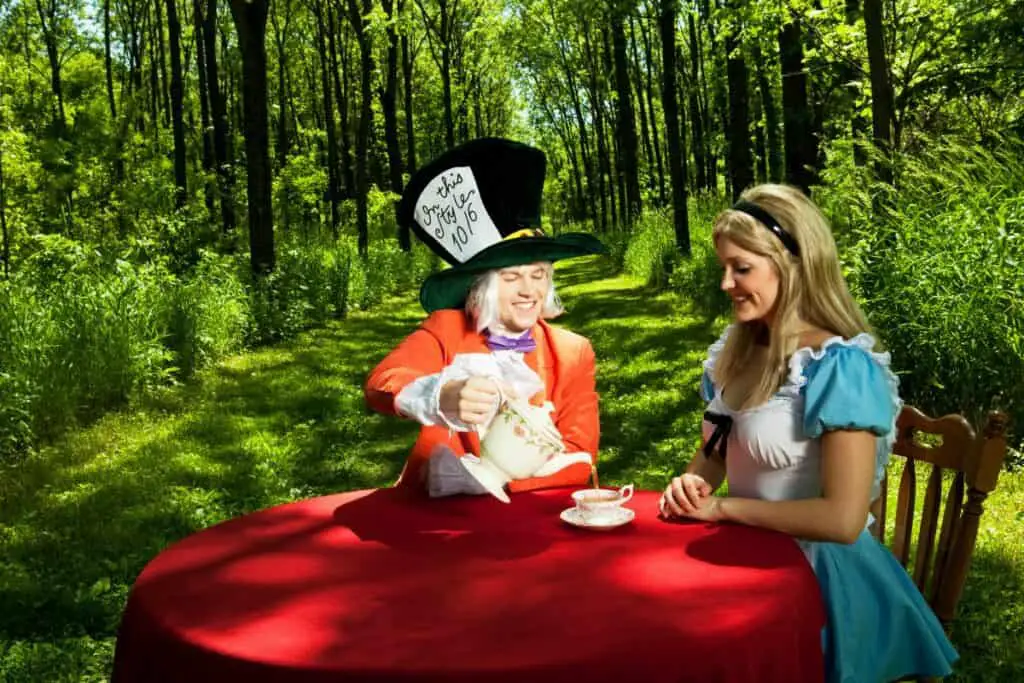 If the bride loves Alice in Wonderland, you could make cocktails that look like the beverage Alice drinks in an attempt to fit into the wonderland door.
You could also create cookies that say "eat me" just like the movie does.
You could then play croquet like the Queen of Hearts and follow other activities that match the aesthetic of the movie.
You don't even need to follow a Disney theme, you can instead create a sophisticated tea party for the bridal shower, like Bridgerton or a Jane Austen novel.
If tea parties sound perfect, follow these design ideas to help you refine your inspiration.
Gifts For A Bridal Shower
You can expect gifts in the shower too.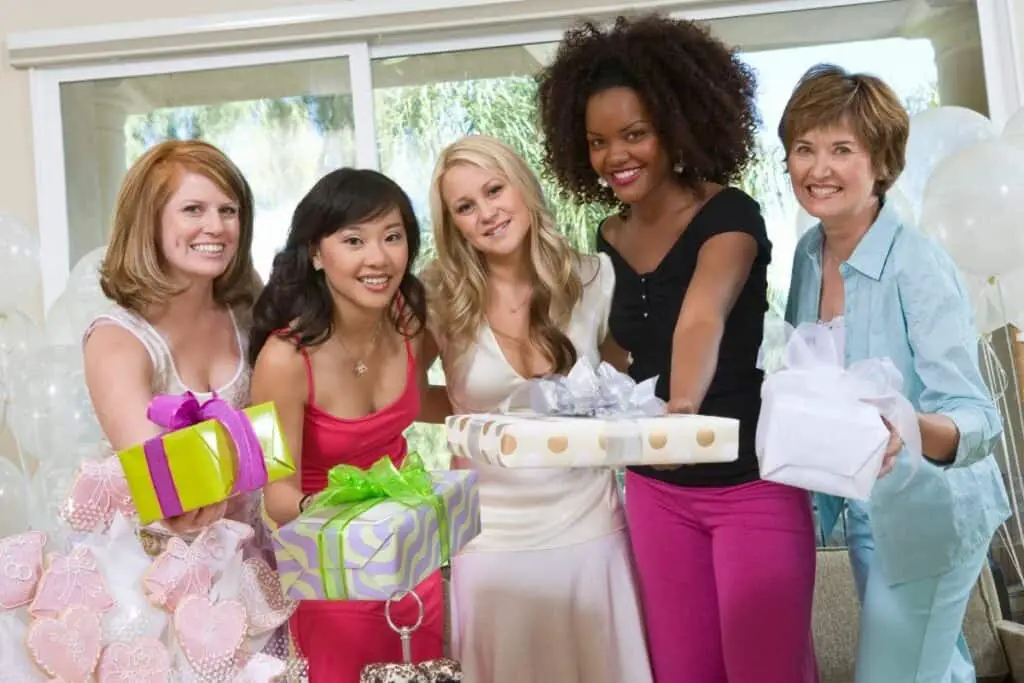 These can be items that point out the bride among the bridesmaids, something that hints towards the honeymoon, or memorabilia from the bride's single life.
We have a list of ideas here to help with last-minute ideas.
The gifts should cost roughly $50, but use this number as a rule of thumb. The idea is to give something that is memorable and heartwarming, without seeming tacky or a waste.
Using $50 a guide, you can help avoid dust collectors.
Location Of The Bridal Shower
There are three main locations for a bridal shower. The first is at a friend's house, (normally the maid of honor), the second is going to a club, and the third is something more unique.
This unique area, just like everything else in our guide, has a special meaning to the bride and the bridesmaids.
It could be hiring out a bowling alley that you used to spend time as a child, visiting a hotel and spa for a relaxing event, or perhaps you re-create an image of a loved movie or book like a park picnic which resembles Alice In Wonderland (reconnecting with your main theme).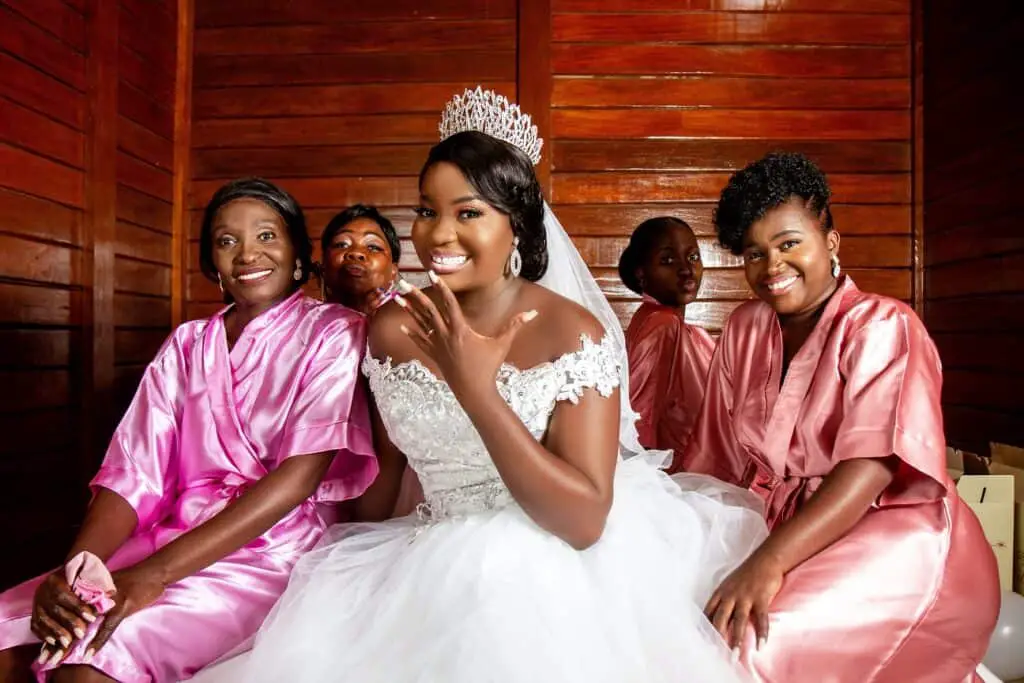 We have more location ideas to help get your creative juices flowing.
Creating a bridal shower can be overwhelming, so we have created an itinerary list to help the bridesmaids accomplish a spectacular weekend and avoid worrying the bride.
Click here to find out more.
Wedding Shower
Not everyone celebrates with a wedding shower, but you can consider them the same as a bridal shower but for both people in the couple.
It's a type of co-ed event that allows family and friends to get to know each other before the wedding, while only having a small gathering. 
Imagine an elite version of your wedding day.
You should have the same structure of events as a bridal party such as a theme, food and drinks, gifts, games, and so on.
The difference is you should be thinking about both people in the couple and not just one of them.
What To Wear – Dresses 
Your wedding dress should be an extension of yourself, how you view beauty, and what makes you feel comfortable.
There is nothing worse than spending your special day wearing something you hate, or something that makes you feel uncomfortable.
Special Interest Dresses
If you have a special interest, you can look for an outfit that suits that design.
It could be as simple as wearing a d20 earring for a Dungeons and Dragons fan or picking a dress that would fit perfectly in a Star Wars movie.
We have 16 wedding dresses that match the Star Wars aesthetic for you to browse through. Some are subtle, like the first on our list.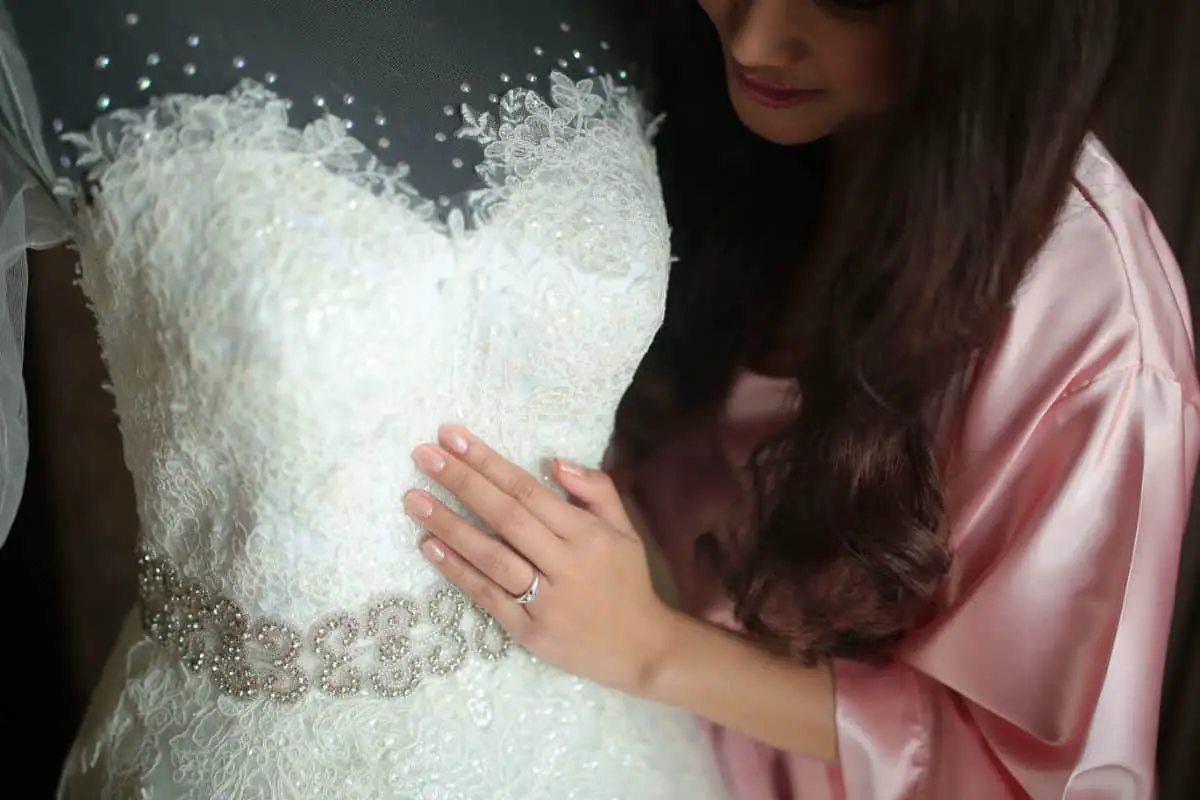 It shows an exposed arm with drooping sleeves and a delicate silver belt line. Others are more dramatic like number 2 on our list which copies Princess Leia's iconic looks all rolled into one.
Reaching back into our Beauty and the Beast theme we've had so far, you can follow the same special interest in your dress too.
This could mean the yellow dress Belle wears, a basque dress that follows the French fashions mimicked in the movies, or going a little off piece and following the Beauty and the Beast colors.
We have 10 ideas for you to browse through here.
The Disney concept keeps on coming, as you can walk down the aisle with a Frozen-inspired gown. These outfits aren't white, instead, they are a crystal blue color.
They are perfect for snowy weddings to give you a pop of color without branching too far away from the traditional white dress.
Fairytale Dresses
If you want to feel magical, but don't want anything that would look natural in a comic convention, then aiming for a fairytale style might be a better choice.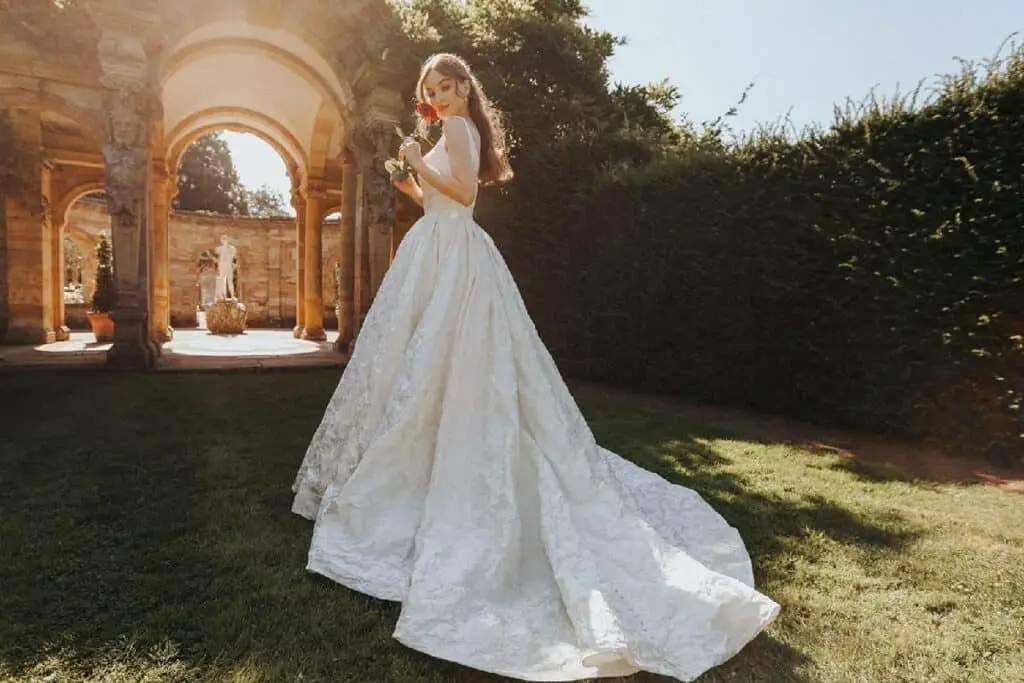 We have 15 fairytale dress ideas to help you find something that screams "you".
A fairytale dress normally contains delicate flower-like patterns. They are timeless and suggest a connection to nature while being an ethereal being.
Altering Dresses
When you pick your dress you want to stay as close to that body type as possible.
Your dressmaker will be measuring your body to ensure that the outfit fits you perfectly on the day, but if you put on/lose weight or put on/lose muscle your body may no longer match the outfit.
Don't worry though, as your seamstress will be ready for this issue.
It's extremely common and as long as your shape hasn't changed too dramatically, any alterations can fix the issue.
We have a list of common alternatives a wedding dress might need, so search through these ideas to help calm your mind if you've noticed your body has changed.
Bridesmaid Dresses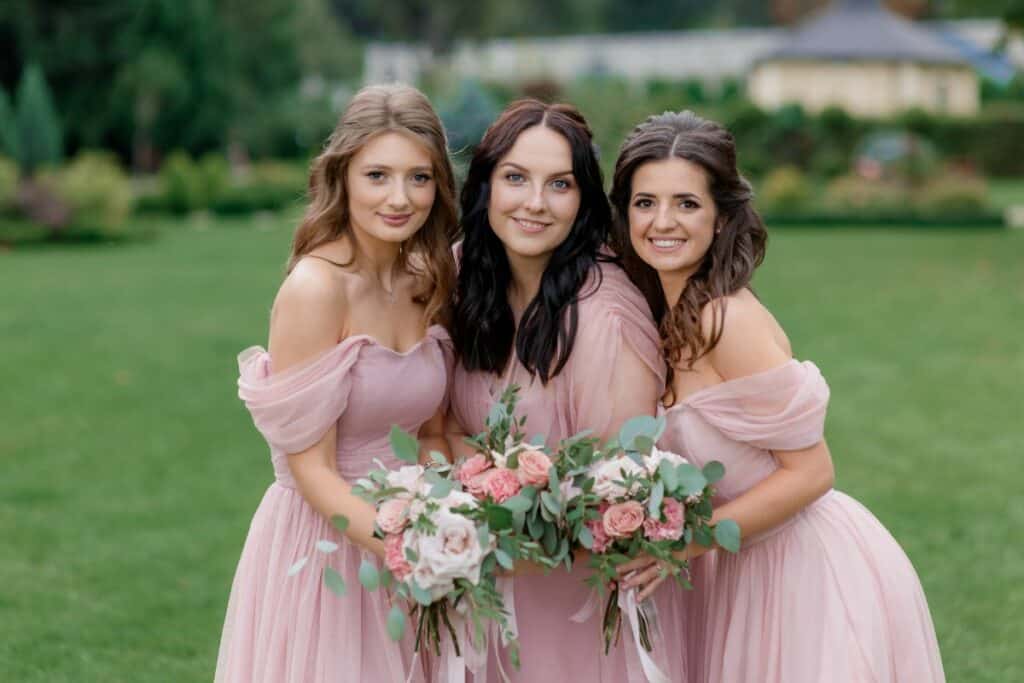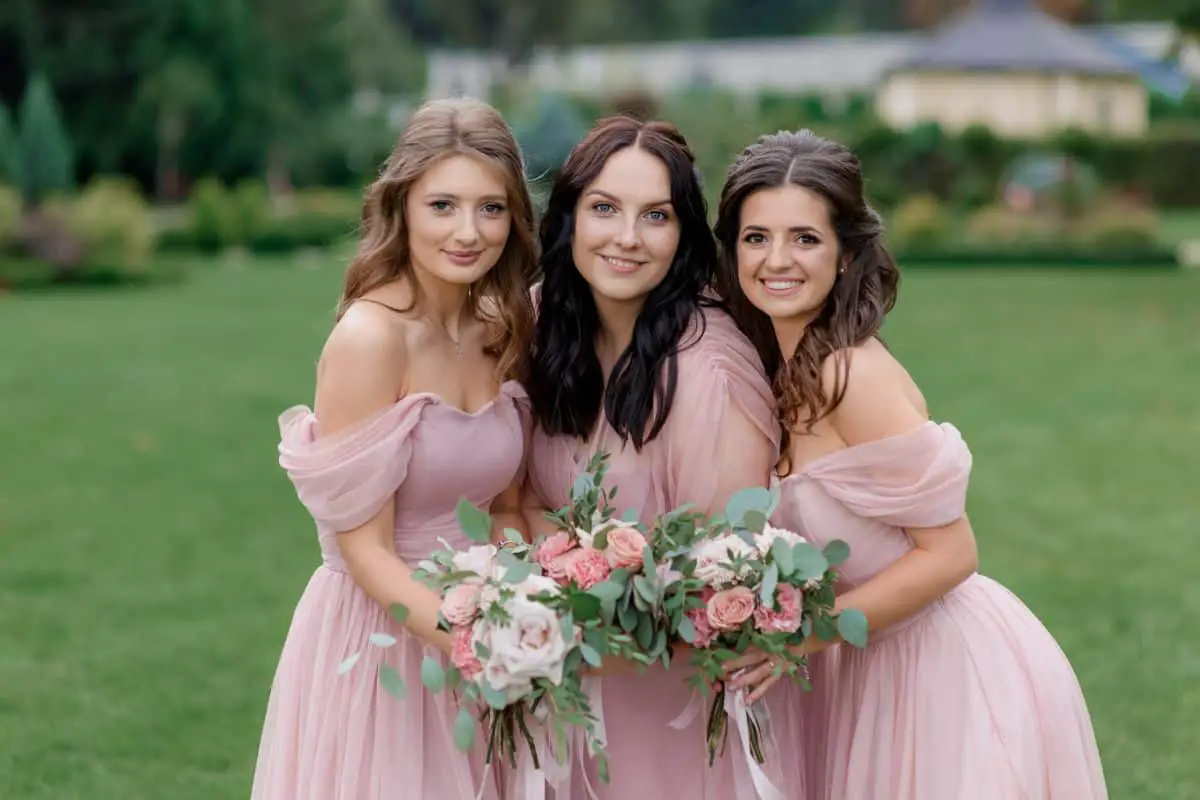 Bridesmaid dresses can be difficult to manage. Most people want their bridesmaids to wear the same outfit, but in their own size.
This means managing your bridesmaids and being realistic about any weight gain or loss.
For a basic change to the hem, you can expect a charge of $200, but if every bridesmaid needs this change, that money can quickly start climbing.
For a realistic cost, read through our advice on seamstress prices.
Some people prefer to let their bridesmaids dress themselves, and instead tell them the color scheme they need to follow.
This allows their friends to pick a dress or suit that makes them feel comfortable and therefore happy during your special day.
The happier your guests are, the better the photos will be.
What To Wear – Suits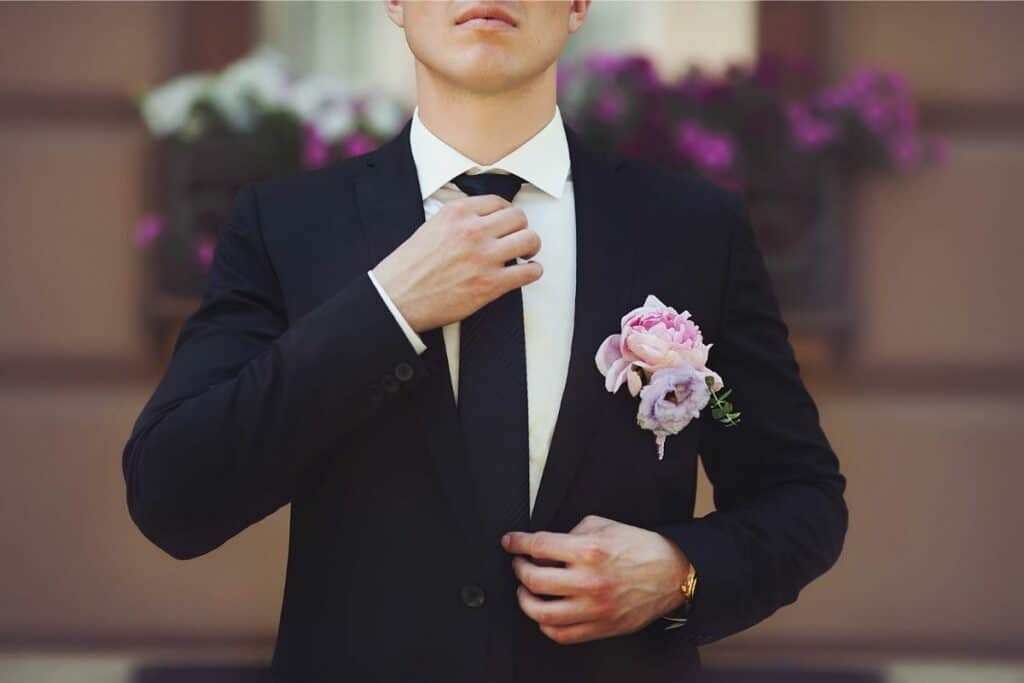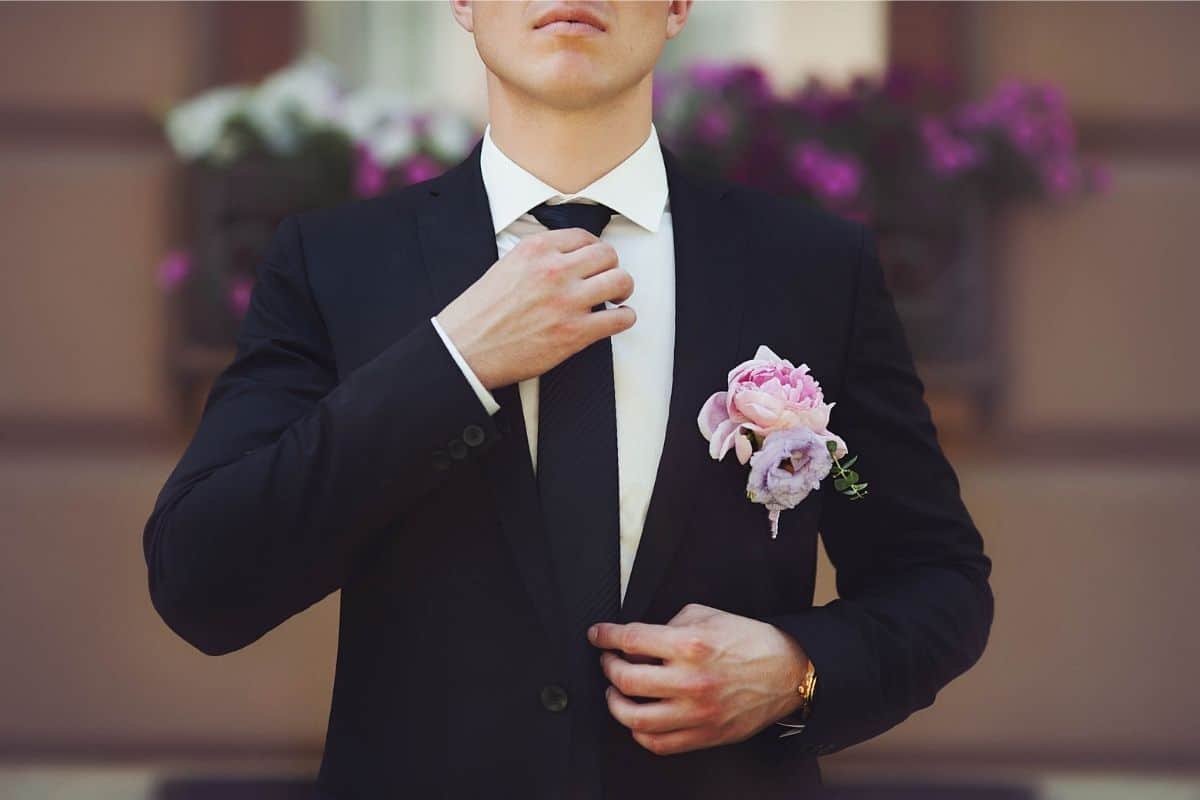 There are two types of suits you can get – a tailored suit or a rental. Just like with dresses, you can have them match your special interest, be loud and proud, or subtle and sophisticated.
However, you have the most control over these ideas when it's tailored.
We suggest getting a tailored suit, so you can truly get the design you want. Tailored suits can take months to create, so make sure you book an appointment as soon as possible. 
Subtle Designs
One of the best things about a suit is the ability to hide a quirky interest on the inside lining.
Your lining can have references to shows, ideas, or anything that makes the outfit more personal to you.
But, when you fasten the jacket your subtle references are neatly hidden away.
What To Wear – Guests
Some guests might be confused about what they should wear, especially at a courthouse wedding.
We have a list of dos and don'ts which you can send to these guests if they ask you.
One of the main questions that a guest might ask is what color they can wear.
We have a list of colors that are appropriate as well as colors that should be avoided in this link here.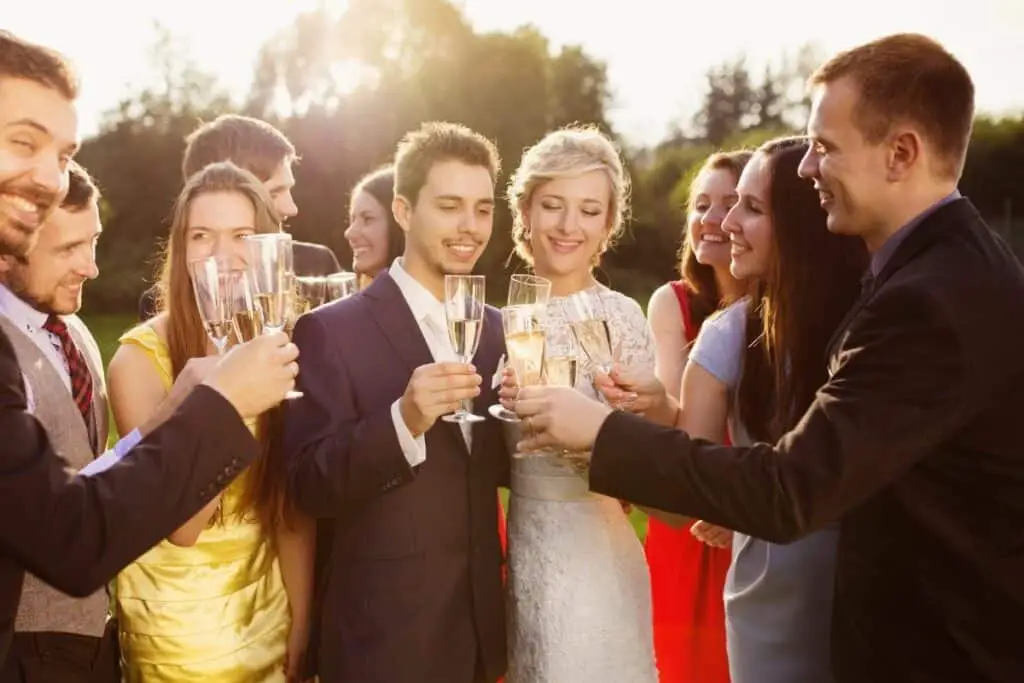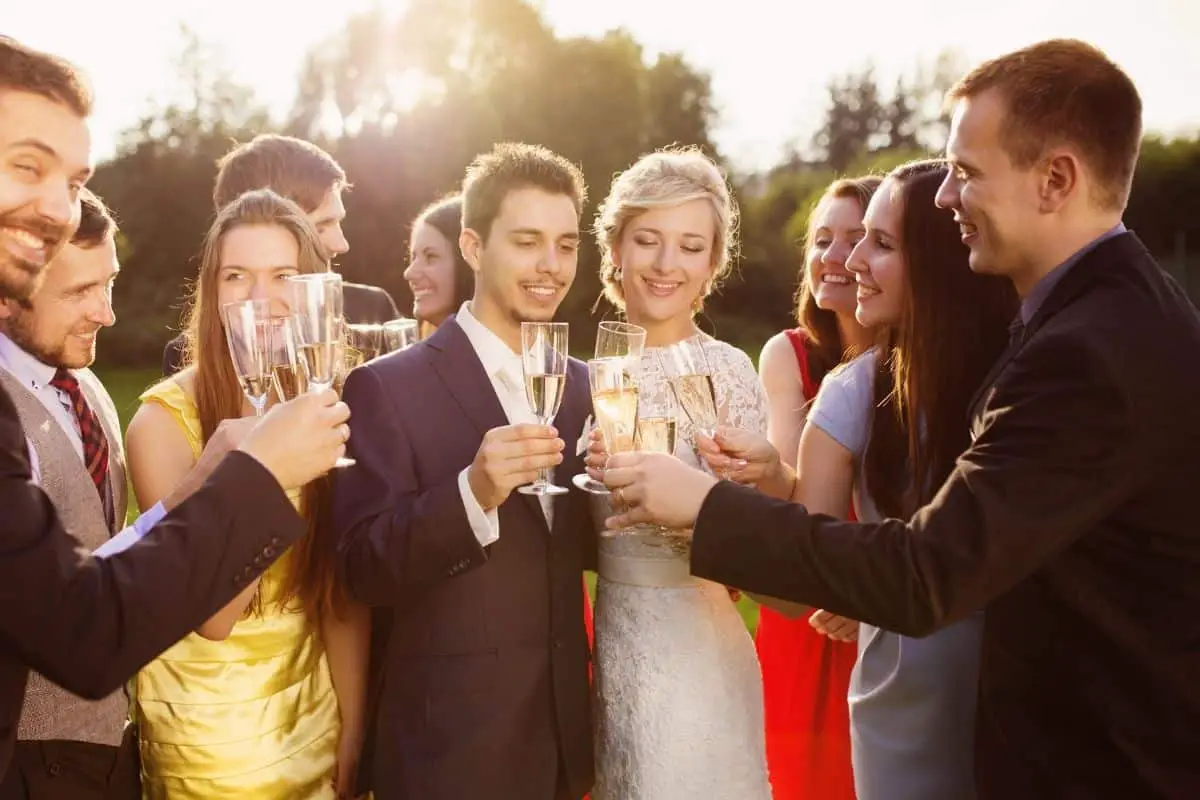 The best colors are ones that match the season. For example, wearing powder blue, pink, and yellow in the summer, or navy blue in the winter.
Pastel greens in the fall and oranges in the spring.
The best colors to avoid are ones that make a statement. Whites (in any shade including ivory), blacks, and reds shouldn't be worn by guests.
The bride should be the only person wearing white unless she has said otherwise. Black suggests mourning and gives the impression that you aren't happy with the wedding.
Red gives off a lusty atmosphere which can suggest your claim on the couple.
Even if these negative connotations aren't reflected in your opinions, keep them in mind as they are culturally embedded in our thoughts.
What To Wear – Rings
Just like the wedding itself, your rings need to be a symbol of your connection to your partner.
There are many ways to showcase this love for one another, from classic bands to something more unique.
We have a couple of examples to help you narrow down your ideas.
Rings aren't necessarily needed to get married, however, they are an important part of tradition and a symbol of the unending devotion between two people.
Special Interest Rings
Special interest wedding accessories are becoming more popular as couples in our generation are more likely to have a shared interest that brought them together.
This is why we keep mentioning special interest items, and just like with the wedding dresses, this list starts off with Star Wars.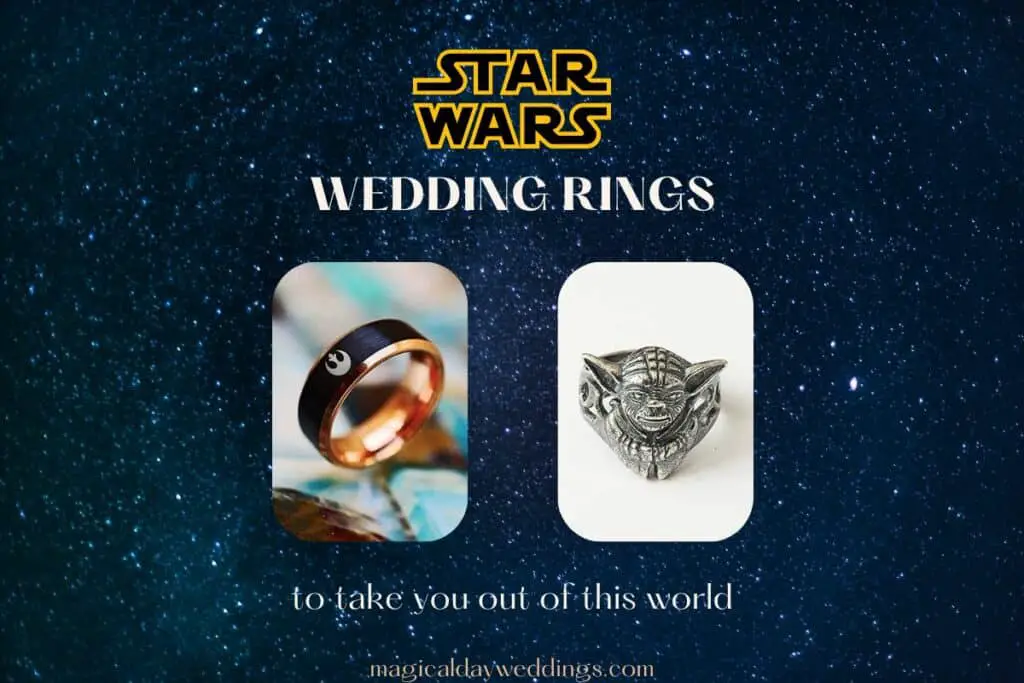 You can have matching Jedi wedding rings, resistance engagement rings, rings that hold quotes from the books, or even ones with images from the movies.
In the link above you'll find 16 ideas to help you visualize the rings, you will wear forever more.
For a Beauty and the Beast wedding ring, you could use a rose as the main centerpiece or allow the red colors of the flower to take center stage.
Fairytale Rings
Fairytale rings are different from special interests as they don't follow a strict idea from a fandom, textbook, or structure.
Instead, they tend to be shaped in a loose and moving motion, contain crystals, or have images of foliage around them. 
Just like the dresses, they are timeless and beautiful.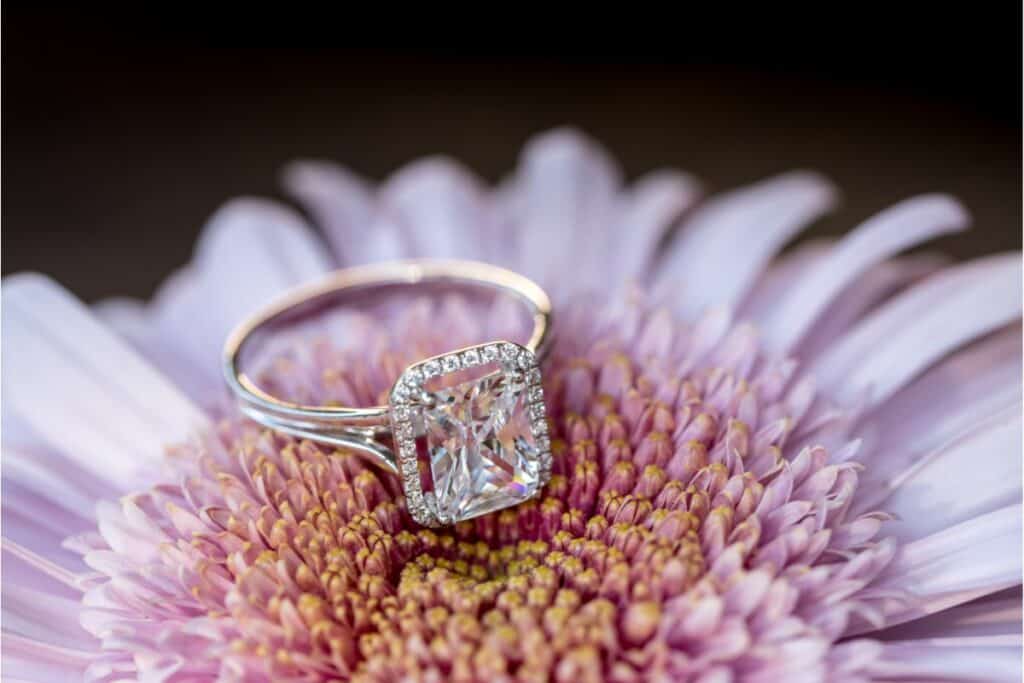 We have 14 fairytale wedding rings for you to browse through, each of them vastly different from the other to help you visualize the wide range of rings you could be choosing from.
Resizing Rings
Although it can be easy to change your body shape, your fingers are unlikely to change shape until decades have passed.
As you grow older, fat deposits are more likely to settle on your hands. This is especially true for menopausal women.
In these instances, you might think that your ring can no longer be saved – but this isn't true. Your rings can be resized larger or smaller as needed.
It can take weeks or even months depending on the delicate nature of your rings and can cost ten or hundreds of dollars.
Ideally, a ring shouldn't leave an indent on your finger. If it does it might be a little too snug.
This isn't an issue unless you are feeling uncomfortable, or you cannot remove your ring from your finger. In these instances, you should get it resized.
Wedding Location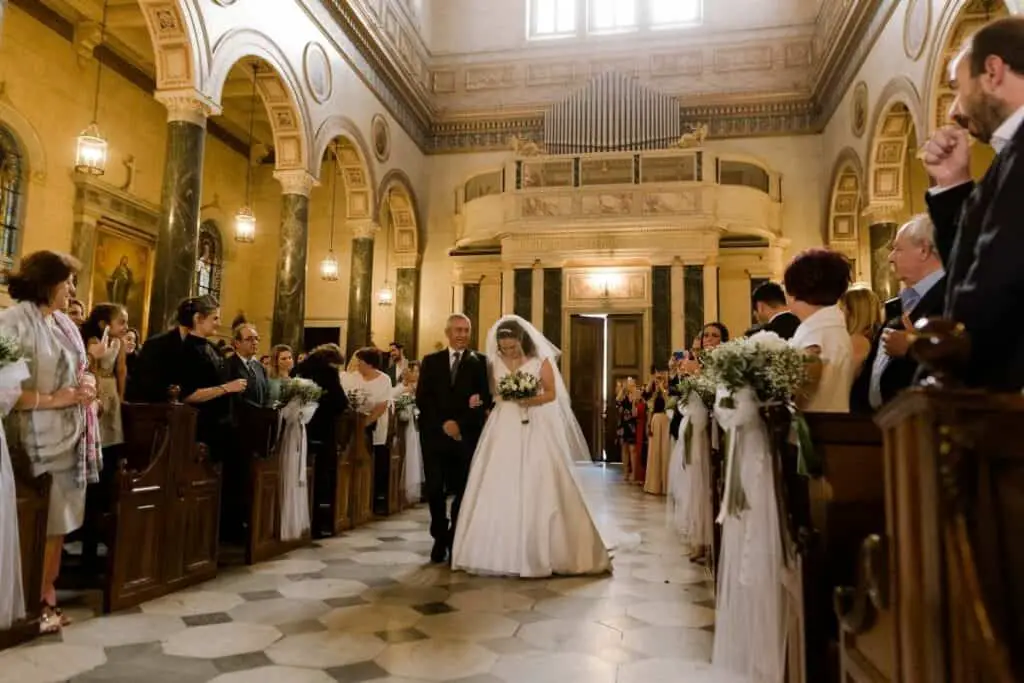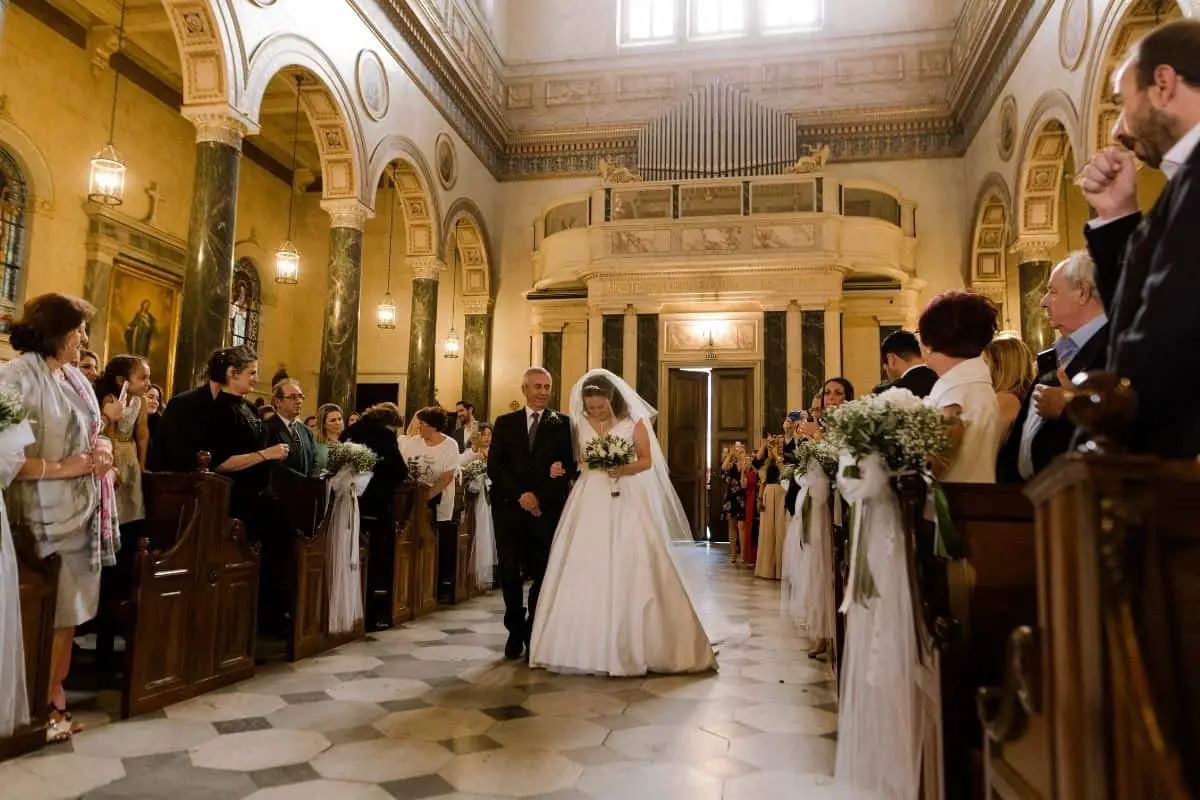 The location of your wedding is one of the most expensive parts of the process. Depending on where you live, you can only get married in certified locations.
This means most people cannot get married in their favorite gardens that they walk through every week, no matter how much money they throw at the owners.
The first thing you need to do is figure out the style you want to go with.
Do you want a large open space, a barn/cottage core aesthetic, or do you want to get married at Disneyland, or in a church?
Talk to your partner about how they envision their wedding day, and use that information to find similar locations in your price range.
As with everything else in your wedding, it needs to fit in with your theme.
Although decorations can turn a drab building into something magical, for the complete effect you want your guests to feel your love from the moment they drive into the venue.
Wedding Decorations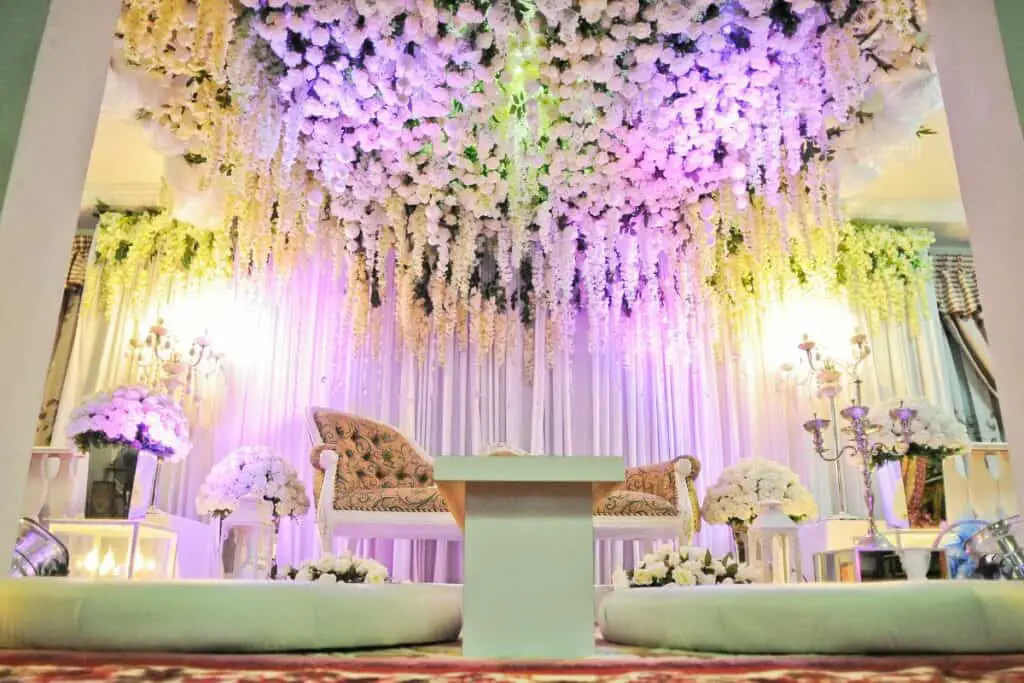 The best way to decorate your wedding venue is to find a theme and use the colors, concepts, and art from that concept to produce constant imagery.
The most beautiful weddings will all follow the same color palette, if you're not sure what color palette to use, take one from a movie. 
Using this theme and color palette, you can create ornaments that match the style, pick music that continues the same feelings you felt while watching the shows, and create recognition as you allow your guests to connect to your own interest.
The theme doesn't need to be complicated or expensive. For example, if you want to use books as your theme, you could head to a charity shop or thrift store to find books.
Then rip out the pages to get the aesthetic of book paper to then use as decoration table cloths, coasters, flowers, and more. 
Often the hardest part of decorating your wedding is getting the creativity to produce the effects you want.
Our content below should help you find easy Disney-themed wedding ideas, as well as other ideas that are less specific.
Aladdin Themed Weddings
In an Aladdin-themed wedding, you can use a color palette of gold, cyan, red and purple.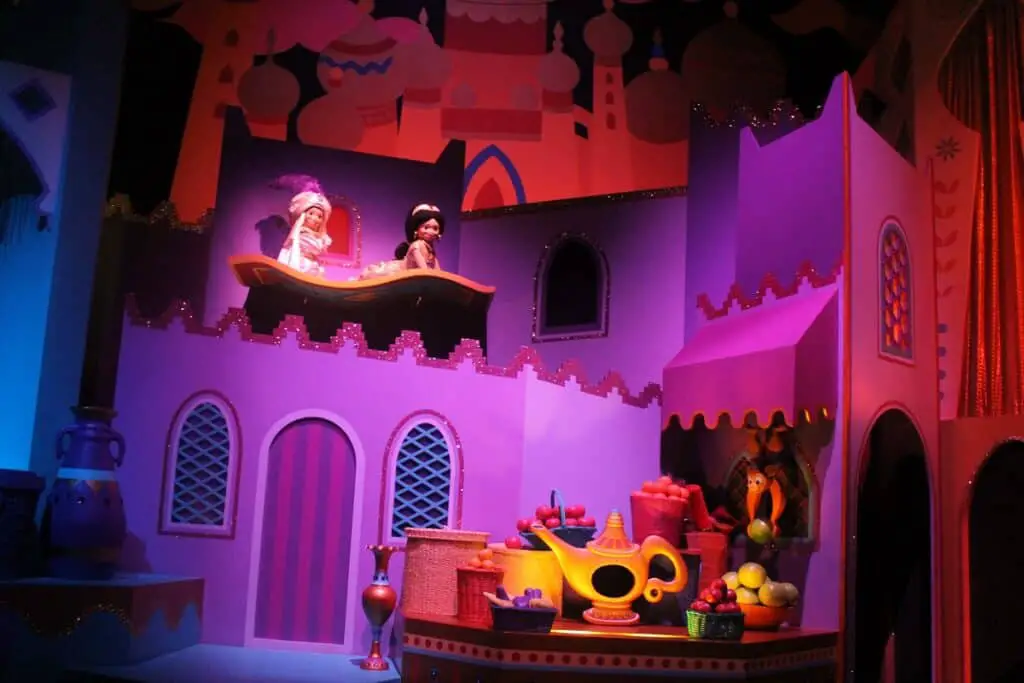 This can bring an element of affluence to your wedding without having to add in an actual lamp from the movie. It creates an idea of brightness, wealth, fun, and activity. 
If you like this idea, you can browse through some of the decoration ornaments in this list.
Up Themed Weddings
Sticking to the Disney theme, an Up-themed wedding has a multiple-colored palette just like the balloons used to lift Carl's house.
Using multi-colored aesthetics can be hard to achieve, as one color tends to dominate another, this is why we suggest using a pastel muted aspect to prevent the day from feeling like a circus.
Again, this creates a whimsical atmosphere and a joyous feeling. You can find more Up-themed concepts here.
You can always extend the joyous feeling of adventure to your wedding cake toppers too.
Adding a house with balloons pulling it into the air creates this idea of starting your life together as a family while also staying whimsical. 
Beauty And The Beast Themed Weddings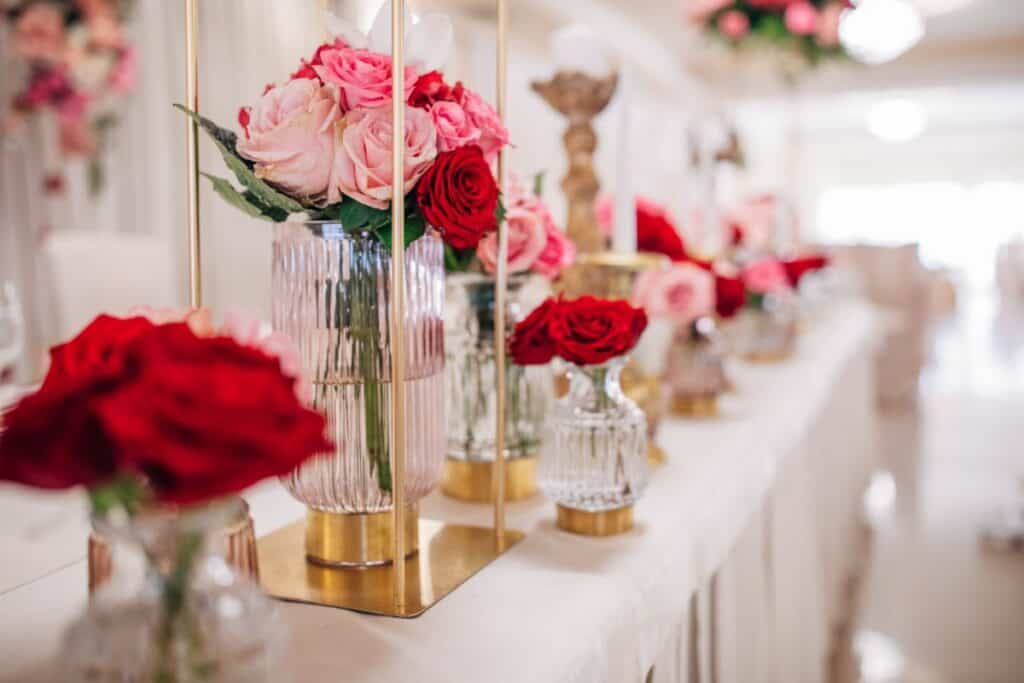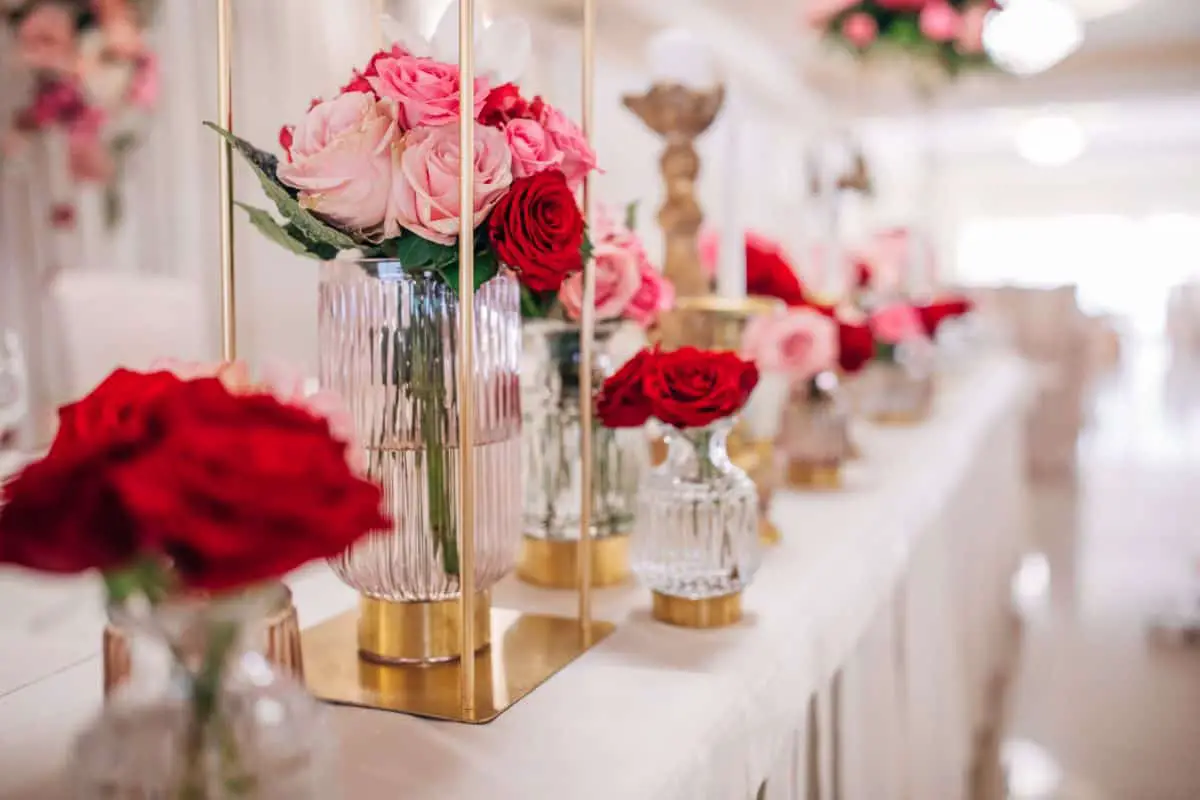 For a Beauty and the Beast-themed wedding, you can mix reds, whites, blues, and yellows as your color palette.
Reds match the flowers, yellows match Belle's dress, and the blues and whites match Adam's French aesthetic and Belle's original outfit design.
You can create this theme subtly by adding red roses to the table, as a centerpiece.
They could be in bell jars, next to cuts of tree trunks, or you could forgo the flowers for candelabras.
As part of the wedding favors (which we will talk about in more detail later), you could create cookies that switch between the iconic dress, the stained glass window, the beast's chest, and the red rose.
You don't need to create a wedding topper that is clearly Beauty and the Beast themed if that's too "on the nose" for your aesthetic, instead, you could add silhouettes like the ones in the link above.
If you like the colors of Beauty and the Beast, but want to wear the traditional white dress, then you can put the theme on your bridesmaids instead.
They could all dress in yellow or wear a necklace of the rose as they wait for their own Prince Adam.
Make sure that whatever theme you go with is also reflected in your invitations. From start to finish, the ideas and concepts around your wedding should be clear from the beginning.
Flowers And Nature
A very important part of decorating your wedding venue is the use of flowers. These flowers need to represent your aesthetic.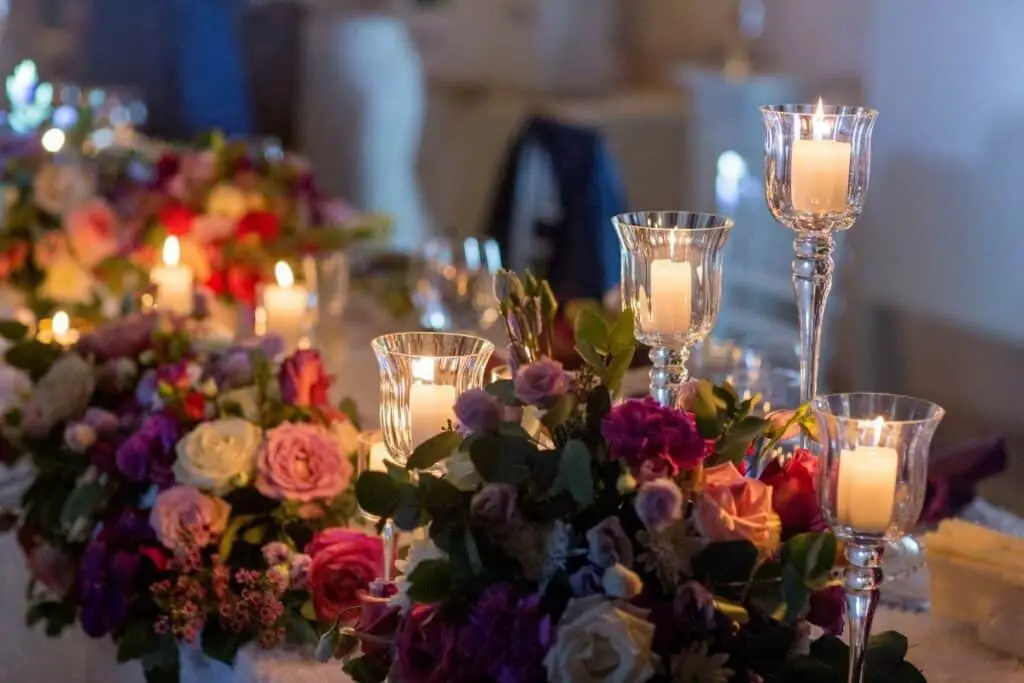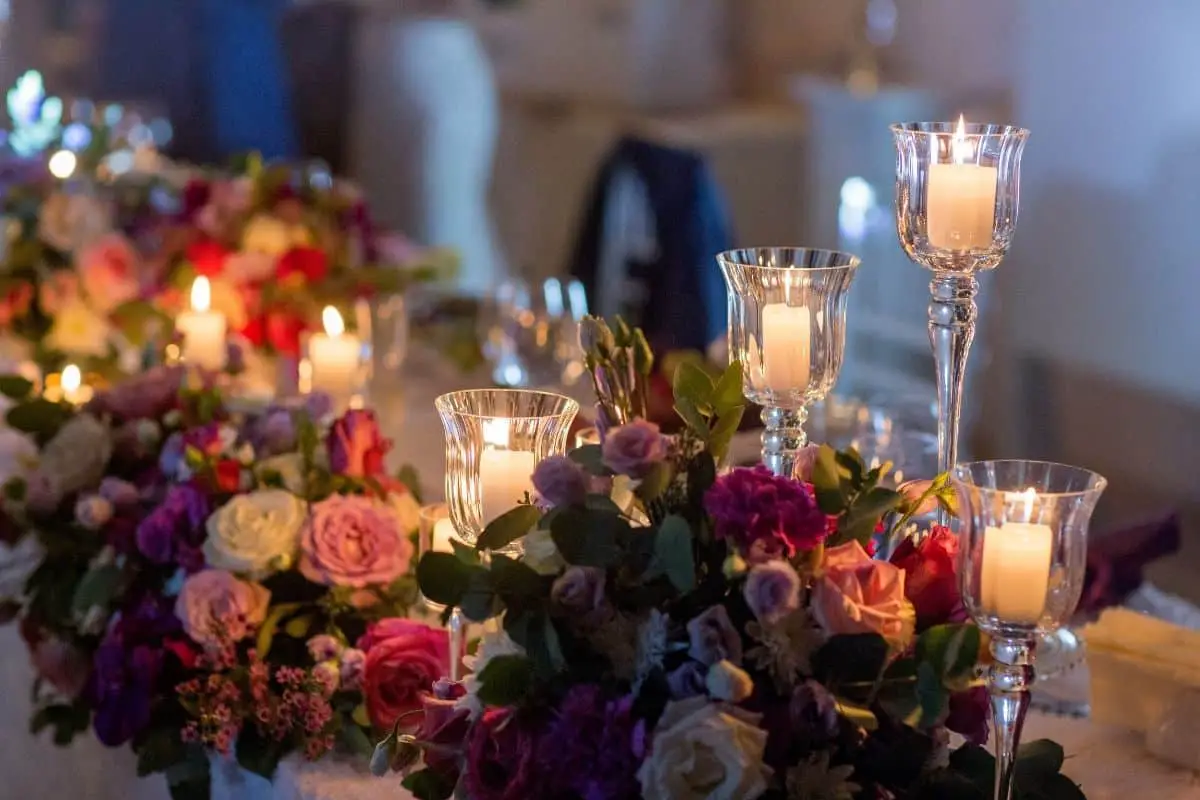 The classic rose bouquet is a common theme. It is sometimes labeled as the bride's flower of choice, but you can change this to your own ideas.
Some people are moving away from real flowers, instead using paper flowers in bright colors or ones that use pages from books.
This creates a bouquet that you can keep forever while also tying in a love of reading.
Others who also want a bouquet of flowers that will last for as long as their marriage, choose to use plastic petals instead.
These aren't great for the environment, but if you genuinely keep the bunch for decades, then the plastic won't go to waste.
We have 14 more ideas in this list, to help you find the right combination of flowers and nature for your wedding.
Wedding Vows, Speeches, And Thank You Cards
Wedding vows and speeches don't need to be long to be engaging. On this special day, you want to say something meaningful, funny, and joyous.
With so much pressure it can be overwhelming to make the speech perfect. We have some tips to help you through.
Wedding Vows
When you create your wedding vows you are often presented with official vows from the state or the ability to create your own.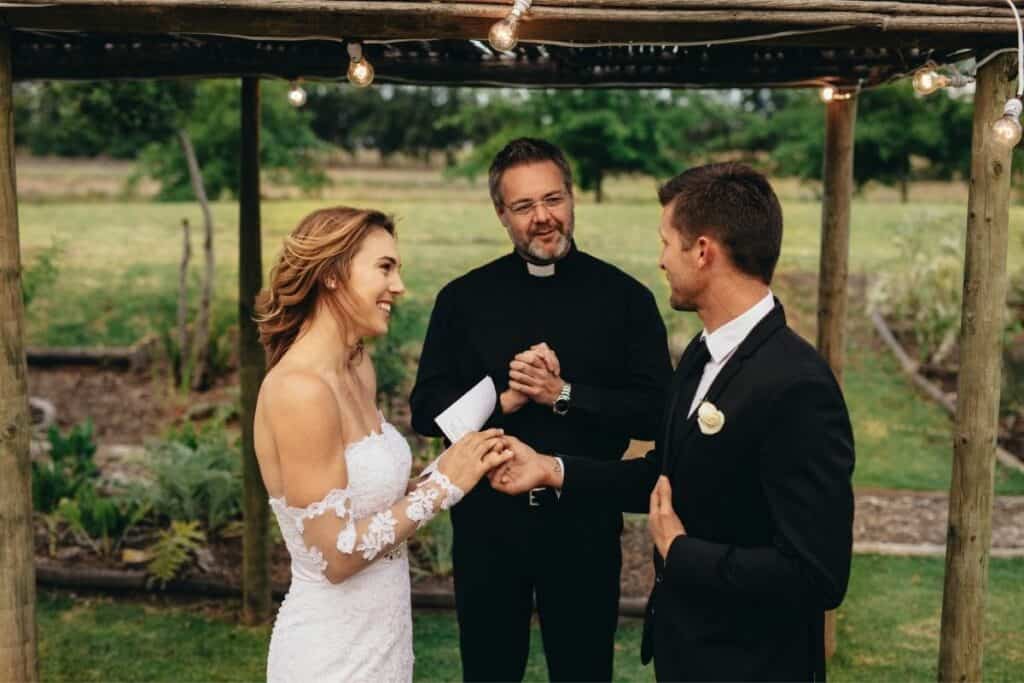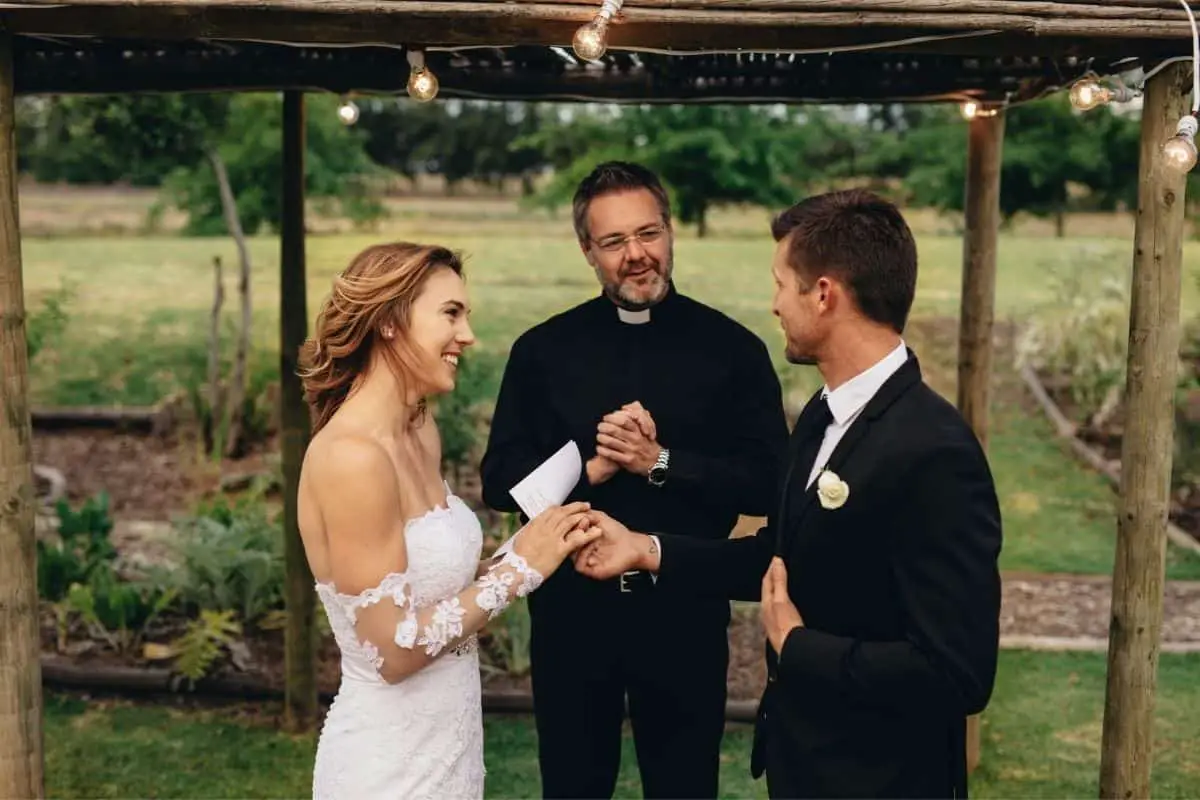 Choosing the official vows takes away the pressure of making something romantic, while creating your own allows you to be personal.
Both are great options, but to help you decide we have a list of romantic, traditional, and non-traditional vows to help you find something that speaks to your relationship. 
If you are following a specific tradition or religion, then you may want to double-check the vows associated with that niche.
Take Celtic weddings as an example. A popular vow in a Celtic wedding is "I Give You That Which Is Mine To Give" to dive further into Celtic history, you can find more affirmations or sayings that might fit perfectly with your mindset.
On the other hand, you can follow your special interest and use quotes as your vows. They can be obvious or subtle hints towards the interests you both share.
Ideally, your vows should be around 45 seconds to 2 minutes long. Any longer and you will lose the crowd, and any shorter and it may feel cheap.
We have some examples of how you can use length to your advantage.
Your vows can be read in any order, but they have to fit in with the registrar's timetable. So talk to your registrar about timings. 
Speeches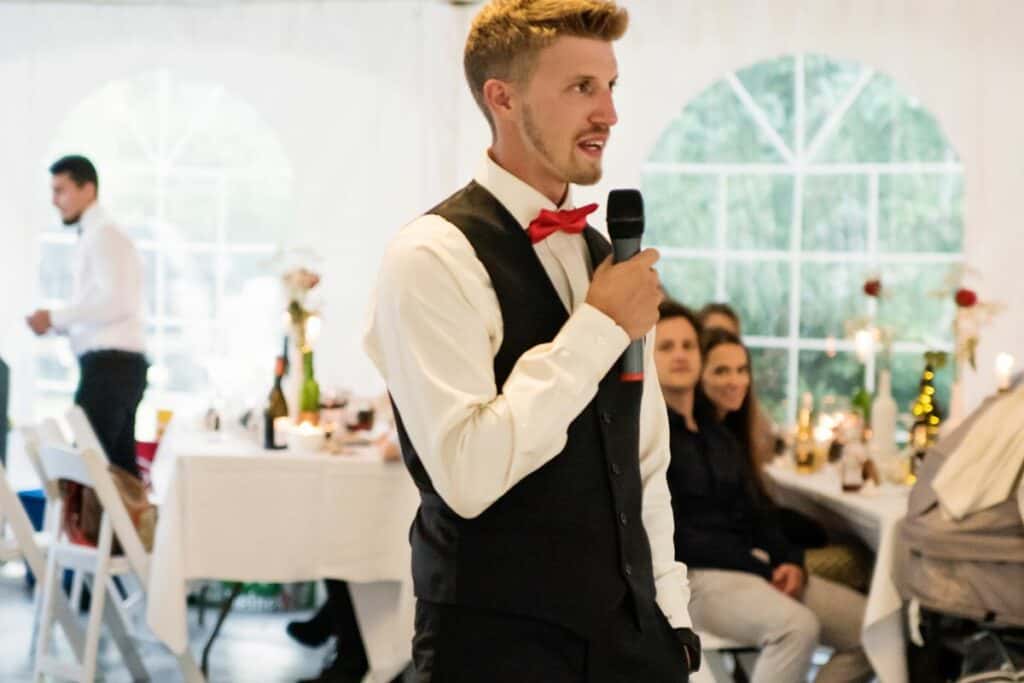 Speeches are often made by the bride, groom, best man, maid of honor, father, and/or mother of the wedded couple.
Not everyone on this list has to make a speech, but if someone has a good story to tell and wants to step into the limelight, then let them.
A speech shouldn't take longer than 7 minutes, but unlike the vows, you have more time to create a story. We have a couple of templates for you to use if you're struggling to create a speech.
These templates help you create a good length of time in your speech, help pull out stories and memories from your experiences, and offer tips (like pausing and avoiding generic praise) to help create a genuine connection in your words.
Thank You Cards
A thank you card isn't needed, but is expected by guests who buy you gifts.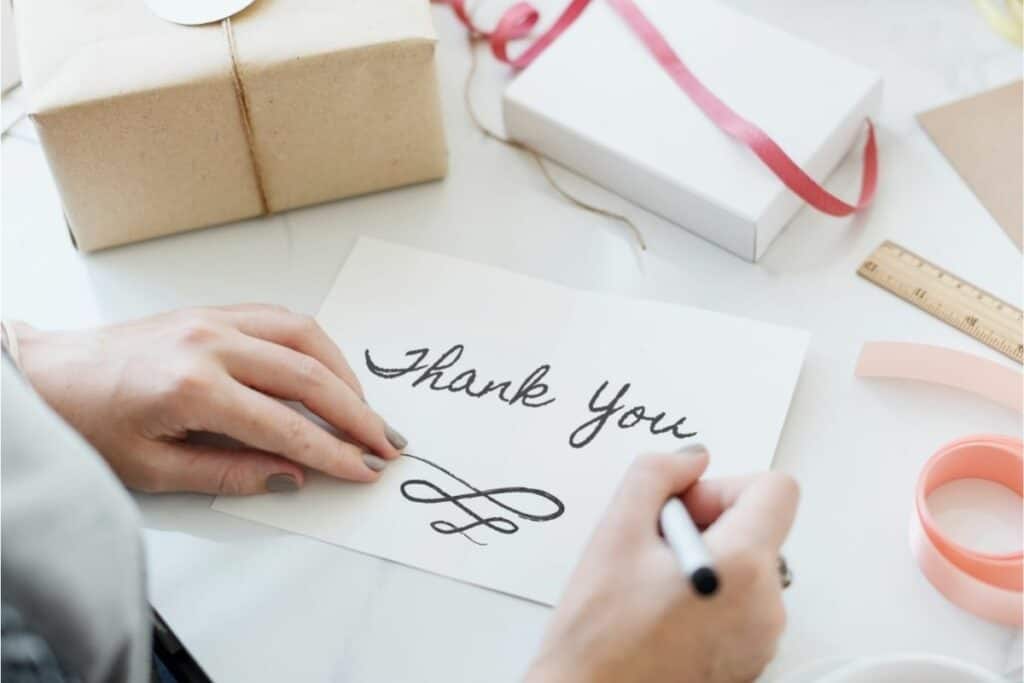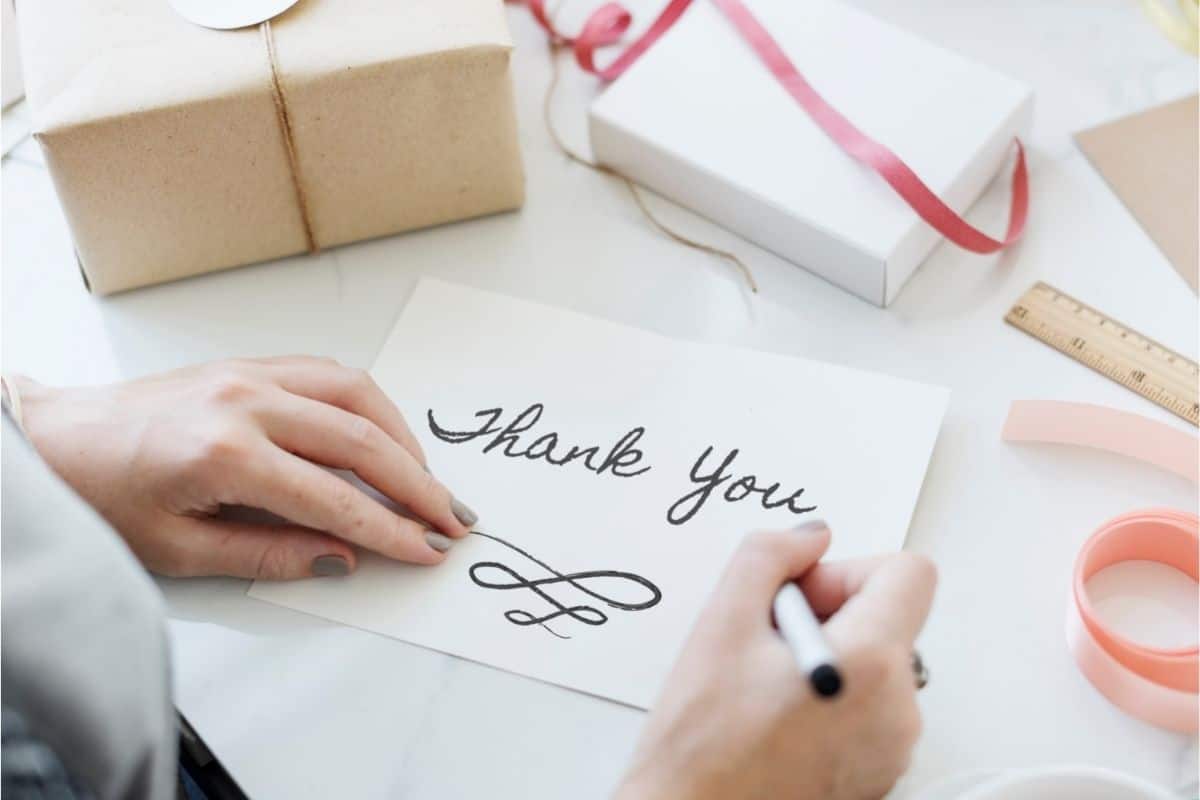 In the cards, you should comment on the items that were gifted to you, make a reference to how their arrival at your wedding was greatly appreciated and thank them again for spending time with you on this joyous occasion.
We have a list of tips to help you manage these cards, but the brief recommendation is to keep the letters short, physical, and personal.
If the bridesmaids wish to send a letter to the bride, they should follow the same advice.
But you can also include memories of when you were younger, ideas of why they would be a great partner, and happiness for the life they have created for themselves.
Wedding Favors And Gifts
Wedding favors are gifts you give the bridal party for helping create your magical day.
They can be simple like cookies decorated to say thank you, or something personal connecting you and your friends in something physical.
Favors For Bridesmaids
Your favors for your bridesmaids could be personal, like a photo of you all working together to create this important day.
The album could be based on trips to see the dress, the hen dos, messages about silly moments that were captured on social media, or anything else you can think of.
You could create something less fiddly like a bath bomb gift set, or something extravagant like concert tickets to a band you all love in the future.
The concert idea allows you to all meet up again in the future, after the honeymoon. It will be a great way to catch up while also creating more memories with your friends.
Gifts From The Bridal Party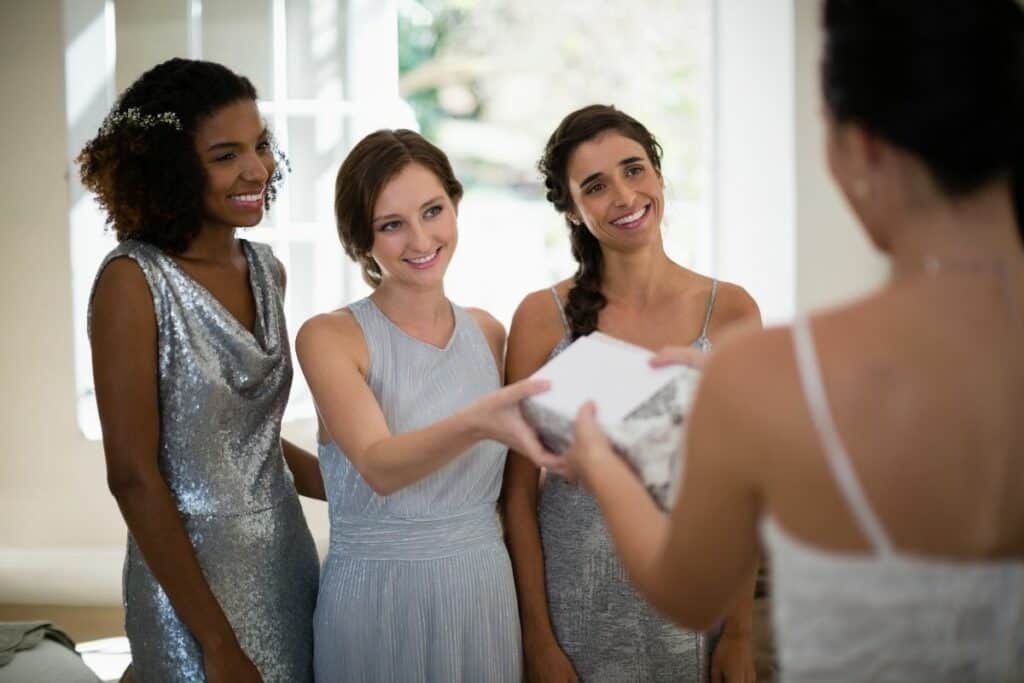 The bridal party isn't obliged to give a gift, but if they do it needs to be more impactful than any others from the guestlist. This often means thinking outside of the box.
The best gifts will use a quote, memory, or connection between them and the bride or groom without taking away from the couple's day.
For example, if the couple had been on vacation with the gift giver, they may create a photo album with these memories altogether.
This allows the present to be about the couple while also adding the friend's memories to the new family.
You can find more ideas like that in this list. 
From The Couple, To Each Other
As a couple, you may decide to give each other gifts for your wedding day. It isn't expected but can be a perfect way to keep an extra surprise for the big day.
The best ideas are often around pictures of the engagement, of when you first met, or quotes from your life that you want to remember forever.
Here are some ideas to help you buy something perfect for your new spouse.
Gifts
If you are giving a gift to the couple, you should consider what they need, what they want, and what they will appreciate.
If the couple has a registry, you can pick the items they have chosen for you. But if they haven't, you might end up twiddling your thumbs wondering what to get them.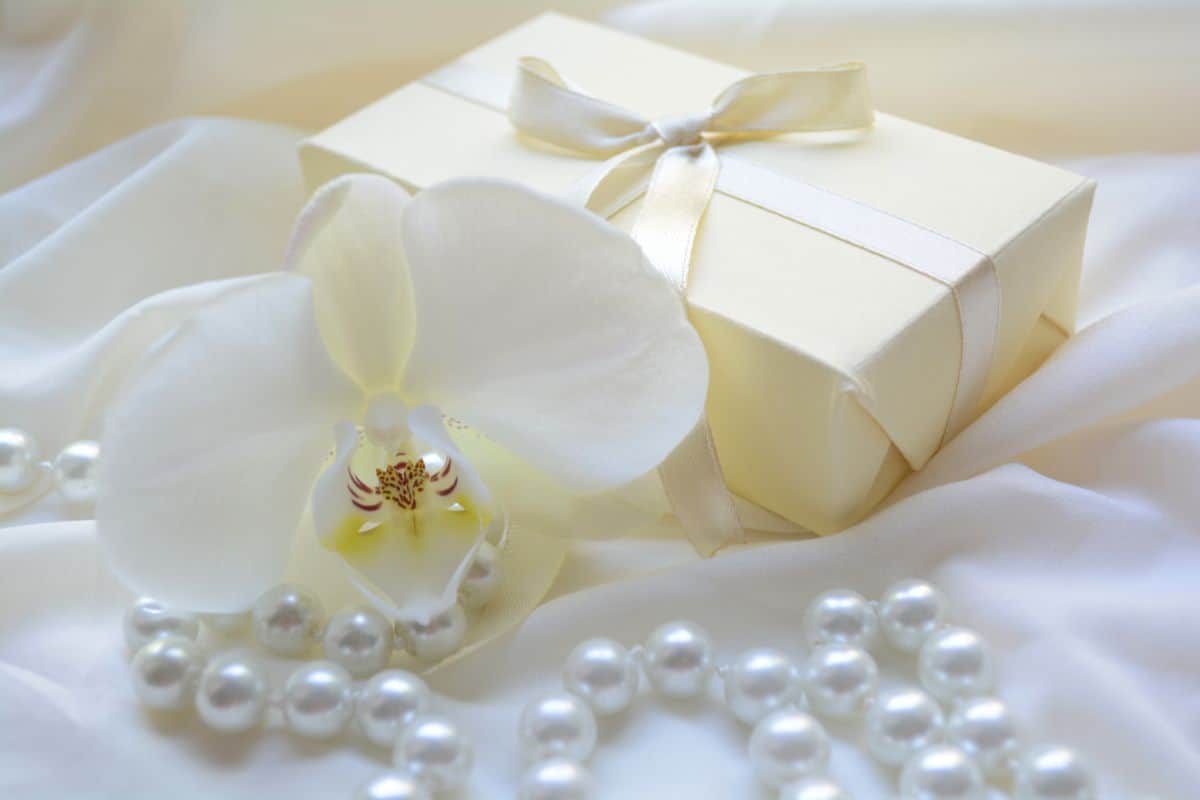 If they enjoy craft beers, unusual gins, and sophisticated wines you could get them an engraved set of appropriate glasses. 
The same goes for coffee, cutting boards, vases, or picture frames. We have a list of gift ideas here to help you think of something special.
If you're buying for a same-sex couple then finding a "Mrs and Mrs" or "Mr and Mr" set can be difficult. We have links to beautiful lesbian wedding gifts here, to help narrow down your search.
Disney Gifts
We have mentioned Disney so much that forgetting about them now wouldn't make sense. 
A Disney wedding gift could have a woodland aesthetic, like a wooden board with "happily ever after" carved into the material.
Or you could recreate the "Our Adventure Book" from Up, and allow the couple to note down their adventures in this Disney-style scrapbook.
Destination Wedding Gifts
If you are planning your wedding outside of your state or area, then you need to offer gifts as an incentive for your friends and family to travel.
Although you might think that the vacation alone should be appealing, the concept of travel can really upset a number of people.
When your guests arrive, you can give them a gift set as a thank you.
This set could include sunglasses, suncream, personalized water bottles or towels, and anything else that they can use practically but also take home as a keepsake.
We have a list of ideas here, to help you create the perfect gift bags.
Summary
The hardest part of planning your wedding is finding your theme and then projecting those ideas into reality.
The best way to do that is to look at pictures online and gather inspiration from those ideas to create something that matches your concepts.
Our links have a lot of different options that can help you find that spark of inspiration.
Click through our pages to help find the missing idea that can sprout a whole wedding collage.