There are so many things to consider when planning your special day, this can make it quite stressful when trying to sort out all of the little details.
Many of us tend to focus on the bigger aspects of our wedding day first, like getting the perfect dress, cake, venue, and flowers.
Some of the other things can slip through the cracks, and we can forget some of the little details that make our wedding day so special.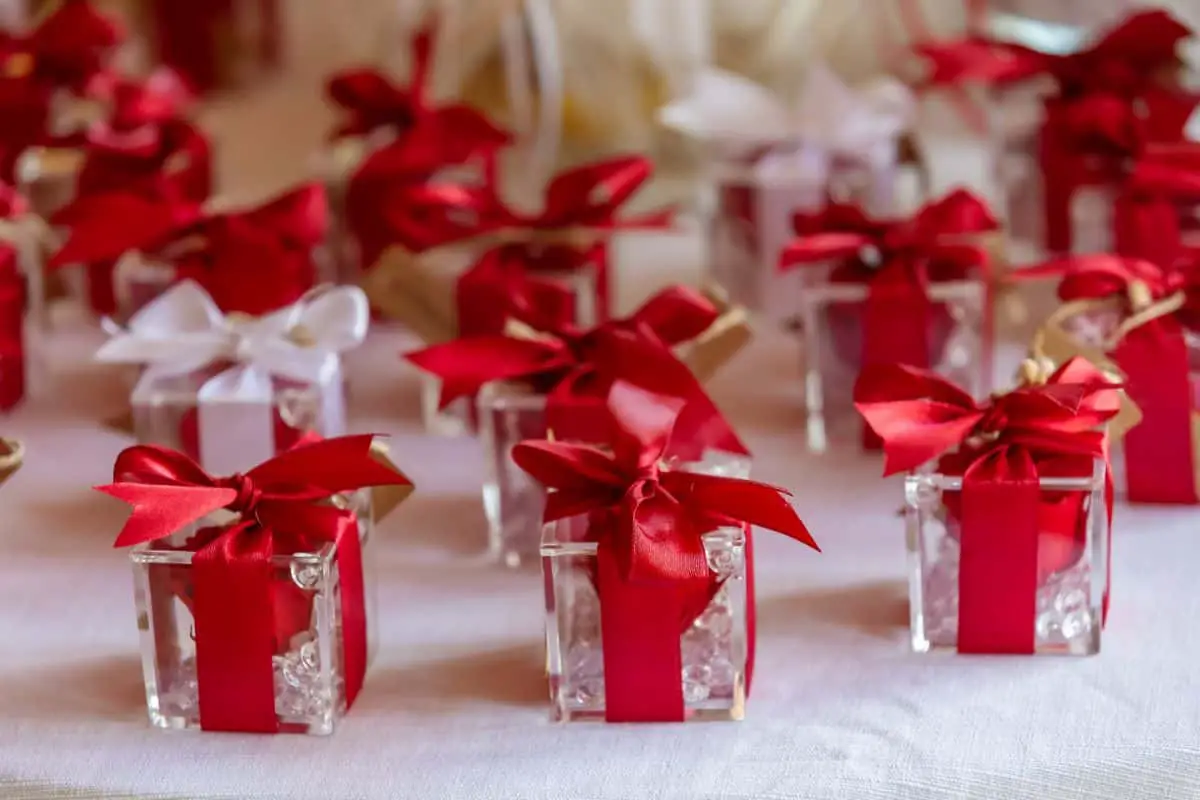 If you've chosen to go ahead with a magical Disney wedding, and are considering a Beauty And The Beast theme, there are lots of things you can do to make sure that you have the perfect fairytale wedding.
A smaller detail that some might initially overlook are wedding favors. These don't seem too important at first, but they actually function as a memory that people can look back on from your wedding day. 
If you want to present your guests the perfect Beauty And The Beast favors, then keep reading, as we take a look at the 10 best wedding favors that are in keeping with this theme. 
What Are Wedding Favors And Are They Necessary? 
So what exactly are wedding favors and what function do they serve?
As we mentioned above, they are one of the aspects of planning a wedding that are often overlooked and forgotten about. Despite this, they are actually quite important. 
Wedding favors act as a 'thank you' from you and your spouse, for all of your lovely guests who have attended your wedding and helped to make it so special.
These wedding favors don't need to be expensive, huge, extravagant items, but rather, a simple and meaningful gesture. 
Wedding favors can consist of several different types of items. The most frequently given wedding favors tend to be little chocolates or candy.
You can even give your (adult) guests miniature bottles of fizz, or liquor.
Some wedding gifts also come in the form of soaps or scented potpourri sachets, which are great to give guests with more specific dietary requirements. 
You can also give smaller, novelty sized gifts if this is more your style, like mini figurines, matchbooks, and temporary tattoos. 
Essentially, a wedding favor is just a small token of appreciation given to your guests to remember how great of a day it was.
If you've chosen a Beauty And The Beast themed wedding (which I'm presuming you have if you're reading this article), then this is a great chance for you to convey the theme of your wedding to your guests, and help them to remember how unique your Disney wedding was. 
We have a complete collection of Beauty and the Beast themed wedding articles, check out the following for more wedding inspirations of the same theme:
10 Beauty And The Beast Wedding Favors
Now that we've covered what exactly a wedding favor is, we can move on to look at some different ideas that you could use.
Feel free to only choose a select few that you like, or, go ahead and include them all! 
Rose Dome 
When we think of the movie Beauty And The Beast, what could be more iconic than that special rose inside a glass dome.
Anybody who sees that image will know immediately what it is. It is, of course, the rose petal that symbolizes the beast's curse by the evil witch.
If he does not find somebody to love, and to love him in return before the last petal falls, he is doomed to remain a beast forever. 
He does find somebody to love him thankfully, and so have you! Hence, why you're getting married.
Use this iconic rose symbol to symbolize your love in the form of a wedding favor by purchasing the miniature rose domes here on etsy.
These ones are super special, not only because they replicate the item from the movie, but you can also have you and your partner's name placed inside, along with the date of your wedding. Perfect!
Red Rose Potpourri 
In keeping with the rose theme from the film, you could also give your guests sweet little sachets filled with rose scented potpourri.
These are super easy to do, all you have to do is buy the potpourri and some sachets, then simply fill each of them up yourself.
If you're somebody who's super hands on, then you could actually dry the rose petals yourself. 
If potpourri isn't really your thing, you can also get mini soaps with a photo of Belle and the Beast on them. How cute! 
Beauty And The Beast Cupcakes
This one is for all the bakers out there. If you're somebody who enjoys a delicious cupcake with lots of icing, chances are, your guests do too!
This one is sure to please them.
All you need to do is bake some cupcakes, or buy some in bulk from your local bakery (depending on the number of guests you have to cater for), then decorate them with Beauty And The Beast cake decorations.
You will find lots of decorations like these out there, and they're a really simple option. Much better than paying lots of money to have them decorated already in a Beauty And The Beast theme. 
Beauty And The Beast Mini Champagne Bottles
These don't actually need to be champagne, wine will work beautifully too! You can find lots of places online that do personalized mini bottles of liquor, designed specifically to be used as party favors.
You could ask them to put a photograph related to the theme as the label on the bottle, along with you and your spouse's name. 
Beauty And The Beast Bath Bomb
This is really fun for your guests! Who doesn't love relaxing in a nice hot bath with a fresh bath bomb ready to be used. Again, Etsy is a great place to buy these products.
We really liked this one in particular, which features a yellow bath bomb with a cute little red rose in the center. The packaging is super cute too, with a photo of the fairytale couple on the cardboard. 
Mini Eggs
This one is quite a funny option that only the hardcore Beauty And The Beast fans will get. Mini eggs! You could include some mini eggs loose in the favor bag for your guests to snack on.
After all, they are Gaston's favorite food! Make sure you don't give them two dozen though, that might be overkill!
Beauty And The Beast Keyrings
There are lots of little keyrings on the market that feature our favorite couple. There are so many, in fact, that you'll have tons of choice with this one.
Why not pick a favorite scene from the movie to have as the keyring photograph? Also, who doesn't love receiving a new keyring. 
Mini Figurines 
There are quite a few figurines of Beauty and the Beast to choose from, along with ones of other fan favorites such as Lumiere, Cogsworth, and Mrs. Potts.
The Disney store actually sells some of these in packs, with lots of different characters inside. You could then remove them all from the packaging, and present each guest with a different character.
How fun! In addition to this, although not explicitly a party favor, you could actually present your younger bridesmaids or flower girls with dolls of Belle. This would be adorable. 
Beauty And The Beast Confetti
Hey, I know that we keep mentioning Etsy, but they have so much cool stuff on there!
It's up to you whether or not you'd want to give this one as a party favor, or before the wedding itself, but either way, these Beauty And The Beast confetti cones are awesome!
They are made from actual pages of the Beauty And The Beast storybook, and will truly help to make your day stand out as the fairytale that it is! 
Coasters
These ones are also great party favors and you can find lots of different options online. Coasters are a nice gift because they're fun and practical too!
There's lots of pretty Beauty And The Beast coasters out there too. Ones that have been released by the Disney store themselves, and also some fun fan made unlicensed versions.
You can even get yourself some personalized coasters that include yours and your partner's name embellished on them. This is a great way to commemorate the special day. 
Final Thoughts 
Although choosing party favors can seem a bit arduous at first, especially when you have a specific theme such as Beauty And The Beast in mind, it's actually not that difficult when you get down to it.
All you have to do is take a look at some of our ideas above and choose some of your favorites to give your guests a wedding to remember!

Latest posts by Lisa Plaitt
(see all)