You've been planning your wedding for months, the venue is booked, you have your caterers and dress, and you're finally getting to have the Disney wedding of your dreams. 
One of the only things left to sort out is your wedding shoes.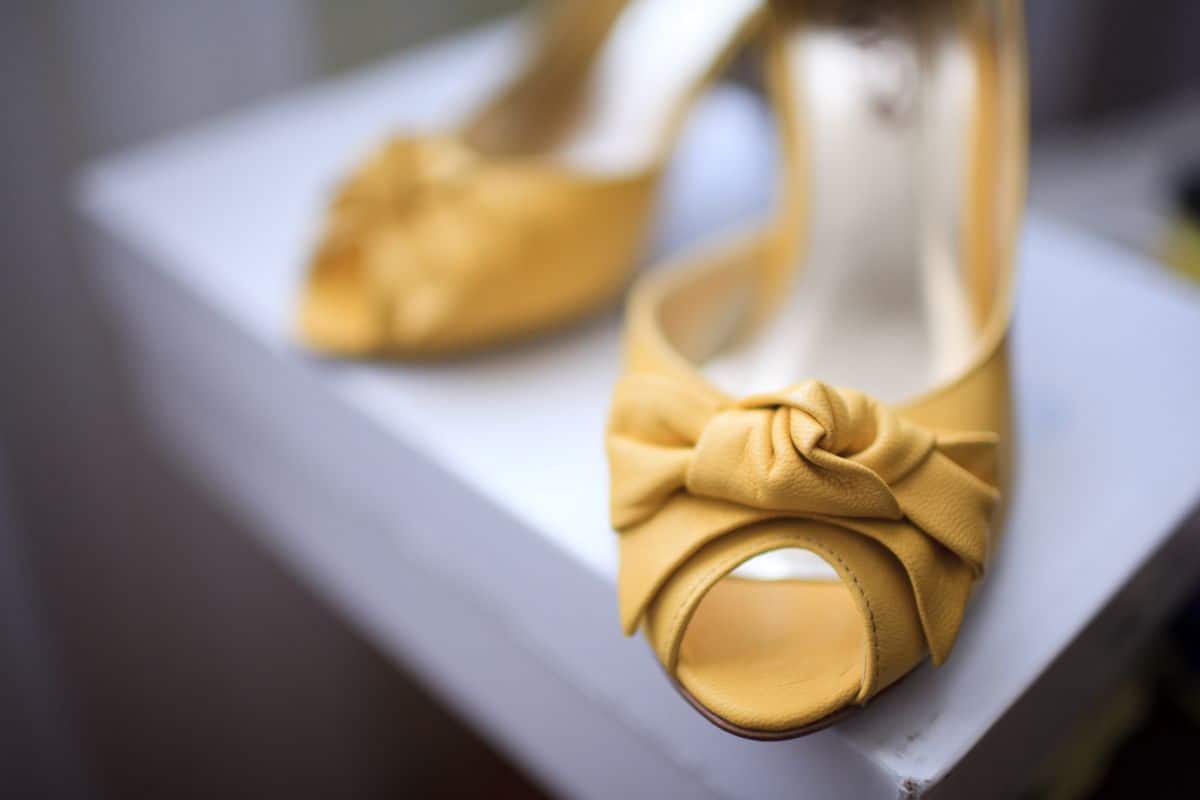 There are many different, creative things that you can do to add a little bit of Beauty and the Beast magic to your wedding shoes, and looking at designs online can feel a bit overwhelming. 
This article will look at 10 gorgeous Beauty and the Beast wedding shoe design ideas that will help you create the Disney wedding of your dreams.
In addition, we also have a collection of other Beauty and the Beast themed wedding articles, which you can check out for more inspirations:
Gold Pumps With Small Roses
If you have incorporated Beauty and the Beast into the color scheme of your wedding, these shoes will fit right into your special day. 
A beautiful pair of gold satin pumps already have strong hints of Belle and Beauty and the Beast, however, to make it even more in keeping with the theme, you can add small red roses to the shoes. 
The placement of the roses can either be scattered all over, or clumped together in a specific area such as at the back of the heel like a rose bush. 
To keep the shoes looking elegant the miniature roses should be applied sparingly.  This will help to simply enhance the beauty of the gold satin that will shine through.
Gold Open-Toed Heels With Roses
Similar to the shoes described above, Golden, open-toed shoes that feature blossoming roses can be a great homage to your favorite Disney princess. 
The open toe of this design allows you to also get creative with the nail art you choose for your feet on the day. 
Unlike the shoes mentioned above, the roses on these shoes should be singular, in bloom, and large enough to make a beautiful impact but without overwhelming the rest of the shoe. 
The best placement for the rose is right on the top of the shoe where the strap holds your foot in the shoe.  The rose can be a plastic, molded charm or it can be faux silk to give a softer appearance. 
Rose Gold Heels With Foil Details
If having small red roses attached to your heels doesn't fit the look that you are trying to achieve with your wedding aesthetic, this design may be more to your taste. 
Starting with a plain peachy, rose gold, satin pump heel these shoes will feel very feminine and sophisticated, perfect for a princess. 
However, if you want more of a specific nod to Beauty and the Beast rather than a generic Disney princess, you can add some foil detailing to reference the movie. 
Adding foil details in the outline of roses can really elevate the shoes into something spectacular. 
Whether you choose to cover the entirety of the shoes in roses like the rose bushes in the movie, or you want to apply the foil detailing sparingly to create the effect of vintage shoes the result will be beautiful wedding shoes fit for Belle.
Sole Details
If you are looking for a more traditional bridal look with very subtle hints of Beauty and the Beast, this design idea might be more fitting for your aesthetic. 
The details of these shoes are beautiful, but only noticeable when the soles of your shoes are visible such as when you are dancing or during any prayers during your ceremony.  
This design can be applied to any type of wedding shoe and there are many artists online that will be able to paint your shoes if you do not feel confident. 
The design that is painted onto the soles of your shoes can range from silhouettes of Belle and the Beast, famous quotes such as "Tale as old as time", all the way to elaborate, colorful scenes featuring all of the characters and the castle.  
Golden Filigree Slippers
If you want your wedding shoes to make you feel and look like a Disney princess on your special day, this golden filigree slipper design might be what you have been looking for. 
The more intricate the design, the more princess-like the shoes will feel.
The filigree design of these shoes can feature as many nods to the film as you want, from roses to small tea cups and candelabras, there is no limit aside from your imagination. 
When your guests catch a glimpse of these shoes as you walk down the aisle or as your new spouse twirls you around the dance floor, they will truly feel like you are a real-life Disney princess.
Gem Heel Details
Again, if you want to retain the traditional white wedding shoe appearance, with a little hint of Beauty and the Beast, adding gemstones to your heels can be a great way to achieve this. 
This is also a design that you could create yourself if you are creatively inclined.
Using deep blue and golden or yellow gemstones can help to create a beautiful, elegant tribute to your favorite Disney couple who perfectly represent the true love that everyone dreams of. 
There are many options for the pattern of the gemstones that you could use, from alternate stripes to spirals, to your initials, anything is possible. 
Pink Velvet Pumps
If you are a more low-key bride who doesn't want gems and sparkles and foil, channeling Belle's winter outfit can create a beautiful pop of color on your wedding day.  
During the Christmas scenes of Beauty and the Beast, Belle wears a beautiful dusty pink dress with matching pumps that make her look every inch the perfect Disney princess. 
You can emulate her grace and elegance with your own pair of dusty pink, velvet pumps to carry you down the aisle.  
Yellow Bow Details
If you have been dreaming about your perfect Belle fairytale, Beauty and the Beast inspired wedding since you were a little girl, wedding shoes that feature yellow bow details may be a sweet way to honor the little girl whose dream is finally coming true.  
Adding a yellow ribbon, tied in a bow to either the front or back of your wedding shoes can create a beautiful, subtle nod towards Belle and Beauty and the Beast that would make the heart of the little girl who fell in love with the story really proud to be with you when you say "I do" to your very own Beast.
Royal Blue With Gold Details
Beauty and the Beast wedding shoes don't have to be all about Belle.  Your favorite character may have been the Beast all along, or perhaps you want to honor your own Beast on the day that you marry him. 
For this, instead of having shoes that are primarily Belle inspired colors, they can be Beast inspired colors. 
Finding a royal blue satin pump or flats and adding gold detailing, either in foil or small areas of filigree or piping can create a stunning effect that truly channels the Beast and the wonderful suit that he wears in the movie. 
If you want to achieve a more striking appearance for your shoes, you could add gold piping up the heel in the style of roses on stems. 
This can create a beautiful nod to one of the central themes of the movie. 
Whatever style of gold detailing you decide on, the contrast of the royal blue with the gold will make your wedding shoes look classy and elegant.
Hand-Painted Sneakers
If heels are not really your thing or you are having anxiety dreams about tripping and falling as you walk down the aisle, you may feel more comfortable wearing sneakers on your wedding day. 
Although this is a slightly more unconventional approach to wedding footwear, there is no reason why it cannot be just as beautiful and elegant as a pair of pumps.  
To be in keeping with the Beauty and the Beast theme of the wedding you can have white sneakers that are hand-painted with a design that features elements of the movie. 
The amount of artwork that you wish to have on your wedding sneakers is entirely up to you. 
You could have Belle on one shoe and the Beast on the other, beautifully painted in a watercolor style to add a hint of color while keeping the overall design clean and simple. 
However, if you want your sneakers to be a work of art that you can display for years to come,  you could have entire scenes painted onto the sides or the top of your shoes. 
With this style, you can ensure that all of your favorite characters are included in the art and really tell a story with your wedding shoes. 
Final Thoughts
There are so many options that can be explored when you are looking for Beauty and the Beast inspired wedding shoes. 
From classic white heels with a subtle, secret hint of Disney on the soles, to hand-painted works of art that will keep you feeling stable and comfortable as you dance the night away at your reception. 
Whichever style you choose, your shoes will help to make the Disney wedding of your dreams a reality. 

Latest posts by Lisa Plaitt
(see all)