Wedding centerpieces are an important part of your reception to help jazz up your tables.
Whilst it is an enjoyable aspect of wedding planning, it can be far more involved than people think, especially if you're planning on incorporating a theme. 
As little girls, we've all dreamed about that magical day where we finally get to say "I do" to the Prince of our dreams.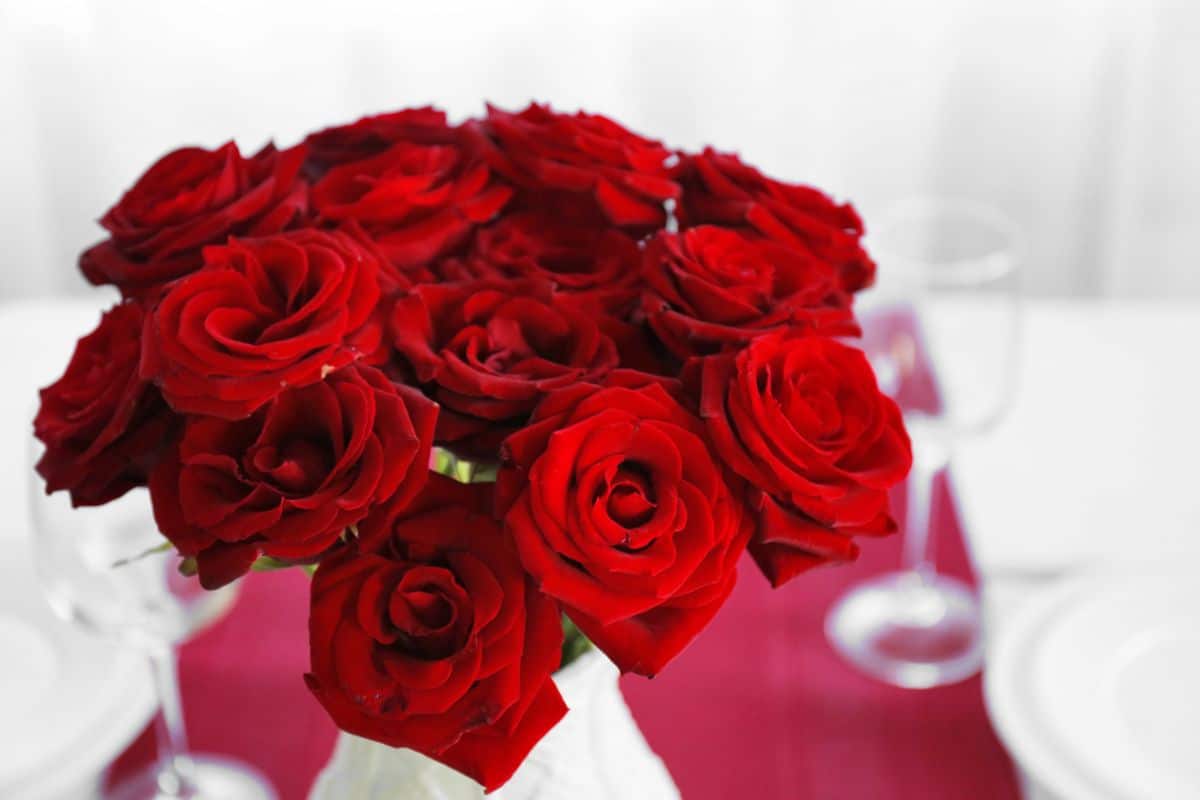 Many of us have fantasized about this moment, in fact, ever since we saw our favorite Disney Princess Belle transform her beast into a magical Prince with the power of a kiss. 
If you're planning on celebrating your special day by honoring this beloved Disney movie, then your wedding centerpieces are a fantastic way to show the theme you've chosen.
If you need some inspiration for what to include on your tables, keep reading, as we take a look at 10 magical Beauty And The Beast wedding centerpiece ideas to give you some inspiration. 
Things To Consider Before Arranging Your Centerpieces
Before we can get started on our list, first we need to consider some of the different factors that go into choosing your centerpieces.
Below, we take a look at a few important things to think about before you start arranging. 
Number 
This is an important aspect of arranging centerpieces for your wedding. You need to make sure that the number of centerpieces that you've choses matches the number of guest tables in the venue.
If your wedding is a small, intimate affair, you might be able to choose a select few that you like best from the ideas listed below.
If your wedding will be a large one, then you might need to duplicate some of the centerpiece arrangements on multiple tables. 
Make sure that you also remember to arrange centerpieces for the buffet tables, welcome table, and the head table too. If not these areas might look a little bare. 
Budget
As with everything else included in your wedding, your centerpieces need to be within your budget.
Thankfully, many of the ideas that we've listed below take into consideration those who do not have a large budget to work from.
If, however, you're planning on including red roses on every table to fit in with your Beauty And The Beast theme, this could get a little costly.
 It is estimated that around 8 percent of wedding budgets are spent on the flowers alone.
Make sure that the florist that you're working with is aware of your budget right at the beginning, to avoid any awkwardness and panic later down the road. 
Height 
Another thing you might want to consider in relation to your centerpieces is the size of your venue. Does your venue have a sky high ceiling that seems to go on forever?
If this is the case, then you are safe to assume that you can arrange your centerpieces to stand tall when choosing their height.
 If, on the other hand, your venue is small and intimate in nature, then you might want to consider smaller centerpiece arrangements.
Shorter centerpiece arrangements are also preferred by couples who want their guests to be able to interact freely throughout the reception, without having to shift around to make eye contact whilst trying to see past the massive centerpiece.
Whatever height you choose, don't worry, the centerpieces we have listed below can be altered to suit your personal preferences. 
10 Magical Beauty And The Beast Wedding Centerpieces
Now let's get down to it. Below, we've listed ten different centerpiece ideas that are Beauty And The Beast themed for your special day.
Choose all of them if you like, or just take a select few that you're really into. The choice is yours! 
Rose Domes
When one thinks of Beauty And The Beast, one of the first things that comes to mind is the iconic rose in the glass dome featured in the movie.
As the fairytale states, the eternal rose which had been enchanted by an evil witch, would bloom until the Prince's 21st year.
After this time was over, if he had not learnt to love another, and receive love in return before the last petal fell, he would be doomed to remain a beast forever.
Thankfully, the beast in our story does find his Princess, and the rose becomes a symbol of true love.
If you want to incorporate this magical element of the story into your dream wedding, find a good florist to purchase some red roses from, and then you can simply buy the dome yourself to place over it.
If you want to make it even easier, then take a look at these ready made ones on Etsy that use synthetic roses. Some of them even have fairy lights inside to give them an extra sparkle! 
Books Everywhere
Perhaps one of the reasons why you love Beauty And The Beast so much is because you are an avid bookworm yourself just like Belle!
If this is the case, then why not add some books to your centerpiece tables.
Choose some old leatherbound classics, with gorgeous vintage-looking illustrations on the cover, like the Barnes and Noble Classics.
Candelabras 
One of the most beloved characters in Beauty And The Beast is amusingly a centerpiece himself!
Lumiere, a former servant of the beast, was magically transformed into a candelabra, and can be seen assisting Belle throughout the movie, including giving her a dinner party to die for!
If you want to create a similarly magical dining experience for your guests – put some candelabras around the tables. 
Clocks 
Another heavily featured character from the movie that can regularly be seen engaging in a tete-a-tete with Lumiere is Cogsworth, everybody's favorite grumpy clock.
If you want to bring some more of the characters from the movie into your reception, why not buy some gorgeous pendulum clocks to put on the tables! 
Tea Sets
I know this one isn't truly a centerpiece, but if you're thinking about having a buffet at your wedding anyway, why not turn it into an afternoon tea!
You could get some vintage tea sets from your local thrift stores and use them at your wedding to give your guests a fairytale tea party! Mrs. Potts and Chip would certainly approve! 
Multicolored Roses
Instead of opting for a single rose encased within a dome, if it's within your budget, why not get a whole bunch of beautiful roses!
You could either get a simple red bunch to match the enchanted rose in the film, or you could buy a bunch of multicolored roses.
We're thinking red, yellow, and blue, the main colors represented in the film. This is sure to make a striking centerpiece. 
Belle Dolls 
If you really want to make your theme as clear as possible to show your love of the movie, you could actually purchase some dolls and figures from the Disney store of Belle and the Beast.
Stand them up in the middle of your table, mixed in with the backdrop of beautiful roses. This is a really fun way of celebrating your love of the characters. 
Plaques
You could also buy some gorgeous wooden plaques to place on the table with yours and your spouse's name engraved on them, along with a symbol from the movie like a rose or a clock.
You could also have a quotation from the movie engraved on there, like 'tale as old as time'. These would really add a touch of class to your special day. 
Enchanted Mirror
Another iconic item from the movie – the enchanted mirror! This is the item that the beast uses in the movie as he ponders over whether or not Belle truly loves him.
There are so many beautifully embellished hand mirrors out there that you can purchase. You could easily incorporate these into your table layout too. 
Yellow Dining Cloth
Just as the centerpieces are important for your table arrangements, the dining cloth that you use can be equally integral for creating the perfect atmosphere for your reception.
You could go ahead and opt for a yellow dining cloth instead of the traditional white one, in order to emulate Belle's dress from the movie!
Adding a touch of color to your tables will really create a fun atmosphere for, and is an easy way to incorporate the theme into the wedding. 
Final Thoughts
There are so many ways to incorporate your love for Beauty And The Beast into your wedding, just take a look at the options above.
You can either mix and match, or just choose your favorite to create your fairytale reception. It's totally up to you!

Latest posts by Lisa Plaitt
(see all)