All weddings have a theme, but there is none more romantic and magical than a Disney theme. Disney movies are surrounded by love stories, unexpected connections, and finding oneself through exploring the world as a pair.
These stories are so intertwined with how we experience love, that creating a Disney-themed wedding is a no-brainer.
However, you might wonder if you can give these characters the justice they deserve, or worry that the end product will feel lackluster.
Well, have no fear! Using this guide and our links to more detailed suggestions, you can ensure the detail, subtleties, and grand gestures you need to make your wedding day perfect.
Before we get started, we want to say a massive hello to the readers of Megan-Vaughan.com. We have recently acquired the website, and are super excited to welcome more people into our growing community.
What Movie To Pick
When you create a wedding, you first need to consider the theme. For a Disney wedding, that means picking a movie or concept you want to build your day around.
You may already have an idea in mind, or you might be scratching your head wondering how to even begin. Don't worry, we are here to help!
Before you pick the movie, you need to be aware of the season you are marrying in. Your wedding ideas need to match the season, to add an element of natural magic.
All of the Disney movies use nature in one way or another, and this connection to the scenery, environment, and wildlife will help add an atmosphere of fate and togetherness. Almost as though the magic of Mother Nature is blessing this union.
Summer Disney Movie
Summer Disney movies are surprisingly not as common as the other seasons. Most Disney movies are set in the Winter or Spring, but most weddings are booked in the Summer. This presents our first problem, but don't worry Disney will pull through!
Arguably the most popular Summertime Disney movies are The Little Mermaid, Moana, The Lion King, Finding Nemo, Luca, Toy Story, and Brother Bear. But unless you want an animal or sea-themed wedding, these might not be the best fit.
However, there is one classic that we haven't mentioned – Aladdin. Aladdin-themed weddings can allow you to add color, be grand, and keep to a prince or princess theme without having to add a tail. 
Using an Aladdin theme, you can start to build a color palette. Perhaps you enjoy the blues and purples when they experience A Whole New World.
Maybe the red and cyan combination, found when Jasmine and Aladdin first met, reminds you of your own love story. 
Look for a color combination that represents your love.
Starting with your color theme you can build out from there. You may want to put the colors on your wedding invitations or create cocktails that alternate from one color to the next. 
Of course, you could add camels, sand, and gold coins to your display too, but you don't need to invite a genie into a bottle to create the Aladdin aesthetic.
Depending on how subtle you want the display to be, you can use colors, tokens of lamps, and fabrics to create the aesthetic you are looking for.
Fall Disney Movies
As you can expect from a season that includes Halloween, most Fall Disney movies are spooky. During this time you could use options such as Coco, Coraline, The Fox and The Hound, Fantastic Mr. Fox, or Book of Life.
But we think the most obvious choice is Pocahontas or Brave. Both movies use foliage as part of their aesthetic. One mixes forest greens with cyan and red, while the other mixes it with yellows and teal.
Depending on how light you want your wedding to be, you could opt for Pocahontas's lighter aesthetic, or allow the deeper colors in Brave to shine through.
Through the Brave storyline, Merida finds wisps that guide her through her story. You could use this idea and branch out from it. Perhaps the lights at your wedding will burn blue instead of orange.
Or maybe use these lanterns to direct people through your special day.
Pocahontas has a guide too, but this movie uses leaves to help direct the princess. The purples, oranges, and reds could also act as a direction indicator to your guests.
Alternatively you could use them as simple and cheap decoration pieces which easily match the rest of your style.
Winter Disney Movies
Now for the season in which Disney shines – Winter! The most iconic movies during this time are Frozen, Beauty and the Beast, Sleeping Beauty, and Bambi.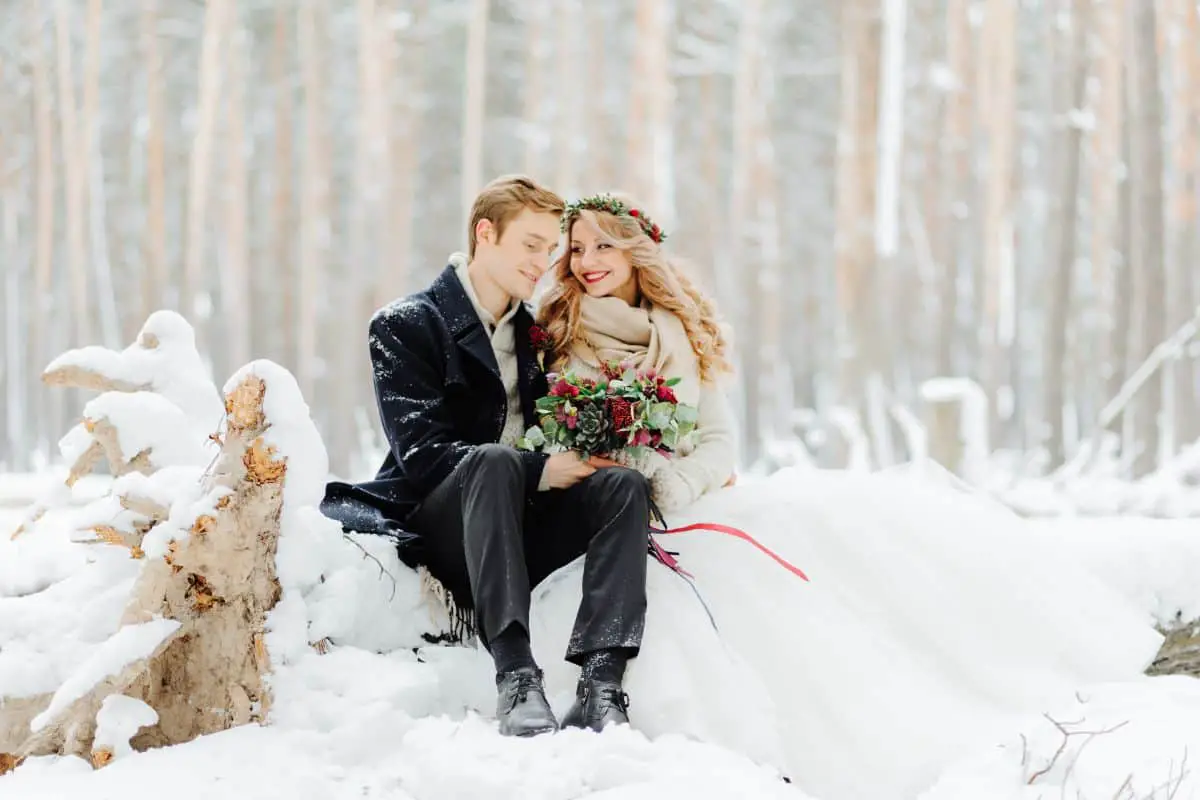 If you are lucky enough to experience snow in your winter season, then you cannot pick any other movie than Frozen. May you prefer Elsa or Anna, either princess will create an outstanding aesthetic for you to utilize.
Anna uses reds, blues, purples, and greens to bring whimsy and life into the cold landscape, while Elsa uses whites, lilacs, blues, and pinks to show elegance and with a touch of warmth.
Simply using these colors and adopting their hairstyles could be all you need to add a touch of magic without your guests realizing why they suddenly feel so enchanted.
If snow isn't as prevalent in your area, then you may prefer to use Beauty and the Beast as your main winter idea.
When Belle and Adam spend time in the rose garden during their winter episode, Belle wears red, whites, and pinks while Adam donned whites, blues and purples. 
You can easily add these colors to your wedding by choosing red roses as your bouquet, white accessories, and pink tablecloths.
The lining of the suits or dresses of the main bridal party could be purple to connect these colors together without overpowering the traditional blacks and whites you may choose to use.
At the moment, we are just playing with ideas to see which movie you want to use as your main concept, so print out some stills from either movie to see which elements you're considering for your special day.
Spring Disney Movies
Most Disney movies can easily fit into the spring category, as this film studio loves to use blooming flowers as a metaphor for the growing girls in their stories.
Arguably the best options are Frozen 2, Enchanted, Cinderella, Tangled, and Tinkerbell. But we have a soft spot for a princess-less Disney movie during spring – Up.
An Up-themed Disney wedding can hold more than the magic of the studio, it also includes adventure.
You could create an "Adventure Is Out There" journal for all of your guests to sign, or place travel stamps on the tables as decoration pieces, showing everyone where you've been as a couple.
The color scheme for this movie is baby blue, labrador yellow, muted browns, and multicolored balloons.
During spring, color is everywhere so you can recreate those iconic multi-colored balloons in your bouquet, by allowing as many colors as you can take place in your bundle of flowers.
Find the movie that best represents your love and your season, and then pick apart your favorite element and see how they can be incorporated into your wedding day.
It Starts With A Proposal
If the proposal hasn't happened yet, you can incorporate your overall wedding theme from the very first steps of the process. 
Getting the ball rolling by using the same themes and color scheme throughout will make your wedding photos and engagement photos feel seamless.
You can easily put all of the souvenirs from each experience into the same collection without thinking that these pictures were for two completely different weddings (an issue many people face).
Proposing in Disneyland
If you know your partner loves Disney, but you're not sure which overall theme they will want, the easiest way to stay on track without making choices for them is to propose at a Disney destination.
Arguably the most romantic place to propose to your partner is on a carriage ride. There are plenty around Disneyland, and the experience will make your partner feel like royalty.
Because most renaissance Disney movies include a horse and carriage, you won't be creating an image completely unrelated to your wedding, which means it will likely become a perfect fit for your overall wedding theme.
You can hire professional Disney photographers during your stay, to help capture the candid moments of your proposal, and also create an album of your trip as a whole.
Pictures by sleeping beauty's castle, in the mad tea party fantasy land, and snow whites wishing well are all beautiful and timeless backdrops for your proposal. 
A Classic Disney Princess Proposal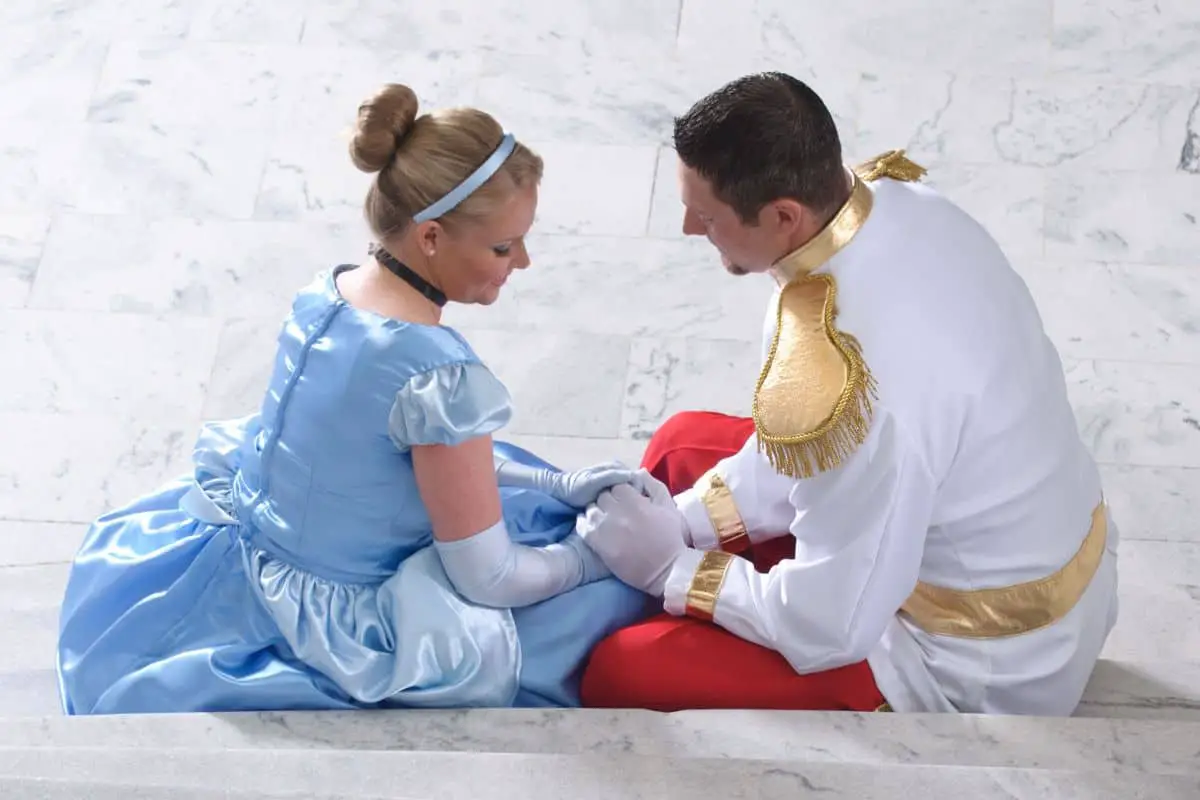 We have already mentioned a horse and carriage proposal, but you don't need to go to Disneyland to experience this moment. Simply complete an internet search for a local carriage ride near you, and be sure to ask your partner to dress up for the event.
However, if carriage rides aren't really your thing, but you love to connect to nature and the magic that surrounds the wilderness, then you may prefer to propose in a pumpkin patch.
This moment will feel akin to a Cinderella proposal, and if you hope to get married in the fall then these pictures instantly match your wedding aesthetic. 
If you're more in favor of the dramatic, you could set up a themed party, where everyone dresses up in their best renaissance attire either as a masquerade ball or directly Disney-related.
And then as your partner comes down the stairs, take this moment to get on one knee.
Create A Proposal Which Matches The Movie
If you already know which Disney movie your partner and you want for your wedding aesthetic, then create your proposal using this information. 
In this article, we detail 17 ways to make a Beauty and the Beast-themed proposal, from a trail of red roses to hiding a ring inside a book.
Seeing as we have already covered that topic, we will instead give you more ideas for other iconic movies.
If you hope to have a Moana-themed wedding, perhaps you should take your future fiance on a sailing trip and have lessons to steer a vessel.
The waves and the lessons will create a memorable experience along with the perfect setting to pop the question – just make sure not to drop the ring overboard.
For a Brave-themed wedding, you could travel to Scotland and explore the history of kings and queens of old. You could learn to ride a horse through the moors or take archery lessons to bring Merida to life.
You could even attend a renaissance festival to experience a whole day's worth of magic and adventure.
If you hoped to bring the Princess and the Frog to life at your wedding, then you could take a trip to New Orleans and bask in the rich culture in every corner.
Be sure to find a jazz bar and listen to music that resonates with Tiana and Louis (the trumpet-playing crocodile). While in the dark-lit soothing atmosphere, you may find the perfect moment to pull out the ring.
For Wreck-It Ralph, you could take your partner to an arcade and play retro video games with sundaes, sweets, and a good old-fashioned racing car game.
You could even take it one step further and head to a go-karting center to race against friends, but the real prize is the ring you present at the end.
Whatever movie you choose, pull out a theme from the film and figure out how to make it into an event. 
A Magical Location
Now to the wedding itself. Your wedding location is the most important decision for your big day. It will carry the aesthetic and overall concept of your wedding more dramatically than any other element you bring it.
Getting married in a forest will create a whimsical and magical atmosphere, in a castle or medieval building will create a sense of royalty and grandiosity.
A church will base your wedding on religion, while the beach creates a carefree and almost sporty aesthetic. 
When it comes to a Disney-themed wedding, the most important element you need to capture is magic. And the easiest way to make that happen is to get married at a Disney location.
Getting Married At Disney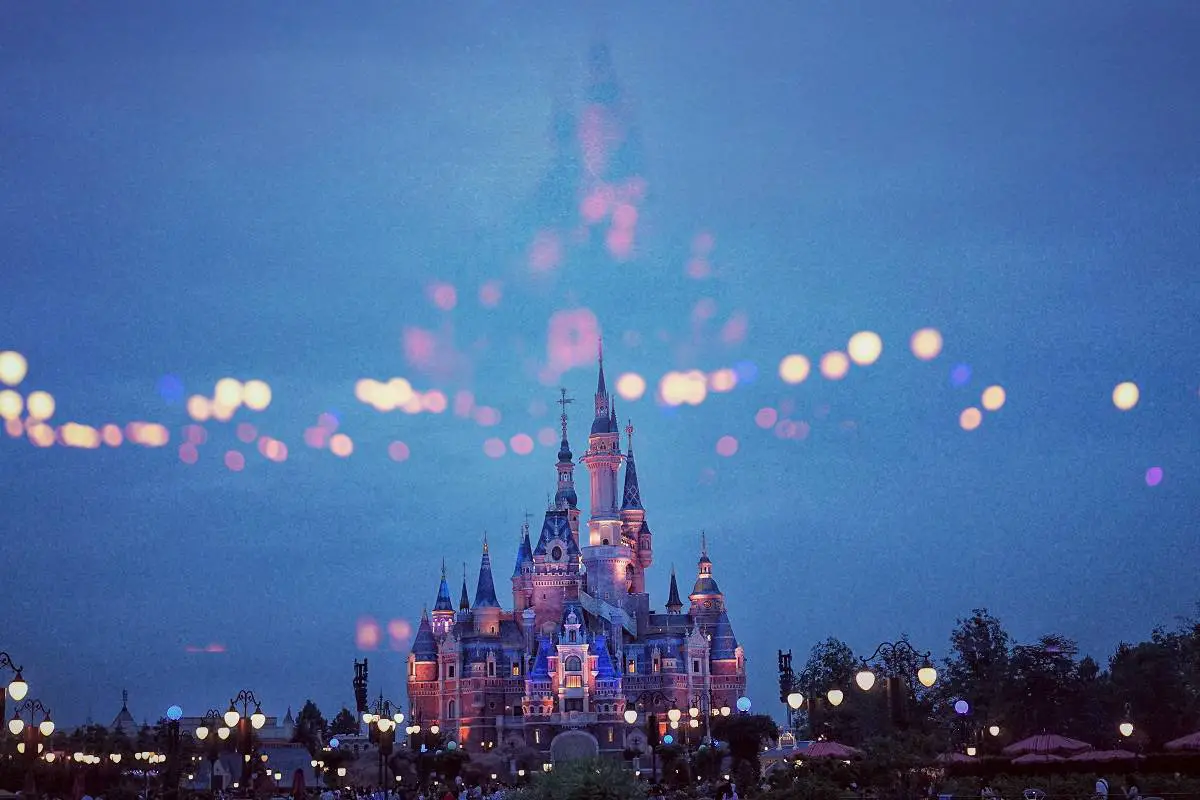 Getting married at a Disney location can be expensive.
We have broken down the costs here if you want to know what to expect, but if you've saved for the occasion and are aware of the price tag, then there should be nothing stopping you from picking this fantastic venue.
The first Disney venue we want to discuss is the Epcot Pavilion. This theme park has a wedding package ready and waiting for you, and it can hold between 10 and 250 guests.
When you get married the background display is none other than the Cinderella castle itself, making it the perfect backdrop.
Talking to the wedding team, you can create a menu inspired by your favorite Disney movie, and ask for entertainment at a high-class level including live music and characters dropping by. 
If you want a Disney location that feels grander, then you may prefer Hong Kong's Disneyland. There are three different ballrooms you can hire, the details of which you can find in the link above.
However, each of these rooms is decorated and constructed to match a different princess. One for Cinderella, one for Snow White, and the third for Aurora from Sleeping Beauty.
As you may expect from a ballroom venue, this location will allow you to live your royal fantasy of grand architecture, breathtaking views, and the chance to show your dancing abilities in a location worthy of your attempts.
However, if a ball doesn't sound right to you, you can always visit their Caste of Magical Dreams. This is an outdoor venue where your wedding can be played out in an Alice in Wonderland-themed garden experience. 
Either way, the experience you would receive in Hong Kong is second to none!
The last Disney venue we suggest you look into is Downtown Disney. Located in California, Florida, and France, no matter which one you are closest to you should still have a chance to experience this type of magic.
You can find Downtown Disney around the gates of any of the Disney parks, and inside this area, you'll have access to shops, dining locations, and entertainment.
Hiring one of these venues for a wedding is a cheaper option than a Disney wedding, while still experiencing the amazing entertainment on offer.
The great options to choose from are the Grand Californian Hotel, Ralph Brennan's Jazz Kitchen, and The Disneyland Hotel.
We go into detail about each of these options in the link above. Depending on the atmosphere you hope you create, search through our information to figure out the best option for you.
No matter which one you pick, the wedding will be all-inclusive, meaning the flowers, food, accommodation, and photography will all be included in the price.
Budget Friendly Disney Locations
If getting married at Disney isn't an option, there are a handful of other avenues you can go down to ensure your venue feels as magical as the movies. They are getting married in a forest, barn, castle, field, or at home.
Although you want your magical day to feel out of this world, that doesn't mean you have to travel far to experience that level of enchantment.
Ideally, you should visit each of these locations before settling on one, but if you have a Disney movie in mind already one of our ideas might already be jumping out at you.
Getting Married In A Forest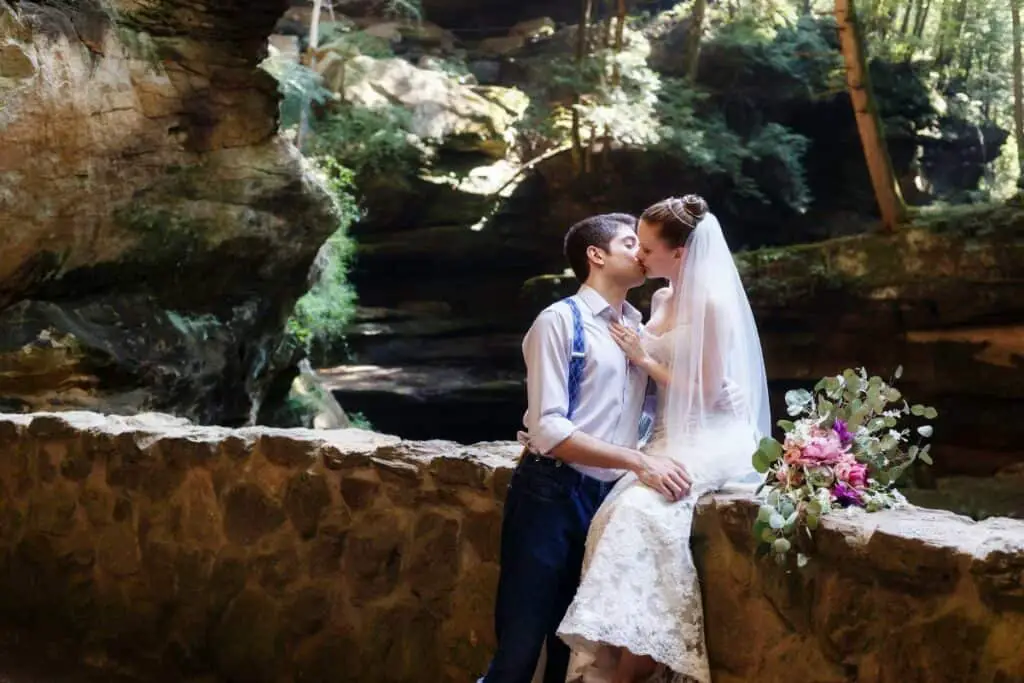 Depending on where you live, the laws may state that you can only get married on approved land. This means that simply going to a forest and having your ceremony in the luscious landscapes of the trees may not guarantee a lawful union.
So first you need to complete an internet search for local forests that are allowed to host your wedding. These areas are often well maintained, which means even if you're hoping for an overgrown aesthetic, you probably won't find one.
If you were hoping for a background akin to Mother Gothel tower, you may not be able to find the perfect location. Instead, you should talk to a local florist and explain to them your design ideas.
They may be able to bring the wilderness to your wedding, adding layers of drooping vines and overgrown logs to add to the natural beauty of the area.
To add to the magic of a forest, you could include fairy lights or lanterns that are only slightly hidden from view.
They could be presented like the wisps in Brave, fireflies in The Princess and The Frog, or magical lights from Sleeping Beauty.
Adding these little touches to your area can help keep the magical feeling alive as the ceremony takes place.
Getting Married In A Barn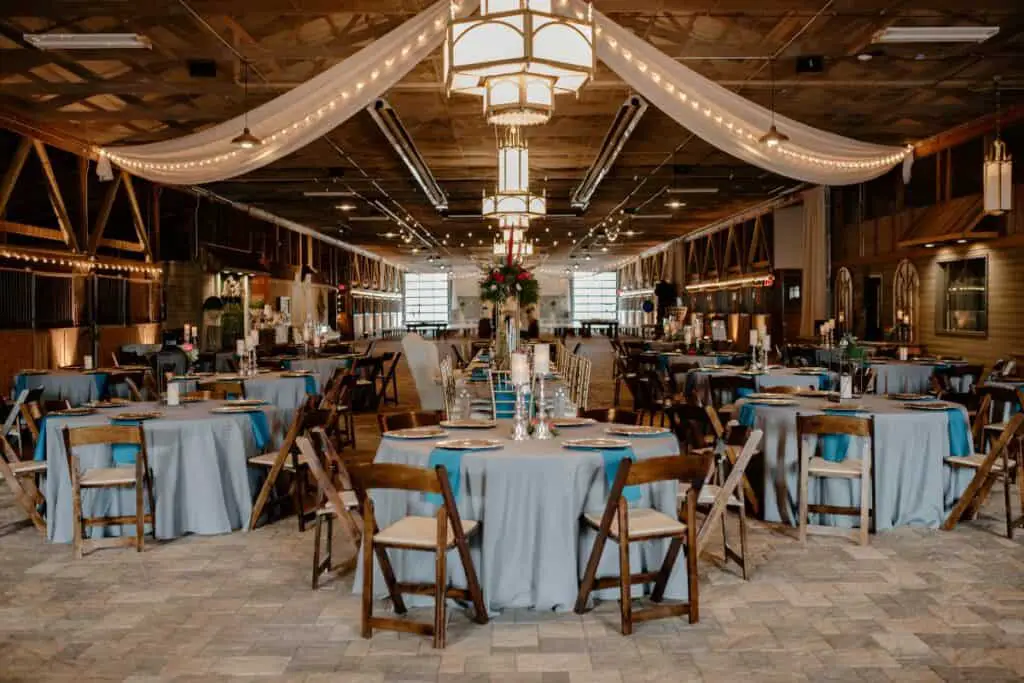 Barn weddings have a special type of magic to them, which only really gets the chance to shine when there is exposed wood. Wood gives you that connection to nature, and allows you to see the knots and curves unmatched by human hands.
When you start looking for your barn, be sure to find something with either exposed beams overhead, or lines of wooden frames along the sides of the building.
If the entire barn is covered with concrete (or even worse – plastic), it will cheapen your whole experience and stop the Disney feeling from reaching you.
Be sure to add hanging vines from the ceiling, and fresh flowers along the walls. Of course, nothing feels more magical than fairy lights, so be sure to cover any drab areas with these delicate additions to keep the magic flowing.
There is a whole list of ideas in this link to help you find that spark of inspiration.
Getting Married In A Castle
If you're lucky enough to secure a castle, you will have the best opportunity to make Disney come to life.
Depending on your aesthetic, you may want to add little details that connect to the movie dotted throughout the castle or change entire rooms for a not-so-subtle nod to your favorite scenes. 
The little details could consist of a candelabra sitting next to a clock in a cubby of the main room. Or some roses in domes added as centerpieces to your tables. Go on, guess who we are hinting towards.
You could even add little clues to your favorite movie as a treasure hunt for the guests during the event. It forces them to go through the castle and find recreations of epic scenes of the movie in question. 
With such a fantastic scene, make sure you play around and get creative with your space.
Getting Married In A Field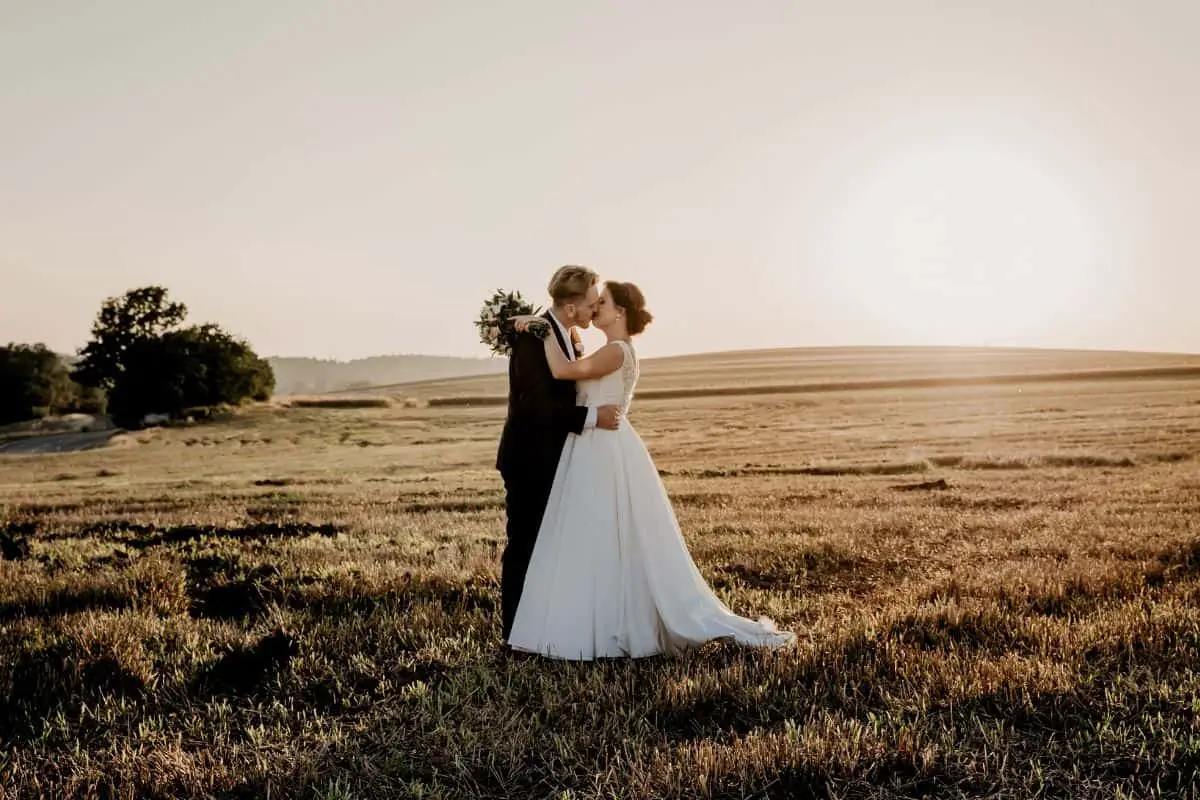 Getting married in a field can be just as magical as a wedding in the forest. This is especially true if the event takes place in the spring, and the flowers of the meadow are in bloom.
The setting alone can give you Alice in Wonderland vibes, which you can lean into in both a whimsical and budget-friendly way.
Because Alice in Wonderland has an iconic tea party set in the movie and books, you can easily replicate that sense of fun and stupendousness through thrift shopping.
Buying teapots, plates, and tables of mismatched designs will lean into the unusual aesthetics of this story.
Getting Married In Your Own Home
Of course, you don't need to travel far at all to find the perfect venue. Your own home could have all of the magic you need.
We have already created a whole article dedicated to home weddings, so click on the link above to learn about all the finer details.
The main thing you need to remember is to change your current home into something special. This isn't just any party you're hosting remember- it's your wedding day.
This means you should decorate every corner of your home to add the extra spark you need to make this day feel different from the rest. 
Dress To Impress
When it comes to dressing for your wedding, the standard expectation is for a woman to wear a white dress and a man to wear a black suit. But this is your day, and if you want to be a bit more adventurous, then go for it.
When it comes to a Disney wedding, the couple is considered royalty and they can become Prince Charming or a Magical Princess if they desire.
If you have a movie in mind, start your search by looking for outfits that fit those designs. However if you need a little help or if your Disney theme is broader than a single movie, then sift through our guides below.
Mixing Church And Disney
There is an entire list of do's and don'ts when it comes to church attire. For one, you are expected to dress formally, and secondly, whimsy is often lost in the shadow of religion.
However every church or holy place is different, so talk to those in charge about what you can wear.
Assuming your church holds a modest view, we suggest buying a traditional dress or suit but allow your Disney side to come through on the details.
You could do this by wearing earrings that match your movie's theme such as roses for Beauty and the Beast, the Heart of the Te Fiti for Moana, or chameleons for Tangled.
Or inside your suit, you could have patterns that match the subtle background of the films. Such as the diamond shapes on Elsa's wallpaper, or the lanterns of Rapunzel's birthday remembrance.
Add these little touches to your outfits to allow your dress or suit to match the Disney theme without disrespecting the church. 
Overall Disney Aesthetic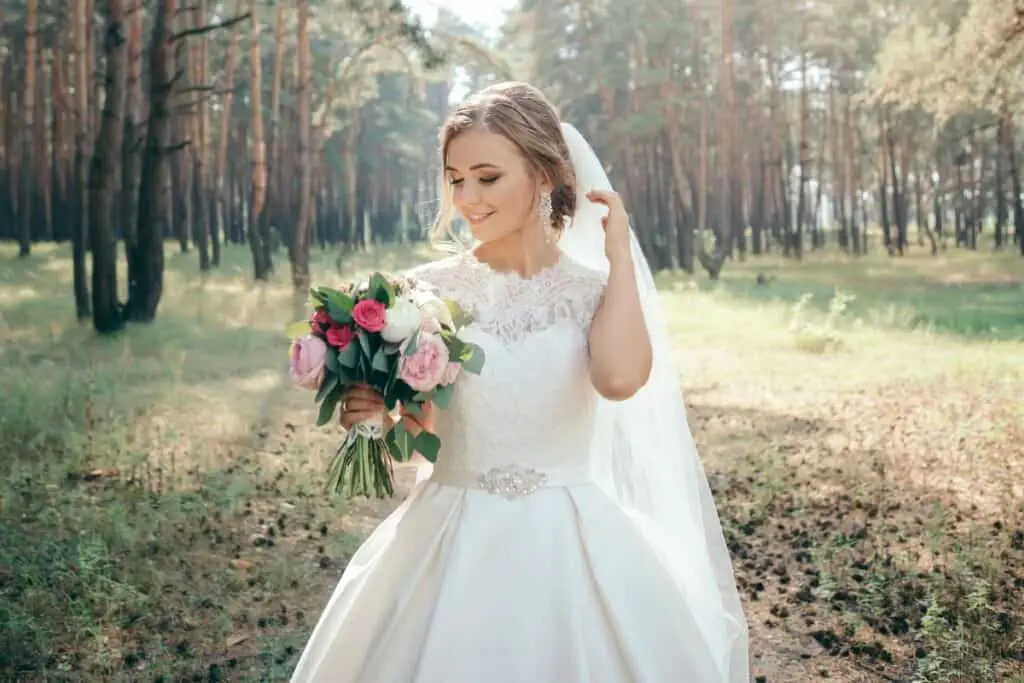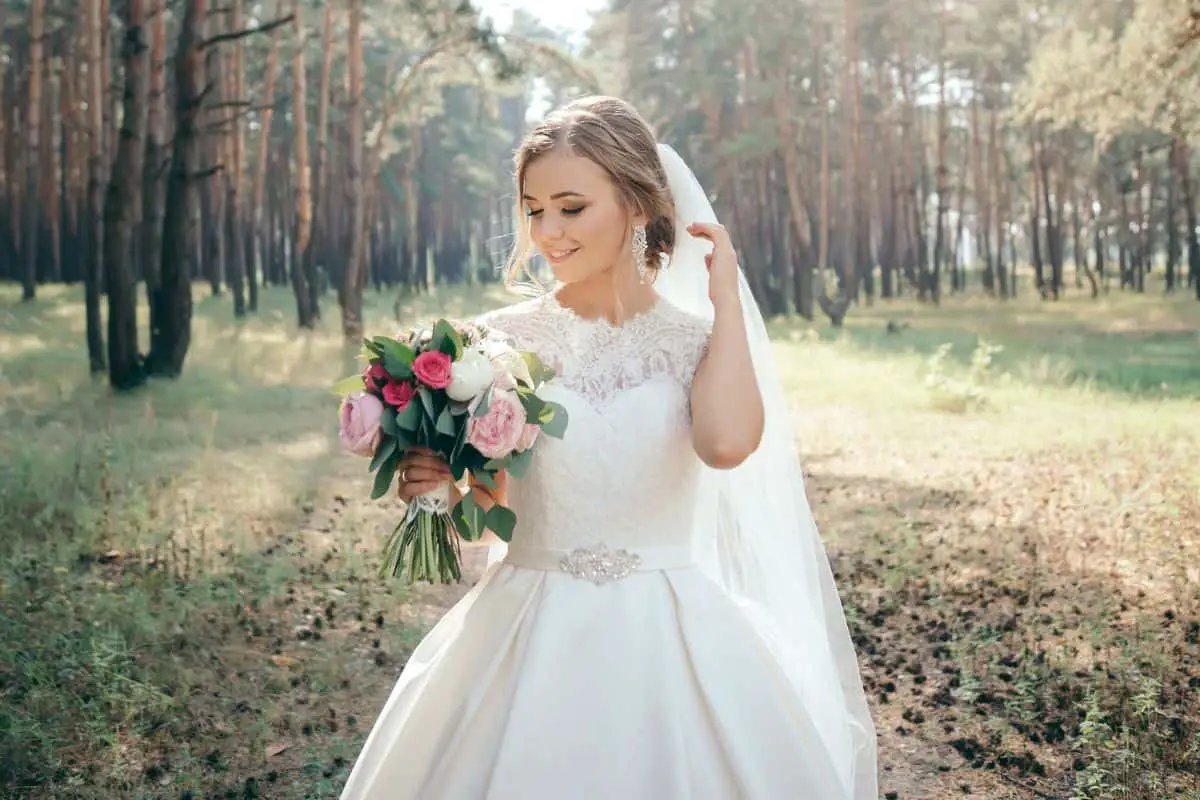 If you want to feel like a Disney princess, but aren't particularly enthralled by a single outfit from the movies, then you may prefer to aim for a fairytale wedding dress instead. 
Fairytale wedding dresses come in many different styles and sizes, but they often opt for a renaissance feeling through a lace bodice and a flowing skirt.
The bodice is normally tight with the delicate lace of flower shapes which either stay around your torso or trail down your dress.
The bottom of the dress often contains wispy fabric as though you are a fairy who has left the feywilds just for a moment.
These outfits will fit in perfectly with a Disney-themed wedding, as all Disney princesses have this same level of magic and mystery.
How To Make Your Dress Match Your Favorite Disney Movie
Traditionally wedding dresses are white with lace, but you don't need to follow tradition.
In fact, with a Disney-themed wedding, you're probably more attuned to your own desire allowing you to avoid boring traditional choices that have no use in your dream day.
But, if you're unsure what a Disney movie-specific wedding dress might look like, allow us to help you paint the picture.
If your wedding is based on Alice in Wonderland, then you have a couple of options for a corresponding dress. The first thing you should consider is a blue dress, instead of white.
The depth of the dress could be baby blue with white lace on top to create a wedding aesthetic. But around the neck is a loose string tie adding to the English fashion in the movie.
If that seems too whimsical to you, then you may prefer a white and blue lace dress that changes in gradient from top to bottom. Look through the link above to get inspiration.
Continuing the blue theme, if you're having a Frozen-themed wedding, you can easily adopt Elsa's dress in the first movie as her ice gown is beautiful enough to be a wedding dress without any changes.
However because Frozen is set in an icy landscape, you can easily get away with wearing white, and instead either wear blue snowflakes on your dress or white ones of a different shade.
For a Beauty and the Beast wedding, the best dress to consider has nothing to do with color. Instead, you could be looking at the cut. Picking a ball gown dress that is golden, would perfectly match the iconic dancing scene in the movie.
However, if you want to keep your connection to Disney a little more subtle, then you could add the flare through your shoes instead.
Perhaps a gold open-toed heel with roses on top, or a high heel with a detailed image of the stained glass window painted to the sole. We have more ideas here if you want to find the perfect shoe for a Beauty and the Beast-themed wedding.
Decorations To Match Your Disney Aesthetic
Your Disney-themed decorations can stem from the reception all the way to your cake toppings.
Just like our other advice, you should try to incorporate the movie of your choice through the subtle details in your decoration ideas.
If you're following Up, perhaps you display a guestbook asking your friends and family to add in a memory that they have of the couple, helping everyone remember a novel worth of adventures.
For a Beauty and the Beast-themed wedding, you could add candelabras to your table or use books as centerpieces. Try to decorate with these themes in mind, without allowing them to overpower the moment.
If the whole table has clocks, books, roses, and candles, then there will be no room for the food! Instead, just choose one item and put it on each table, allowing the simple piece to remind your guests of your favorite film.
You could even keep the subtle theme going with simple favors such as a beauty and the beast bath bomb, or individual rose domes with each guest's name inscribed on the inside.
Of course, a simple way to tell everyone to "Be Our Guest" is to play Disney songs through the dinner portion of your day.
To avoid the evening becoming a musical, you could use classical or instrumental versions of the music to play in the background.
Some of your choices would be classics like "Can you Feel The Love Tonight" or " Tale As Old As Time", others could be the songs dedicated to your favorite character.
And to really cement the theme into your wedding, you can add a topper to your cake that matches the movie. A Beauty and the Beast topper could consist of Belle and Adam dancing in silhouette, or Lumiere and Cogsworth bowing to the guests.
You can browse our collection of 10 Beauty and the Beast wedding cake ideas to help build the cake of your dreams, or our article of 10 Beauty and the Beast wedding cake toppers to add a single element to your perfectly designed dessert.
Summary
The first thing you need to do when creating a Disney wedding is to decide which movie you want to take inspiration from. From that point on, you can make choices on color schemes, favors, dress styles, and decorations. 
Our links above can help you rule out or gather inspiration from all of the best Disney movies, so you won't be left scratching your head wondering what to do next.