The magical and romantic world of Aladdin is a perfect wedding theme for any bride wanting to celebrate their wedding day Disney-style.
Opting for a classic Arabian Nights theme can be elegant and beautiful while still paying homage to your favorite Disney film.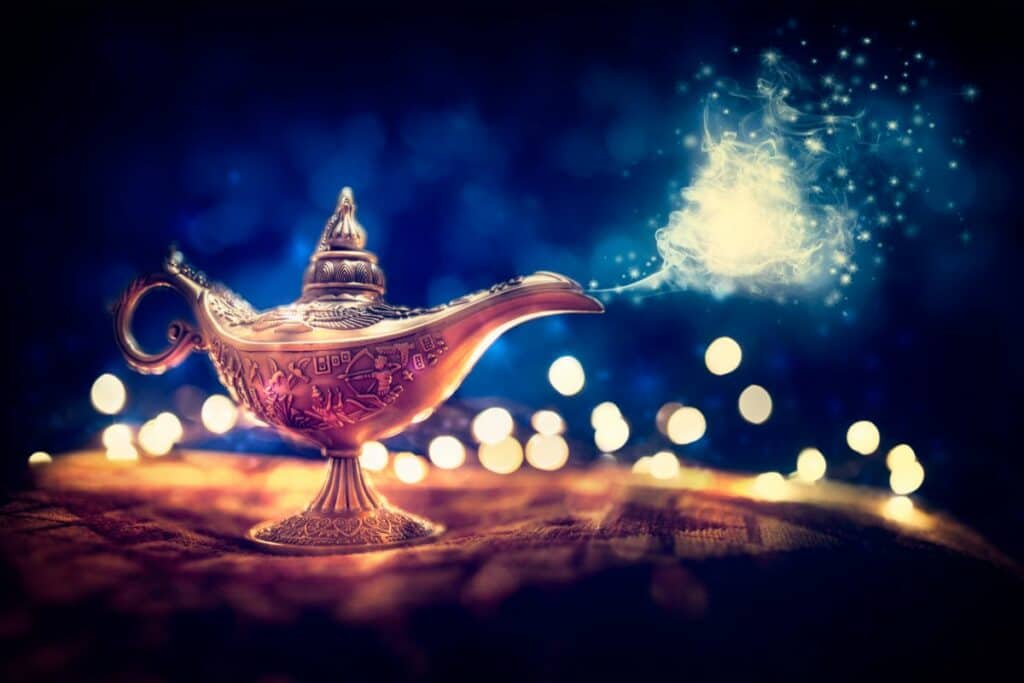 Are you considering throwing an Aladdin-inspired wedding?
This might seem quite difficult to put together, but thankfully you won't have been the first and there are a lot of previous examples for us to look at.
From centerpieces to the perfect wedding gown, this article will provide you with some inspiration for your Aladdin themed wedding that is bound to make your big day absolutely enchanting.
But you are not limited to the Aladdin theme alone! Some people might prefer combining it with elements of other princess-themed weddings. If that is you, be sure to also check out these articles:
Let's start up with decorations! When it comes to an Aladdin themed wedding, there are a lot of ways you can go about decorating your reception and or ceremony.
In the picture below, we have a selection of decorations that include mirrors, statues, and sculptures, as well as unique, middle-eastern inspired furniture. 
Perhaps you're looking for something more inspired by the Genie's Cave. After all, this is one of the most impressive and well-known parts of the story.
In the picture below, you can see how far you can take the theme, with specific furniture, a gorgeous canopy with endless hanging lanterns, and middle-eastern style comfy furniture.
This would be great for a dance floor or general hang-out area for your reception.
We personally loved these dinner table decorations, featuring objects from the story including a Genie's Lamp for each table, golden coins to represent the treasure of the cave, and a simplistic table cloth.
Here is an example of what an Aladdin Themed wedding cake might look like.
You can see four main layers, including the lamp up the top, and three fabric-themed layers of different colors.
They also include small versions of the two main characters of the story. To get a cake like this you'd need to get it specially made by an artisan baking company!
But it would be an incredible addition to your wedding. 
Below is an example of some classic Aladdin themed bride and groom wedding dresses that are perfect for this setting.
For the bride, you should expect a loose, Arabian style dress with a long flowing dress.
For the groom, expect to dress more rugged to give the impression of a street thief who has become a prince!
For more lavish and conservative costumes, check out the image below. Here the bride and groom match with golden, traditional costumes.
Notice the golden slippers with the groom here and the matching jewelry. 
Let's now consider the centerpieces for the dining tables at your wedding. Dazzle your guests as soon as they sit down with a custom Aladdin themed display for them to admire while they eat! 
Making beautiful centerpieces is simple and budget-friendly! You should create a main focal point for your display. We recommend a golden genie lamp that you can then work around.
Scatter gold coins and use candles as a part of your centerpiece to create something that is reminiscent of the Cave of Wonders.
Finish it off with a small table runner that matches your color scheme and is inspired by Arabian decor. 
What's incredible about centerpieces is that you can make them yourself if you wish! Just head down to your local craft store, or browse online marketplaces for some stunning items that will match your Aladdin theme.
You're going to want to make your wedding cake another amazing focal point of your wedding reception.
With the help of skilled cake makers, you can commission an incredible Aladdin inspired wedding cake that suits your tastes in both style and flavor!
For your Aladdin wedding cake, consider Arabian influences when it comes to design. Think about the beautiful architecture of the Sultan's Palace and the beautiful floral and baroque upholstery that adorns the homes of the citizens of Agrabah.
When it comes to flavors for your cake, take some inspiration from the spice markets of the Middle East.
Flavors like cinnamon and cardamom can elevate your cake to a new level and satisfy the taste buds of your wedding guests.
Impress your guests with a wedding cake that is large and extravagant, so you can really feel like a princess on your big day!
A big part of creating an unforgettable Aladdin themed wedding is choosing the right color scheme. 
The deep and rich colors of the Middle East are a must for your theme, so consider choosing complimentary colors like purple, blue, turquoise, gold, and pink, similar to those of Aladdin's magic carpet. With these colors, you'll have a base for the rest of your wedding day decor.
What's incredible about this color scheme as well is that it screams royalty. It will give your wedding a beautiful, regal feel and will be visually pleasing in every aspect of your wedding.
Your guests will feel like they've been taken to a whole new world in a stunning Arabian palace!
You can start your Aladdin themed wedding before it's even begun with some inspired wedding invitations!
Using your Arabian color scheme and the stunning architecture of the Middle East, you can create some beautiful invites that let your guests know exactly how incredible your Aladdin themed wedding is going to be.
Designing your invitations with a double-door style opening will make prospective guests feel as if they are walking into the gates of a palace.
You can tie it all together with some beautiful calligraphy in gold ink for a truly regal invite.
What's a wedding without flowers? Put a unique spin on traditional wedding flowers by using purple and blue colors to match your theme.
Whether it's your wedding bouquet or decorating either one of your venues, these flowers are bound to attract some attention.
You can make them even more special by adding some gold elements to them, either on the stem of your bouquet or with a beautiful golden holder.
Arabian culture is full of stunning flowers, so choose whichever ones you like the most! Even Princess Jasmine will be jealous!
Amazingly, some jewelers have exclusive Disney collections themed around different Disney princesses, including Princess Jasmine! You can find such pieces from jewelers like Zales and Helzberg.
One such ring is this gorgeous pear-shaped blue topaz ring in 10-karat gold. Not only will it match the theme for your wedding, it will be a beautiful piece to wear for the rest of your life with your partner as a symbol of your love. 
You can also find matching pieces to go with this ring, so you can wear the whole set on your wedding day! Regardless, a ring with a blue topaz stone is the perfect ode to Aladdin's Princess Jasmine. 
If you're going to have an Aladdin themed wedding, then you have to consider a beautiful two-piece wedding dress!
Of course, you should wear the dress you consider to be "the one" for you, but it might just be a two-piece!
This versatile style can be made exactly how you like it! Just like Princess Jasmine, you can rock a two-piece and make it extra special on your wedding day. 
A particularly stunning look is to pair a lace top with a classic ball gown bottom for the perfect balance between elegance and drama. Your guests won't be able to take their eyes off of you!
For even more Princess Jasmine influence, you can opt for an off-shoulder top, just like how she wears her two-piece ensemble.
Whatever you choose, a two-piece dress will look beautiful on your Aladdin themed wedding day.
Weddings are as much about the small details as they are about the large ones. Trust us when we say that your guests will appreciate those little details!
Some Aladdin themed place card holders will look amazing on your reception dining tables. Using mini genie lamps will look adorable and perfectly on theme!
The place cards can also look stunning when using your color scheme and beautiful script. After the wedding is over, the place card holders can also be a brilliant wedding favor.
Allow your guests to take them home as a reminder of what an incredible day they had!
A great way to celebrate your wedding day Aladdin style is to offer your guests a delicious signature cocktail. We all know that the best cocktails are blue!
These Wishmaker cocktails are a great choice. They are a stunning turquoise color, just like Genie, and taste perfectly tropical.
Made with orange liqueur, tequila, peach schnapps, blue curacao, and pineapple mix, with edible glitter for an extra sparkle, you'll have to scale this recipe up big time for your thirsty guests!
Whichever cocktail you choose, a signature beverage that is blue, pink, or purple will fit nicely into your Aladdin theme, and will definitely satisfy your guests' needs!
Spiced or tropical flavors are also a good choice to pay homage to Middle Eastern fruits and spices.
Now that you have your beautiful dress, stunning bouquet, and gorgeous wedding ring, all that's left is to make a grand entrance!
The soundtrack for Disney's Aladdin is both romantic and fun, and what better way to make the most of it than to incorporate it into your entrance music?
Combining a classical wedding entrance song (see also: 201 Wedding Songs For The Parents' Entrance At Your Ceremony)with A Whole New World is a surprising and beautiful way for you to make your way down the aisle.
With the right DJ, you can also incorporate the soundtrack into your reception, whether it's the first dance with your new spouse, or songs to party the night away!
Using a range of classic Arabian music and the Aladdin soundtrack can be extremely fun and is, of course, right on theme for your Aladdin wedding.
Final Thoughts
There are so many possibilities when it comes to having an Aladdin themed wedding. You can base your idea around the classic Arabian Nights theme and add the Disney elements that you love! 
From big details to small details, everything you need to know is right here! Once you've picked the perfect color scheme, you can start to think about other elements, such as centerpieces, flowers, and the wedding cake. 
Also, an Aladdin theme opens up style possibilities for you! Consider a beautiful two-piece dress influenced by Princess Jasmine, along with a gorgeous blue topaz ring to match. 
All you need to do now is plan. Use these ideas as inspiration and you'll be able to have the Disney wedding of your dreams which will be the start of a magical marriage between you and your partner.

Latest posts by Lisa Plaitt
(see all)