Are you planning a spring wedding? If so, then you know it can be quite the challenge to come up with themes that will make your special day truly memorable.
Lucky for you, we are here to help! Today, we are sharing ten incredible spring wedding themes — each one sure to make your heart blossom.
From classic elegance and rustic charm to modern romance and vintage vibes, there's something here for every couple. So get ready to take notes; let's dive in!
Garden Party: A Spring Soiree Amongst Blooming Florals
As the last frost of winter melts away, nothing embodies a new season like a garden party. The sight of vibrant blooms and fresh greens creates an atmosphere that's both enchanting and inspiring.
For your spring wedding, what better way to bring together family and friends than with an outdoor celebration amongst blooming florals?
Whether you prefer something modern or classic, it's easy to create a beautiful setting for your guests using elements from nature. From bright pinks and deep purples to delicate whites and lush greens – be creative in selecting colors that will bring joy and vibrancy to your special day.
Place arrangements throughout the space; under trees, along pathways, atop tables – any area can become part of this magical springtime gathering!
Sparkling lights, fragrant candles, music so sweet – all these details add up to make your garden party one no one will soon forget.
So set aside some time to plan something unique where everyone is sure to feel welcome as they enter into this world of beauty you have created. Then sit back and enjoy watching them as they revel in this special moment surrounded by love and blooming florals.
Vintage Romance: Timeless Love With An Old-World Touch
For a vintage romance theme, you can't go wrong with a timeless, old-world feel. With the right touches, your wedding will be an elegant celebration of love and all things classic.
Think muted tones like ivory, blush pink, or champagne paired with lace details for your decor and bridal look.
Try incorporating antique pieces into your decorations to add that extra special touch – it could be something as simple as using heirloom china on the tables or adding silver candelabras in your floral arrangements.
To keep with the romantic vibe of this style, use soft lighting throughout your venue and consider having live musicians play during dinner. This will create a truly dreamy atmosphere!
Another great way to make sure everything looks cohesive is by choosing one color scheme and sticking with it through every aspect of the event – from table linens to bouquets to cake design. By doing so, you'll ensure that each element ties together perfectly.
The key to achieving this timeless look is focusing on traditional elements without overdoing it. Incorporating subtle hints here and there will give your day a beautiful Old World charm without taking away from its modern flare.
Pastel Perfection: Embracing The Lightness Of Spring With Soft Hues
As the days grow longer and brighter, springtime is a perfect opportunity for modern couples to embrace lightness of heart. Like a fragrant bouquet of blooming flowers, pastel perfection can be your nuptial palette; soft hues that evoke a feeling of warmth and contentment.
Here are three ways to bring this delicate look into your wedding:
Choose shades of pink, lavender, mint green or yellow when selecting bridesmaid dresses. These colors will give off an airy feel and create harmony against any backdrop.
Incorporate pastels into your table settings with vintage inspired china in muted tones such as peach or pale blue. This will add a touch of classic romance without being too overpowering.
Accessorize the day with lace details like parasols, fans, or even paper garlands to complete the dreamy atmosphere you're aiming for!
With its gentle beauty, embracing pastel perfection is sure to make your guests swoon – no matter what season it may be. Taking these steps will provide you with a romantic hue-scape that reflects the joyous spirit of springtime throughout your celebration.
Bohemian Chic: Free-Spirited Nuptials With A Boho Flair
For a wedding that truly captures the free-spirited, carefree spirit of spring, consider a bohemian chic theme. From flower crowns to colorful macramé backdrops, this look is all about embracing nature and allowing your guests to relax and enjoy themselves in an atmosphere full of whimsy and romance.
For décor, think wildflower arrangements with pops of bright colors like fuchsia or turquoise. Don't be afraid to mix textures either: layered outdoor rugs can give the space some extra dimension while adding visual appeal.
If you're looking for something more subtle, wood accents are always popular for boho weddings as well!
When it comes to attire, many couples opt for flowing dresses and suits made from light fabrics such as linen or cotton. To tie everything together, choose accessories that reflect the same relaxed vibe – try delicate jewelry pieces or fun headpieces like flower crowns.
And don't forget the shoes: wedges are great for outdoor ceremonies while sandals will keep your feet cool as it gets warmer! With these elements in place, you'll have created a beautiful bohemian oasis perfect for celebrating love on your special day.
No matter what type of nuptials you ultimately decide on, remember that at its core a wedding is about two people coming together—and no amount of decorations or themes can change that fact. So take heart; let your hearts blossom knowing you've crafted a unique celebration tailored just for you both.
Cherry Blossom Dreams: Capturing The Beauty Of Japan's Iconic Blooms
For a spring wedding, nothing captures the romance and beauty of the season quite like cherry blossoms. These iconic blooms are found throughout Japan during sakura season and bring an air of elegance to any event.
Whether you want to create an oriental feel or add a touch of color to your special day, cherry blossom decorations can help make your heart blossom with joy!
Item
Description
Picture
Japanese Blossom
Delicate petals in shades of pink,
white and red provide stunning
contrast against green foliage.
Blooming
Cherry Tree
A single tree with full branches creates
a beautiful backdrop for photos.
Oriental Flowers
& Decorations
Brightly colored paper lanterns, fans,
parasols and origami cranes make
perfect additions to any ceremony
space or reception hall decorating scheme.
From cascading centerpieces to delicate touches scattered around the venue, there's no limit to what you can do with these gorgeous flowers when it comes to creating a memorable atmosphere on your special day!
With its romantic aesthetic and timeless appeal, choosing cherry blossoms as part of your wedding theme is sure to be something that will live in both yours and your guests' hearts forevermore!
French Country: Rustic Charm With A French Twist
It's like stepping into a postcard—French Country style is an enchanting mix of rustic charm and French twist. This romantic theme can make any wedding feel cozy, inviting, and oh-so pretty. Here are some ideas to help you create the perfect springtime French Country celebration:
• Decorations: Add in plenty of natural elements such as burlap, lace, flowers, branches, and twinkle lights for a beautiful rustic touch. Incorporate colors like lavender, pale yellow and soft blue for a classic French country look.
• Music: Create an atmosphere with gentle acoustic music or lively folk songs that will get your guests up on their feet!
• Food & Drink: Serve traditional favorites like macarons, cheese boards and decadent desserts. For drinks opt for wine from France's countryside regions or champagne cocktails for added sophistication.
• Attire: Ask your bridesmaids to wear flowy dresses in pastel shades while the groomsmen suits should be light colored but still maintain the formal look. Embrace the rustic elegance by adding flower crowns or floral headbands in bright hues for both women and men.
The beauty of this timeless style lies in its effortless combination of tradition with modernity – making it ideal for creating stunning memories that will last a lifetime! And if you're looking to add even more sparkle to your big day then why not take things up a notch with Art Deco Elegance? Gatsby-inspired glamour awaits – just around the corner!
Art Deco Elegance: Gatsby-Inspired Glamour For A Modern Age
For the modern couple looking to add a touch of elegance and glamour to their spring wedding, an art deco-inspired Gatsby theme is perfect. This classic look offers timeless sophistication that will never go out of style. With its geometric shapes and bold colors, it adds a chic edge to any celebration.
And with many different ways to incorporate this trend into your special day, you can customize it in whatever way suits your needs.
From sparkling sequins adorning bridesmaids' dresses to gold accents throughout the venue, there are so many creative options for adding some 1920s flair. Or if you want something more subtle, try incorporating subtly patterned table linens or metallic cutlery for guests.
No matter how big or small, these touches will make your wedding stand out from the crowd and be remembered long after the night is over!
But don't forget about the bride either—a vintage-inspired headpiece is an excellent finishing touch that takes things back in time without going overboard. It's also an ideal way for her to show off her own sense of style while still feeling like part of the overall design scheme.
Whether she chooses feathers or tulle, pearls or lace – anything goes when it comes to creating a memorable look on her big day!
Modern Minimalist: Simple And Sleek Style For The Modern Couple
For the modern couple who loves clean lines and contemporary minimalism, a modern minimalist wedding is the perfect way to celebrate their union. Forget about elaborate decorations and over-the-top details – this style of wedding focuses on sleek, simple touches that can be tailored to match any budget or venue.
With just a few carefully chosen elements, you can create an elegant atmosphere without breaking the bank.
The key to achieving a modern minimalist look lies in choosing quality materials and conveying a sense of sophistication with subtlety. Incorporate monochrome colors and metallic accents; avoid busy patterns or prints as they will detract from your overall aesthetic.
To give your guests something special to remember your day by, opt for unique favors such as personalized keepsakes or custom stationery items like thank you cards or invitations.
When it comes time to pick out bridal accessories, try selecting pieces that are timeless yet still make a statement. Stay away from anything too flashy or ornamental – instead focus on classic shapes and cuts that won't go out of style anytime soon.
A great example would be an understated diamond bracelet paired with a matching pair of earrings – it adds just enough sparkle without overpowering the rest of the ensemble.
Modern minimalism isn't all about restraint either; there's plenty of room to express yourself through creative touches while staying true to the theme!
From customized signature cocktails featuring local ingredients to inviting greenery installations throughout your venue, explore different ways you can make this chic style come alive at your big day.
Spring Blooms: Celebrating The Renewal Of Spring With Bountiful Blossoms
Spring is the perfect time to celebrate renewal with bountiful blooms. From soft pastels to vibrant hues, there's no shortage of beautiful springtime florals to choose from for your special day.
Whether you opt for a classic white and green palette or a more modern mix of magentas and yellows, flowers will help set the tone for an elegant affair and add that extra bit of romance to your celebration.
Creating floral displays can be as simple or elaborate as you want – just focus on creating a look that reflects who you are as a couple. If vintage-inspired arrangements with roses, peonies, and daisies make your heart sing then go for it!
Or if wildflowers in mason jars capture the spirit of 'you two' perfectly why not give them center stage? Whatever direction you take, don't forget to include potted plants like succulents which will add texture and interest.
No matter what style you choose, using seasonal blooms throughout your decorations will ensure everything looks and feels cohesive while also reminding guests how wonderful spring truly is.
As they say…it's never too early to start celebrating new beginnings! Let these fresh petals transport everyone into this season of renewal so they can take part in the joyous occasion too.
Coastal Cool: Laid-Back Coastal Vibes With A Touch Of Class
Nautical vibes, sandy toes, and an ocean breeze—for a wedding with laid-back coastal style that still oozes class, it's time to let your heart blossom in the name of love.
Start by decorating with cool blues and whites: add touches of seagrass green here and there for texture. A few natural elements like sand dollars or starfish can bring some subtle beachy charm without getting too kitschy.
To complete the look, hang fishing netting from trees or between chairs; you could even use rope as chair ties! Your guests will feel relaxed yet elegant when they take their seat at this seaside affair.
For the food, think light seafood dishes like shrimp tacos or ceviche paired with white wine sangria poured into mason jars. If you want to stay away from fish altogether, grilled chicken skewers are always a crowd pleaser.
For dessert? Cake is classic but why not mix it up with something different? Make ice cream sundaes topped with fresh fruit like blueberries and mango slices for a fun twist on traditional sweets.
When planning your spring wedding by the sea, remember: keep things casual while packing in plenty of sophistication for a day that looks effortless but polished. From nautical décor to cool cocktails and delicious bites, lay back and enjoy all that coastal living has to offer!
Frequently Asked Questions
What Kinds Of Flowers Should I Use For A Garden Party Theme?
If you're looking for floral wedding decorations beyond just bouquets and centerpieces, think about ways to incorporate them into other elements of your décor. For example, floating flower petals on water or creating an archway with hanging vines can add a unique touch of romance and whimsy to your day. And if you're feeling extra creative, consider making DIY flower arrangements as part of your table settings – this will take some time but is sure to impress guests!
No matter what types of flower decorations ideas you decide on for your special event, don't forget about incorporating them into statement pieces like wedding flower centerpieces or cascading down the aisle. It's all about finding ways to bring subtle touches of beauty that reflect your personality without overwhelming the space – after all, there's nothing quite like seeing how nature brings its own magic to any occasion!
What Are Some Vintage-Style Decorations For A Romantic Wedding?
To create a truly romantic atmosphere with a timeless feel, consider these vintage decoration ideas that will make your celebration sparkle.
The key to vintage decor is to convey a story through everyday objects – think of each piece as an heirloom from another era that has been lovingly passed down through generations. From old lace doilies to dainty teacups and mason jars filled with wildflowers, creating a whimsical backdrop doesn't have to come at a high cost. Here's three ways you can use vintage items:
Hang up strings of fairy lights in trees outside
Scatter mismatched china around the tables
Suspend colorful paper lanterns above reception areas
Make sure all elements of your wedding decorations fit together seamlessly by sticking to one overarching theme – like rustic romance or soft pastels – so everything looks cohesive and helps transport guests back in time. These details not only add character but also show off how much thought you've put into making your day extra special.
From classic bunting flags spelling out "I Do" to old postcards hung on twine strung across walls, there are plenty of creative ways to inject nostalgia into your wedding without sacrificing modern style. With just a few cleverly chosen pieces here and there, you can easily transform any outdoor space or ballroom into an enchanting world where time stands still for one very magical night.
What Are The Best Colors For A Pastel-Themed Wedding?
When it comes to creating a beautiful color palette for your special day, there are endless possibilities. But when it comes to pastels, these shades stand out as particularly lovely:
Soft pinks or blushes – This classic shade can create an ethereal feel in any space.
Baby blues – Add a touch of serenity to your celebration with this gentle hue.
Sage greens – Evoke freshness and bring nature into your event with this soothing tone.
Lavender purples – Create a sense of luxury and romance with this subtle yet striking color combination.
Ivory whites – Brighten up your décor and allow all other colors to pop against its light backdrop.
The great thing about working with pastel colors is that they can be combined together in so many different ways; giving you plenty of options when designing your dream wedding palette! Whether you opt for one single hue or mix several shades throughout the day, these soft tones will bring warmth and radiance into every moment – making sure that your heart blossoms on the most important day of your life!
Is There A Way To Make A Bohemian Wedding More Budget-Friendly?
If you're looking for a way to make your bohemian-themed wedding more budget-friendly, there are plenty of options available. Take the case of our friend, Lisa Plaitt, who was determined to have her dream boho wedding without breaking the bank. She did it by getting creative with decorations and focusing on smaller details rather than large investments.
One thing she did was focus on inexpensive bohemian elements that could be found in thrift stores or online at budget prices. For example, she bought several vintage rugs to create a cozy atmosphere, as well as some poufs and blankets which guests were encouraged to lounge around on during the reception. She also made use of lots of greenery – like eucalyptus and olive branches – both indoors and outdoors, since these plants often look great when used together in bouquets, garlands, and centerpieces.
She also focused on small touches such as paper lanterns hanging from trees or string lights hung up over doorways; all very affordable items that added an extra special touch without costing too much money. Additionally, if you want something unique but don't want to spend too much money on decorating materials, why not try repurposing some old furniture? Paint them different colors according to your theme, add some throw pillows or fabrics for a cozy feel and voila – instant boho glam!
No matter what kind of ideas you come up with for your own bohemian wedding event, just remember: stay true to yourself while keeping within your budget constraints so that you can enjoy this special day exactly how you wanted it!
How Can I Incorporate Cherry Blossom Elements Into My Wedding?
When it comes to incorporating cherry blossom elements into your wedding, there are so many different ways to do it. You could opt for a full-on cherry blossom themed ceremony and reception with exquisite decorations, or keep things subtle by using them as part of the color scheme or simply including one or two nice touches like flower crowns or bouquets made up of various shades of pink blooms. Whichever route you choose, having some kind of cherry blossom element at your wedding will make it even more memorable.
Plus, don't forget about all the other fun details you can add in too – from custom cocktail napkins with printed cherry blossoms on them to signature drinks inspired by this popular spring flower. There's also plenty of creative ideas online if you need help getting started on planning a gorgeous spring cherry blossom wedding. With just a little bit of effort and imagination, you'll be able to create something truly stunning for your special day!
Conclusion
As you plan your spring wedding, don't forget to have fun and create a truly unique atmosphere that reflects who you are as a couple. Themes like garden parties, romantic vintage weddings, pastel palettes, bohemian elegance and cherry blossom dreams will all make your heart blossom!
When it comes to planning the perfect wedding theme, juxtaposition is key. Pair a traditional element with something unexpected. For example, if you're going for an outdoor garden party feel, mix in some modern touches such as geometric decorations or bold colors. If you want a vintage-style celebration, try adding antiques mixed with contemporary elements like laser cut signs or neon lights. Remember – no matter what style of wedding you choose, there's always room for creativity when it comes to creating the perfect day!
Ultimately, your goal should be to combine different ideas into one unforgettable event that celebrates your love story – from beginning to end. With these 10 inspiring themes at hand – take them and make them yours!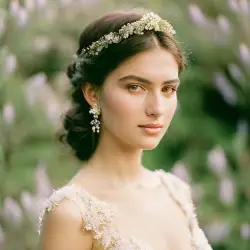 Latest posts by Rosie Liliy
(see all)