Anniversary day holds a special meaning for any couple as it gives them a chance to reminisce and celebrate their years together. So what could be a great way to wish a couple on their anniversary?
Gifting anniversary cards with thoughtful wishes can be a perfect way to make any couple's day. You could be a spouse, family, friend, colleague or acquaintance sending warmth and affection to a couple on their special day. 
Thinking of some heart-touching words to wish a couple on their anniversary can be hard work. But this article will make it easier for you with plenty of unique ideas. So let's begin!
Anniversary Wishes for Family and Relatives
Family members are the first ones to remember and celebrate the anniversary of a couple. There is a tradition of sending anniversary cards to loved ones as a token of affection and gratitude. 
Parents and other elder relatives may be thanked for the marital role model they've provided for the younger ones in the family. Also, elders may send their best wishes to the younger couples.
It's always nice to be reminded of the blessing of having relatives such as siblings and cousins in one's life. You may send them an anniversary card and express your affection. 
Following are unique anniversary wishes that family members may send to a couple. 
Related: Anniversary Wishes for Sister, Anniversary Wishes for Parants
You and your spouse have shown everyone what an ideal marriage should look like. You two are indeed the picture of a wonderful relationship. Happy anniversary to the most loving couple in the world.
Our family is fortunate to have such wonderful grandparents. Thank you for helping us see what a faithful marriage looks like. Here's to another year of togetherness! Best wishes on your anniversary.
I wish my favorite cousin and her husband a happy anniversary today! I pray that your love for each other continues to deepen with each passing day of your lives.
To my dear brother, I pray that the years ahead bring you and your wife an abundance of love, compassion, pleasure, fun, and affection for one another. I hope you find joy in each of your life's precious moments. I hope you two have a wonderful Xth anniversary!
It brings me such joy to call the two of you my family, to spend enjoyable moments with you both, and to witness the joy you provide to one another. On this most important day, I pray you are showered with a love that lasts forever.
You couldn't have gotten to this point without a whole lot of respect and love, and that's exactly what you gave to one another and the rest of the family members surrounding you. I hope you are aware of our undying affection for you. Best wishes on your anniversary.
In honor of this joyous event in your life and the bliss you share with one another, I just want to say that I couldn't have asked for a more wonderful sister and brother-in-law who gave me such adorable nieces! There is no other kind of connection that is as attractive, pleasant, and appealing as a healthy marriage. I hope you two have a wonderful anniversary!
I just had a thought that made me realize how fortunate our family is to be surrounded by a lovely couple like you. May the Lord shower his countless blessings upon you as you celebrate your anniversary.
You two make for the most charming and wonderful pair ever. The sight of you two living a life full of excitement and passion for one another, as well as love and concern for one another, fills us with indescribable delight. We hope your time together will be filled with happy and loving experiences. Best wishes for another year, kids!
Your journey began with exchanging rings, continued to become a married couple, then embraced parenthood, and here you two are, becoming inseparable besties for the rest of your lives. Congratulations on your wedding anniversary!
A love that deepens and matures over the years is one of the most breathtaking phenomena there is. I am sending my blessings your way as you celebrate 20 years of marriage. So take center stage, and enjoy the applause and recognition for everything that both of you have done as a team. 
Anniversary Wishes for Spouse
The urge to plan and have the perfect anniversary might seem magnified when the special day is your own. Couples may try coming up with unique ideas to cheer each other on.   
However, the most significant thing is to be genuine and to express your emotions honestly. Your wish is an excellent opportunity to show gratitude to your husband or wife, declare your admiration for each other, reiterate your devotion to your relationship, and show faith in the future that the two of you have together.
Following are some great ways to wish your partner a great anniversary on your special day.
Related: Anniversary Wishes for Husband, Anniversary Wishes for Wife
As we celebrate our anniversary today, I can't help but reflect on how awful things would be in my life without you. Many thanks for being such an incredible person. I love you for eternity! 
The past year has been challenging, but the strength of our love has only grown. I am grateful to you for maintaining such a strong will throughout it all. Every day, I learn a new thing about you that makes me fall in love with you all the more. Cheers to us, and we look forward to a much better year to come!
You and your affection are wonderful gifts that I feel very fortunate to have in my life. Thanks a ton for bearing with me for yet another year. If I had to choose just one person to spend my life with, it would be you. Happy anniversary to us, my lifeline.
It's been three years since we tied the knot, and this year also marks our first anniversary as parents. I am so thankful to be going on this journey with someone who is so amazing, and I am looking forward to all of the joy, love, and surprise that lies in store for the two of us in the days, weeks, and years to come.
I frequently wonder what I did to deserve such good fortune. My soul partner, closest buddy, and critic all rolled into one person, and that is you. May we have many more blissful years together as husband and wife. 
The happiest thing that ever took place in my life was getting to know you. The greatest choice I've ever made in my life was to marry you. The time has come again to celebrate and be happy about all the wonderful aspects of our lives, and here it is. Best wishes for another successful year of marriage, sweetheart.
My heart jumped with joy when you proposed to me on your knees. Of course, I agreed, and if I ever have to, I'll agree again. I would say yes to you and to the life that we've created together. A resounding YES to our love forever! 
For another year, you have given me a reason to smile, feel grateful, expand my horizons, and rejoice in the fact that we are in this together as we celebrate our anniversary. You have changed my life, and it is so much better since God brought you into it.
I am grateful to have had your support during all that has happened. I would like to offer my appreciation for all the joy and love you have contributed to my life. I really appreciate it, sweetheart. Best wishes on our wedding anniversary.
Do you know what it is about our connection that I cherish the most? Together, we can accomplish the world, talk for hours, crack up on the craziest jokes, prepare meals and dance while knowing that we can depend on one another for the rest of our lives. I wish you a wonderful anniversary, sweetheart.
You decided to love me for some reason, and my friends have been calling me blessed ever since. The fact is that I fell for you just as hard. Looking at you for the first time made me believe in love at first sight. The fact that I can call you mine makes me happy. Wishing us many happy years together!
To have found you is to have lived my wildest dream. You have my whole and undivided affection. I hope we have a wonderful anniversary, my darling!
Seven wonderful years together filled with a million precious moments! That's because you've brought me nothing but joy in every one of them. To the toughest, nicest, funniest, and brightest person I know; happy anniversary, my darling!
Anniversary Wishes for Colleagues and Acquaintances 
When it comes to celebrating the anniversary of a work buddy or an acquaintance, you may be at a loss for words. Perhaps you care deeply about the people you work with and are looking for uplifting ideas to brighten their day.
This amazing selection of anniversary greetings for colleagues and acquaintances is here to let you express your deepest feelings for the ones you care about.
The fact that we started off as complete strangers and evolved into a trusted team of coworkers and then close friends is the finest thing that could have happened to us. On this beautiful day of your anniversary, we send our warmest congratulations.
People come and go, but only a few leave permanent imprints on your heart. Having met you in our workplace, I now see it as a sacred space. Congratulations on your anniversary, and my best wishes for you and your spouse to have a long and happy life together.
Putting forth effort toward goals that matter to us is what keeps us going. Having meaningful interactions with teammates is another source of motivation. Heartfelt congratulations on your anniversary to the most valuable member of our team.
When you've lost the lyrics to the song on your lips, your buddy is there to pick up where you left off and croon them back to you. I am fortunate to call you my buddy. If there were an award for the best colleague, I would give it to you. I wish you health, wealth, and happiness on your anniversary.
It's not easy to find a wonderful colleague, and it's much more challenging to split ways with one after you've found them. I appreciate you being there for me whenever I need help at work. Happy anniversary.
Nothing helps the workday go by faster than having a good partner to rant to throughout the day. I wish God bestows all His blessings on you on this beautiful day.
A good relationship with a coworker is worth much more than diamonds. It's a pleasure to spend each day working with you. And I am certain your husband must count himself very fortunate to have you as his wife. Bless you, both on your anniversary.
One of the reasons why I feel great going to work every single day is because I have such amazing colleagues like you. And I miss your great company when you're not around. I am sure you must be as great a life partner as great of a colleague you are. I wish your day is filled with a lot of laughter and joy. 
Anniversary Wishes for Friends 
Friends are the blessing from God that makes life worth living. A special day in your friend's life, be it their birthday or wedding anniversary, is like having a special day of your own. 
The anniversary greetings from friends may include recalling a funny story, providing a heartfelt remark, or recalling a fond experience that the two of you may understand. 
We have a few articles on writing the perfect anniversary wishes for your friends, here are some ideas to get started:
A Complete Guide to Writing the Perfect Anniversary Wishes for Your Friend (63 Examples)
101 Funny Anniversary Wishes To Make Your Friends Laugh 
Short Anniversary Wishes for Couples
Cheers to all the years of love, laughter, and happily-ever-afters! Keep the good times rolling!
Another year of love, laughter, and lots of memories! Keep crushing it, you two!
Happy anniversary to the dynamic duo! You made it through year one, may your love continue to grow stronger with each passing day!
Happy anniversary, you two crazy kids! May your love continue to shine bright like a diamond and your bond grow stronger than ever!
Happy anniversary to the dynamic duo who make love look effortless! You guys are my #relationshipgoals!
Happy anniversary to the coolest couple around! May your love be as endless and boundless as the universe itself!
May your love story continue to unfold like a beautiful symphony, with every note sweeter than the last!
5th Anniversary Wishes for Couples
Congrats, you lovebirds! You still look at each other with those goo-goo eyes like you did on your wedding day. Your love is an inspiration, and I'm so lucky to know you both. May your love keep on shining brighter every day!
Congratulations to the inspiring couple that reminds us all of a real-life fairytale! Through you, we are reminded that true love is possible and worth fighting for. May your shared story be filled with boundless joyous moments and sparkles of magic! Happy anniversary!
Happy 5th anniversary to the couple who knows how to have a good time and make each other laugh! Your sense of humor is infectious, and it's one of the many things I love about you both. Keep being silly, keep being goofy, and never stop laughing together!
To the couple that is unapologetically passionate about each other – happy anniversary! Your affection for one another is inspiring and never ceases to amaze us. Whether it's your gentle embrace or an intimate kiss, you two remind us of how powerful true love can be. We hope you will continue to share hugs and smooches as a reminder of how lucky you both are to have found each other!
Five years ago, you both committed to a lifetime of loving and cherishing one another – and here we are today celebrating just how far your love has come! Your boundless devotion is an inspiration. Congratulations on this momentous anniversary; may the joy that binds you together only deepen in the years ahead.
10th Anniversary Wishes for Couples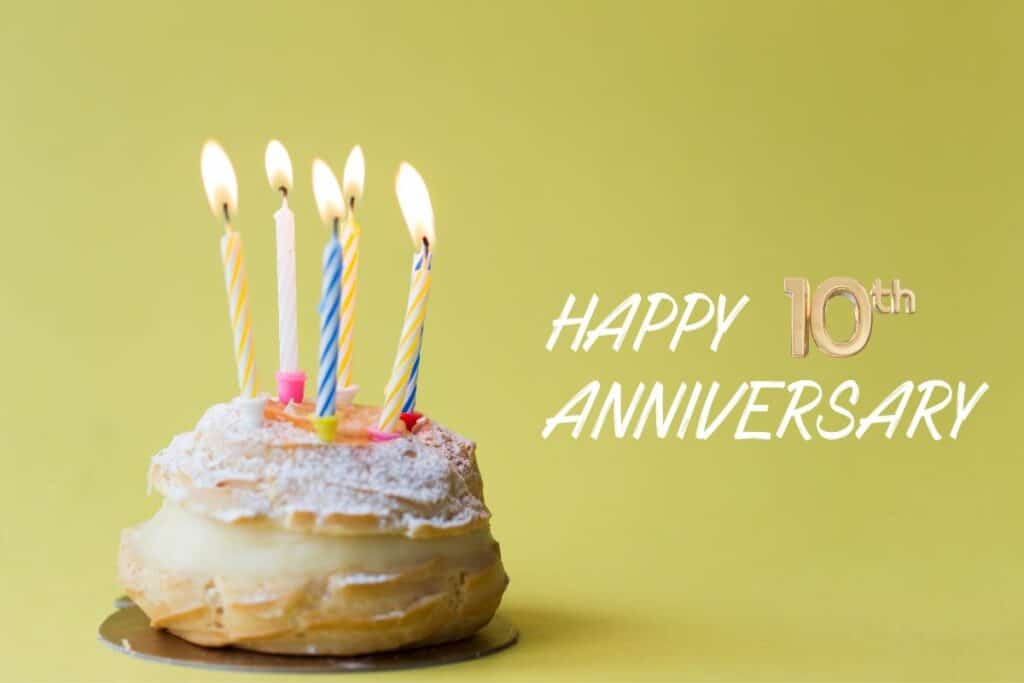 Congratulations on hitting double digits, lovebirds! Keep soaring high together like the happy eagles you are!
Happy 10th anniversary, you two! A decade of love, laughter, and all the little moments that make life worth living. You're a match made in heaven, and I'm honored to be your friend. Here's to another 10 years of happiness and joy!
Ten years ago, you promised to love each other through thick and thin, for richer or poorer, and through all the ups and downs. And boy, have you kept that promise! Your love is a shining example of what marriage should be, and I'm so proud of you both. Happy anniversary, and may your love continue to stand the test of time!
Congrats on a decade of love, adventure, and all the unforgettable memories you've made together. From traveling the world to chilling at home, you two have lived life to the max. Keep exploring and discovering new things, and let your love be the compass that guides you on your journey!
A full decade of love, challenges, and triumphs – what a ride it's been! You've faced it all together, and come out even stronger. Happy anniversary, and here's to many more adventures on this crazy journey we call life!
Congrats on 10 years of love, growth, and all the little things that make your relationship special. From your morning coffee ritual to your late-night heart-to-hearts, you've built a life together that's worth celebrating. Keep cherishing each other, keep appreciating the little things, and let your love be a source of joy and comfort always!
20th Anniversary Wishes for Couples
Your love story is one for the ages, truly inspiring! Happy anniversary to two incredible people!
Cheers to two decades of standing by each other's side through thick and thin. Wishing you a lifetime of happiness and adventure together!
Happy 20th anniversary to the couple who still makes each other's hearts skip a beat. Keep on spreading joy and love wherever you go!
Congratulations on 20 years of loving, supporting, and making each other laugh until your stomachs hurt. Here's to another 20 years of living life to the fullest!
Twenty years have flown by in a whirlwind of adventure and love. Your commitment to each other is like the steady beat of the ocean waves, always reliable and constant. May your love continue to shine like the stars in the night sky, bright and beautiful for all to see.
Like the two halves of a whole, you complete each other in every way. Your love is a rare and precious gem, shining bright and illuminating the world around you. May your marriage continue to grow stronger with each passing year, like a mighty oak tree that can weather any storm.
30th Anniversary Wishes for Couples
You've built a life and a love that is truly one of a kind. Here's to celebrating 30 years of a love that is pure magic!
You two have shown us what true love and commitment really look like. Here's to celebrating 30 years of a love that inspires us all!
The way you two complement each other is like a perfect dance. Happy 30th anniversary to my favorite dance partners!
Like a fine wine, your love has only gotten better with age. Each year has added depth and richness, making it even more exquisite and flavorful. May your love continue to age gracefully, becoming more and more precious with each passing year.
Cheers to you both on your milestone anniversary! May you cherish the memories made so far and continue making more because you deserve every bit of success, love and joy. Congratulations!
They say that love is a journey, and you two have certainly taken the scenic route. But every twist and turn has led you closer to each other, and your bond is unbreakable. Wishing you a happy 30th anniversary and many more adventures to come.
50th Anniversary Wishes for Couples
Fifty years ago, you began a journey together, unsure of where it would lead or what challenges you would face. And yet, here you are today, stronger and more in love than ever before. May your love continue to be the guiding light that leads you through all of life's ups and downs, a beacon of hope and joy that never fades.
We can only imagine all the wild adventures, funny moments, and precious memories shared between you two over these past fifty years. Remember that your life together has been an inspiration to us all – may it remain so for many years to come. Here's to a lifetime of happiness and laughter!
You two certainly have proved that the best relationships are built on a foundation of trust, respect for one another, and commitment. From the bottom of our hearts, thank you for giving us a glimpse into what it means to have an extraordinary marriage and for showing us that true love still exists!
Happy golden anniversary! 50 years of unconditional love and friendship is a true blessing to be celebrated. As you look back at all these wonderful memories, may your hearts be filled with joy and your eyes wet with tears of happiness.
You have a beautiful story – one full of laughter, joys, struggles and sorrows. In your golden anniversary year, may all remaining days be filled with happiness, peace and understanding! May every moment be spent celebrating life as though it were brand new!
In Conclusion
We hope that this list of heart-warming anniversary wishes can help couples all around in celebrating their love. We aim to make every anniversary date special with these heartfelt and lovely words, so couples can show each other how much they care and appreciate one another!
On the anniversary day, don't forget to enjoy the happy moments with friends, family, kids or even just the couple themselves. Celebrating love should be full of joy and wonder, no matter what the occasion is or where it is celebrated.
As they look forward to many years of love, life and memories together, may these anniversary wishes remind them how privileged they are to have found one another!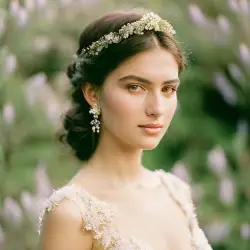 Latest posts by Rosie Liliy
(see all)