Planning a wedding can be one of the most stressful experiences of your life. After all, your wedding day is one of the biggest days of your life.
Everyone you care about will be there to see you and your partner declare your life and promise yourselves to each other. 
It's a special occasion and one that you want to be documented. But you don't just want uncle Stan's blurry pictures or some amateur distant cousin with a DSL.
You want the real deal, you want a wedding photographer. But how do you find a wedding photographer? And what should you ask of them? 
Finding a wedding photographer to meet your needs, or even knowing what your needs are can be tricky!
You can spend hours and hours searching, struggling to figure out what you want from your photographer. With the day drawing nearer, you start to panic and wonder if you will ever have the answers you need. 
Well, no more! Today, we are here with all the answers you need. We have your complete guide to wedding photography and photographers!
Here we have everything you need to know about finding a photographer, what you should consider, and other factors you need to consider. So let's dive in and get you the answers you need! 
Before we dive into today's guide, we wanted to give a warm welcome to readers of justforlovephotography.com.
We recently acquired the site as part of our growing family at magicaldaywedding and are here to get you ready for your big day and the photographs that will be taken then! 
Do I Need A Wedding Photographer?
Let's start at the beginning. Do you need a wedding photographer? Now, the answer to this varies depending on your wedding and budget. Generally, we recommend having a wedding photographer.
You want someone to take professional photographs of your wedding so that you have the memories to look back on. 
And why risk asking a family member or friend to do them? Unless they are a professional, you are putting unnecessary stress and pressure on them when they could be enjoying your big day!
We think it's far easier to hire a professional and let them do the hard work.  After all, they know what they are doing! 
If you are trying to cut costs, you might not want to use a professional wedding photographer. Everyone has their own budget, and if yours does not cover a photographer, that is okay. 
You can choose to do the photographs yourself or have friends or family members do them.
We recommend that you discuss with them what you want from your photographs and agree on a set number of pictures before moving forward (more on this later). 
Alternatively, you can hire a videographer instead of a photographer. A videographer will create a mini documentary of your wedding, which can be more enjoyable than a set of still photographs. Here it is just what you prefer!
Usually, the cost of a videographer is similar to a wedding photographer, so it does depend on your budget. 
In short, we recommend you hire a wedding photographer, but if your budget does not allow for one, there are other options available to you. 
How Do I Find A Wedding Photographer?
Finding a wedding photographer can be tricky, but it is not impossible! There are a few ways you can find a wedding photographer, so let's take a look at your options now. 
Recommendations from friends and family 
Online via photographers website 
At a wedding expo or fair 
At someone else's wedding 
Through online reviews or recommendations 
Social media 
Recommendation from your wedding venue 
Recommendation from your wedding director
These are the most common ways to find a wedding photographer these days. We always recommend opting for a photographer that you have had a recommendation about.
This can be from your family or friends, social media, wedding director, or venue.
You want to know that your photographer can be trusted to do the job. You will also want to know that people are happy with their work, in terms of quality, value for money, and professionalism. 
We recommend that you ask around and compile a list of potential wedding photographers. From here, you can look at the work of these photographers, the packages they offer, and the price to help you find one that best fits your needs. 
You will also want to consider how long the photographer takes to deliver wedding photographs and how you will receive them. The last thing you want is to be waiting for ages for your photographs! 
It is worth spending some time studying wedding photographs too. Take some time to look at different wedding photographs to help you see what you do and don't like.
This is a wonderful way to get inspired and help you explain to your photographer what you would like from them. 
Make sure you ask potential photographers any questions you might have too. The more you know before you hire the photographer, the better.
You don't want any nasty surprises along the way! The same applies to other vendors and aspects of your wedding.
When Should I Hire A Wedding Photographer?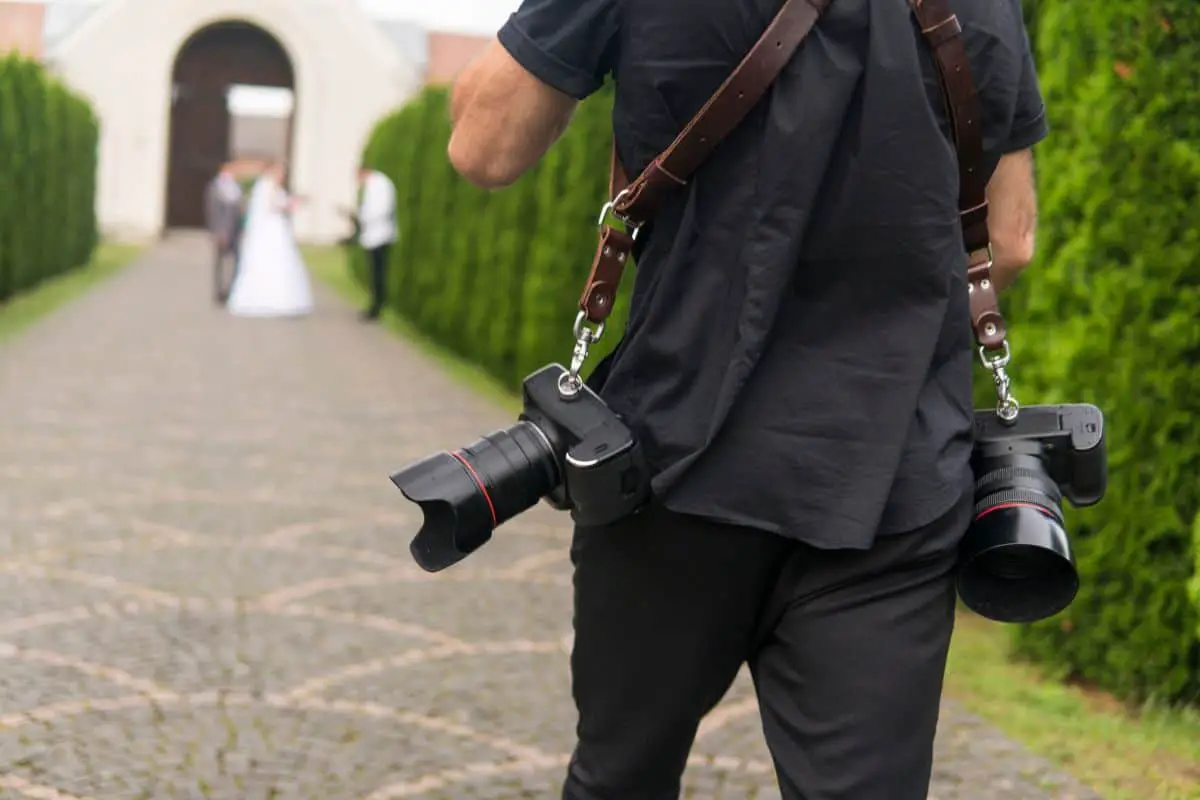 Ideally, you want to hire your wedding photographer as soon as possible. Wedding photographers are in high demand, so the sooner you hire them, the better! You don't want to be scrambling a few days or weeks before your wedding. 
Once you have the date set, the venue, and your theme or colors decided, you can hire your photographer.
You can then let them know where and when the wedding will be, allowing them to check their availability and confirm your booking. 
You will likely need to pay a deposit to secure your wedding photographer. You will probably meet with them before your wedding too, to discuss the style of photographs you want.
They will likely walk you through the packages you can purchase and share some photography ideas. 
It might be worth meeting your photographer at the venue. This way, you can walk through the space, share ideas and work out what the lighting will be like on your wedding day.
Of course, this does depend on the season you are getting married in and the colors of the venue. 
If you are planning a destination wedding or are unable to attend the venue before the wedding, we recommend that you hire someone familiar with or recommended by the venue.
Some venues will come with photographers as part of the deal, or a list of recommended ones, like Disney does.
What Should I Have My Wedding Photographer Do?
Now, this does depend on you! It also depends on the wedding you are having. For example, themed weddings will have different needs to more traditional weddings.
Themed weddings or destination weddings will usually feature more photographs of the views. 
For example, a Disney wedding will have views that no other wedding will. So why not maximize them? This is especially true if you took engagement photographs at Disney.
It's worth showing these to your photographer to see if you can recreate them at your wedding. How lovely would it be to see your engagement photos and wedding photos taken in the same place? 
Let's take a closer look now at some key features or moments you should have your wedding photographer take pictures of. Of course, this is a generic list for some inspiration, you should have them photograph whatever you see fit! 
First Reveal 
We have mentioned the first reveal pictures before, but they are worth having if you have your photographer all day!
You don't necessarily need to have the photographer take pictures of you and your partner dressing or applying the finishing touches if you don't want to, but the first reveal is a lovely touch. 
Ask the photographer to take pictures of you standing in front of your family and bridesmaids or groomsmen for the first time.
The look on their faces when they see you for the first time is priceless, you will want to have the memory of this to look back on forever! 
You will want the photographs to show the faces of your friends and family, but also your dress or tuxedo. It's lovely to see all of it in the photograph, especially as you know how much effort went into selecting your outfit! 
Walking Down The Aisle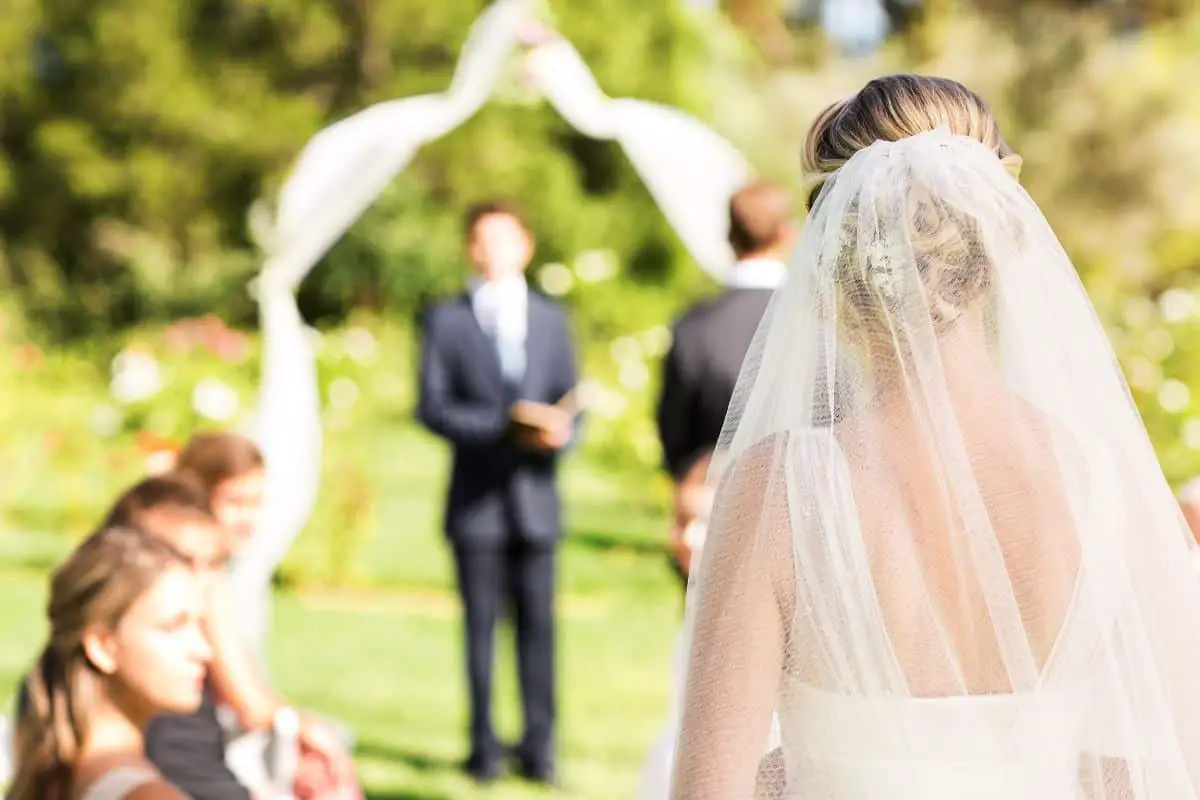 We've mentioned this before, but have your photographer take some pictures as you walk down the aisle.
You might want these to be the back of the bride walking down the aisle, the first reaction of the groom, or the bride walking down the aisle with her father, or whoever is giving her away. 
These photographs are traditionally taken and make wonderful memories. It's a good way to capture the emotions on both partners' faces when they see each other.
It's also worth asking the photographer to take pictures of others in the venue. Perhaps groomsmen, bridesmaids, or family and friends watching on. 
All of these will help build a picture of your wedding that you can look back on for years to come! 
Decorations 
Whether your wedding is themed or not, ask your photographer to take pictures of your decorations.
You might have a centerpiece that you crafted yourself or spent hours hunting down, or some Cinderella-themed decorations, or some rustic decorations. Either way, you will want your decorations to be captured! 
Your wedding day can fly by, and despite the hours of planning and preparing, you can be left struggling to remember what your wedding venue looked like!
Before the venue is filled with your guests, have your photographer slip in and take some pictures. You might need to pay for extra time, so ensure that your package covers this! 
It's also worth your photographer moving around the tables before guests sit down for their meal to take some pictures.
Ask them to get some photographs of your flowers, centerpieces, place names, and anything else that could be on your table.
These photographs will look beautiful in your wedding album, especially if you manage to save some of the centerpieces too! They work wonderfully together in a scrapbook. 
The Rings 
Your rings are a simple of your eternal love for one another. While most photographers will take photographs of you exchanging rings during the ceremony, we have a few ideas you can try out! 
One is to have the wedding rings photographed before the day. This could be taking a photograph of your elegant nature rings on a sheet of parchment or in the box.
You could display them any way that best suits your theme! You might also want to take a photograph of you putting the ring on your partner. While you will have one from the ceremony, it is also nice to do one up close afterwards. 
Cakes And Toppers 
You spend a fortune on the cake, so why not have your wedding cake and any toppers you add photographed? You might have a Cinderella-themed cake, a Harry Potter-themed cake, or a Star Wars cake topper.
Not only do these encapsulate your personality and passions, but they reflect the style of your wedding. 
Have your photographer take pictures of the cake before it has been cut. You will want to look back and remember the cake whole rather than hacked into pieces!
You will also want the photographer to take pictures of the cake as you and your partner cut the cake. This is a beautiful moment and one many photographers will take a picture of. 
However, if you want additional photographs of the cake, make sure you make your photographer aware. 
Candids 
Along with the traditional shots all wedding photographers do, ask yours to take some candids too. Candids should be taken when people aren't looking or don't realize there is a camera on them.
It allows you to capture their natural expressions and are wonderful keepsakes of your wedding! 
Ask your photographer to take candids when people are dancing, in between the still shots, and generally throughout the day.
We would recommend avoiding any photographs when people are eating (as no one wants a picture with a mouthful of food), but otherwise, allow your photographer to get sneaky and see what he can capture! 
Candids are also wonderful pictures to share with your wedding guests. Often, they will be so busy enjoying themselves that they forget to document the day.
Receiving a candid photograph showing them just how much fun they had is a wonderful memento. 
What Do I And My Wedding Photographer Need To Consider?
Your photographs capture the entire day of your wedding, so there are a few things you and your photographer need to consider.
The photographer usually knows what they need to consider and although they are there to make your dreams a reality, will have some input.
Often, they will suggest certain shots or group photographs. Of course, the photographs they take will depend on the package you purchase. 
Let's look at some of the things you can consider when working with your wedding photographer. 
Colors
The color palette or theme of your wedding is important. After all, it will feature in everything from the flowers to the tables. But have you thought about how it might look in the photographs?
It's worth considering the fabric of these materials too and whether the fabrics might reflect the light or cause issues for your photographer. 
Let your photographer know what you are considering using or have purchased. They can advise whether they will show up on camera or not and provide other suggestions if needed.
They can also suggest what colors will work well in the room and with the lighting. It's great to get this opinion if you haven't already selected your colors. 
If you have, don't panic, your photographer will be able to come up with suggestions and other alternatives that could work for you! Often, a good editing tool can come to your rescue and enhance the colors anyway.
Time 
You need to consider time in two ways here. First, you need to consider how long your wedding photographer will be with you. Do you want them all day or just for the ceremony and reception? 
It's common these days for your photographer to take photographs of you and your wedding party getting ready. Shots include the bride putting on her wedding dress, the groomsmen adding finishing touches to their attire, and guests arriving.
These do come at an added cost, so make sure you check the packages and cost! 
Generally, the longer your photographer is there, the more they will cost you. The rates vary from photographer to photographer and if they have come as part of a deal with the venue or not.
Make sure you check your budget carefully before you hire your photographer for any length of time. 
If your photographer is there all day and evening, you need to consider when they will take their breaks. Often, wedding photographers will take their break when you eat, as people don't often want photographs of themselves and their guests eating.
Here remember that your wedding photographer will need time to get something to eat (if you are far away from restaurants or shops you can include a hot meal in their wage) and time to rest too! 
Secondly, you need to consider the time after the wedding. You will likely want your photographs as soon as possible, after all, why wouldn't you want to relieve the day?
Check with your photographer how long it will take them to send photographs to you. You will likely have some proofs sent across for you to choose which ones will go into your album. 
Make sure you check how long you will wait for your photographs to be sent across and how you will receive them. Ideally, you don't want to be waiting more than a few weeks! 
The Theme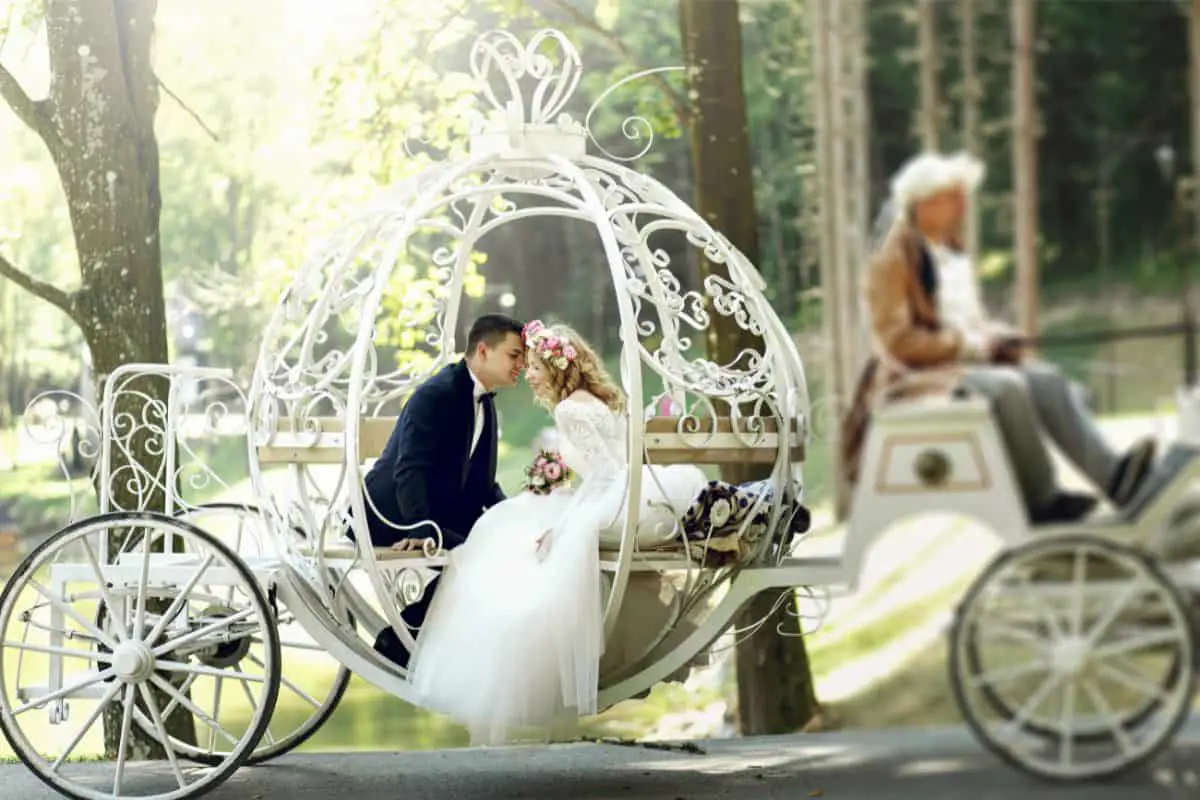 Themed weddings are incredibly popular these days. Your theme might be Harry Potter, Cinderella, Beauty and the Beast, Lord of the Rings, Snow White, or even Star Wars.
The theme might be subtle, like a piece of jewelry that looks like the One Ring, or every part of your wedding might scream Aladdin. 
Regardless, you want your theme to shine through your wedding photos! It's worth familiarizing your photographer early on with your theme.
It might be something they are not familiar with, so let them know how the theme is influencing the day. Here you might need to explain some context if the theme is a little niche. 
Once they are aware, you can work together to ensure that your theme is captured in your photographs. You want your theme to be visible and easy to spot.
Part of this is down to your planning and the help of the venue, but you also want your photographer to photograph it well. 
Make sure all aspects of the theme are featured in your photographs and make your photographer aware if there are any parts in particular you want them to focus on. 
The Wedding Dress
For many brides, the wedding dress is the main event! Whether it is a Disney princess themed dress, a bold red dress, tuxedo, or even a Lord of the Rings style dress, it's the dress most brides have dreamed of for years.
So you need to make sure it has plenty of camera time! Ensure that your photographer allows plenty of time to photograph the dress.
This could be while you are getting ready, showing your family and bridesmaids your dress, or walking down the aisle, you will want plenty of pictures of you wearing it! 
We love photographs of the wedding dress moving too. Photographs of you dancing in the dress, walking down the aisle, or simply some candid shots are wonderful.
They add some movement to traditional and stiff wedding pictures and will allow you to enjoy every angle of your dress! 
Weather/Season 
Both you and your photographer also need to consider the season or weather when you get married. If your wedding is indoors, this isn't too much of an issue, as lighting can be used to replicate natural light or add brightness to dark spaces. 
However, if you are having a backyard wedding, a BBQ wedding reception, or any kind of outdoor ceremony, the weather needs to be considered!
Not only do you need to think about how the rain or wind might impact your wedding, but the impact it will have on your photographs! 
What will gray skies do to your beautiful wedding photographs? What about protecting the camera equipment from the rain?
Your photographer will want to know about the plans you have put in place to protect everyone (including them) from the weather. 
And you need to know from your photographer what they can do photograph wise should it rain. You might need to find an indoor part of the venue where photographs can be taken, or simply wait it out.
If the weather is not in your favor, ask your photographer what editing tools they can enlist to brighten them up. After all, you don't want dark and miserable photographs!
Most photographers will have editing tools they can use to achieve the effect you want. These will come in handy too for fairytale weddings or a Star Wars wedding.
It's amazing what some editing can do, your wedding will look like it is in a woodland forest or Naboo! 
Final Thoughts 
And there you have it, everything you need to know about your wedding photographer and photographs! Wedding photography can be expensive and often is the part of the wedding that is overlooked.
After all, hiring a photographer isn't as fun as buying your dress or deciding on a theme is it?
But you should put the same level of care and attention into finding the perfect wedding photographer for you.
Make sure you consider all the factors we mentioned today to help you narrow your search, know what you are after, and find the wedding photographer for you! 
And don't forget to head to magicaldayweddings to see our other guides! We have everything to help you plan a wedding, whether it is a fairytale or Lord of the Rings theme, we have got you covered! 
Good luck and happy planning!