Your wedding is one of the most important days of your life and, fingers crossed will be something that you only experience once!
If you're planning a small backyard wedding, it can seem like an impossible task. You have so many things to consider: what kind of reception do you want? What kind of food should you serve? How much money are you willing to spend on decorations? And how in the world are you going to plan all this without getting overwhelmed?
But don't worry – we've got you covered with our guide to planning a small backyard wedding. We'll help you figure out everything from where to hold your ceremony to how to decorate your guest area. So let's get started!
Your Backyard Wedding: The Ultimate Guide
The first thing you need to decide when planning a small backyard wedding is where you want to hold your ceremony, and several considerations go into this decision.
Indoor or Outdoor?
The first question you need to ask yourself is whether you want to host your ceremony indoors or outdoors for a true "backyard" ceremony.
This is ultimately up to you, but if you live in a place with unpredictable weather, then you may not want to choose an outdoor venue – particularly if the weather is unpredictable. 
If you decide to hold your ceremony outside, make sure to check the weather forecast beforehand, and always have a contingency plan in place; it might be nice to have some shade during the summer months, but you also don't want to be stuck in the rain if it rains.
You should make sure that you have some type of shelter, such as a gazebo or covered tent area, to ensure that guests are comfortable and dry throughout the event.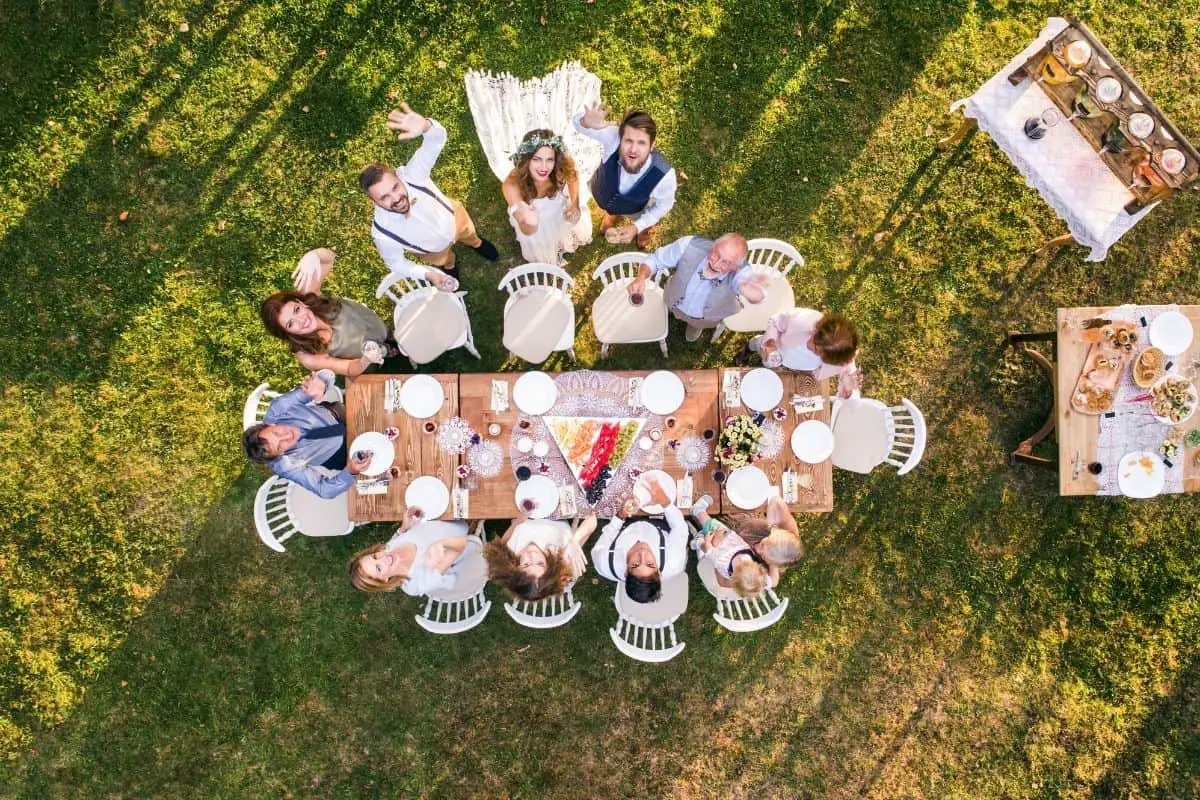 Guest List
The guest list is one of the most important parts of planning a small backyard wedding, as it will determine how much space you have to set up tables, chairs, decorations, etc.
Remember that you may have less space in this kind of location, and so may have to be more selective with guests than you would at a larger venue.
You'll also need to decide whether you want to include children, and if so, how many. You could either allow all of your guests to bring children, or limit the number of kids that come along.
It's best to discuss these details with your guests early on, and allow them to arrange childcare or check that they are available.
When deciding on a guest list, it's important to take into account any special needs that your guests may have, including dietary requirements or accessibility challenges.
Available Space
You will need to take into account the size of your backyard (and any other areas you'd like to use as part of your ceremony) before choosing a location.
You want to make sure that you have enough room for everyone who wants to attend, and ensure that there is ample space for seating and the ceremony itself, as well as room for dining and your post-ceremony activities such as dancing or games.
The first step is to measure the yard where you want your wedding to take place, and work out exactly how big it is.
Measure the length and width of the area, and work out how much space you want to allocate for each of your guests, and for each part of the day – you will want a space for the ceremony and a space for the evening entertainment, so having the figures to hand will help you to determine the best layout for your event.
Once you know how big your yard is, you can start thinking about the flooring.
Do you want hardwood or faux-carpeted floors? Your natural grass, or astroturfed surfaces? Are you looking for a particular style? Or would you prefer to keep things simple and just lay down a rug? What surface will you have for the aisle for you to walk down?
Whatever you decide, make sure that you have a clear idea of what you want before you begin laying down the flooring.
When choosing your flooring, the style of your wedding will play a major role – if you are planning a traditional wedding with guests in heels, it is a good idea to opt for something more textured than a casual lawn, as the heel can become trapped, increasing the risk of injury to your guests in the worst case scenario and, in the best, causing them to get stuck.
Prep A Spot For Your Catering Team
If you're hosting your own catering, you'll probably want to set up somewhere near the entrance to your yard, so that your guests can easily find you when they arrive.
Make sure that you have plenty of tables and chairs available, and that you have enough food and drink for all your guests.
You will also need to set aside a spot for your catering company to set up and prepare their food and drinks. You should consider this extra space carefully, as you don't want anything to spill, or for guests to get in the way of the hardworking team while they are in action.
Facilities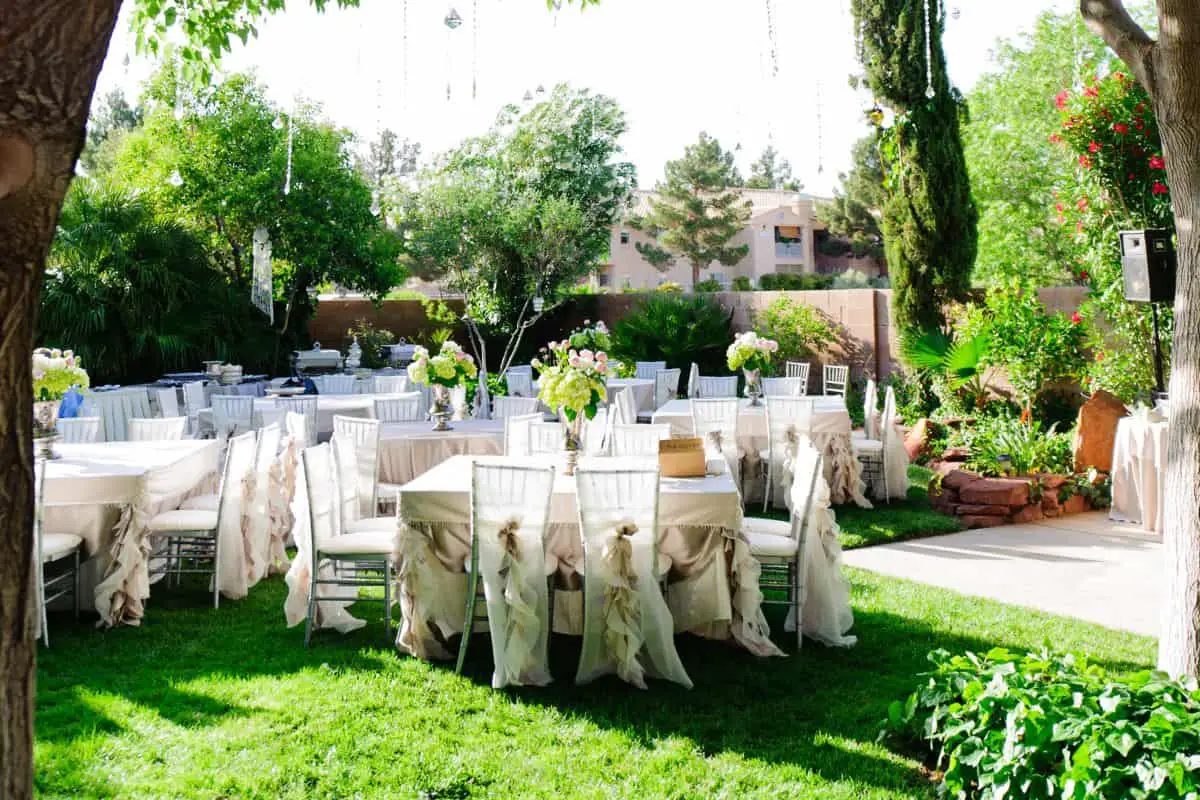 The next consideration is facilities. You'll need to think about lighting, power outlets, toilets, showers, and access to water during the course of your wedding and celebrations.
Your choice of lighting will depend on the time of year. In the winter, you may want to choose a light source that doesn't require too much energy but still provides sufficient illumination to see by.
If you are holding your wedding outdoors, you might want to look at solar-powered lights, or LED bulbs for a softer, more gentle look, while making sure that these are still bright enough for your guests to see easily and stay safe while moving around.
A wedding in the warmer months means that the days tend to be longer, and the evenings lighter. This makes it easier to use candles and lanterns, which are often cheaper than electric lights, and provide a romantic atmosphere.
However, you do need to ensure that there is adequate ventilation and that any flammable materials are kept well away from the candles themselves.
Always make sure that pathways are well-lit, and that there is a clear exit for guests to see and access safely in the event of an emergency.
Lighting will also play a key role in your photographs, and this will be a key consideration. It is important that your photographer has easy access to the area where they will be taking photos, and that there is enough light to illuminate the scene.
If you are having an outdoor ceremony, you will need to consider where you will plug in your sound system, and other equipment.
It is important to remember that depending on your setup and the size of your home, you may not always be able to rely on mains electricity, so you will need to plan ahead.
You will also need washroom facilities, especially if you are expecting large numbers of guests.
These should be clean and tidy and ideally located close to the entrance of your property so that guests can quickly and easily access them.
It is important to check that you have access to running water, both inside and outside your home.
If you are planning a summer wedding, you will need to make sure that you have ample supplies of drinking water, and that this is kept cool and clean so that your guests can remain hydrated and safe.
In colder climates, you will need to take into account whether you will need heaters as part of your backyard wedding, and how you will keep them warm and safe.
If you are using gas heaters, you will need to ensure that they are properly vented and that there is no risk of carbon monoxide poisoning.
Permits and Legalities
A backyard wedding requires careful planning and attention to detail. The first thing to consider is obtaining all necessary permits and legalities.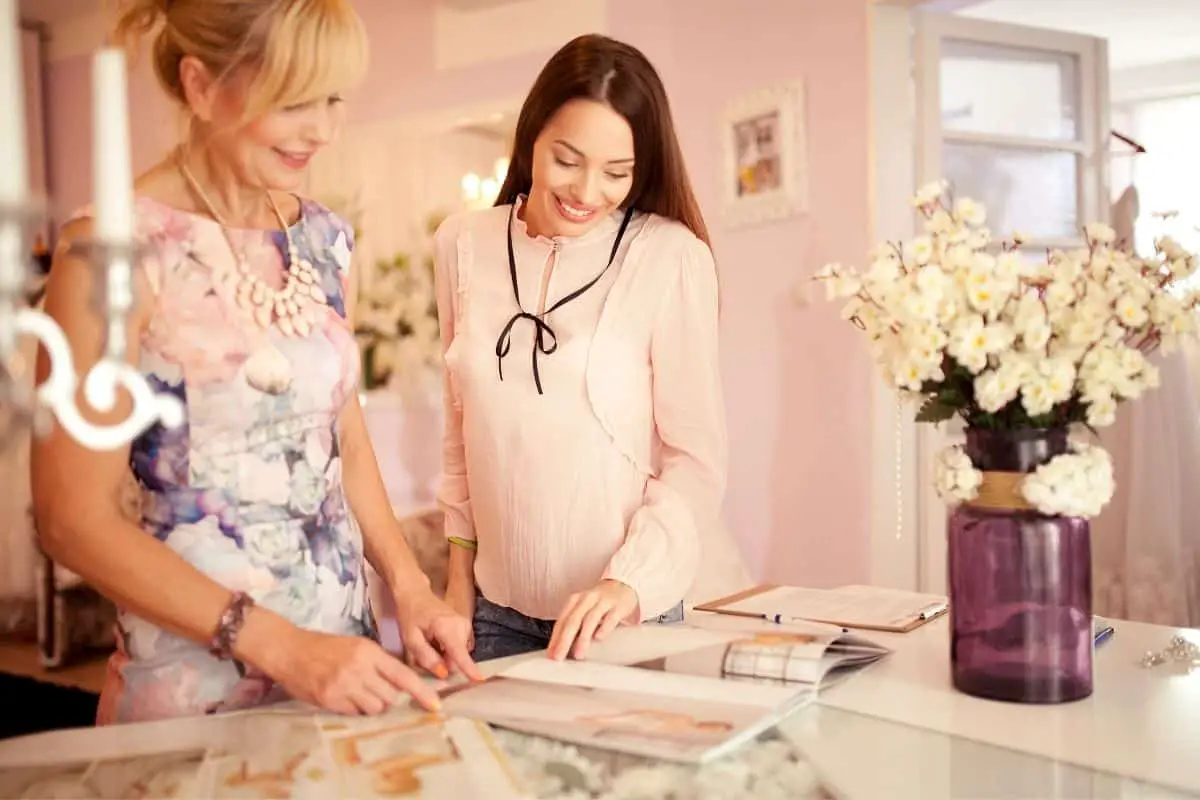 Depending on your location, you may need to obtain permission from local authorities, including the council, fire department, police station, and health authority.
You will also need a permit from the landowner, who has the right to refuse entry to anyone without one.
To ensure that your backyard wedding is legal, you will need to check with your local government office and register your marriage.
You will also need to check that you have obtained the correct licenses and that you have the correct paperwork to prove that you are legally married.
Wedding or event insurance is an excellent investment and can help protect you against unexpected costs. Make sure that you purchase enough coverage to meet your needs, and that you have proof of coverage.
There are a number of types of insurance, that may be relevant here, and these include:
Liability Insurance –this covers you against claims made by third parties, such as those injured at your wedding.
Property Damage Insurance – protects you against damage caused to your own property during the wedding.
Event Insurance – protects against loss or damage to items used during the wedding.
Wedding insurance – wedding insurance will ensure that you don't get left out of pocket when something goes wrong.
Decorations
Decorations play a key role in any wedding, but particularly in a backyard wedding. They add color and style and can provide a focal point for guests.
However, it is important to think about what kind of decorations you want to use, and how much space you have available.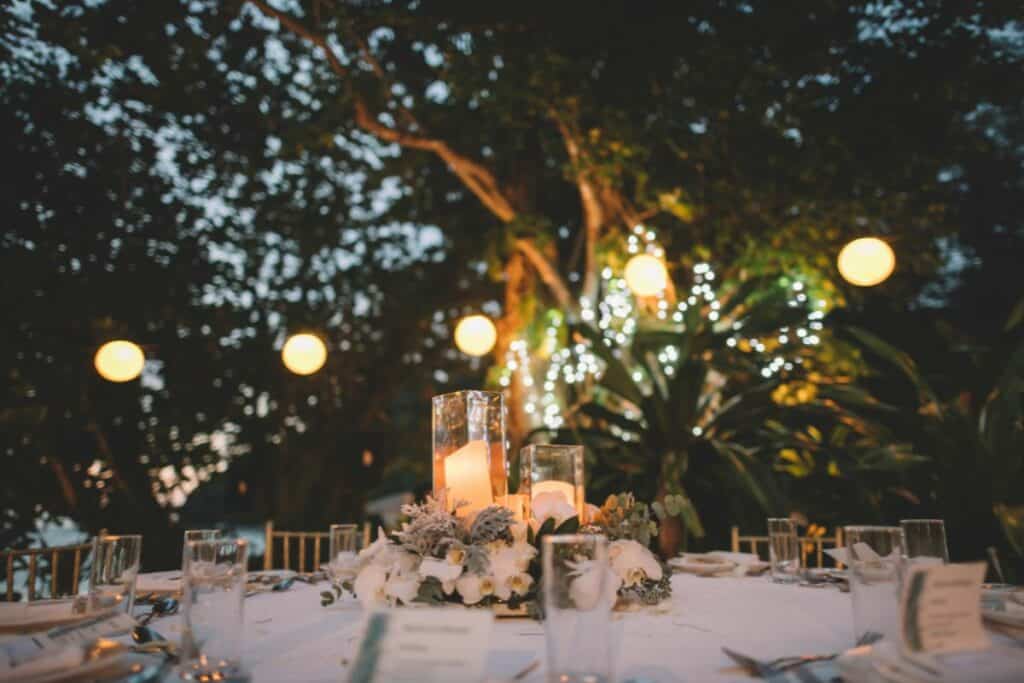 Some of the main considerations you may include in your backyard wedding include:
You will need lighting to create the atmosphere you desire, and to highlight specific areas. This could include candles, fairy lights, lanterns, torches, and other similar devices.
If you are having live music, you will need to plan ahead to ensure that you have sufficient sound equipment. This includes speakers, microphones, amplifiers, and other audio-related equipment.
You may wish to use a backdrop to set off the mood and give your guests a focal point. It should be large enough to fit around the area where you are holding the ceremony, and small enough to allow you to move freely within it.
Photo backdrops can also be a great addition to your backyard wedding. These come in many different shapes and sizes and offer a spot for people to gather and have stunning photos.
You can also use different backdrops for each section of your wedding so that guests can see the changes as they walk through the garden, and capture different moods and tones.
The flowers you choose will depend on your personal taste, and the type of wedding you are planning.
If you are having a formal wedding, then you might opt for traditional bouquets, while if you are going for a more casual look, then you may prefer a mix of fresh and dried flowers.
Flowers can also play a key part in your decorative scheme – you can use them to create a natural centerpiece or place them strategically throughout the garden to create a beautiful floral display.
Catering
Catering plays a major part in any wedding, and this is no less true for a backyard wedding.
You will need to consider whether you want to cater yourself or hire a caterer. There are pros and cons to both options, and you will need to decide which one suits your budget best.
This option allows you to cook whatever food you like, and serve it however you like. The only thing you need to do is make sure you have plenty of supplies available, and that you know how to prepare everything.
A caterer will take care of all the cooking, serving, and cleaning up. They will also arrange the food, and help with the decoration. They will usually charge per person, depending on their experience and level of service.
When choosing a catering option for your backyard wedding, some of the main considerations include:
What kind of food would you like? Do you want buffet-style, plated meals, or something else entirely?
Do you want a full menu, or just an appetizer and dessert? How many courses will there be?
Will you be served by staff, or will you be expected to serve yourselves? What time will you eat? Will you be able to enjoy drinks during the meal?
By considering these questions, you will ensure that your guests are fed and happy, and your wedding day runs smoothly.
Entertainment
Entertainment is another crucial element of a wedding, and this is especially true when you are having a backyard wedding.
Live entertainment is often included in weddings, but you can also add DJ services to your package if you don't want to rely on musicians.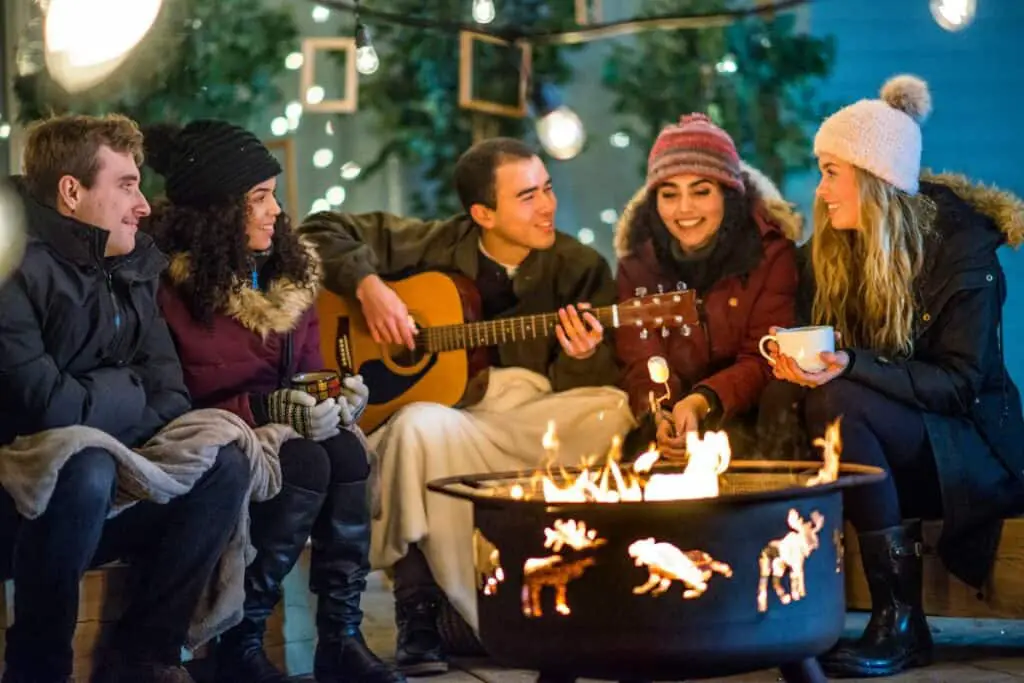 If you are having live music at your wedding, you will need to organize this well before the big day.
You will need to contact local bands and find out what times they work, and what equipment they require. This way you can plan ahead, and ensure that everyone has a good night!
If you don't want to book live music, you can still get a DJ to provide background music for your guests. A DJ will usually arrive early to set up his equipment, and he will stay until the end of the evening.
The right DJ will keep the party going all night long, and ensure that everyone stays dancing until the last song finishes.
Why not ask each of your guests to choose one song to add to the playlist – this could be a great way to ensure a wide variety of music and can allow guests to feel included. They could also choose a song that has meaning to your relationship, or as a dedication to you and your new husband or wife.
If you are planning on having music as part of your backyard wedding, it is important to ensure that you obtain any relevant licenses – these may be required to play music above a certain level or after a certain time. You should also take care to adhere to any local regulations regarding noise levels.
Other Types of Entertainment
You might also want to consider adding other types of entertainment to your wedding. For example, you could hire a magician, or a clown – these can be particularly inventive if you are having a theme wedding, and these entertainers will come to your venue, and perform for your guests.
If you are looking for a more quirky setting or a circus theme, then you could even hire a hypnotist to put your guests into a trance state.
Other options for entertainment can include face painting, balloon twisting, photo booths, and much more. These are fun ways to make your wedding extra special, and give your guests a memorable experience.
Photography
Photographs are a key element of any wedding, and a backyard wedding is no exception. It's important to have professional photographs taken to capture the best memories from your wedding.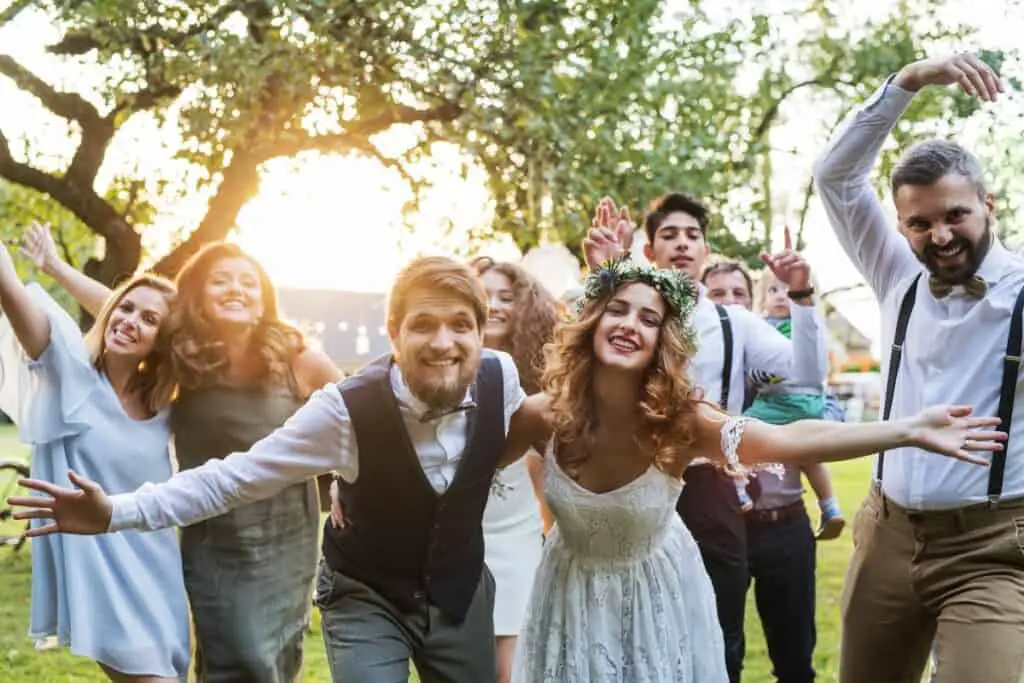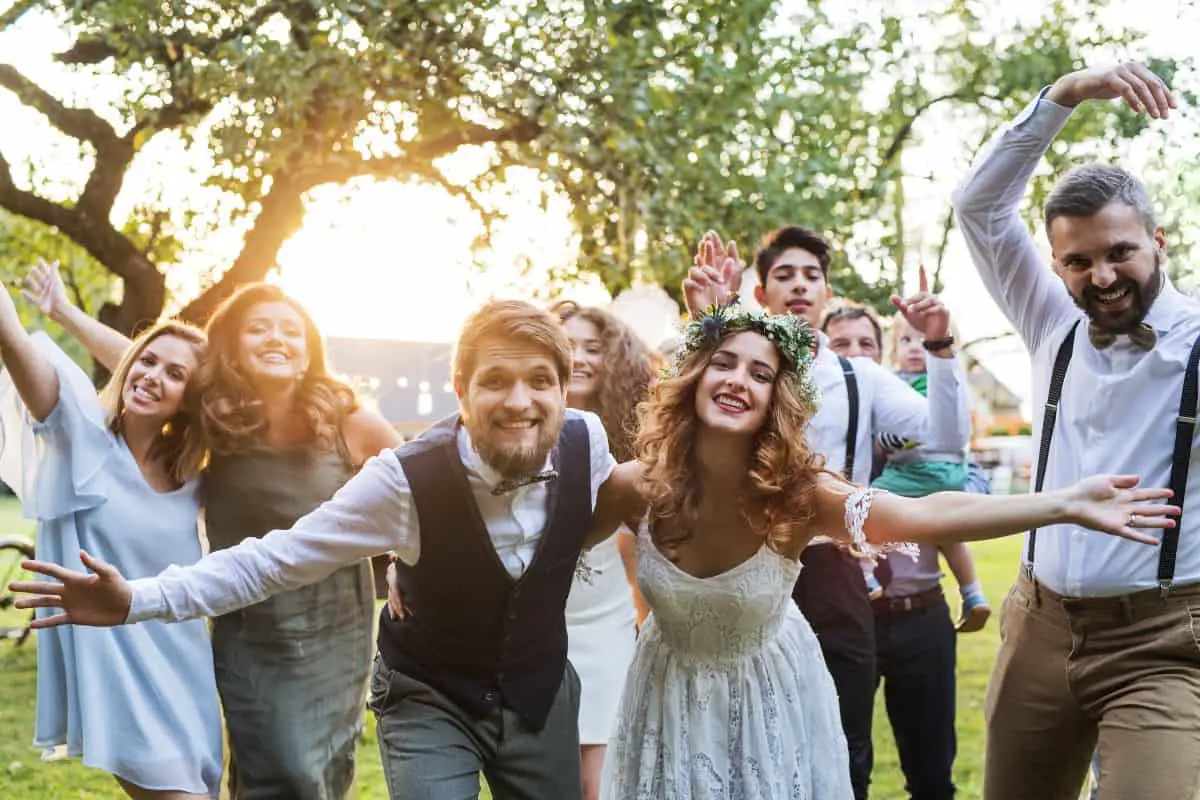 Professional Photographers
It's always advisable to use a professional photographer for your wedding, and there are several reasons why this is so:
Professional photographers will know how to shoot the perfect shot and will be able to capture the moment perfectly. Experience means that they will know exactly where to stand, and what angle to take pictures from, and will ensure that you look your best in every moment captured by their camera lens.
A professional photographer will bring along all the necessary equipment needed to take quality photos. This includes lighting, lenses, tripods, and other accessories.
Without this equipment, you won't be able to achieve high-quality images, and will only be left with blurry shots.
Professional photographers will ensure that their equipment is working properly, and will test it before taking your photos. This ensures that your photos are of the highest quality and that you receive the most out of your investment.
Professional photographers will be creative when shooting your wedding. They will be able to think outside the box, and will create unique shots that you wouldn't normally see at a traditional wedding
It is a good idea to talk to your photographer to ensure that they have a good idea as to the types of shots that you are looking for, and the theme and vibe that you would like to achieve.
Professional photographers will be flexible when it comes to shooting your wedding. They should be willing to work around your schedule and will be able to adapt to changes quickly.
This means that they will be able to adapt to situations as they occur, and will not be put off by anything – wedding days can have a habit of throwing up obstacles, so you need to ensure that your photographer is not fazed!
If you are planning on hiring a professional photographer, it's important to do some research first. Find out who has done weddings similar to yours, and ask them about their experiences.
Ask friends and family members who have had their weddings photographed by professionals, and find out what they thought of the service.
Dress Code
Dress codes are another thing to consider when planning a small backyard wedding. If you want to keep things simple, then you may wish to wear casual clothing, and invite your guests to do the same.
Make sure that this is clear on the invitation, as some may assume that you are going for a traditional, formal wedding theme.
However, if you're wanting to go for something a little bit different, then you might like to opt for a dress code. There are many different styles of dresses available, ranging from formal gowns to beachwear, and you can even incorporate a theme into your wedding, or choose one that reflects your personality.
Make sure that you communicate your dress code clearly to your guests, and give everyone plenty of notice so that they can prepare and feel comfortable.
Final Thoughts
Planning a small backyard wedding can be stressful, but once you've got everything organized, there shouldn't be too much to worry about. You'll just need to remember to enjoy yourself, and relax – this is the happiest day of your life!

Latest posts by Lisa Plaitt
(see all)