Hello, fellow Disney lovers and future brides and grooms!
As an incurable romantic and die-hard fan of all things magical, I'm beyond thrilled to share my passion for bringing fairytale weddings to life in the happiest place on Earth.
Planning a Disney wedding is not only a dream come true for many couples but also an unforgettable experience that captures the timeless charm of our best-loved stories.
You might think it's overwhelming at first. Trust me, I've been there too! But as someone who has seen the enchanting sparkle in couples' eyes as they embark on this beautiful journey, let me assure you that creating your very own "happily ever after" is absolutely worth every moment.
So, grab your favorite Disney character mug filled with a warm beverage (I recommend hot cocoa with extra marshmallows), get comfy – and let's dive into these essential steps together!
Finding Your Perfect Disney Wedding Location
A world of enchantment awaits you, dear couples, as you begin your quest to discover the ideal backdrop for your Disney wedding! There's much more to choose from than you might think—after all, this is Disney magic we're talking about.
Disney Fairy Tale Weddings and Honeymoons offer an array of spectacular locations—from glamorous ballrooms to lush garden havens, each with a unique atmosphere.
For those who appreciate flexibility in budget and details, nearby hotels such as the Swan and Dolphin or Downtown Disney venues can deliver an incredible experience within close proximity to the magical aura of the parks.
But wait—did someone say adventure? Consider embarking on a fabulous voyage aboard a luxurious Disney cruise ship, exchanging vows on its stunning decks or shores of the private island Castaway Cay!
Alternatively, if jetting off to Florida isn't feasible—or maybe it's just not for everyone in your party—you can bring Disney magic right into your very own backyard.
With some ingenuity and pixie dust-infused details (think cake toppers, invitations, even a Mickey-shaped dessert buffet), people won't have to leave their hometowns to feel swept away by the magic!
Selecting a Memorable Disney Wedding Venue
Once you've nailed down how much "Disney" you crave for your big day, it's time to explore potential venues that align with your vision.
By now, you may have noticed that there are countless options nestled within Disneyland or Walt Disney World—you could say that it's like trying on glass slippers until one fits just perfectly!
The iconic Cinderella Castle looms majestically over Magic Kingdom Park—an unforgettable sight that will mesmerize every heart—to my fellow princesses out there: imagine making a royal entrance beneath its soaring spires!
At The Seas with Nemo & Friends in EPCOT lies an undersea wonderland, perfect for lovebirds who wish to take a plunge into aquatic bliss.
Disney's Wedding Pavilion in the heart of Disney's Grand Floridian Resort & Spa presents a fairytale chapel framed by a lovely lagoon—a dazzling destination built on romance!
Or perhaps an escape to the Safari—or even a lush tropical paradise—in Disney's Animal Kingdom is more your speed?
By exploring each venue, you'll determine which fantasia suits not only your budget but also the style and whimsy you desire for this momentous occasion!
Setting Boundaries: Budget, Guest Count, and Planning Time
Time to tackle numbers, my dear. Although budgets can be dull, knowing what you're willing (and able) to invest in your dream day keeps things rooted in reality. No one wants to see their vision crumble due to miscalculations on this front.
My advice? Compare all of your options side by side—Disney Fairy Tale Weddings vs. area venues vs. sprucing up something closer to home—including costs for details like catering and decor.
You might be surprised! My husband Kyle and I discovered that hosting our dream wedding at WDW equated to the same expense as crafting an event in our own town.
Equally essential is determining how long you're granting yourselves to plan everything from top-to-bottom—that's right—time budgeting!
Are you itching for an engagement period that lasts years? Months? Weeks?! Be realistic about how much time you need for making decisions and finalizing logistics.
Lastly, as difficult as it may be, finalize your guest count early on—an easier-to-manage list ensures that loved ones feel well cared-for without stretching yourselves too thin.
Picking the Ideal Season and Date for Your Disney Nuptials
With location decided upon and budgetary boundaries established—it's now time for yet another thrilling choice: when to host your glorious Disney soiree.
Our darling Mouse House offers unique experiences each season—such as the majesty of autumn or the twinkling delights brought upon by a holiday extravaganza—but which one captivates your hearts, my dears?
Aside from seasonality, consider how well certain weeks or days of the week fit into your vision. For instance, you'll find that midweek weddings (or even those in morning hours!) may save you money—an appealing prospect for many—although keep in mind how this might limit guests' ability to attend.
Need a helping hand? Fret not! Disney Fairy Tale Wedding consultants excel in orchestrating these details; they'll guide you through availability and pricing to ensure you celebrate according to the tides of both budget and heart!
Choosing Your Fairytale Wedding Theme and Decorations
Oh, the possibilities! The beauty of a Disney wedding lies in its boundless potential for creativity, my dears. Themes and decorations that echo your love story, speak to your souls, and tie together harmoniously within your magical venue are just waiting to be discovered.
Whether you fancy a Beauty and the Beast-inspired celebration, complete with red roses under glass domes or an elegant Tangled-reminiscent affair adorned with lanterns floating blissfully far above—Disney can make it happen!
As you embark upon this enchanting journey through whimsy, don't be afraid to mix things up. Feel free to borrow elements from different stories or blend classic Disney concepts with more contemporary decor. What will truly make your day magical is the authenticity and uniqueness that only the two of you can bring.
Crafting Your Dream Disney Wedding Vision
With countless captivating options before you, I must urge you—in order not to get lost amid fantasies—to pause for a moment and envision what elements you genuinely wish for your wedding day remembrance.
Close your eyes.
Transport yourselves one year into married life.
What beautiful memories linger? Witnessing fireworks burst into glittering stardust as newlyweds? Sharing mouthwatering Mickey-shaped macarons surrounded by beloved friends?
To define those special moments each of you desires helps clarify how priority resources like time and money should be distributed—an invaluable exercise during these early stages.
For my darling Kyle and me, our forever cherished memories encompass romantic portraits on Disney property (photography was pivotal) and dancing beneath twinkling lights as one (cue Deluxe DJ!).
By identifying what truly matters at the core of your hearts—a delightful sense of ease will wash over future decisions regarding budget allocation.
Incorporating Disney Characters into Your Special Day
Let us now talk about adding that extra sprinkle of pixie dust to your ceremony to create memories that will dazzle for a lifetime—one of my utmost favorite topics: incorporating Disney friends into your special day!
Imagine, if you will, Cinderella's affable mice or those wily yet endearing chipmunks—Chip and Dale—enlivening your festivities. Or perhaps it's Mickey and Minnie stealing the show during your first dance? The opportunities are as vast as Neverland's horizon!
I must add a word of caution, dear hearts—to ensure that our beloved characters do not overshadow you and your love story at center stage, appropriate "dosages" shall be considered.
With careful thought and balance, these iconic stars can bring unmatched joy to both you and guests lucky enough to share in this magic-brimmed day.
Deciding on Delicious Disney-Inspired Catering Options
Feast like Disney royalty! Nothing inspires awe (and satiates cravings) distinctly like a luscious culinary spread that allows imagination to transcend taste buds—an opportunity not squandered by glorious offerings available at Disney weddings!
For those traditional souls seeking timeless elegance, consider a multi-course feast adorned with gastronomic jewels—from delicate amuse-bouches all the way through sumptuous pastries drenched in pure ambrosia.
On the contrary—perhaps your mouth waters merely thinking about trendy food stations offering delectable international fare: sushi bars boasting exotic fish or interactive Italian pasta bars manned by skillful chefs tossing noodles high overhead—entertaining visuals coupled with mouth-watering bites!
And then there are those who savor life's sweetness most fervently. Lo-and-behold—a treasure trove of candy buffers awaits!
Imagine cotton candy spun around pastel lamps or churros piled high near an elegant chocolate fountain serving as an effervescent centerpiece.
Yes indeed, my darlings—with such splendors on offer (tailored meticulously for your taste and budget)—a magical feast is within reach! No stomach (or heart) shall be left wanting at your Disney wedding celebration.
Breaking Down the Planning Process into Manageable Tasks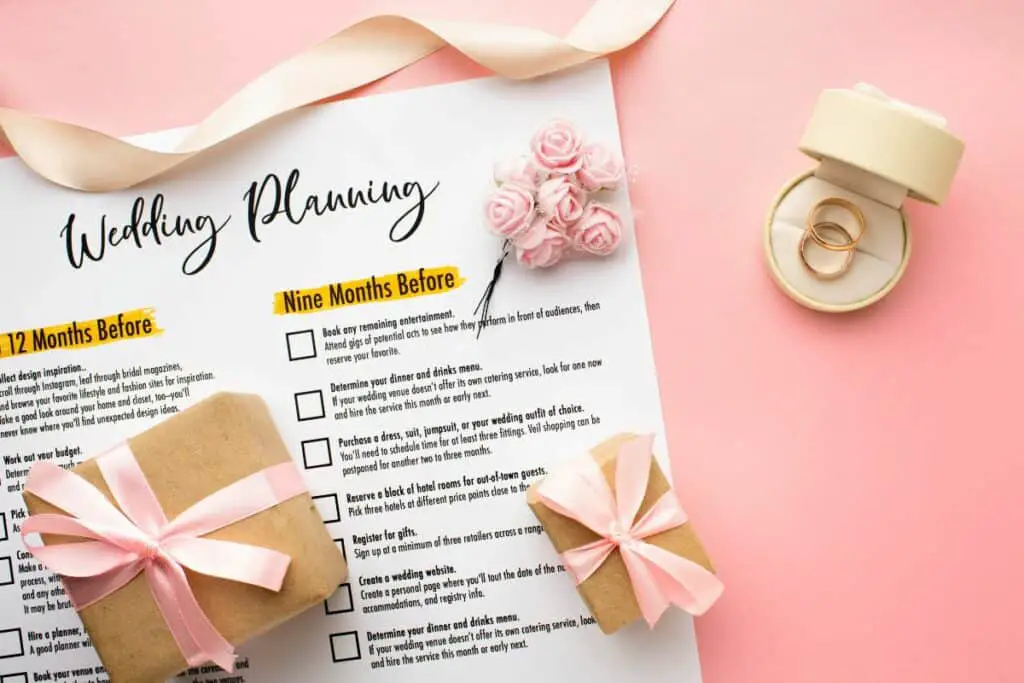 As delightful as it all sounds—Disney wedding planning may appear a gargantuan endeavor, sweethearts. Fear not! I impart to you my secret key to achieving wedded bliss: breaking down the process into bite-sized tasks that feel entirely achievable.
Begin by listing every detail requiring attention—from venue bookings to gown fittings—and then deconstruct each item further for simplicity's sake.
Imagine transforming "hire a photographer" into a series of instructions such as researching styles, contacting potential candidates, finalizing your favorites (and securing their talents for your magical day), and creating a must-have shot list!
By organizing this granular roadmap for both you and your beloved, stress shall no longer loom over like Thunder Mountain—leaving ample time for one task we can all enjoy: dreaming of our Disney-inspired big day!
Capturing Magical Moments: Hiring the Right Photographer for Your Disney Wedding
Ladies and gentlemen, prepare to engrave those once-in-a-lifetime memories upon the annals of time—the artistry (and magic) of photography entrusts us with ever-lasting visions that will transport us back to those spectacular moments shared as newlyweds amidst Disney's embrace.
Whether you desire enchanting Cinderella-worthy portraits in front of the castle or candid snapshots reflecting pure joy etched upon beaming faces—an exceptional photographer is paramount!
Take time to research photographers whose work resonates with your heart's deepest desires while keeping an eye on style preferences, availability, pricing… and above all else—their ability to capture Disney weddings with that unmistakable flair only dream weavers can possess.
Remember my darlings—that photographer's enchanted lens will transmute mere moments into immortal echoes cherished far beyond our lifetime.
Tips for a Stress-Free Disney Honeymoon Experience
As if wedding wonderment were not already enough—we mustn't forget the cherry atop our magical mountain of delights: the Disney honeymoon! The culmination of your Disney wedding odyssey—a sweet retreat to indulge in coquettish merriment and endless adventure.
But let's keep those post-wedding nerves at bay, doves. A few simple yet effective tips shall ensure your relaxation and joy remain ever-abundant as you embark upon this enticing escape, wrapped in matrimonial bliss.
Firstly, allow ample time between the final echoes of the wedding march and setting sail towards enchanting shores—we wouldn't want a frenzy of packing overshadowing cherished memories, now would we?
Second, splurge on luxurious accommodations—there's nothing like waking up to the sparkle of Cinderella Castle outside your window or stepping onto a private balcony overlooking an exotic lagoon to embrace newlywed life properly.
Don't hesitate to ask for special honeymoon perks—Disney excels at showering newlyweds with love (and occasionally pixie dust!) in various forms.
From romantic dining experiences orchestrated under a canopy of stars to bespoke tours steeped in imagination—you and your beloved will be swept away by magic unrivaled.
And last but oh-so-crucial: don't forget to marvel at singledom's dissolution whilst embracing every precious moment whole-heartedly.
For these are truly magical beginnings—where bustling reality transcends into unparalleled euphoria found only within the realm perpetually ruled by one adage:
"And they lived happily ever after…"
Final Thoughts
As we conclude our magnificent Disney wedding planning adventure, I hope your hearts are brimming with excitement and inspiration. For every enchanting venue, sumptuous feast, and magical moment awaiting to be captured on this journey—you'll find treasured memories that will forever sparkle in the corners of your minds.
Now equipped with these essential steps, a sprinkle of pixie dust, and your boundless love for one another—the dreamy realm of Disney is ready to welcome you and make all your wedding fantasies come true.
So hold hands tightly, my dear brides and grooms-to-be, gaze into each other's eyes as you waltz towards your very own "happily ever after," cherishing each step along the way. And remember: it all starts here—with your magical beginnings!
Wishing you endless love and enchanted adventures.

Latest posts by Lisa Plaitt
(see all)