Brides-to-be, get ready to be inspired! As we approach the magical year of 2023, it's time to dive headfirst into the world of wedding dress fashion and discover what's trending on the bridal runways.
Fear not, I've got your back! Having scoured every collection, runway show, and Pinterest board imaginable, I've compiled a fabulous list of the top 10 wedding dress fashion trends for 2023. From modern gowns that defy tradition to sentimental touches that will melt your heart, there is something here for every bride seeking her dream dress.
So take my hand and let's embark on this exhilarating journey together – exploring enchanting colors, captivating styles, and mesmerizing details that will leave you (and your guests) absolutely breathless!
Gone are the days when a traditional ball gown was the only acceptable choice for walking down the aisle. Today's brides have boldly broken away from conventions, choosing wedding attire that reflects their unique personalities and style preferences.
Enter mini dresses and separates – two emerging trends that give savvy 2023 brides more room to express themselves and celebrate their special day in the outfit of their dreams.
Think short, chic, stunning – mini dresses are making a grand entrance into the realm of wedding fashion, offering you an opportunity to strut your stuff with confidence as you exchange your vows. And while traditionalists may raise eyebrows at the idea, many modern brides have embraced this refreshing departure from convention on Pinterest and beyond.
Now let's talk about separates! Ah yes, what could be more versatile than two-piece wedding ensembles that dare to break free from tradition?
Whether it be combining elegant tops with playful skirts or pairing chic corsets with flowing pants, the possibilities are endless – and endlessly stylish.
Ready for another jaw-dropping fact? Bridesmaid dresses and separates by designers like Galvan London, Scorcesa, and Safiyaa can even be mixed-and-matched for endless fashionable options after your big day!
A Splash of Color: Soft Shades and Blue Gowns
The 2023 wedding dress trends reveal an exciting visual evolution as well – one where hues such as blush, lavender, mint, baby blue dominate bridal runway celebrations (as opposed to conventional white or ivory gowns). It seems as if a colorful revolution is sweeping through bridal fashion shows worldwide!
Our friends over at Bridal Fashion Week Spring 2023 confirm this audacious shift towards non-traditional shades in both bridalwear and bridesmaid gowns. Picture magnificent creations by Elie Saab adorned with intricate floral motifs in eye-catching pastel colors or Reem Acra's lavish ombre collection that will leave you breathless with its enchanting array of muted pastel tones.
Feeling blue? In a good way, of course! Blue shades are reigning supreme in the world of 2023 wedding dress trends. From soft romantic hues to vibrant jewel tones, these gowns add a regal touch that captivates onlookers and photographs beautifully.
Floral Motifs and Bold Embroidery: Reinventing the Classics
Aspiring brides seeking a modern yet classic look should pay close attention to this exquisite trend: floral motifs and bold embroidery! These ethereal designs exude beauty, sophistication, and eternal grace – three absolute must-haves for any discerning bride-to-be.
Wedding gowns adorned with breathtakingly intricate embroidery highlighting florals and natural elements have won hearts worldwide. Designers like Elie Saab, Reem Acra, Lela Rose have taken their age-old love affair with feminine floral patterns to new heights by innovating fresh interpretations of traditional designs.
Picture blossoming flowers emerging from delicate vines encircling your silhouette or an impossibly detailed 3D meadow embroidered across tulle – truly unforgettable accents that tell a story of romance and nature-inspired magic!
Ladies who adore vintage elegance will rejoice as fringed wedding dresses swing into the spotlight for 2023. Drawing inspiration from refined art deco fashion, these sophisticated column gowns embrace glamour from days gone by – without sacrificing comfort or style.
Envision this: sleek silhouettes accentuated by dazzling fringe details moving gracefully with every step you take down the aisle. It's no wonder Pinterest boards are overflowing with this captivating trend since it's both chic and excitingly unconventional.
Whether you're dancing the night away or simply gliding amidst your guests during cocktail hour, fringed dresses offer an unexpectedly fun twist to your attire, making you the talk of the town for all the right reasons.
In 2023, wedding gowns will continue to celebrate whimsy and wonder through the inclusion of nature-inspired embellishments. These dreamy designs evoke an ethereal, otherworldly charm that is simply irresistible – adding a touch of magic to your special day.
Imagine fine feathers intricately sewn onto flowing trains or handcrafted butterflies perched along delicate lace sleeves – as if enchanted by loves' spell! The allure of these whimsical accents lies in their ability to transport your guests into a fairy tale realm while also injecting a dose of playful drama and unforgettable character.
Gown after gown, designers have artfully woven enchanting stories inspired by botanical beauty and natural splendor into their creations, resulting in stunning designs fit for a modern-day princess. So go ahead and let your imagination run wild, for there is magic waiting at every seam.
Off-the-Shoulder Elegance: Timeless Necklines with a Twist
Off-the-shoulder wedding gowns are making a magnificent return in 2023, offering an alluring blend of timeless charm and fresh, contemporary flair. This classic silhouette has been reimagined by designers with delightful unexpected accents that elevate the romantic appeal while enhancing the trendsetting factor.
Imagine delicate bows gracefully placed on sleeves or intricately bejeweled accents cascading down off-the-shoulder straps. These modern twists captivate onlookers, creating a refined aura that is undeniably bridal-chic – perfect for brides seeking refinement and fashion-forward details like those seen at Bridal Fashion Week Spring 2023.
While retaining their enchanting essence, off-the-shoulder designs have not always been supremely functional due to the limited mobility of some styles. Fear not! Designers now integrate elements such as elastic backing into their creations, adding flexibility and comfort without compromising stylish panache.
Sustainable Fashion Choices: Eco-Friendly Materials and Pre-Owned Dresses
As eco-consciousness continues to grow among modern brides-to-be, so does the demand for sustainable fashion options that align with ethical values.
Enter pre-owned dresses and eco-friendly materials! Wedding dress trends in 2023 celebrate greener choices for fashion-savvy brides making responsible decisions without skimping on style or quality.
Consider this—opting for a pre-owned or rented gown presents cost savings (hallelujah!) while embracing sustainability principles, all without sacrificing your ideal look. Plus, the environmental benefits alone are enough to make Mother Nature swoon!
And what about eco-friendly materials? More and more designers are utilizing conscious textiles like organic cotton or vegan silk to create stunning wedding gowns that go beyond appearances – they epitomize beauty both inside and out.
High-Low Hemlines: Stylish Movement and Showcasing Footwear
As the saying goes, life is all about balance – and wedding fashion isn't exempt! High-low hemlines are enjoying their moment in the 2023 trends spotlight, offering brides stylish functionality paired with ample opportunity to show off stunning shoes (a win-win situation!).
This intriguing silhouette features a playful shorter front that gradually transitions to a longer back or train, providing ease of movement and comfort all day long. Whether you're craving beachside photos with no worry of sand-trapped fabric or wishing to dance the night away unencumbered, high-low hemlines offer a charmingly modern solution.
Bonus: A dazzling pair of heels or bejeweled sandals becomes the statement piece of your entire ensemble when showcased beneath a high-low gown!
Minimalism gains momentum in 2023 as more brides embrace the adage "less is more." This trend focuses on clean lines, refined simplicity, and stunning silhouettes that speak volumes without elaborate embellishments.
Minimalist designs showcase exquisite craftsmanship by letting fabric quality and perfect tailoring take center stage.
Do not mistake minimalism for boredom—instead, appreciate its timeless allure. Often made from luxe fabrics like silk or crepe organza, minimalist wedding gowns exude sophistication and understated elegance sure to wow your guests.
With minimalist attire comes room for accessories. Dare to make a statement by coupling your simple yet chic design with an ornate veil or striking jewelry for an unforgettable bridal look that packs visual impact while remaining refined.
Personal Touches: Customized Embroidery for Sentimental Value
Last but certainly not least, personalized embroidery has emerged as one of the hottest wedding dress trends for 2023. With this enchanting detail – sometimes hidden, sometimes on display – brides can infuse their gown with sentimentality that transcends mere aesthetics.
Take cues from Haley Bieber's iconic "Till death do us part" embroidered veil or brides who have stitched their fiance's initials into their gowns. The sky's the limit with customized embroidery, from romantic phrases to meaningful symbols that hold a unique place in your heart.
This trend transforms wedding attire into more than just attire – it becomes an exquisite piece of art woven with love and personal significance. It's no wonder so many contemporary brides are embracing this opportunity to put their signature on their special day.
Conclusion
There you have it – five exhilarating wedding fashion trends to look forward to in 2023! As we journey together through each trend's unique appeal, always remember: this is about finding what feels right for you on your big day.
Embrace them with an open heart and mind but most importantly, stay true to yourself – because ultimately, your wedding should be a reflection of who you are and what you love. Happy dress hunting!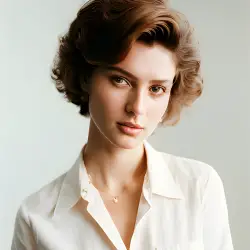 Latest posts by Carol Chatham
(see all)