Choosing the right wedding dress is a monumental decision to make during the wedding preparation process.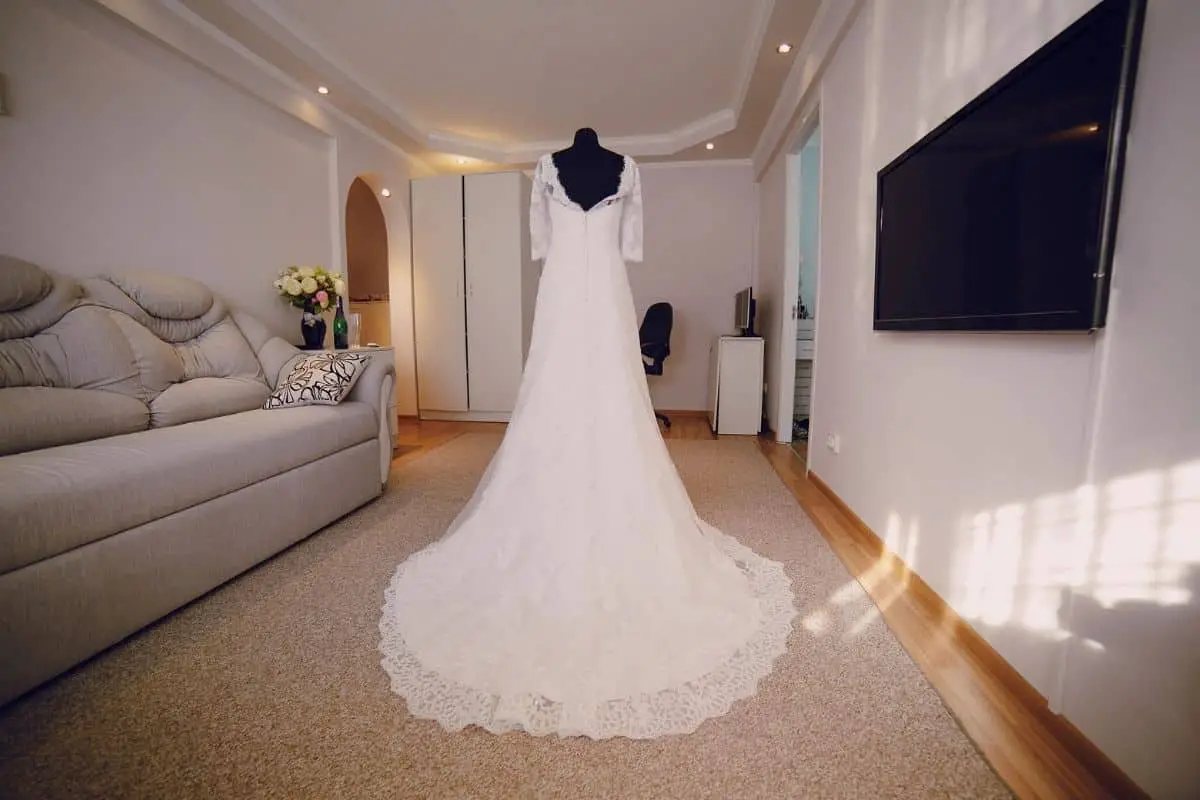 Due to its importance, you will want to make sure that you can record your exact measurements and get your sizing right.
You may now be curious about whether a wedding dress will fit the same way as clothing you buy from the store, or whether they run in a completely different size.
However, there's no need to panic! If you consider the following information then you shouldn't run into problems purchasing a wedding dress online or in-store.
What Are The Sizing Standards?
There are two different sizing standards you must familiarize yourself with; wedding wear and ready-wear.
Wedding-wear sizing standards are the clothing sizes for bridesmaids' dresses and bridal dresses that are usually made by European immigrant or European-based designers. The sizes run small and are typically two sizes up from what we are generally used to.
Ready-wear sizing standards are what you are most familiar with when purchasing everyday items from your favorite clothing stores. They are pretty true to size and generally have a much more relaxed fit, depending on the garment.
How To Determine Your Size In Wedding Gowns
If you've found your dream dress after years of searching high and low, you may be slightly put out to find out that perfecting the fit can often be a much longer process.
Such a delicate garment must be tailored to your body in other ways that a standard dress doesn't.
There are several places where your dress might not fit you perfectly, inducing the length, the waist, or the sleeves.  
Are Wedding Dresses Different To Standard Sizing?
The short answer is no, wedding dresses typically aren't true to size. Wedding dresses could be up to two sizes different from your normal standard clothing size. 
Lots of wedding dress designers hail from Europe where the standard clothing size chart is much smaller than that in the United States.
That's not all. Each designer uses a different sizing chart based on specific patterns.
It's just a simple fact that wedding dresses run small. Many brides feel a lot of anxiety about needing to buy a dress that is two sizes bigger than their normal clothing.
The trick is not to panic, as tempting as it may be. There is no way you could have gained so much weight overnight, it is just the way that wedding dresses work!
Tips To Reduce Wedding Dress Stress
If you've ordered a dress from a store, you're undoubtedly panicking about ordering a larger size. But we're here to reassure you that there is nothing to stress about!
It's not you, it's just the way that the bridal dress industry works.
If you want to reduce additional stress, you can do the following:
If In Doubt, Order A Larger Size: If you order a larger dress, you can always tailor the dress to your body. Simply put, there's no harm in ordering a bigger size! However, you must remember that this could cost you a couple of hundred dollars extra in terms of the alterations depending on the amount of work that needs to be completed. 
Visit A Bridal Shop For Free Fittings: You should do this if you are planning to order a dress online to save yourself the additional expense. During this appointment, you can sample different styles and have your measurements professionally taken. This should help you decide what you like in a dress and might be extremely helpful in making the final decision.
Use The Designer's Size Chart: Each designer will follow the size chart that you must refer to. Compare your measurements against these size charts to figure out the size that you need to order.
Know Your Exact Measurements: You can measure yourself or ask for help from a friend or family member to do this. Write them down on paper and take this with you to any relevant appointments.
Wedding Dress Size Guidelines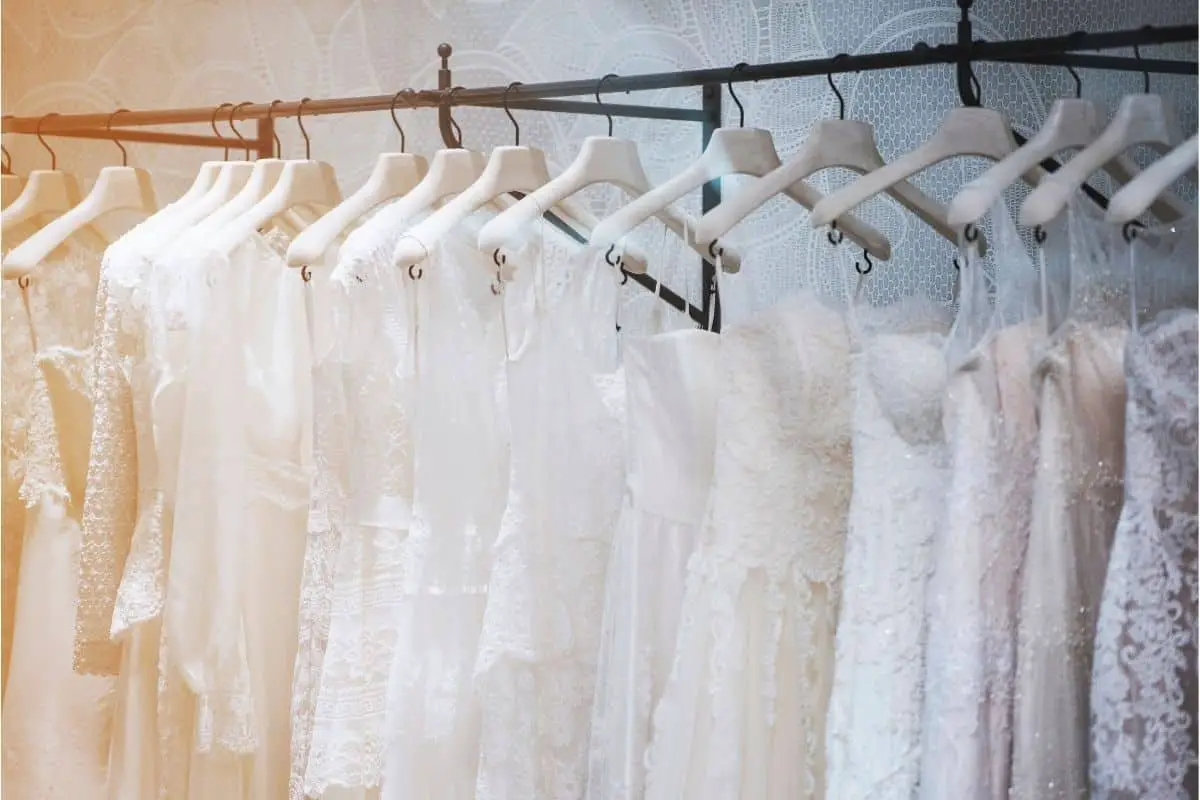 As we have touched on, you should generally opt for a dress two sizes bigger than your everyday clothing. The general wedding dress sizing guide is based on standard US clothing sizing guidelines:
US Size 00 = Size 2 dress 
US Size 0 = Size 4 dress
US Size 2 = Size 6 dress
US Size 4 = Size 8 dress
US Size 6 = Size 10 dress
US Size 8 = Size 12 dress
US Size 10 = Size 14 dress
US Size 12 = Size 16 dress
US Size 14 = Size 18 dress
US Size 16 = Size 20 dress
US Size 18 = Size 22 dress
US Size 20 = Size 24 dress
How To Take Measurements
Shoulders
You might not need your shoulder measurements for every dress style but it's always good to know.
Begin by putting your measuring tape around your shoulders and measuring around until it meets itself. It shouldn't be tight and should gently skim your skin.
The Bust
These measurements are taken by wrapping the tape around the full part of the breast, then under your arms, and also around your back.
This should be tight enough without altering the shape of your breast.
Waist
Wrap your measuring tape around the smaller part of your waist.
This is approximately halfway between your breasts and your hips, rather than where the bottom of your shirt ends.
Hips
Hold the measuring tape at one side of the fullest point of your hip. Then wrap it around until the tape meets itself.
Arm Length
Arm length is another measurement that might not be completely necessary unless you are planning to wear long sleeves.
Begin at the top part of your shoulder and then measure to your wrist.
Full Length
All you need to do is hold your measuring tape at the collar bone, make sure you stand upright, and then measure down to the bottom of your feet.
You'll need to ask someone for help with this measurement. 
Measuring For A Wedding Dress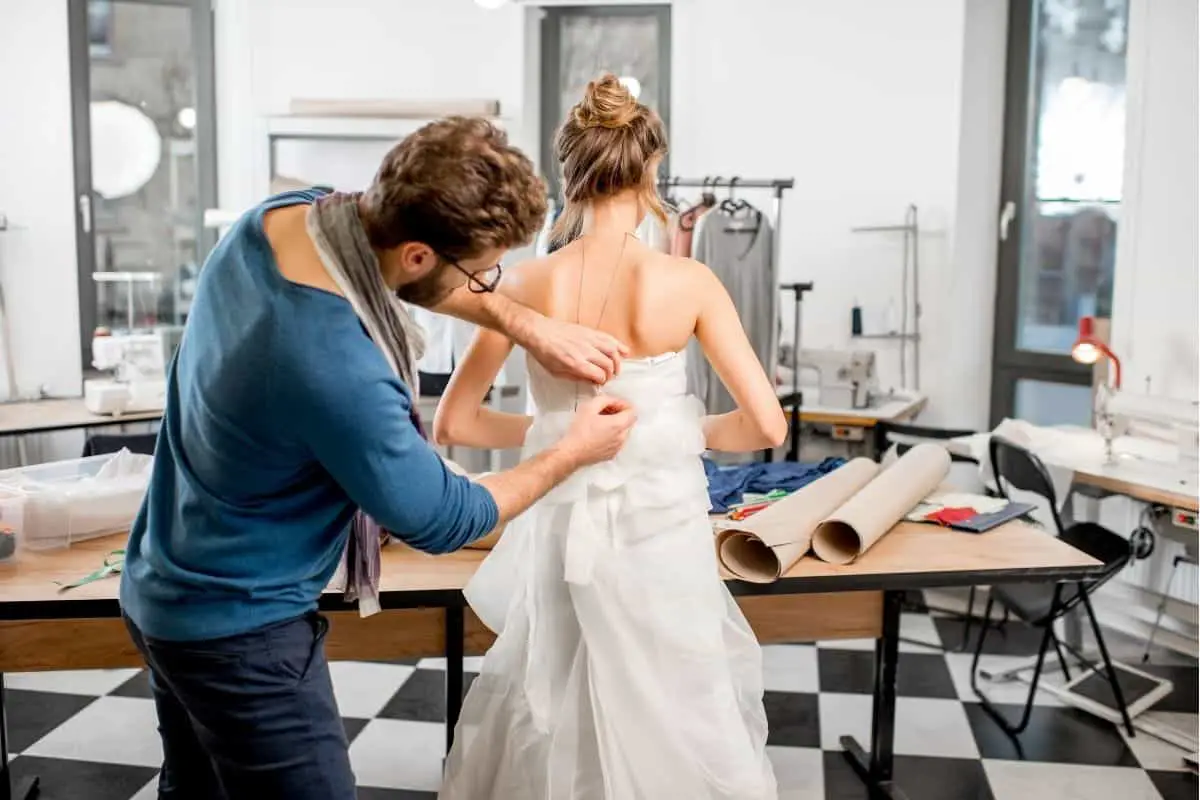 If you buy your wedding dress from a bridal shop they have many professional stylists that will take your exact measurements and find a dress that is best suited for your body type.
If you are planning to order a dress online and save some money by looking at the trunk and sales shows, you will be left entirely up to your own devices.
This is why knowing your exact measurements are important.
Enlist the help of a friend or loved one to help measure and record your measurements for the basic sizes above.
If you are venturing out to a trunk show, take a fabric measuring tape with you so you can make additional measurements or address particular concerns easily.
You can always order the dress in a bigger size if you have concerns and then get it tailored by a seamstress local to you. Smaller dresses can be let out, too, if necessary.
And remember, wedding dresses are unlikely to fit perfectly straight away. They are designed to be tailored to your exact body shape, so trust in the process!
Remember, Measurements And Size Can Be Two Different Things
After saying "yes" to the dress of your dreams, a bridal shop manager will take three important measurements; your bust, hip, and waist.
The dress will then be ordered according to your largest measurements. 
Designers don't accommodate for "split sizing" which means if you're a 6 on top but your hip measurement calls for a 10, they will order a size 10 and fit it to your exact specifications.
Summary
Shopping for your wedding dress is one of the highlights of the wedding planning experience. But it can also be quite stressful as bridal dresses aren't always true to size.
As a result, brides often have to opt for a dress two sizes bigger than their everyday clothing, depending on the designer and the sizing guidelines they use. 

Latest posts by Lisa Plaitt
(see all)