The brides out there will know how important it is to find that perfect wedding dress. The way you look and feel is so important.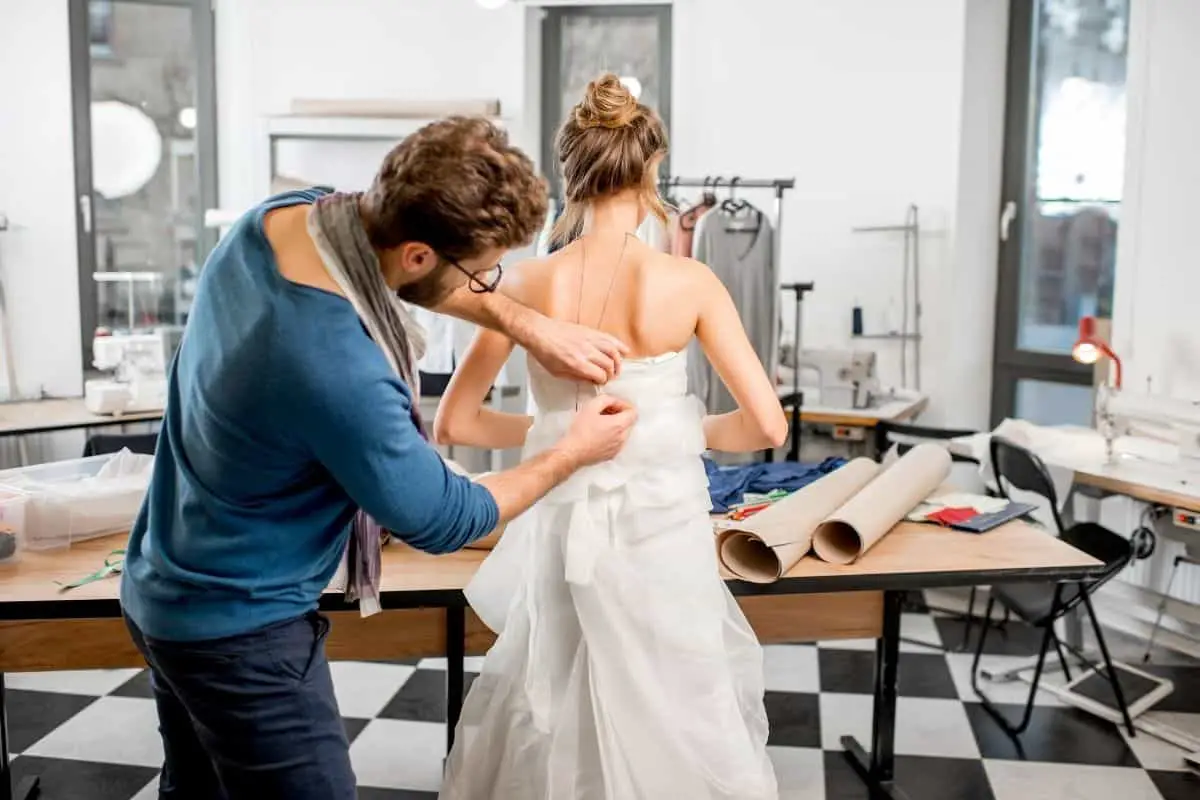 But finding a dress that fits you perfectly can be just as important. You can, of course, get it altered to get that perfect fit.
But, did you know that there are some alterations that can change the look of your dress? You can purchase your dress from bridal salons or the store.
Regardless you will most likely need alterations done to make it a perfect ten out of ten. 
Below is a list of ten of the most common wedding dress alterations that you really should know about. So, without further ado, let us get started!
You Can Have The Hem Shortened
It is super common in the wedding dress industry to have the wedding dresses on the rack have extra long hems.
This is so that they will be able to fit even the tallest brides with ease.
You can always make a dress shorter but making it longer can be an almost impossible challenge.
That is why shortening the hem is one of the most common alterations that is made to wedding dresses.
The price of shortening the hems of wedding dresses is difficult to nail down as it can vary depending on the shop so widely.
On top of that, it can depend on the layering of your dress, how much lace there is, or how many layers there are.  
You Can Have A Train Loop And Button
If you are planning to dance or if you have a dress with a much longer train than normal you may want to consider getting a train loop and button added to your wedding dress.
A train loop is basically a little ribbon that is sewn onto the train of your dress that can make it easy to lift the train up.
This can make it easier to move around at the reception and of course dance more easily. There are two main types of train loops.
The first one is a long one that you can hold with your hand when you move around or dance. The second one is shorter and will button just under your rear end. 
The shorter train loop often has three buttons that you can use to gather the skirts of your dress.
This is the most popular train loop as it allows you to have use of both of your hands.
Just as there are different styles of train loops there are different styles of bustles. Below is a short list of the most common  types of bustles you can expect to see:
French Bustle
Over Bustle
Drawstring Bustle
Waterfall Bustle
Many wedding dresses that you purchase at the store will already have a bustle (see also: 5 Wedding Dress Bustles You Will Love)and train loop sewn in. But for the most part, this is a feature that you will need to request 
Further Reading: 6 Gorgeous Bustle Wedding Dress Styles Every Bride Should Consider
You Can Take The Hips Or Waist Taken In Or Out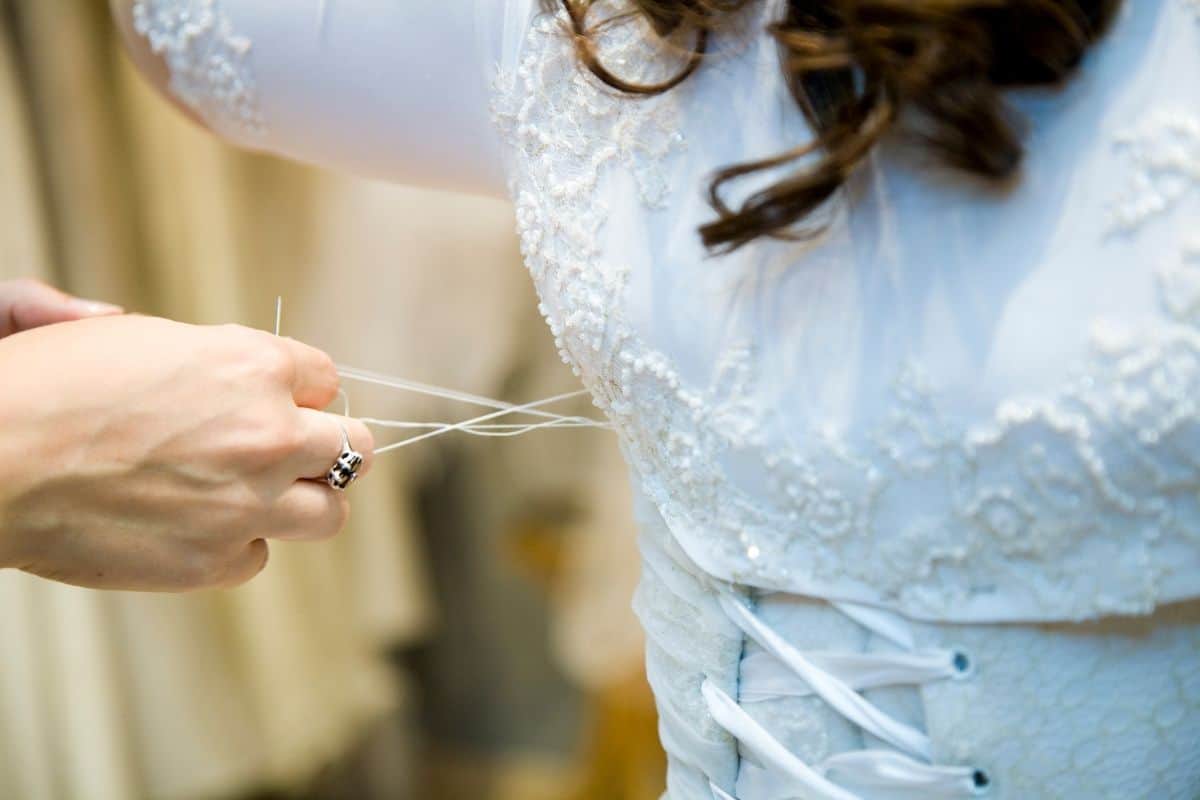 There are a million different body types of all shapes and sizes.
Because of this beautiful part of nature, it is almost impossible to make dresses that are able to fit every body type.
As such, taking in the hips or waist of wedding dresses is very important for making a dress fit perfectly. 
One thing that you need to consider when you need alterations like this is to talk to the sales assistant.
This is because there are sometimes limits on how much you are able to alter a particular dress.
Most of the time it is easier to make a dress smaller due to the fact that the seam of a dress that is being taken out can be more visible. 
You Can Have The Chest Taken In
Most of the wedding dresses you see at the store are generous in the sizing of their bust sizes.
Because of this, it is common for the bust size of wedding dresses to be taken in or out. Regardless of what you need, there is usually some need for alteration.
In addition to size alterations, there may need to be an alteration made for the shape as the wrong shape and size can cause a gutter when you look down.
This particular alteration can be quite tough to get right but it is quite common and works out the vast majority of the time. 
You Can Have The Straps Shortened
Wedding dresses are made with longer straps so that they are able to fit a wider range of brides.
Because of this, it is super common that the straps need to be shortened. This particular alteration is super simple and will not be too expensive.
But, the price will vary widely depending on the shop you get your dress at or how much your tailor charges. 
You Can Add A Waist Stay
If you have a strapless dress then you may want to consider getting a waist stay added to your dress.
This particular alteration will usually involve a piece of elastic or a ribbon that is sewn onto the inside of your dress.
It is usually quite tight but this is so that the gown does not slide down.
This simple alteration means that you will not need to constantly be tugging your dress up or worry about it getting misplaced.
It is normally quite a cheap alteration, but this can be very expensive depending on where you are getting this alteration done.
You Can Alter The Neckline
Necklines are quite common to alter for wedding dresses. This is usually down to taste.
Some brides like a lower neckline while others might prefer a more modest approach. Another reason for a neckline alteration will obviously be the fit.
The pricing of neckline alterations can vary quite a lot as it will depend on what you want and how much you need to be done. 
You Can Alter The Back
The style of your dress is usually irrelevant when it comes to whether you can alter the back of your dress or not.
There are a ton of options you can choose from when you look into back alterations. For example, you can build up the back with lace if you have a strapless dress.
You can also change the sizing or add fabrics to make your dress more eye-catching.
If you are considering getting the back of your wedding dress altered you may need to make sure that you have some pictures to show the consultant.
This is so that they can get a clear idea of what you want and by extension how much money your alteration might cost. 
You Can Alter The Closure
So, you found your perfect wedding dress, but it has a zipper instead of an elegant line of buttons.
Or perhaps you have a corseted back instead of a zippered back.
Regardless of what you want you would be surprised how easy and common it is to do this alteration.
Just make sure to ask the seamstress what they can do and what is possible. 
You Can Add Sleeves Or Other Features
For those brides that are more picky than others, who cannot find that perfect dress on the racks. There is hope for you!
Some bridal salons will allow you to do some bigger alterations to suit their client. You can do all kinds of things, like adding lace, belts, sleeves or other beaded details.
There is actually quite a lot that you can do to a wedding dress if you are looking to get your perfect and unique dress.
If you need bigger alterations we recommend purchasing a wedding dress that has as much of what you are looking for as possible.
This way there will be less for the seamstress to do. But before you put all your eggs in one basket it is important that you talk to the sales assistant so that you can get an idea of what you can do with the dress. 
Final Thoughts
Well, we hope that you enjoyed reading this article. There are a ton of alterations that can be made to a wedding dress and not all of them have graced this article.
Just remember to talk to your seamstress and the sales assistant before you get your hopes up. This is because some dresses may not be altered or there may be a limit on what you can do to them. 
With all of this in mind, we hope that you have learned a lot and that we have opened your eyes to the great variety of wedding dress alterations that you absolutely need to know about. 
For now, we wish you luck with your wedding plans and we hope that you find your dream dress. It is out there somewhere. You just have to find it.
Have a fantastic day and good luck!

Latest posts by Jodie Messines
(see all)