Celtic-style wedding dresses are an elegant option for brides who wish to wear symbolic attire or bring a bit of heritage to their big day. These dresses often feature sleeves that can be long and billowing or short and close-fitting, varying train lengths and lace capes.
A Celtic-style design will typically feature an intricate pattern or design on one or both sides, and often framing a low back that is both elegant and sophisticated. The fabric of choice is usually soft and flowing, such as lace or velvet. Colours range from blue and and purple blue for a classical look, to shades of white for a modern twist.
Celtic wedding dresses may feature Celtic symbols such as tree of life which represents the joining of two people in marriage. Other Celtic patterns are also used to represent long-lasting love, and connection to nature.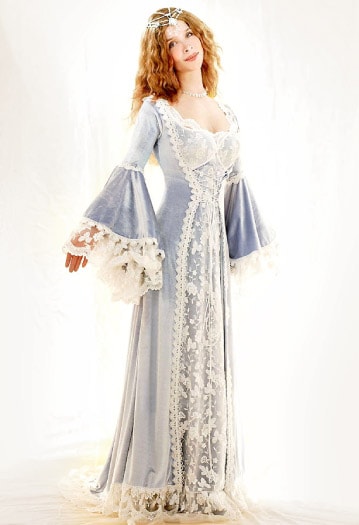 This Medieval and Celtic-inspired wedding dress features intricately detailed lacework at the front and back with lovely ruffles for a truly sophisticated look. For added convenience, this dress also comes with a built-in fitted bra. To make it even more special, you can customize its length of train, back, and sleeves according to your preference.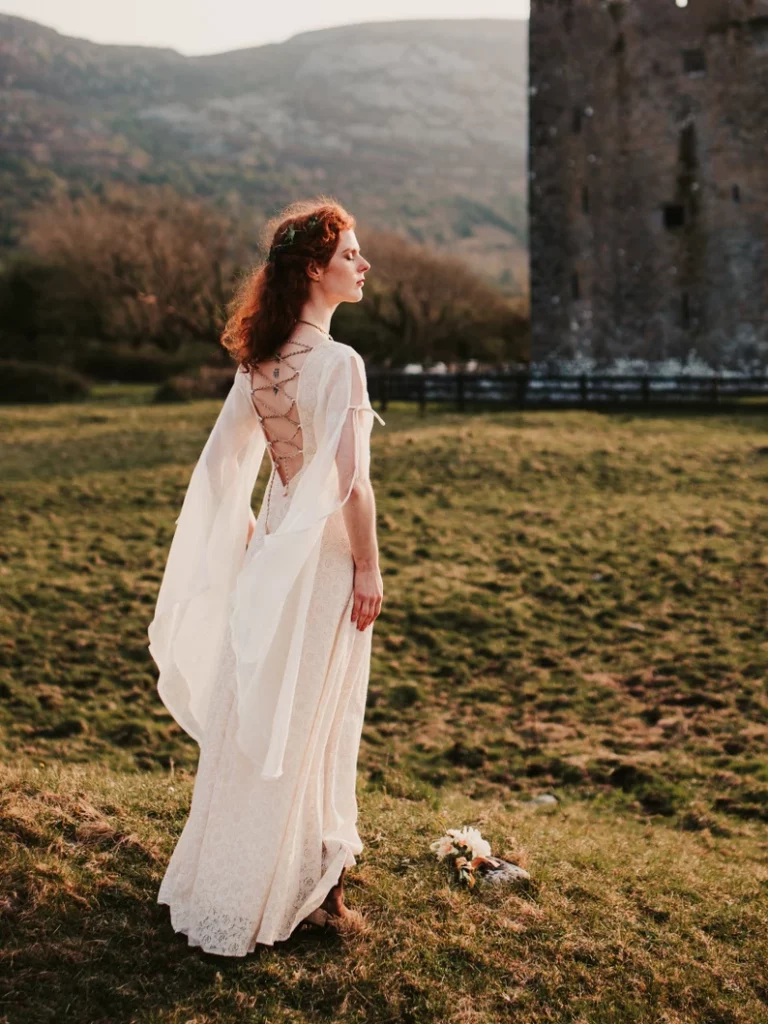 This dress is a dream come true for any romantic, nature-loving bride. Crafted with custom ivory lace and natural fabrics, this special dress is magical and beautiful. Feel like a swan in this open back wedding dress featuring linen net sleeves that create an effortlessly flowy silhouette.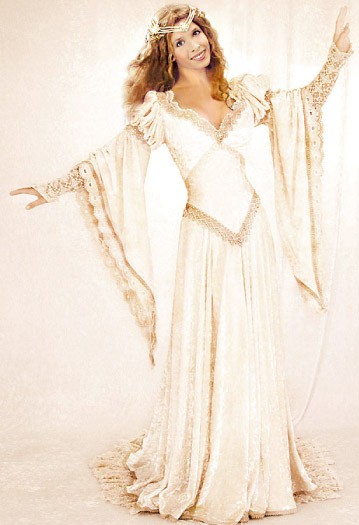 This amazingly designed gown is simply stunning, with its champagne crushed velvet fabric and exquisitely hand-beaded gold lace trimmings. Superbly crafted with dainty pearls, radiant fire polished glass beads and glittering jewel pieces. Just one-of-a-kind.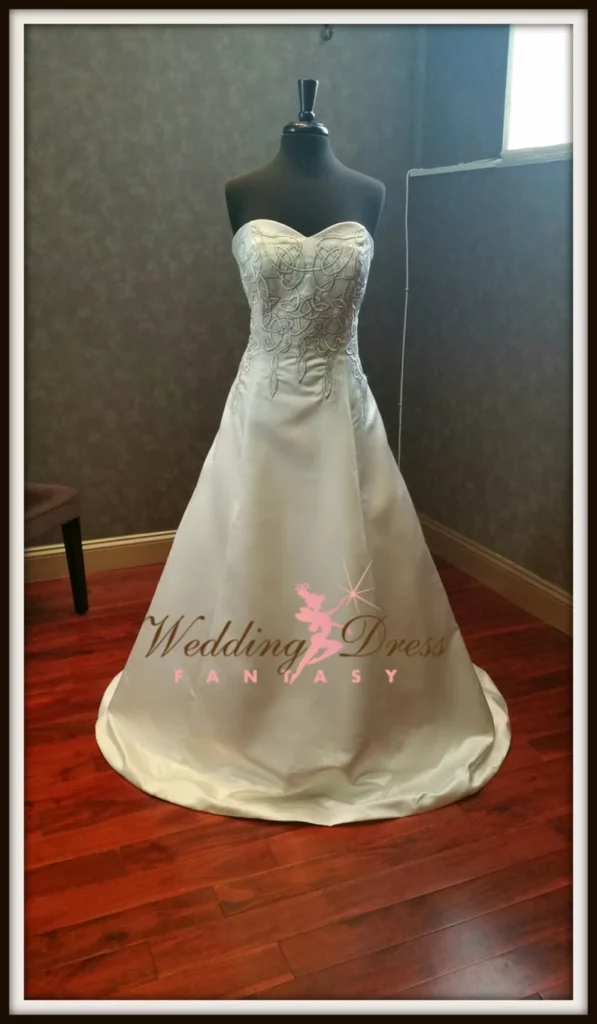 Embrace your figure with this Ivory Satin Sweetheart neckline A-Line dress, featuring exquisite Celtic Style Green Traced Embroidery. This simple yet flattering design is perfect for brides who want to highlight the chest.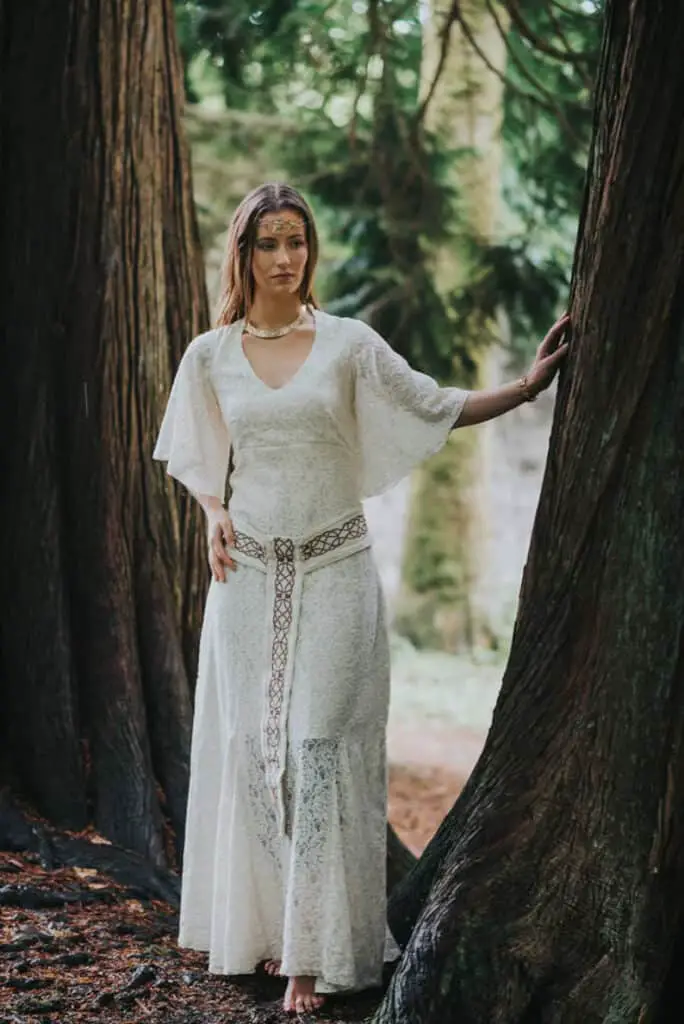 This unique and beautiful Celtic wedding dress is crafted to perfection with a luxurious ivory lace fabric. The unbleached, natural lace is complemented by a separate cotton lining that gives the dress a comfortable, breathable structure fit for a free-spirited bride. The elegant, Celtic knot-work belt showcases exquisite detail and comes with your purchase. The dress can be worn with or without the belt.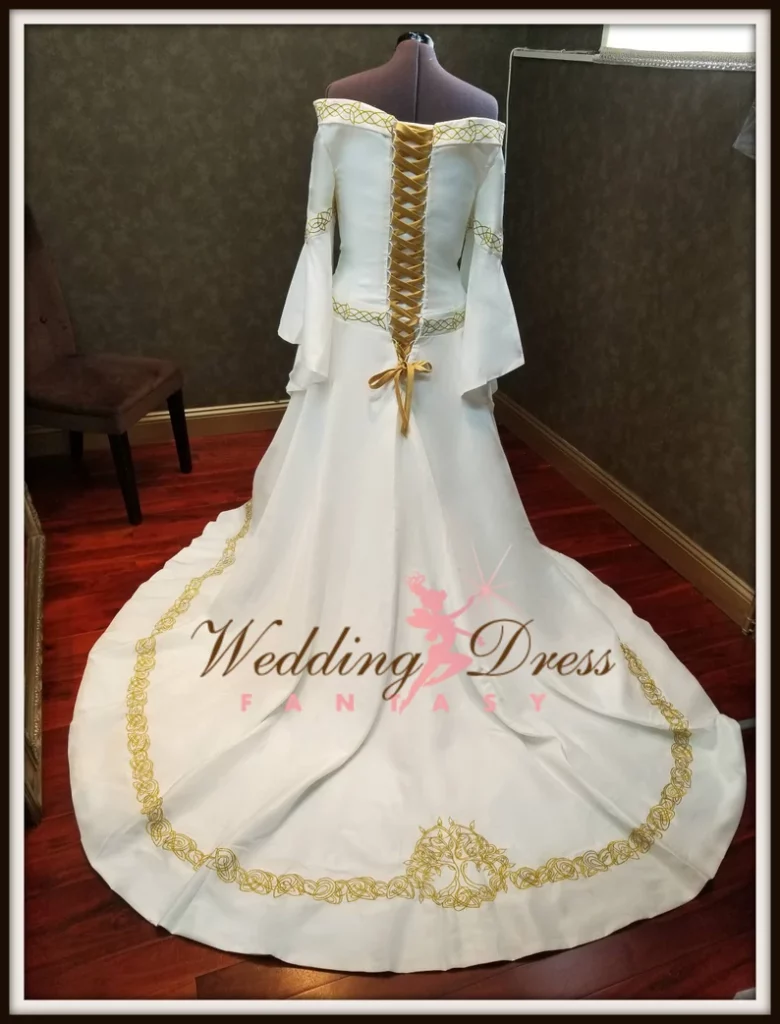 This gorgeous satin dress features semi-off-the-shoulder sleeves, an almost drop waist and an irresistible Celtic style golden embroidery. The Tree of Life is featured at the hem of the dress that blends beautifully against the pale ivory shade, creating a wonderful look for your special day.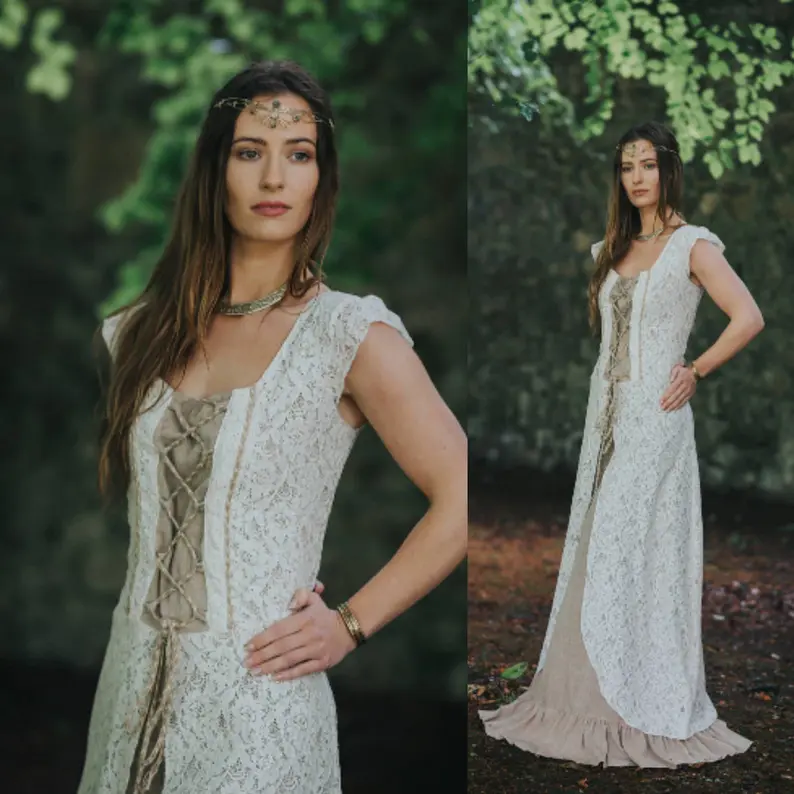 The flattering shape and natural tones provide a perfect blend of class and effortless beauty – perfect for bohemian brides wanting an original and unique look for their wedding day. Say "I do" in this beautiful Natural Wedding Dress, the perfect blend of timeless Celtic design and romantic Renaissance style.
Crafted from natural materials like light cotton lining and untreated, raw plant fibres for detailing on the straps, it imparts a unique and pure beauty to your special day. The flattering cut and un-dyed colors stay true to the free-spirit style of traditional bohemian fashion while making sure you look elegant and radiant.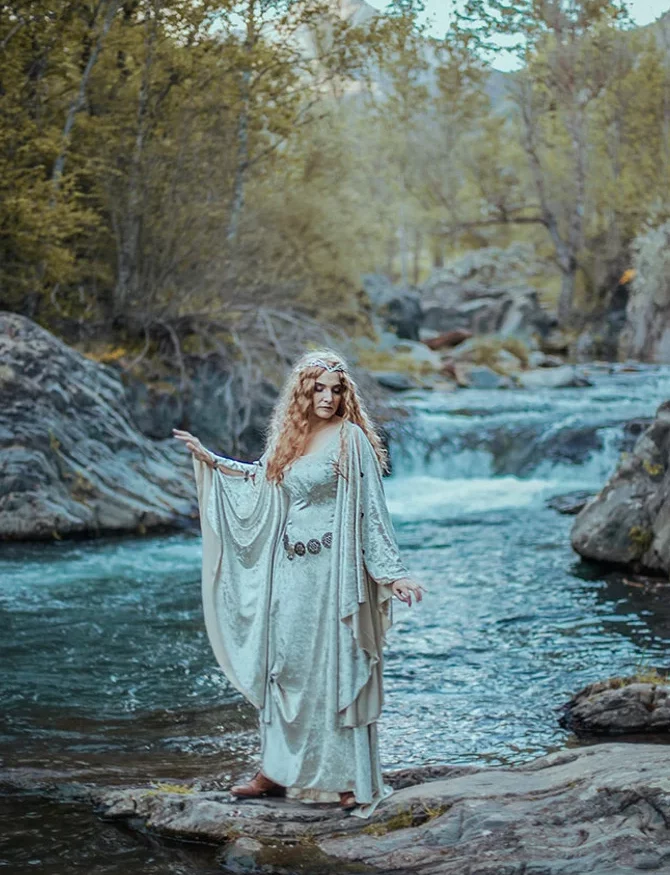 With its luxurious materials and elegant design, this Medieval Dress Celtic Wedding dress Galadriel Costume is the perfect choice for a truly memorable wedding day. Crafted with an exquisite stretch velvet fabric in a golden ivory hue, this dress has all the bells and whistles for a special occasion.
Open sleeves with beautiful brooches provide endless styling opportunities, while the thick lined fabric ensures it drapes gracefully — no flapping around as you move! Adding to its beauty, the train is also luxurious and detailed stitching adds great texture. Finally, small button-like clasps on the sleeves bring a delicate elvish touch. You will look like an Elven goddess in this amazing piece!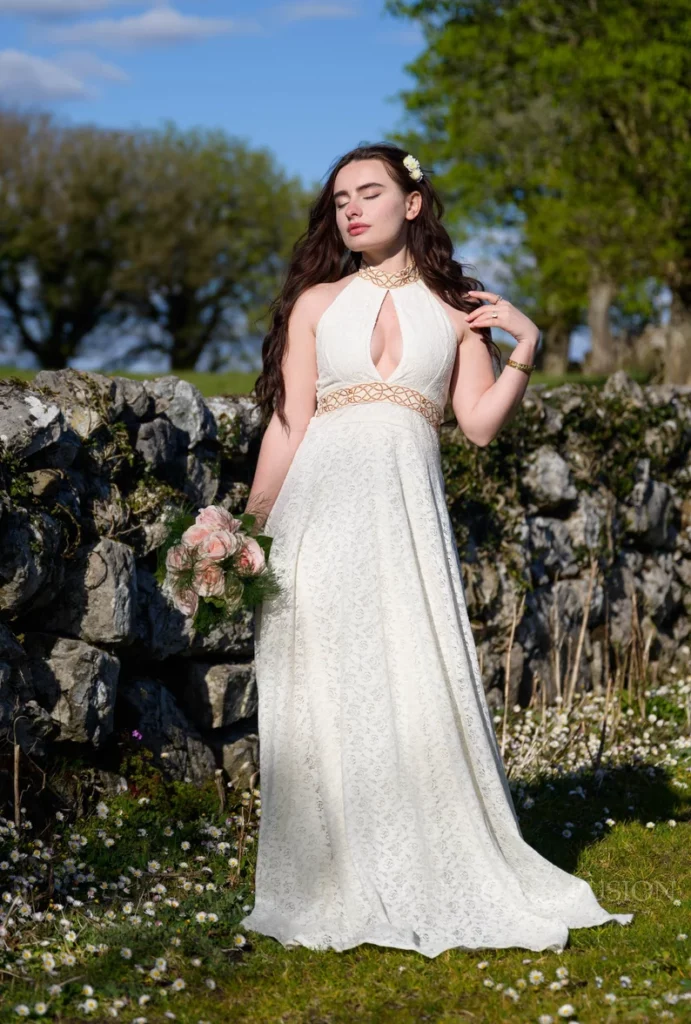 This dress is a one-of-a-kind, hand made affair that pays homage to the celtic knotwork of old with its intricate custom embroidery. The bust opening creates a bold and modern silhouette that enhances the figure. Perfectly designed to capture the beauty of a traditional Celtic knot-work hand-fasting ceremony, this corseted gown features a custom ivory lace with captivating embroidery.
The Hyrule Gown is the perfect statement piece for brides who wish to make their wedding timelessly glamorous and bring a touch of fantasy. Made from warm white fabrics, it's delicately adorned with silver vine appliques along the chest, around the hips and detailed with rich sequin embroidered lace.
The unique apron features delicate elven designs while retaining her iconic symbols. It is made from soft chiffon edged with metallic trim and finishing with hand-sewn filigree details, giving you sophistication without taking away your freedom to move.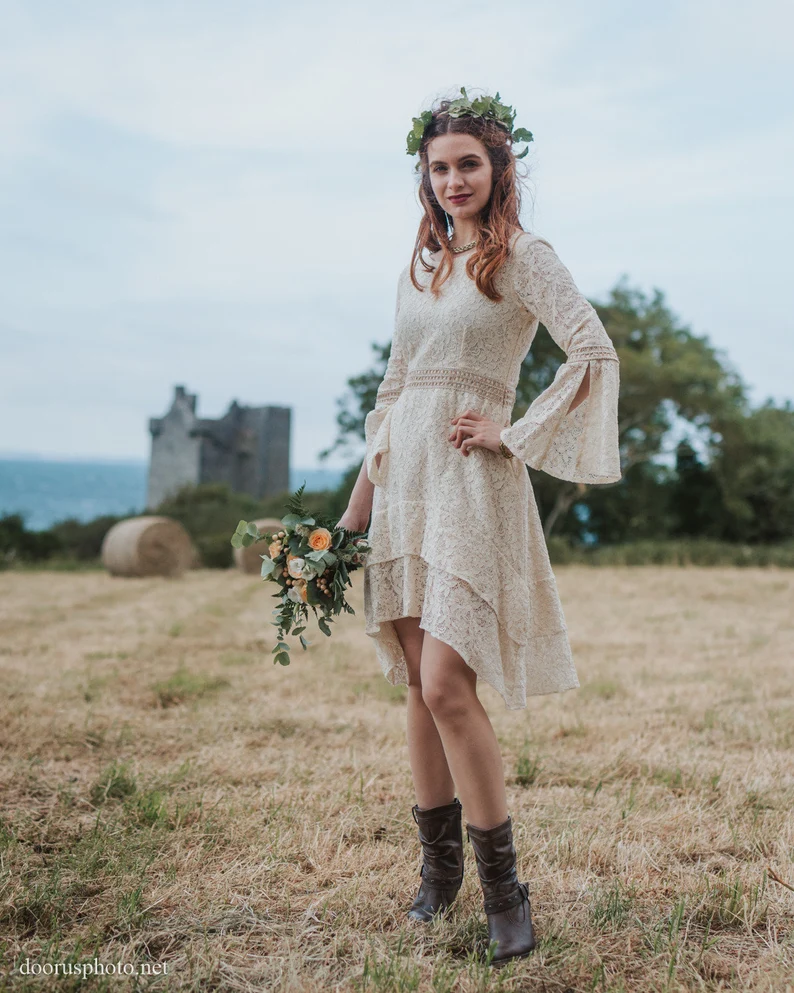 This exquisite wedding dress, crafted in the spirit of Vera, Celtic Fairy Goddess's inspiring confidence and poise, embodies timeless sophistication with a contemporary twist.Perfect for those looking for an alternative style, it features unbleached natural cotton lace and a raw jute trimming, delightfully combined to create an unforgettable look that will have everyone talking.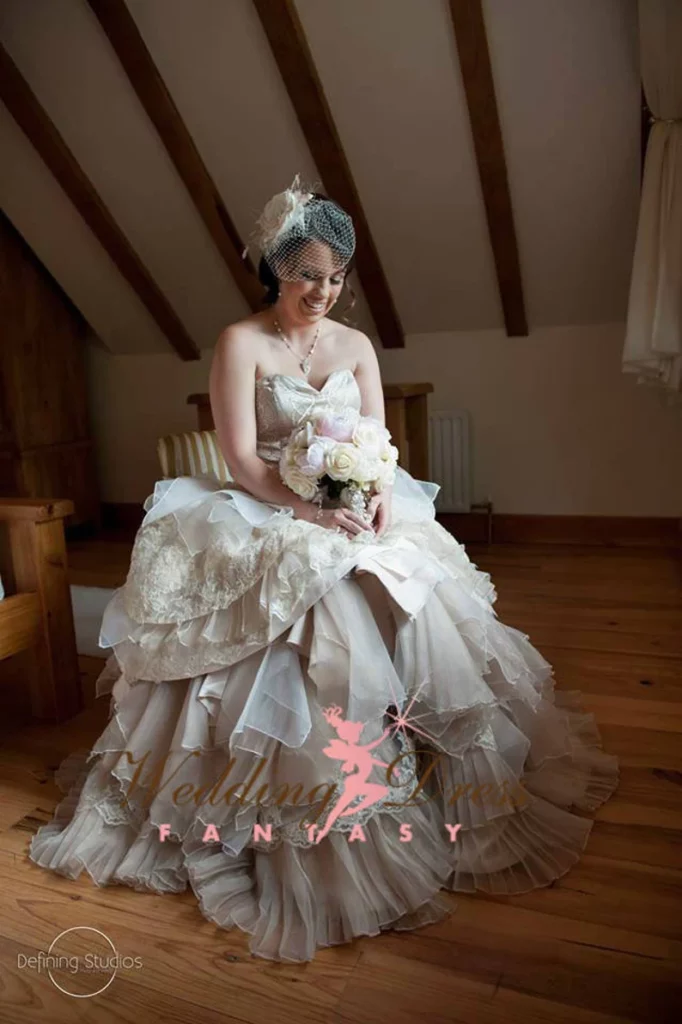 Combining elements of Celtic Steampunk and Victorian style, this masterpiece was crafted with impeccable attention to detail from high quality satin and gorgeous celtic embroidery. The flattering sweetheart neckline bodice features custom Celtic embroidery for added richness and depth, while the skirt is adorned with multiple layers of luxurious fabric in delicate shades of Ivory, Cream, and Champagne.
The gown also features a truly remarkable Victorian style corset back that adds additional elegance to the piece, while the corseted interior is both fully boned and interfaced for optimal support and structure.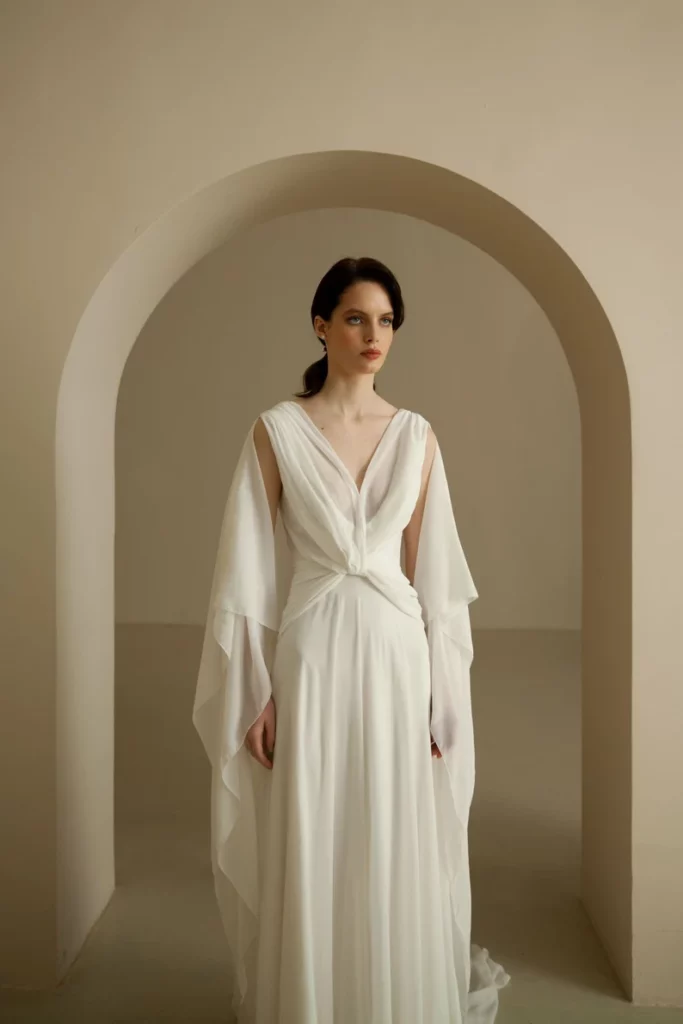 This captivating v-neck dress emanates grace and style, featuring an alluring sheer knot draped over the waist and hips. Although a Greek-inspired wedding dress, this matches a Celtic style if a Celtic belt or symbols are added. The back of this goddess-inspired dress is graced with a long cape that falls upon the train for a Celtic fairy look – perfect for brides who want to make an entrance!
Final words
The popularity of Celtic wedding dresses is on the rise. While there a few variations you can choose from, these dresses are distinguished by certain features.  If you dream of a dress that is rich in symbolism, has unique sleeve and lace designs, and often comes with a long train or cape, then a Celtic wedding dress may be the perfect choice for you!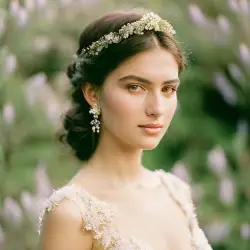 Latest posts by Rosie Liliy
(see all)