Your daughter's (or son's) wedding is a very special day and as the mother of the bride, you are an important part of this one-in-a-lifetime occasion. Arguably, after the bride's and groom's attire selection, the mother of bride (and groom) are the most important in line. For this reason, you want to allow plenty of time to find the suitable dress and make alterations if needed. 
This includes the time needed to decide on the styles you are looking for, options you want to consider, and those you want to compare. Below, we have put together a few considerations to note when you are planning your petite mother of bride dress. 
As a rule of thumb, fittings are very important. It is crucial to either be present in the shop physically or get the dress posted to you for trying. If this is not possible, getting measurements by a professional is of utmost importance as well as a clear communication with your online shop/designer. 
If you are a person who might change your mind or need to consider other factors such as what the mother of the groom is getting, you can choose a dress but wait a few days before proceeding. This gives you time to assess your choice and make sure it is truly what is best for you.
Dress Considerations for Petite Mother of Bride
Petite women are those who are 5'3 or shorter. Despite common understanding, petite does not refer to weight. Therefore, petite women can be any size or shape, but are shorter than 5'3. 
For a mother of bride, it is helpful to consider shops or designers who have experience with petite sizing. Especially if you're shopping for a dress online. 
A-line dresses without the puff and straight sheath dresses are a go-to for petite mother of brides. Other styles that work include mermaid dresses, pencil skirts, and high waistlines. V-neck dresses are also great to emphasize and broaden the chest and shoulder looks. 
As a rule of thumb, only ⅓ of your body should be covered by the top part of your outfit with the other ⅔ being the bottom. In other words, dresses with higher waistlines elongate your petite figure for a balanced look.
If you are thin, maxi dresses with A-shape or sheath silhouette work best to elongate your look. The main key is to create a vertical stature and minimise distractions so that you balance the 
For curvy mother of brides who have pear shaped or hourglass bodies, mermaid dresses work well to create a balanced look. Darker colors work best to appear slimmer and elongate your look.
If you have petite shoulders, a dress with off-the shoulder or one shoulder style helps to highlight and improve the look of your shoulders. Avoid loose fittings and loose shoulders. 
Be careful with stripes. Stick to vertical stripes, if you must have them. Also choose your heels carefully to make you look taller. Nude color heels create a better look on a petite figure. Lastly, it is best to choose either a knee-length or ankle-length dress or skirt, not half way between knees and ankles. 
Wedding Theme and Colours
Whether you want to match the wedding theme and colors depends on the wedding plan. It is best to decide early on if this is a consideration. Mostly, themes do affect mother of bride dresses to some point; however, it entirely depends on the wedding as each wedding is different.
Budget
Depending on your budget, you may opt for a custom dress, which will cost you more, or you may decide to make alterations on an already made dress for a cheaper option. This is surely a big consideration that affects how you go about making your choice.
Some online and physical stores may have discounts or deals (like dress and shoes or accessories in a set) while some may not at the time you're researching. It's important to check a few stores to make sure you're not missing a good discount elsewhere. 
Undergarment and Support
It is important to remember that not every undergarment is suitable for a wedding dress. To do a proper fitting or planning, it is necessary to give thought as to the level of support you need (push-up bra or nipple covers).
Not only the suitable undergarment makes a dress fit best and look great, but also it will make for a comfortable experience. Therefore, keeping in mind to shop for the suitable one, or choosing one that you already have is an important consideration.
Venue Type and Season
You need to consider the venue of the wedding (indoor, outdoor, beach) and the season. Thinner fabrics such as cotton and silk are great for warmer weather while thicker ones such as velvet work well in cooler months.  If the wedding is set for a cooler month, consider getting a dress with more coverage or accessorise with a shawl, cardigan, or jacket. 
Wedding Night Activities
Every wedding is different. Beach weddings have different requirements than Disney weddings or Church weddings. In some, level of activity and outdoor elements may be limited while in others, there might be more. You need to consider the planned wedding activities and duration as well as your comfort levels, when choosing your mother of bride dress to make sure it is suitable for the event and its logistics.
Your Preferences
While considering all the factors mentioned above, don't forget your own personal style and preference. After all, it is a very special day for you as the mother of bride, and you want a dress that you enjoy wearing. So feel free to express yourself when choosing your dress. You might want something that is both comfortable and classy or you may have a specific sleeve style that you admire, or you may prefer a very formal attire. 
Ask for Opinions
Lastly, it might feel daunting to come to a decision or make the final choice. A wedding is always a team work. Feel free to ask for opinions and suggestions from the bride, your friends, and bridal shop staff or bridal assistants. You may also ask the wedding planner, if there is one, for help if it is important to match the wedding theme or colours. 
Column / Sheath Dresses for Petite Mother of Bride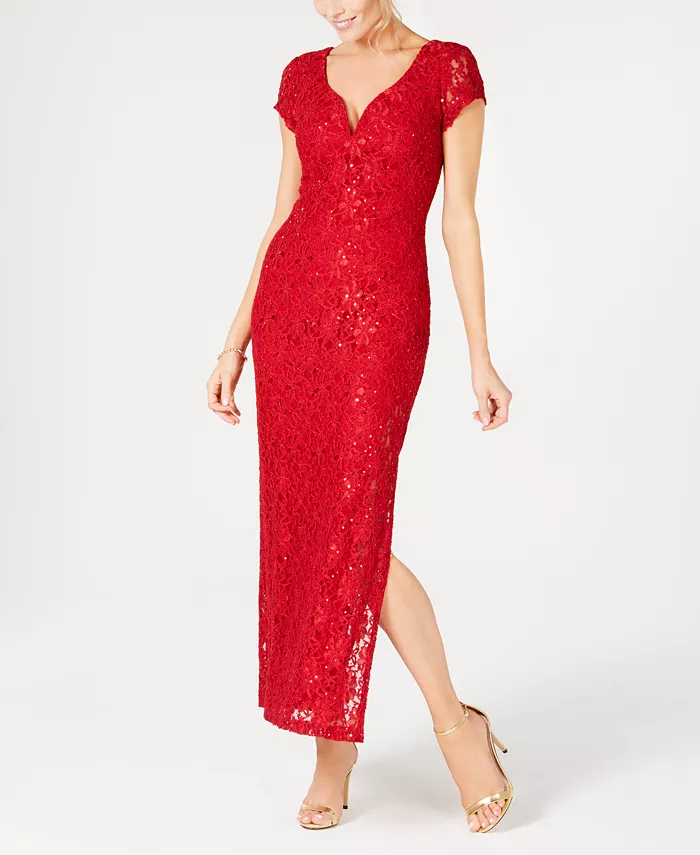 Graceful and glamorous, this beautiful red gown features an opulent sequinned lace design that is sure to make heads turn.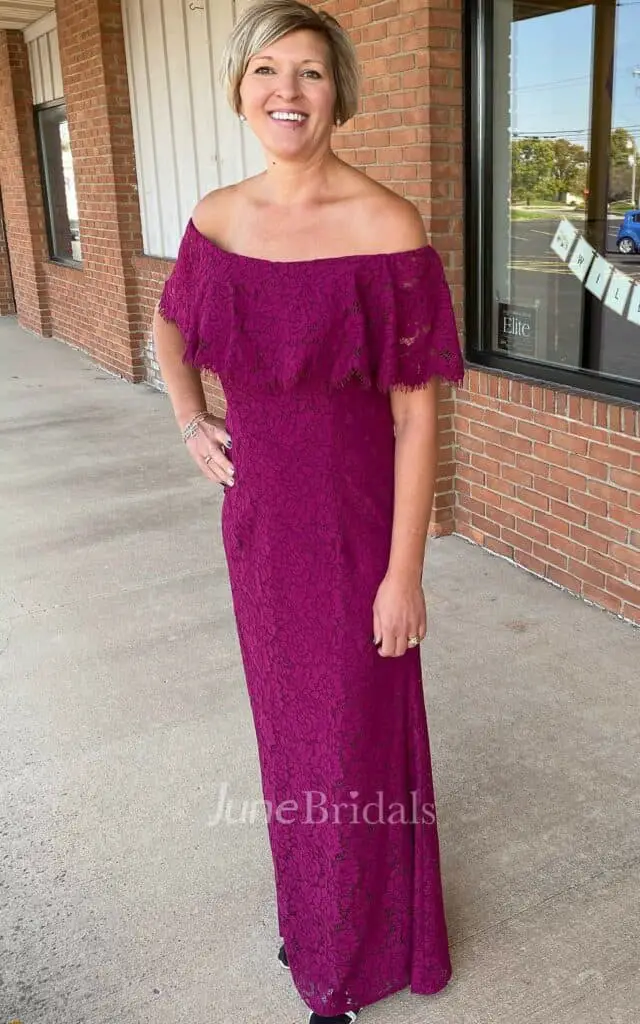 Make a lasting impression with this captivating sheath off-the-shoulder lace formal dress! Its crafted from the finest quality of lace and will draw everyone's gaze. With its classic silhouette, you'll never go out of style when wearing this elegant garment.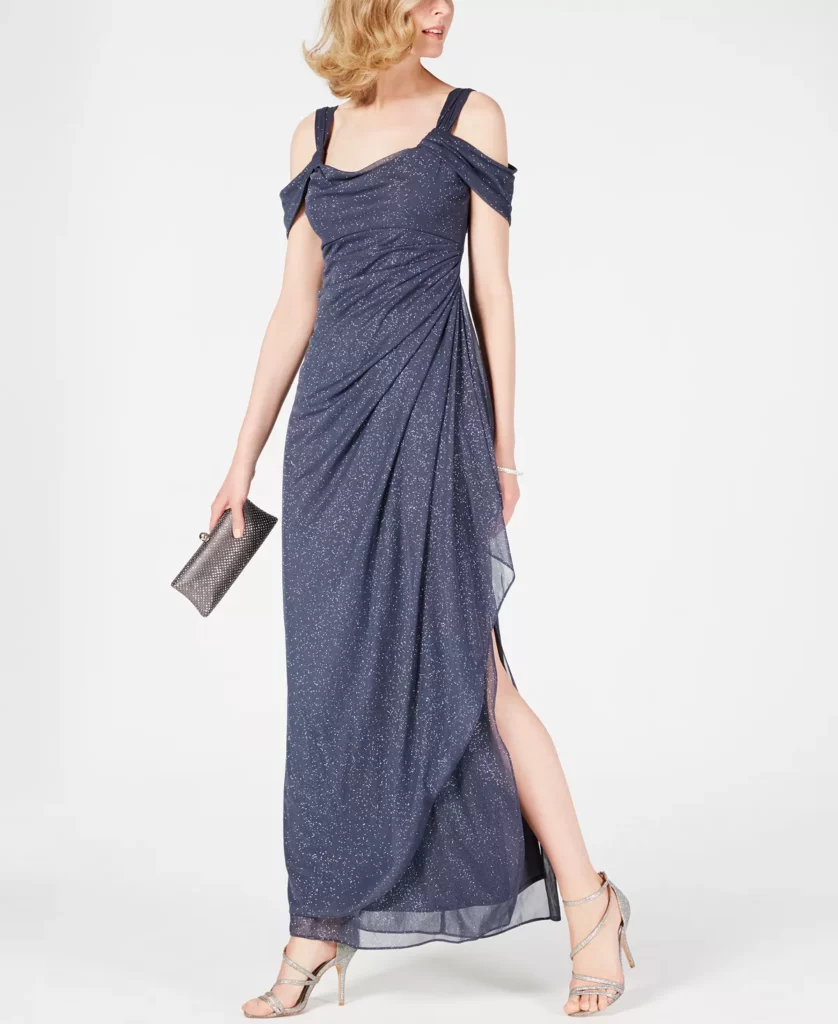 This beautiful and shimmering design features a cowl neckline, column silhouette, ruched at side bodice with cascade ruffle, and stunning cold-shoulder cutouts. Finish off the look with silver-toned strappy heels, a hand-held statement clutch and crystal chandelier earrings for a sophisticated yet glamorous evening look.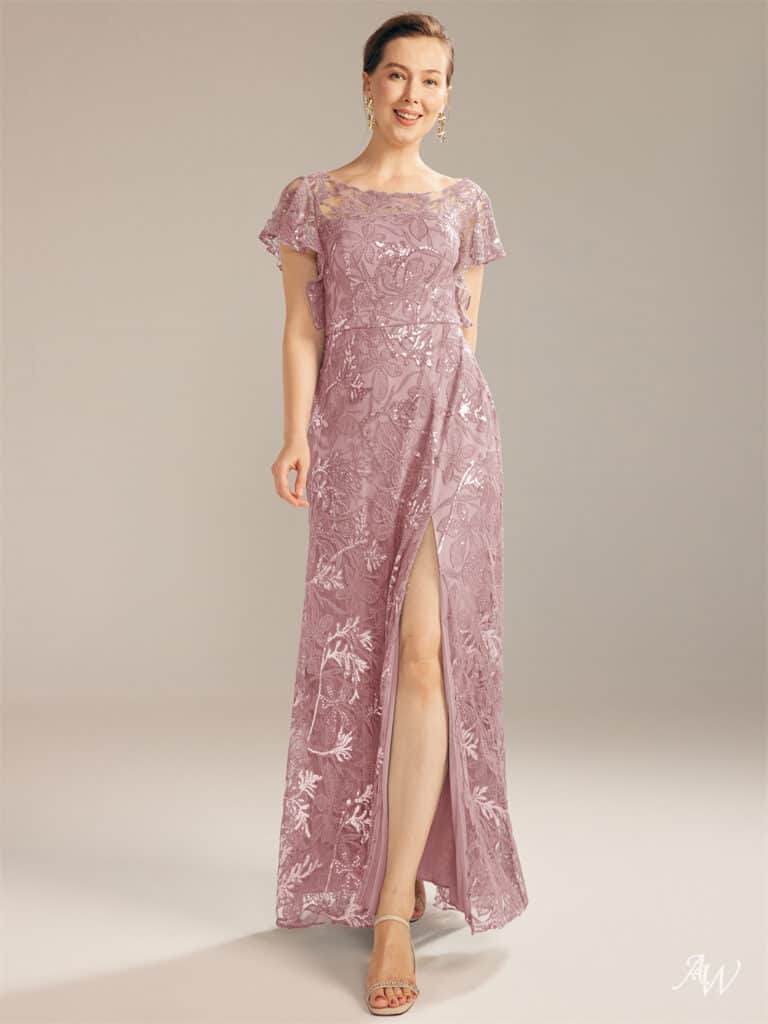 The Arianna Dress is an exquisite combination of glamour and graceful elegance. Crafted from the finest grade of glitter mesh, this floor-length dress features lace detailing, thigh-high slit, and butterfly sleeves. The top is completed with impressive floral embroidery with sequins, a bateau neckline, and built-in bra for convenient wearability.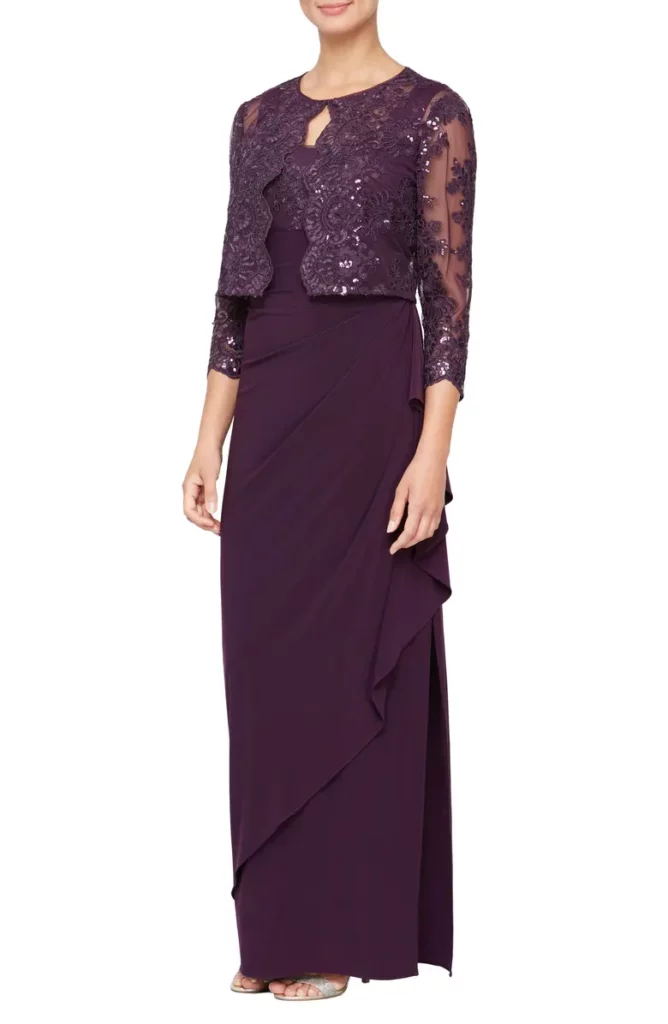 This luxe floor-length gown is designed to flatter, featuring figure-flattering side ruching along the full skirt. Further complement your look with the matching embroidered jacket—crafted with hook-and-eye closure, Mandarin collar, and three-quarter sleeves.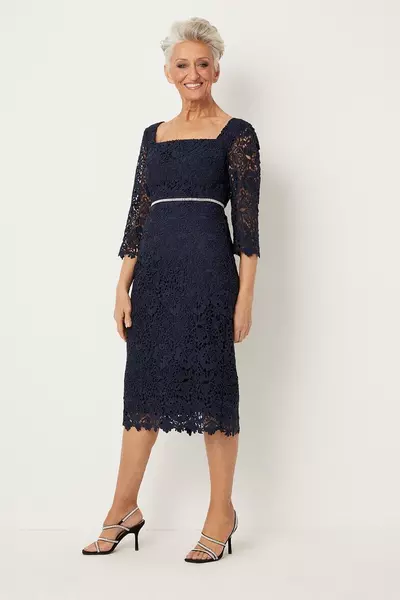 Look your best and own the night with this gorgeous dress. With its delicate lace fabric, flattering bodycon silhouette, and 3/4 length sleeves, this beautiful piece is sure to stand out. The midi length of the dress strikes a nice balance between subtle elegance and stylish classiness. For a truly unforgettable entrance, this amazing dress features an embellished waist that adds an extra spark of eye-catching detail.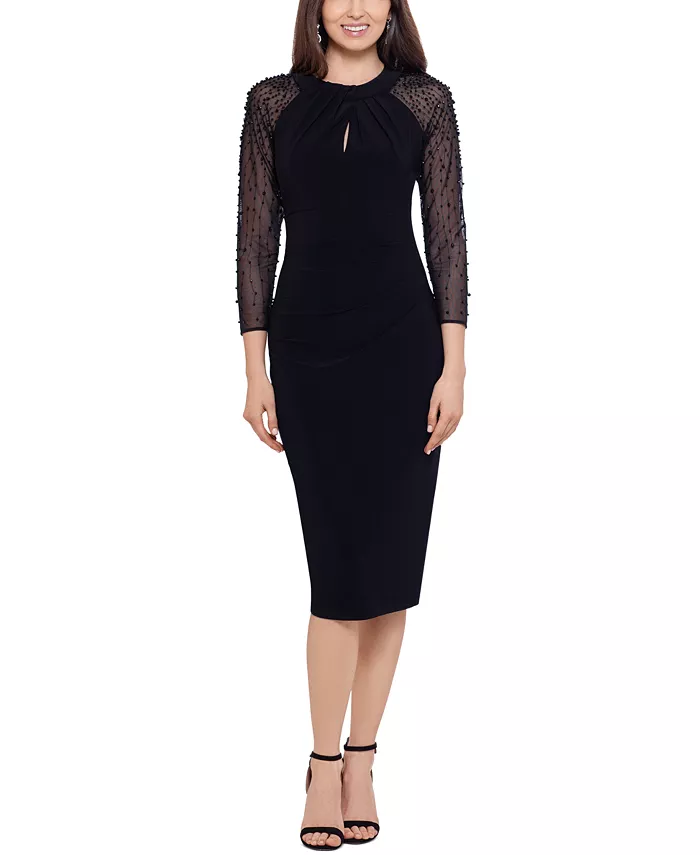 With sparkling mesh trim on the sleeves, a keyhole detail at the front, and crafted from jersey-knit fabric that's both cozy and stretchy for maximum comfort throughout the night, this dress is a must-have!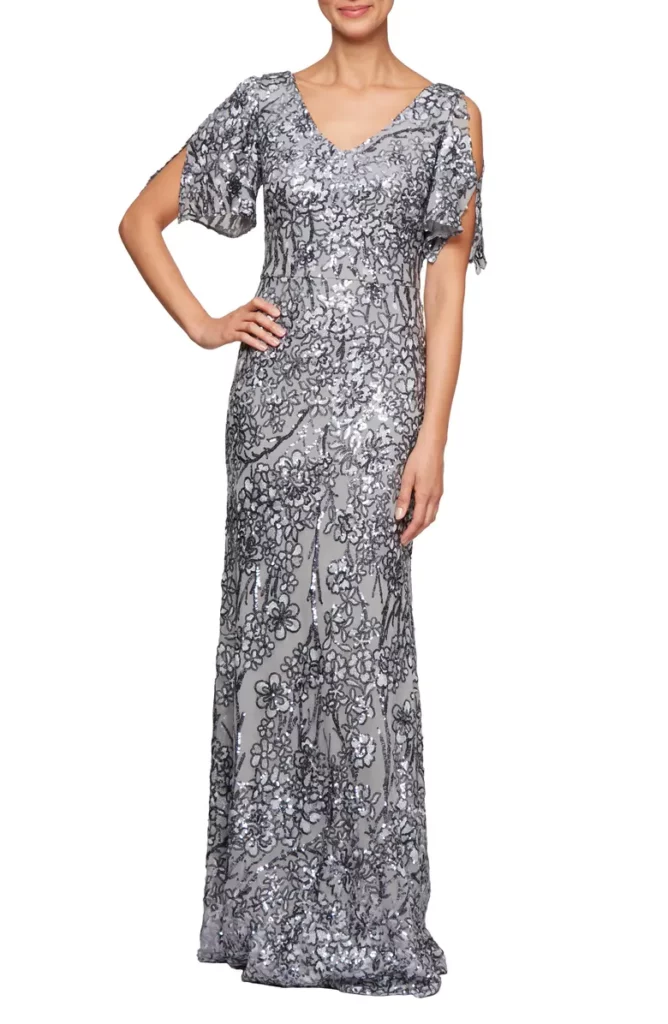 Step into the spotlight with this breathtaking dress. Made from alluring stretch lace, this dress is generously embellished with shimmering sequins that bring a touch of glamour and sophistication. Its classic V-neckline flatters your shape, while its short sleeves, cold-shoulder detailing and floor-length trumpet skirt provide a truly romantic finishing touch.
A-line Dresses for Petite Mother of Bride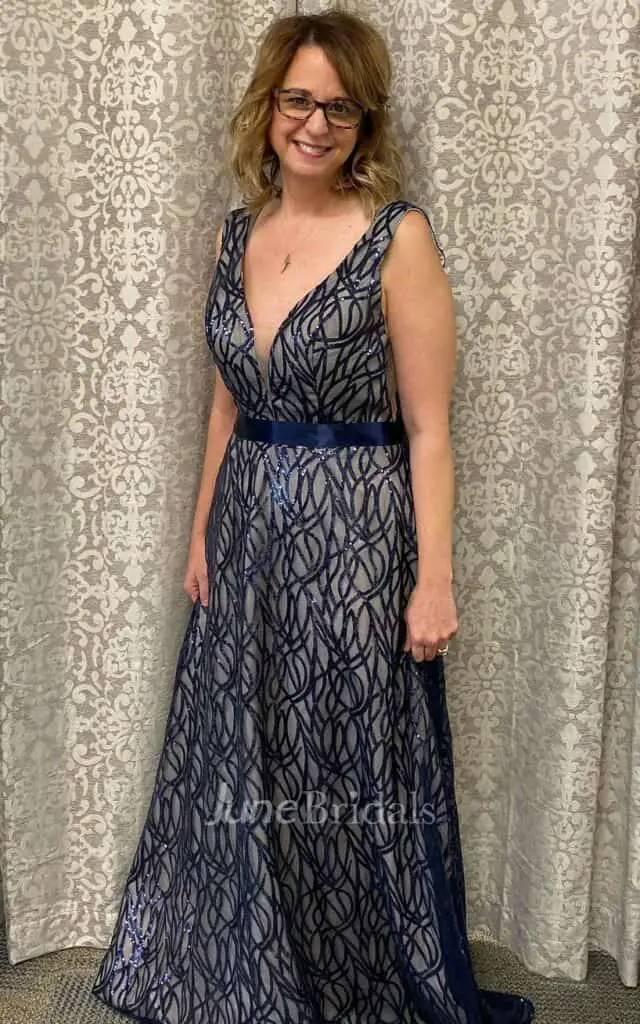 This sleeveless silhouette features a plunging V neckline and a natural waistline. The floor-length hem falls elegantly with a sweep/brush train, while a sash/ribbon adds a lovely detail.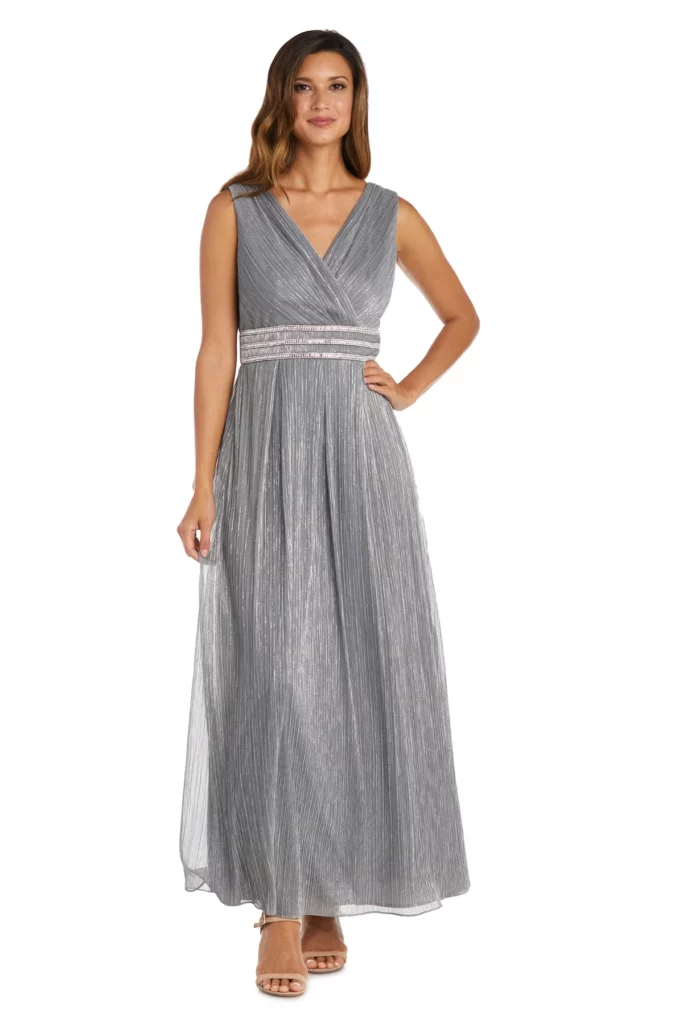 If you're looking for simple yet elegant, this lovely dress is an inspiration. Crafted from crinkled pleats that flow to form an A-line silhouette, it provides an additional air of elegance while remaining comfortable.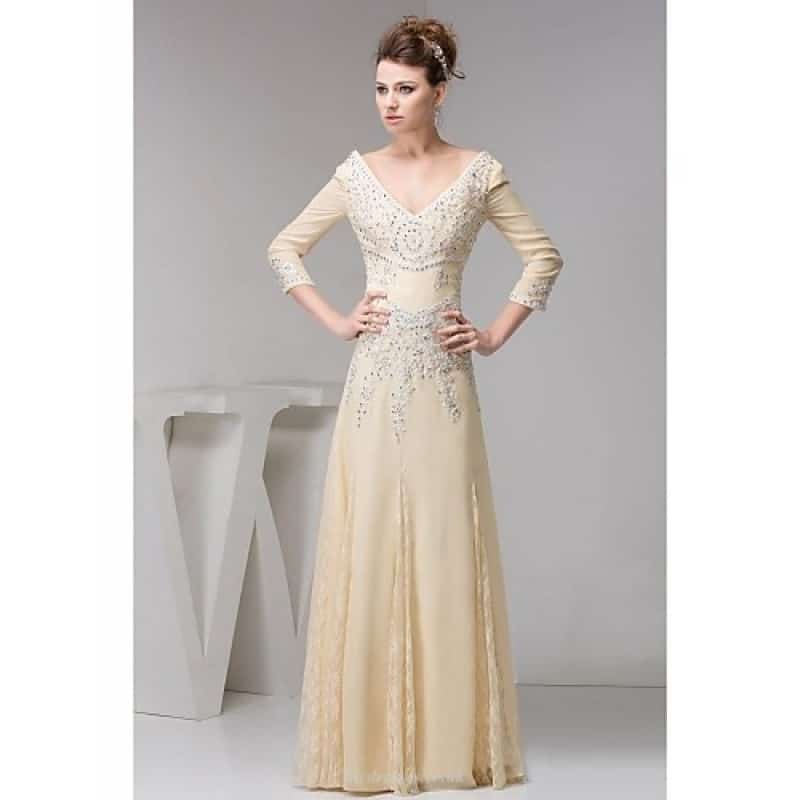 Look your best and feel confident as the mother of the bride in this elegant champagne petite mother of the bride dress. Crafted from beautiful lace and with a floor length hemline, you'll be sure to look the part with this sophisticated piece.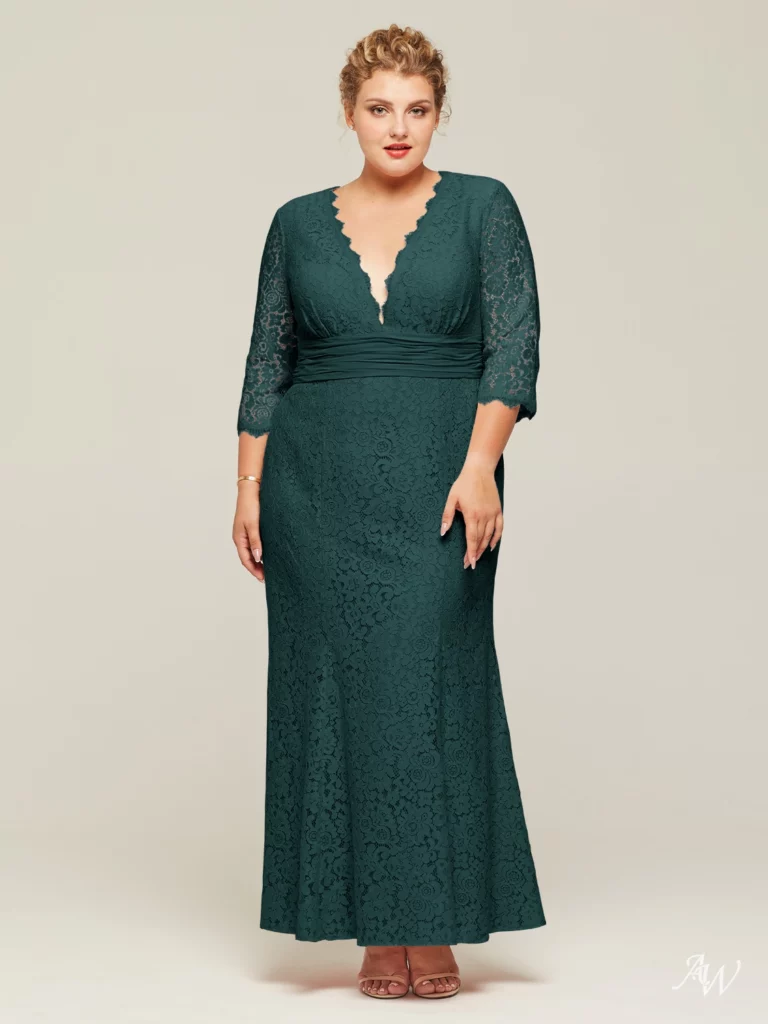 This exquisite garment features an A-line silhouette, ankle length hemline, and a captivating plunging V-neck. The intricate lace detailing infuses sublime sophistication to the piece and is available in multiple color options for you to choose from.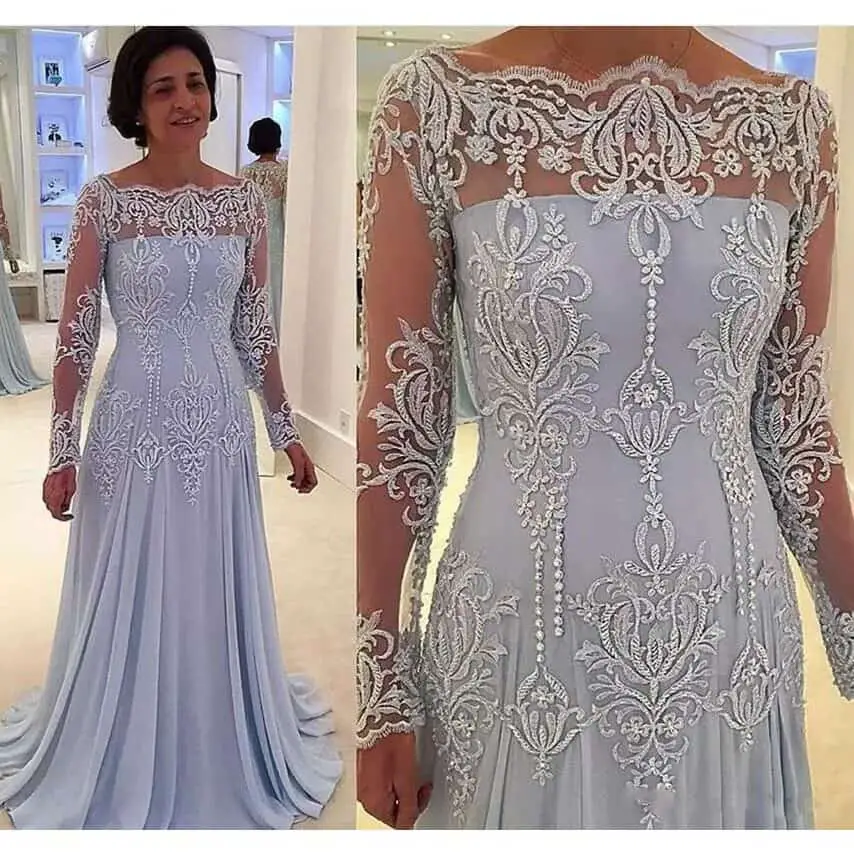 The perfect look for any mother of the bride, this sophisticated and elegant mother of the bride dress is sure to be a show-stopper at your daughter's wedding. Featuring beautiful pleats embedded with meticulous embellishments, it follows down to a beautiful floor-length train for an exquisite look.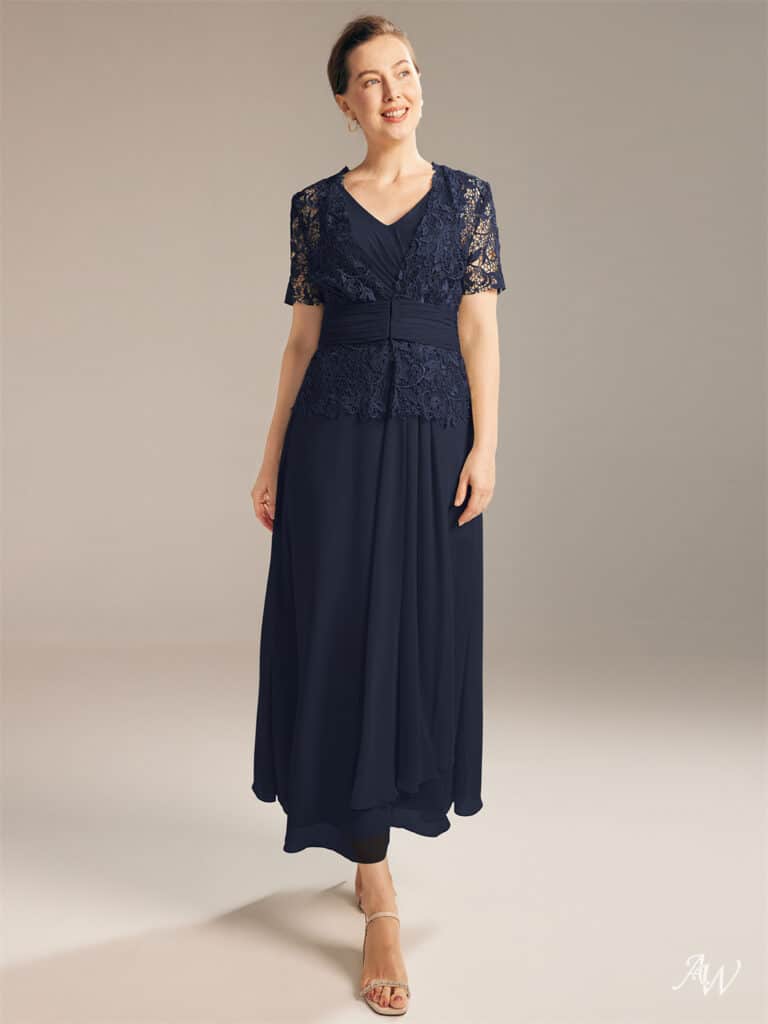 This dress unifies fine details, intricate materials, and timeless form to create a magnificent overall look.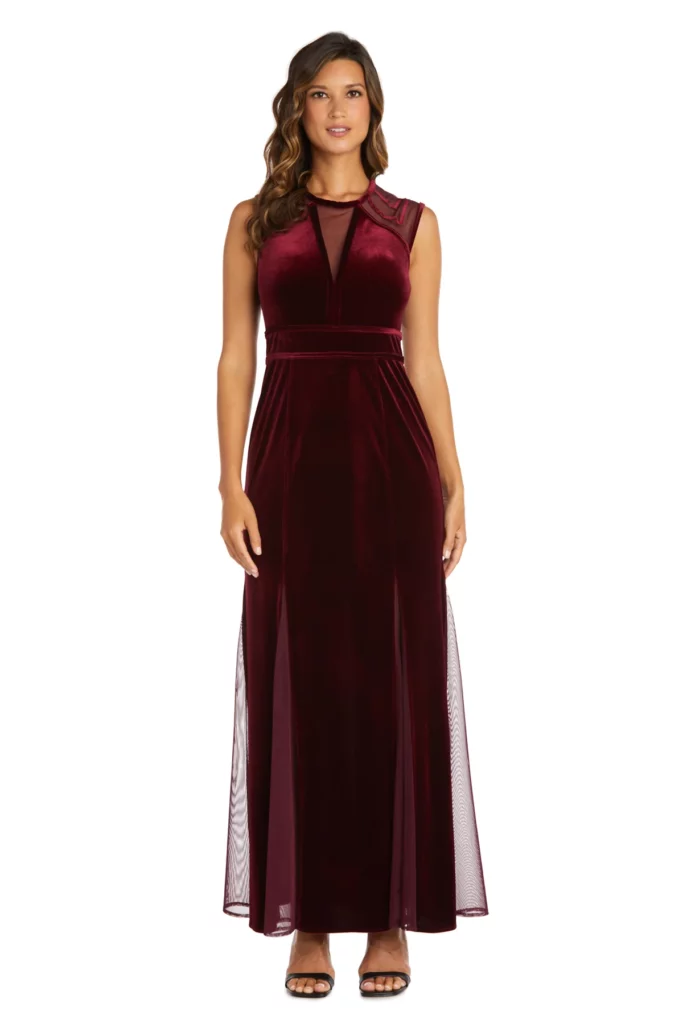 Elegant, stunning, and lovely!
Knee Length Dresses for Petite Mother of Bride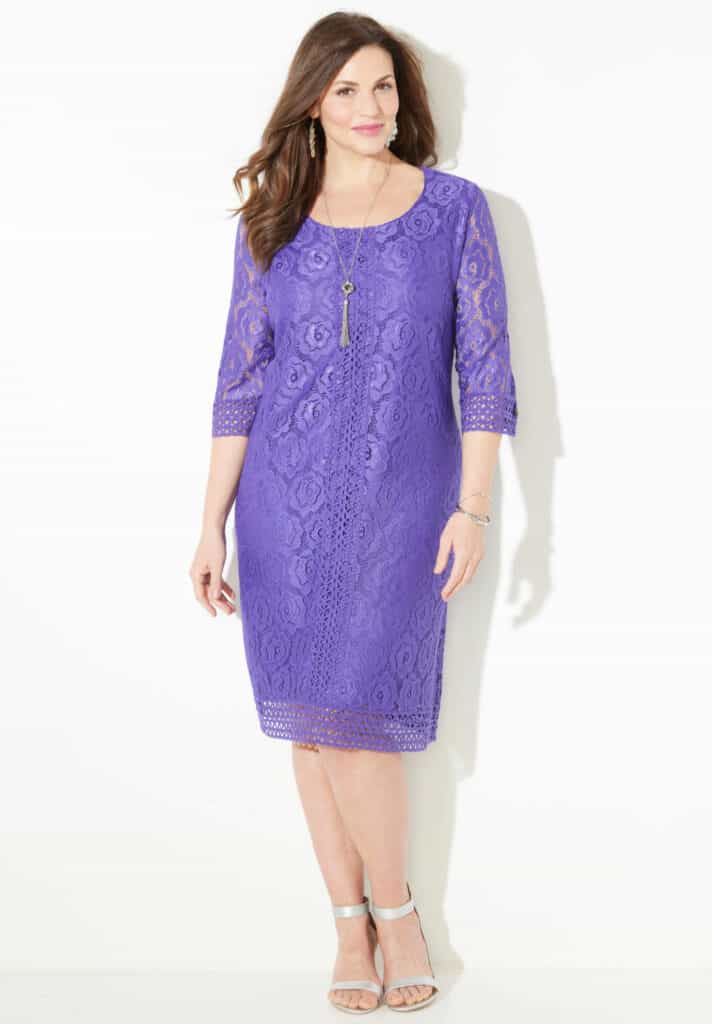 This elegant dress features an allover lace fabric with a scoop neckline, 3/4 sleeves for an effortlessly stylish look.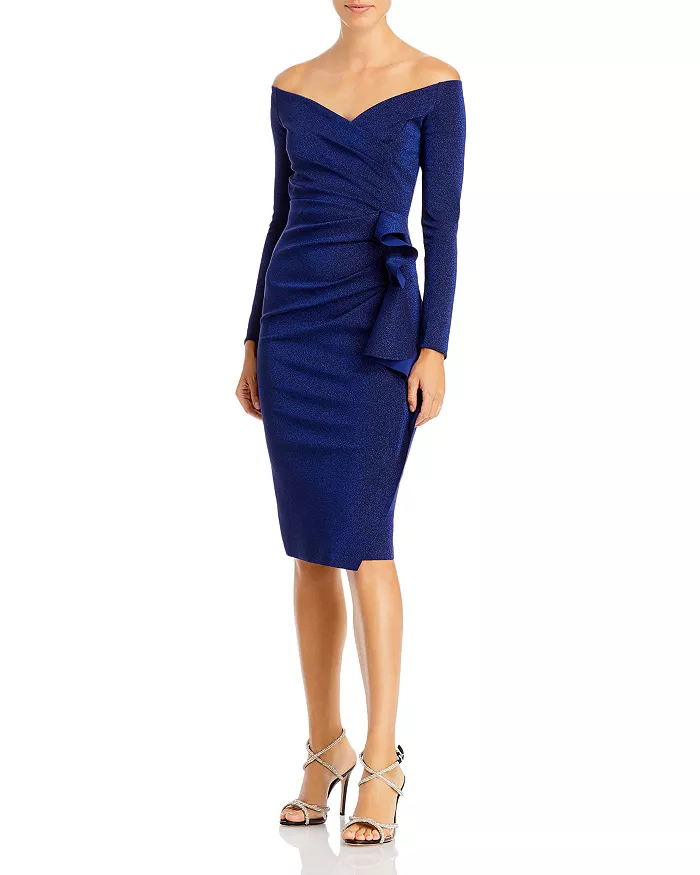 Luxury, sexy, and just stunning!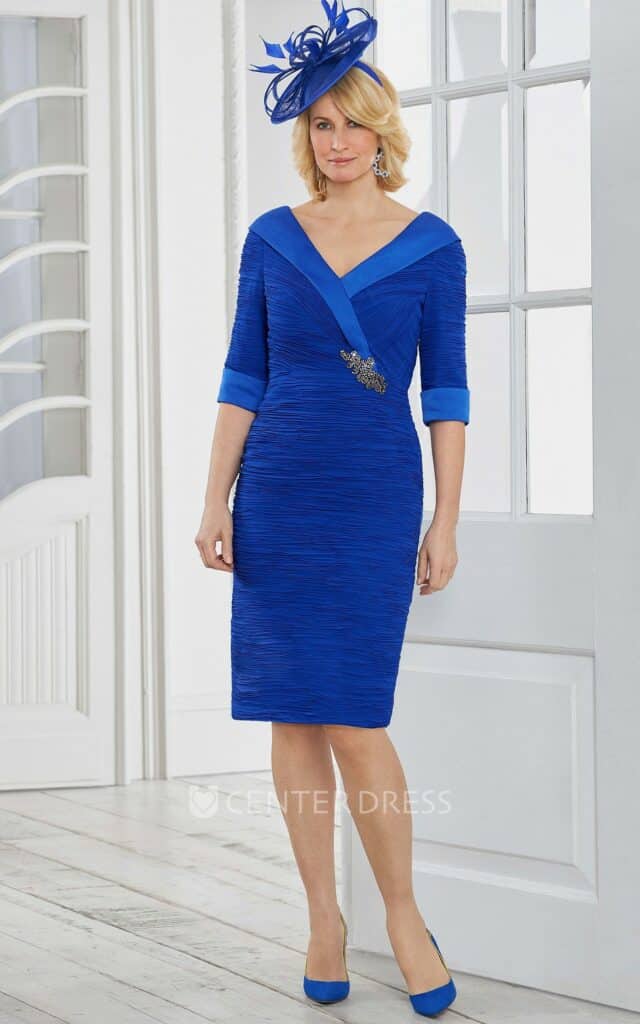 Make a statement in this modern classic half sleeve ankle-length taffeta pencil cocktail dress. Featuring a fitted silhouette with a V-neckline, this exquisite design is crafted from luxurious taffeta material.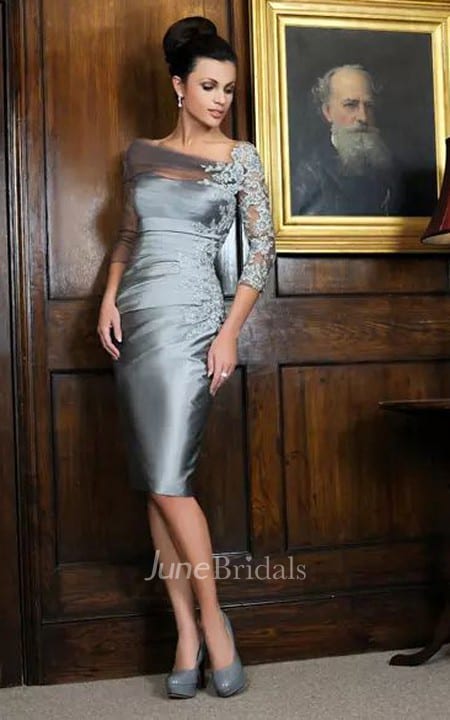 With delicate applique and stunning lace adorning the bodice and skirt, this dress commands attention without being overstated.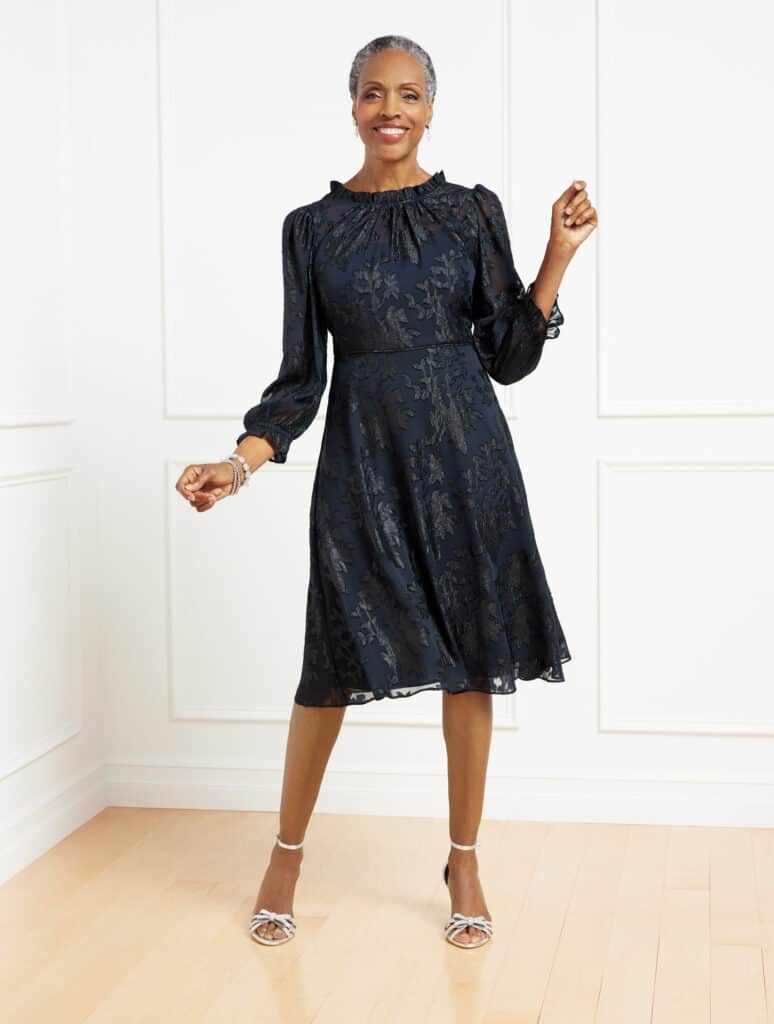 Look amazing and feel great in this sparkle Dress.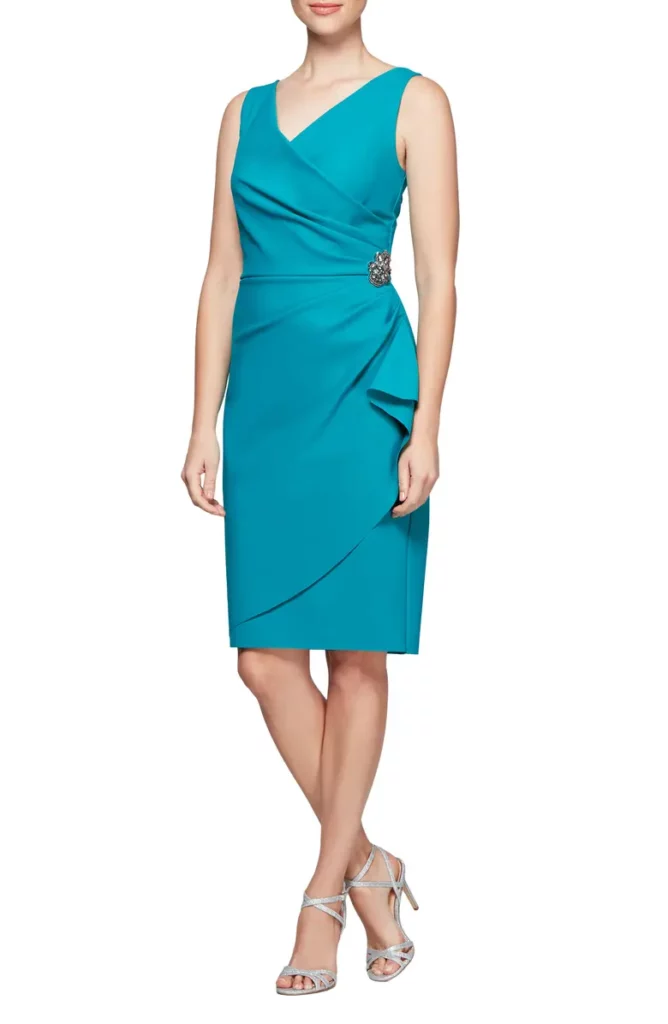 If you like a faux wrap dress that is made easy for you, this stunning piece is a neat option.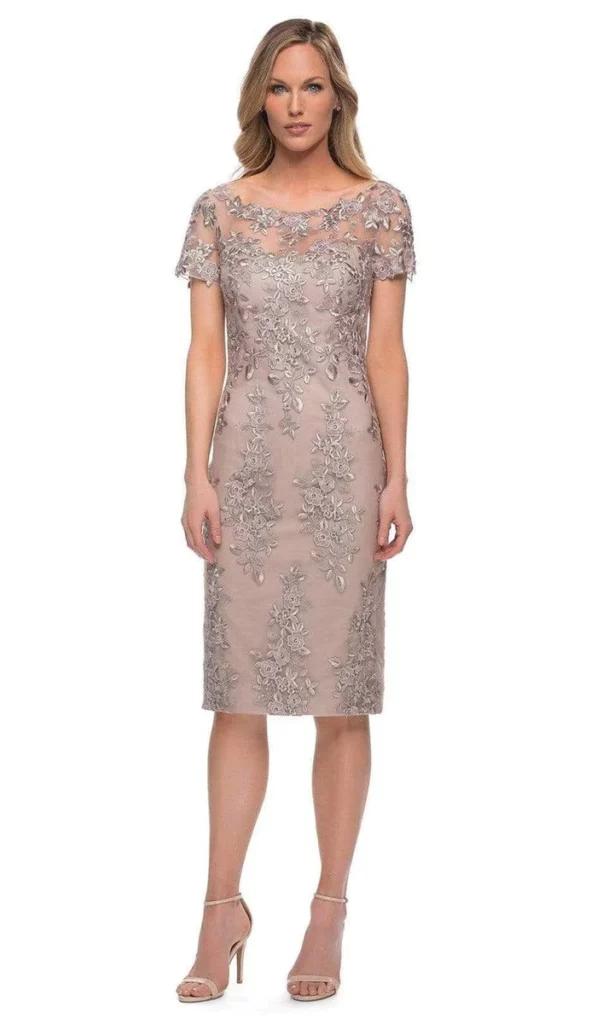 This stunning dress works magic by highlighting the chest and shoulders in an illusion neckline, great for those with an inverted triangle figure. The nude colour is great for petite figures, making them look naturally taller, while the floral embroidery provides an air of classic romance.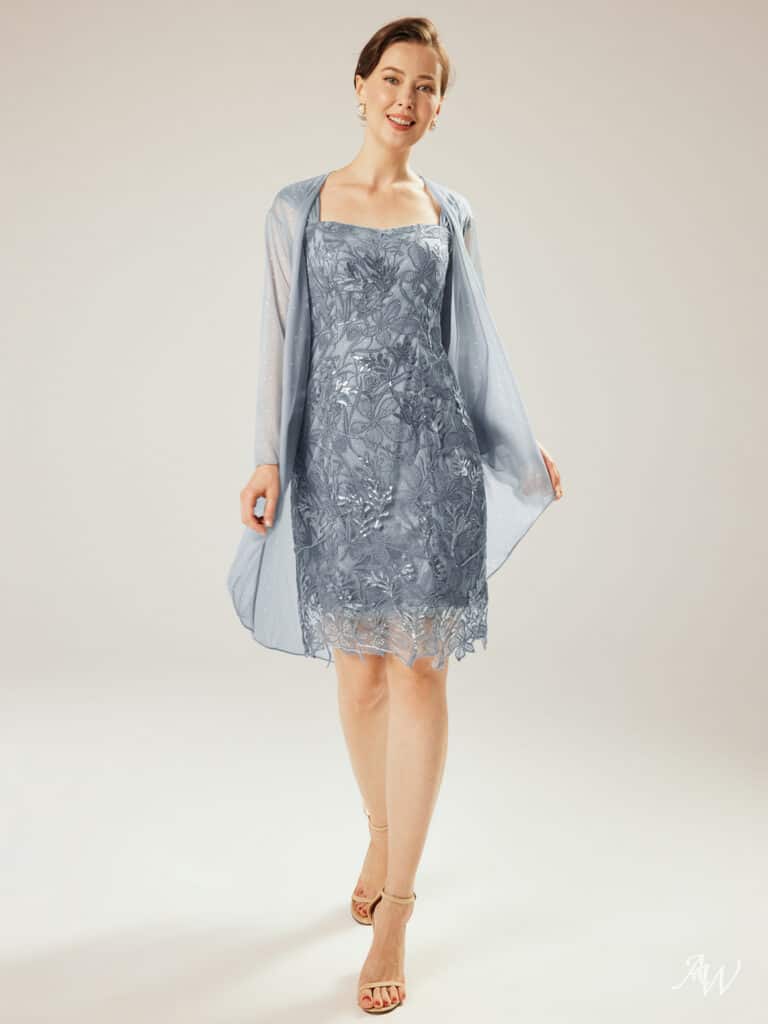 Appear absolutely glamorous in this unique glitter mesh haute couture dress. Its classic square neckline is timeless and sure to make a lasting impression.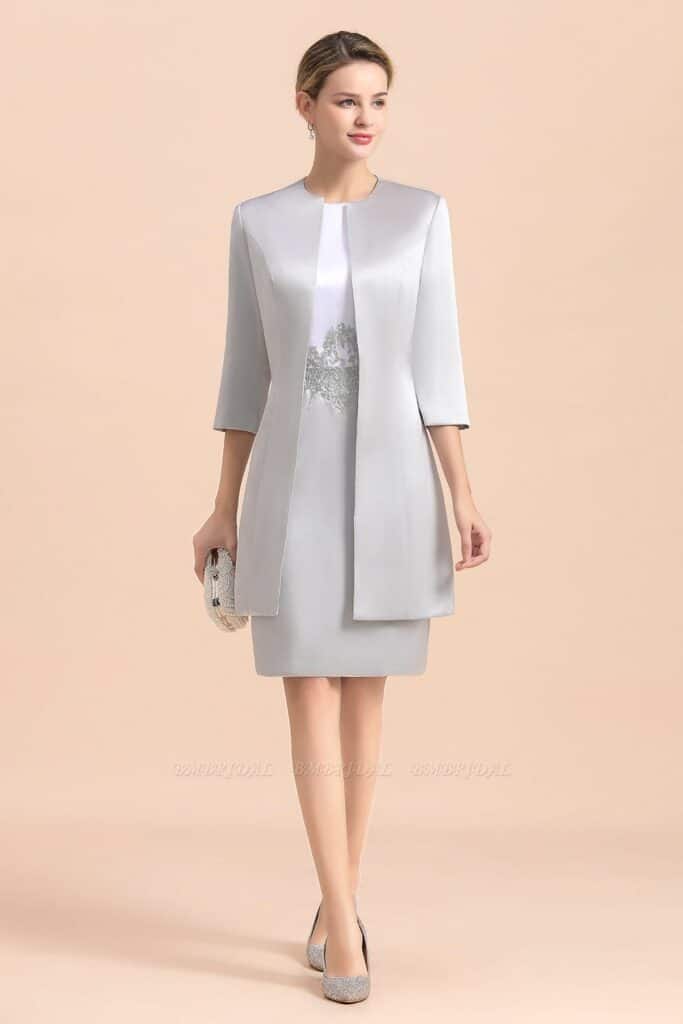 This elegant two-piece set is available in many colours. To create a high-waist silhouette, a belt can be worn on the first piece.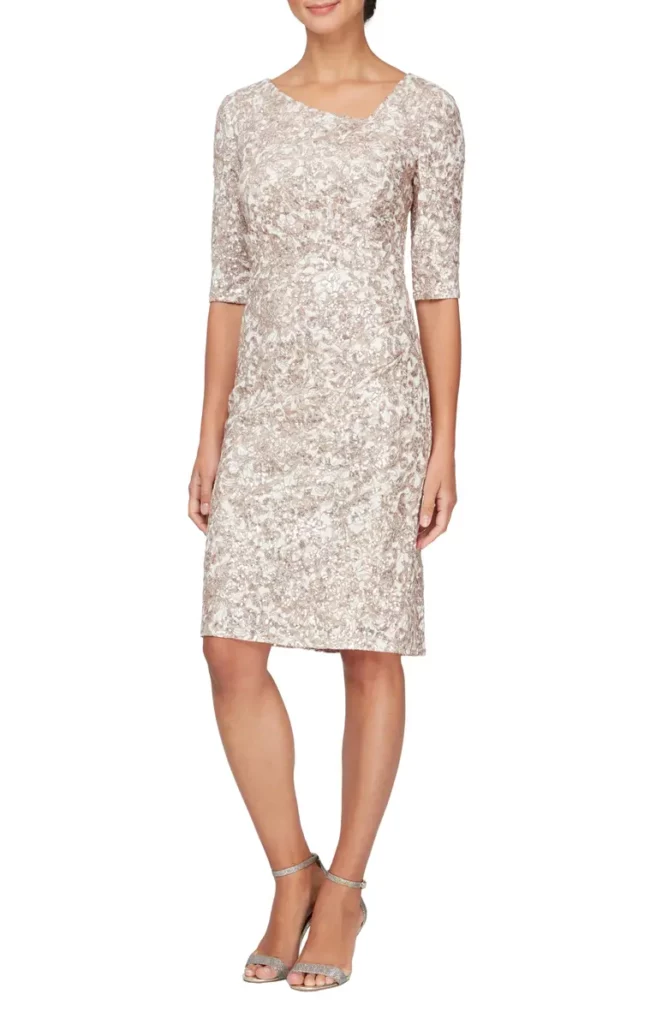 As if taken from a fairytale, this glistening dress is perfect for petite mothers of the bride or groom. Sparkling sequins give it an air of grace and poise, while its asymmetrical neckline will make you look absolutely glamorous!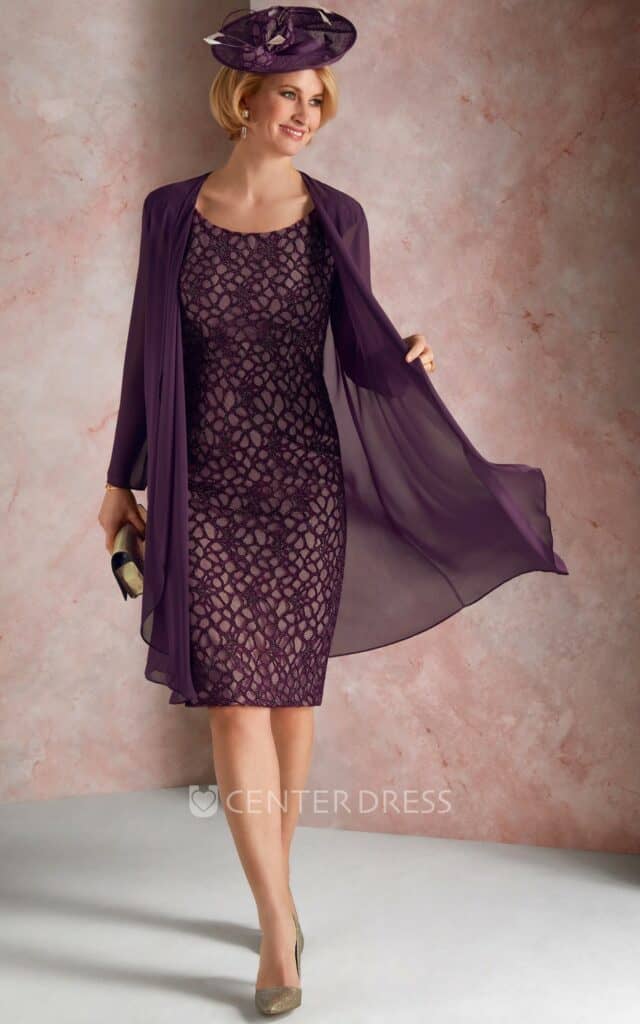 This eye-catching gorgeous burgundy dress is sure to flatter and make you feel like the mother of the bride on the special day!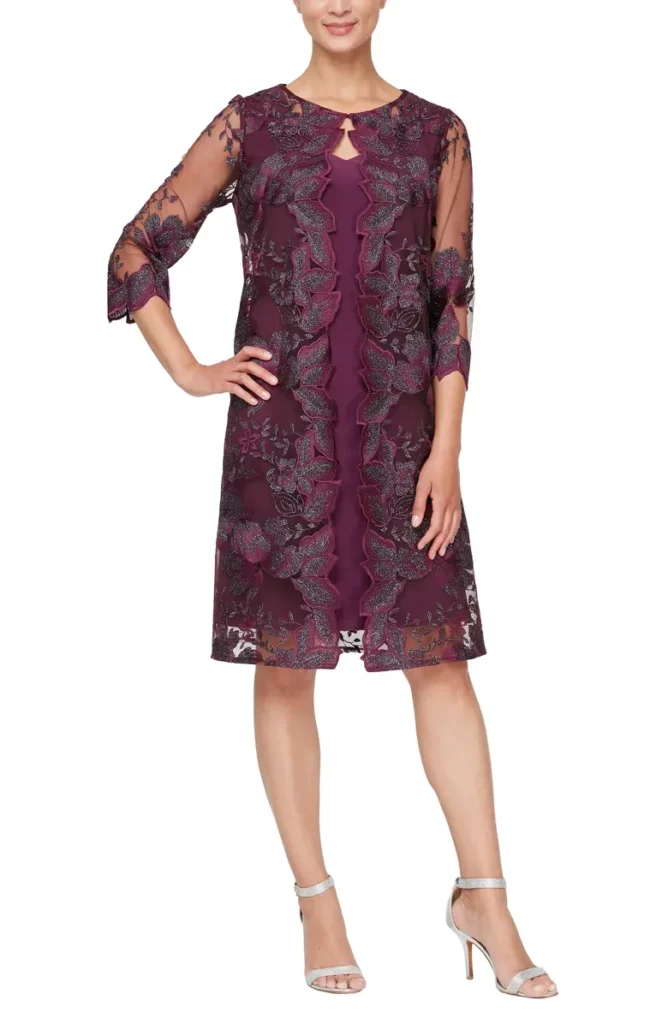 The beautiful combination of rich textures will make you feel amazing, confident and undeniably stylish!
Mermaid Dresses for Petite Mother of Bride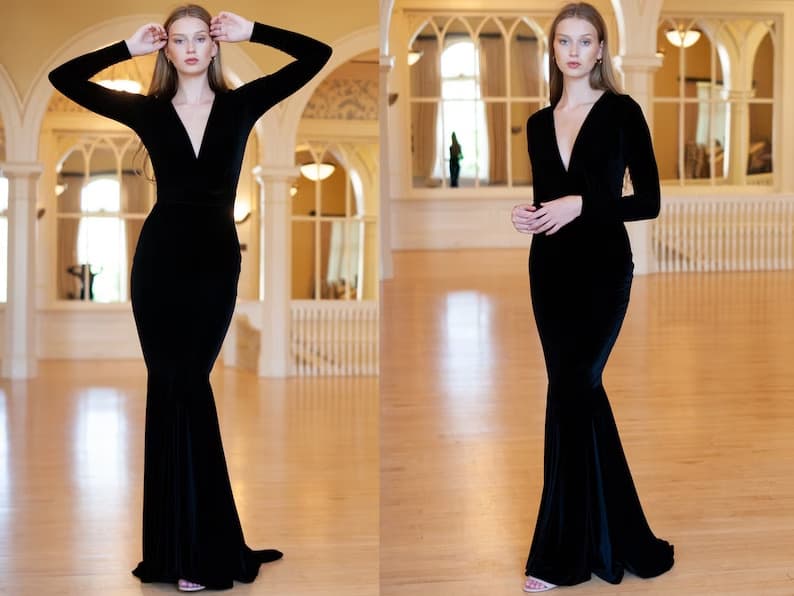 This full-length gown features a deep plunging neckline, ruched detailing at the shoulders, fitted sleeves, and a band at the waist creating the perfect silhouette. Just be sure to mention your height/petite figure to the designer when ordering.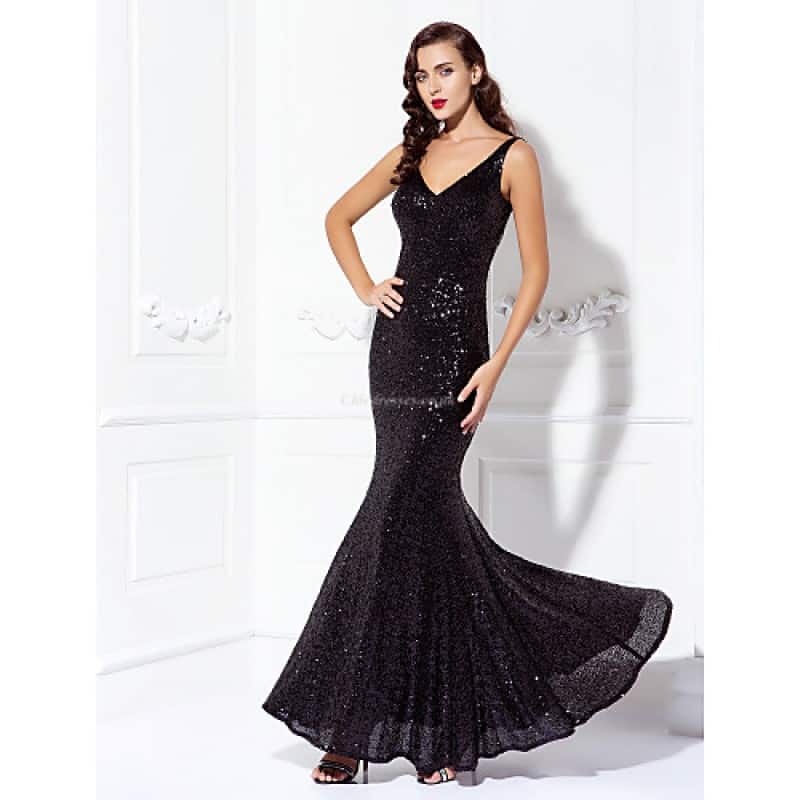 Another lovely floor length maxi mermaid dress in black, this is for mother of brides who prefer sleeveless and an open chest plus some glitter, just perfect. Again, don't forget to mention your height/petite figure when ordering or use custom size measurements to specify your height.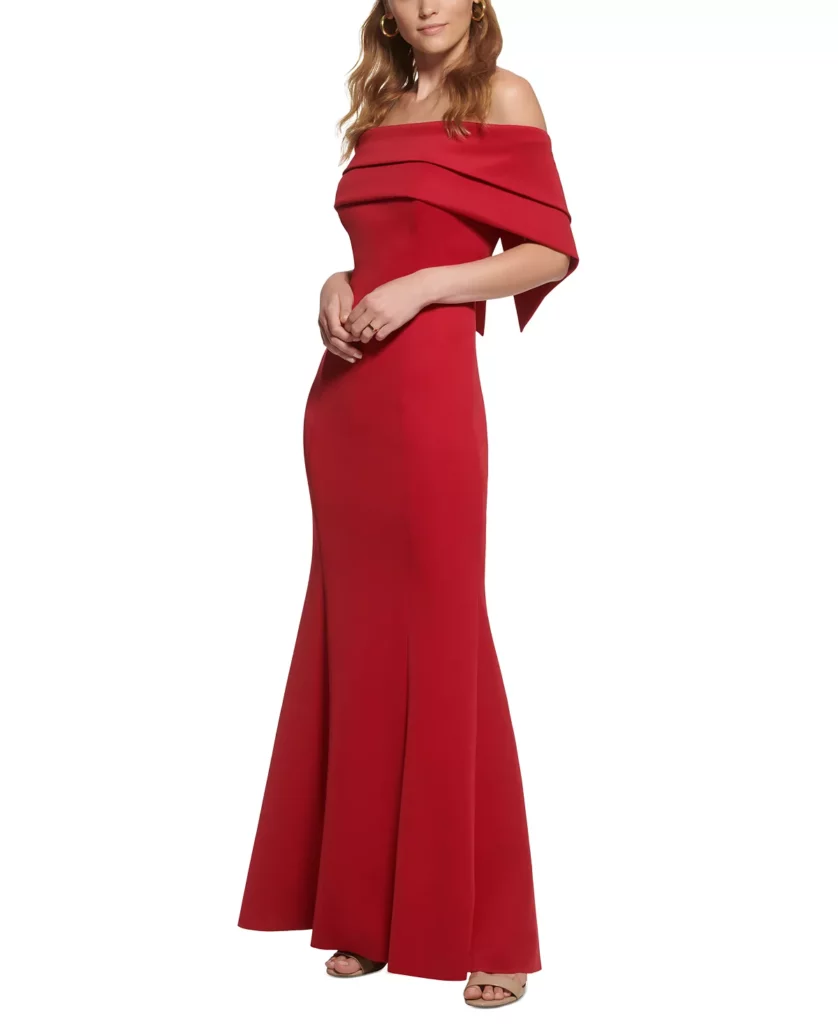 The picture of sophistication with this off the shoulder mermaid dress in red.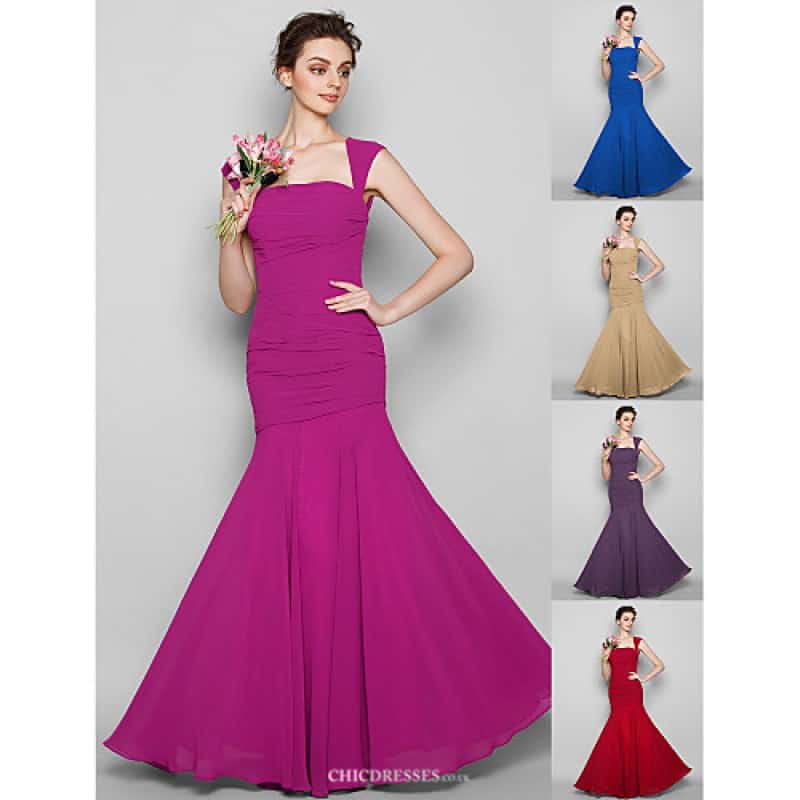 Just Stunning!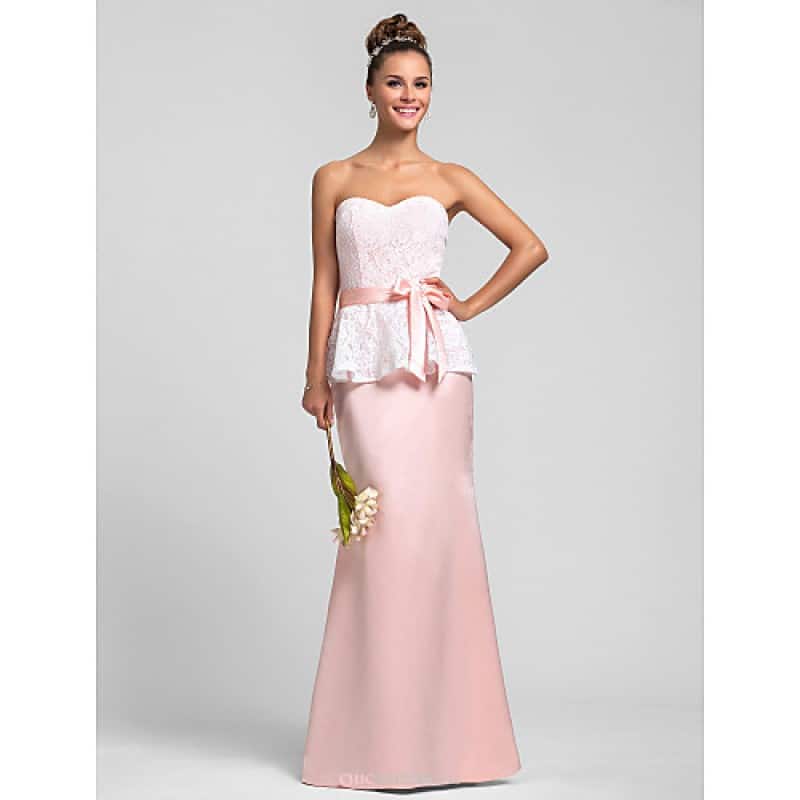 This exquisite dress captures true femininity and elegance in one beautiful masterpiece.
In Summary
If you are a petite mother of bride, it is important to give yourself enough time and planning to ensure you make the best choice for this special day. In a nutshell, remember that most dresses online are made for non-petite women and have models who are not petite. Unless they specify a petite collection or allow custom measurements for height to be entered, you need to ask them if this is an option.
Otherwise, just remember these: high waistline, creating a vertical emphasis rather than horizontal, and either ankle or knee length work best! Good luck!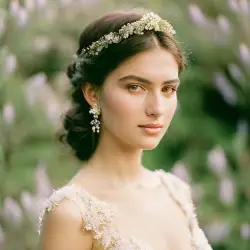 Latest posts by Rosie Liliy
(see all)