Your wedding is one of the most important days of your life, and it is only natural that every bride wants to look and feel her very best. Part of this involves selecting the perfect dress, but this can feel like more of a challenge if you are plus-sized.
The good news is that there are plenty of beautiful dresses available for larger brides, and we have put together some tips on how to find the right size plus size beach wedding gown for you.
We've also included some great tips and tricks to ensure that you get the most out of your big day and that you look and feel your very best, no matter your size and shape.
Our Top Five Plus Size Beach Wedding Dresses
Looking for inspiration to really turn heads and enjoy the "wow" factor on your special day? Then read on for a closer look at our top five plus-sized dresses that are perfect for a beach wedding.
Enjoy your perfect princess moment in this truly breathtaking ballgown from Sophia Tolli.
The delicate lace covering is perfect for capturing that classic bridal vibe, and the nipped-in waist with a belt adds shape and definition to your figure, no matter your body shape or dress size.
A dipped back and front draw the eye downwards, elongating your silhouette and giving an illusion of height, while a full, ruffled skirt balances out your body for an hourglass effect, and creates that perfect princess look and feel.
As an added bonus, the gown comes with delicate lace sleeves; ideal if you want to feel a little more covered up, but with a material light enough to be suitable for a warmer wedding climate.
The delicate lace patterns on the sleeves are truly beautiful, adding a sense of elegance and sophistication that transforms this from a simple ball gown into a dream wedding dress in no time.
Enjoy an ethereal, otherworldly beauty with this to-die-for frock from Stella York, which combines the modesty and elegance of a classic bridal shape with a touch of fun and sexiness thanks to the inclusion of the sheer back.
Everything about this design screams effortless elegance, and it is the perfect fit for boho brides who are searching for something super flattering without sacrificing style.
The fitted bodice is covered with lace and carefully structured to create a stunning shape on your top half, with a delicate sweetheart neckline creating a romantic vibe that flatters even larger-chested brides in a sophisticated manner.
This fitted bodice is perfectly balanced with a dramatic chiffon skirt, which falls straight down to far beyond your feet in a dazzling wave of fabric, ruffles, and textures, gently kissed by delicate lace patterns just where the light hits, culminating in a cascade of gentle waves all around the bottom of your feet.
The straight cut of the skirt hides any sins and ensures that every bride is flattered and shown off in a truly stunning light – the perfect dress for a fairytale bride.
Embrace your inner desert goddess with this stunning lace wedding dress that brings your dream boho vibes to life, thanks to a gorgeous flowing ivory lace overlay.
The cut and design are simple yet flattering, with a cinched-in waist and deep V neck which draws the eye down and adds length to the upper body, with a gentle scalloping on the edge to create a soft, dreamy effect.
Delicate lace cap sleeves cover the tops of the arms, helping you to feel beautiful and confident and hiding any potential problem areas, while a soft dotted design adds a hint of femininity and romance.
A long, flowing skirt is super flattering and consists of a lace overlay to add a soft, romantic vibe, and bands of lace detailing across the front of the skirt for a bridal feel without being too formal.
Overall, this is a perfect option for brides looking for an elegant wedding gown that offers a boho vibe, and the loose, flowing design is perfect for covering any areas that you wish to draw attention away from, without feeling shapeless, or as though you are sacrificing a drop of sophistication and elegance.
Embrace your inner princess while still maintaining a thoroughly modern edge with this stylish design.
Clean, sleek lines and simple finishes create a wedding dress that is ideal for the modern woman, while the full ball gown skirt offers a nod to days gone by with a princess-style vibe.
This is a dress of contrasts, but they work beautifully together to make a statement that will be sure to turn heads at your wedding.
A plunging V-neck bodice flatters your chest and neck perfectly, and the deep neckline adds a sexy touch to an otherwise classic look.
An empire waist is highlighted with a thin belted band to create a slimming silhouette, and this flares out to a full skirt draped in gorgeous tulle, adding layers and volume right where you want them most, and helping to add a slightly beachy look to the whole outfit.
This attention and noise on the bottom help to smooth and slim the top of your body, and the sheer tulle creates a lovely sheen that catches the light beautifully for an eye-catching end result that will leave your partner speechless as you float up the aisle.
Want to feel as though you are truly living the dream on your wedding day? Then look no further than this stunning boho dress, which is the perfect choice for an elegant beach wedding.
Every detail of the design is focused on effortless elegance, with loose, draping lines and a gentle vibe that is guaranteed to flatter brides of all shapes and sizes.
The deep V-neckline is perfectly balanced by large, flowing angel sleeves, and this creates an illusion that leaves your upper body and chest appearing elegant and refined while covering the tops of your arms and hiding any problem areas that you may be shy about showing off.
Wide sleeves create an ethereal, dream-like feel, and everything comes down into a cinched-in waist to show off your figure and create an hourglass shape – even if this is not your natural look!
The belted waist draws everything in for an elegant visual effect and then flows down to a slightly fuller skirt which gently drapes and puddles around the legs for those perfect beachy vibes.
This is a dress that screams simplicity but still feels like the perfect gown to say "I do" in – if you are on the hunt for a simple, beachy boho look that feels comfortable and looks sensational, this is the perfect dress.
Choosing A Wedding Dress: What To Consider?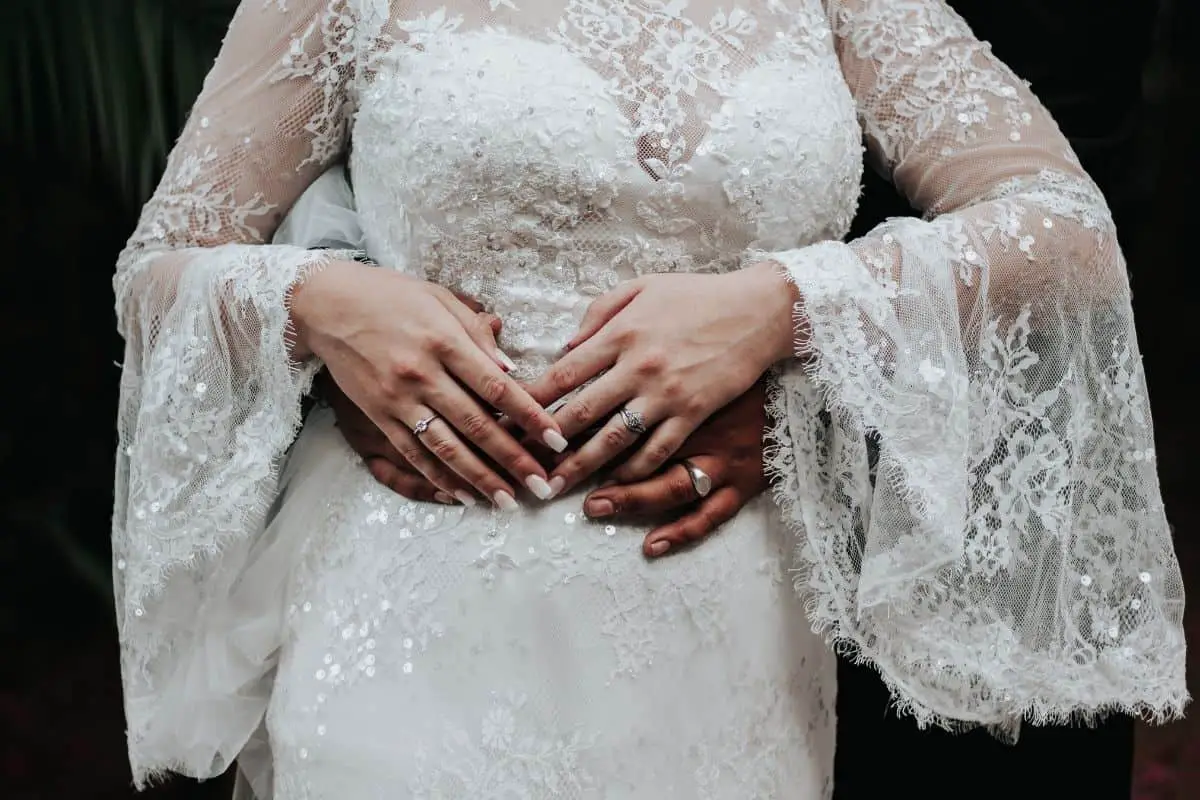 Choosing your perfect wedding dress is a big decision and one that many brides will have been thinking about for their entire lives.
There are a number of elements involved in choosing the perfect dress, including the style, fabric, color, neckline, sleeve length, and even the hemline.
However, when you are plus-sized, these factors can become much more complicated than they would be for someone with a smaller frame – and we have the tips you need to make a perfect choice.
Style
One of the main considerations when choosing your wedding dress is the style that you decide to go for, and some of the most popular options include:
A-Line
An A-line dress has a gentle curve at the waist which creates an hourglass figure.
This type of dress tends to be long and flowing, often features a high neckline and full skirt, and is often considered a very flattering fit, as the attention is drawn away from any areas where you may not want to draw attention.
Ballgown
A ballgown or empire line dress is similar to an A-line dress, except that it usually has a higher neckline and a fuller skirt.
It is generally longer than an A-line dress and therefore ideal for those who do not have a slim figure, as the style is often associated with elegance and sophistication – it is often a celeb favorite, and is guaranteed to turn heads!
Princess Line
A princess line dress is a classic silhouette that is still incredibly fashionable today.
The princess line dress typically has a fitted bodice and a loose skirt, and although it does tend to be shorter than other styles, it can still create a stunning silhouette and can be particularly flattering if you are shorter in height.
Sheath
A sheath dress is a simple yet elegant option that works well for all body types. Sheaths tend to be quite short, so if you are taller than average, then you might prefer something a little longer.
They are often made from satin, chiffon, or silk and feature a low back and a V-neckline.
Material
The material of your wedding dress is also an important consideration – and this is particularly important when you are planning a beach wedding.
You should choose a dress that feels comfortable against your skin, but also looks gorgeous against the sand and sea. Some of the most popular materials include:
Chiffon
This lightweight material is breathable, soft, and easy to wear.
Chiffons are often used for summer weddings because they can be worn during hot weather without feeling too warm, and this means that they are an ideal option for a beachy wedding in warm climes.
Cotton
Cotton is a natural fiber that is great for keeping you cool during warmer months, and is also extremely durable.
Cotton dresses are often less expensive than silk or lace dresses, and are available in a range of colors, making them versatile enough to work for almost any occasion.
They work perfectly for a more casual, relaxed wedding – particularly if you are simply making your vows on the beach with a few witnesses.
Silk
Silks are luxurious fabrics that feel amazing against the skin. Silk dresses are often chosen by brides looking for a dress that will last through their entire marriage, and are perfect for formal occasions such as weddings and proms.
Silk can be a little warm for a beach wedding, so it is worth considering a silk blend to stay comfortable while looking sensational.
Lace
Lace is another wonderful fabric choice for a beach wedding, and is a classic choice for brides. Lace dresses are romantic, feminine, and timeless, and look especially lovely against the sand and water.
However, lace dresses are often quite delicate, meaning that they need careful handling and care. If you are planning on wearing a lace dress to a beach wedding, then make sure that you take extra care of it to avoid damaging it.
Color
There are a number of options when it comes to choosing a color for your wedding dress – modern life means that you do not automatically have to stick with white – particularly for a beach wedding, which tends to be more relaxed and laid back when compared to a more traditional ceremony.
Some of the most popular options include:
White
White is one of the most common choices for a bride's wedding dress, and it is a beautiful, classic color that never goes out of style.
White dresses are usually very simple, and are perfect for a beach wedding where you want to keep things light and airy; they look stunning against an ocean background, and have the bonus of usually feeling cooler, which can be a real bonus if your location is hot!
Black
It may not be traditional, but this is your wedding, your way. If you love black, then there is no reason why you cannot incorporate it into your wedding dress.
Black dresses are elegant, sophisticated, and classy, and look fantastic against a sandy backdrop. Many brides also find them to be more slimming than other colors, and this can play a role in helping you to feel more confident.
Red
If you are going for something bolder than white, red is a great alternative. Red is a vibrant color that has been associated with romance since ancient times and works well for a beach wedding.
Red dresses are typically more daring than other colors and are perfect for those who like to stand out from the crowd.
Blue
If you prefer a softer option than red, blue is a gorgeous color that looks good against both the sky and the sea.
Blue dresses are traditionally associated with femininity, elegance, and sophistication, and are perfect for brides who want to look stylish without being too flashy.
Pink
Pink is a fun, flirty color that is perfect for a summer wedding. It is a bright, cheerful color that makes people smile, and offers a touch of fun and vibrancy to any beach wedding.
Yellow
This is a color that is rarely seen at weddings, but it is a beautiful shade that would work perfectly for a beach wedding. Yellow is a happy, sunny color that will add some much-needed cheerfulness to your wedding day.
Neckline
The neckline of your wedding dress is another common concern, particularly for larger-chested brides who may feel uncomfortable with a very low neckline.
Fortunately, there are a number of options to choose from when it comes to wedding necklines, and these include:
Strapless
A strapless wedding dress is a classic and is a great option for brides who want a dress that does not require a bra.
Strapless dresses are comfortable, flattering, easy to wear, and are suitable for all body types, and perfect for showing off that statement necklace that you chose for your big day.
Sweetheart Neckline
A sweetheart neckline is another classic option and is often preferred by brides who are looking for a dress that shows off their figure without being too revealing.
Sweetheart necklines are generally quite high on the chest and are ideal for brides who want something that flatters their bust line in a classic, traditional manner.
V-Neck
A v-neck wedding dress is another classic choice and is a lovely shape that is flattering for almost every figure type.
A v-neck is a popular choice because it provides visual balance to the top of your body, and creates an illusion of slimmer shoulders.
Halterneck
A halter-neck wedding dress is a modern style that is becoming increasingly popular and is a great option if you are looking for a dress with a unique design.
Halter Necks tend to have a higher neckline than most other styles, which means they provide a little extra coverage while still allowing you to show off your neckline, and can add a unique detail that helps your dress to stand out.
High Neck
A high-neck wedding dress is a classic choice that is timeless and elegant, and usually takes the form of a sheer or lace panel over the top of a strapless neckline. This offers a little extra coverage and is a nice detail that adds a bit of interest to your dress.
Final Thoughts
There are many different factors to consider when choosing your wedding gown, including your budget, personal preferences, and your body type.
The best way to find the perfect dress for your big day is to take your time and do plenty of research before making a decision.
You should also be sure to check out our collection of plus-size wedding dresses, as we offer a wide variety of styles and options that are sure to fit any bride's needs.

Latest posts by Lisa Plaitt
(see all)