Nothing is more stunning and romantic than getting married on the beach. With your beloved ones standing by you, the sound of waves crashing in the background and an unforgettable sunset, it truly doesn't get better than that! Of course there's one thing left to consider: what are your bridesmaids going to wear?
When it comes to beach weddings, light fabrics like cotton, chiffon, and organza are great choices because they won't weigh down your bridesmaids in the hot sun. These materials look beautiful in photos and are comfortable enough for your bridesmaids to wear all day long without feeling too hot or restricted. Additionally, lighter fabrics look lovely when paired with other pieces that are flowy or have movement—like a skirt with a train or an asymmetrical hemline.
Beach weddings offer plenty of opportunities to rock bright colors that will really pop against the natural backdrop of sand and sea. Choose bright colors that will stand out against the scenery—think jewel tones like emerald green or sapphire blue, or bold hues like fuschia pink or tangerine orange.
Below are some beautiful examples.
Short bridesmaid dresses
These knee-length light peach dresses are a great option for flower themes and tropical weddings.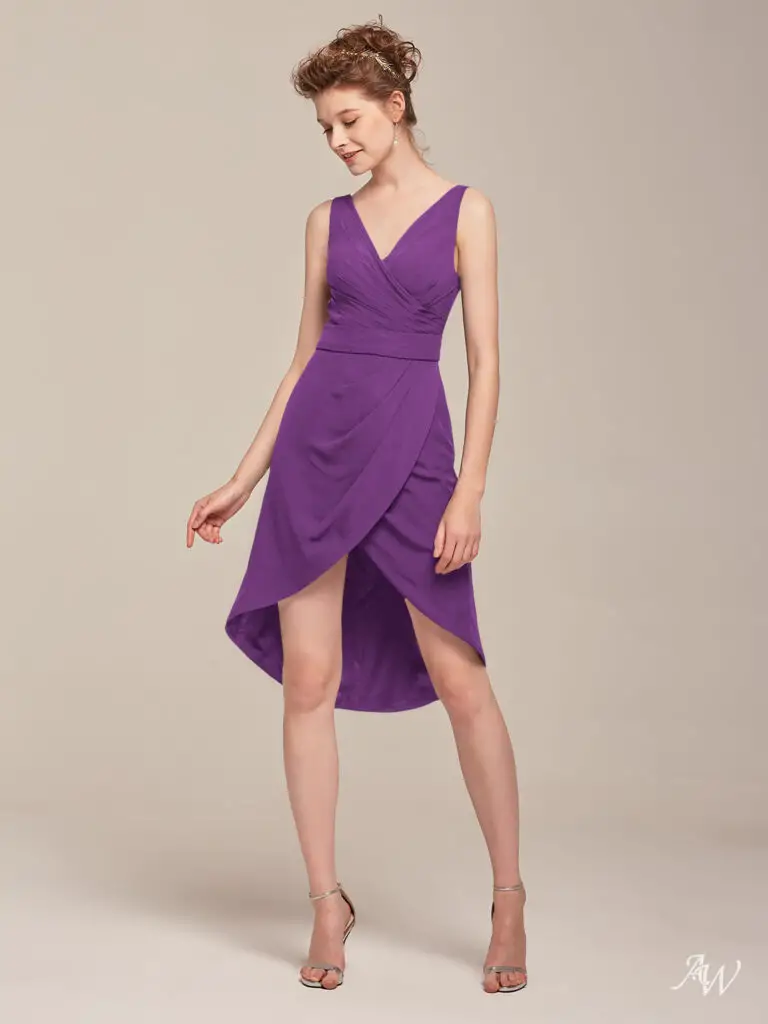 Featuring a beautiful A-line silhouette, this dress perfectly frames the body from the v neckline to the hi-low hemline. The asymmetric front-back cuts gives this bridesmaid dress an elegant twist.
With a romantic design that combines style and elegance, this dress will ensure you look your best when standing up at the ceremony. Crafted in chiffon fabric, it features a one-shoulder design along with a ruffled bodice and pleated waistband that fasten to secure it at the back. The flowy A-line skirt with its elegant knee-length gives the dress an added touch of finesse. 
Boho bridesmaid dresses
This adorable linen peach dress is an inspiration when it comes to boho themed bridesmaid dresses. With intricate detailing across the dress and a front slit, this is perfect for a beach wedding.
Step out in style and feel confident with this exquisite dress. Its high-low hemline, regal v-neckline, and graceful ruffled hem create a look that will bring out the beauty of every woman who wears it. This fashionable piece is sure to have heads turning as you express your individualistic flair!
Featuring a chic braided belt that ensures perfect fitting, this open back maxi dress is designed to fit any body size while offering maximum breathability. The subtle handmade embroidery on the middle part adds an eye-catching touch to your outfit; you can further elevate your look by wearing it with a stylish jacket or boots!
A flattering white boho dress that is perfect for a beach wedding with a light color theme. A semi open back and knee-length gives this dress an island feel.
Casual bridesmaid dresses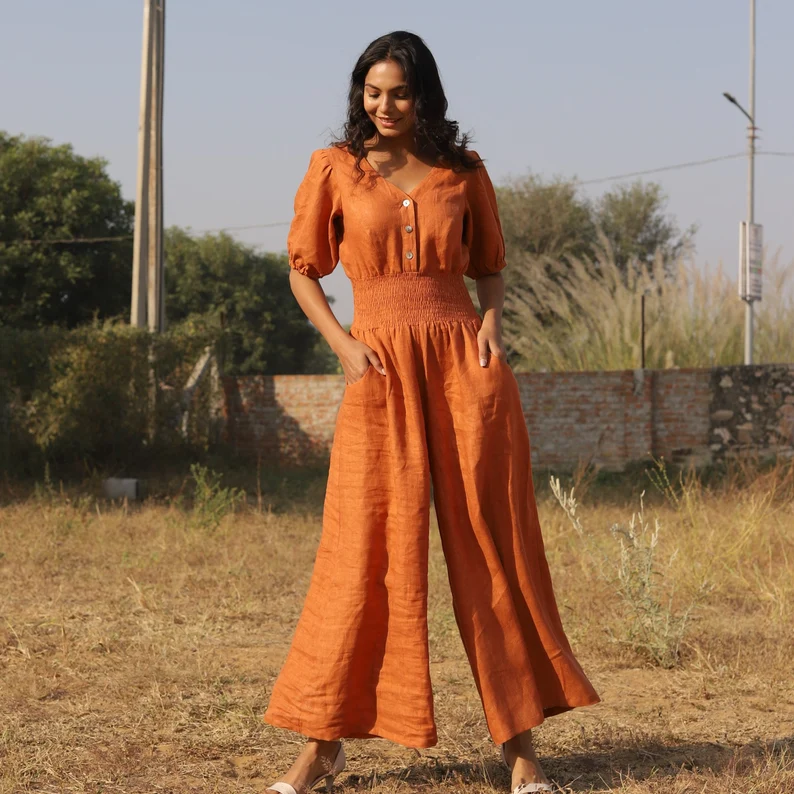 Different, bold, beautiful, colorful, and comfortable. A great combination for a beach wedding! This jumpsuit can be tailored to each bridesmaid's own style to flatter.
If you're looking for a long comfortable dress with a linen feel, this layered dress is an inspiration. Casual yet flattering, this can also suit a bohemian style beach wedding.
This off-the shoulder dress can be a great option matching the wedding theme and bride's choice and dress.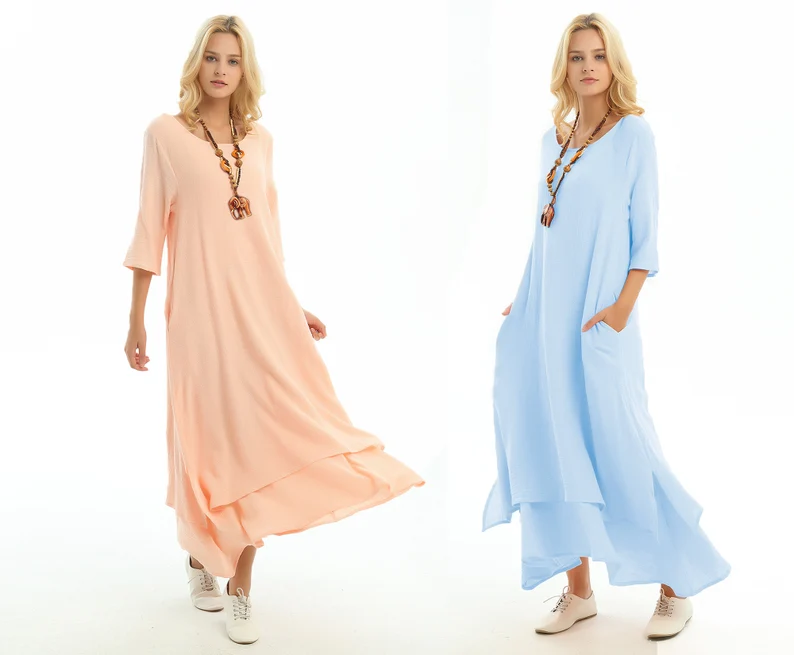 If you're considering dresses with more coverage for wind or direct sunlight or just to match, these pure linen dresses are loved by many. Flowy and breathable, they come in light colors which can be a great match to your theme.
Blush bridesmaid dresses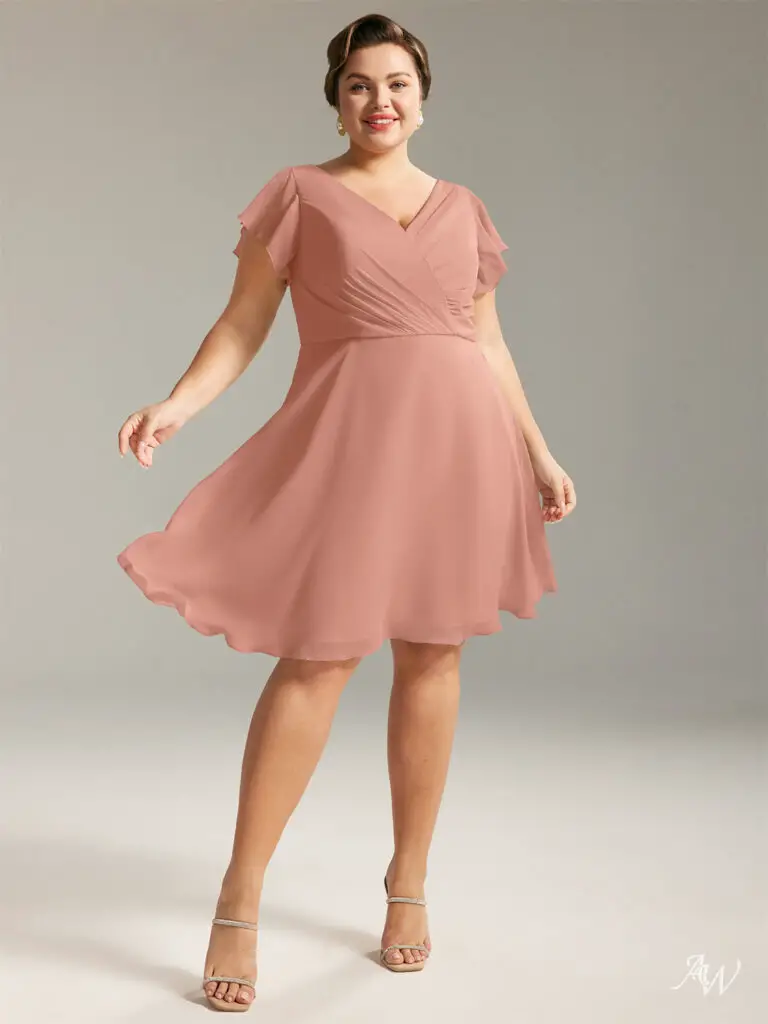 Elegant, flowy, and very flattering, this dress is sure to impress.
If you want a princess style bridesmaid dress for your beach wedding, this is an inspiration.
Gorgeous square-neck dress with a light pink hue, this lovely option has a thigh slit that adds to its elegance.
Light blue bridesmaid dresses
This dress will make you feel like royalty with its corset-style top and padding, along with a stunning tulle skirt. You won't want to miss out on this opportunity for full glamour!
These lovely A-line lace dresses feature a gorgeous sweetheart neckline that flatters your body and makes you feel like you're a part of a fairytale wedding!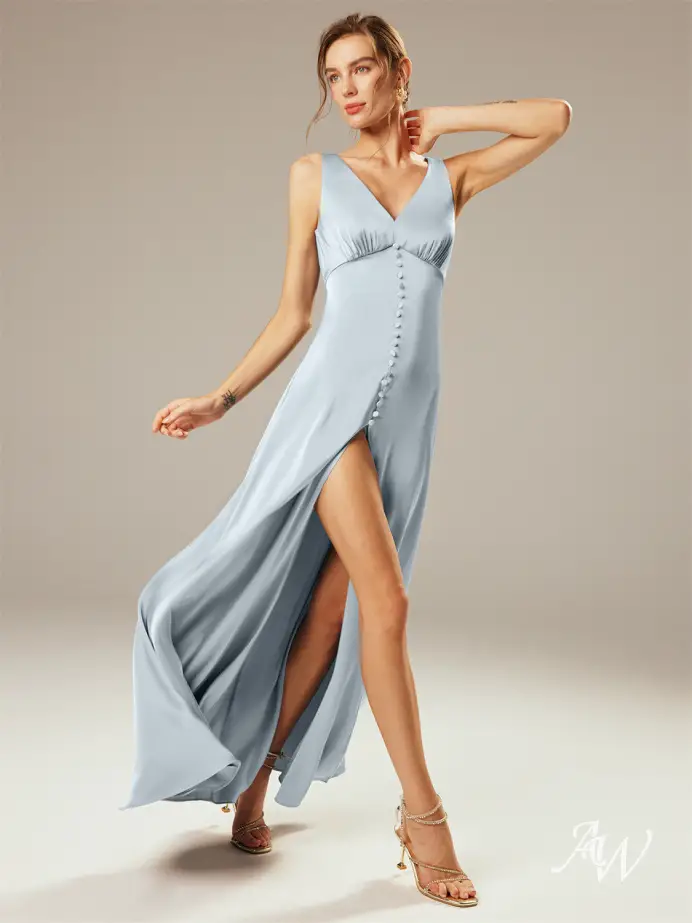 When you want to accentuate your gorgeous curves and legs, slip into this amazing dress. Crafted from a luxurious satin charmeuse fabric that is soft yet breathable, this strapless A-line dress provides an elegant femininity.
Alternative bridesmaid dresses
Lovely variations of this jumpsuit can be worn by bridesmaids for a truly unique picture. If you're wanting even more variety, they can come in different colours. Depending on your colour pallet and theme, different shades of the same colour can be used.
Wanting to give your bridesmaids a fairy look? This dress is absolutely gorgeous!
If looking for a dress that's classy, beach-appropriate, and one-of-a-kind, this is an inspiration. The brown and beige colour pallet match a sandy beach background and feel very well while keeping it formal and sparkly.
Green bridesmaid dresses
Velvet green in style. Can be a fantastic option for a green set. The puffy sleeves and the waistline give this dress a sweet feel.
This light green chiffon A-line dress has a beautiful sweetheart neckline and gives a lovely flowy feel.
If you'd like some chest coverage in a lovely halter neckline, this light mint knee length dress can be a great idea for bridesmaids at a beach wedding.
Floral bridesmaid dresses
This delightful dress is sure to make a lasting impression. showcasing an eye-catching blue rose print on an off-white base, it features a deep V neck cut with nude color mesh detailing that adds just the right amount of class and sophistication.
Flaunt your beauty with a chic wrap silhouette, the ideal maxi length, and an array of stunning floral prints!
Show off your style with this trendsetting one-shoulder silhouette! It boasts a puff sleeve and defined waistline, creating an eye-catching fitted bodice. The midi length skirt is embellished with a handkerchief hem and adorned in captivating retro print.
Tropical bridesmaid dresses
Showcase your island vibes with our Tropical Print Gown. This gorgeous design offers a pleated bodice and an empire waist for a timeless look, combined with vibrant sunset hues and printed palms to create the perfect formal ensemble. The open back is secured by thin crisscross straps that can be adjusted for the ideal fit so you'll shine brightly at any upcoming event!
This graceful mini dress will be the perfect choice for a beach wedding in tropical weather. With its curved hemline, myriad of modern prints, and sleeveless style—this alluring piece is made from lightweight fabric that has just enough stretchiness to render it stylishly comfortable.
Stand out from the crowd by wearing these tropical print robes as your bridesmaids' attire! These delightful garments are perfect for any beach-themed wedding, offering an ideal look that is simultaneously chic and breezy. Make sure to capture all of those special moments with these stunningly stylish robes – a truly tropical fashion statement!
Final Word
Your beach wedding will be filled with sunshine and memories that last forever—so make sure you take time to pick out gorgeous beach-ready bridesmaid dresses that reflect both yourself and your style as a bride! With light fabrics, bright colors, and fun accessories, you'll create looks that capture all the beauty of your special day while keeping your bridesmaids comfy throughout all their duties from start to finish. Now let's get shopping!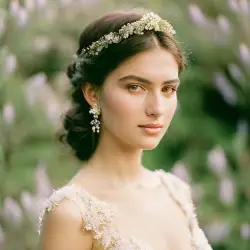 Latest posts by Rosie Liliy
(see all)