As the best man, you will have the duty of writing a speech for the newlyweds. During this time, you can keep it lighthearted and playful, or opt for something straightforward and simple.
No matter what, you will have to make sure that you honor the bride and groom, and wish them a happy future together. 
While you might have the best man's speech down to a T, how do you end it with a toast? In this article we have put together 66 different ways to give your best man toast that you can adapt and change.
So, whether you are looking to make fun of the newlyweds, or want to keep it serious, here are 66 ways to raise a glass to the lucky couple. 
Toasts to the Happy Couple
"To my best friend [NAME] and his beautiful wife/groom [NAME] – here is to a wonderful future filled with lots of love and true happiness."
"It has been a huge honor to be your best man. However, it has become an even bigger honor to ask everyone in this room to toast the newly married couple. To the bride and groom!"
"Let us all wish the bride and groom many years of love and happiness. May you be the kind of friends that only lovers can be. May you love each other in the way only best friends are able to."
"To the happy couple, may their love story unfold like a fairytale, with many a happy ending, and not a single wicked stepmother in sight."
"Here's to the couple, may their love be like a cozy fire in the winter – warm, comforting, and always there to chase away the chill."
"To the newlyweds – may you always look at each other with the same sparkle in your eyes as when you first met!"
"May their marriage be filled with love, laughter, and a mutual understanding that no matter what, they will always be each other's wingman."
"Let us lift our glasses in celebration of the union of two remarkable individuals. May your marriage be a testament to how you both make each other stronger, more self-assured and madly in love with one another through the years."
"May your marriage never feel like hard work, but instead be full of moments that are as easy as breathing. May it bring out the best in you and give you even more reason to be thankful every day."
"Let's raise a glass to a love that will make even Cupid jealous, and may their marriage be filled with laughter, adventure, and all the good things in life."
Toasts to the Groom
"Cheers to the groom, who has found a partner in life who can tolerate his witty humor and two left feet on the dance floor."
"A heartfelt congrats to the groom who finally found the missing piece to his puzzle, and I have to say, she fits him like a glove – a really pretty, elegant glove."
"To the handsome groom, may your love for your bride continue to be the anchor that steadies you both through life's storms."
"May you, dear groom, be imbued with courage, wisdom, and love to be the best husband and partner you can be."
"Here's to the groom, for having great taste in women! He found his queen among a sea of frogs and convinced her that she's a real princess. May your love story last forever, and may you live happily ever after! Now, let's raise our glasses and drink before she run away at midnight! Cheers!"
"Here's to the groom: he may have once been a single man, but now he's got two bosses!"
"Cheers to the groom, who is finally taking the plunge after years of dating! Now that you have found your perfect match, I just hope she doesn't change her mind and leave you heartbroken. So make sure to stay on your best behavior – no more late nights out with the boys!"
"In honor of this special day, I'd like to offer the groom some advice: As long as you two are willing to split the remote control and always make sure there's enough toilet paper in the house, I'm confident your marriage will last forever."
Toasts to the Bride
To the beautiful bride, may your happiness be as radiant and timeless as the dress you wear today.
Here's to the woman who stole the groom's heart and forever captured his love.
Let's raise a glass to the bride, whose smile brightens up even the dreariest of days, and who, today, takes her vows with the one she loves most.
You have brought so much light and beauty into the world and today, as you marry your soulmate, you shine brighter than ever.
To the stunning bride, here's to a lifetime of love and adventure, of sharing everything, and always standing by each other's side.
"Here's to the bride! A woman with an eye for detail and a heart of gold. She never fails to surprise us all with her words and actions, but most especially with the way she loves our groom."
Toasts to the Future
"Let us toast to the remarkable bond my buddy and his partner possess. Even though it wasn't easy, they made it through and taught us that no matter what challenges stand in the way, true love will always find a way. Cheers!"
"Let nothing stand between the two of you—not even time or distance—and may every day bring more love than the last. Congratulations to the bride and groom! May your future be bright, beautiful, and full of blessings. Cheers!"
"Wishing you both a lifetime of health and happiness, where you can continue to explore all that life has to offer together as one. May you keep smiling with every struggle and crying with every joy – knowing that whatever comes your way will bring even more strength to your relationship."
"Here's to the beautiful journey ahead – may it always be filled with genuine happiness in each other's arms! Congratulations!"
"Here's to the couple as they begin this next chapter in their lives together. May they have strength to overcome any obstacles that come their way, courage to take risks when necessary, and compassion to understand one another despite life's differences."
"Let's toast to the special bond shared between this loving couple – one filled with trust, respect and admiration. Here's wishing them a long and happy life together as husband and wife, surrounded by family and friends who can't help but smile when thinking about them!"
Funny Best Man Toasts
If you have created a best man speech that has plenty of funny lines that will capture the room and cause lots of laughter, then you will want to end it that way too.
Here you will find a few examples to get your inspiration flowing.
Related read: 60 Funny Wedding Wishes for Newlyweds
"Dearly beloved, we are gathered here today to celebrate the union of my best friend and his better half. I'd like to take this opportunity to raise a toast to them on such an auspicious occasion."
"To my best friend, I'm so happy he has found someone who loves him just as much as I do!"
"To my dear friend [Groom's name], who I've known since we were kids, I must say, it's about time you grew up and got married. I mean, seriously, what took you so long? But, in all honesty, I couldn't be happier for you, my friend."
"May their marriage be like coffee: strong, hot and never bitter!"
"To the bride and groom, may their love be like a game of chess – always evolving, never boring, and always ending with a mate."
"It comes as no surprise that we were not shocked when [NAME] asked [NAME] to marry them. We knew [NAME] had found the one when he stopped playing his Playstation. To the happy couple!"
"To the bride and groom, may they never argue over who is the real boss in their relationship, but instead always play rock, paper, scissors to settle it."
"For the last time, I am going to ask everyone in the room to raise their glass and – if you are still able to – stand and wish the newlyweds a happy and bright future!"
"If you had trouble hearing me at the back – I did ask to use a microphone, but the silence at the front of the room should help to reassure you that you are not missing a thing. Here's to the bride and groom!"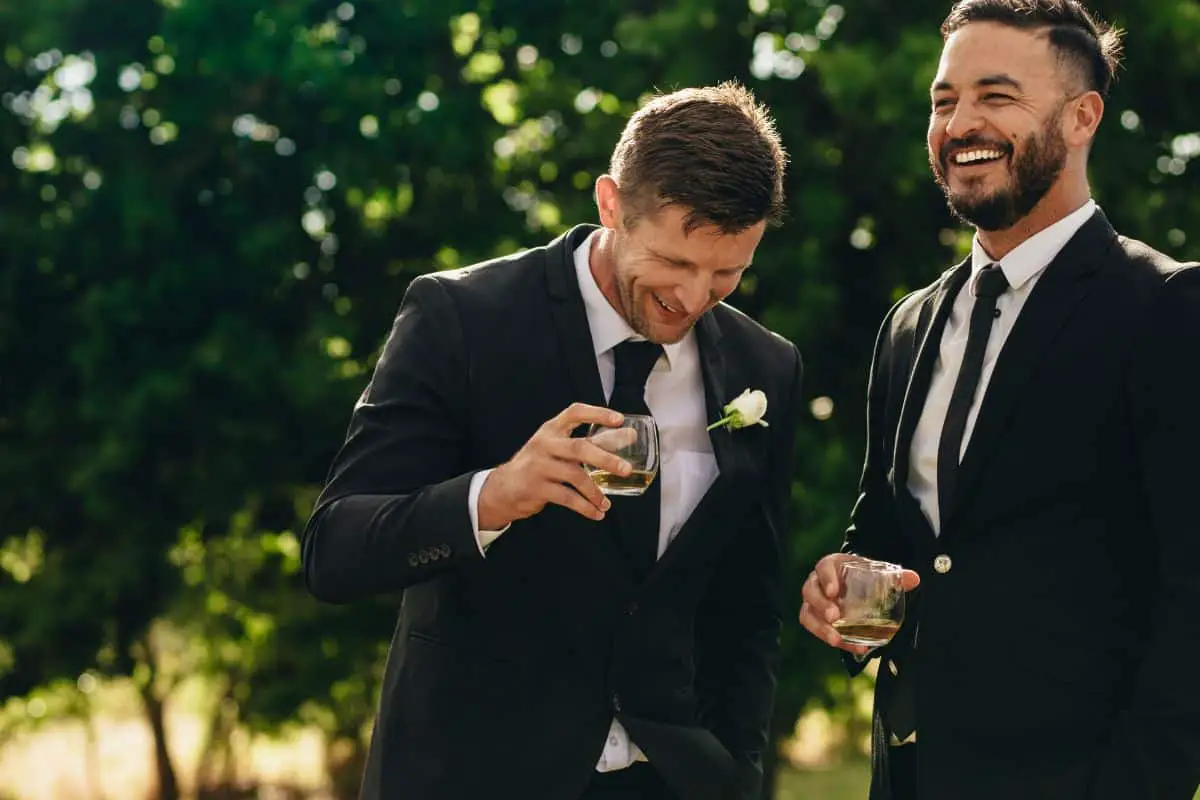 "Before I end this speech, I want to give some advice to the best man. Always remember to say the three magical words: 'You're right dear'. To the bride and groom!"
"Let's make sure this day is just as special as possible; after all, you only get married once – or at least we hope you do."
"May the newlyweds find prosperity in all aspects of life, excluding a receding hairline, which seems to be an unavoidable reality."
"I once read that the best man's speech should always take as long as the amount of time it takes the groom to make love. So, here is to the happy couple!"
"Thank you everyone for keeping the clapping to a minimum today. I have a terrible hangover. I couldn't let the groom drink alone last night, could I? Let's raise a final glass to the new Mr and Mrs [NAME]."
"And now that I have come to the end of my speech, it has been great to have been a part of the only few minutes the bride wasn't able to plan. Here's to the happy couple!"
Best Man Toasts for Brother
Sometimes your best man is your brother. Here are a few ideas to end that toast.
"It is with great honor that I stand here today and raise a toast to my wonderful brother – may the next chapter of his life be just as amazing as the last! Cheers!"
"To my best friend, who also happens to be my brother, and his new wife. Let's raise a glass to the many wonderful years that are ahead. Now, let's dance, be merry, and eat cake!"
"It is said that as my brother's best man I am supposed to talk about what good qualities he has, and to sing his praises. However, I won't lie and I cannot sing. To the happy couple!"
"So raise a glass to my bro, who has more friends than Instagram followers – but just as many likes!"
"It became obvious that my brother had fallen in love and found the one when he spent a lot more time with [BRIDE] instead of his Xbox."
"Here's to my bro! A man who knows what he wants in life, except for a wife. He was so sure of himself until that fateful day when she said yes and turned his world upside down."
"This day has been a long time coming. My brother has finally admitted that I am the best man."
"May this marriage be the beginning of a brand new chapter in your lives, and may it bring lots of love and wonderful moments that you can share together.
Toasts That Include a Quote 
If you like a good quote, then find one that suits the occasion. Here are a few to think about: 
"To end this speech, I would like to tell you some wise words that Socrates once said: 'My advice to you is to get married.
If you find a good wife, you will be happy. If not, you will become a philosopher.' To the newlyweds!"
"Oscar Wilde once said: 'The man who says his wife cannot take a joke forgets that she took him'. To the bride and groom!"
"Just before we raise a glass to [NAME] and [NAME], here is something Pauline Thomason once said: 'Love is blind. Marriage is an eye-opener.' To the newlyweds!" 
"Just like Dr. Seuss once said: 'You know when you are in love when you cannot fall asleep because your reality is finally better than your dreams'.
"Emily Bronte once said: 'Whatever our souls are made of, his and mine are the same'. To Mr and Mrs [NAME]."
Toasts to the Bridal Party
While not traditional (the groom is the one who often toasts the bridesmaids), you can also compliment them too. Here are some examples:
"I want to say a special thank you to all the bridesmaids. They have been wonderful and helpful throughout the process and today.
"To the bridesmaids: Here's to you all for being there with my sister during this exciting time. May your friendship remain strong as she embarks on this wonderful journey of marriage and new beginnings."
"Please raise your glasses to… The bridesmaids!"
"Here's to two of the best bridesmaids anyone could ask for! Without you, the wedding day would not have come together as perfectly and joyfully as it did. From helping with the dress fittings to doting on the bride during her special day, I want to thank both of you for your unwavering support and friendship."
"To the bridesmaids – may they always stay as beautiful and graceful as they are today!"
"To a long-lasting friendship between these beautiful ladies, who have been by each other's side through thick and thin. May your bond be strong for many years to come."
Final Thoughts
Whether you choose a heartfelt, humorous, or nostalgic toast, the most important thing is that your words come from the heart and reflect the love and joy of the newlyweds' union.
With these 66 creative and meaningful toasts, you'll have the confidence and inspiration you need to deliver a memorable and unforgettable best man speech.
So, raise your glass and make a toast to the happy couple and their beautiful future together.

Latest posts by Lisa Plaitt
(see all)