Choosing a wedding dress is one of the most important and exciting decisions you will make during your wedding planning process.
In this blog post, we'll break down everything you need to know about choosing a wedding dress for your Japanese wedding, so you can feel confident and beautiful on your big day.
The most common fabrics used in traditional Japanese wedding dresses are silk and satin. There are many different styles of traditional Japanese wedding dresses, but some of the most popular include kimono-style dresses, shiromuku, uchikake, and dresses with long trains.
Kimono-style dresses are modelled after traditional Japanese kimonos and often have wide sleeves and obi sashes.
A shiromuku is a traditional Japanese wedding kimono. It is usually white and has long, wide sleeves. The shiromuku symbolizes purity, innocence, and silence. If you choose a dress with a train, be sure to ask about how it will be attached to your dress so that you can practice walking with it before your big day!
Uchikake are traditional Japanese wedding robes that are usually worn over a kimono only for the wedding ceremony. They are elaborately decorated with embroidery, gold leaf, and other embellishments.
Here are some Japanese wedding dress ideas to inspire.
Opt for this magnificent, embroidered uchikake kimono on your special day and become a figure of regal magnificence.
This gown is adorned with intricate designs such as flowers and phoenixes that are sure to draw admiring glances. If you're looking for an eye-catching Japanese bridal style garment that captures attention, this exquisite piece is an inspiration!
This modern dress features an exquisite bow that can be seen as a contemporary interpretation of the traditional Japanese obi sash, adding charm and elegance to the ensemble.
It comes with a timeless v-neck and thick straps that create delicate lines on your shoulders as well as draw attention to your décolletage.
The skirt starts at the waistline which further highlights your hourglass silhouette while the back of the dress is detailed with an eye-catching bow composed of long ribbons resembling a grand train.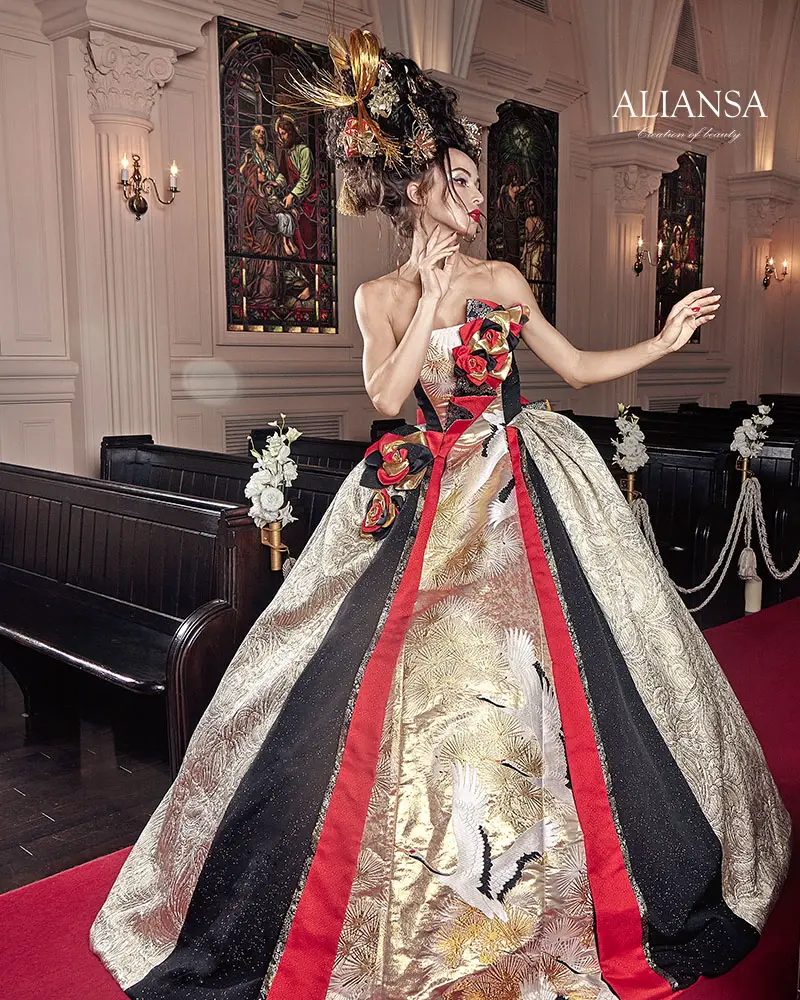 Embroidered with decadent golden threads and crafted from five luxurious fabrics, this breathtaking dress exudes a sophisticated elegance through its striking combination of gold, black and red.
Its strapless A-line design is perfect for any fairytale Japanese wedding – complete with extravagant 3D flowers adorning the front to give you that princess-like fit!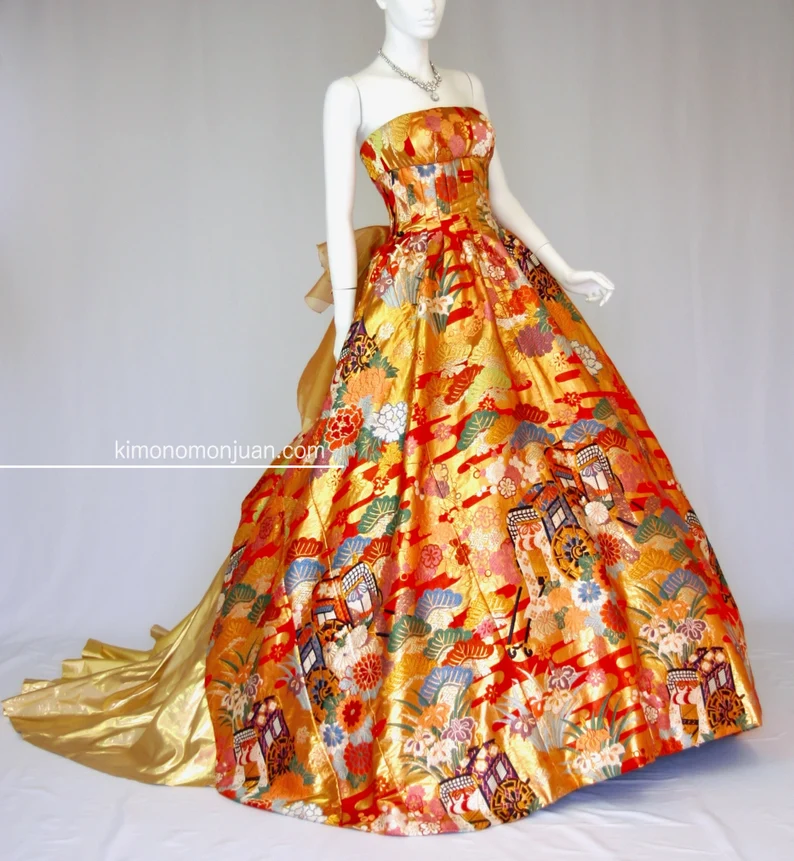 It has become a modern tradition to use kimonos in making of bridal gowns for a Japanese theme. This lovely dress is a strikingly charming proof that kimonos can be worn in various form in the modern day.
This kimono, with its heavy grain satin fabric and timeless style, is a great inspiration. Elevate the look even further by adding an eye-catching obi sash.
Make a statement in this simple yet refined piece! It's perfect for modern brides who prefer mono-color and less patterns.
If you're looking for a unique Japanese themed wedding dress, this Oiran set is surely beautiful.
There are many Japanese brides who wish for a modern twist. This captivating dress showcases a bright white background perfect for highlighting its navy lines and vivid botanical pattern.
It features two tiers of full-print, as well as a tulle balloon skirt that creates an alluring three-dimensional effect. Lace embroidery is sprinkled around the ensemble to add further radiance, while peonies both inside and outside the balloon provide depth and vibrancy to this unique piece!
While this gorgeous modern dress may not have been directly inspired by a Japanese theme, the kimono-style sleeves do give this a Japanese twist.
This lovely dress comes in three colors to choose from (ivory, white, champagne). To add even more Japanese 'style', consider a red patterned obi sash around the waist.
The kimono dress brings a vibrant explosion of colors to life against its crisp yellow and white background. Crafted with precision, the design possesses straight lines juxtaposed with gentle curves to create a sumptuous three-dimensional effect.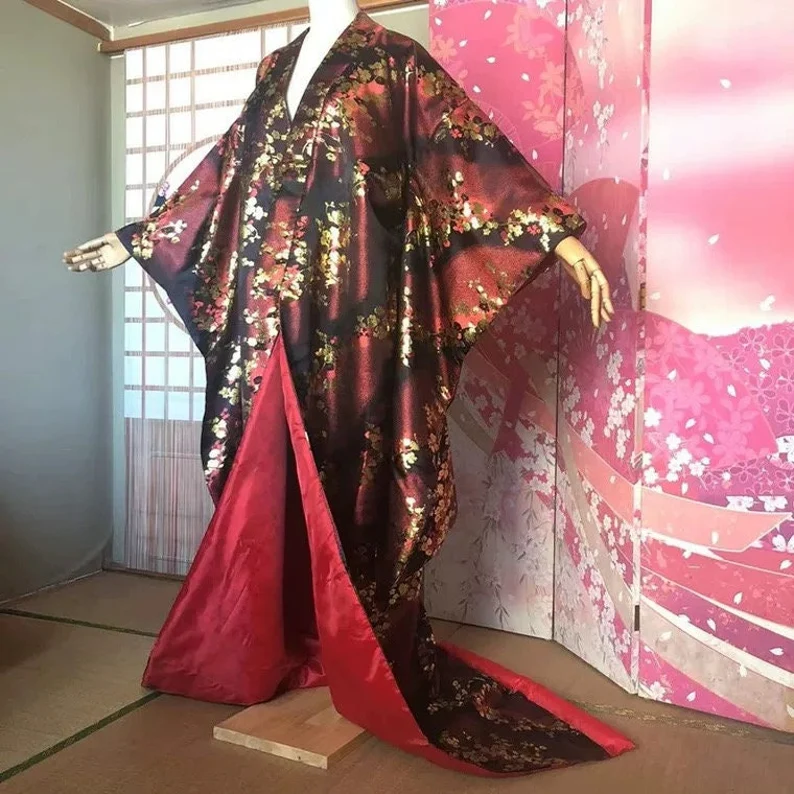 The Uchikake is an ornate robe that adds a luxurious layer to the traditional kimono and obi (sash) ensemble. It's often heavily brocaded, and should always be draped on the outside, trailing long along the floor – for this reason it's padded at its hem too!
Bridal Uchikake's are either white in colour or vividly coloured with red as its base hue.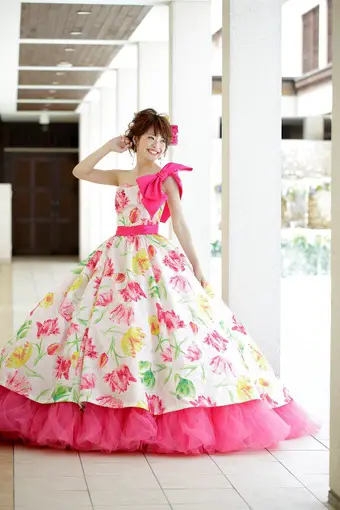 Infuse your special day with a vibrant dose of joy when you slip into this magnificent dress, adorned in luscious pink tulips that stand for "sincere love".
Crafted by an artist's eye for detail, the dot jacquard fabric is illuminated by radiant cherry pink accents at the ribbons and hems – making this gown perfect to celebrate your union.
This gorgeous kimono dress features a large vertical bow as a twist on the obi sash on a modern crimson dress.
This dress is sure to turn heads, as its flowery print and tailored waistline make a beautiful statement. Its beading motif radiates with confidence, ensuring you will leave an unforgettable impression. Stand out from the crowd in this show-stopping piece!
Kimono-inspired sashes have become a trend on white modern dresses with round or v-shape necklines. This is a lovely example.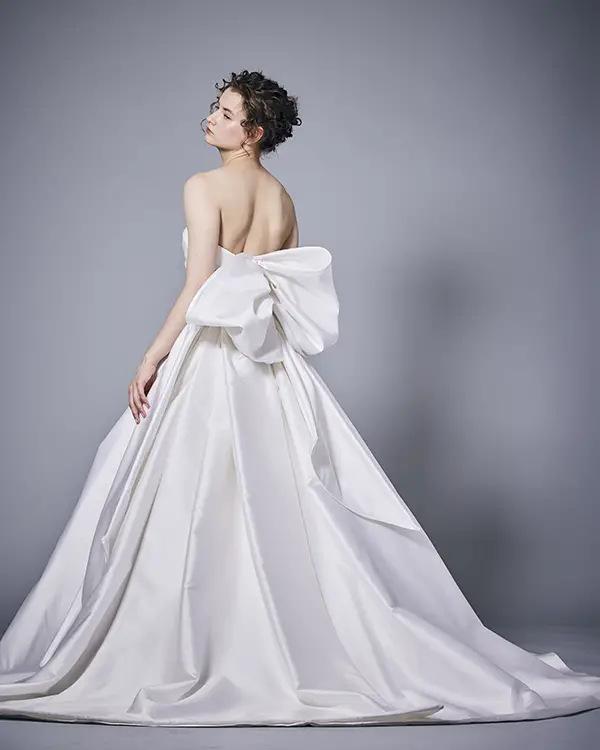 Lovely gown with a large white bow like a Japanese kimono style wrapping the waist. A perfect idea for a bride looking for a modern Japanese wedding gown.
In Summary
In conclusion, Japanese wedding dresses are varied in terms of styles and fabrics available. While modern Japanese brides may choose to wear a white dress, traditional options often reflect bright colors that are inspired by nature, with intricate patterns that represent the union between two people.
From elaborate eight-piece ensembles with layers of kimono to ornate coats and headpieces, there are numerous choices for any bride looking for the perfect attire on her big day.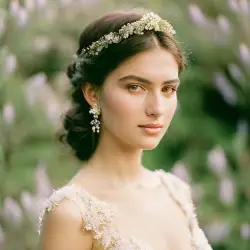 Latest posts by Rosie Liliy
(see all)