Whether you're gearing up for an intimate wedding, or a party fit for a royal ball, everyone wants to feel their best on their big day!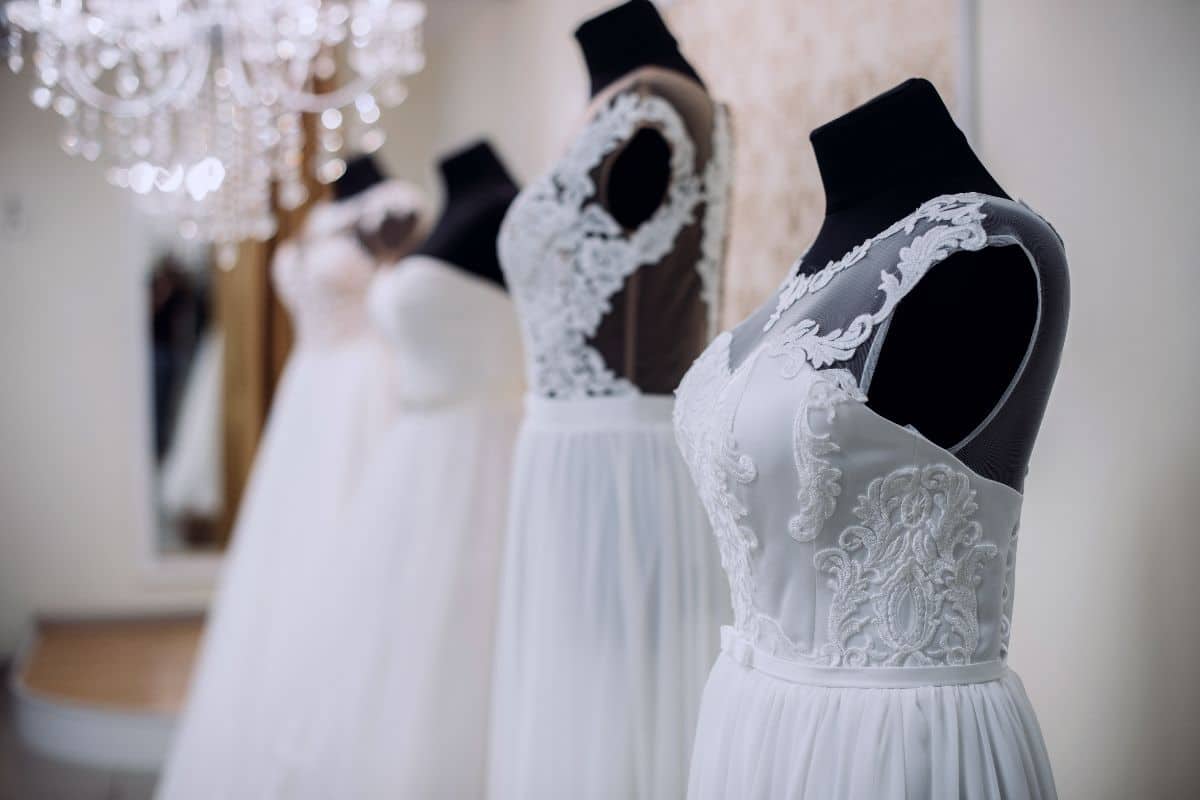 Disney's Fairy Tale Weddings has teamed up with Allure bridal to make some of the most stunning designs inspired by our favorite princesses.
And there is a whole host to choose from for each princess! 
Below are all of the dresses from the Allure Bridal Disney Princess Wedding Dress Collection! 
Ariel – The Little Mermaid
Everyone's favorite underwater princess, Ariel always embodies style and elegance with a fun twist! 
This dress has a strapless top with a sweetheart neckline, before exploding into a fishtail of organza and tulle cascading into a train. 
This delicate design features an organza train and mermaid skirt, with a low back, draped in chandelier-style pearls, leading down to a button detail. It also has sequin flowers embossed.
This simpler style is adorned with beadwork but has a smaller skirt. Whilst still reminiscent of the flowing seas, the bodice is more fitted and elegant. 
This A-line dress draws inspiration from the off-shoulder movie dress, with pearl beading along with delicate sequins, and a full organza skirt. 
Looking for a high neckline? Featuring pearl and sequin embossed details and a seaweed style embellishment over the neck and skirt, this dress embodies sea princess with every inch!
This is a modern take on Ariel's gown, in glossy champagne and a mermaid silhouette that sparkles in the moonlight, capturing the essence of the sea. 
The last in the Ariel collection is a platinum gown studded head to toe in pearls, glass beads, and sequins over a sparkling tulle base. 
Aurora – Sleeping Beauty
Capturing a prince's heart, even whilst asleep, this Aurora collection embodies femininity and ethereal beauty. 
With layered tulle and floral detailing, the main draw of this dress is the bishop sleeves with lace appliques that embody everything dreamy and feminine about Sleeping Beauty. 
This rose-inspired dress is elegant and comes with a lacey sheer capelet to finish off the look. In a variety of shades available, you're bound to find the perfect one. 
A simple A-Line silhouette is paired with a long train and beaded floral applique detailing. The square neckline and bodice are reminiscent of Aurora's classical pink dress, 
With a lace bodice covered in stylish sequins, this fitted silhouette with cap sleeves radiates out into a full skirt with a long, trailing train fit for any princess! 
With more beautiful rose-inspired appliques, this dress has a stunning square neckline and a flattering strapless bodice. The lace detailing follows down from the bodice to the tulle skirt. 
The last of the Aurora line, this sweetheart bodice is delicately embossed with a stained glass effect pattern mimicking Sleeping Beauty's chambers.
Belle – Beauty And The Beast
Inspired by Belle's classic ball gown, these dresses capture her elegance and simplicity perfectly. 
An A-line dress with a plunging sweetheart neckline and a fully lined bodice, this dress features a lovely clean line at the hem. With a beautiful satin finish, this dress will make you feel like a true belle.
With an A-line silhouette, scoop neckline, and timeless corseted waist, this dress is finished with pretty lace detail and a softly pleated skirt. 
With a sweetheart neckline and classic off-the-shoulder sleeves, this dress is a must-have for any fan. 
A classic A-line silhouette, this dress is finished off with an exquisite lace overlay and a delicate ruffle trim along the hem, featuring our favorite fairy tale flower, the rose. 
A beautiful vintage-inspired ball gown, with layers upon layers of tulle and vintage look lace detailing emulating the perfect dress to dance the night away in.
A beautiful vintage-inspired ball gown with a beautiful lace overlay and a delicate corset detail on the back, featuring sequins, crystals, and lace illusion sleeves. This dress will take you back in time to another era.
A classic A-Line silhouette with a sweetheart neckline, this dress is finished up with a pretty lace overlay and a subtle buttery satin feel.
Looking for something more dramatic? This tulle ballgown is a nod to the movie-magical ruched dress we all love. Featuring drop sleeves and a deep v neck for added drama. 
Cinderella
You shall go to the ball! With its sweetheart neckline and romantic flutter sleeve details, this dress is ready to sweep you off your feet. 
This dress is a must-have if you want to look just as regal as Cinderella herself! The scroll detailing and the A-line skirt are to die for. 
This dress features a draped sleeve, lace, and feather-look detailing, and a classical Cinderella-style A-line skirt that graduates to a royal-looking train!
This dress is a dream come true! With a sweetheart neckline with a gorgeous floral print and a full lining, this dress is ready for any event. 
With a sweetheart bodice and a stunning ice blue color, this dress is a showstopper. 
With scrollwork inspired by the pumpkin carriage over sparkling tulle, this dress is the epitome of magical!
A strapless bodice with bright white crystals covering its entirety that is elevated with detailed silver embroidery. 
Something a little different, this dress features a deep v neck and cap sleeves, adorned with crystals and sequins. 
Jasmine – Aladdin
Find a whole new world of dresses inspired by Jasmine's feminine bohemian style. 
With a long-sleeved bodice, decorated with tonal beading and embroidered lace, this dress is finished off with a soft A-line silhouette.
This sleek, modern take has faux cut-outs, decorative beadwork, and stunning iridescent sequins.
These cuffed and beaded bishop sleeves add drama and opulence to an extravagant princess-worthy gown!
This crepe-chiffon skirt is enhanced with contrasting beading detail on a simple yet elegant bodice.
This mermaid-tail dress is packed with crystals and features a cutaway train. 
This stretchy figure-hugging dress features bold silver applique detailing down both sides to highlight your curves. 
Opulent Venice lace covers this elegant off-the-shoulder gown of luxurious stretch-crepe. 
This beaded contour detailing and cap sleeves make it a flattering and mesmerizing dress. 
Pocahontas 
These nature-inspired dresses exemplify Pocahontas' free spirit and loving heart.
With soft cotton lace and a simple fit, this dress does away with the sequins in favor of natural elegance.
Leaf-inspired appliques flow into this beaded ethereal gown with sparkling tulle underlay.
With sheer illusion sleeves and flowing leaves covering this fitted bodice, this dress embodies the color of the wind!
This sweetheart neckline and spaghetti straps are elevated with richly detailed cotton lace all over. 
Rapunzel
Curious and excitable with famously flowing locks, these dresses are full of draped fabrics and subtly feminine details.
This ballgown features a cotton-lace bodice and a soft A-line skirt. 
Iridescent ivory flowers and silvery beading cover this spectacular gown.
Dual-illusion sleeves drape down to the floor in this mesmerizing Rapunzel gown!
Dramatic floor-length chiffon and tulle are elevated with a bow-tied back and lace detailed bodice.
Snow White
Regal and classic, Snow White is the epitome of Disney and the original true-love princess!
Featuring a classic square-necked bodice and a soft A-line tulle skirt, this dress brings touches of modernity to a princess look.
This full-pleated satin skirt is adorned with apple blossom appliques, cap sleeves, and a laced back.
Floral lace, sequins galore, and classical off-the-shoulder sleeves, this dress is the epitome of fairy tales. 
This champagne dress features delicate apple blossom appliques over a light A-line tulle frame.
This dress features floral beadwork and woodland motifs to emulate the magical forests. 
Stunning three-dimensional apple blossoms set this beautiful gown apart. 
A traditional number with a high neck and A-line satin skirting fit for a princess.
Tiana
Curious and unique, Tiana walks to the beat of her own drum, with her dress collection inspired by her free spirit!
New Orleans and jazz club-inspired, this dress features art-deco beading over sleek silhouettes. 
Tiered ruffles and lace galore add volume and drama to this jazz-inspired gown.
With sparkling sequins and soft tulle layering, this dress glimmers in the firelight, perfect for a nighttime stroll with your lover.
Heavy beadwork and geometric shapes finish off the Tiana collection, hugging your curves and swerves. 
Final Thoughts
There you have it, the entire collection of Disney Princess Wedding Dresses (see also: 5 Wedding Dress Bustles You Will Love)fit for any royal ball and fairy tale wedding of your dreams, with more always being added!

Latest posts by Lisa Plaitt
(see all)