If you grew up watching Beauty and the Beast there is a high chance that you dreamed of one day finding your own Beast and dancing around an ornate ballroom to "Tale as old as time". 
Now that you have found your Beast and you are getting married, you can create your very own fairytale, Disney wedding that you've always wanted.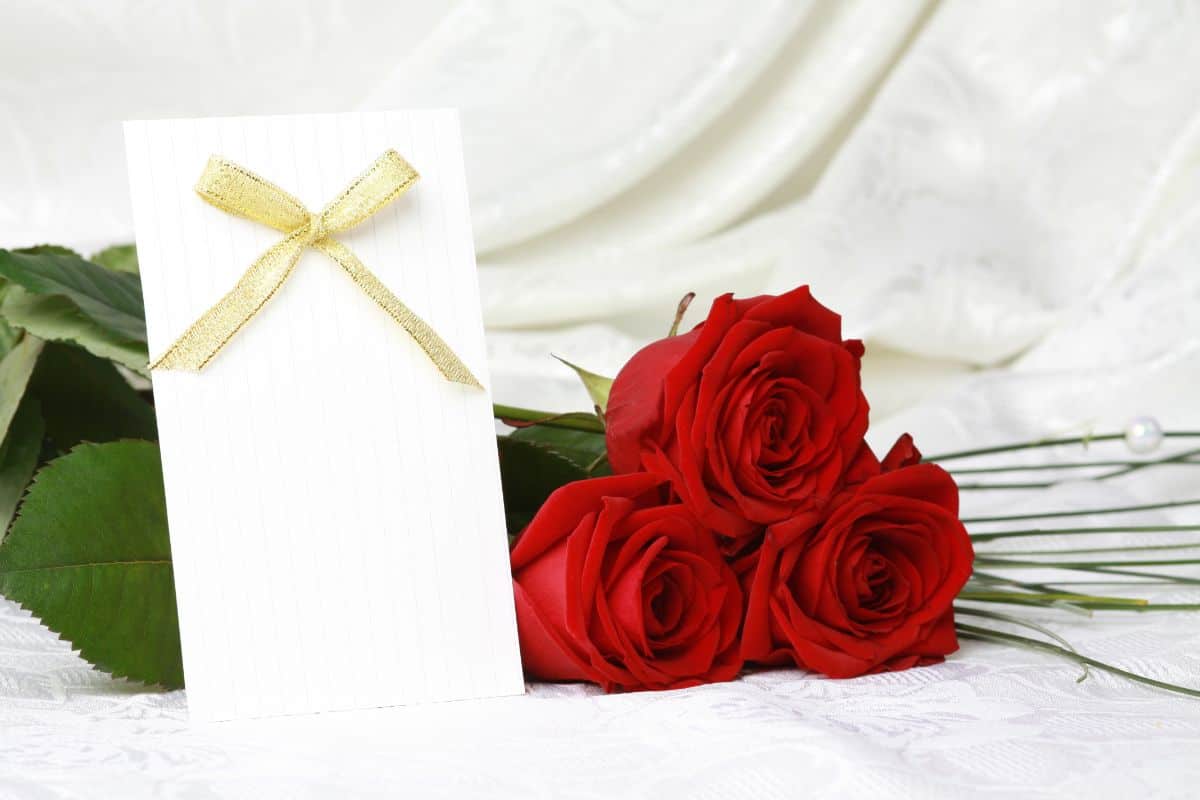 The first step in getting your Beauty and the Beast fairytale wedding is sending out the invitations. 
In this article, we will look at 10 ideas to help you create Beauty and the Beast inspired wedding invitations that are fit for a princess.
Subtle Or Obvious?
One of the more generic but important decisions that you need to make when designing your wedding invitations is whether you want to have a subtle nod to the movie or whether you want to go all out with the Disney theme.  
Both options will give you plenty of options in terms of design and both will generate equally as beautiful invitations. 
Once you have decided on subtle or obvious references, you will be able to start thinking about the more specific details of the invitations.
Color Scheme
One of the easiest ways to add a touch of Beauty and the Beast to your wedding invitations is through the color scheme that you choose. 
This color scheme can also spread to your actual wedding day if you so choose.  There are a few options that you can go with for your Beauty and the Beast invitations. 
The most common and obvious color choice is yellow or gold and blue. These colors symbolize the color of Belle's ball gown and the color of the Beast's suit. 
If you run with these colors throughout your wedding the bridal party and groomsmen can wear the corresponding colors. 
Gold and royal blue work well together to create a sophisticated look for your invitations.
Similarly, you can choose to incorporate the red of the enchanted rose that plays such an iconic role in the movie. 
Selecting a dark red or burgundy color for the base of your invitations with gold writing and detailing can be a subtle nod to Beauty and the Beast while remaining elegant and sophisticated. 
Again, these colors can run through your wedding decorations to continue the theme.
References
A fun way to give your wedding invitations a Beauty and the Beast theme is to incorporate references to the movie into their wording. 
The Disney Beauty and the Beast movie is one of the most romantic stories of all time and the script lends itself well to wedding invitations. 
Quotes such as "Tale as old as time" or "Be our guest" make great references to include on the front of your wedding invitations.  
There are less well-known quotes from the movie that also make for great references to use in your invitations. 
If you are sending out save-the-date cards, "When the time is right, confess your love" is a wonderful quote to emboss on the front.
Imagery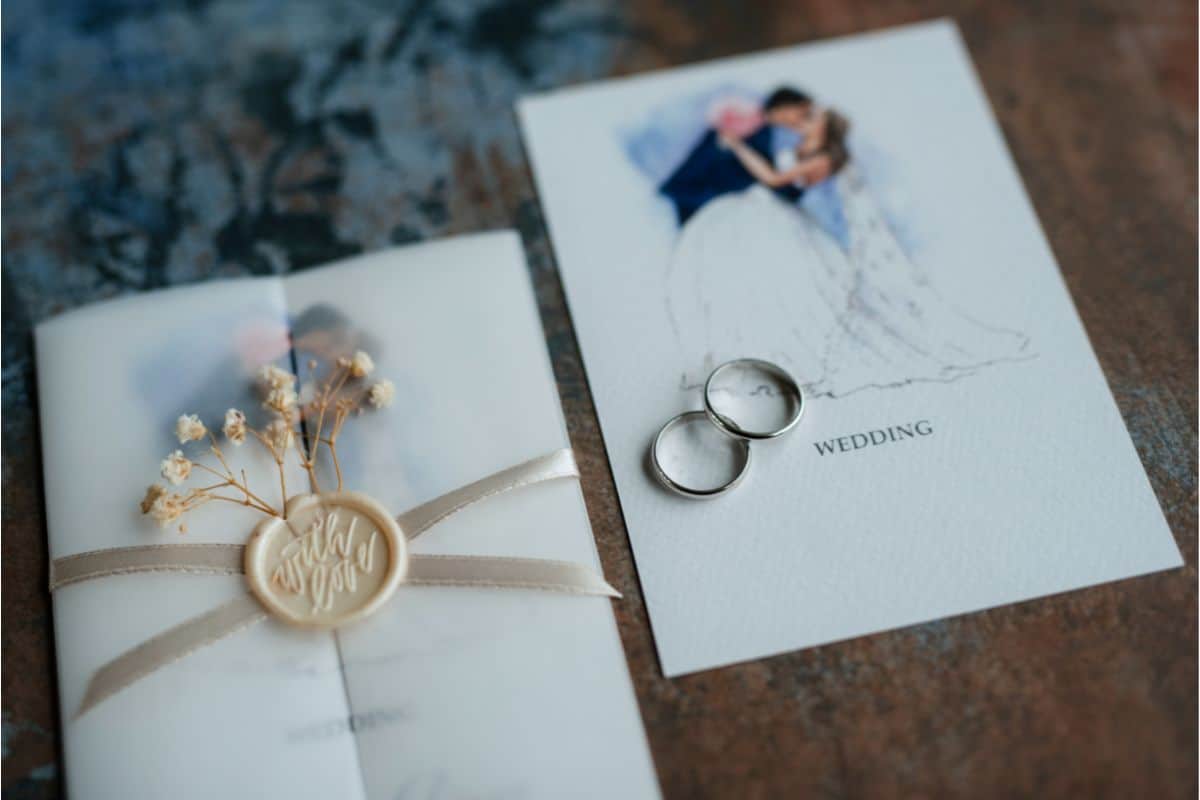 As with any Disney film, there is plenty of iconic imagery that you can use from Beauty and the Beast for your invitations. 
If you want a more obvious Disney Beauty and the Beast theme at your wedding, you can emboss your invitations with images of the characters from the animated movie. 
This can result in fun invitations that make your guests intrigued about what your wedding will be like and how it will be different from regular weddings.  
If you are looking for a more subtle Beauty and the Beast theme, your imagery can involve roses, cloches, and candelabras. 
This type of imagery will stand out to guests who also have a love for Beauty and the Beast, however, they can appear as traditionally romantic symbols to those who are not as familiar with the movie. 
This is a great option if you are looking to create a subtle and sophisticated Beauty and the Beast themed wedding.
Envelopes
Although it can be easy to overlook the envelopes that you are sending your invitations in, they can be a valuable asset in building your Beauty and the Beast theme.  
If you have decided on a Beauty and the Beast inspired color scheme, you can continue this to your envelopes. 
If you are using a regular envelope, choosing a gold color can add an extra layer of magic and reference to the movie. 
Alternatively, you could get creative with your envelopes and create a cutout style in the shape of the castle or even the castle gates that your guests have to open to access the invitation.  
Folds
Your wedding invitations do not have to be a flat, single piece of card. 
There are many ways in which you can fold and modify them to make them more intricate and add to the Beauty and the Beast theme.  
An example of this would be folding and designing your invitations to look like a storybook. 
This is a wonderfully subtle way to incorporate the Beauty and the Beast theme into your invitations, linking to Belle's love of books as well as the story that you love so much. 
If you felt particularly creative, you could add extra pages to your invitations where you provide a brief version of your love story with your Beast, and add blank pages at the back where guests can write their own stories of your relationship. 
These guest stories can then be used to make up part of your guest book or wedding memories. 
Alternatively, your invitations could feature two vertical folds that create three panels. 
The two side panels can be cut into the shape of roses and used to cover the main part of the invitation.  Again, this creates a low-key reference to the Disney movie.
Scrolls
An alternative option to folding your invitations or using envelopes is to create a scroll invitation. 
This style of invitation will be a little more expensive than your standard enclosed envelope invitations, but the effect can be worth it if your budget stretches to it.  
Sending the invitations to your loved ones in the form of a scroll really evokes the time period that Beauty and the Beast is set in. 
It can also be a great jumping-off point if you want to create your Beauty and the Beast wedding around the time period as well as the Disney movie. 
Scroll invitations are also a great way to leave a lasting impression on your guests and loved ones.
Shape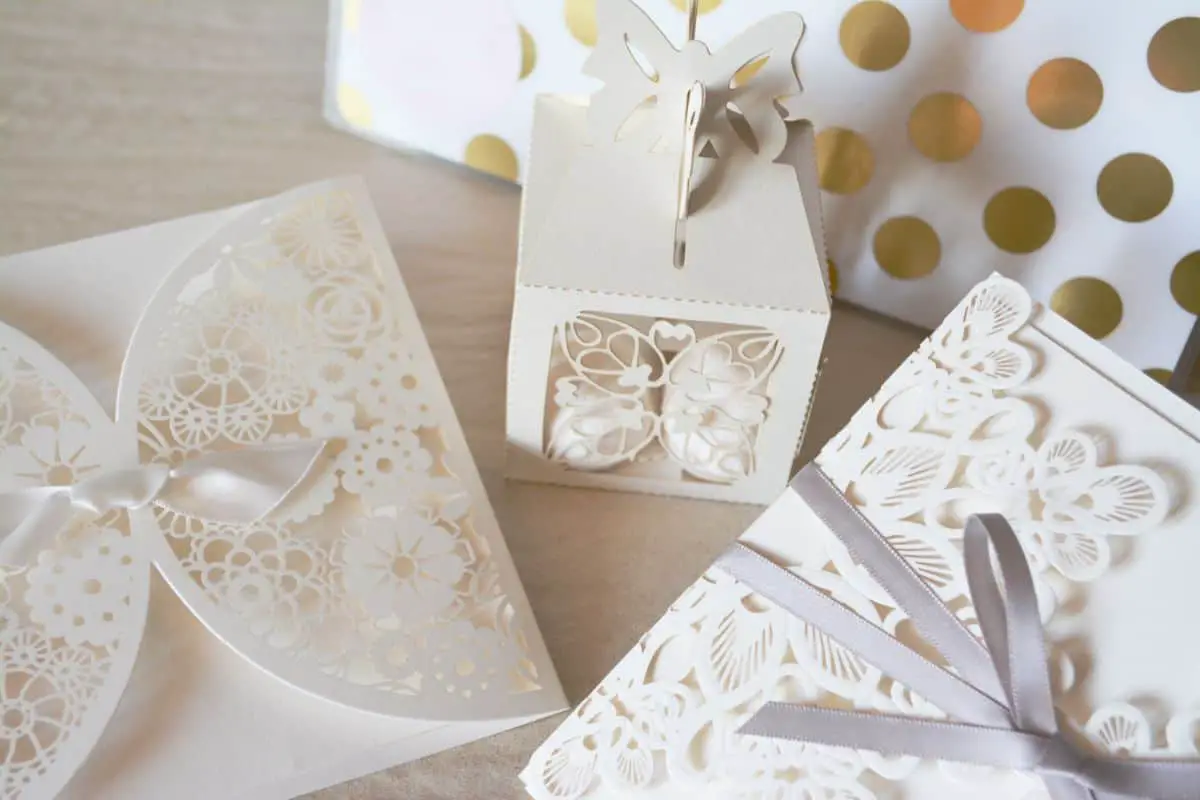 The shape of your invitations is another way in which you can incorporate the Disney Beauty and the Beast theme into your wedding. 
Instead of sending out standard, rectangular invitations, you can shape them into an object that is linked to the movie.  
For example, you could choose to style your invitations in the shape of a cloche, you could even have the enchanted rose printed behind the words to reinforce the theme. 
Similarly, you could shape them like the castle from the movie, or even a large, bloomed rose. 
All of these shapes link beautifully into the Disney, Beauty and the Beast theme, and create a fun invitation for your guests to display on their refrigerator or noticeboard.  
Typography
The typography or the font that you choose for your invitations is another great way that you can bring Beauty and the Beast as well as Disney into your wedding(see also: 125 Disney Quotes For Wedding Speeches, Vows, Invitations & More). 
If your wedding is mostly going to be generally Disney-themed, you could use the famous Disney font for your wedding invitations. 
However, if you want to retain a focus on Beauty and the Beast and you want to create an elegant feel for your wedding, you can choose to stick to the font that is used for the Beauty and the Beast title.  
Silhouettes
A final design decision that can add a nod to the movie is the inclusion of silhouettes. 
It can be quite common online to see silhouette cutouts of the Beast and Belle on various pieces of merchandise and paraphernalia.  
Adding silhouettes to your invitations can give them an upscale, sophisticated look especially if they are layered over a contrasting color. 
For this, you could choose a common pose of the Beast and Belle as they are dancing or have their foreheads close together. 
However, if you want it to be a more delicate reference to the movie, you could add silhouettes of yourself and your betrothed in a similar pose to Belle and the Beast. 
Final Thoughts
There are many options for designing Beauty and the Beast inspired invitations for the Disney wedding of your dreams. 
Whether you want a full-blown Disney wedding, or you prefer to include some more subtle, delicate nods to your favorite movie, you can create memorable invitations that will encapsulate the magic of your special day. 

Latest posts by Lisa Plaitt
(see all)