One of the main features of any wedding celebration is the cake that the newlywed couple will cut together and share with their family and friends. 
At many weddings, it is the cake that takes center stage on the day and that people look forward to all evening.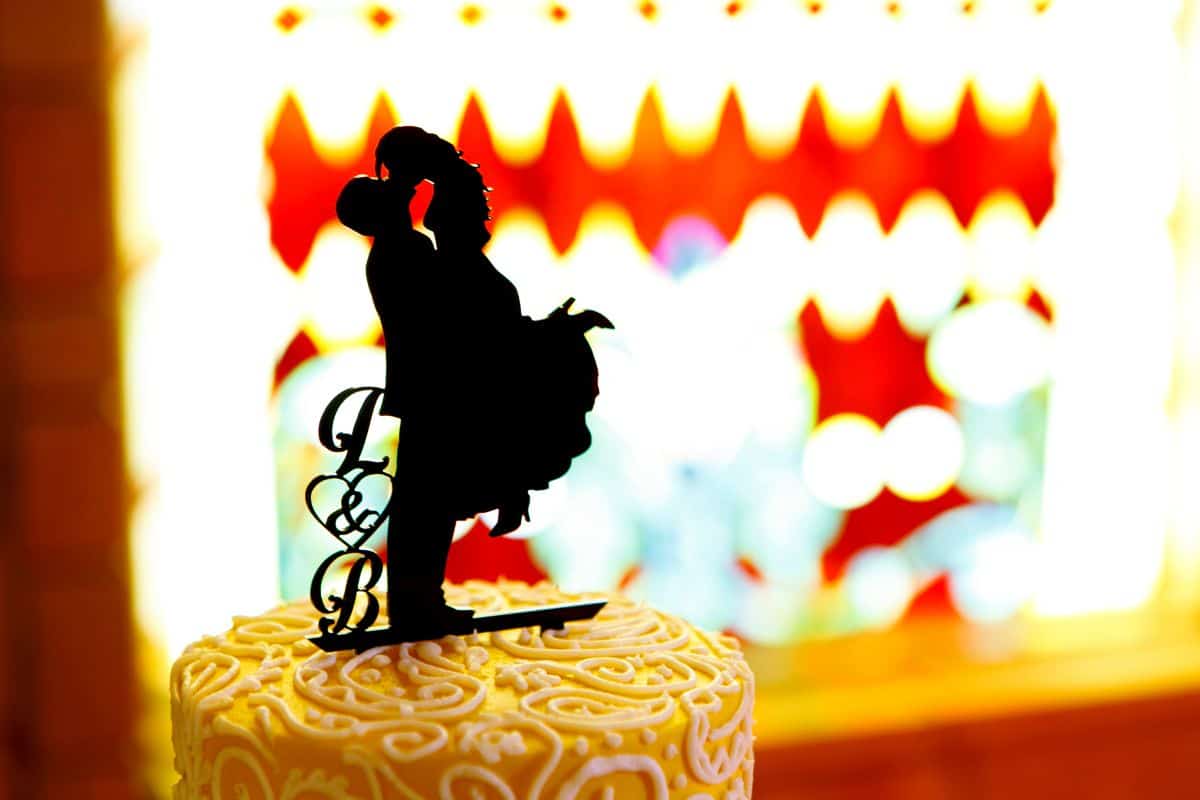 Therefore, the wedding cake topper that you choose can be a fun way to continue the Beauty and the Beast theme. 
In this article, we will look at 10 of the best Beauty and the Beast wedding cake topper ideas to help you create the Disney wedding of your dreams.
For more Beauty and the Beast themed wedding inspirations, check out our related articles:
Funko Pop
This is a wedding cake topper that will appeal to a very select niche of people. 
However, if you are a fan of the Funko Pop range and have Belle and the Beast figures, they can make for a really fun topper for your wedding cake. 
If you don't already have them, they can be a great wedding gift to yourself and your betrothed and create fun memories of your wedding day that you can display in your home forever. 
Alternatively, if you are a fan of any other type of collectible action figure or doll that is Beauty and the Beast related such as a Barbie, that can also work for a unique cake topper that reflects your personality perfectly.
Disney Figures
In a similar vein to the Funko Pop topper idea, using Disney-branded figurines can make for a beautiful, unique topper that adds the perfect finishing touch to your wedding cake. 
There are many different types of Beauty and the Beast figures that are available directly from Disney either online or in their stores. 
You can choose to have separate Belle and Beast figures that are in your respective preferred styles which can be a great way to display both of your personalities through your topper. 
If you want to make your wedding cake topper even more special, you could visit a Disney store within a Disney park to go wedding shopping, or combine the trip with your bachelorette party. 
Silhouettes
Another option for a gorgeous cake topper is a silhouette cut-out.  To keep in line with your Disney, Beauty and the Beast theme, a silhouette of the Beast and Belle dancing in the ballroom is a great idea. 
There are many different places online where you can have silhouette cake toppers made with any image that you want. 
This means that you can have any still from the movie made into a cake topper. 
Alternatively, if you want to get really creative with it, you can recreate a scene with your fiance in photographs and have one of those turned into a cake topper that is entirely unique to you. 
Quotes
Similar to the silhouette cake toppers that are available, you can have your favorite quote from Beauty and the Beast made into a sleek cake topper written in the font of your choice. 
Whether you choose to go with a popular well-known quote such as "Tale as old as time" or you prefer a lesser-known line like "When the moment is right, confess your love", it can make a really personal cake topper.  
This is also a great way to add a little bit of the personality of your relationship and romance into your cake and this particular element of your wedding celebration.  
Icing Figures
If you want a slightly more traditional style of cake topper, it is possible to have Beauty and the Beast inspired toppers made from icing. 
This is a wonderful option for anyone who wants to encapsulate tradition with a twist. 
There are so many options that can be explored with this type of cake topper.  You can have Belle and the Beast made as they are in the movie. 
However, if you are looking for a more personal touch, you can have you and your betrothed made from icing in Belle's dress and the Beast's suit. 
It is also possible for other characters to be made out of icing to adorn the top of the cake and create a great scene.
Castle
If little people made of icing and quotes on sticks aren't your cup of tea you can go in a completely different direction with your topper. 
In keeping with the Disney Beauty and the Beast theme of the wedding, you can have a topper made in the shape of the Beast's castle. 
This can either be made from plastic, metal, or even icing if you have a big enough cake.  
Having the castle as your wedding cake topper can create a beautiful symbol of the life that you and your betrothed are going to build together in your happily ever after.
Enchanted Rose
Another option for a creative Beauty and the Beast wedding cake topper is the enchanted rose.  Depending on your budget, you could even have the rose placed inside a sugar cloche. 
If this is something that you are looking for, you may need to reach out to a cake maker who specializes in sugar work in order to ensure that the cloche is transparent and beautiful. 
Alternatively, you could invest in a plastic or glass cloche that will be easier to preserve afterward.
There are so many options for different variations that can be applied to the design of this type of topper. 
You could opt to have the rose in full bloom, looking gorgeous, or for a bigger nod to the movie, you could have the top of the cake covered in fallen petals with the last one remaining on the rose head. 
Beauty And The Beast Collectibles
An alternative option, similar to the Beauty and the Beast action figures, is to use collectible figurines as a cake topper. 
The Disney Traditions range can be a really great option.  This range is so extensive that there are multiple options for any personality and aesthetics. 
It is important to note that if you are going to use a collectible ornament such as the ones in the Disney Traditions range, your cake may need to be reinforced with down rods or some sort of thin lid to help spread the weight. 
If you are having your cake professionally made, you should discuss your choice of topper with them so that they know what type of support your top tier will need.
Cake Pops
A cute alternative to more traditional cake toppers is to have cake pops made.  This can be great for Disney weddings that have a lot of children present who won't necessarily want a slice of cake. 
The cake pops can be decorated to look like the roses from the Beast's rose garden.  This would give a subtle nod to the Disney movie and create a beautiful effect on the top of your cake. 
It would be even more effective if your cake features a cascade of roses as well. 
The cake pops toppers also give you the option to have different types of cake available for your guests which can help to keep everyone happy and have a variety of flavors available. 
Happily Ever After
If you have a lot of Beauty and the Beast specific decorations running through your wedding already, you may not want to be too specific with your cake topper. 
It is possible to keep a hint of Disney without feeling too on the nose in terms of a Beauty and the Beast theme. 
Having a cake topper that simply spells the fairytale magic words "Happily Ever After" can add a romantic touch to your wedding celebrations.  
This is also a great option if you have had a long road to your wedding or are known among your friends and family for wanting that fairy tale ending with your very own Disney prince.
Final Thoughts
There are many different options for your Disney-inspired Beauty and the Beast wedding cake toppers. 
There are a lot of different styles of toppers that can be turned into Beauty and the Beast and create the perfect finishing touch for your wedding cake.  
Whatever type of cake topper you end up choosing, it is important to inform or discuss it with your cake maker so that they can make any appropriate changes to your cake if necessary. 
One of the best things about the cake toppers in this article, aside from the cake pops, is that they can be preserved long after the day is over and serve as a great memory of the happiest day of your life. 

Latest posts by Lisa Plaitt
(see all)