There are many ways to incorporate your favorite childhood film into the Disney wedding of your dreams. 
You can create themed menus and drinks, you can name your tables after your favorite characters or movies, and you can even play your favorite Disney song for your first dance.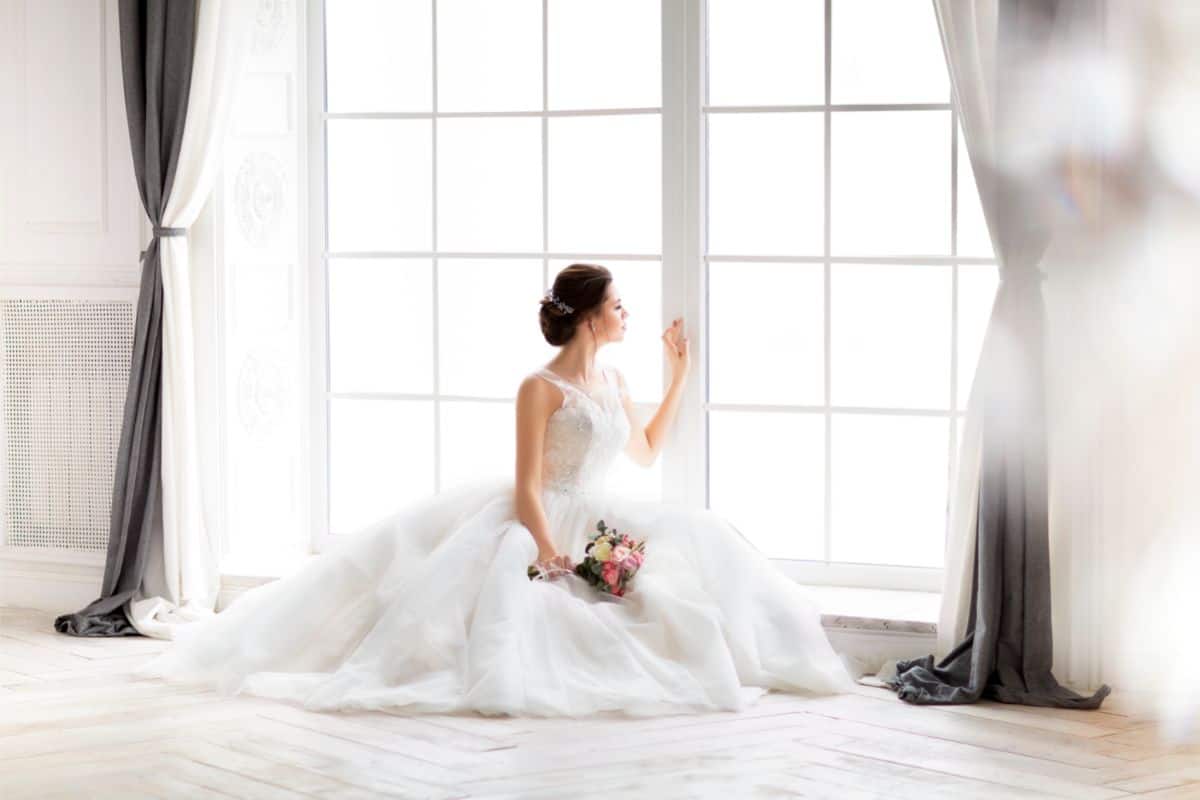 However, one of the best ways to make you feel like a princess on your special day is to have a wedding dress (see also: 15 Best Sexy Wedding Dresses For Your Special Day)that is inspired by your favorite character. 
In this article, we will look at 10 ways in which you can channel Belle and Beauty and the Beast into your wedding dress and bring some of that Disney magic to your wedding day.
Ball Gown Cut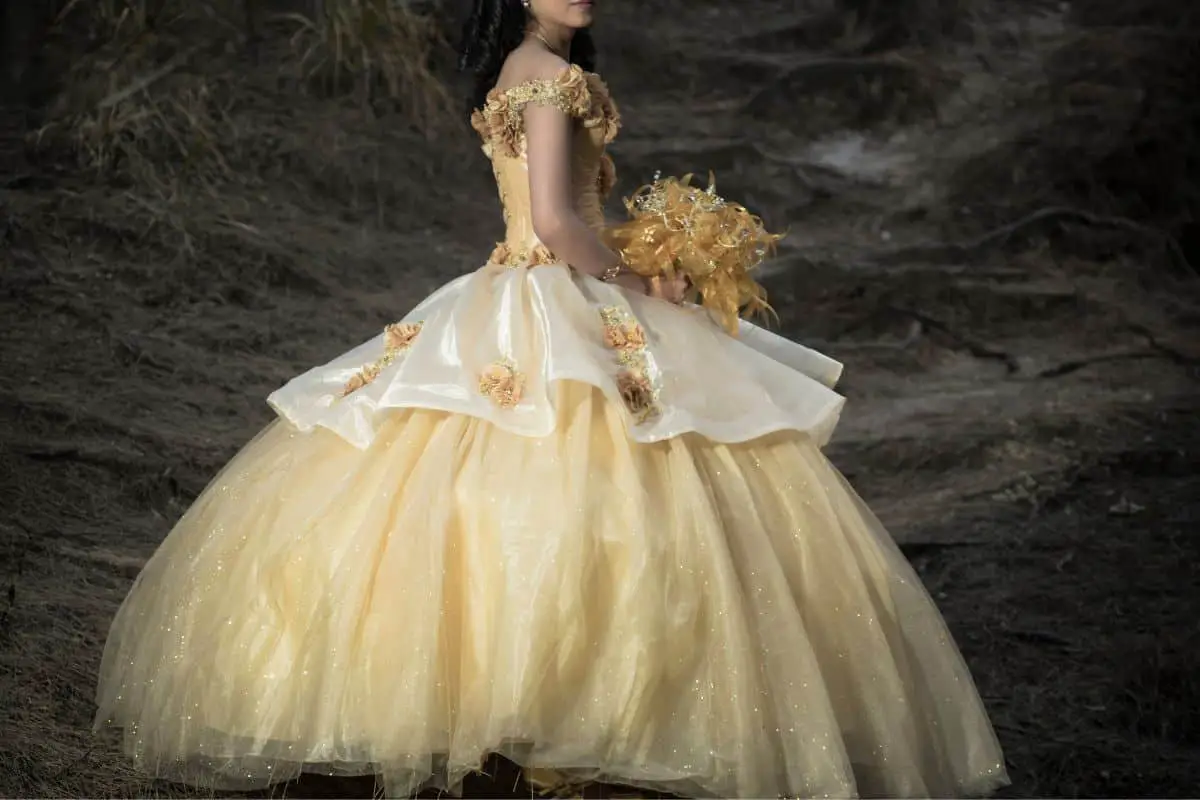 One of the greatest ways to incorporate Beauty and the Beast into your wedding dress is to choose a ball gown cut. 
It is this cut that will give you a similar silhouette to Belle in her famous yellow dress. 
If you want to replicate the folds and volume of the iconic ball gown in the movie, ensure that you find a ball gown cut dress that has a meringue skirt. 
If you don't want the bulk and weight of a full ball gown with a meringue skirt, you can create a similar effect with layered soft tulle.
There is no doubt that this cut of wedding dress will have you instantly feeling like a princess in your own Disney movie, simply add some long satin gloves to add to the Beauty and the Beast feel. 
Keeping this style of dress in a traditional shade of white makes the nod to Beauty and the Beast subtle, sophisticated, and grown-up.
Basque
If a full ball gown skirt isn't your style but you still want to incorporate Belle's dress into your own a basque style could be a great choice. 
The structured, body-hugging design of a basque is a wonderful way to add an aspect of Belle's iconic dress without adding the bulk of a full ball gown.  
No matter what style of skirt you opt for, a basque will give you a princess feeling and silhouette. 
The range of skirt cuts that complement this style is broad so you will be able to experiment with various skirts to find one that feels magical to you. 
Remember that basques contain boning that can be made of metal or animal bone, it is important that you choose a good quality basque that fits you properly so that you remain comfortable on your special day.
Princess Cut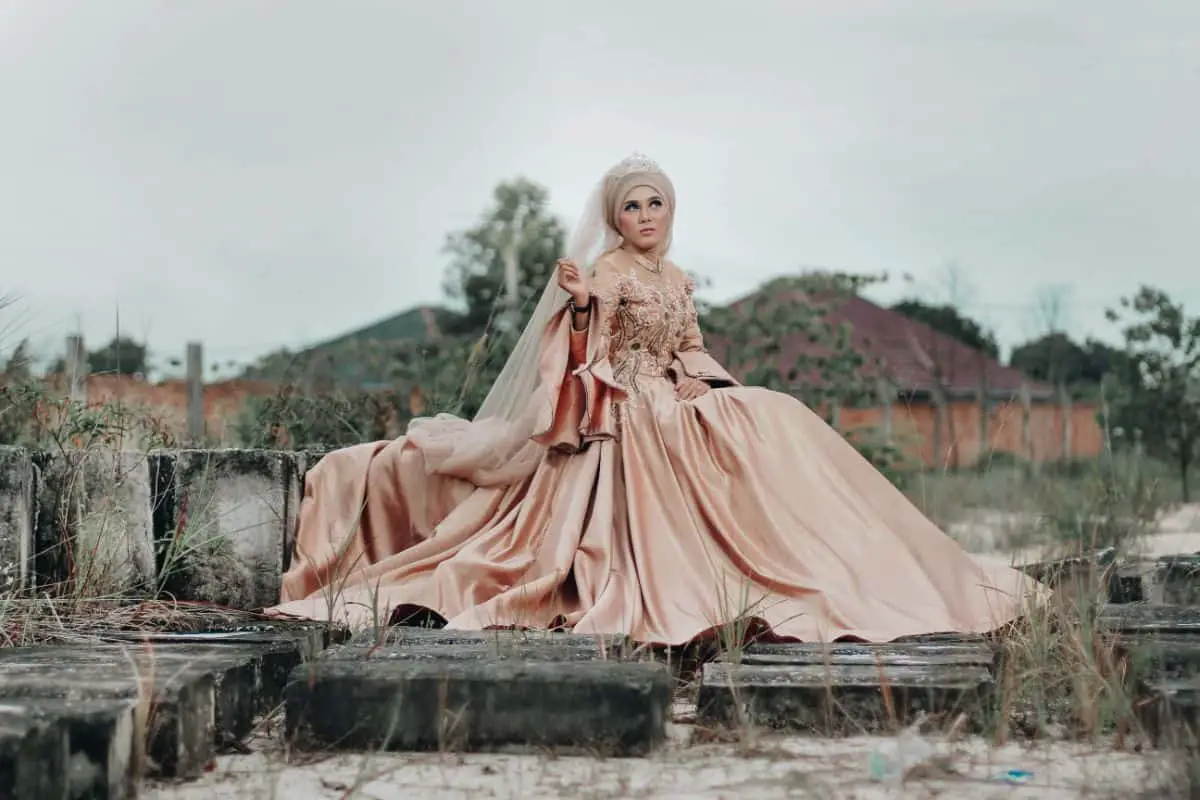 As the name suggests, this style of wedding dress is designed to make you look and feel like a princess. 
Again, this is a cut that has much less bulk than a traditional ball gown cut but it still maintains that elegant, princess-like silhouette that every Disney bride loves. 
Princess cut dresses often feature an A-line style that allows you to have some volume at the base of the dress without it feeling heavy and weighed down. 
Although this dress has a different silhouette from the meringue ball gown skirt that most closely resembles Belle's famous dress, it will allow you to gracefully sweep down the aisle and through your reception venue looking every inch the Disney princess. 
If ease of movement on your wedding day is hugely important to you, this is a great cut.
Tea Dress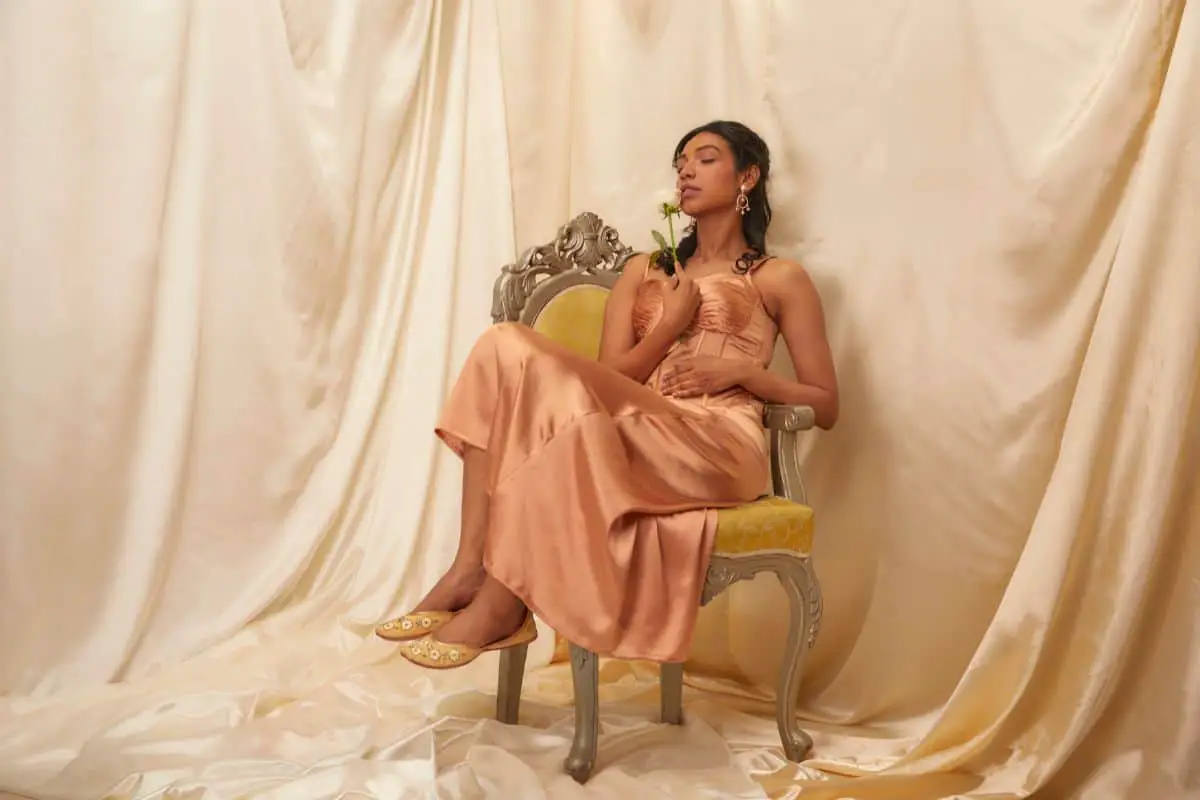 A tea dress cut is a very different look than most of the other dress styles that we have mentioned. 
A tea dress is significantly shorter than more traditional wedding dresses and can be a great option if you are getting married somewhere that is very hot and humid. 
This style of a wedding dress can be great if you are a bigger fan of Belle's blue dress than her princess dress.  
A tea dress is just as elegant and beautiful as a full-length gown and has a more easy-going, flirty feel to it than more formal dresses do. 
If you are the sort of bride that wants to feel flirty and cute and be able to throw some shapes on the dance floor, this is the Belle-inspired style for you.
Bardot Neckline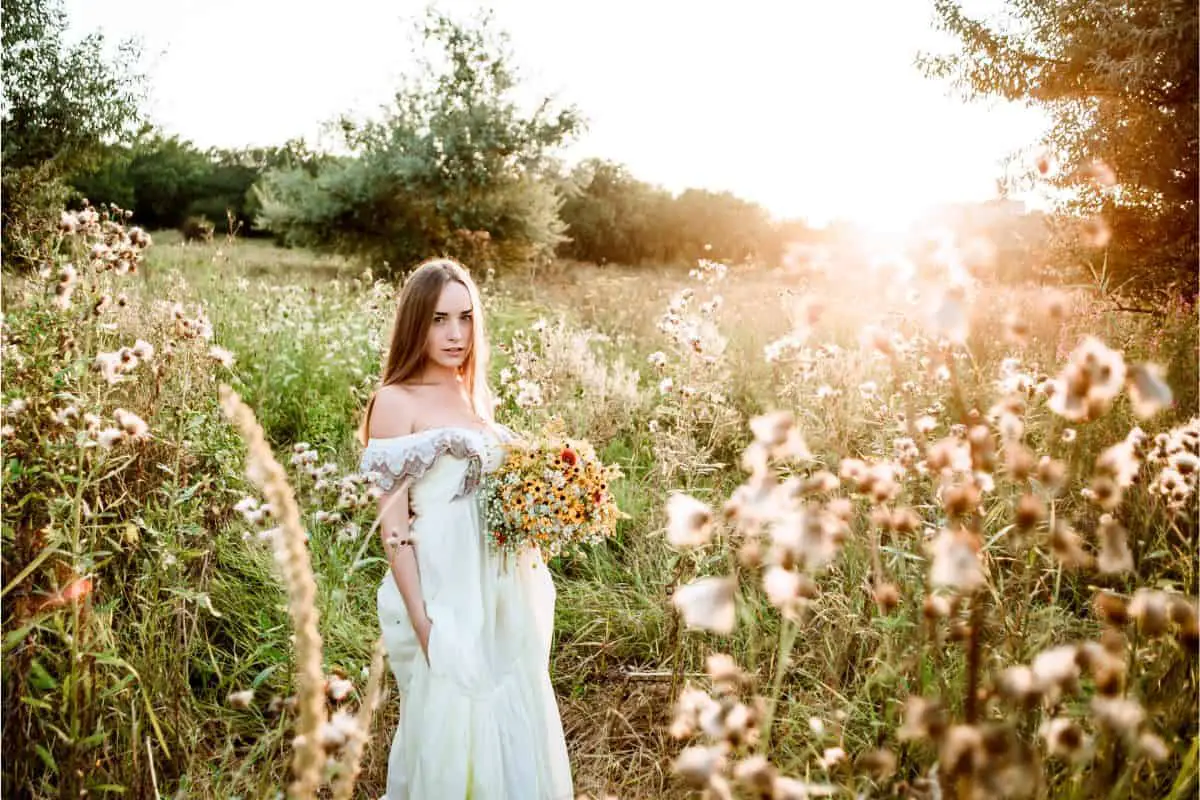 A Bardot neckline on your wedding dress will give you the ultimate Beauty and the Beast feel. 
In the movie, Belle's ball gown dress features a slight Bardot neckline that appears to be made of tulle.
The beauty of a Bardot neckline is that it looks great on every body type and with every skirt cut.  
Combine a Bardot neckline with a meringue ball gown skirt for a full Belle tribute in your wedding dress. 
However, for a more subtle nod to the movie, a Bardot neck with a straight dress cut will still channel Belle and princess vibes.
Bateau/Boat Neckline
A wedding dress with a bateau or boat neckline is a great alternative to the Bardot neckline if you are a little bit self-conscious about your arms or shoulders. 
With a boat neckline, your collarbone area and some of your decolletage are still exposed, like Belle's, however, there is more coverage on the arms, and full sleeves can even be used. 
The boat neckline is a very elegant and sophisticated look that offers a subtle hint of the Beauty and the Beast dress without being too overt or loud. 
If you are pushing your Disney theme through your decorations at your wedding, this can be a nice little touch without feeling over the top.
Square Neck
A square-necked wedding dress is one of the most subtle nods to Beauty and the Beast that we have included in this article. 
The square neckline again exposes your collar bone area and décolletage like Belle's ball gown does, however, a closer link to the original movie is the square neck of Belle's blue pinafore style dress. 
While the shirt that Belle wears under her blue dress has a V-neck cut, the blue dress itself has a square neck. 
In the live-action movie, the gown worn by Belle does also feature a more square neckline. 
If you prefer Belle's blue dress to her princess gown, this can be a fun way to incorporate your favorite princess into your dream Disney wedding.
Strapless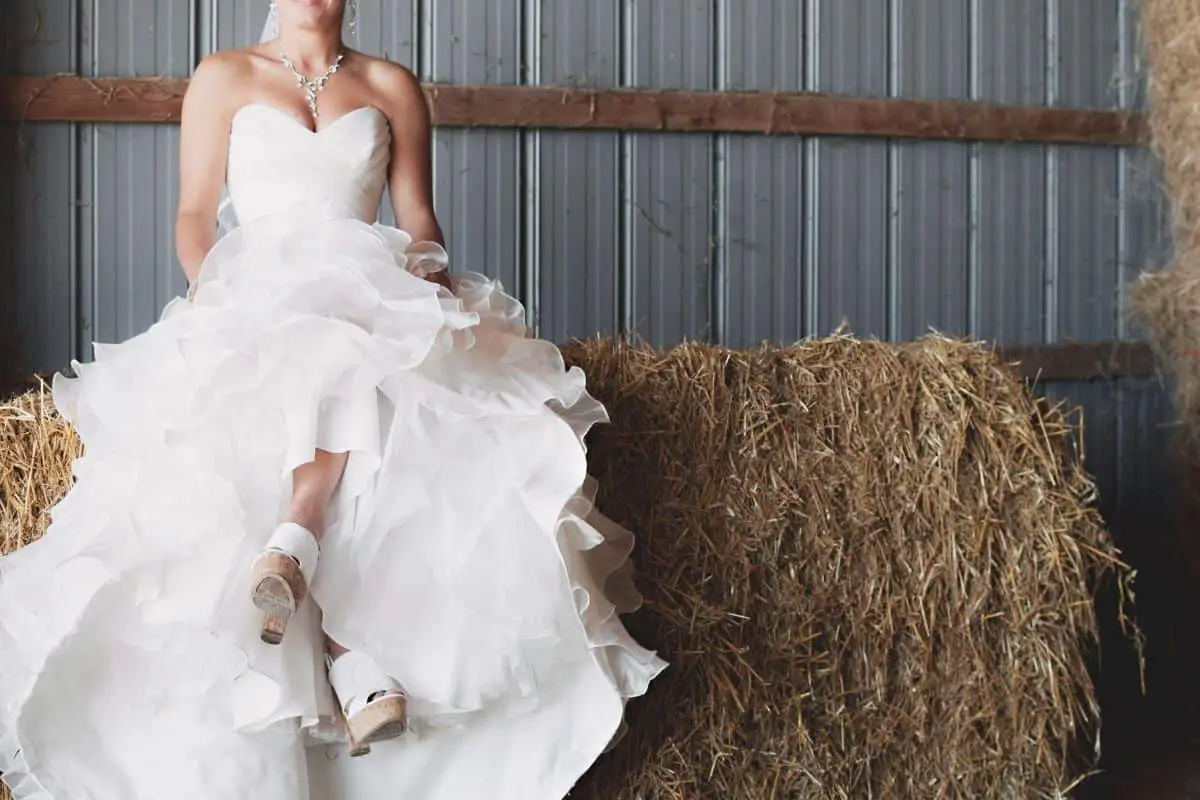 If Bardot isn't really your style, a fully strapless cut can still channel the princess gown from Beauty and the Beast. 
As with other dress styles that we have mentioned, the strapless style can look great with a full ball gown skirt and a slimline straight cut skirt. 
If you want simple and understated, a strapless dress with a straight skirt is a beautiful option. 
However, if you are looking for a more traditional silhouette, a strapless dress with a ball gown skirt will exude princess energy.
Sweetheart Cut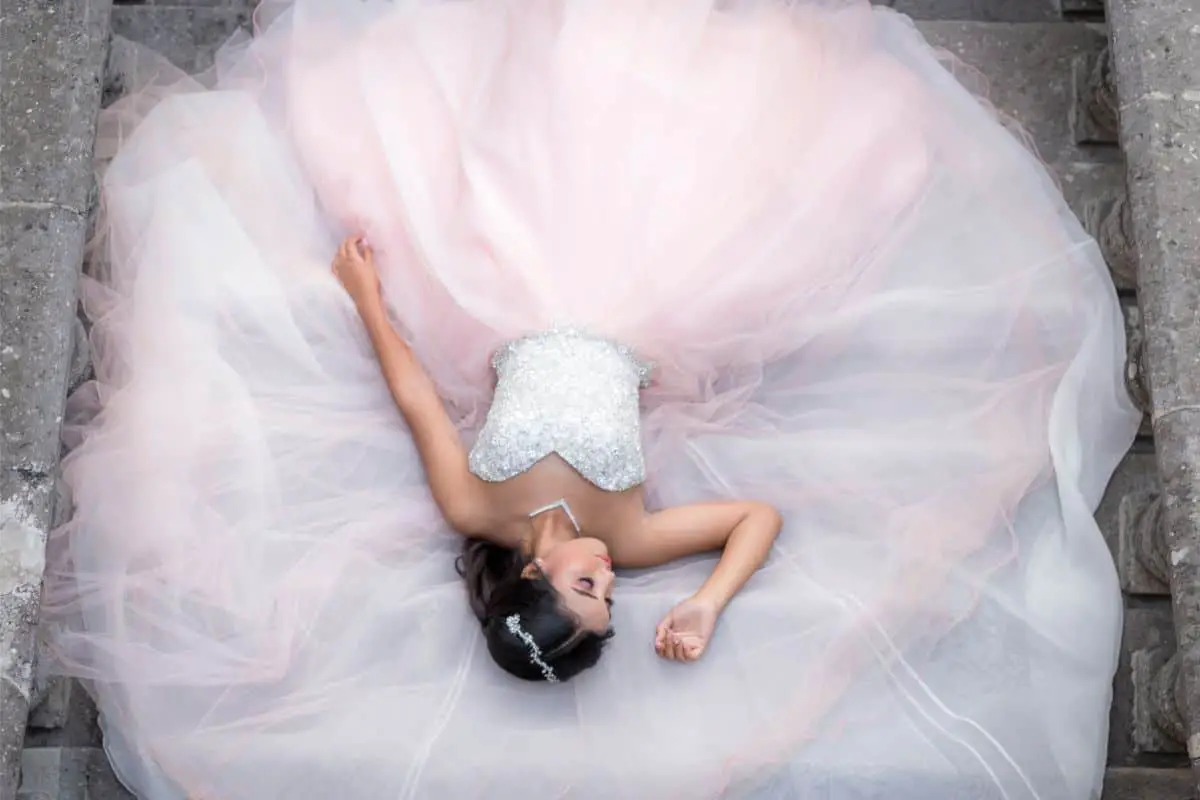 The final wedding dress cut that can make a great Beauty and the Beast tribute in your wedding is a sweetheart neckline cut. 
Although Belle's dresses in the movie do not feature this specific neckline, the Bardot nature of her dress lends itself to a sweetheart style cut. 
The combination of a sweetheart neckline and Bardot tule create a wonderful princess wedding dress that will make you feel like you are part of your very own Disney fairy tale.
Color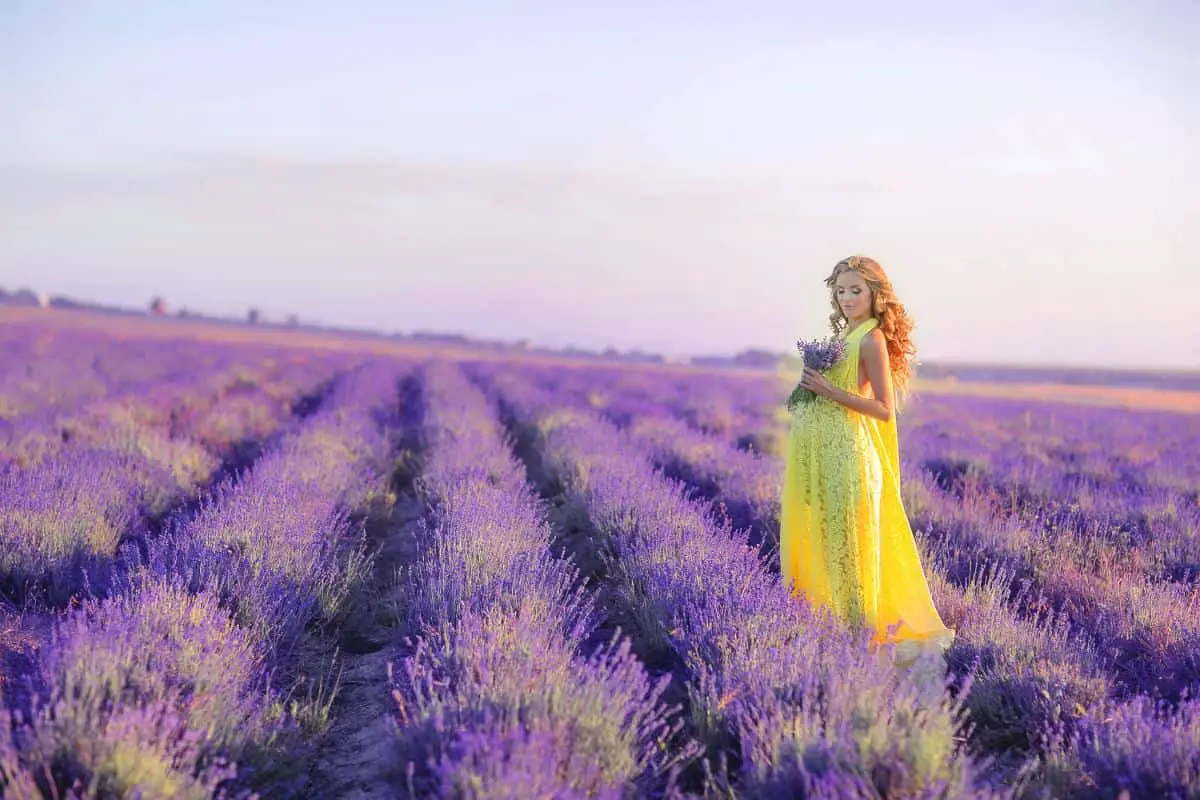 The final thing that can help give your wedding dress a Beauty and the Beast feel is the colors that you use. 
While the most obvious way to bring Belle to your wedding is to have a yellow or golden wedding dress, a lot of brides don't want that. 
You can still have the traditional white dress and have nods to Belle through color.
Adding a thin, pastel yellow ribbon around the waist of your dress can be an elegant touch to pay homage to your favorite Disney princess. 
Similarly, the ribbons that you use to tie your bouquet can be a subtle way to incorporate both Belle and the Beast into your special day. 
A combination of yellow and royal blue ribbons can bring Beauty and the Beast magic to your wedding.
It is also possible to have a lining sewn into your dress that is the yellow of Belle's ball gown as a way to acknowledge your favorite character in the most subtle way. 
This can also create a beautiful effect during your first dance, particularly if your betrothed twirls you on the dance floor.
Final Thoughts
There are many ways in which Belle and Beauty and the Beast can be incorporated into your wedding through your wedding dress, from the cut of the skirt to the neckline that you choose. 
Taking individual features from Belle's iconic dresses, or picking recognizable colors from the movie can provide a subtle and elegant tribute to help create the Disney wedding that you have been dreaming of ever since you first saw Belle with her Beast.

Latest posts by Lisa Plaitt
(see all)