For a non-traditional wedding dress there are few colors that are as romantic and ethereal as lavender. It's not quite blue or purple but a teasing shade in between and lends itself beautifully to a bridal gown.
This hue will have your bridegroom gasp in delight when he first sees you walking down the aisle. So to help you get exactly that reaction we have found 13 beautiful lavender wedding dresses for your special day.
Let's take a look at what lavender wedding dresses are on offer, so you can find your perfect gown for your special day.
This lavender satin and tulle wedding dress is absolutely stunning and will make you feel like a princess on your big day.
The gown has a deep v-neck and the bodice is embellished with beaded lace appliques and has three quarter length illusion sleeves. It fits perfectly to the bride's natural waistline and has a full length skirt which also has beaded lace appliques.
With a ballgown silhouette this beautiful wedding gown also has a chapel train which extends 30-50 cm along the floor.
The fabric is satin and tulle and at the back of the bodice there is a corset style lace up detail. The back of this wedding dress is open almost down to the waist and the front has an asymmetrical ruched effect.
As well as lavender this dress comes in a full range of more than 30 colors. It can also be supplied in chiffon, taffeta, organza, stretch satin, charmeuse, velvet chiffon and satin chiffon.
The sizes that the dress is available in goes from US2 up to US26.
For a truly magical wedding day this lavender satin and tulle dress is perfect, you will look and feel like a million dollars.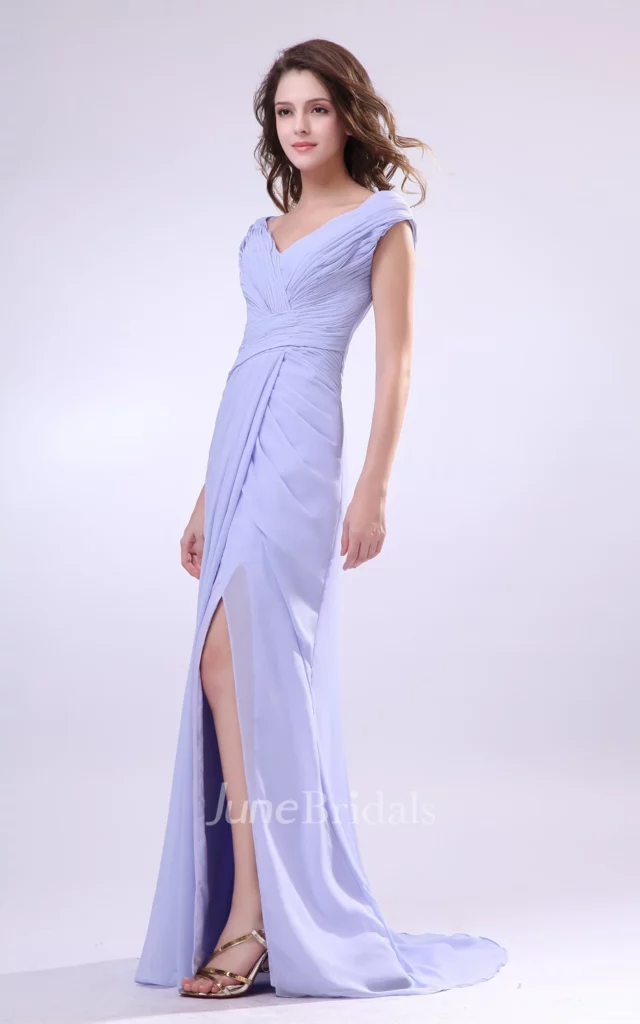 For a second time around wedding this lavender pleated dress is simply beautiful. The shape is an elegant A-line and the gown has a shallow v-neck. The short sleeves sit on the outside of the bride's shoulders and give an almost off the shoulder look.
The length of the dress just brushes the floor with a sweep train making it sophisticated, elegant but still functional for dancing.
There is a deep slit in the skirt which goes above the knee and crisscross detail on the waistline. There is ruching along the bodice and front of the dress. There is a zipper down the back of the dress and the rear of the bodice is deeply ruched.
This gown is available in 48 different colors. To make sure that you choose the right color for your dress you can order a color swatch, so you can see in person what the color looks like on the fabric rather than on a screen.
You will also be able to feel the fabric, so you can decide if it is right for you. When you are ready to order you can choose to have the dress in chiffon, satin, taffeta, and charmeuse.
The gown is available in sizes from US2 to US26W. Alternatively you can order a custom size. You are also able to choose to have a bustle on your dress for a small extra charge.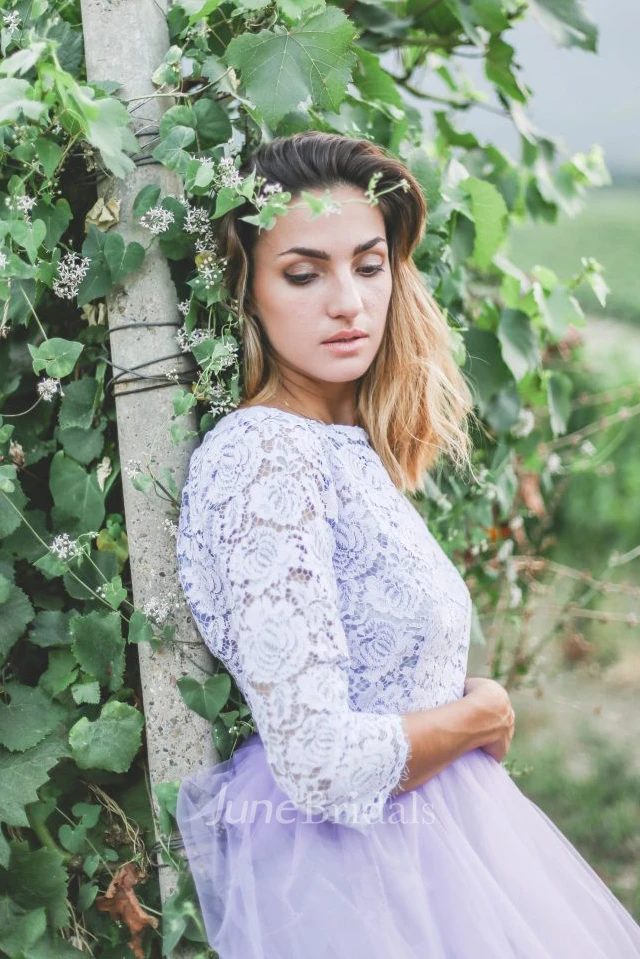 What a truly romantic bridal gown. This lavender wedding dress with a lace top and tulle skirt is perfect for a simple country wedding.
It has a sheath silhouette and a jewel neckline. The sleeves are three quarter length and the back of the dress has a keyhole design. There is a sweep train and a bustle can be added to the dress to keep it off the floor for the reception.
The dress is also available in other colors depending on the fabric that you choose. For example if you have a dress made in chiffon you can choose from more than 50 colors. If you choose to have the dress in satin you have the choice of 40 colors.
Fabric swatches are available so that you know exactly what your dress is going to look like.
Colors on monitors and screens are rarely accurate, so it is advisable to order a swatch of the color you want in the fabric you want before committing to ordering a dress.
This wedding gown can be ordered in satin, chiffon, lace, taffeta, organza or tulle depending on the look that you want and your preferred fabric.
For a Bohemian style wedding this lavender lace dress is as Boho as it gets. The dress is made in a robe style, so the skirt is completely open at the front. The slip dress that goes underneath is purchased separately.
If you prefer the dress can be made so that the front is sewn together making it a single piece. However, you will still need to wear a slip underneath the dress due to the transparent nature of the tulle and lace.
The bridal dress is handmade from beautiful French lace and Italian tulle. Together they create a voluminous skirt with three layers of tulle and an intricately fashioned floral lace bodice.
Full length sleeves are beautifully detailed with floral lace that is extremely flattering and feminine. The back of the dress features two side tulle ties which means it fits really well on most body shapes and sizes. This is also a very comfortable dress to wear.
The train of the dress is approximately one meter, although you can order it without the train. If you order the slip dress it is made from Italian silk and has satin lining in the front and back.
This dress is available in only three sizes as it is so easily altered with the tulle ties. You can choose from 16 lace colors and 150 tulle colors.
For a simple yet elegant look this lavender satin dress is perfect as a wedding gown or bridesmaid dress. It has an A-line silhouette, so it suits a variety of body shapes and types.
It also has a very flattering square neckline. The spaghetti straps are tied in a loose bow at the apex of the shoulders for a minimalist but feminine finish.
The skirt has a thigh high split on one side and the hemline reaches the floor. The back of the bodice is open and there is a rear zipper for ease of getting into and out of the dress.
This dress has the option of purchasing a separate petticoat which will give the skirt a much fuller look. You can also order the gown in 32 different colors and in chiffon, satin, taffeta and charmeuse fabric.
To ensure that the shade that you want is right for you, it's advisable to order a fabric swatch in that color and your preferred fabric choice.
The sizes available in this wedding dress are US2 up to US26W, but there is the possibility to order a custom size too.
A handmade and beautiful lavender wedding gown, this will look stunning on your wedding day. The sheer fabric of the bodice is covered in exquisite floral appliques which cascade down onto the skirt of the dress and onto the sleeves.
The draped, and layered skirt is voluminous and floats romantically as the bride moves. There is a natural waistline and a high but soft, round neckline to the bodice. The bodice is non-corset but features a bra cup.
With its A-line silhouette this dress will look great on most body types. The fabrics included in the gown are cotton, mesh, soft tulle, and organza.
The hemline of this gown reaches the floor, and it has a train which could potentially be bustled as there is a lot of fabric. The dress is fastened with covered buttons at the back of the bodice.
These gowns are made to order, so you will need to supply the maker with your exact measurements and requirements. It is also possible to order different colors and to change certain aspects of the dress according to your personal preferences.
This is a perfect wedding gown for a second wedding or for a more mature bride. It has clean, elegant lines and hangs beautifully.
With a sheath silhouette this dress helps the bride to achieve a minimalist look that still hugs her curves and flatters her figure. The gown has a bateau neckline which goes across the collarbones and creates a clean line at the top of the dress.
The beaded short sleeves have an epaulet type effect and give a little width at the shoulders. The gown is lightly fitted at the waist and has a beaded detail around the waistline. The skirt then drapes smoothly to the floor as it skims over the bride's hips.
A deep V at the back of the dress gives a dramatic rear look and the gown ends in a sweep train. This dress is made in a jersey fabric and this allows it to hang so well.
If you think you will need a bustle this can be added to the dress at a small charge. You can choose between an American, French, or a ballroom bustle.
There is a choice of many colors for this wedding gown, and it comes in all US sizes from 2 to 26W or a customized size.
A fabulously romantic lavender gown which would make a beautiful wedding dress. It is handmade from soft tulle, and silk satin with horsehair trim. The belt sparkles with intricate beading, this is removable if you prefer something less glitzy.
The bodice is a crisscross design that forms a sweetheart neckline and is supported by spaghetti straps. There is a full, cascading skirt which is a combination of soft tulle and a silk satin underskirt.
A low back accentuates the fullness of the skirt which cascades to the floor and has wonderful volume thanks to the horsehair trim. This is a beautifully romantic wedding dress and the color is stunning.
However, if you do want to choose another color there are several possibilities. As the dress is handmade you will need to liaise with the seamstress to discuss any variations. You will also need to supply all of your measurements as each gown is made to order.
When you want to make a statement on your wedding day then this is the way to do it. This is a very dramatic dress, and we don't mean just the color.
With its captivating ruffles which cascade like a lavender waterfall you will feel like a million dollars in this dress.
It is completely sleeveless and has a fitted, crisscross ruched bodice which shows off your figure. There is a built-in bra for support and comfort.
The bodice extends past the waistline to the top of the hips. The skirt is made from layers of ruffles which give a fullness to the lower part of the gown. You won't need a train with this dress as it has all the drama going on in the skirt.
A zipper in the back allows you to easily get in and out of the dress, and it is fully lined for comfort.
The dress is available in all US sizes from 2 to 26W as well as custom sizes. And if you prefer a different color to lavender there are 32 other colors that you can choose from.
If formal is not your thing, and you prefer to do things in a more relaxed way, then this casual beach wedding dress in lavender is perfect for you. There is nothing stiff and formal about this dress which is about as floaty and dreamy as you can get.
The bodice is loose fitting and supported by spaghetti straps. It has a V shaped neckline which is softened by the edges of the delicate lace that makes up most of this dress.
Drawn in slightly at the natural waistline the skirt is also full, loose and flowing. Just right for catching a gentle breeze at a beach wedding. The back is mid-height and the whole shape of the dress allows for freedom of movement.
This is a fully handmade dress and there are other color options available. It is a completely bespoke and custom tailored fit, so you will need to supply the seamstress with your correct measurements on ordering.
If you wanted any variations on this dress then this may be possible by consulting with the dressmaker.
This tulle wedding dress in lavender is very feminine and romantic. It is completely handmade and offers a Bohemian feeling to a wedding celebration. If you are having a rustic, country wedding which is quite relaxed and informal then this is the dress for you.
This dress is so elegant in its simplicity and really needs no other adornment. With a beautiful bouquet of wildflowers you will look every inch the demure bride.
The bodice of the dress is made from French lace with a V front neckline which is embellished with rhinestones, crystals and beads. There is a full silk lining to the bodice so that it remains soft against your skin and there is a high back.
The cap sleeves are in lace and the front of the bodice is hand embroidered. At the natural waistline the bodice gives way to the full bodied skirt. This is composed of many layers of tulle and is also lined with silk for added softness, volume and comfort.
To get in and out of the dress easily there is a zipper on the left side of the bodice.
As the dress is handmade you will have to supply your exact measurements to the dressmaker. You may be able to request a different color of gown, but there is an ivory version available.
If you prefer not to have a traditional wedding dress this appliqued satin dress in lavender is a wonderful alternative.
As it has an A-line silhouette the gown will suit most body shapes. It has a square neckline with wide straps which support the bodice. The upper part of the bodice is appliqued satin as are the straps and the uppermost part of the skirt.
Beneath the appliqued portion of the bodice there is a crisscross detail that accentuates your figure. The dress has a low V back and is fitted with a zipper down the middle. The skirt is quite full but not voluminous and the hemline just reaches the floor.
There is no train, so you don't need to worry about incorporating a bustle into your wedding dress for the reception. This dress will be a dream to dance in without worrying about it getting stepped on.
You can however add a petticoat to this dress to give it extra volume in the skirt which the satin fabric would lend itself well to.
If you like the style of this dress but would prefer it in a different color there are 40 shades to choose from in satin. If you want chiffon as your fabric then there are 50 hues available.
This particular dress is available in sizes US2 to US26W or any custom size.
This wedding dress is the kind of gown that fairy tales are built around, it is truly stunning. Entirely handmade from silk, mesh and lace this is a once in a lifetime dress.
It has an A-line silhouette and so will look wonderful on most body shapes and types. The bodice is mesh which is embellished with beautiful lace appliques.
There is a flattering V neckline and three quarter length sleeves. The back is high and there are covered buttons down the middle of the bodice. There is no corset and no cups in this dress for support.
The skirt of the dress begins at the natural waistline with a stitched in belt and is made of chiffon over a silk underskirt. This gives the skirt a lot of volume and movement adding to the romantic feel of the dress.
The bottom of the dress reaches the floor with a short train creating a soft hemline. If needed you could add a bustle to protect the train of the dress during the reception.
As this is a made to order dress you can discuss your preferences with the dressmaker and incorporate variations into the design. You will need to supply her with your exact measurements so that the dress will be a perfect fit.
Final Thoughts
Not everyone wants to wear white for their wedding and some women are getting married for the second time and white is not appropriate for these occasions. But all women want to look beautiful on their wedding day, whether it's the first or second time.
If you are having a formal ceremony, a second time around wedding or a casual beach wedding there is a perfect lavender wedding dress for the occasion. There are Bohemian style dresses and gowns that are perfect for rustic, country weddings.
We hope that you have enjoyed our guide to beautiful lavender wedding dresses and that we have given you some inspiration for the wedding dress of your dreams.

Latest posts by Lisa Plaitt
(see all)