Where you can shop will expand if your idea of the ideal wedding dress departs from the conventional white wedding gown.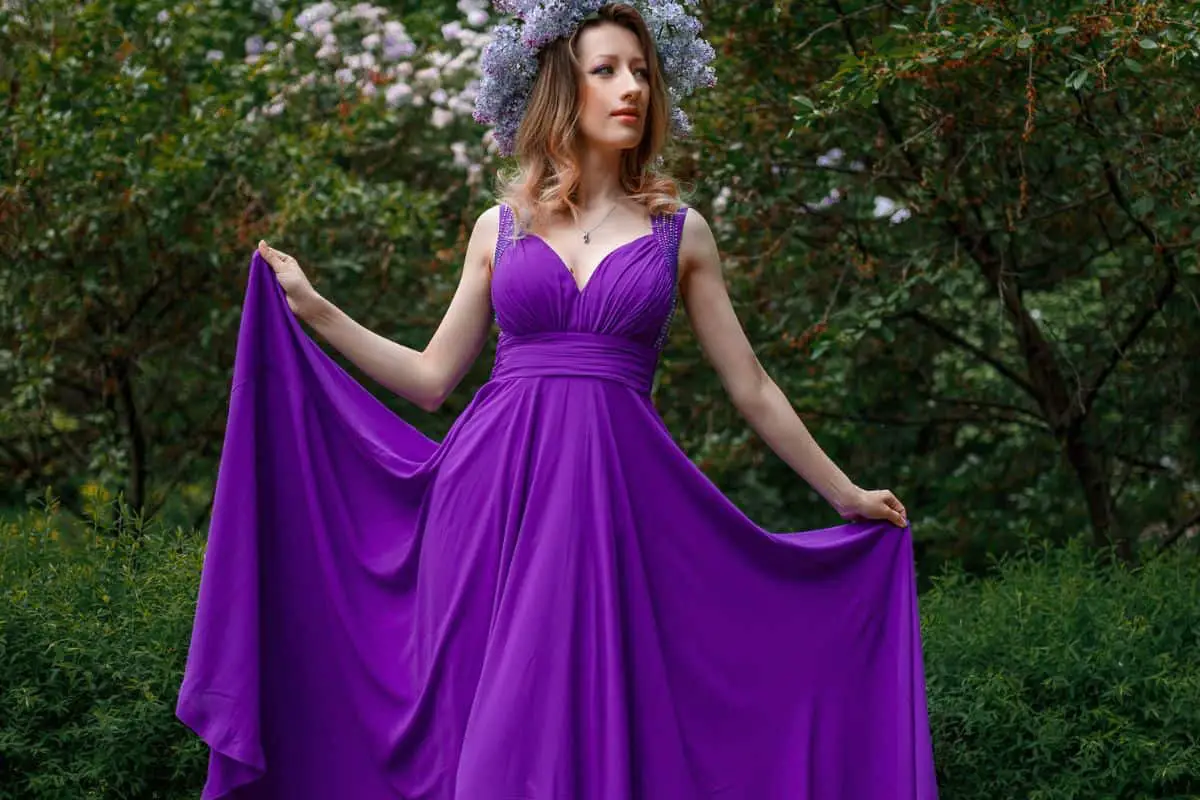 Even if they aren't intended to be wedding gowns, some of the greatest lavender wedding dress choices might be the ideal accompaniment to the location or color scheme of your wedding.
Not to add, you'll probably spend less money on the dress than you would have otherwise. Which you might put toward the ideal honeymoon destination.
These gowns are the greatest due to their unique designs, adaptability to various settings, ability to flatter various body shapes, and reasonable pricing.
We have put together 13 beautiful lavender wedding gowns for you to take inspiration from.
Any bride should consider a lavender dress, when they want to stray away from the traditional white wedding dress. 
What Do We Mean By Lavender?
The phrase "lavender purple" merely denotes that lavender is a paler tint of purple. Lighter tones of red and blue are combined to create lavender.
Everyone has a different image of what lavender looks like when we hear the word. It might be:
Moderate purple,
Very pale pinkish-purple,
Pale blue-purple,
Dusty mauve-colored, 
Purplish-pink hue.
We'll demonstrate a variety of looks, so you may choose the choice that most closely resembles the color you have in mind and that complements your skin tone
The Best Lavender Wedding Dress Ideas 
Here is another bridesmaid dress that could be used as a wedding dress. What makes this dress even better is that it even has a train. 
For the lady who wants to showcase her shape without baring too much skin, this trumpet/mermaid design is ideal.
Pros
Any Time Of Year – Given that the long sleeves are made of lace, you could wear it virtually all year long at a wedding in any season.
Trumpet Skirt – With the trumpet-style skirt, you may flaunt your lovely curves.
Small Train – This particular dress has a train, unlike some others on the list.
Cons
Small – It might be wise to order custom sizing (which you can't return), as sizing may be a little off (some reviewers complained that their gown was too small).
A wedding dress should have light-catching decorations and flowing layers. The plunge neck makes this dress feminine and romantic. 
This is the perfect lavender alternative from ASOS that costs less than $1500.00. It is available in a range of sizes.
Pros
Price – This dress is ideal for anyone on a tight budget, under $150. 
Expensive Appearance – The embellishments make the appearance of this dress more expensive.
Feminine – Customers love how feminine this dress is due to the gathered bodice and low neckline. 
Cons
Size – Customers have noted that this dress fits people with a smaller chest. 
Don't think of bridesmaid gowns as being reserved for your pals, who will be standing next to you throughout the ceremony.
If you want to achieve a relaxed, romantic atmosphere. This choice is charming and ladylike, and it will cost you much less than a gown from the wedding dress collection.
Pros
Affordable – This dress is under $100, thus affordable for anyone.
Elegant – This dress is really simple and yet it looks really elegant. 
Sizes – This dress comes in sizes from 2 to 26.
Cons
Slit – There is a slit in this dress that not everyone likes, yet this is down to personal preference.
Fairy tales come to mind when looking at this garment from Lord & Taylor. This delicate option is more formal compared to the others dresses on the list.
This is thanks to the crystals, soft tint, and translucent mesh.
If you want to look and feel like a princess, you may want to consider this dress, even though it is one of the more expensive dresses on our list.
Pros
A Line – An A-Line dress which is flattering for a broad range of body types. 
Romantic – When you look at this dress, it feels romantic, due to the soft lavender color and flower design. The whole dress looks delicate and fairylike.
Train – This dress naturally comes with a short train, which not all dresses used for wedding gowns have.
Cons
Sheer Mesh – The sheer mesh on the bodice can feel a bit too revealing for some brides.
Your dream lavender wedding dress can come true with this ultra-feminine A-line choice from La Femme.
This floor-length gown's semi-sheer bodice and lavishly embroidered blossoms epitomize romantic elegance.
This dress feels more feminine and lovely because of the exposed back.
Pros
Blooms – Without depending on crystals or pearls, the blooms that extend the length of the entire dress give visual appeal.
Flattering – The V-neck and A-line skirt suits the majority of body types.
Bodice – It avoids looking overly sweet thanks to the semi-sheer bodice.
Cons
Limited Sizes – There are only a few sizes offered between 0 and 14.
The more subdued hue will look lovely in a late summer or fall wedding.
This strapless satin ballgown, from Nordstrom, has one of the deeper and darker shades of Lavender on our list today.
This bold satin ballgown with that plunging neckline, an open strappy back, and an unexpected front split is covered in liquid glitter. 
Pros
Simple – Overall, this dress has a very simple and shimmery design. Yet the boldness of it works really well.
Strappy Back – The strappy back will provide you the chance to flaunt your upper body if you like how it appears.
Front Split – Although it has a slight sexy front split, the dress nevertheless has a sophisticated look.
Cons
Deep Plunge Neckline – Despite a mesh inset to keep everything in place, some brides may find the plunge neckline unsettling.
For the daring bride who wishes to look wonderfully seductive on her wedding day, this Michael Costello design is ideal.
She will be the center of attention because of the thigh-high front slits, sheer lace inset, and open back.
Pros
Daring – Among the few lavender bridal gown designs that favor sexiness above romantic.
Lightweight – Made from lace, this dress is incredibly lightweight and floaty.
Lined – This dress is lined on the skirt, so you don't want to worry about anything being shown. 
Cons
Risky – Due to the low cut and multiple slits, you may be scared of flashing someone. 
The Azazie Odell BG could be the right choice for you if you're seeking a more conventional wedding dress in lavender. It checks some boxes that the others don't.
This is because it includes lace, tulle, the chapel train, the cushioning, and boning. Although the lavender hue is subtle, it is obvious that the dress is not entirely white.
Pros
Traditional – Perfect for a bride who wishes to pay homage to classic wedding dress designs. Yet, wants to express her personality through a distinctive color.
Halter Neck Style – Several body types are also complemented by the halter style of dress.
Custom Sizes – There are many sizes, and bespoke sizes are also available without additional cost.
Cons
Length – You'll likely need to have it adjusted unless you're particularly tall or wearing particularly high heels.
With intertwining bands of metallic-highlighted silk that falls into a floating A-line skirt. This dress slims the waist and accentuates the figure.
Additionally, it has a sweetheart neckline and a concealed back zipper. This dress exudes elegance as a result.
Pros
Strapless – This is a beautiful strapless dress, which flatters all body types.
Shimmery – A more shimmery lavender dress, which gives off a magical and fairy tale feeling.
Sizes – There are various sizes available for this dress to fit anyone. 
Cons
Price – This dress is a little more pricey, coming in just under $400.
This long-sleeved, A-line alternative is intended for bridesmaids, but it would be stunning on a bride who prefers not to wear a white gown.
Although, the lavender color makes it contemporary and gives you the chance to express your uniqueness.
The lace sleeves and chiffon skirt are nevertheless reminiscent of more conventional dresses from earlier decades.
Pros
Traditional – The unique color complements the more conventional design.
Cheap – It costs under $100, which is a bargain compared to other traditional wedding gowns.
Sizes – Sizes 0 to 26 are available, or you can request a custom size.
Cons
Open Back – Your whole back is exposed with this dress, which may not be a feature that every bride wants. 
This David's Bridal sleeveless gown has a classic and Bohemian vibe about it.
It would be ideal for a bride who prefers a more laid-back atmosphere, but yet wants a gown that will help her feel like she's a princess.
On top of an illusion sleeveless, high neck bodice, this beautifully embroidered dress has delicately sewn blossoms scattered with light-catching sequins.
The romantic mood is enhanced by the sweeping layers of the soft net skirt.
Pros
Versatile – Ideal for various weddings whether indoors or outdoors, and works with any theme. 
Delicate – The hand sewn blooms with the flowy skirt make this dress look and feel very delicate.
Price – This dress is very affordable as it is under $200.
Cons
Material – Some customers have questioned the quality of the material. With some saying it felt a bit cheap. 
The flowing skirt of this beautiful gown is covered in fluffy tulle that sprouts flowers beneath the plunging bodice and sparkling waistline.
A floor-length ball skirt with train, a plunging collar, and cap sleeves with illusion insets. With this Mac Duggal lavender dress, you'll both feel and look like a princess.
Pros
Romantic – The mix of tulle and the soft, smokey lavender is majestic, enchanted, romantic, and just a little bit nostalgic.
Versatile – This dress is versatile as it could be used at a wedding anytime of the year.
Plunge Neckline – The plunge neckline is modest, yet contained, giving off a very feminine look.
Cons
Not Suitable For Everyone – Not all skin tones will be able to wear the color. Particular brides may find the mesh to be excessively light or dark on them. While the soft shade of lavender could also wash certain skin tones out.
This lavender tulle gown from MilaBridal features an open back and a sweetheart bodice. That happens to flatter all body types.
It has some sparkle, but only on the belt. Yet, you can also remove the belt if it isn't your style. 
Pros
Simple Design – A simple and classy design that will suit all body types.
Custom Made – This dress is custom-made to fit you perfectly. 
Removable Belt – If you don't like the sparkly form of the belt, it is easily removed for your convenience. 
Cons
Backless – This dress is completely backless, which isn't a feature that every bride wants.
Why Should You Have A Lavender Wedding Gown?
You most likely have a good reason for wanting a lavender wedding gown.
It can be your new favorite or the hue you believe compliments your features and skin tone the best.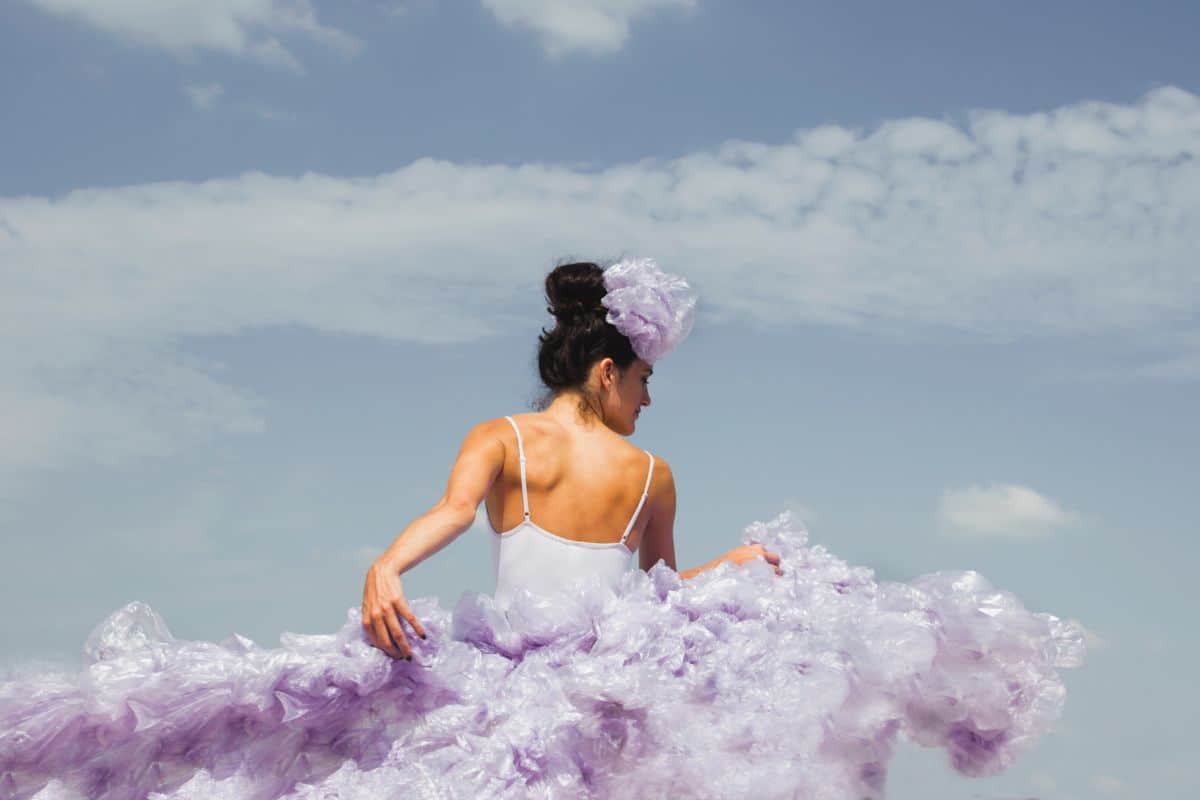 Perhaps you feel that a lavender dress would bring everything together because it is so ideal for the venue you have chosen and the additional wedding themes you have in mind. 
Here are various justifications for picking lavender as your wedding dress color:
To be distinct and demonstrate your uniqueness.
For aesthetic reasons such as to complement your wedding's colors, venue, groom's look, bridesmaids' outfits, season, time of day images will be taken, etc.
For a more relaxed or romantic look.
To save money because you'll be considering numerous dresses that aren't standard styles. They won't have yards of material covered in crystals, beading and other  elaborate elements.
Are There Any Disadvantages To A Lavender Wedding Dress?
You can encounter some difficulties if you desire a lavender wedding dress in the classic ball gown design. Finding them can be difficult, especially at specific seasons of the year.
Also, it is important to note that a lot of designers have different ideas on what the color lavender means.
Thus, you may have to look around a bit more to find the right hue of lavender that suits you perfectly. 
Additionally, you may find that you have better luck finding a lavender dress online, than going into stores.
However, this does mean you have to be careful when it comes to sizing. 
Who Does Lavender Suit The Most?
Lavender will go best with women with cool skin tones, although that isn't a strict rule. This is typically true if you're looking at the paler pinkish and bluish purple hues.
Furthermore, cooler skin tones can actually carry off a wider range of purples hue than warmer hues.
However, those of you with darker skin tones can still wear lavender, but you should stick to lighter hues of lavender. 
Having stated that, think about a dress if you are drawn to it. Try it on if you can, or buy a swatch! Warmer varieties of lavender exist.
Depending on your skin tone, a lavender hue that is darker, lighter, brighter, or more subdued can be the one that gives your complexion a radiant glow.
When Should You Wear Lavender?
Even though you can don a lavender bridal gown at any season of the year. Spring and summer are the two seasons where this color fits in the most and seem most natural. 
When the days grow shorter and the temperatures drop, darker plums and eggplants typically replace paler purple hues.
Can You Wear Lavender During Fall And Winter?
You may still use lavender in the fall and winter. However, it looks best when supported alongside richer and deeper tones and colors.
These could be sage green, wheat, navy blue, burgundy or gray. Also, why not try deeper purple tones. 
Lavender is quite a light color, therefore it gives off the effect of freshness and lightness. Which you normally connect with spring and summer.
There's no real reason why you can't wear it during fall or winter weddings, but it's more at home during the warmer seasons. 
Which Wedding Colors Compliment Lavender And Lilac?
When it comes to wedding colors, there are a lot of colors that compliment both lavender and lilac. It is important that the other colors in your wedding compliment each other.
This way, nothing is going to stand out or look out of place when you look back on our big day. Hence, you want all the colors to work well together. 
Below are some of the colors that are most effective when paired with light purples such as lavender and lilac.
White,
Wheat,
Yellow,
Sage,
Taupe,
Blush,
Soft Peach,
Yellow,
Dusty Aqua,
Seafoam Green,
Navy Blue,
Eggplant,
Plum,
Burgundy.
Can A Bride Wear Lavender Or Purple?
On your wedding day, there is no requirement that you have to wear white, off-white, or perhaps even pink as you walk down the aisle.
You have the option to adhere to or depart from this tradition, which is not even universal. 
While some superstitions are considered to be unlucky, in other locations it is the shade to wear.
However, there is no solid proof that wearing purple during your wedding day will be unlucky. As a result, if it will make you happy, then you should go for it!
If you're ready to break with convention and aren't superstitious, wedding gowns can be any color. You can always investigate bridesmaids' dresses or even prom dresses.
This is if you can't seem to locate one in the bridal boutique that you'd love to wear on your special day.
Does A Purple Wedding Dress Have Any Meanings?
With a dash of whimsy, romance, and regal elements. These are the main locations and meanings behind wearing a purple or lavender on your big day.
For some people, the color purple is a very nostalgic color.
It is widely believed that any purple type of wedding dress is a unique choice, as it's not something you see happen very often. 
Yet it is all down to personal preferences. If you want to have a more feminine look or a more unique looking wedding, then you should consider a lavender wedding dress. 
Final Thoughts
What you wear on your big day is completely up to you.
Therefore, you don't have to stick with traditions, if your favorite color is lavender ten why not wear a lavender wedding dress.
A lavender dress can make you feel just as special as you would in a white dress. 
We have offered you 13 different lavender dresses that you could wear on our big day.
All these dresses will make you feel feminine, special, sexy and like a princess.
In addition to this, if you are on a tight budget, then you can find a much more affordable lavender dress that doesn't skip out on the quality and the effect you want to achieve. 
We hope this article has been helpful and inspired you to consider a lavender wedding dress for your big day!

Latest posts by Lisa Plaitt
(see all)