Star Wars weddings have become more and more popular over the years, so it is no surprise that wedding dresses that are inspired by the franchise have also grown in popularity. 
So, what makes for a great, Star Wars-inspired wedding dress?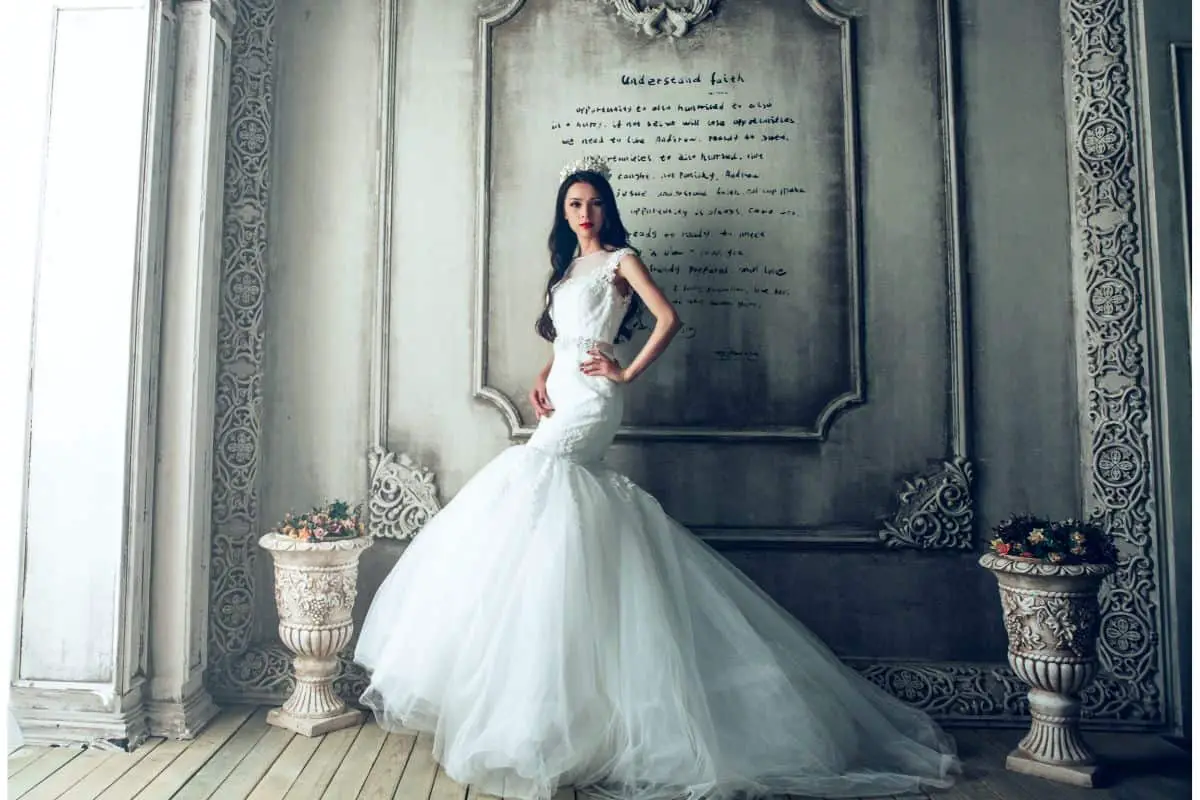 Certain styles lend themselves to the futuristic look of the Star Wars universe more than others, such as those with a flowing nature or with unique accessories. 
With this in mind, we are going to be looking at sixteen wedding dresses that could make for great Star Wars-inspired wedding dresses.
Let's get started. 
The flowing style of Grecian dresses lends themselves to a look that can easily be transformed into something from the Star Wars universe, simply by the inclusion of some accessories such as a belt. 
This particular Grecian style dress has a look that is very similar to the dress that Princess Leia wears at the end of the first film, when she is awarding medals to Luke and Han Solo.
Making for a great dress idea for Star Wars fans, particularly if you opt for a braided up do like Leia's as well. 
This dress is not so much simply inspired by Star Wars, but also modeled after the character of Princess Leia directly.
Leia is known for wearing various white outfits in the earlier films, with her most iconic look being the high-necked, long, white flowing dress that she dons in Star Wars: A New Hope. 
This dress takes elements of that iconic look and transforms it into something more akin to a wedding dress, changing up the high neck for exposed shoulders but maintaining the flowing sleeves and including a puffed-out skirt.
The silver belt is the perfect touch to emphasize the Star Wars vibes. 
Luke and Leia's mother Padmé Amidala is a character known for her exceptional fashion sense in the prequel Star Wars films, and this dress is directly inspired by the wedding dress that she wears when she marries Anakin Skywalker.
The lacy motifs replicate her look whilst bringing it into the modern day thanks to the slender cut of the dress.
The headdress is also a nice touch, with a very similar look and style to the one that Padme dons. 
Another Padmé-inspired dress, this colorful choice might not be the most traditional in terms of what you expect from a wedding dress, but that unique nature could be exactly what is so appealing for some brides. 
This dress style would be perfect for a wedding in a hot country thanks to the nature of the material, whilst also evoking Padmé vibes thanks to the distinctive pastel color palette. 
If you are more of a fan of the newer Star Wars movies, then this dress inspired by the female protagonist of Episodes 7, 8, and 9- Rey- could be exactly what you're looking for. 
Rey hails from the planet Jakku, a hot and dry desert planet, so she spends a good portion of her time wearing cool, breezy outfits with flowing sashes.
The soft, off-the-shoulder sleeves of this dress replicate the sashes on Rey's outfit perfectly, whilst the comfortable yet practical design reflects both her character and her style. 
Pair the dress with Rey's signature triple bun hairstyle, and you have the perfect Star Wars-inspired wedding look!
Silver accessories are your best friends if you are looking to get a dress with a Star Wars vibe, as shown with this flowing, Leia-style dress. 
The long sleeves and the floor length definitely invoke the Star Wars feel, but the accessories are what really sets it apart. 
This replica of Padmé's summer dress is much like the other dress inspired by this look on this list in that it is perfect for both hot weather weddings as well as those looking for a less than conventional wedding look. 
If you are a particular fan of this look from the films, it is certain to be the perfect choice for a Star Wars theme. 
This daring silk crêpe dress has a futuristic, sci-fi look thanks to the combination of the hooded element with the long and sleek train as well as the traditional white color. 
This is a dress that is going to take some confidence to pull off, but could make for an amazing look for a Star Wars wedding. 
Whilst not as directly inspired by Star Wars as some of the other dresses we have talked about on this list, this particular dress does have the key elements that make for a beautiful Star Wars-inspired look. 
The star patterns on the sleeves and the bust of the dress create a unique and pretty style, whilst the long skirt and the flowing, soft sleeves evoke the styles that are seen frequently in the Star Wars universe.
The most iconic dresses that are worn by Princess Leia in the franchise feature a long cape, which is exactly what this particular dress is inspired by. 
The cape offers a sci-fi style whilst still being distinctly Star Wars focused.
The white color scheme and an off-the-shoulder design also emphasize this Princess Leia-inspired look. 
Another dress that has a unique and non-traditional design, this look combines some of both Padmé's iconic looks as well as Leia's. 
The headdress and the lacy accents are similar to some of the outfits that Padmé wears in the franchises, whereas the white colors and the flowing style resemble Leia's iconic looks. 
This is another dress that features a cape, but is a little different from the other caped dresses that we have mentioned as it is paired with a strapless dress instead.
This contemporary strapless design- combined with the beaded decorations on the dress and the bead accents on the cape-, make for a look that manages to be modern whilst still very much evoking that Star Wars look. 
This is another dress idea that is very much inspired by Padmé's lacy wedding outfit, complete with a lace hood and a lace covering over the top. 
This is the perfect dress if you want to replicate Padmé's wedding outfit as accurately as properly. 
For another option of a dress that utilizes a cape, this pretty chiffon outfit is a beautiful and classical choice.
Not only does it have the look of a standard wedding dress- if you are more of a traditionalist- it also has the floor length, off-the-shoulder look, and of course that eye-catching cape. 
A Leia or Padmé-inspired hairstyle along with some accessories will bring out the Star Wars theme even more so. 
This dress combines the sleek, floor-length dresses that Leia wears with the lacy nature of Padmé's wedding outfit to create the perfect combination of the Star Wars mother and daughter duo.
Not only that, but it also features a cape! 
The lace nature of the cape makes it a little different from the other caped dresses we have mentioned, once again combining both Leia and Padmé's iconic outfits. 
Finishing off with a simple yet stylish look, this sleeveless dress is another that is inspired by the ceremonial outfit that Leia wears at the end of the first film. 
The long, fabric that hangs from the off-the-shoulder sleeves makes for a gorgeous yet still classical style of wedding dress, making it a great choice for those who want a more subtle choice of a Star Wars-inspired wedding dress. 
Final Thoughts
So there you have sixteen choices of Star Wars-inspired wedding dresses, from the subtle to the more attention-grabbing. 
There is so much that can be done when it comes to a wedding outfit that is inspired by Star Wars. The only limits are your imagination! 
Whether you want an outfit that is inspired by the looks of characters such as Princess Leia, Padmé Amidala, or Rey, or just a general style that exudes Star Wars vibes, you are sure to find something here to suit your personal tastes. 
Hopefully, our inclusions here have given you enough choice for you to go out and find your own Star Wars-inspired wedding dress!

Latest posts by Jodie Messines
(see all)