Everybody has a fairytale wedding. A wedding day that they have dreamed of since they were little, where absolutely everything is perfect, and completely tailored to them.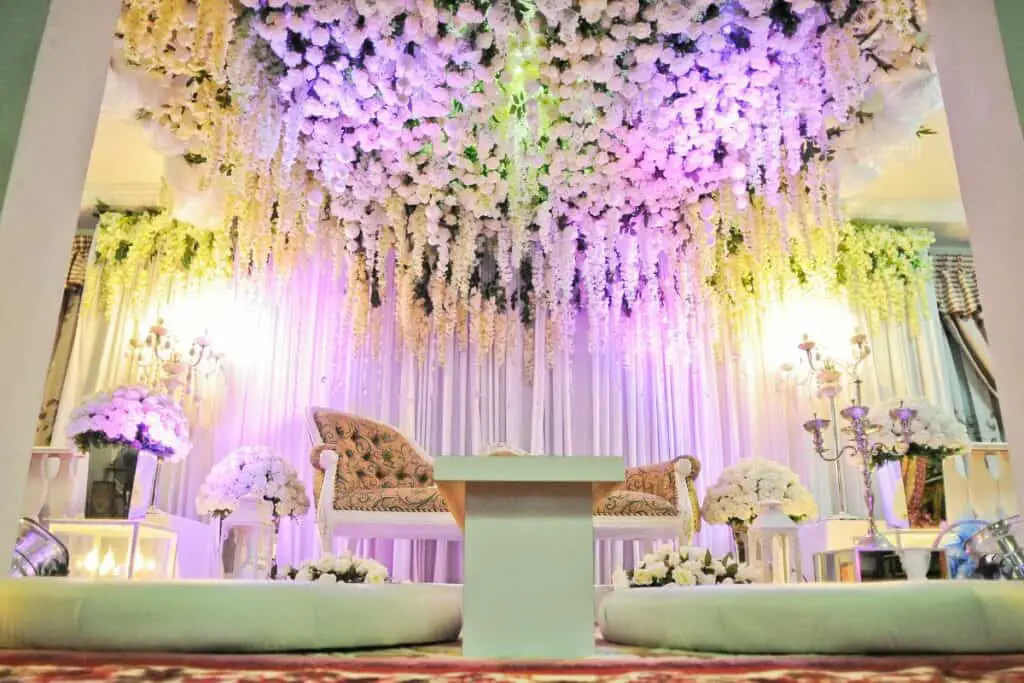 While some "dream" weddings are incredibly unrealistic, and simply unachievable, there are a number of dream weddings that you can make a reality. Especially if your dream wedding is something out of a fairytale. 
In this guide, we'll be taking a look at 15 magical fairytale indoor weddings that you'll fall in love with. So, if you are looking for inspiration, check out this guide to find out more! 
First up, we have this glass fairytale winter wedding inspiration. This photograph was taken at the Springwood Convention Center and it really demonstrates how you can create a fairytale wedding in a modern wedding venue. 
This glass building works perfectly for a winter fairytale wedding. When the snow falls on the trees outside, the scenes will be straight out of a fairytale, and it will make you feel like you are getting married outdoors.
Even though you will be nice and warm inside. The perfect inspiration for your dream fairytale winter wedding. 
Or, you can introduce the fairytale style into your indoor wedding venue through detailing on the aisle.
Walking down the aisle is one of the biggest parts of your special day, so why not use this photo as inspiration to make it feel like you are walking straight into your fairytale life. 
This wedding venue really shows how effectively you can create a fairytale wedding in an otherwise very plain venue.
It is guaranteed to wow your guests, and ensure that your wedding is the one that gets people talking. We absolutely love it. 
Alternatively, if you have always dreamed of a pink princess wedding, look no further than this photo for inspiration.
With a long weaving aisle and pretty pink seat detailing, this wedding inspiration will truly have you feeling like a princess on your big day. 
Our favorite thing about this indoor wedding venue is all the detailing on the ceiling. It is this that completely transforms a plain space into something straight out of a fairytale.
We simply love this wedding venue, and we're sure you will too! 
The industrial style has become very popular over the last couple of years in all sorts of things.
In particular, more and more people are opting for an industrial style when they are renovating their home, but did you know that it also works incredibly well when creating your fairytale wedding?
If you don't believe us, just check out this wedding venue inspiration. Somehow the perfect balance between industrial and fairytale has been achieved, allowing you to have the best of both worlds.
This wedding venue style will ensure that everybody is happy.
Many people dream of an outdoor wedding, but for all sorts of reasons this isn't always possible.
You may be unable to agree on the style of outdoor wedding, or you might be worried about unpredictable weather. If this sounds like you, then you will love this indoor-outdoor wedding inspo. 
This wedding inspiration allows you to achieve an outdoor wedding while remaining indoors. It is a little extra with the use of trees, but if you can't be extra on your wedding day, when can you?
Fairytale weddings always feature loads of greenery and flowers, and that is why this indoor wedding is perfect.
This photograph is taken at Taglyan Complex, and it has achieved the perfect balance between modern and traditional.
Fairytale weddings often have a very traditional theme, and this venue is quite the opposite.
But the use of a lot of flowers allows you to achieve an excellent balance – creating a traditional fairytale wedding inside an ultra-modern venue.
It really does demonstrate what you can achieve with a lot of effort. 
You may have dreamed of getting married in a castle. Unfortunately, castles are limited here in the US, so you may find yourself having to settle.
This wedding inspiration photo shows how you can recreate that castle feel without actually having to have a castle as your wedding venue. 
The use of pillars in this venue creates something out of a fairytale, and the decorations added to it only reinforce this.
You may have thought that you'd never be able to achieve your dream fairytale castle wedding, but this inspiration will show you that you really can. You just have to be creative.
Fairytale weddings are often pretty extra, but if you want a subtle fairytale princess wedding, this inspiration is perfect for you.
Pampas grass has become very popular recently, and this photograph shows how you can utilize this to create your dream fairytale indoor wedding. 
This style is perfect if you want to ensure that you are the star of the show. Instead of being flashy, it simply creates a beautiful backdrop for the rest of your fairytale wedding theme and that is why we think it is so great. 
In contrast, this fairy light fantasy wedding inspiration is literally very flashy. The use of fairy lights draped from the ceiling creates a truly magical feeling, and it will make you feel very special on your wedding day. 
If you want a modern fairytale wedding, then this is one of our favorite inspirations. 
Okay, so perhaps this one skirts the line between indoor and outdoor a little too closely. But how could we not include it in this guide? 
If you class an indoor wedding as a wedding that is undercover from above and at the sides, then this is an indoor wedding. But because it is a temporary structure, it also allows you to have an outdoor feel too.
With the use of flowers and a beautiful woodland backdrop, we don't even need to explain why it is straight out of a fairytale. 
Speaking of indoor-outdoor weddings, next up we have this greenhouse fairy wedding. The use of a glass structure allows you to be completely outdoors, while also being immersed in nature. 
Nature plays a huge role in fairy tales, and that is why the detailing on the ceiling of this venue really brings it together. You are guaranteed to feel like a princess in this wedding venue. 
But, if you don't have access to lots and lots of flowers, you can also create a beautiful fairytale wedding using LED fairy lights.
These photos show these fairy string lights used in an outdoor setting, but you could easily fasten them to the ceiling of your venue to bring the sparkle indoors. 
Flowers can be extremely expensive. So, if you cannot afford to break the bank, this wedding inspiration is perfect for you.
For many people, their dream fairytale wedding will consist of them feeling like royalty. If you are one of those people, then this wedding inspiration is perfect for you.
The use of a classic and traditional wedding venue, paired with hints of nature in the arch create a truly royal feel.
With some of the inspiration that we have looked at in this guide, you can find the venue and then add the fairytale touch to it.
But if you want a wedding that is straight out of a fairytale, like this one, then you will need to be a little more fussy with what you choose. 
Barn weddings are incredibly popular, and you can actually transform a barn into a fairytale wedding venue.
The wooden beams that often feature in barns are perfect for hanging flowers from, and it creates a truly beautiful backdrop for your big day. 
The best thing about barn weddings is that they give you a lot of freedom in terms of transforming the venue to suit your wants and needs.
So, if you want a fairytale wedding venue that you can make your own, then a barn wedding is perfect.
Finally, let's wrap it up with Disney's Wedding Pavilion. In this photo, this venue looks a little plain, but just remind yourself that you will be getting married at Disneyland.
Getting married at Disneyland is the dream for so many people because you really can immerse yourself in a  fairytale. 
We absolutely adore this wedding venue because it truly is a fairytale. So, if you have the money, why not consider this for a fairytale wedding that is in the place of dreams. 
Summary
In short, in this guide we have taken a look at 15 different magical fairytale indoor weddings. So, if you are looking for inspiration for your big day, you are in the right place. 
Thank you for reading!

Latest posts by Lisa Plaitt
(see all)