Are you on the hunt for the perfect barn wedding look?
Whether you're a country fan or just looking to get down and dosey-doe, dressing for a barn wedding can be tricky!
From rugged denim to draped lace and every romantic detail in between, finding the right style is essential.
But don't worry – we've got all of your rustic chic needs covered. Read on as we guide you through how to create an unforgettable look that will make everyone want to two-step right up and congratulate you on your stylish flair!
Understanding the Dress Code
From rustic to chic, barn weddings offer a unique opportunity for couples and their guests to dress in accordance with the couple's desired style.
To ensure that you look your best on this special day, it is important that you have an understanding of what type of attire the couple desires so that you can dress appropriately.
Check the invitation for requirement
Are you ready to show off your stylish threads at the upcoming barn wedding?
Before you start planning your look, make sure to take a close look at the invitation! The dress code is crucial in determining what to wear, so don't skip this crucial step.
Pay attention to any specific instructions or requests – whether it's a casual or formal affair, there might be hidden hints that you don't want to miss. So, dust off those spectacles and give the invitation a thorough once-over before you start putting together your barn-chic ensemble!
Casual vs. Formal Barn Weddings
When attending a barn wedding, it's essential to distinguish whether the atmosphere is casual or formal.
Typically, more relaxed vibes are present at casual barn weddings while elegantly sophisticated ones occur with formal dress codes.
Therefore, make sure you know which type of event you will attend so that your attire meets expectations.
Rustic or Chic
If the invitation doesn't spell out a specific dress code, you'll want to look at the location and overall vibe of the wedding to determine whether to dress rustically or chic.
For a more rustic barn wedding, you may want to opt for earthy hues and organic materials like linen or burlap.
On the other hand, for a chic barn wedding, consider going for a more elevated look with a sleek, tailored outfit in rich fabrics like velvet or silk.
The goal is to seamlessly blend in with the overall vibe of the celebration, so choose wisely and let the fashionista within you shine! Remember, it's your time to let your style take center stage and add some flair to the festivities.
What to Wear to a Casual Barn Wedding
A casual barn wedding is a great opportunity to dress comfortably and stylishly. Here are some suggestions for both men and women.
Men's Attire
An airy cotton or linen shirt in either a plain shade or subtle pattern will be the best choice for keeping cool during the warmer weather.
Chinos or khakis make an ideal pick if you're looking to look good and feel comfortable at a casual barn wedding.
For maximum comfort, opt for loafers or boat shoes as they are fashionable yet appropriate footwear options that won't let you down when attending such an event!
Optional: pick out a light jacket or sweater for chillier days–it'll keep you snug and cozy!
Accessorize with fashionable accessories like a belt, watch, and perhaps even an elegant fedora hat to make your ensemble truly unique. With these pieces, you can create the perfect look that will have everyone looking twice!
Women's Attire
Sundress in light, breathable fabric and a suitable length for an outdoor setting. A sundress is ideal to wear in a casual barn wedding if it's made out of light, breathable material that will keep you cool all day long!
Maxi dress in light and flowy material. For those looking for something more modest, maxi dresses are great because they offer plenty of coverage while still being chic and stylish! Look for styles constructed out of lightweight and flowy materials which won't make you overheat during your special event.
A romper or jumpsuit. If comfort is key but you don't want to compromise on fashion choices then nothing beats a jumpsuit or romper! The perfect combination between style and practicality; these pieces are sure to have heads turning at any casual barn wedding setting.
Comfortable shoes such as sandals or espadrilles. Sandals or espadrilles are comfortable, stylish and appropriate for a casual barn wedding.
Accessorize with minimal jewelry, a wide-brimmed hat, and a light scarf or shawl for cooler weather. Minimal jewelry, a wide-brimmed hat, and a light scarf or shawl are all great accessories for a casual barn wedding.
What to Wear to a Formal Barn Wedding
A formal barn wedding requires a sophisticated and elegant outfit, where guests are expected to dress up to match the upscale atmosphere of the event. Here are some suggestions to ensure that you look your best while also staying comfortable.
Men's Attire
When it comes to formal barn weddings, it's all about looking sharp and put-together.
For men, the go-to option is a classic dark-colored suit. Think black, navy, or charcoal gray. Choose a dress shirt in a coordinating light color, such as white or light blue.
The tie should also match the overall color scheme, with a pattern that complements the shirt and suit.
Accessorizing is key to elevating your formal barn wedding attire, so don't forget the details.
Dress shoes such as oxfords or loafers are a must, and a vest or waistcoat can add an extra layer of formality. If you're feeling daring, try a pocket square or boutonniere for a pop of color.
Women's Attire
For ladies, it's time to break out your best formal attire for a barn wedding.
A long gown in a sophisticated color, such as black, navy, or emerald green, will make you feel like a goddess. If a full-length gown isn't your style, opt for a cocktail dress in a dark or neutral color.
If you prefer separates, consider pairing a skirt and blouse in a coordinating color.
When it comes to footwear, dress shoes such as heels or pumps are a must. Accessorizing with understated jewelry, such as pearls or diamonds, will add a touch of glamour. Don't forget a clutch bag to carry your essentials.
Footwear
Comfortable and Appropriate
No matter what type of barn wedding you're attending, comfort is key. No one wants to spend the entire day or night fidgeting in their shoes, so make sure to choose footwear that is both appropriate and comfortable.
Avoiding High Heels
While high heels may seem like a good idea, they're not always the best choice for a barn wedding.
With uneven ground and the possibility of mud, high heels are more likely to cause discomfort or even injury. Instead, opt for a lower heel or flat shoe that provides stability and comfort.
Options for Rainy Weather
No one wants to dance the night away in wet shoes, so be prepared for the possibility of rain at a barn wedding. Consider carrying a pair of waterproof shoes or boots, or opt for a weather-resistant option, such as a wellington boot.
Consideration of the Location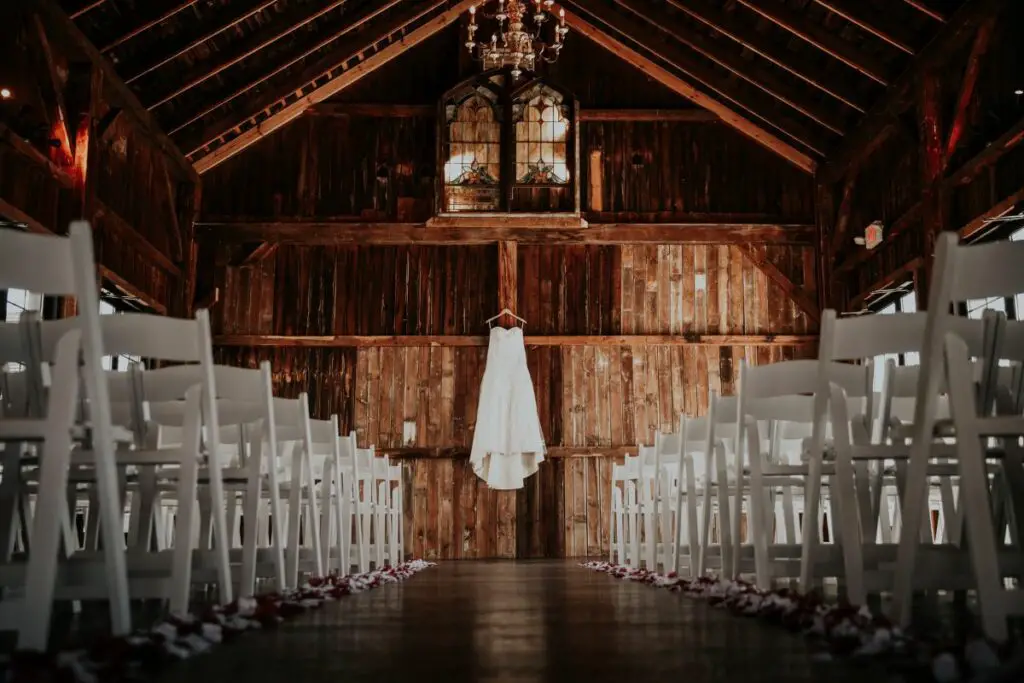 Indoor vs Outdoor Venue
Barn weddings can take place in either indoor or outdoor locations, so it's important to consider the venue when choosing your attire.
For indoor barn weddings, you may have more flexibility in terms of attire, as the setting is typically more controlled.
However, for outdoor barn weddings, you may need to take into account the elements and choose attire that is appropriate for the weather conditions.
Weather Conditions
Consider the weather conditions when selecting your barn wedding attire.
If it's hot and sunny, you may want to opt for lighter, airier fabrics. If it's chilly, consider layering options such as jackets or wraps. And if there's a chance of rain, make sure to choose footwear that will keep you dry.
Barn Amenities
Finally, consider the amenities available at the barn wedding location. Some barns may have restrooms or changing facilities, while others may not.
Be sure to check with the wedding planner or venue coordinator to ensure you have everything you need to be comfortable throughout the day or night.
Other Considerations
Seasonal Considerations
When it comes to dressing for a barn wedding, the season in which it takes place is a key factor to consider.
If the wedding is taking place during the summer, opt for lightweight, breathable fabrics like cotton or linen.
For fall weddings, you may want to add a jacket or wrap to your outfit to stay warm in cooler temperatures. Winter weddings may call for heavier fabrics like wool or velvet to keep you cozy.
Remember to dress in appropriate layers so you can easily adjust as the day progresses.
Dressing for the weather
This is a crucial consideration, particularly for outdoor barn weddings.
Mother Nature can be unpredictable, so it's always a wise idea to pack your bags with stylish rain gear and a trusty umbrella, in case of a sudden downpour.
And let's not forget about that blazing sun, especially during outdoor weddings. Keep yourself protected with a fashionable sun hat or a wide-brimmed hat, because who wants a sunburn on their big day?
During the cooler months, layering is crucial, so be sure to bring a cozy sweater or jacket to keep you warm.
Trust us, being comfortable and weather-prepared will allow you to fully immerse in the festivities and let loose on the dance floor!
Colors that fit the Theme
Barn weddings often have a rustic, down-to-earth feel, so choosing colors that complement this atmosphere is important.
Earth tones such as greens, browns, and blues are often a good choice. If the wedding is more formal, dark and neutral colors like black, navy, and emerald green can create a sophisticated and stylish look.
If you're unsure, consult with the couple or the wedding planner for guidance on appropriate color choices for the big day.
Balancing Personal Style with the Atmosphere of the Barn Wedding
While it's important to express your personal style, it's also crucial to keep in mind the atmosphere of the barn wedding.
Rustic and chic themes are popular for barn weddings, so choose attire that fits in with the theme. For example, a sundress or maxi dress in a light and flowy fabric is a great option for women.
Conclusion
In conclusion, when attending a barn wedding, it's essential to choose the right attire.
Understanding the dress code, considering the location, and dressing for the weather are all key factors to keep in mind. Balancing your personal style with the atmosphere of the wedding and emphasizing comfort are also important.
By following these tips, you'll look great and have a fantastic time celebrating the happy couple.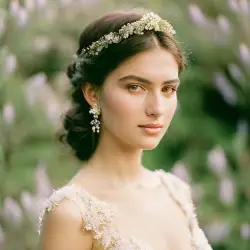 Latest posts by Rosie Liliy
(see all)