Attending a wedding in the winter can be tricky. With temperatures dropping and snow falling, you want to ensure you look your best while also staying warm!
That's why it's important to know what to wear for such an occasion so that you're both stylish and comfortable. In this article, we'll explore some of the best options for looking great at a winter wedding without sacrificing warmth or style.
First off, let's talk about layering. I'm sure you've heard it before but layering is key when dressing for colder weather weddings.
You could start with a classic dress or jumpsuit and then layer on top of that with accessories like tights, coats, hats, gloves and scarves. This way you can add texture, color and pattern into your ensemble without compromising on protection from the cold.
Equally important is the choice of fabrics – wool is always a good choice as it provides insulation against the chill whilst still being fashionable enough for any special event; velvet is another popular option which will keep its shape throughout the night (just make sure to brush up beforehand!).
And don't forget faux fur; whether it's a stole draped over your shoulders or a full-length coat – faux fur adds instant glamour no matter how chilly it gets outside!
So there are my tips for finding the perfect outfit for any winter wedding – now all that's left to do is pick out pieces that bring together all these elements seamlessly!
Winter Wedding Guest Attire Guidelines
Attending a winter wedding is an amazing chance to dress up and look your best, but it's essential to stick to the dress code guidelines. Here are some tips to ensure you dress appropriately while following the traditional attire etiquette.
First and foremost, men should wear dark suits with ties, while women can go for cocktail dresses or evening gowns for formal or semi-formal winter weddings.
Bright colors should be avoided as they can detract attention from the bride's white dress, and lighter shades like pastel pink may not be appropriate for colder weather.
When deciding on the dress length, floor-length dresses are typically recommended, but knee-length dresses can also work if they are stylish and elegant enough.
When it comes to accessories such as shoes, jewelry, and handbags, coordination with the rest of the outfit is key. Opt for comfortable yet stylish footwear like classic black heels or loafers, and avoid open-toed sandals that might not be seasonally appropriate.
When it comes to jewelry and other accessories, remember that less is more, so choose subtle options that don't overpower the outfit.
By now, you might have a good idea of what outfit works best for the event, but there are still some fabrics that work better than others in colder weather.
Pay attention to details like texture and material when selecting garments, and don't forget about choosing the right coat to keep you warm and stylish at the same time.
With these tips in mind, you'll find it easier to transition into ideal fabrics and materials, making sure you look and feel your best at the winter wedding.
Ideal Fabrics And Materials
Preparing for a winter wedding requires careful consideration of the fabrics and materials that will keep you warm and comfortable throughout the event.
Fabrics such as wool, cashmere, and thermal materials are ideal choices for their insulating properties, while water-resistant and waterproof materials can provide protection against rain and snow.
Incorporating these fabrics and materials into your outfit is key to ensuring both style and comfort. For men, consider adding a thermal layer under your suit for added warmth, while women may opt for thicker materials like jersey knit or velvet to stay cozy.
Don't forget to choose shoes and coats made from the same durable, weather-resistant materials to complete your look.
While staying warm is important, it's also essential to choose colors and patterns that complement the winter season. Deep jewel tones, rich neutrals, and metallic accents are all great options for winter weddings.
When mixing and matching patterns, consider pairing bold prints with solid-colored fabrics to create a balanced look.
By incorporating the right fabrics, materials, and colors into your winter wedding outfit, you can stay stylish and comfortable all day long.
Color Palettes To Consider
Picking the right colors for a winter wedding can be a bit tricky, but it's a crucial part of putting together a killer outfit.
To kick things off, you can't go wrong with the classic winter palette – blues, purples, and grays are totally in. Plus, you can never go wrong with dark shades like navy and black that scream sophistication.
All these colors can set the stage for some sweet accessories, like hats, gloves, and scarves that can warm you up and add texture to your vibe.
If you're itching to add some more color to your ensemble, then try out some jewel tones like emerald green, ruby red, or deep purple that scream "wow" factor. These rich hues can be the perfect touch of glam without making the rest of your outfit look like it got lost in the sauce.
Listen up though, the key to a great color scheme is to pick colors that flatter your skin tone and go well together. Don't be scared to mix and match shades to create a one-of-a-kind look that screams you.
Accessorizing For The Cold: Hats, Gloves, And Scarves That Complement Your Look
When it comes to accessorizing for the winter wedding, hats, gloves and scarves are perfect options. Hats can be a great way of making a statement at any event – they add a touch of flair while keeping you warm in cold weather.
Depending on your outfit, there is sure to be something that will match perfectly; beanies and fedoras being particularly popular choices for formal occasions like weddings.
Gloves are also an important accessory when attending a winter wedding as not only do they provide warmth but also create a timeless look. Opting for leather or fur-lined ones can really take your ensemble up several levels!
Similarly, with scarves, these come in all sorts of colors and styles so try to find one that works well with the rest of your attire – from long woolen wraps to delicate lace shawls – pick whatever speaks to you most.
Coat Check: Tips For Choosing The Perfect Outerwear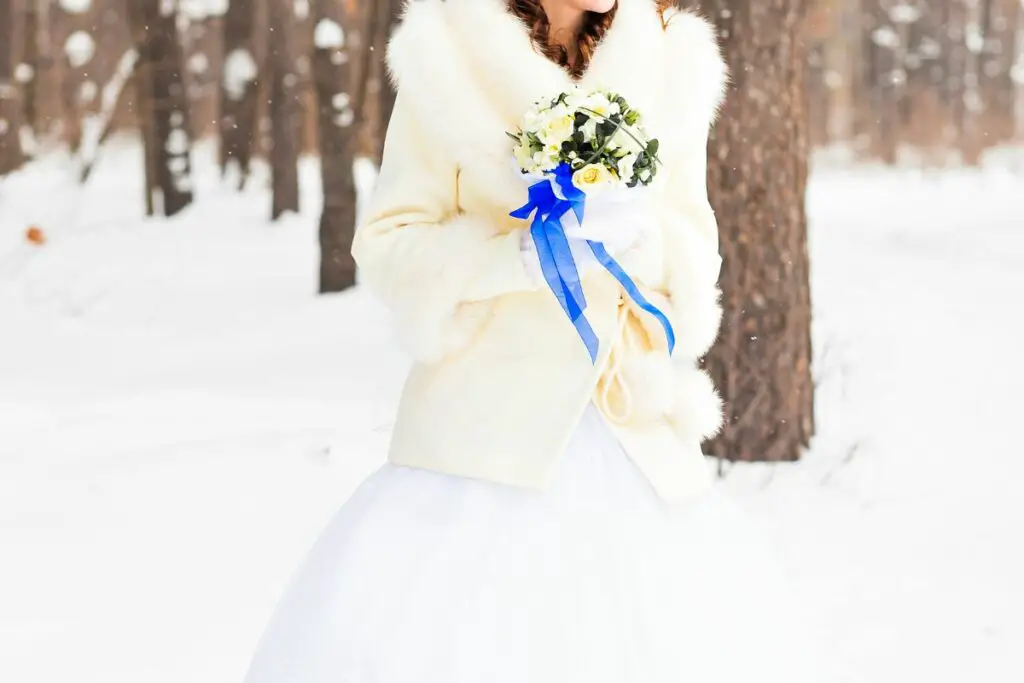 When it comes to winter weddings, there's nothing worse than being cold and uncomfortable, so choosing the right outerwear for your outfit is essential. With all the different types of coat check options out there – from pea coats to parkas – you're sure to find something that suits both your style and weather needs.
For a formal event like this one, a wool or velvet overcoat would be ideal; they're warm enough to keep you comfortable on even the chilliest day, yet smart enough to pull off in any setting.
When shopping for an evening coat, look for details such as lapels or fur trims which will help elevate your ensemble into something truly special.
Alternatively, if you want maximum warmth then opt for a longer cut coat with a hood; these are perfect for keeping the snow away without compromising on sophistication.
Whatever type of winter outerwear you decide upon make sure it fits perfectly – too big and it won't provide any insulation while too small can ruin the overall look of your ensemble. Finding the right balance between comfort and fashion isn't always easy but with careful consideration you'll soon have found the perfect coat!
Finding The Right Footwear: Shoes That Look Great And Keep You Warm
As important as choosing the right coat is, don't forget about your footwear! When it comes to winter weddings, finding shoes that are both warm and stylish can be a challenge. However, with so many options available you're sure to find something suitable for the occasion.
Leather boots are always a great choice; they provide insulation from the cold while still being fashionable enough for any event. If you're looking for something even warmer then opt for a pair of snow boots lined with sheepskin or faux fur – these will keep your feet snug while also adding a touch of glamour.
For ladies who prefer heels, look out for styles made from materials like suede or velvet which have extra padding inside to help trap in warmth on colder days. Alternatively, if wearing open-toed shoes try wearing some woolly socks underneath – this way you'll stay cozy without having to compromise on style!
No matter what type of shoe you decide upon make sure it fits properly and provides enough support – after all, there's nothing worse than being stuck at an event because your feet hurt too much to dance! With some careful consideration and experimentation you should soon find the perfect fit for your winter wedding outfit.
What Not to Wear to a Winter Wedding
Winter weddings can be a tricky event to dress for, but it's important to remember what not to wear, to avoid any fashion faux pas that could potentially ruin your entire ensemble. Here are some tips on what to steer clear of when selecting your outfit for the big day.
Firstly, avoid wearing anything too revealing or tight-fitting, as this can be inappropriate for the occasion. Instead, opt for a more modest and elegant attire that fits comfortably, so you can move around freely and enjoy the festivities without feeling restricted or self-conscious.
Secondly, while black is always a classic and sophisticated color, try to avoid wearing head-to-toe black, especially during the daytime. It may be too somber and gloomy for a joyous celebration, so consider incorporating other colors and accessories to brighten up your look.
Thirdly, avoid wearing anything that's too casual or unrefined, such as denim or sneakers. A winter wedding is a formal event, and your outfit should reflect that. Choose dressier options such as leather shoes or high-heels to complete your ensemble.
Finally, avoid wearing anything that could be deemed inappropriate for the season or the occasion. For example, avoid flip flops or sandals, which could be too chilly for winter weather. Similarly, steer clear of overly flashy jewelry, as this can detract from the overall look and feel of the wedding.
By keeping these tips in mind and avoiding these common fashion mistakes, you'll be sure to look your best and impress the other guests. So go out there and have fun, knowing that you've got your outfit sorted!
Styling Advice For Men And Women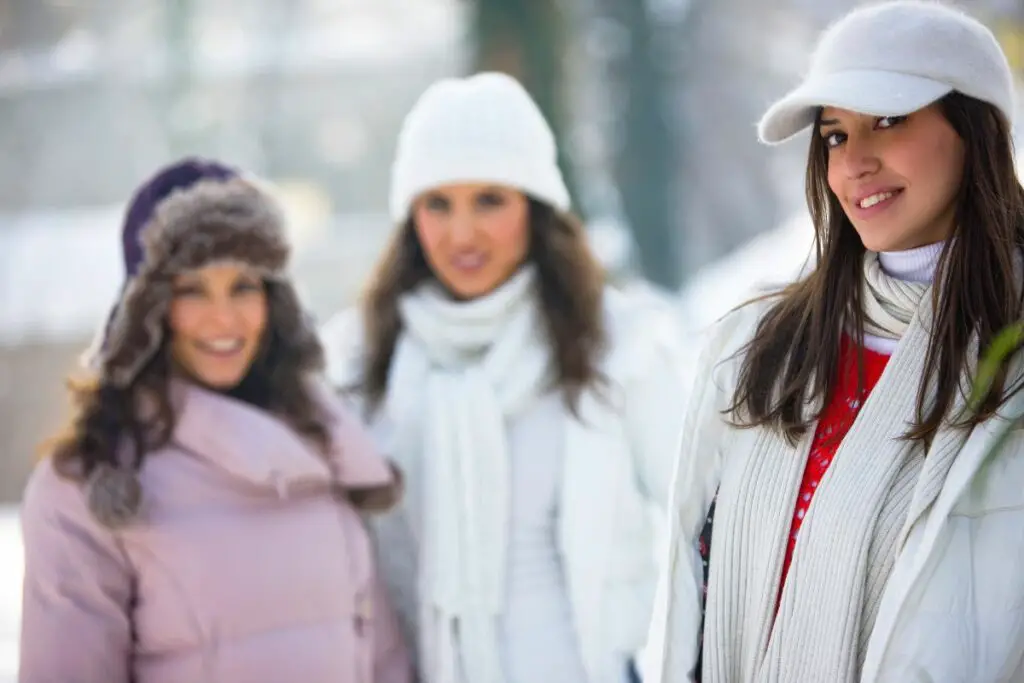 Now that you know what to and not to wear for a winter wedding, let's focus on styling.
If you're a guy, don't be afraid to layer up with a waistcoat or overcoat to add some texture and interest to your outfit. Darker shades like navy or black work well with other colors and give you a sharp look.
Dress boots or loafers in leather keep your feet warm and polished. And remember to add some personality with a pocket square or woolen gloves.
Ladies, you have more freedom in styling your outfit for winter weddings. Sweaters and skirts create stunning silhouettes and provide warmth. Knee-high boots add a touch of drama without sacrificing comfort, while ankle boots with heels give off a classic and timeless vibe perfect for any occasion.
And if you want to add some sparkle to your outfit, statement jewelry is a great option – from delicate necklaces to bold earrings, choose something that speaks to you.
With these styling tips, you're bound to turn heads at any winter wedding. But hold on, there's more – let's move on to makeup ideas that will complete your look…
Styling Your Hair and Makeup: Beauty Tips for Winter Weddings
For the ladies, let's now talk about getting dolled up for a winter wedding! You wanna look your absolute best while staying toasty warm, right? Well, here are some beauty tips to help you slay the winter wonderland wedding.
First off, moisturize your skin like it's nobody's business! Cold weather can be a real jerk to your skin, so make sure to use a killer moisturizer and lip balm to keep things smooth and hydrated.
When it comes to hair, go for a style that can handle the cold and wind. A low bun or a side braid can keep things together while looking super cute. And if you're feeling adventurous, add some hair accessories like a sparkly hairpin or a glittery headband to make a statement.
Now, let's talk makeup. Go for long-lasting and waterproof products to make sure you're looking fabulous all day long. And for a winter wedding, why not go for a bold lip in a deep red or berry shade? It'll add a pop of color to your outfit and look amazing in photos.
If you're not a fan of bold lips, a smoky eye using warm shades like gold or bronze will give you a cozy and festive vibe.
And don't forget to pack some touch-up products in your clutch, like a setting spray or compact mirror, to make sure you're looking your best all day long.
In a nutshell, getting ready for a winter wedding can be a breeze if you take care of your skin, choose a hairstyle that can handle the elements, and use long-lasting and waterproof makeup. And most importantly, have fun and enjoy the wedding festivities in all their magical glory!
Alternatives To Traditional Attire: Creative Outfit Ideas For Winter Weddings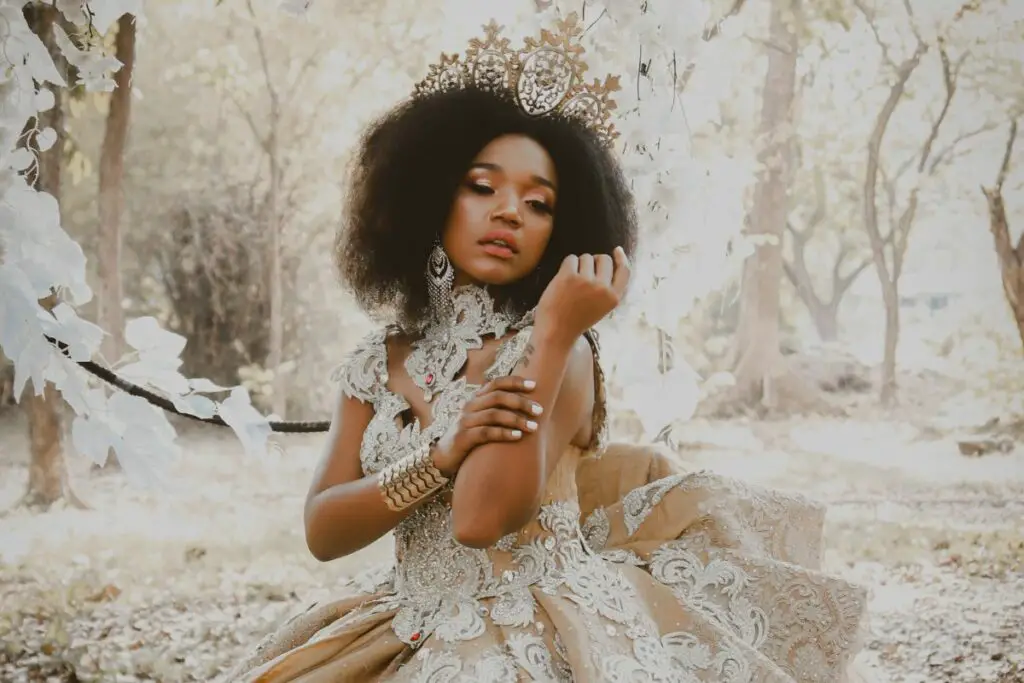 If you're looking for something a bit more unique and creative than the traditional winter wedding attire, there are plenty of options to choose from. From velvet and tweed suits, to jumpsuits and midi dresses – it all depends on your personal style and level of comfort.
For an ultra-elegant look, try pairing a classic black or navy blazer with dressy trousers or a skirt in a rich color like burgundy or hunter green. If you want to go for something different but still appropriate, opt for eye-catching pieces such as statement jewelry or patterned shoes.
You can also add some texture with faux fur accessories like a wrap or hat – perfect for keeping warm during outdoor weddings!
No matter what option you choose, don't forget about layering; this is essential when attending any event in the winter months.
A coat over top of your outfit will not only keep you warm but also give a polished finish to your overall look. Plus, don't be afraid to experiment with colors other than black; deep jewel tones like emeralds and sapphires work great too!
With these tips in mind, you're sure to find an alternative outfit that's stylish yet comfortable enough for celebrating at a winter wedding.
Shopping And Styling: Where To Find The Best Winter Wedding Attire
Now that you have some ideas on what to wear for a winter wedding, it's time to go shopping! But where to start? Don't worry, we've got you covered. Here are some of our favorite places to find stylish winter wedding attire.
For something classic and elegant, head to J.Crew. They have a great selection of dresses, skirts, and blazers in a variety of colors and styles. Plus, they often have sales, so you can snag a great deal.
Another great option is Nordstrom, which has an extensive selection of dresses, suits, and accessories from top designers.
If you're looking for something a little more unique, check out Anthropologie. They have a great selection of bohemian-inspired dresses and separates, perfect for a winter wedding.
And for a touch of luxury, try Net-a-Porter. They have an incredible selection of high-end designer pieces, including stunning coats, dresses, and accessories.
For those on a budget, ASOS is a great option. They have a huge selection of dresses, jumpsuits, and separates at affordable prices.
And if you're looking for something a little more daring, try Revolve. They have a great selection of statement pieces, from bold prints to edgy accessories.
Once you've found your outfit, don't forget about styling! Add a touch of glam with statement jewelry from BaubleBar or Kendra Scott. And for the perfect finishing touch, head to Sephora for a bold lip or smoky eye.
With these shopping and styling tips, you'll be sure to find the perfect outfit for any winter wedding. Happy shopping!
Frequently Asked Questions
What Is The Most Appropriate Length For A Dress Or Suit At A Winter Wedding?
Here are some tips to consider when deciding on the length of your dress or suit:
Firstly, consider the location of the event. If it's outside, opt for something that provides more coverage to keep you warm during the colder months. A knee-length coatdress could be perfect for outdoor celebrations.
Next, take into account the formality of the occasion. If it's black tie, choose a floor-length gown or tuxedo that reflects your personal style while also meeting the high standards.
For a more casual ceremony, midi lengths are acceptable, as long as they still exude sophistication. Classic fabrics like silk or velvet are always a great choice!
Accessorizing is also important. Pair your dress or suit with statement jewelry pieces, such as pearls, and consider a fur stole for added warmth if needed. Just be sure to wear shoes with enough grip to avoid slipping on icy conditions!
Most importantly, have fun with your outfit! Winter fashion is all about expressing yourself and experimenting with different prints and textures. Don't be afraid to go wild with velvets and faux furs!
Remember, dresses or suits can vary in length at a winter wedding, from ankle-length hemlines to full-length gowns. Choose what feels right for you and make sure you stay warm while looking fashionable!
Should I Wear A Hat Or Scarf As Part Of My Outfit?
Accessories like hats and scarves can enhance your winter wedding look while also keeping you warm. They can add a unique touch to your outfit and showcase your personal style.
When choosing a hat, opt for wool or cashmere materials as they provide more warmth. Fedoras and beanies are versatile options, while fascinators add more sophistication. Earmuffs can also be a stylish choice.
On the other hand, if you prefer a scarf, there are many fabric and design options available. Chunky knits and silk shawls are both great choices. Don't be afraid to add patterns or colors to bring your outfit together.
If you don't want to be too bundled up, a pashmina wrap can still provide the same effect. Adding an accessory like a hat or scarf can elevate your look and make you stand out at the winter wedding.
Is Faux Fur Acceptable For A Winter Wedding?
Faux fur is a popular choice for winter weddings, but it's important to know when and how to wear it. It can be difficult to decide whether faux fur is acceptable attire at a wedding, so I'm here to help!
When considering faux fur as part of your winter wedding attire, the most important thing to think about is style. The key with wearing faux fur for a winter wedding is not overdoing it – you want something stylish that still looks formal and sophisticated.
Think about incorporating subtle accents such as cuffs on your sleeves or adding texture with accessories like bags and hats.
If you're looking for an extra touch of warmth during your winter celebration, faux fur may be just what you need. Whether you choose to go all out with a statement coat or keep things simple by accessorizing with gloves or earmuffs, there are plenty of ways to make sure you look chic yet stay warm in the colder months.
Just remember that some faux fur pieces might appear too casual for more traditional settings – so keep it classy!
Final Thoughts
So here's what I've figured out – when it comes to dressing up for a winter wedding, you have so many choices! You can go for a traditional dress or suit, or maybe try something a bit more unique. Whatever you choose, make sure you stay warm and look good doing it!
As much as I love wearing bright colors during the winter season, research shows that most people prefer darker tones like black or navy blue for weddings. Maybe it's because those colors create an elegant and classy vibe, and they flatter everyone's body type.
But don't just stop at the clothes – accessorize! Hats, scarves, faux fur coats, boots – these are all great ways to keep yourself cozy while looking chic at the same time. And let's be real, when it's freezing outside, you don't want to be shivering all night, am I right?
At the end of the day, though, the most important thing is that you feel comfortable in whatever you choose to wear. So take your time planning your winter wedding outfit, and make sure you're comfortable enough to dance the night away without worrying about frostbite!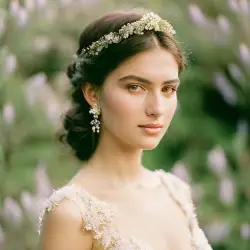 Latest posts by Rosie Liliy
(see all)