Bridal expos are a wonderful opportunity for brides to get started with wedding planning, and get a good idea of their options – they are also a lot of fun and a chance to really start feeling like a bride!
To get the most from your bridal expo experience, you must choose the right outfit – and this can be a little tricky.
Fortunately for you, we have put together everything you need to know about choosing the perfect bridal expo outfit – all you have to do is focus on having and getting ready for your big day.
What Is A Bridal Expo?
A bridal expo is where brides-to-be go to view dresses, accessories, shoes, veils, jewelry, flowers, makeup, and more, offering a great opportunity to get an idea of what's available in the market and to meet with potential suppliers.
It's also a fantastic place to get into the wedding mood and start feeling those flutters of excitement that come along with planning your big day.
The best thing about a bridal expo is that there are so many different options available to suit every style and budget. Whether you're looking for something classic or modern, formal or casual, traditional or contemporary, you'll find it at a bridal expo.
How Do I Choose My Outfit For A Bridal Expo?
There are several considerations to bear in mind when choosing your expo outfit, and these include:
Comfort
It's not just about how pretty you look – comfort should always be your top priority. If you feel comfortable in your clothes, then you will be able to enjoy yourself to the max.
Wedding expos can often be all-day events, and you may be crammed into a space with a lot of people. Staying cool and comfortable is therefore a key priority to ensure that you have the best time.
If you're going to be spending hours standing around, make sure that you pick comfortable shoes – it is a good idea to avoid heels.
In addition, try and make sure that any new shoes are broken in properly well ahead of the day; the last thing you want is to spend half the day hobbling around because your feet hurt!
Ease
A major element of bridal expos involves trying on different outfits and accessories – and this includes wedding dresses. This means that you need to ensure that your outfit is something easy and convenient to slip on and off.
If you struggle to zip up a dress, or if you have trouble buttoning a jacket, you will quickly grow frustrated, and usually hot and uncomfortable, meaning that you won't be able to enjoy yourself as much as you could otherwise. Opt for something easy to slip on and off with minimal fastenings for ease and convenience.
Temperature
As we mentioned, most wedding expos are packed to the rafters, and the majority take place inside. This means that when choosing your outfit for the day, you should consider the temperature outside, but also be prepared for a warmer temperature inside.
Use layers to keep yourself comfortable, and try to avoid any huge, bulky coats or jackets – these are likely to weigh you down, and could quickly become uncomfortable.
Accessories
In addition to dresses, wedding expos also usually offer the chance to buy other accessories such as jewelry, shoes, handbags, and hair products. It is therefore a good idea to go easy on the accessories when dressing for the day or, ideally, skip these altogether.
Wearing lots of jewelry and accessories means that you will simply be frustrated as you remove them to try on each new piece at the expo, and this can put a dampener on your day, as well as increase the risk of you losing a precious piece.
Jewelry can also get caught on the dresses that you try on, and this can be embarrassing at best – and result in a repair bill at worst.
The only exception is your engagement ring – it can be useful to bring this along to allow you to check out which stones and colors work well with your ring, and this can play a key role in choosing the other accessories you will wear on the big day.
The ring can also be useful when picking out a dress, as certain styles and designs may compliment your rock more than others – by bringing it along and including it as you will on the day, you can see what works best before committing to a purchase.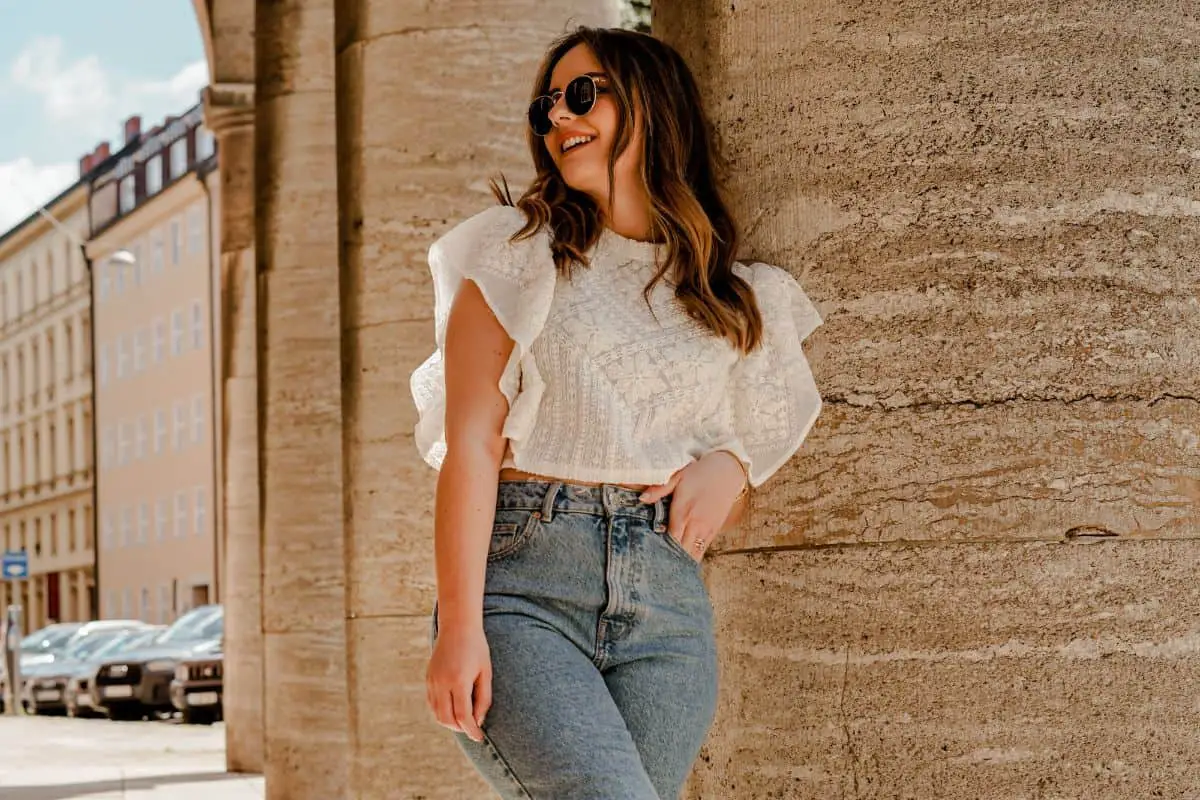 Makeup
In a similar vein, it is a good idea to wear minimal makeup when visiting a bridal expo; not only does this reduce the risk of smudges and damage to dresses, but it also means that you will have a fresh face that makeup artists and experts can really see, and therefore offer you the best advice, tips, and tricks.
It also means that you can try products without removing your old makeup first – while artists will of course start with a bare face to apply their products, this can irritate your skin over time, so try to reduce the amount you wear in the first place.
If you do decide to wear makeup, opt for light coverage, and stick to neutral shades. Avoid anything too bright or dramatic, as this can look messy and distracting, and make it harder for the professionals to see your natural tone.
This also applies to perfume – unless you have a dedicated perfume that you have already picked for your big day, you may want to explore the options available at the expo.
By starting with a bare base, you reduce the risk of scents becoming overpowering and confusing, and will be able to make the perfect choice for your perfect wedding scent.
Wedding Expo Outfit Suggestions
So, with that in mind, you may be wondering how to pull together the perfect outfit for a wedding expo. Some of our top suggestions include:
Leggings, Cardigan, and Flats
This is a super casual, relaxed outfit that works perfectly for the activities at a wedding expo. Add some sneakers or boots to complete the look, and guarantee comfort and ease of movement all day long.
A T-Shirt Dress
T-shirts are one of the most versatile pieces of clothing around, and they are ideal for a wedding expo because they are comfortable, easy to move around in and come in many different shapes and sizes.
If you are looking for something simple and elegant, then a t-shirt dress is an excellent option. You can easily add a cardigan or jacket if the weather turns chilly, or the temperature inside the venue drops.
Dress Pants
Pants are another great option for a wedding expo, as they are practical, easy to move around, and come in many shapes and sizes.
They can be worn with heels or flats, and are a great way to keep things cool and comfy during the day, as well as offering a more versatile option than jeans.
Team with a classic sweater for an effortlessly elegant look that is still easy to move in and get in and out of for trying on.
Sweater Dress
Another classic style that never goes out of fashion, sweater dresses are a great option for a wedding event. They are easy to layer up or down depending on the season and can be dressed up or down according to the occasion.
This is a great option for those who prefer to stay warm, but don't want to sacrifice style, and can be paired with leggings for comfort and convenience.
What Will Be At A Wedding Expo?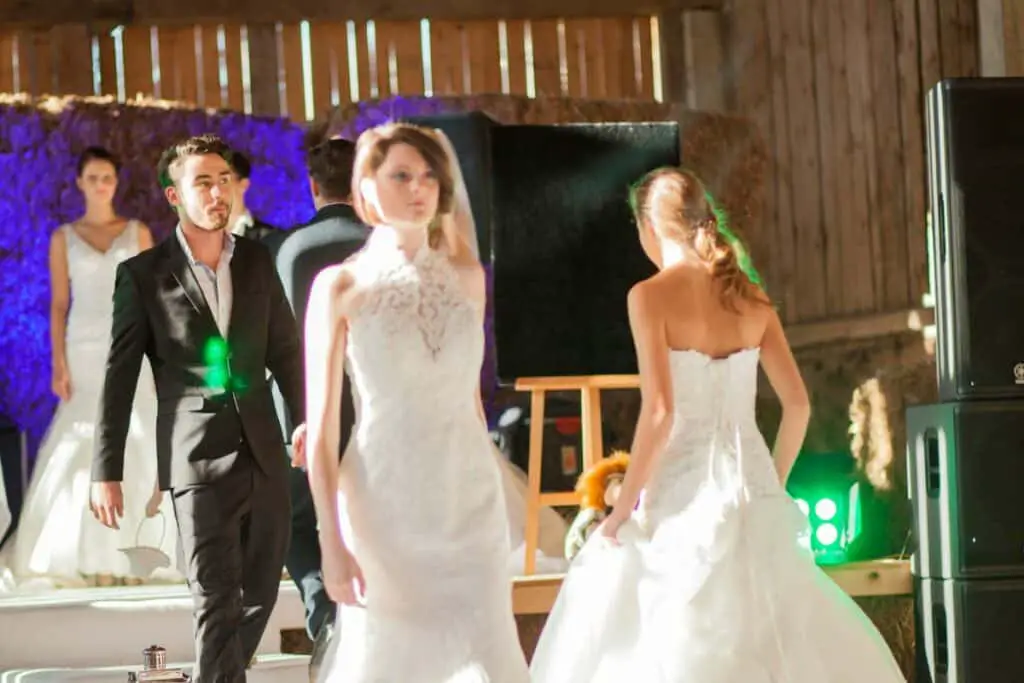 A wedding expo is a brilliant opportunity to explore vendors, get inspiration, and gain a better understanding of just what you want your wedding day to look like. There are a number of things to see and explore, including:
Wedding Dresses
One of the main appeals of wedding expo events is the chance to see a wide variety of wedding dresses all in one handy location. Suppliers and designers will be showcasing their latest collections, so you can find exactly what you're after without having to trawl through endless shops.
This can also be a great chance to get a better understanding of the size that you need for your gown, which can be tricky to determine when buying online.
It's always best to try on a sample first, but this is not always possible, especially if you've ordered from overseas, and wedding expos allow you to experiment with a range of styles, sizes, and fabrics before committing to anything.
Jewelry
Jewelry vendors are also common sights at wedding expo events, where you can browse through a selection of rings, necklaces, bracelets, and earrings.
These items can make a big difference to the overall look of your ensemble, and having a wide variety of options to choose from in one place can be very helpful.
Accessories
Many wedding expos also offer the chance to explore a range of accessories, including jewelry, headpieces, shoes, bags, and even belts.
Accessories can really help to complete an outfit, and a wedding expo is a great chance to take a look at the options available and see what would work well with your wedding vision.
Final Thoughts
Bridal expos are a great way to get into the wedding mood, do a little research on what is available, and get inspired by some of the best items and options on the market.
By having a good idea of the best outfits, you will be able to create a stylish look that reflects your personality and taste, while ensuring that you have everything you need to feel comfortable throughout the day. All that remains is to enjoy the expo experience!

Latest posts by Lisa Plaitt
(see all)