Are you staring at that wedding invite, running your fingers over the swirly typeface, and breaking into a mental sweat over, "What on earth will I wear?" Or maybe on another occasion, you stood in front of your bursting wardrobe, dress after dress tossed aside because – 'too long,' 'too formal,' or the killer – 'not quite right'. The struggle is real!
We're here to shatter this stress. The truth? Weddings and short dresses can go perfectly well together! Shocked? Delighted? Hungry for more? Well, buckle in as we bust myths and give that short frock a big thumbs up!
There's an art to wearing a short dress just right – it's about striking that sweet balance between respectful tradition and contemporary chic. And trust us when we say – flashing thigh tattoos or showing off a booty-tight mini isn't part of that equation… We want breezy elegance!
Understanding the Short Dress Debate for Wedding Events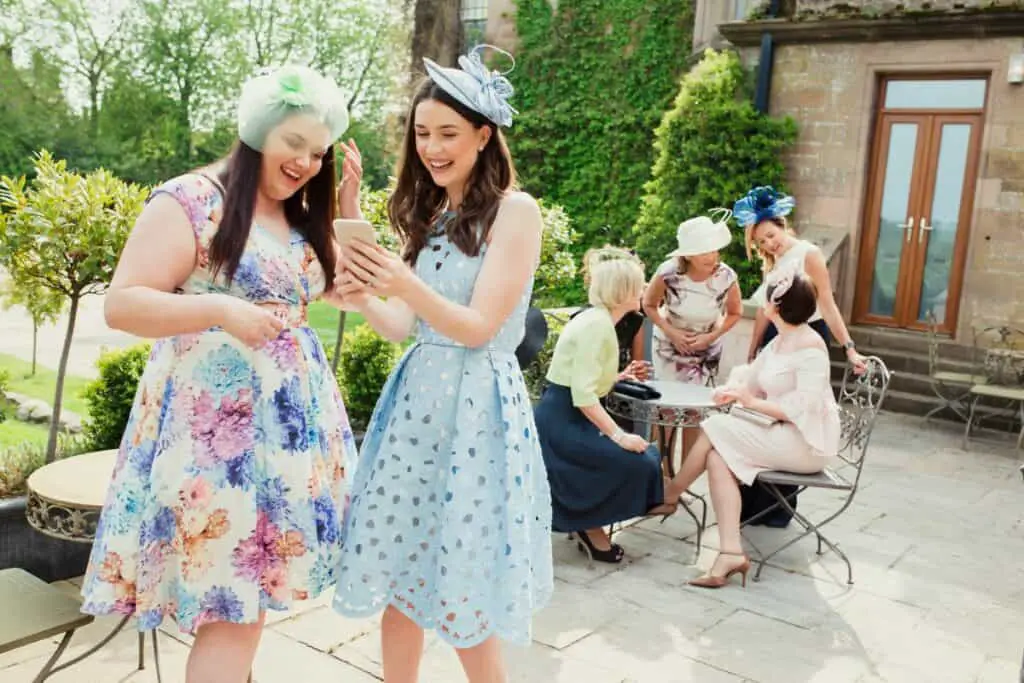 First things first – appropriateness is key! Sure, weddings have swayed from tradition nowadays; dialing up the fun factor while paring down strict formalities. Yet certain norms still hold sway like bashful bridesmaids. Break them at your own peril or better still – don't!
When should you consider wearing that short dress? Look for these signs – tropical venues, daytime strolls down daisy-laden aisles or cocktail parties by shimmering pools. Any strict black-tie tag turns the green light red.
Turn heads without losing yours by acknowledging one fundamental truth: It's the couple's special day! Anything risqué or over-revealing might be appropo elsewhere, but at weddings … not so much. Aim for that sweet spot of being sneakily sexy yet respectfully adorable – an inch above knee length does wonders.
In conclusion – yes to modern and fun but no to distracting flashiness! Consider your surroundings and strike a balance between being expressive and respectful. And always remember – weddings are about celebrating love — by all means do it in style … just keep it classy!
Deciphering Wedding Invitations: Dress Code Vs Short Dresses
Wait, what? Weddings have secret codes? Oh darling, you bet they do! And these cryptic ciphers aren't just in the bridesmaids' Whatsapp group chats. That invitation you got – it's more than a Pinterest-perfect card. It's a scroll with vital clues wrapped up in pretty script!
The first thing to remember – if you got an invite, you're on the bride and groom's VIP list. They thought of YOU while counting heads, so pay that warm gesture forward by taking their dress-code jotting seriously. It's not just ink-on-cardstock, it's respect for love sanctified!
"But where does my short little number fit into this?" Great question! And the answer is simple – make sure your dress jives with the stated dress code.
Cocktail frocks? You're almost home-free here. A well-tailored short dress – think semi-formal or preppy-casual – strikes just the right chord between fun and classy. But, if 'formal' is at play (in all its shadowy guises), it might be time to pursue a slightly longer hemline.
Conversely, if your invite mentions 'business casual', breathe easier! Your short dresses are back in action for center stage encore! Remember to keep the bold glitz under wraps; effortlessly elegant is our mantra here!
So next time you get an invitation, get out your fashion magnifying glass along with those RSVP cards – decode that dress code and make fashion work for you! Onwards to more networking-worthy insights… Are you as excited as I am? Let's do this together!
Picking the Right Wedding Guest Attire based on Seasonality and Colour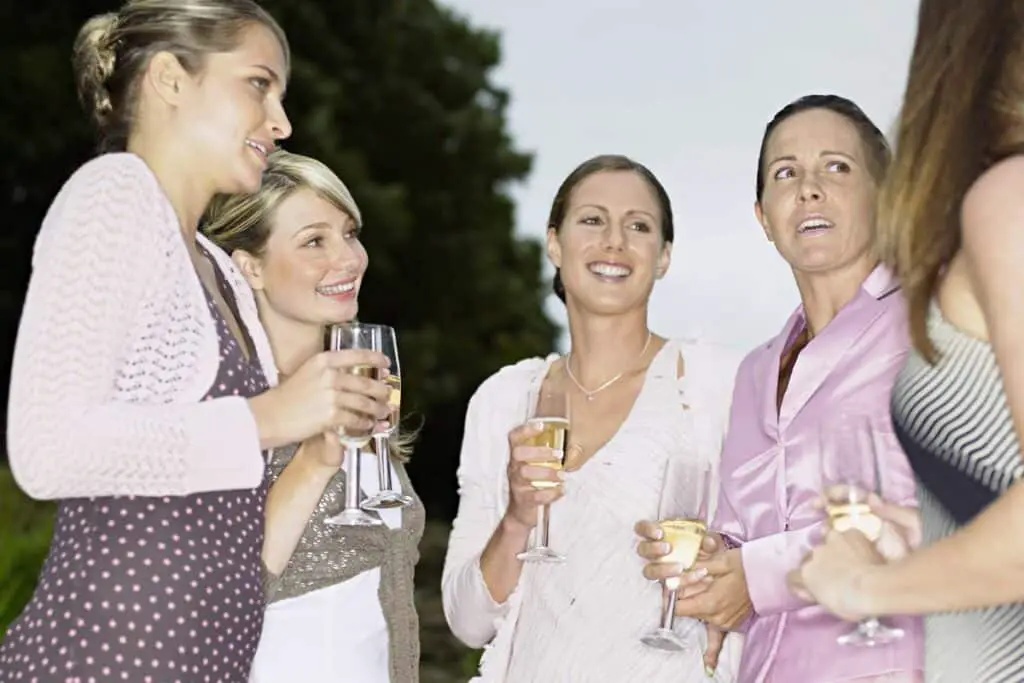 Let's set the scene. You're standing in front of your closet, a bewildering sea of multi-hued short dresses waving back at you, each screams, "pick me!" Throw in the added complexity of matching your dress with the wedding season, and chaos escalates further!
First rule: Your short dress' colour palette must shake hands respectfully with the season du jour. Truth bomb – no one wants to see heavy velvet burgundy or midnight blue at their outdoor summer brunch wedding. The same goes for frosty pastels during winter; they're likely to make your fellow guests shiver just looking at you!
Hope this tip doesn't send your jaw dropping – but try avoiding white please! It might seem like an innocent choice but tread carefully around this fair hue unless you have express permission from the bride. She'll thank you for maintaining nuptial peace!
And here's a pro tip for you style detectives: Play detective! If you manage to get sneak peeks of the bridesmaids' dresses, stay away from similar shades lest people think you've gatecrashed their fashion bandwagon.
To elevate that look further, throw in some tastefully chosen accessories (keep those fancy watches away!). Statement jewellery is more than just a sparkle fest—it sets your outfit apart while adding an extra pinch of allure.
So, ladies and gentlemen (because men can rock bright colours too), let's paint the right colour with our attire choices onto these weddings we've been cordially invited to! Now shall we 'carry on' toward more fashion-forward insights? (wink) Let's hop onto it lovelies!
Avoiding Inappropriate Short Dress Choices for Weddings
Fancy yourself a maverick, do you? One who loves coloring outside those fashion lines and pushing those boundaries? Power to you! But weddings might just be the place where curbing that rebellious streak could win you more smiles (and champagne refills) than you'd think!
Short dresses can indeed sidle up to elegance and sophistication when worn right. But beware the tricky line between stepping out in style and transforming into an undesired head-turner. Let's dodge these mines before we strut down the aisle.
Beware of the 'too-short' short dress at formal or black-tie weddings. Eyebrows ain't just for raising at your daring hemline, darling! Let's keep things more 'royal garden party' less 'beach bonanza'. The golden ratio? Maintain decorum with a hemline not more than an inch above your knee.
Then there's the challenge of keeping things flirty and fun without drifting towards flashyville – overly revealing, ridiculously tight or excessively jazzy frocks can come off as disrespectful. Remember, it's about complementing the bride, not competing with her!
Playfully elegant is our aim here: Think Audrey Hepburn versus Marilyn Monroe in Some Like it Hot—fabulous but wisely choosing which curves to highlight.
So, keep blinding bling and risky cling to other events. At weddings you're a guest – aim for undeniably stylish yet respectful fashion choices! Now let's rock ahead on our sartorial journey together… Shall we see what other fashionable tidbits are waiting?
Handpicking Short Dresses from Top Brands for Different Seasons
Isn't it exciting to shop for weddings? But you know what's even better? Shopping smart. The perfect short dress that's season-appropriate, wedding-friendly and makes a fashion statement – It's not as mythical as a unicorn, promise!
Let's paint a picture with some examples.
Lulus Radiant Love Embroidered Dress is the understated heroine of this tale. Priced at $79, it doesn't play havoc with your wallet while basking in the glow of budget-friendly sophistication. Its ever-so-charming floral embroidery is like poetry to your sartorial soul.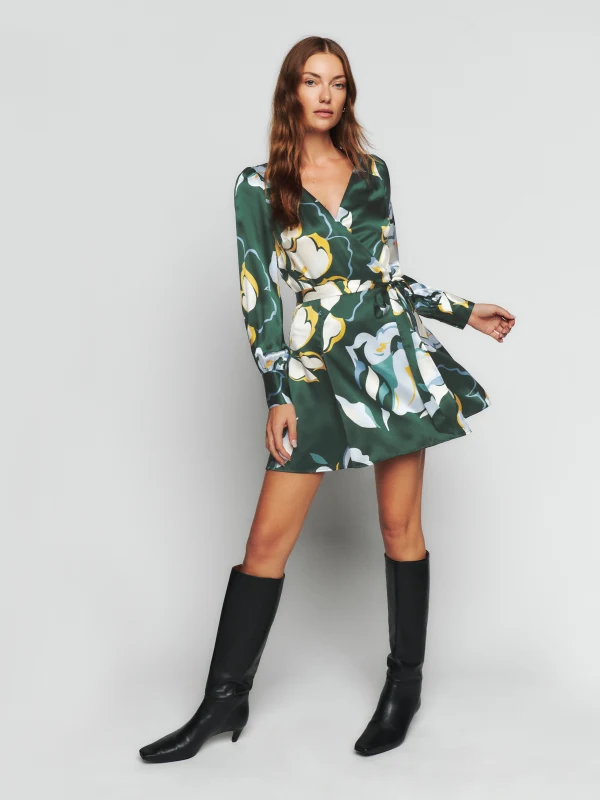 Next on our shopping list would be Reformation Chrisley Silk Dress, an olfactory treat for your wardrobe, priced at $278. This lightweight silk charmeuse stunner fits right into every swanky cocktail party or lavish soirée equally without ever going out of style! Versatility combined with elegance? Yes please!
Are you willing to flirt around with styles while still clinging onto elegance? This Asos Design Petite High Neck dress takes its role rather seriously then! Its body-conscious fit adds just the right kind of spice without being overpowering.
Despite these enticing options, remember that your choice must align harmoniously with the wedding venue, timing, and most importantly—the inviters' taste! So, fellow shopping warriors—wedding season is upon us—let's grab those browsers and hit those cart buttons armed with newfound wisdom! Shall we march onto uncover more fashion nuggets… Come along!
Personal Care and Conduct as a Wedding Guest
You see, even the most exquisitely picked outfit can't replace good grooming. Flawless hair – boost it with waves or sleek it down straight, neat nails – prettily painted or au naturel, and a swipe of lipstick can take your style quotient up by several notches.
And what about those feet you ask? Put them in stylish but comfortable shoes (tip: new shoes need breaking-in time!). We want you dancing to the beats not limping on retreat!
While we are at it, let's talk about conduct too 'cause manners make men (and women too!). Now look here, weddings are not just another chance to party but to celebrate love – so don't outshine the bride (either in attire or actions!).
Keep essential items on standby too – breath mints: check! Compact mirror: check! Emergency lip balm: check! A small bag clutching these necessities tight can save you from many a plight!
Remember though – above all, be yourself. After all, you were invited because YOU matter to the couple. So let's toast their happiness while basking in our own awesomeness!
Now armed with our fabulous short dresses and this pow-wow on personal care, ready for the next tip on stepping it up a notch? Great! To infinity and beyond we venture…
Frequently Asked Questions
Is it appropriate to wear a short dress to a wedding?

Yes darling, it certainly is! But before you pull out that mini, do consider factors such as the wedding's timing, location, any stated dress code and of course your own comfort.
How short can my dress be for a wedding?

Well, we certainly don't want to stir up a scandal! A safe rule is that the length shouldn't be more than an inch above the knee. Maintain decorum and remember – weddings are elegant affairs.
I'm attending a summer wedding. Can I wear dark colors?

Nope! Summer is all about celebrating life in its vibrant hues. Opt for lighter colours that keep you cool and look refreshingly stylish too!
Do I have to conform strictly to the dress code on an invitation?

Respecting the couple's wishes is important in such matters. If there's a specific mention of formality or style – lace up accordingly (or zip or button)!
At what type of weddings am I allowed to wear white?

Wearing white can cause serious social paleness unless expressly permitted by the bride.
Wrapping Up
The next time you're racking your brain over what to wear for a wedding soirée, just revert to this guide – think seasonality, respect the dress code, and most importantly stay true to your own sense of style!
So shall we let those inner goddesses out? Their time is now! Unleash that confidence and alongside it – a whole new wonder-train of irresistible wardrobe choices for those upcoming nuptial shin-digs!
Remember lovelies—rules are there as guides but adventures truly begin when you make your voice heard amidst all that noise. So turn heads like a queen while enjoying the vibrancy the magical journey of love brings. Break out from those cocooning doubts and keep slaying in style!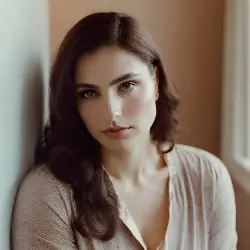 Latest posts by Ana Medea
(see all)