Wedding dress shopping is arguably the most enjoyable aspect of wedding planning. Before you start browsing different designers and dress designs, it's important to know the difference between white and ivory.
These two shades are the most popular ones for bridal dresses. They do, however, vary a little. While the neckline, skirt style, and length may initially catch your attention, the color of the dress is equally important.
It may be difficult to differentiate between ivory and white due to their slight differences. As a result, it is important that you understand what sets these two hues apart from one another.
Especially, if you intend to wear a shade of white for your wedding day, in order to make the ideal choice for you.
In this article, we will help you understand the difference between ivory and while. While also providing you with 25 examples to spark your imagination.
Shades of White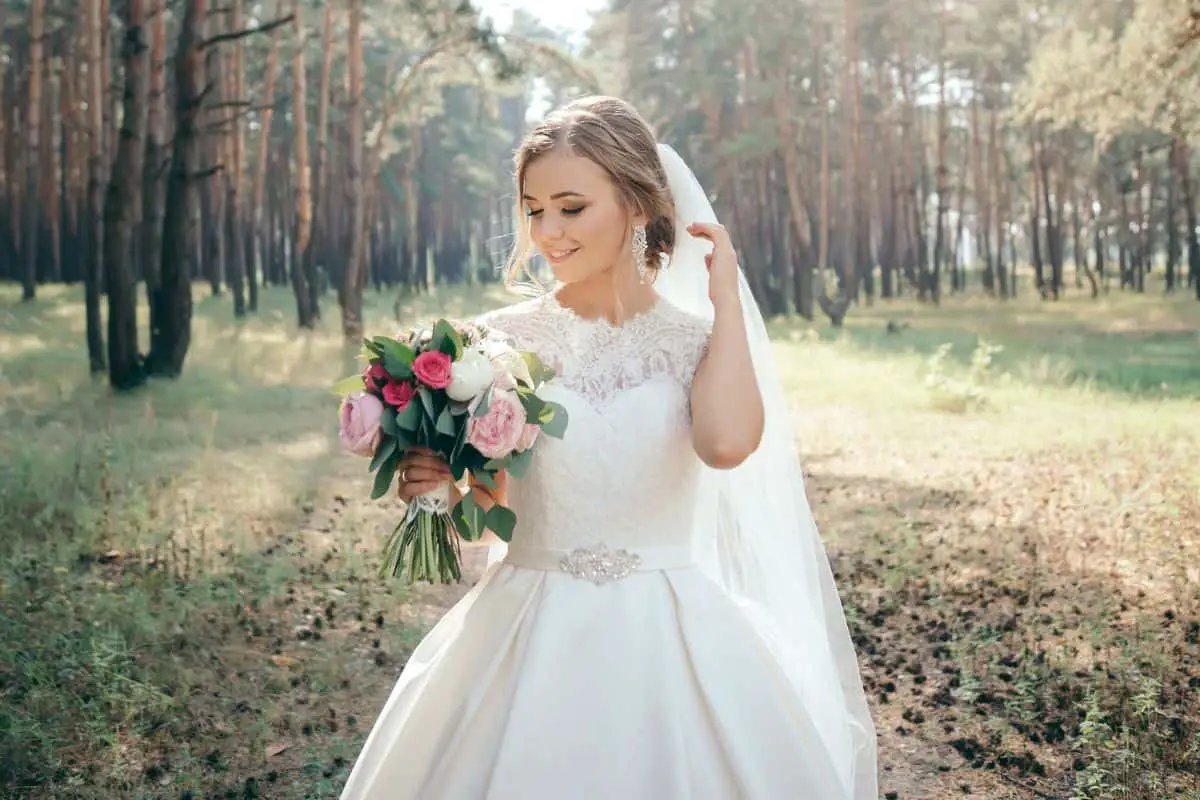 While it may appear that all white bridal gowns are created equally, this is not the case. There are two main types of white dress: stark white, and natural white.
Stark white is a very bright, crisp shade of white that has no undertones or hints of other colors. This type of white is often used in more modern and contemporary wedding dresses, as it can give a very clean and fresh look.
Natural white, on the other hand, is a softer shade of white with subtle yellow or cream undertones. This type of white is often used in more traditional and romantic wedding dresses, as it can give a softer, more romantic look.
Ivory is of course the third option in this category – this is a warmer, creamier hue that has yellow or golden undertones, and this is becoming increasingly popular amongst many brides.
What Are The Differences Between Ivory and White Dresses?
While ivory and white may appear to be very similar on the surface, there are actually a number of differences between the two, and these include:
Color
The main difference between ivory and white wedding dresses is very subtle in color and tone. Ivory is a warmer, creamier hue that has yellow or golden undertones, while white is a crisp, clean shade with no undertones.
This means that ivory can be more flattering on skin tones than white, as it won't wash you out as a stark white dress can.
Fabric
The fabric of an ivory dress can often be a bit heavier than that of a white dress, as in some cases, the color requires more dye to achieve its hue.
This means that ivory dresses can be slightly more expensive than white dresses due to the extra cost of dyeing the fabric.
Style
For some brides, ivory wedding dresses tend to have a more traditional and romantic feel, while white dresses are often more modern and contemporary.
If you are going for a very specific look and theme for your wedding, then the subtle difference between ivory and white can make a big difference.
How To Choose The Right Color For Your Wedding Dress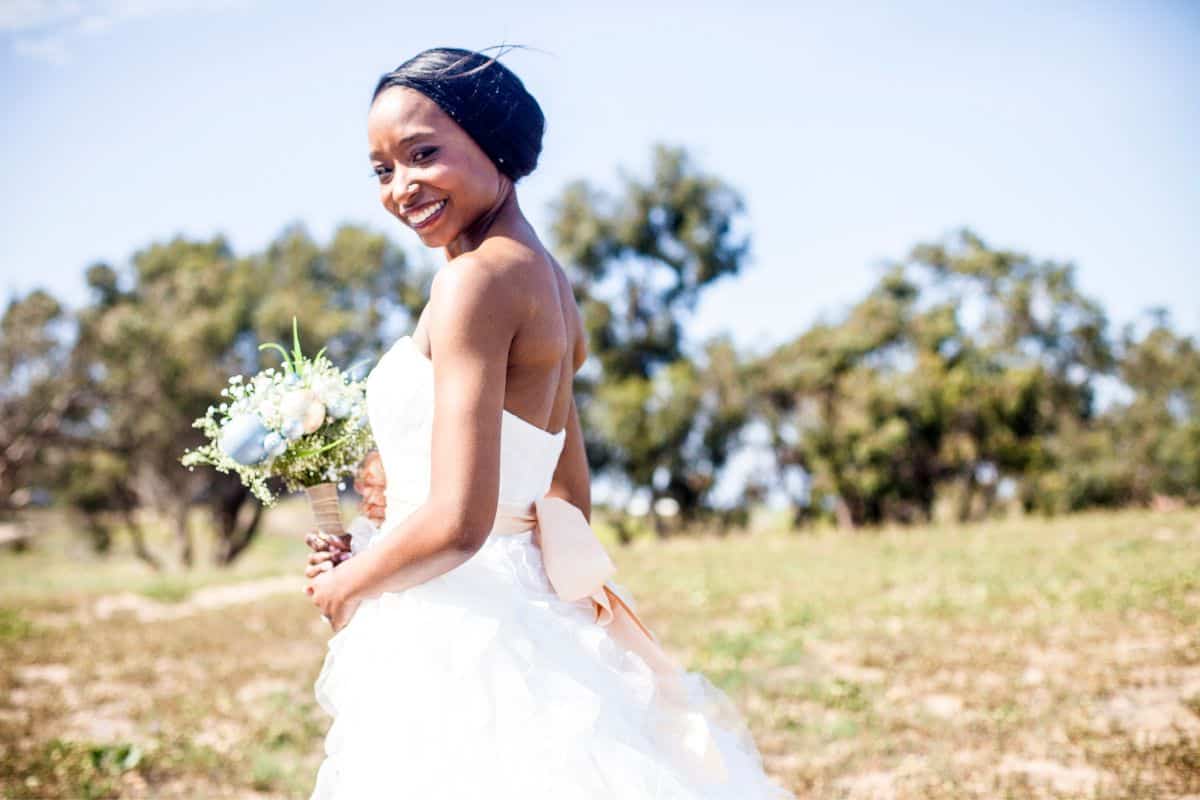 When it comes to choosing the right color for your wedding dress, there is no right or wrong answer – it all comes down to personal preference and what you feel most comfortable in.
There are a number of factors that will play a key role in your decision, and these include:
The overall theme and style of your wedding will play a key role in determining the color of your dress.
If you are going for a more traditional, romantic look, then ivory may be the better choice. On the other hand, if you are going for a modern and contemporary look, then white may be more suitable.
Your Skin Tone and Hair Color
The color of your skin can also have an impact on the color of your dress.
Brighter whites typically go well with darker complexion tones. The wearer of a stark white gown may come up as washed out when paired with lighter skin. On the other hand, pale or pink complexion tones go well with warm ivory undertones.
You also have to consider your hair color when choosing a gown, as warmer tones may look better with warmer hair colors such as browns, auburn and black hair.
In some cases, the cost of dyeing fabric for an ivory dress can often be more expensive than that of a white dress, so this is something to consider when deciding on the color of your dress.
Ultimately, the choice between ivory and white wedding dresses comes down to personal preference and what you feel most comfortable in. Consider your wedding theme, skin tone, and budget when making your decision, and you'll be sure to find the perfect dress for your special day.
Certain materials respond better to various colors. While silkier fabrics like chiffon, satin, and taffeta accentuate the darker undertones of ivory colors, matte fabrics like crepe are perfect for making white stand out.
A dress's lining will also improve the way it looks overall. A lining that complements the overlay will give the color a richer appearance. While, a lining that is a little darker will create dimension.
When selecting the perfect color for your wedding dress, don't forget to also consider your personal style.
Do you prefer a delicate and romantic aesthetic? If so, ivory might be the ideal choice for you!
For many brides, white is just not a color they would normally wear. They may feel uncomfortable wearing a bright white gown, as it draws a lot of attention, and can be unflattering to some people.
Therefore, opting for ivory or different, darker shades of white can make them feel more at ease, and more themselves. 
On the other hand, if making an impact is more of what speaks to you then perhaps opting for fresh white will bring out that boldness in your look.
Ask your consultant at the wedding dress shop if you're unsure about your skin tone. Mention that you're not certain which white you want, and ask for assistance in analyzing your choices and describing what complements (or doesn't) your vision.
Ivory And White Dress Examples
In this section, we have pulled together 25 gorgeous wedding dress examples in white and ivory to help spark your imagination. We have selected a broad range in various styles and price points for all skin tones. 
Ivory Dresses
This is a halter-style dress made of lace that has an exposed back. The Maria succeeds in being both current and timeless. It will elongate your figure and draw the waist in for more definition.
This is a simple but beautiful garment that is also pretty reasonably priced.
This romantic tulle A-line wedding gown will help you say "I do" in style. It boasts a stunning empire waist, sheer layers, and a plunging neckline made of lace.
All this for less than $70. With its attention to every detail and materials, this sleeveless wedding dress with historical influences emanates a sophisticated elegance that is distinctive and unforgettable.
If you are after a simple dress, then you should definitely consider this one. It is a very simple floor length gown, with no real details on the dress.
It has an open back which features a simple but bold bow. For those of you with a darker skin tone, this gown will make your skin glow. If that wasn't enough, this dress is also under $100!
Elegant ivory off-the-shoulder A-line bridal gown with a crisscross bodice. The bodice is finished by a thick front bow tie. There is a long cathedral train on the skirt, which is just partially lined.
Overall, a modest design that will be noticed as you proceed down the aisle.
The height of beauty and elegance is this white floor-length Ava gown. Silky satin fabric is paired with feminine cap sleeves. It has a delicate cowl neck that flows into a straight shape with a light train at the end.
Ideal for any olive-skinned brides. Pair with nude shoes and simple pearls.
All eyes will be on you in this Lulu's Sweet Love Ivory Lace Beaded Maxi Dress! Beautiful floral lace defines this stunning maxi dress. It also consists of a darted sleeveless bodice, a V-neckline, and thin shoulder straps over a sheer knit liner.
Two layers of pretty tulle are topped with a sparkly beaded waist to give the lovely dress a much fuller silhouette.
The off-the-shoulder sweetheart neckline of this exquisite long dress is striking. It is a very fitted and to the floor-length dress with lace appliquéing embellishment.
Which makes it beautiful to look at. The plunging neckline makes this dress very romantic and sexy for any bride that decides to wear it. Not only will this dress hug your figure, but it will make you feel like a princess. 
A captivating strapless sweetheart neckline, full glittering underlay, and tiered embroidered lace gown. The intricately patterned lace appliquéing on the fitting bodice attracts and matches the tiers of lace that encircle the skirt.
The dress has a full chapel length train and matching covered buttons on the end. There's so much to fall in with this dress. 
A princess-seamed bodice and V-neckline with contrast white floral appliques are shaped by lovely floral lace on top of knit lining. A lovely maxi skirt creates a mermaid silhouette, with a flattering side slit, and a lovely lace train is topped with a set-in waist.
This is the ideal dress for plus-size brides or brides with a deeper complexion. With a concealed back zipper and clasp for a seamless fit. 
In this stylish mermaid gown, you can emphasize your hourglass form. The eye-catching low illusion back has lace trimming and buttons at the hem. The exaggerated waistband and princess paneling on Domenica gives this dress a gracefully extended profile.
This is an English net and ivory lace A-line dress. With a low scoop back, illusion trim around the illusion sweetheart bodice with spaghetti straps. This dress exudes elegance and beauty in every way.
To give the skirt a particularly dreamlike appearance, the lace detailing cascades down onto it.
Elegant ivory bridal gown with off-the-shoulder tulle sleeves. Features a wide tulle skirt with a lengthy train and a bodice of draped tulle with pearl appliquéing. A romantic and elegant dress that would make any bride feel special.
Maybe you are looking for something really special. Then why not try this handmade long sleeved, simple boho dress. With a scoop neck, which creates a very flattering profile with the fitted bodice.
The skirt is long and flowy, with gathered long sleeves to create a fairy-like wedding dress. 
White Dresses
This light-as-air tulle wedding gown for curvy women has a cold shoulder bodice with spaghetti straps and flowing sheer lantern sleeves. This stunning wedding dress is ideal for a garden wedding or an outdoor-themed bridal moment. 
Thanks to its stunning appliqué detail and cold shoulder sleeves which makes the wearer look truly beautiful. 
With this dress, its defining features include a floral embroidered bodice and a very soft and flowy pleated skirt. The embroidery is not only on the bodice, but continues through to the long sleeves found on this wedding dress.
It has a slightly open back with button neck closure. 
This exquisite dress includes an off-the-shoulder neckline, a concealed V-bar, no-slip strips, and small eyelash lace sleeves. Gorgeous floral lace shapes the dress, which is placed on top of a light nude liner.
A long midi skirt with layers of contrasting lace sits atop the fitted bodice. This is a great dress for any bride who doesn't want a long skirt. 
This extra-long A-line wedding gown epitomizes carefree, timeless elegance. Its clean lines, sweetheart neckline, and all-over lace makes a statement. As the skirt flows in a petal-like layer, a tiny gathering at the hip adds a hint of interest.
This gown also demonstrates how stunning white may appear on a person with a darker skin tone.
This beautiful, elegant dress has a one-shoulder neckline and a lengthy skirt with pleats.  Additionally, another feature of this dress that you might like is the fact that it features pockets.
Overall, this dress is around $200, making it accessible to every bride on a budget.
On your special day, you'll feel like royalty wearing this ethereal beauty. With its elaborate hand beaded waistband, neckline, and straps along with its delicate lace, illusion halter neckline.
The daring side panels of Calyssa's lace illusion gown give this light and breezy dress some adventure. Finished off with a stunning gathered skirt featuring a seductive side slit. This dress comes in a wide range of sizes to fit practically every body type.
This stunning dress is made of medium-weight woven satin with a high gloss luster. It also features adjustable spaghetti straps, an apron neckline, and a princess-seam bodice. An airy, high-low maxi skirt is created with box pleats, and side seam pockets.
All of this creates a dramatic silhouette which is topped with a fitted, banded waist. If you want a different silhouette but not a lot of detail on your dress, this should be a consideration. 
This dress has a very modern design. The most eye-catching feature is the removable puff sleeves. Yet, these puffy sleeves work well with the form fitting silhouette.
The back of the corset zips up, and it includes ornate draping. Consider this bridal dress for a more modern style.
Layers of chiffon are gathered to create a delicate and flowing skirt which also creates a small train. The bodice consists of more chiffon that has been positioned to create a pleated V-neck. This is a simple gown that will look eye-catching on any bride. 
This dress features a plunging V neckline, a drop low back, and concealed pockets. It is an embroidered tulle ballgown featuring embroidered lace detailing and massive floral motifs.
This dress is made-to-order, which ensures it is created especially for you. Every bride has the option to modify this dress to suit their style. 
Verity is a straightforward ball gown made of mikado satin with a box pleated skirt, a dropped waist, and a sweeping two-meter train. Along with this opulent train, delicate straps rest on the outside of your shoulders.
This then causes a deep sweetheart bodice, which accentuates the bust line. Verity has all the elegance, grace, and romanticism a bride could desire in a ball gown.
The small blossoms all over this lovely A-line dress give it a captivating dimension. The sheer back and the puff sleeves, which can be worn on or off the shoulder, both showcase the lovely needlework. A truly elegant white wedding dress. 
Conclusion
On first appearance, white and ivory wedding dresses can look similar. Those with a lighter skin tone suit ivory dresses, while darker skin tones suit whiter dresses better. However, no matter what the color is, it's important you love the dress you wear on your big day. 
Hopefully, you now have a better idea between ivory and white wedding dresses. With 25 real examples to help you make your choice.

Latest posts by Lisa Plaitt
(see all)