A gold and emerald green wedding color scheme creates an intriguing and alluring motif thanks to its richness and glamor.
Your decision to use the color emerald green throughout your wedding is extremely meaningful. Green is the hue connected to the heart chakra in the system of chakras.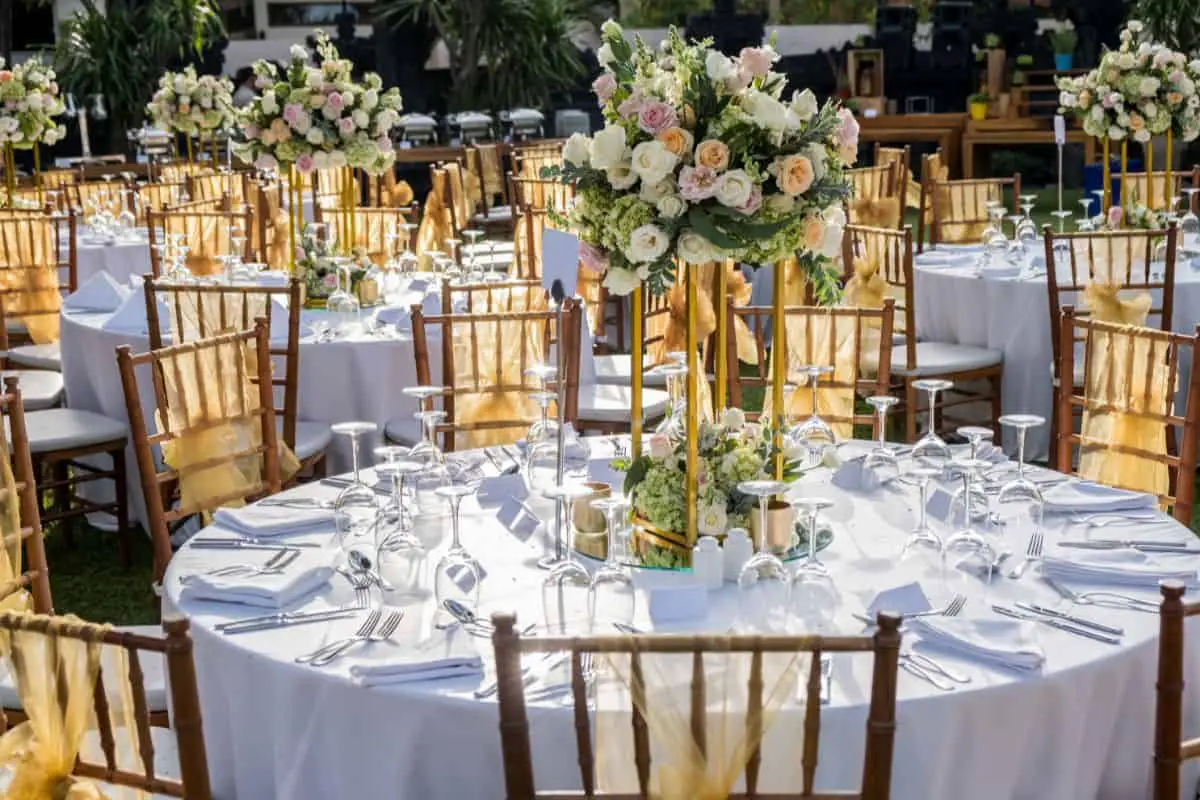 Love, compassion, ease, elegance, and balance in relationships all stem from this chakra. The heart chakra's sacramental association is marriage.
Even though jewel-toned emerald green is a deep, rich color that stands out on its own, highlighting it adds a touch of riches, elegance, and luxury.
A variety of wedding sub-themes, including vintage, bohemian, modern, industrial and traditional, go beautifully with this stunning color scheme.
In this article, we have put together the best gold and emerald green wedding ideas that may help inspire your own wedding. 
Want to add more colors to your wedding? Don't forget to check out our other color schemes:
An elegant approach to up the elegance of your sweetheart table decor is with a beautiful emerald velvet table runner.
You could have your own table or every table with these runners to add a pop of color.
Or you could just leave these runners on your table to make a statement. 
It is a good idea to use this runner for the table where guests can find their seats or for presents.
The color will catch everyone's eye that they will want to see on the table. 
In addition to that, to make a spectacular arch decoration, this velvet emerald green material is available in various lengths.
Hence, longer lengths of this fabric could be draped from the ceiling. Either use it at your ceremony or at your reception.
This exquisite pair of hand-decorated cake server and toasting flutes in green and gold will add a sophisticated and fashionable touch to your event.
A great keepsake to cherish and show in your home after the wedding that is personalized with both names and the date of your nuptials.
While the speeches are being made, you and your newly-wed partner can drink from your own personalized glasses.
However, you could also purchase plain emerald and gold flutes so that everyone has a similar glass for the speeches.
Either way, these glasses can be a lovely touch to your emerald and gold wedding theme. 
Alongside that, you could also get a cake serving set to match your toasting flutes.
Thus, you can cut your cake using your own emerald and gold crafted cake server to make the moment even more special. 
This "Love" wedding cake topper is a charming way to adorn your cake with its lovely calligraphy script.
There are various different types of wedding cake toppers on the market, yet this one is not only gold, but it is also sparkly.
It helps to add the finishing touch to create the wedding cake of your dreams.
These stunning emerald green and gold acrylic wedding signs will help add a touch of elegance to your wedding day.
These signs can be used in various ways, such as a welcoming message to the wedding venue.
Also, these signs can be used to create a seating plan or provide any other information that they require. 
These signs are simple but highly effective. The golden writing works really well in contrast to the darker emerald background. 
When it comes to your tables, you don't have to go all out to make a really good impression.
On a simple white table cloth, a gold plate accompanied by a deep emerald napkin can make a striking yet beautiful partnership.
In action to that, you could go full out with golden cutlery and wine glasses, or you could keep it simple. The choice is yours!
This gold geometric galvanized set contains a small candle holder and four vases in all sizes and shapes for a stunning match with your emerald decor.
Five pieces in this elegant collection of hand-blown glass vases can be used as terrariums, centerpieces, or vases. 
Inside these vases, they can hold flowers, plants or anything that you wish.
Green foliage adds a natural element compared to the robust vases, which look elegant together. 
This chic emerald card box is a lovely option for securely storing the warmest wishes of your guests.
The box is embellished with velvet fabric and a silk ribbon, and is made of sturdy cardboard.
Your names and the date of your wedding are printed on a customized golden banner.
In addition to that, this box could be used, if you happen to receive cards or money from your guests, that you wish to keep safe.
There are various uses that you can use this box for. Alongside also a great keepsake of the day to look back on. 
This sophisticated hardback emerald green wedding guest book has black pages for inserting photos and white ruled pages with authentic foil printing.
For a charming memento of your big day, personalize it with the date of your wedding and your name that will be in gold writing on the front cover. 
Give your guests gold or emerald pens to write in the book, deep on the color of the page. Gold pens work well on the black pages and emerald green on the white.
Create a beautiful wedding book that will not only look incredible, but hold onto all your memories of the big day.
These emerald velvet bags will present your favors in luxurious style. The pouches are handmade with a delicate crushed velvet fabric and come with a lovely silk golden tassel.
They are incredibly soft to touch and will add an edge of excitement, as your guests won't be certain what is inside them. 
Also, your guests can keep these pouches as a remainder of the day. You can also attach a tag with golden writing with your names and day of the wedding as well.
This will make these pouches even more personal. 
Even something as simple as gold and emerald green flower petals can add a feminine touch to your wedding.
These petals can be thrown instead of rice or confetti after you have tied the knot. Or why not sprinkle these flowers on your tables, to add more touch and more romance to the venue.
These satin petals also make a great gift. Everyone will love them as they are so silky and look beautiful. 
A useful idea for your guests' favors is round candle tins. Your guests will like carrying tin on their upcoming trip because it is simple to put in luggage.
These can be customized with a design, background color, monogram, or up to two lines of text of your choice.
Speaking of candles, golden toned or emerald tones candles are also great decorations to have around your venue.
They add another romantic and softer element to your wedding reception. Also, they can also be given as favors for guests to remember the day. 
Final Thoughts
Emerald green and gold are a great color combination to use as a wedding theme.
These colors suit most styles of wedding, whether it is a more traditional wedding, or an outdoor wedding.
There are lots of ways you can incorporate these colors into your wedding. 
We hope this article has given you a few ideas that you might want to use in your own gold and emerald wedding. 

Latest posts by Jodie Messines
(see all)