There's just something about an all-white wedding that gets me every time. Maybe it's the classic elegance, or perhaps it's the way everything looks so pristine and ethereal. Whatever it is, I can't help but get a little (okay, a lot) giddy whenever I see gorgeous white-on-white details at weddings.
That's why today, we're sharing 10 swoon-worthy ideas for creating your very own timeless and elegant all-white affair.
Now, don't get me wrong – I'm not saying you have to go completely monochromatic with your big day. There are plenty of ways to add subtle pops of color without detracting from the overall white theme.
But if you're anything like me and want to embrace this stunning aesthetic wholeheartedly, these 10 ideas will surely spark some inspiration and leave both you and your guests in awe of your exquisite taste!
The Timeless Elegance Of An All White Wedding
Have you ever imagined being surrounded by a sea of pristine snowy hues on your special day?
There's something undeniably timeless and elegant about the simplicity of crisp white décor. As someone who appreciates classic beauty, I can't help but swoon over the thought of being surrounded by a sea of pure ivory on my special day.
If done right, an all-white wedding creates a sense of sophistication and grace that is hard to resist. So let's dive into exploring some breathtaking ideas to make your dreamy all-white wedding come true, starting with those stunning white floral arrangements that are both classic and effortlessly chic.
I absolutely adore the idea of an all-white wedding, and one of my favorite aspects has to be the stunning white floral arrangements. There's just something so timeless and elegant about a crisp, clean arrangement that adds sophistication to any venue.
If you're looking for some inspiration on how to make your white florals really stand out, I've got a few suggestions for you:
Roses: You can never go wrong with classic white roses – they symbolize purity and innocence, which is perfect for a wedding day.
Hydrangeas: These lush blooms add volume and texture to any arrangement, making them ideal for centerpieces or bouquets.
Orchids: Exotic and delicate, orchids bring an air of luxury and refinement to your décor.
Peonies: Soft, romantic peonies are always in high demand during wedding season thanks to their gorgeous petal formation.
Once you've chosen your beautiful white flowers, it's time to think about how best to display them at your reception.
Keep reading as we dive into creating a luxurious all-white tablescape worthy of your dream wedding!
Creating A Luxurious All-White Tablescape
Now that we've covered the beauty of white floral arrangements, let's move on to another crucial aspect of your all-white wedding: the tablescape.
With many couples embracing the elegance of an all-white theme for their weddings, it's essential to make your white-on-white design truly stand out. To help you create a luxurious and unforgettable all-white tablescape, I've put together some brilliant ideas below, inspired by my personal favorites and top trends.
| Centerpiece | Table Linens | Place Settings |
| --- | --- | --- |
| Tall White Floral Arrangements | White Satin or Sequined Tablecloths | Crisp White China with Gold or Silver Accents |
| Crystal Candelabras with White Tapered Candles | Delicate Lace Overlays | Elegant Glass Charger Plates |
| Suspended White Orchids in Clear Vases | Ruffled Chair Covers with Rhinestone Buckles | Etched Stemware and Flatware |
As you can see from this table, combining different textures and subtle details will add depth and elegance to your all-white tablescape. Don't be afraid to mix materials like satin, lace, crystals, and metallic accents – they'll only enhance the overall effect!
Now that we have our stunning table setting ready let's take a look at how to dress up in white attire for the bride, groom, and bridal party.
White Attire For The Bride, Groom, And Bridal Party
Now that we've talked about the stunning all-white decor, let's focus on what really matters: you and your wedding party! Dressing everyone in white can create a striking visual impact while complementing the elegant theme.
Here are three essential tips to keep in mind when picking out attire:
Mix textures: To avoid looking too monochromatic or washed-out, incorporate various fabrics and textures for depth and dimension. Think lace for the bride, satin for the bridesmaids, and linen suits for the groomsmen.
Play with shades of white: Instead of sticking to pure white, consider using different hues like ivory, cream, or even champagne. This will add some subtle contrast and make each person stand out.
Accessorize thoughtfully: Choose accessories such as shoes, belts, jewelry, and ties that not only match but also accentuate the overall look.
Remember to strike a balance between coordinating with your bridal party and letting their individual styles shine through – because happy friends make for better photos (and memories!).
Enhancing The All-White Theme With Secondary Colors
Now that we've established the beauty of an all-white wedding theme, let's talk about adding a little extra flair to it by incorporating secondary colors.
I know what you're thinking – 'But isn't this supposed to be an all-white affair?' Don't worry, my friend; these subtle pops of color will only serve to enhance and complement our pristine white palette!
Consider using soft pastel shades or metallic tones such as gold, rose gold, or silver for your tableware, bridesmaid dresses, or even in your floral arrangements. These touches of color can add depth and sophistication without detracting from the timeless elegance we're striving for.
On top of that, you can take things up another notch by incorporating greenery to create a stunningly natural and organic look for our fabulous fête.
Incorporating Greenery For A Natural And Organic Look
Now, imagine walking down the aisle surrounded by lush greenery that creates an ethereal and natural atmosphere – doesn't it just take your breath away?
Incorporating greenery into your all-white wedding is not only visually stunning but also adds a touch of organic elegance. You can achieve this look effortlessly by adorning tables with eucalyptus garlands or adding delicate ferns to your bouquet. The options are endless – and trust me, you'll love how these touches of nature bring life to your pristine white palette.
So go ahead, let Mother Nature have her moment in your big day!
Elegant White Wedding Stationery: Invitations, Menus, And More
Now that we've covered the overall look and feel of your elegant all-white wedding, let's talk about one of my favorite aspects: stationery! Your invitations, menus, and other printed materials can truly set the tone for your big day.
Personally, I'm a sucker for beautiful paper goods – they're like little works of art in their own right. So here are some swoon-worthy ideas to inspire your white-on-white stationery suite:
Embossed detailing: For a subtle yet sophisticated touch, consider using embossed designs on your invitations or menus. This technique adds texture and depth without requiring any additional colors.
Vellum overlays: Add an ethereal quality to your stationery by incorporating vellum overlays with delicate calligraphy or illustrations.
Letterpress printing: There's something so timeless and tactile about letterpress printing; it's perfect for creating an old-world charm while keeping things clean and modern.
Hand-torn edges: Give your invitation suite a romantic, organic feel with hand-torn edges – this small detail goes a long way in elevating the overall aesthetic.
With these gorgeous options at hand, you'll have no trouble crafting a cohesive and luxurious white wedding stationery suite that leaves a lasting impression on your guests.
Now let's move on to another breathtaking aspect of your big day: stunning all-white ceremony backdrops where you'll say 'I do' surrounded by beauty!
Stunning All-White Ceremony Backdrops: Say "I Do" Surrounded By Beauty
Now that we've set the tone for a timeless and elegant all-white wedding, let's talk about one of my favorite aspects: stunning all-white ceremony backdrops.
Picture this – you're walking down the aisle, surrounded by your loved ones, with soft white petals beneath your feet as you say 'I Do'. The backdrop is a lush wall of delicate white flowers or an artfully draped fabric creating an ethereal atmosphere.
There are so many ways to create a breathtaking all-white backdrop that will make your ceremony truly unforgettable!
And speaking of unforgettable, wait until you see the whimsical white wedding cakes we have in store for your special day… …each one meticulously crafted to not only taste heavenly but also serve as a stunning centerpiece, reflecting your love and commitment in every delicate detail.
From cascading white florals to intricate lace patterns and shimmering pearls, these confections are truly a dream come true for a magical all-white wedding celebration.
So, prepare to be swept off your feet as you step into a wonderland of pristine white elegance, where every moment is a memory to cherish for a lifetime.
Whimsical White Wedding Cakes: Decadent Desserts For Your Special Day
Now that we've covered the basics of an all-white wedding, let's dive into one of my favorite elements: whimsical white wedding cakes! These decadent desserts are sure to be a showstopper at your special day.
The beauty of an all-white cake is its versatility – you can go for a minimalist design or add intricate details without overwhelming the overall aesthetic. Here are some ideas to get you started:
Opt for delicate sugar flowers cascading down the tiers
Choose a textured buttercream finish for added depth and dimension
Add subtle touches of gold or silver leaf accents for a hint of glamor
Incorporate lace-inspired patterns that mimic the details on your gown
No matter which direction you choose, these stunning white confections will have everyone talking about how delicious they taste and how perfectly they fit in with your timeless and elegant theme.
Enchanting All-White Lighting Ideas: Illuminate Your Love Story In Style
Now that we've discussed all those fabulous all-white wedding ideas, let's dive into the magical world of enchanting all-white lighting!
Because, my dears, what better way to make your dreamy white wonderland come alive than with some stunning illumination?
Picture this: soft twinkling fairy lights draped above your guests as they dance beneath a canopy of stars; elegant chandeliers casting their warm glow over an intimate dinner setting; and exquisite lanterns adorning the pathways leading to your very own happily ever after.
Trust me when I say, there's nothing quite like these ethereal lighting options to truly illuminate your love story in style.
Frequently Asked Questions
How Can I Incorporate All-White Decor In An Outdoor Wedding Setting While Still Maintaining A Natural And Organic Look?
Incorporating all-white decor in an outdoor wedding setting while still maintaining a natural and organic look might seem like a challenge, but trust me, it's totally doable!
First off, let's think about the basics: tables and chairs. Opt for wooden or rattan furniture with white cushions to create that effortlessly chic vibe.
For your table settings, go for simple white linens paired with greenery as centerpieces – think eucalyptus leaves or olive branches. Don't be afraid to mix up textures either; try adding some macrame elements or even seashells if you're by the beach.
Remember, lighting is key to set the ambiance – string up fairy lights or place lanterns around your space for a soft glow.
Finally, embrace nature itself as part of your decor; choose an idyllic location like a garden, vineyard, or sandy shore where the beauty speaks for itself.
With these tips in mind, I'm confident that you can pull off that dreamy all-white outdoor wedding without sacrificing any of its natural charm!
Are There Any Specific Seasonal Considerations To Keep In Mind When Planning An All-White Wedding, Such As Availability Of White Flowers Or Potential Weather-Related Challenges?
When planning an all-white wedding, it's definitely important to keep seasonal considerations in mind.
While white flowers are generally available year-round, certain blooms like peonies and lilies may be more readily accessible during specific seasons. So, if you have your heart set on a particular flower variety, make sure to check its availability before setting a date!
Additionally, weather-related challenges can impact the overall look of an outdoor all-white affair – think melting snow or muddy conditions from rainstorms. Take time to research your chosen location and season so you're prepared with backup plans (and lots of pretty white umbrellas) just in case Mother Nature decides not to fully cooperate with your dreamy monochromatic vision!
How Can I Ensure That The All-White Theme Doesn't Come Across As Too Stark Or Cold, While Still Maintaining Its Elegance?
To make sure your all-white wedding doesn't feel too stark or cold, it's essential to focus on adding warmth and texture throughout the design.
Think about incorporating various shades of white and ivory to create depth and interest in everything from linens to florals.
Don't be afraid to mix materials like lace, velvet, or even faux fur for a cozy touch!
And remember that lighting plays a huge role in setting the atmosphere – opt for soft, warm light sources such as candles or string lights to bring out those romantic undertones we're aiming for.
By paying attention to these details, you can maintain elegance while still creating an inviting ambiance that will leave your guests impressed with your stylish yet sophisticated celebration.
Are There Any Cultural Or Symbolic Meanings Behind An All-White Wedding That I Should Be Aware Of When Planning My Event?
When it comes to cultural or symbolic meanings behind an all-white wedding, there are a few things you might want to consider while planning your big day.
In many Western cultures, white is often associated with purity and innocence – think of the classic white wedding dress that's been popular since Victorian times!
However, in some Eastern traditions (like Chinese culture), white can symbolize mourning or death, so be sure to check if this would be appropriate for any guests who may come from different backgrounds.
Also, remember that color interpretations can vary greatly depending on individual experiences and beliefs, so don't worry too much about trying to please everyone – just focus on creating a beautiful event that feels true to you and your partner's love story.
What Are Some Creative Ways To Incorporate Personal Touches And Unique Elements Into An All-White Wedding Without Detracting From The Overall Theme?
Incorporating personal touches into your all-white wedding is like adding a secret ingredient to a delicious recipe – it's those unique elements that make the whole experience one-of-a-kind and memorable.
You can let your creativity shine through small, meaningful details that won't take away from the pristine theme. Consider customizing simple items such as napkins or place cards with monograms, favorite quotes, or subtle nods to shared hobbies.
Another idea could be using white flowers with different textures and shapes in your floral arrangements for added depth and interest without straying from the color scheme.
The key is finding those sweet spots where you can sprinkle in pieces of your love story while still maintaining the timeless elegance of an all-white affair.
Conclusion
It's amazing to see how many couples embrace the timeless and elegant appeal of an all-white wedding, making it a popular choice for those seeking a classic affair.
So go ahead and embrace the beauty of simplicity with your own all-white wedding.
Remember, it's in those personal details and unique touches where you'll find a true reflection of your love story, creating a memorable experience for both you and your guests.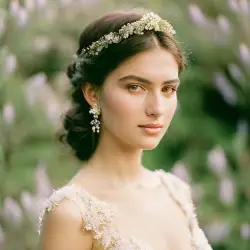 Latest posts by Rosie Liliy
(see all)