From your engagement, to the days up to your wedding day, one of the biggest things on your mind will be the dress. Choosing and buying your wedding dress is a right of passage, and one that many people look forward to.
The only issue is that it can be hard to find a dress that truly suits you and your style.
There are literally millions of wedding dresses to try on and choose from, but amidst that wave of white, cream and ivory, you may not find one that truly speaks to you. 
So, why not opt for a bold color, and try a beautiful royal blue dress. Now, before you start thinking but I have to wear white, let us convince you otherwise. White is the traditional color, but not every bride is a traditional bride.
You may have a colorful, bubbly, rebellious personality, and white just isn't a color you normally wear. If blue is your color, then why not try wearing a blue dress to your wedding, or incorporate royal blue hues into your wedding theme for a regal look.
If you're unsure of this, our guide will come in handy. With 20 beautiful royal blue wedding dresses to choose from you're sure to find your perfect fit here. Read on to find out!
Why Wear Royal Blue To A Wedding?
While it may seem strange to wear anything but a white dress in your wedding in the modern day, this was not the case years ago. The color of choice for brides was actually once blue.
According to historical records, the first recorded wedding dress was blue, and this trend continued for many years.
Brides were meant to wear blue as it symbolizes purity. In addition to this, the color blue was intended to ward off the evil eye, evil spirits, and brought good luck for the union.
The color blue stood for love, purity and fidelity, which is why it was the chosen color for brides for many years and up until the 1800s.
The first white wedding was actually between Queen Victoria and Albert in 1840. So, really, when you put it that way, blue is the traditional color!
Another reason to wear royal blue to a wedding is if you are not keen on a white wedding dress, but unsure what would look best or appropriate.
A royal blue wedding gown would be eye-catching, bold and inspiring on the day, but it could also be your something blue for good luck! 
So, with that in mind, are you ready to find your perfect royal blue wedding dress?
Royal Blue Wedding Dresses For The Bride
If you are looking for a stunning ball gown dress with all of the poof, and all of the details, then this embroidered gown is a great option.
With layers of tulle, a full skirt, off the shoulder sweetheart neckline, this dress will showcase your femininity. It also has a beautiful train for an added romantic look. 
If you are all about the drama, then this is the wedding dress for you. This dress is a spectacle in itself, and will definitely have jaws hitting the floor. Made with luxurious taffeta and organza, this dress is ultra layered and flattering for any shape.
With one shoulder strap, this dress is available with a corset back, slides, and various neckline options – it can be custom made to your requirements. 
This beautiful gown is inspired by the stars in the sky. If you are starry eyed for your partner, then this may be the dress for you.
With a strapless design, built- in bra, and long train, this tulle ball gown will make you feel like royalty as you'll look just like a princess. 
If you want to feel like Cinderella on your wedding day, then this is the dress for you. This dress is made in a stunning deep royal blue that mesmerizes the eyes.
With beautiful floral details, a corset top and flowing skirts, you will feel like the bell of the ball in this gown. 
This royal blue lace mermaid gown is unique, with an off the shoulder sweetheart neckline and illusion long sleeves to make it look like you've just stepped out of a fairytale.
It is very figure hugging, but has an overskirt for that flowing look and added drama.
If you don't want something figure hugging, then this dress will make you feel like the ethereal beauty that you really are. This chiffon and lace dress has a lace up back, built in bra and is floor length for a feel of elegance.
With a ballgown silhouette, beading and sequins on the bodice, you will definitely be the focus of attention in your wedding. 
Prefer a traditional, more vintage look? This royal blue ball gown has an element of 1950s glamor with its illusion scoop neck, and off the shoulder straps.
Made of a sleek satin, this dazzling blue dress is very voluminous, with a flattering skirt that sits out with wide pleats and a graceful length. For the ultimate elegance, choose this dress.
Love the drama? Why not try this beautiful beaded bodice strapless ball gown? The corset style top and sweetheart necklace is emblazoned with different hues of blue rhinestones that trickle down into the A line skirt.
This is a real showstopper. 
We all love an A line dress. Flowing skirts to your ankles, and lace sleeves with an elegant neckline, this dress has it all. With feminine eyelash lace trim, a V neckline and ruched bodice, this dress screams opulence.
If you want to look dazzling and glamorous like a Hollywood starlet, then this is the dress for you. With a column silhouette, and a fully sparkling gown, this is a bold choice.
This dress has a fitted bodice, with a plunging neckline, natural waist and slit up to the knee. It's stunning, formal and elegant. 
Vintage Gown : 2 – 26 (Can Be Custom)
Vintage lace never goes out of style. With a soft silhouette, this romantic gown has a v neck, cap sleeves and a ribbon sash for a very sweet and subtle look. With a sweeping train, it adds a touch of elegance and drama.
With embroidered lace, stone accents and a stretch cape, this is the gown for someone who wants to have all eyes on them. This beaded royal blue gown has a flattering a-line silhouette, off the shoulder draping sleeves, and even has pockets!!
For chic sophistication and a beautiful streamlined silhouette, this blue gown showcases the shoulders with the neckline and cap sleeves, along with the sweetheart details.
Made from an elegant lace, with beading throughout, this one emits the utmost glamor.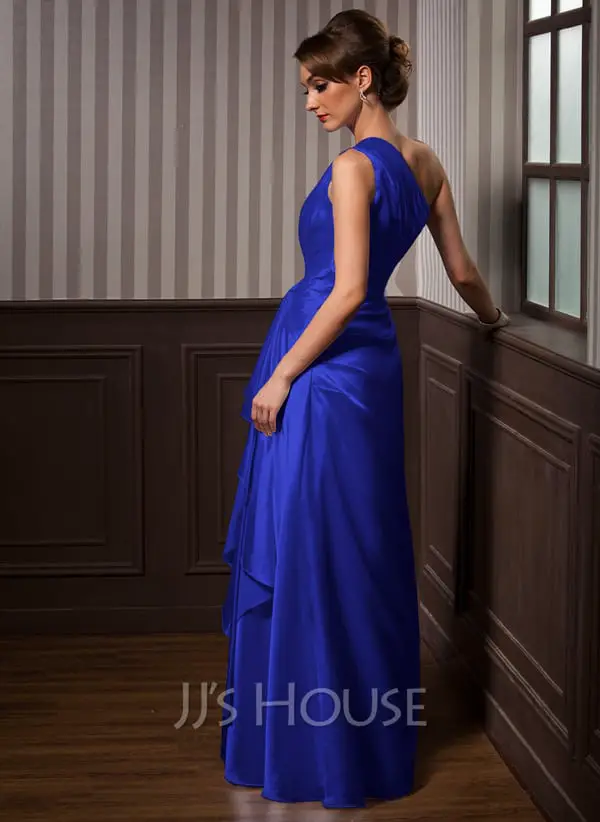 Want to channel Kate Middleton in a stunning floor length gown? Look no further than this regal and royal blue dress. Made of gleaming charmeuse, a one shoulder bodice, A line skirt and cascading ruffles, you will look and feel like a princess.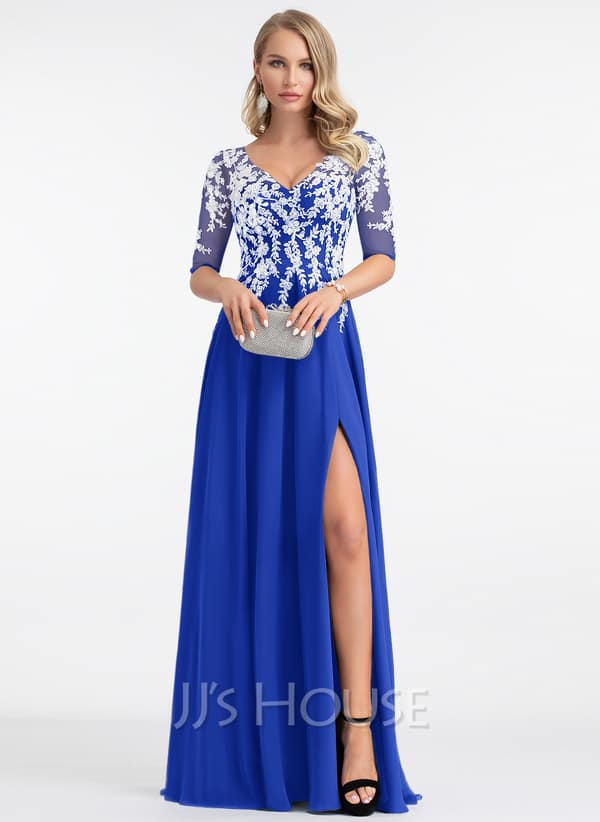 Perhaps you want a royal blue gown, but a touch of white detailing to make it more bridal. This is the gown for you.
With a daring split to show off the legs, and embroidered bodice for a more bridal feel, this is a gorgeous gown that commands the room. The top section is made of lace applique, while the skirts flow for added drama. 
Not every bride wants a large, ballgown style dress. If you are looking for simple elegance, you will find it in this chic A-line dress.
With a softly pleated body, V neckline on the front and back, you will find your shape perfectly flattered. The chiffon is an opulent touch, and this dress is one of the best sellers as it suits every body shape. 
Now, we've saved one of the best for last. This shimmering gown makes you look like a siren emerging from the sea. With a spectacular cut, and mermaid shape this gown is sure to show your curves.
Positively bedazzled all over the dress, this glittering masterpiece is a talking point for sure. The asymmetrical neckline is glamorous, feminine and eye-catching to say the least. 
Royal Blue Wedding Dresses For Guests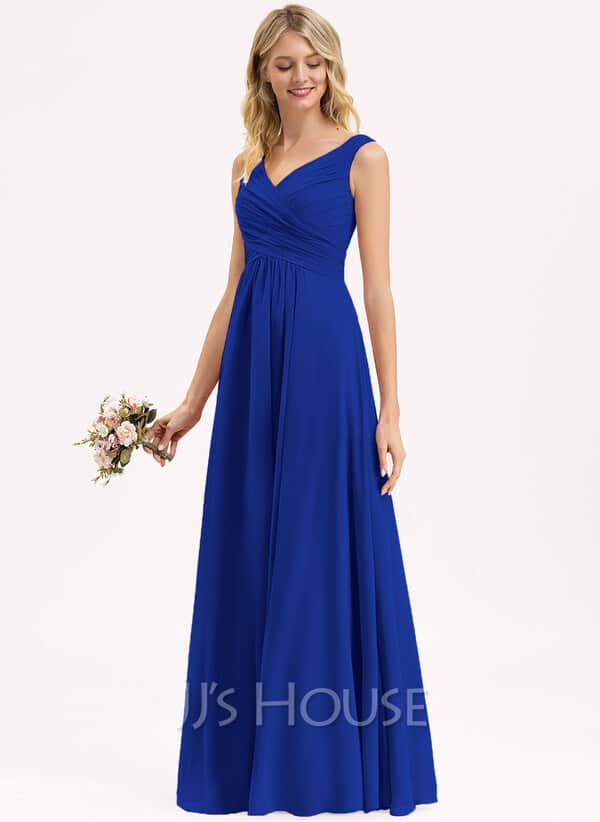 This dress just oozes class and sophistication. It's a simple, floor length dress with a ruched pattern on the front under the bust and at the waist for a flattering look. Available in sizes Small-XL.
If you want something elegant, with a mermaid style shape that hugs the waist, then this dress is for you. The perfect evening dress for cocktail hour of the wedding, especially if you want to show off your silhouette, which is available in sizes Small-XL.
If you're the mother of the bride, looking for something sophisticated, elegant, yet eye catching and flattering, then this Mother Of The Bride style dress is beautiful.
What Does The Color Royal Blue Signify?
Colors can be interpreted in various different ways as they all have deeper meanings behind them. For instance, colors like red signify passion, lust, or fire, whereas black may signify death, evil, destruction, or darkness.
This is why some colors are deemed inappropriate for a wedding. 
On the other hand, colors such as white or ivory symbolize purity, cleanliness, peace, and harmony, which is why it is often a popular color for weddings or christenings.
A blue wedding gown can symbolize your femininity, but also signifies stability, loyalty, security and safety, which are all great qualities to possess for your upcoming nuptials.
Royal blue gained its name due to its connections with the British royal family. This is why this color is often considered very regal, powerful, and authoritative.
Royal blue can also signify trust, confidence, luxury, and dependability.It is aninvigorating color that truly captures its audience. If these are qualities that align with your personality, then a royal blue gown may be right for you.
Is It Okay To Wear Royal Blue To The Wedding?
When it comes to weddings, there are so many traditions and expectations. So, what about wearing blue to the wedding? Is it okay to wear blue as a bride, or even as a guest? Let's answer these questions for you.
As The Bride
It is absolutely okay to wear royal blue as your wedding dress. Your wedding is precisely that, it is your day, you can do whatever suits you!
It is your wedding day, and you only get one shot at it, there's no use in doing what everyone else tells you to, or expects you to do. If you want to wear a royal blue wedding gown, then you should!
In addition, blue wedding dresses are becoming increasingly more popular these days, as they stand out from the crowd, are unique, and as mentioned above, blue was the color of choice for brides, historically speaking.
If you love being a little alternative, or if you're anything but traditional, then a royal blue wedding dress (see also:40 Fantastic Navy Blue Wedding Dresses)should definitely be on your radar.
Evenmoreso, if you ask your bridal party or guests to wear all a certain color such as black, then you will really stand out and be the center of attention in your blue hue gown. 
As A Guest
As a guest, you are generally fine to wear any color as long as the color is approved of by the bride and groom. Most people will say steer away from white or black as black can be seen as depressing, and white is typically reserved for the bride.
However, if the bride is wearing royal blue, then it may be the case that the royal blue is also off limits for anyone else.
In addition, some couples will ask wedding guests to wear all-white or all-black to the wedding, particularly if there is going to be a focus color for the bride and groom to stand out from the crowd.
If you're unsure what to do, then it is paramount that you ask the bride and groom prior to purchasing or wearing your outfit.
In general though, if the wedding is traditional, and the bride is wearing white, then a royal blue dress as a guest can look fantastic.  
Summary 
To summarize, in this guide, we've offered you some of the most beautiful royal blue gowns available on the market, along with answering all of your questions about the do's and don'ts of wearing royal blue at a wedding.
Royal blue is a very regal color, and one that commands a lot of attention as it really catches the eye. If you want to be an unforgettable bride, then why not choose one of these stunning royal blue wedding gowns from this list?

Latest posts by Lisa Plaitt
(see all)