Colors are a particularly popular option when it comes to wedding themes as there is so much that can be done with your chosen color or combinations of colors.
Such as using it for the furniture, the set dressings, the cutlery, the glassware, the decorations, and more!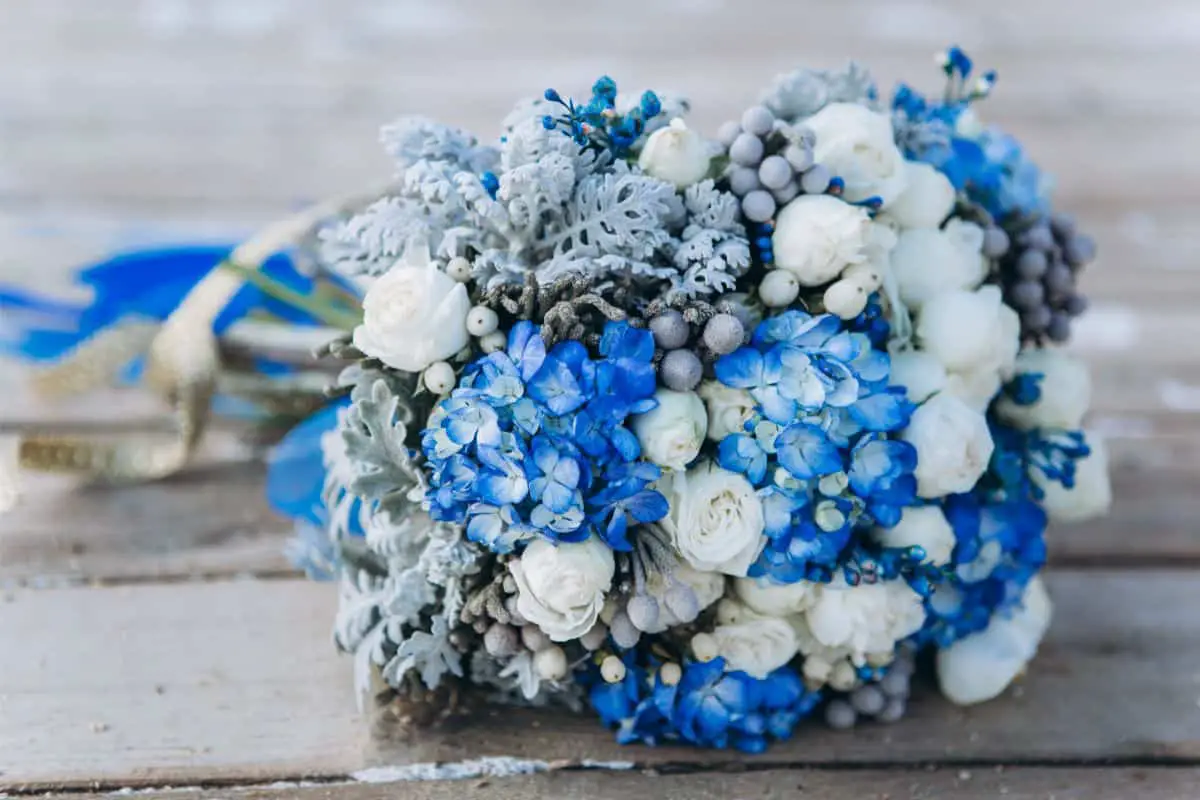 One color that is often used for weddings is royal blue, thanks to the vibrant yet calming tone of the shade.
With this in mind, we are going to be looking at some beautiful royal blue weddings that are sure to inject some life and some color into a wedding!
But in case you are also interested in other color schemes, we have a few more options that you may enjoy:
Without further ado, let's get started. 
Tables are an important element of any wedding as they are where you and your guests will gather to eat, drink and celebrate!
It's essential to keep the tables in mind when planning the decorations for your wedding, including the theme. 
This stripy, royal blue decorative table setting is a great example of how to incorporate a color theme into the furniture at your wedding in a stylish yet elegant manner. 
The cover of the table and the chairs have royal blue and white stripes, matching the floral centerpieces.
If you are looking for a subtle way to merge the color theme of your wedding into your furniture and centerpieces, this is an excellent way to do so. 
If you are looking to go all out with royal blue at your wedding, this image is the perfect place to take inspiration from!
From the wedding cake to the wedding dress, the invitations to the table settings, the bouquets and beyond, everything you can imagine has that royal blue shade decorating it in this image. 
The blue is not alone, though, having been combined with silver to add a contemporary touch to the color scheme and making for a thoroughly modern wedding theme. 
This is another example of the subtle sophistication that can come with the royal blue color, especially when it is incorporated into the dining tables at a wedding.
The image here shows several royal blue dining tables complete with royal blue chairs. The table where the newlyweds sit is also a royal blue color.
The neutral tones of the rest of the room make the blue stand out even more so, making for a striking contrast. 
The lighting might not be the first element of a wedding that comes to mind when it comes to incorporating your chosen color, but it is certainly an option that can completely alter the atmosphere of a wedding or wedding party. 
The royal blue lighting that is used here illuminates the entire hall, creating a soothing atmosphere, so much so that you would be forgiven for thinking that the theme of this particular wedding was the ocean depths! 
Colorful lighting doesn't have to be a constant in your wedding.
It could be used at a particular moment or time to achieve a certain effect. 
Introducing a color in a more subtle way is also a possibility, too, as seen in this gorgeous yet subtle inclusion of royal blue into the wedding theme via the seating and the aisle runner. 
The petal based runner stands out thanks to the relatively neutral nature of its surroundings, such as the plain, hardwood flooring. 
The upholstery of the chairs is a tamer shade of blue, which emphasizes the injection of color without being overwhelming or overshadowing the aisle runner. 
This compilation image is another example of the wide range of ways that a color can be incorporated into the theme of a wedding. 
Some interesting inclusions here include the glassware on the tables, the brides shoes and bouquet and the decorative hanging lights above the guests tables.
If you would rather include your chosen color into your wedding in a more subtle manner, this backdrop idea is a fantastic choice. 
This particular backdrop features blue flowing curtains along with a gold curtain and some white drapes.
The look is topped off with a flower bouquet placed at the top of the backdrop. 
The combination of royal blue with gold and white creates a backdrop that is not too overpowering in terms of color, instead being an elegant and sophisticated choice. 
Let's now take a look at some wedding themes which combine royal blue with other colors to create their themed look. 
The combination of pink with royal blue is an interesting one that is kept subtle and sophisticated thanks to the upholstery and the table settings being the blue element and the decorative flowers being the pink element.
The elegant yet vibrant royal blue works surprisingly well with the energetic pink, especially the various tones of pink that can be seen in the different flower arrangements. 
Royal blue and ivory is a fantastic choice for if subtlety is more your style.
There are so many ways that you can combine this shade of blue with ivory, including via the floral arrangements and the table settings. 
The neutral nature of the ivory blends with the vibrant royal blue to create a sophisticated look for any wedding. 
If you are still struggling to think of ways to bring some of this color into your wedding, this next example has even more ways that you can do so. 
Bridesmaids dresses and shoes are a fantastic way to bring your chosen color into the theme in a more obvious way, whereas cake decorations, glassware, napkins and various signs and invitations can be both subtle or attention grabbing, depending on how you go about doing it. 
We have mentioned royal blue glassware a few times already, but this example is a particularly stand out one.
The royal blue glasses that adorn the table- along with the royal blue napkins- blend with the neutral tones of the rest of the tableware to create a strong yet well incorporated color palette. 
Why not try incorporating your chosen color theme into the food of your wedding, as with this silver, white and royal blue themed candy snack bar. 
The colors of the sweets are all one of those three colors, creating a fun, unique and delicious way to bring the theme into your wedding! 
Another simple yet effective way to introduce royal blue into your wedding is to line the aisles with royal blue flower arrangements and bouquets.
Pair the floral arrangements with some white ribbon and have the bride hold a royal blue bouquet as they walk down the aisle to create an artistic and classy take on the royal blue theme. 
Whilst we are on the subject of flowers, another way that you can use them to tie in your wedding with the color theme is to use them as table centerpieces. 
Whether it is small arrangements or large ones, having flowers with a strong and vibrant color like royal blue makes for a gorgeous choice in its own right, as well as one that will emphasis the color theme of your wedding. 
This combination of royal blue with rose gold is a unique yet stunning choice that is brimming with personality.
It is up to you as to whether you want a muted look with these colors or something more vibrant. 
This particular example uses rose gold for the table coverings and royal blue for the napkins and decorations on the table, which creates a more prominent color combination.
You could opt for something more subtle with these colors, though, such as by having hints of it in the floral arrangements or in decorative items spread across the wedding. 
Whether it is displayed subtly or more overtly, this color combination is a unique way to incorporate royal blue into your wedding. 
Final Thoughts
There you have fifteen ideas as to how you can use royal blue as a theme in your wedding!
Whether you choose to display the color in small doses, in conjunction with another color or as a major factor in your wedding, there are plenty of ways that you can do so.
It is all down to personal preferences and how brave you are willing to be with your chosen color!

Latest posts by Lisa Plaitt
(see all)