When it comes to choosing the perfect wedding color palette for your special day, it can be incredibly difficult to know exactly where to get started.
After all, we all have some primary colors that we love, but what should we pair them with? 
You want your colors to not only blend well with the style of photography, but also the season that you're getting married in.
Taking all of these elements into consideration will be important in making your wedding day as magical as possible. 
If you're having trouble figuring out where to get started when choosing your perfect wedding color palette, don't worry, because we've got you covered.
Simply keep reading, to find out some gorgeous color combinations you can try. 
What Color Suits You The Best?
There are lots of different elements to think about when choosing your perfect color palette, but the most important thing you should think about is your personal favorite.
After all, this is your special day, and so you need to choose a color that will suit you. 
Us ladies spend a lifetime figuring out what colors are best suited to our complexion, so by the time your wedding day rolls around, you'll probably have a fair idea of what is best suited to you.
If you don't, however, there's no need to worry. 
Color experts have devised this system whereby you take note of your eye, hair, and skin color, and a formula is then applied to determine which color palette best suits you.
See here to discover some color palettes for celebrities. 
It might also be worth asking your friends and family what colors they most associate with you, as it can be difficult sometimes to take a step back from ourselves and see things objectively. 
What Season Are You Getting Married During? 
In order to get the very best wedding photos imaginable, it's a good idea to match your color palette with the season that you're getting married in. For example, fall and spring will have very conflicting color palettes. 
For fall, you might want to reflect the beauty of the season by opting for some burnt orange and mustard colors, along with some vibrant reds.
You could accentuate the colors of fall by placing miniature pumpkins around, which make a beautiful decoration in wedding photographs. 
We have an incredibly beautiful example here. 
If you're planning to get married in springtime, why not opt for beautiful pastel colors, such as pale pink, purple, blue and yellow.
These will bring out the warmer tones of the season. Take a look at this gorgeous spring wedding photo. 
What Does Your Wedding Venue Look Like? 
This is probably one of the most important steps in determining what kind of color palette you want for your wedding.
It's a good idea to already have an idea of what color palette you'd like to have before choosing your venue, then you can make your selection accordingly. 
The positive thing is that most wedding venues, which consist of outdoor settings, lofts, and converted warehouses, often don't have a set theme that you need to work from.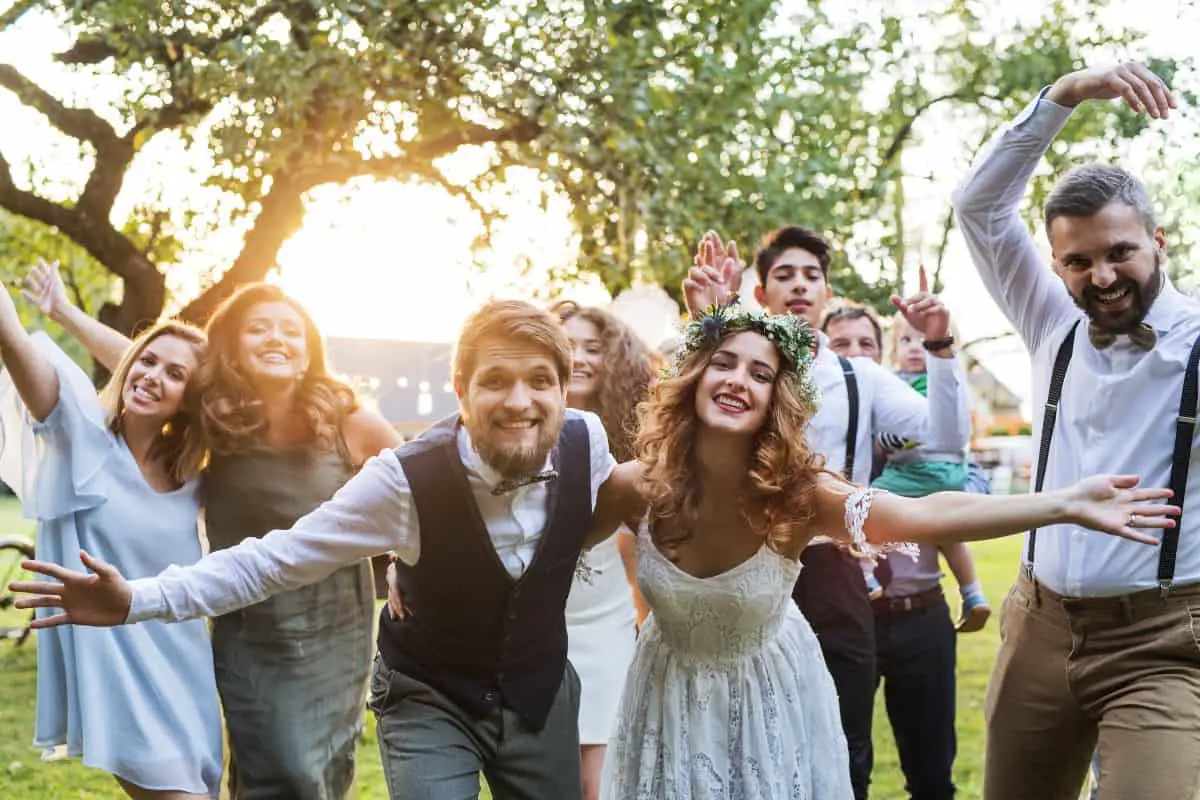 They're usually incredibly plain, and are essentially a blank canvas that you can work from. 
If however, you've already chosen a wedding venue such as a manor house, that has a lot of fixed elements like chandeliers and paintings, you'll need to organize your color scheme around this so that it blends seamlessly into the photography. 
Worst case scenario, if you don't like the wallpaper of the venue that you've chosen, most places will have some drapes that you can ask them to cover it up with. This will free up your creativity a bit more. 
What Kind Of Theme Are You Going For? 
Perhaps for your wedding, you've decided to go for a particular theme. Many people nowadays love incorporating their favorite books and movies into their special day.
One of the most popular themed weddings nowadays are Disney based weddings. 
A popular Disney theme that many couples opt for is the Little Mermaid. With a movie like this, you have the opportunity to create an incredibly vivid and dramatic color scheme that will really wow your guests.
Colors such as turquoise, orange, and bright yellow come to mind. 
You can reflect your chosen movie's color scheme in your cake, your wedding bouquet, centerpieces, bridesmaid dresses, and the lapel worn by the groom. The possibilities are truly endless. 
If you're going for a movie theme, experiment with lots of different colors to achieve your desired look. 
What Kind Of Symbolism Do You Want To Create? 
This is a point that many people don't often think about when choosing the color scheme for their wedding, but if you're somebody who is spiritual by nature, or just sentimental, it can be a good option. 
If you're stuck for what colors to choose for your wedding day, it helps to take a look at the meaning behind them.
For example red is a conveyor of passion and warmth, whereas yellow is a color of positivity and happiness. 
In order to create and convey the emotions that you'd like on your special day, you can use the power of color to bring along some magic.
If you have a favorite color, it's always worth taking a look at the meaning behind it. 
What Fixtures Are You Using? 
It's important to consider what kind of fixtures you've chosen for your wedding, such as flower arrangements.
For example, if you've chosen to include pink roses as the central flower in your bouquet and centerpieces, you'll need to somehow incorporate pink into the rest of the color scheme too. 
You can easily use this as your starting point, then figure out some more neutral colors that go with the pink that you've chosen.
Flowers can actually be a great means of starting your wedding planning, as you can simply build everything on from there. 
What Kind Of Mood Do You Want To Create? 
This point kind of ties in with the earlier one about color symbolism. The colors that you choose for your wedding will have a big impact on the setting and mood of the venue. 
If you want a super fun, upbeat wedding that's incredibly lively, then choose bright yellows and pinks, which will help to elevate everyone's mood. 
Final Thoughts
There are so many different elements to take into consideration when choosing the perfect color scheme for your wedding photographs, but once you break it down, it's not actually that hard. 
First and foremost, you should always aim to choose a color scheme that appeals to your own personality and preferences.
It's also a good idea to take the season that you're getting married into consideration, as well as the wedding venue. 
Ultimately, the colors that you choose for your wedding will be responsible for creating the atmosphere that you're trying to achieve. 

Latest posts by Jodie Messines
(see all)