Your wedding photos are a big part of your wedding day – these are the mementos that you will keep and cherish for the rest of your life, and they should be as perfect as possible!
The backdrop is one of those things that can make or break your wedding photography experience. It is important to choose something that works well with your style and theme, but also fits in with your budget.
Finding the perfect backdrop can be a challenge, however – just how do you go about selecting the right one?
To help, we have put together all you need to know about choosing the perfect backdrop for your wedding snaps, as well as all you need to know to make your pics really pop.
What Is Backdrop Photography?
Backdrop photography is a type of wedding photography where the photographer stands in front of the couple and takes their pictures, while the bride and groom stand with their backs to a screen or projection featuring a specific background.
This gives the photos a more natural feel than if the couple was standing alone against a plain wall, and allows couples to tailor their photos to meet the exact style and theme of the wedding.
Photographic backdrops come in a range of styles and types, and some of the most popular options include:
Plain White Or Cream
A plain white or cream backdrop is the perfect option for those looking for something simple, sophisticated, and classic.
These backdrops are often used by photographers who want to create an elegant look that allows the bride and groom to take center stage without any distractions, and they work particularly well when combined with soft lighting.
Black & White
If you are looking for a timeless and classy look, then black and white might be the way to go – this can also be a way to create a more unique, bespoke look.
Black and white backdrops are great for creating a moody atmosphere, and they work especially well when paired with dramatic lighting.
Black and white photographs tend to give off a very moody vibe, which is great for creating a romantic atmosphere, and the contrasts can be really highlighted and emphasized by using a black and white background.
Floral
Flowers are always going to be a huge part of weddings, so why not use them to add a little extra color to your photos?
Florals are a great choice for a wedding photo shoot because they allow you to really capture the romantic wedding mood, and are bright and cheerful.
The only concern is that these can be a little busy, so it is important that the photographer chooses the best lighting options and poses to ensure that the flowers don't get too much attention.
Wall Of Greenery
This is another great option for adding greenery to your photos and works well for nature lovers or those looking to add an outdoorsy vibe to their big day.
A wall of greenery is a great way to add a bit of texture and interest to your shots, and it's a good idea to try and incorporate different varieties of greenery into each shot.
If you're having a garden-themed wedding, then this could be a great choice and one which also allows you to make the most of natural props and flowers.
Natural Woodland
Woodlands are a great choice for outdoor weddings, and they offer a rustic, natural feel that complements many other themes.
They are also a great option for those wanting to create a woodland feel in their photos and can be a real eye-catcher, as well as a chance to bring the outdoors inside.
Storybook
The storybook backdrop is a great choice for bookworms and is a great way to create a magical atmosphere.
It's a great way to show off the love story that has taken place between the couple and can create a traditional, romantic vibe that works beautifully for fantasy weddings.
Doorways
Marriage is a journey – and what better way to showcase this than by making sure that doorways are featured prominently in your wedding photos?
Doorways are a great way to highlight the path that the couple has walked down together, and they can also be a great way to show how far they've come on their journey together.
Opt for a half-open boor against a backdrop to visually represent the two of you stepping through into your new life – this can also be perfect for a more rustic vibe.
No matter which backdrop you choose, remember to keep things simple and make sure that your selection reflects you and your partner on your special day.
Choosing The Perfect Wedding Backdrop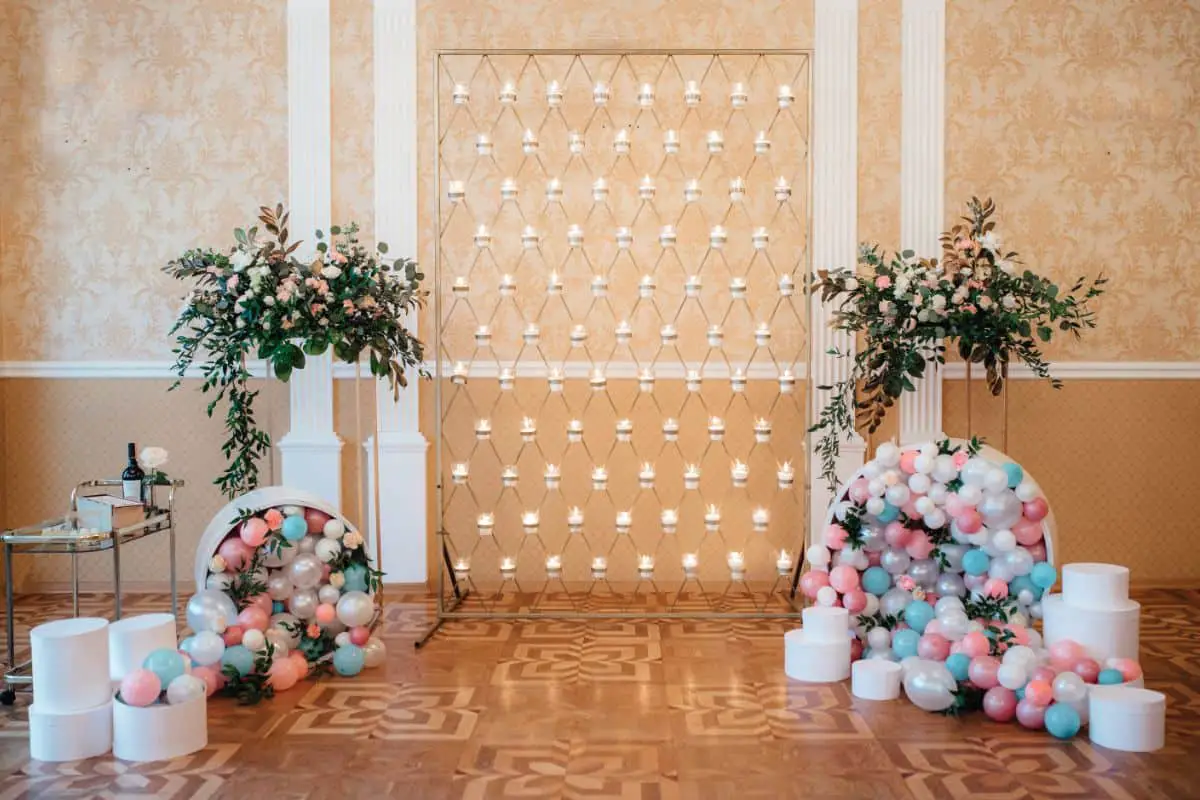 So, just how do you go about choosing the perfect wedding backdrop? There are a few considerations to help you make your decision, and these include:
The Theme Of Your Wedding
One of the most significant factors in choosing the perfect wedding backdrop is to consider the theme of your wedding.
This will help you decide whether you want something that matches your overall style, ensuring that your wedding has a smooth, polished overall feel.
You may have a particular look in mind when planning your wedding, and choosing a complimentary backdrop will ensure that your wedding photos reflect this.
Location
Another key factor to take into consideration is the location where you plan to hold your wedding. This will determine what kind of backdrop you need to opt for.
Outdoor venues may require a more rugged backdrop that can stand up to the elements of your chosen spot, while indoor locations might call for a more elegant backdrop.
Your Budget
Unfortunately, budget is always going to play a part in any decision you make, so it's important to think about how much money you have available before you start searching for a backdrop.
Some backdrops can cost hundreds of pounds, but there are plenty of affordable options out there too, so make sure you have a figure in mind to keep your spending on track.
Number Of Guests
If you're having an intimate wedding, then you'll probably only need one or two backdrops.
If you're holding a larger event, however, then you may need to invest in multiple backdrops to accommodate all of your guests – the last thing you want is a queue when people are trying to enjoy themselves.
Size And Shape
When looking at different types of backdrops, you should also bear in mind the size and shape of the area you wish to use them in – backdrops come in a number of types and sizes, and the set-up of your room will have a significant impact on the option that you choose.
Final Thoughts
There are many different ways to approach choosing a backdrop for your wedding, and each method will suit different couples. Ultimately, though, it comes down to personal preference and what works best for you as a couple.
Whatever you choose, make sure that you are happy with your choice, and that you have secured the perfect option to ensure that your wedding photos are some you can cherish and enjoy for years to come.

Latest posts by Lisa Plaitt
(see all)