Getting your engagement photos taken is an exciting experience and another wonderful stop along the path to wedded bliss.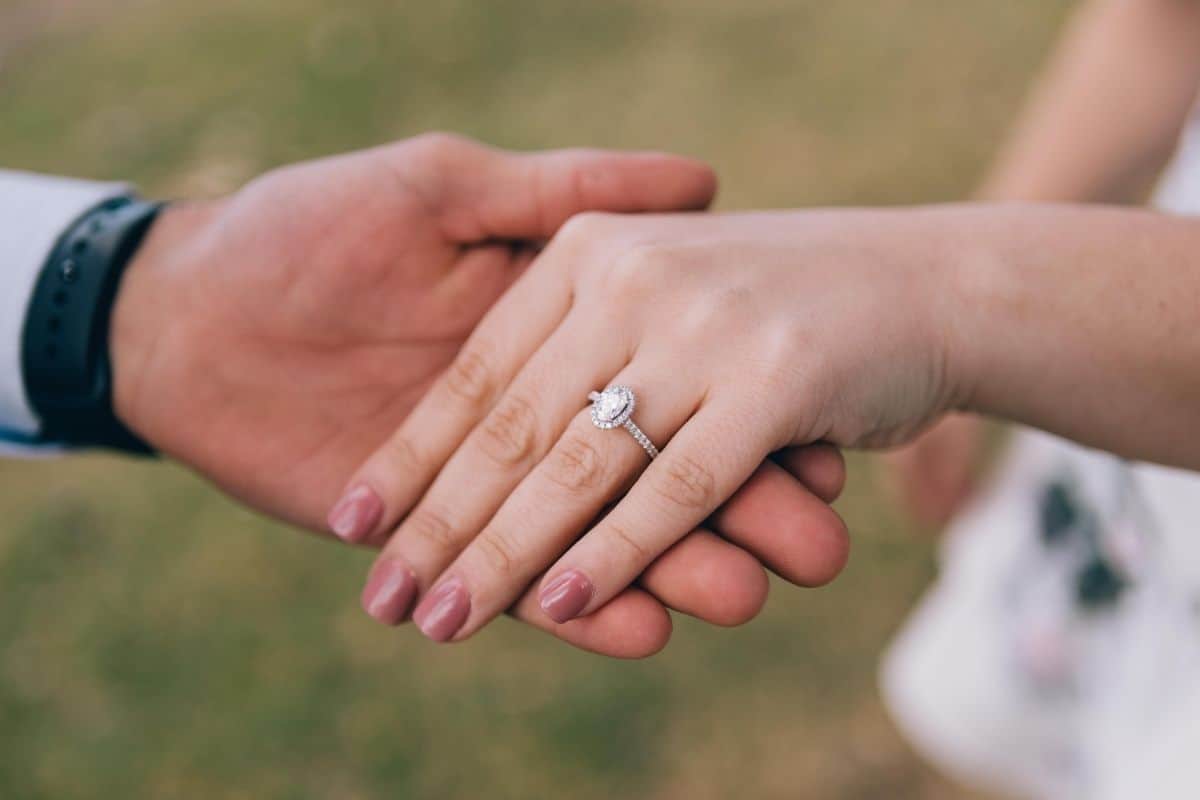 In order to ensure that your engagement photos are images that you will treasure and enjoy for the rest of your life, we have put together the eleven top tips you need to remember, to guarantee that this shoot is memorable for all the right reasons.
Why Have An Engagement Shoot?
Engagements are a special time in any couple's lives, so why not make it a little more special by having some amazing pictures taken of you as a couple?
You can be sure that these photographs will become treasured memories of a very important moment in your relationship, and they will also serve as inspiration for future wedding portraits.
If you are thinking about getting engaged or already married, then you should definitely consider having your engagement photos taken!
An engagement photoshoot can also act as something of a rehearsal for the main event, particularly when it comes to the types of photos you want – and don't want!
It's always good to get used to being photographed in different ways before the big day itself, and if you're going to be taking lots of photos on your wedding day, it's even better to practice now!
This will also help ensure that you feel comfortable with your photographer – and this can play a big part in the quality of your final shots.
The more comfortable and relaxed you feel, the more natural and effective your photos.
How Do I Choose A Photographer?
Choosing a photographer is one of the most important decisions you'll ever make, and choosing someone who fits into your budget is just as important.
There are many things to think about when selecting a photographer: how long has he/she been shooting weddings?
How much do his/her prices vary? What type of equipment does he/she use?
Does he/she take digital or film? Is he/she experienced at photographing couples? Will he/she work within my budget?
These are just some of the questions you may want to ask yourself before making your choice.
Do Some Research
Before you start looking around for photographers, there are a few things you might want to look out for.
Firstly, check their portfolio online. Make sure that the photos are clear and easy to see. Also, check out reviews from previous clients.
Look for comments like "great service", "professional" and "very friendly". Lastly, read through the terms and conditions carefully.
You should find them somewhere on the website, but if not, you can usually request a copy after booking.
Get To Know Your Photographer
Once you've found a photographer you like, it's worth spending some time talking to him/her about what you'd like to achieve from the session.
Ask plenty of questions about the types of photos you would like to have (for example, formal, candid, black & white…), and whether he/she uses digital or film cameras.
You should also discuss your expectations regarding location, lighting, wardrobe, etc.
Don't forget to ask about payment options too, as you may prefer to pay upfront rather than splitting the cost between two payments.
Booking Your Session
If you decide to go ahead with an engagement shoot, make sure you book early.
Photographers often fill up quickly, especially during busy times such as Christmas and New Year. Also, try to avoid weekends and public holidays.
Ideally, you should plan your session no later than three months before your wedding date, although it's best to allow at least six weeks in case anything goes wrong.
What Should I Wear For My Engagement Photos?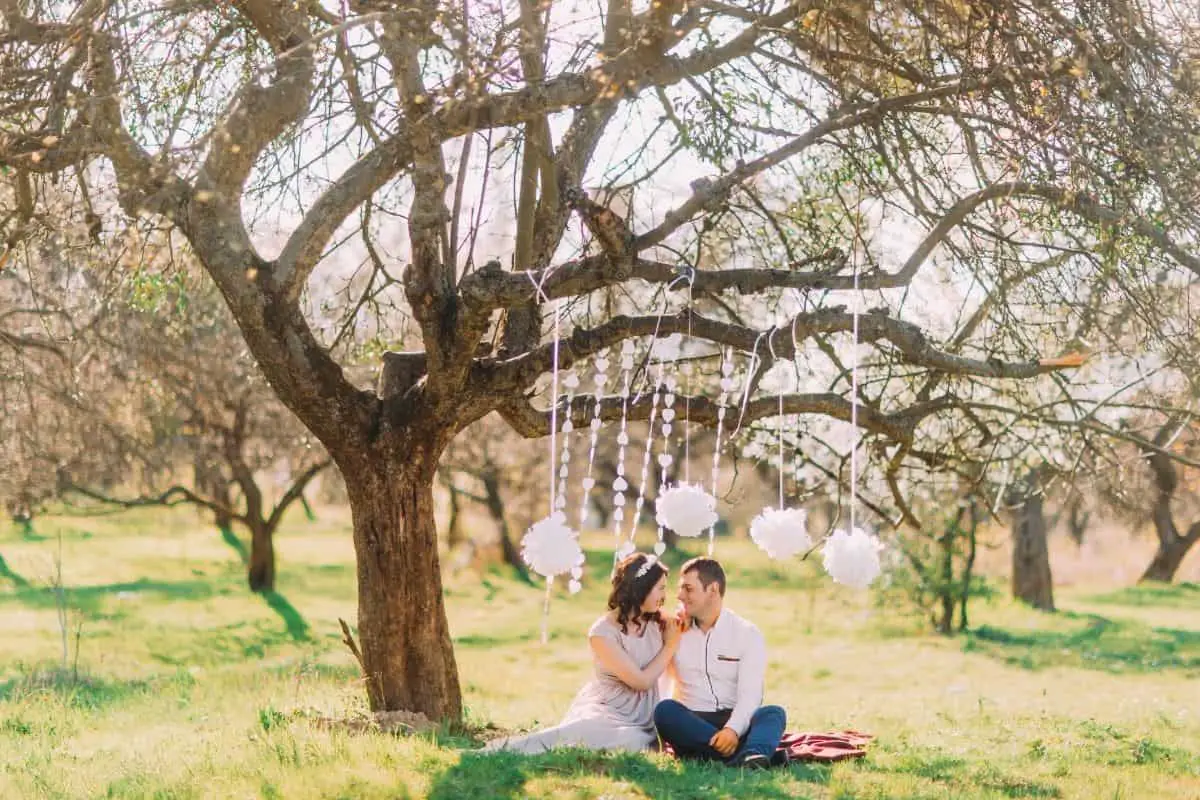 When planning your engagement photoshoot, you need to consider what kind of outfit you want to wear.
If you're having a beach-themed wedding, for instance, then you probably won't want to wear a suit or dress.
Instead, you could opt for a bikini or swimsuit, which is perfect for summer days.
Alternatively, if you're getting married in winter, you might choose a coat and hat instead of a suit.
Whatever you choose, remember to keep it simple. You don't want to be wearing lots of accessories, so stick to a single necklace or bracelet.
Some top tips for finding the perfect outfit include:
Wear Clothes That Make You Feel Like You
One of the most important things to remember is that you want to look and feel like yourself during your engagement shoot – there is no point in wearing something that makes you feel uncomfortable.
If you live your life in jeans and a t-shirt, then an elaborate ball gown is unlikely to help you feel relaxed.
The trick is to look like yourselves – but the very best version of yourself.
Complement Each Other, But Don't Match
You'll want to complement each other, but you shouldn't match.
This means that you don't both have to wear the same color, style, or pattern. It also doesn't mean that you can only wear one type of clothing.
For example, if you're both wearing dresses, you don't have to wear identical styles. You can still wear similar colors, patterns, or fabrics though.
Think About What Makes You Unique
Think about what makes you unique. Do you love hiking?
Then try and incorporate this into your shoot – maybe you could take some fun shots in a cute dress and your favorite walking boots!
Or maybe you're into art – why not get a print out of your favorite artwork, or replicate an outfit or pose?
There are endless possibilities when it comes to making your own personalized props.
Just think about what you enjoy doing and what makes you stand out from others.
Consider How You Look Together
Think about how you look together. Are you both smiling or do you look awkward? Is one of you taller than the other?
Does one of you have longer hair than the other? These are all questions you need to ask yourself before booking your photographer.
Ask Your Photographer Questions
If you've decided on a particular photographer, you may find that they will give you some advice regarding outfits.
However, if you haven't yet found a photographer, then it's worth asking around for recommendations.
You can also ask friends and family who they would recommend. They may even be able to offer you some ideas.
Choose Classic Over Trendy
When choosing your engagement photos, it's always better to go with classic over trendy.
Trends change quickly, meaning that by the time your wedding rolls around, your outfit will likely be outdated.
Choosing a classic look means that your photos will never date, and you can cherish and enjoy them forever.
Pull Everything Together With A Color Scheme
It's easy to forget that color plays such a big part in photography.
When selecting your colors, think about the overall scheme of your photographs. Will they be black and white, sepia-toned, or colored?
Will you use soft lighting or harsh light? Will you be using natural elements (such as flowers) or man-made ones (like balloons)?
All these factors play a huge role in determining the color palette you choose.
What Should I Avoid Wearing?
As well as knowing what to wear to show yourself off in your best light, there are also a few things that should be avoided in order to ensure the best quality final images, these include:
Large, Mixed Patterns
Avoid large patterns and designs. This includes floral prints, stripes, polka dots, and other similar motifs.
These will distract from your face and detract from the overall image.
They can also be destroyed on camera, leaving your final shots appearing lower in quality.
Clothes With Embellishments
You shouldn't wear clothes with embellishments. They tend to get caught in the camera lens and cause unwanted shadows.
They can also distract from the main event – you and your betrothed.
Hats
You should try and avoid hats. The brim of a hat tends to block out part of your face, causing unflattering shadows and angles.
Neon Colors
Neon colors aren't suitable for any type of photography. They tend to wash out the skin tone, making people appear pale and sickly.
In addition, any shots taken in direct sunlight will cause neon shades to reflect onto your partner, and this can have a negative impact on their overall coloring and appearance.
Brand New Or Uncomfortable Clothing
It's important to wear clothing that you feel comfortable in.
It doesn't matter how expensive the item is, but you do need to make sure it fits properly and isn't uncomfortable.
If you're not used to wearing certain items, you'll look unnatural when taking photos.
How Many Outfits Will I Need For Engagement Photos?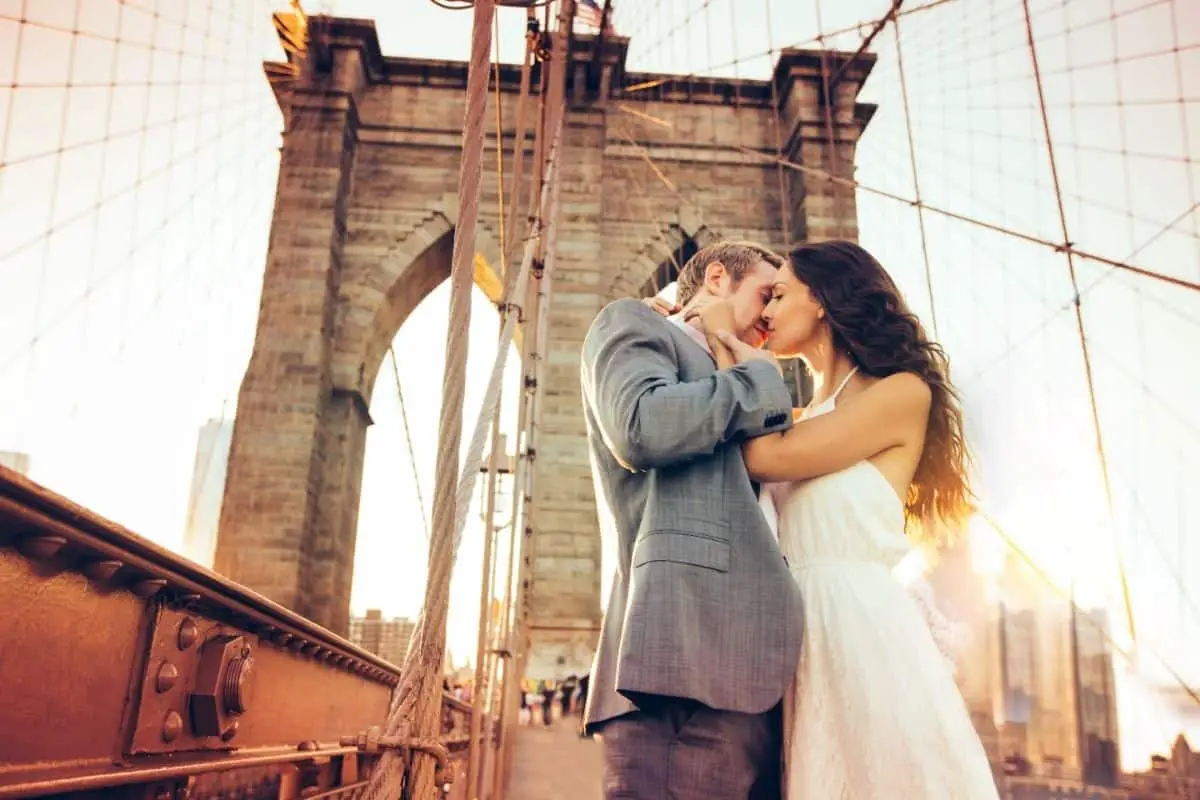 If you're having an outdoor engagement shoot, you may need more than one outfit.
However, if you're going to be posing inside, you only really need one.
Don't worry about choosing too many outfits; just pick something that looks good on you and feels comfortable.
How Long Do Engagement Photo Sessions Last?
Engagement sessions usually last anywhere between 30 minutes and two hours.
Some photographers offer extended packages, where they take multiple sets of pictures over several hours.
But, even if you decide to go for a shorter session, you should still allow plenty of time.
There's no point rushing around trying to fit everything into a short period of time.
Remember, the most important thing to ensure is that you are comfortable and relaxed – this will allow your photographer to grab the best shots.
Where Can I Find Professional Wedding Photography?
There are many professional wedding photographers available who specialize in capturing all aspects of the day, including the bride and groom, bridesmaids, groomsmen, family members, friends, and guests.
You can find them through local newspapers, magazines, websites, social media sites, and word-of-mouth recommendations.
The Best Poses For Engagement Photos
When it comes to poses, there's no right or wrong way to pose for engagement photos.
As long as you're comfortable, relaxed, and looking at the camera, then you're doing fine. Here are some suggestions:
Face Each Other
Your engagement is about you and your partner, so photos, where you are facing each other, are a must.
In addition, if you have concerns or worries about the way that you look, cropped photos of you gazing at one another allows you to show off your relationship without showing off your body.
Pose Together
Posing together shows your connection and love for each other.
Try to keep your arms around each other, and don't let them fall away.
This physical contact demonstrates your love for one another.
Kissing
Kissing is another classic pose – especially when it comes to weddings and marriage!
You could kiss while standing up, sitting down, or lying down. Just make sure you're comfortable and don't force yourself into anything.
Standing Up
Standing up gives you a chance to display your personality and individuality.
Show off your style by standing against a wall or holding onto a lamp post.
This can be a great way to get some really quirky, unique shots, and it is a good idea to chat to your photographer about possible poses and props if you would like shots of this nature.
Holding Hands
Holding hands is a great way to show your commitment to each other.
You can hold hands in front of your face, behind your back, or even on top of something else such as a prop.
Action Pose
An action pose can be a fantastic option, and really allows you and your partner to show off your personalities and interests.
Poses such as walking, running, jumping, climbing, dancing, or even just talking are great options, and you can experiment with different poses until you find something that works for you.
Action poses can also be great for helping you to feel more natural and comfortable in front of the camera – for many of us, the thought of kissing our partner or being romantic in front of a camera and a total stranger can be intimidating and awkward, and these vibes often come across in the final photos.
By taking some time to practice posing together, you will soon become more confident and relaxed, which will result in better-quality photos.
Many couples find that their candid shots end up being their favorite – and this is largely because they feel more relaxed and comfortable.
Prom Pose
The classic prom pose is another popular option for many couples and is appropriate for an engagement shoot.
It involves standing close to each other and leaning forward slightly so that your faces are touching.
This is a very intimate pose, but it does allow you to see into each other's eyes and shows off your love and affection for each other.
There are also variations of the prom pose, and your photographer may ask you to try a few, taking pictures as they go, to ensure a collection of photos that you are all happy with.
Some variations on a classic prom pose include standing side by side, arms around one another, or having both partners face each other with their arms interlocked.
You could also experiment with walking side by side, arms interlocked, or standing side-on, hand in hand.
The key is to find something that you are happy with – this is the secret to quality engagement photos.
Facing Away From The Camera
Another engagement pose that has become popular in recent years is having couples facing away from the camera.
In this case, you would stand back to back, holding hands, and look straight ahead.
Couples may also be photographed with their backs to the camera, often hand in hand or with their arms around each other – this can also be a great way to show off the back of a killer outfit!
Where Should I Take My Engagement Photos?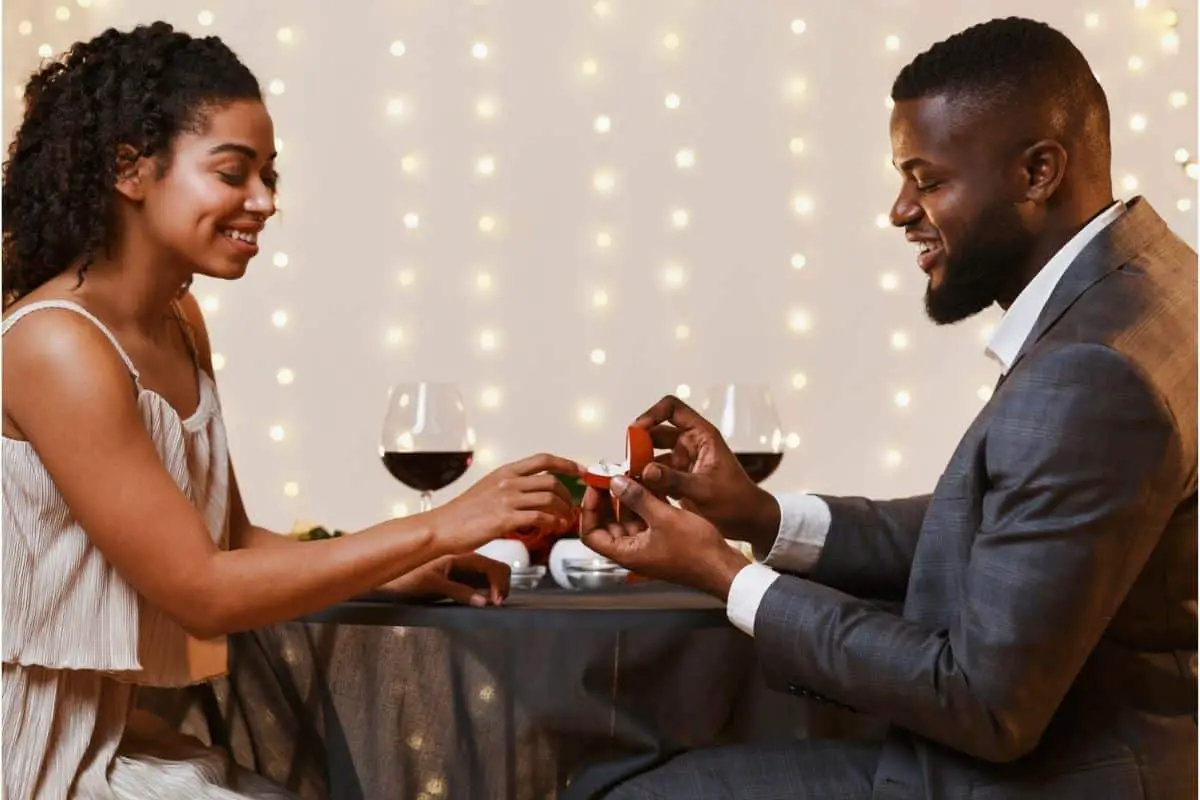 Finding a location for your engagement photo shoot is all part of the challenge, and can have a significant impact on how happy you are with the final result, so make sure that you give this plenty of thought.
If you have a specific location in mind – perhaps somewhere that is significant to you as a couple – then chat to your photographer and see what their suggestions are.
Some of the most popular locations for engagement shoots include:
In Front Of A Window
A window provides a natural light source, which makes for beautiful images.
Stand in front of a window, or have your fiancé stand in front of a window.
This not only creates a stunning photo but will also smooth out your skin and face, leaving you both looking flawless and glowing.
On A Staircase
If you live in an apartment building, a staircase is a great place to shoot your engagement photos and has become something of a classic engagement shot.
It's easy to set up and doesn't require much effort from you. Simply climb the stairs with your fiance and take pictures as you go.
When you reach the top, pose in the way that feels the most comfortable for you.
This can also be a great photo to replicate on your wedding day, allowing you both to see how far you have come from an engaged pair to a married couple.
At The Top Of A Hill
If you live near a hill and are both fans of nature and the great outdoors, then climbing hills and taking photos outside is a fun activity that will provide you with some fantastic images.
Make sure you wear comfortable shoes for the trek though, as you may find yourself slipping and sliding down the hill.
By The Sea
If you live near a beach or coastline, then taking engagement photos by the seaside is a fantastic idea and a wonderful way to capture some gorgeous images.
It gives you a chance to explore a new environment and see something completely different from your usual surroundings.
You can either walk along the shoreline or drive to the coast and park up somewhere secluded.
Either way, you should have loads of fun with this location.
There are many different ways to pose here, including lying down, sitting down, and even jumping in the water – let your imaginations get creative.
Be careful though, because the tide can change quickly, and you might end up getting wet.
Underwater
Taking engagement photos underwater is a great way to create some unique and unusual photographs, and there are photographers who specialize in amazing underwater shots for both engagements and weddings.
If you are feeling brave enough, jump in the pool or ocean and take some amazing photos of an experience that you will never forget.
With Flowers
Flowers are always a lovely addition to any photograph, and they look particularly pretty when arranged around a couple.
Take advantage of the beauty of flowers and arrange them in interesting places around your house, or even in your garden.
Against A Wall
Standing next to a wall is another great way to add interest to your engagement photos.
Try using a mirror to reflect the light on your faces and make sure that you don't block out too much of the background.
This can be great for capturing some arty-style shots.
In A Park
Engagement photos in parks are a great way to enjoy the fresh air while creating some beautiful images.
Whether it's a local park or one that you visit regularly, this is a perfect location for your engagement photos – especially if the location has particular meaning for you both.
You can use the trees as a backdrop, or even include a bench or other objects in the scene.
In Your Backyard
Your backyard is the perfect spot for shooting your engagement photos, especially if you live in a big city like New York City where space is at a premium.
You can easily find a quiet area of grass to stand in, and you can even use your own furniture such as chairs or tables to help create a more natural-looking image.
On A Cliff
Cliffs are an excellent location for engagement photos, and there are plenty of ways to pose here.
For example, you could lie down on the cliff edge, or sit facing each other and lean back against the rocks.
Just remember to follow safety advice at all times, and be super careful.
In A Forest
A forest is also a great place for engagement photos, and can offer an amazing fairy tale theme – if this is the aesthetic that you are going for as part of your wedding, then an engagement shoot in the woods can be a great start.
Use the trees as a backdrop and try not to block out too much of what's behind you.
At Night
Taking engagement photos at night is a wonderful idea, and you can really get creative with how you set things up.
Some ideas include lighting candles, placing lanterns, or even having spotlights highlighting you and your partner.
In The Snow
If you live somewhere cold, then taking engagement photos in the snow is a great idea!
It gives you the chance to capture some stunning winter-themed images, and you can really play around with the settings to get some incredible results.
Top Tips To Help Your Engagement Photos Shine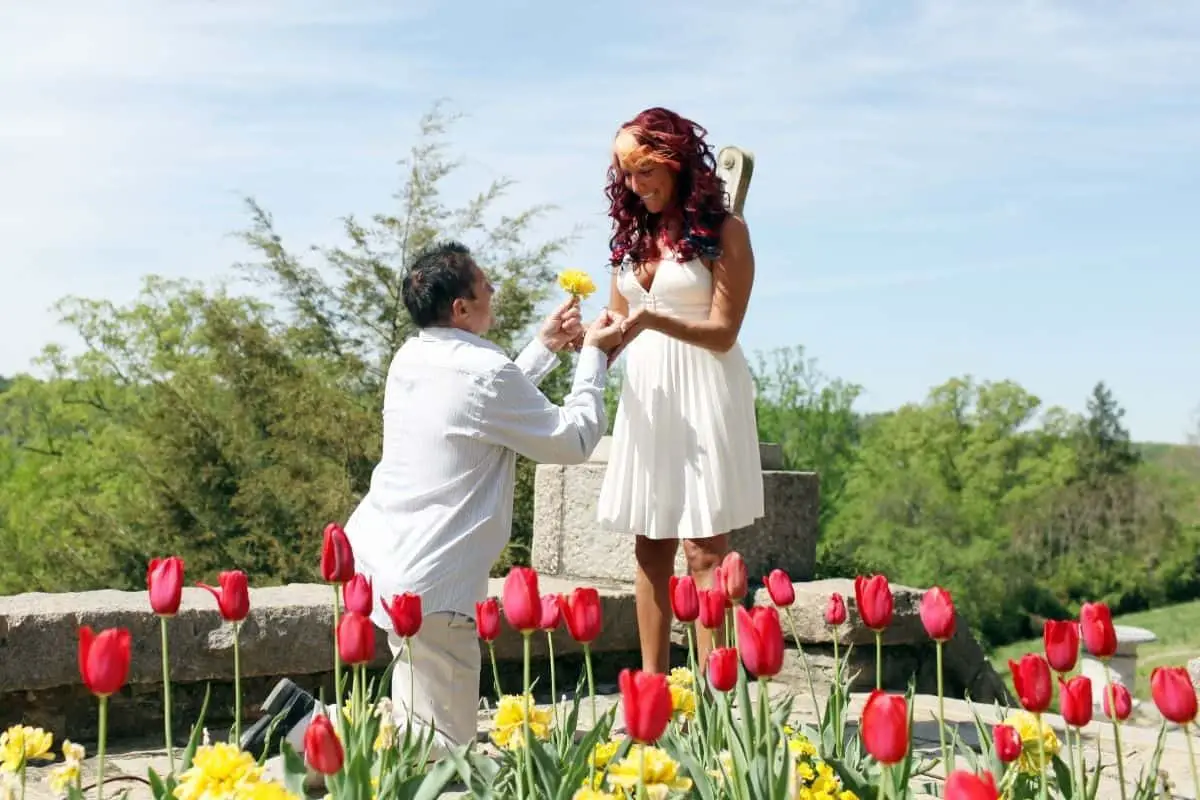 Ultimately, your engagement photo shoot should be all about two people: you and your partner, and is sure to be a memorable and romantic experience, no matter how you decide to make your photos shine.
By implementing our top tips, however, you can help to ensure that your photos really pop, and capture an amazing time in your life with photographs you can enjoy forever.
Some of the top tips for the best engagement photos include:
Find The Right Photographer
One of the most important considerations is the photographer – this can be a real make-or-break deal in terms of the quality of your photos, your experience on the shoot, and your overall happiness and satisfaction.
Make sure that you choose a photographer who really understands your style; a good photographer will understand your vision and shoot accordingly.
Find out what they offer, and choose someone who has worked with couples in the past.
It is also a good idea to opt for a photographer who has experience with this type of shoot; an experienced photographer knows exactly what makes great engagement photos, so they will be able to tell you if you're doing anything wrong.
Plus, they'll also be able to guide you throughout the whole experience.
Take a look at their portfolio and previous work, and make sure it aligns with what you are looking for.
Make sure that you book your photographer in advance, as many of the best ones will be booked up quickly.
Get them in your diary, and consider whether you would like to book a test shoot before going ahead – if this is the case, you will need to be super organized.
If you have any questions, ask them beforehand. It's always better to know what to expect, so you can get the most out of your engagement photo session.
The most important thing is to ensure that the photographer you choose is someone who helps you to feel comfortable, relaxed, and who listens to you – this is a recipe for amazing shots.
Think About What Works For You
We have looked at a number of location ideas, poses, and outfit choices, but your engagement photo shoot is ultimately up to you; this is something personal, so take some time to think about what kind of style you'd like to use, whether it's traditional, artistic, or more modern.
Once you've decided this, think about which location would work best for you.
Though it can be useful to look at other couples for inspiration, remember that this is about you and your partner.
Get Creative
Don't be afraid to have fun and experiment with different poses. Try something new, and see what works best for you.
Be open to ideas – you should feel free to suggest ideas to your photographer; they may even come up with some themselves!
Stick To A Budget
It's important to set a budget before booking an engagement photo session, as it is super easy for costs to spiral out of control without you realizing it.
Set yourselves a budget, and then find a photographer who is happy to work within this – always get the agreed price in writing, just in case there are any questions or discrepancies.
Don't forget that you may also need to budget for extras such as makeup, new outfits, and props – it is important to be clear about what your photographer does and doesn't offer as part of their package.
Have A Backup Plan
Even the best-laid plans can be subject to disruption, so always have a backup plan in place.
It is a good idea to pack a spare outfit, as well as your makeup and hair styling tools, just in case something unexpected happens.
For outdoor shoots, you should also have a plan in place in case the weather turns bad; some photographers can work wonders with umbrellas, while others will suggest an alternate indoor venue.
By making sure you have backups in place, you will be able to relax and enjoy the session, safe in the knowledge that you are prepared for anything.
Get Some Inspiration From Other Couples
If you are stuck and still searching for a vision for your engagement shoot, you may find it helpful to take a quick look at how others have done it.
Find inspiration on Pinterest, Instagram, and other social media sites, as well as bridal magazines and blogs.
You can learn a lot by seeing how other couples plan their engagement photo sessions, and this can provide a springboard for your own ideas.
Edit Your Way
Some photographers will offer editing as part of the photography package, and once again, it is important to remember that these are your photos.
Whether you want slight touch-ups, a stronger "filter" appearance, or just the raw images, you have a right to have your images the way that you want them.
Edits such as adjusting brightness and contrast can help your photos look their best, as can removing any unwanted shots from the frame.
Before you ask your photographer to go in with a heavy-handed Photoshop, take a moment to really look at the images – while we all want to look our best, it is also important to remember that these photographs capture a very special moment, so try and avoid a total overhaul – the last thing you want is for people to barely recognize you in the final snaps.
You want to look like a more polished version of yourself.
Look Your Best
As we have mentioned, looking your best will be different for every couple, and your end result will depend on your style and preferences.
As a rule, however, every couple should make sure that they are clean and presentable, with near, clean clothes, clean hair, and a tidy outfit.
It is also a good idea to brush your teeth before the shoot – you will be spending a lot of time close to your partner's face!
When you have taken your pictures, feel free to share them with friends, family, and loved ones.
Social media can be a great way to share your shots, and you can even create your own hashtag to make them easier to find.
Don't forget to also print copies for your home – this is your celebration, so take the time to enjoy it.
Keep Things Simple
Make sure you keep things simple during your engagement photo session by only using a few props.
This will allow you to focus on enjoying the moment rather than worrying about getting everything right.
If more candid shots suit your style, then don't be afraid to take plenty of these, and keep things super simple, laid back, and relaxed.
Don't worry about posing or trying to make funny faces. Instead, just focus on enjoying the moment – your love for one another will shine through.
Be Yourself
The most important thing when it comes to your engagement photos is to be yourself.
If you're naturally shy, then you don't need to force yourself to smile at the camera.
Likewise, if you're naturally outgoing, then you don't have to worry about being too quiet.
Don't take these photos too seriously; they're meant to be fun and relaxed. So, if you want to have a laugh, go ahead and do it.
The last thing you want is to look serious during your engagement photo session.
After all, you're going to be looking at your photos for years to come, so make sure you have fun while taking these pictures!
Don't worry about trying to look like someone else; instead, just relax, let your personality shine through, and have fun.
If you're nervous, it will show through in your photos, so don't stress about it.
This is a precursor to the happiest day of your life, and a celebration of your love, so embrace it and enjoy each and every moment.
Final Thoughts
Your engagement photo shoot should be a fun experience, not something stressful.
Remember, you're having these photos done because you love each other, and you want to celebrate that fact.
So, don't worry about what others think, and just have some fun.
There's no reason why you shouldn't be able to enjoy the process as much as you'll enjoy the results, and enjoy amazing photos for years to come.

Latest posts by Lisa Plaitt
(see all)