We'd like to introduce you to the mysterious beauty and attraction of opals if you hadn't already thought about getting one as an engagement ring.
Opals display a different kind of sparkle than a diamond, something that is beautiful and iridescent, making them the ideal engagement ring for the non-traditional bride.
To help you find the perfect opal engagement ring, we've put together a list of absolute favorites for you to celebrate your engagement in a unique and whimsical way.
What Is An Opal?
Opals are exceedingly rare gemstones that are prized for their play of color, which is a display of flashing hues.
The opal, which is the birthstone for October, is formed during the dry period that follows seasonal rains in areas like Australia.
What Is The Meaning Behind An Opal?
The vivid past of the opal will not disappoint you if you are looking for significance in an engagement ring stone.
Opals have been shrouded in mystery since the Middle Ages because of their eerie brilliance. Legends about opals range from being associated with bad luck to being used to stave off evil spirits.
The Caesars of ancient Rome gave opals to their wives as good luck charms because they thought it was the most valuable and potent gemstone. This kind of romantic connotation has persisted into the present.
Opals are now a popular choice for engagement rings because they perfectly capture the special spark and fire of your connection. Additionally, its non-replicability appeals to those looking for a ring that is truly one-of-a-kind.
Opal Types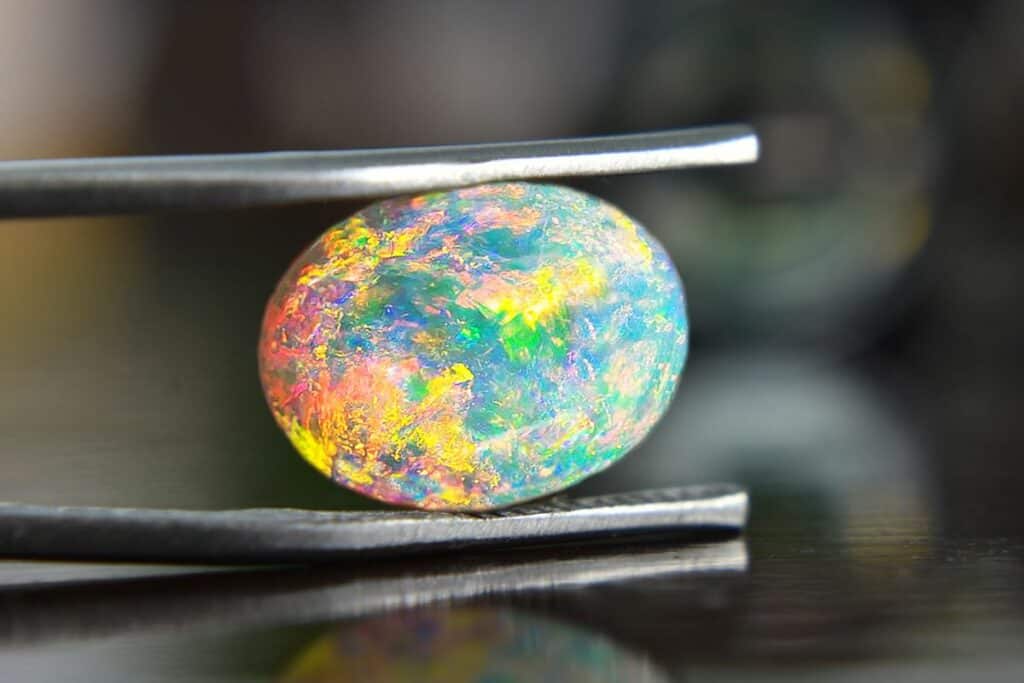 You can also get a lot larger ring stone for the same carat weight since opals have a far lower specific gravity or density than other gems.
Opals come in a wide range of varieties, though. The most popular ring stone options are as follows.
Black Opals – The most valuable opals are black ones. These gemstones' spectacular color play is displayed on a background of black or dark blue.
Crystal Opals – Crystal opals, the second-most expensive variety, range from translucent to semi-transparent. They resemble vivid dew drops with rainbow colors floating inside of them.
White Opals – White opals account for the majority of commercial sales and are particularly well-liked in the United States. They tend to have translucent backgrounds with milky white, gray, or light yellow hues.
Boulder Opals – Its host stone, either ironstone or sandstone, is still present when boulder opal is mined. The benefit of the host backing is that it makes the backdrop darker and enhances the opal's color play.
Jelly Opals – These stones, sometimes known as water opals, frequently exhibit semi-translucency but lack the vivid bursts of color found in crystal opal. In many cases, they resemble moonstones.
Fire Opals – The backgrounds of fire opals are red, orange, or yellow. The most excellent specimens are uniform in color, have no milkiness, and have a flaming red or red-orange color.
For the bright and vivacious person, this exquisitely created ring is a celebration of the joy and beauty felt at the height of the spring season.
Due to the extremely dark body tone, the opal type in this ring plays with color in a particularly vibrant way. This particular opal has a striking and appealing blue and green combination that alters and moves as the gem is moved.
The gleam of bright gold in this ring contrasts beautifully with the golden borealis of vivid pastels.
An opal with a vintage feel is set in a ring made of 10k yellow gold. The oval stone's contours are elegantly complemented by rounded prongs and bead accents.
The central stone of this lovely 18k white gold ring is an oval black opal. A pave diamond halo and shank surround it.
This ring stands out from the ordinary opal because of its vivid blue and green hues. Its attractive design will also be highlighted by the fact that it is oval-shaped.
This art-deco style is for all of you venerable souls out there.
A 14k gold setting with an opal center stone, diamond embellishments, and milgrain detailing. When combined with the satiny gold finish, the gem's grayish tint is very elegant.
With this specific stone, the opal's watery appearance is considerably more noticeable. A black Australian opal is embedded in this ring, which also has a band made of sparkling black diamonds.
This ring has a black opal that has been engulfed in the fiery hues of a peacock. A halo of diamonds, Ceylon blue sapphires, and an elaborately scalloped texture surround the pear-shaped opal, which is set in 18k white gold.
Abby Sparks takes delight in creating one-of-a-kind, distinctive creations by hand using only recycled materials.
An Australian opal with diamond accents is set in gold on this ring. This half-moon pattern has a mysterious feel to it. This stone's eerie luminescence is undeniably mystical.
With this astral pattern, you will have the sky wrapped around your finger. As though propelled by the cosmic patterns themselves, the brilliant center stone is aflame.
The 14k gold ring is set with an Australian opal that is surrounded by diamond accents and stunning motifs.
This is a ring with the full aurora borealis contained within. Here, 18k yellow gold is used to bezel-set an opal center stone and a diamond band.
For the utmost in wearable luxury, Jemma Wynne's designs combine precious materials with a carefree, ready-to-wear aesthetic.
This ring has an understated style and unnatural shine.
The brilliance coming from that opal may be tiny, but it's nestled style is anything but. The 14k yellow gold ring has a small diamond perched on an opal that is nestled.
This big opal stone is complemented by the band of micro-pavé gray diamonds to make a modern ring with a touch of class.
This stunning ring is set in yellow gold, and the murky black opal is an incredibly unique feature of this piece.
This is a sparkling white ring that can stand for so many different things. It features one white diamond and three teardrop opals that are set in 14k gold.
For an angelic silhouette, turn the ring over. You can achieve the same symbolism of a half-lotus or sunburst design by flipping the perspective.
Particularly in this beautiful ring, a light pink opal is really feminine. The 14k gold setting for the opal center stone is surrounded by a pavé halo.
AuRate makes an effort to develop ethical and transparently priced jewelry because they feel that your conscience should shine as brightly as the jewelry you wear.
This ring has an incendiary opal that burns brightly due to light refraction from the surrounding diamonds.
On a 14k gold or platinum band, an oval opal is placed with a diamond halo around it. The stone is held in place by the claw setting without losing any of its brilliance.
Caring For An Opal Engagement Ring
First things first, opals need to be handled delicately because they are one of the softest gemstones. Also, take note that opals made in laboratories typically have a bit more strength than their natural counterparts.
You should always treat your ring gently because opals are weaker gems. Always take the ring to a jeweler for cleaning because they are trained to handle the opal with care.
We suggest you treat your opal jewelry with great care and love to ensure that it becomes an heirloom in the future.
This means that you shouldn't wear them when you're exercising, submerge them in water, or clean them with strong chemicals.
Final Word
An opal engagement ring is an incredible choice for any bride-to-be. The ethereal qualities of opal are sure to be a stunning accessory for the years of marriage to come.

Latest posts by Lisa Plaitt
(see all)