While a majority of brides and grooms go for metal rings (read: gold, silver, platinum, steel, tungsten….), there are those who opt for alternative options for a variety of reasons.
Non-metal rings can be as gorgeous and charming as metal rings, yet more practical and cheaper. 
If your lifestyle or job requires you to wear non-metal rings (electricians, or anyone in the radiology department), if you're allergic to certain types of metal, or if you're looking for cheaper rings, you are in the right place as we explore 8 classy types of non-metal engagement rings and wedding bands.
1. Stone
Wedding bands in stone can be either a simple all round stone or have added embellishments as centerpiece.
Stones such as marble and some types of jade can be on the expensive side, however, they are as alluring as their price tag suggests and would last a lifetime. 
While many stone rings are metal-free, some do come with metal prongs for their centerpiece, which could be okay for those who don't mind some metal as long as it doesn't come in direct contact with skin. 
Other stone rings may have an inner metal lining. These rings are suitable for those who are fine with a mix of stone and metal, yet would prefer a majority of the ring be in stone.
Below are some examples of stone rings you might love.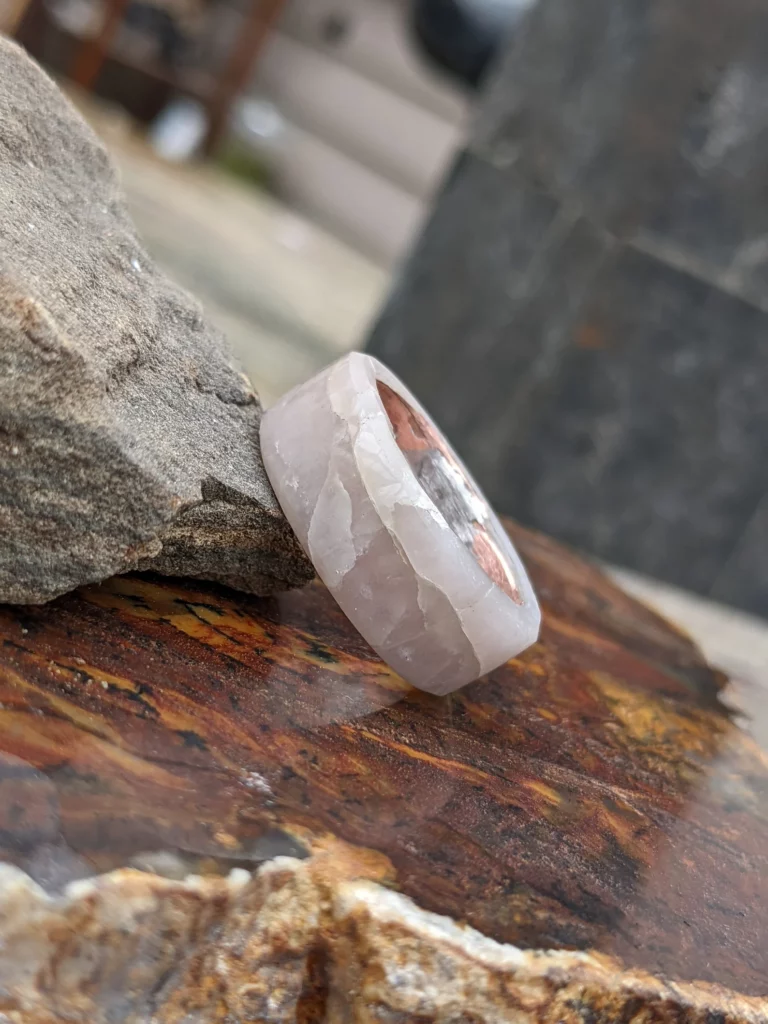 This hand-made white marble ring is a beauty! A ring for those who love all things natural, simple, yet elegant. Marble is known as a mood-booster and has calming effects.
The soft-gray veins in the carrara marble white background give this ring a unique charm. 
This ring has a copper inner lining for protection against impact as marble is a soft stone. You can choose to have this ring from 8 mm to 12 mm in width.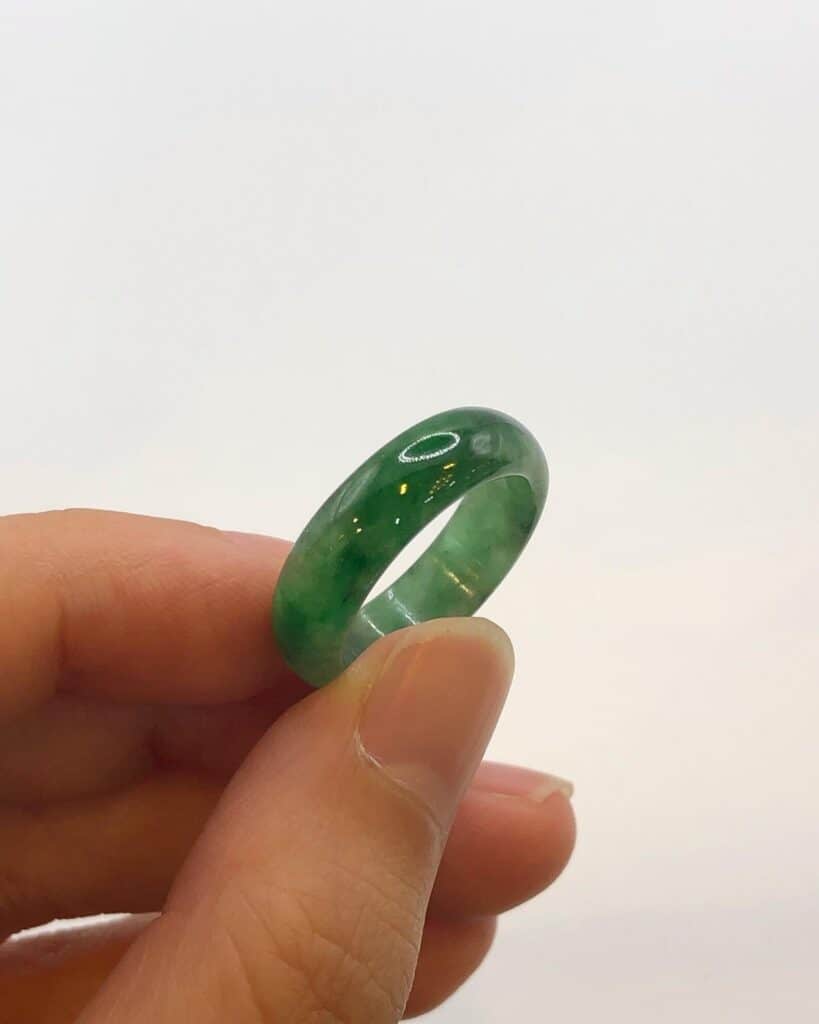 This all-stone jade ring has zero metal. Jade is the birthstone for the month of August. 
It is traditionally known for serenity and harmony and is a symbol of good luck in certain cultures. 
This ring features a strong and evenly-spread green color which gives a feeling of nature. It is made from grade A Burmese jade, which is an untreated form of jade that keeps the crystalline structure of the stone.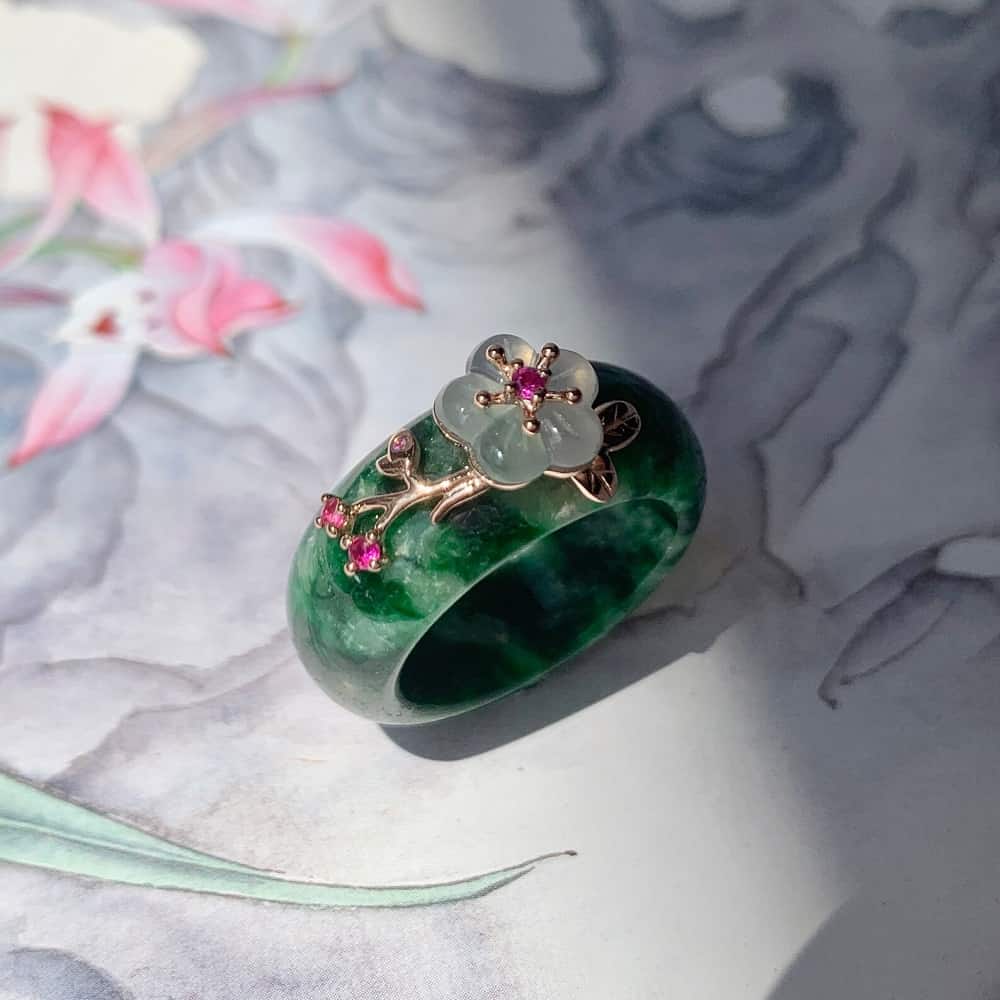 If you're loving the stone rings but would prefer a centerpiece, this gorgeous jade ring is just that. 
Featuring a white sakura with rose gold prongs and two small flowers in pink sapphire, this is surely a luxurious twist. 
2. Wooden rings
Wooden rings can also come in varieties. Some are entirely wood, some have metal parts, and others come with inlaid stones and minerals or stone centerpieces. There are also wooden rings that are carved!
Majority of these rings are polished to be water resistant and durable. However, depending on the way they were made, these rings vary in their longevity. 
There are mainly two methods of making a wooden ring, which is important to know to choose the right one for your purpose.
Solid wood rings are made by carving a section out of a wood block. If you prefer a ring with unique character over consistent look, then solid wood rings are a great option. These rings are less treated and are often cheaper than bentwood rings. However, they require more care.
Bentwood rings are made by carefully layering thin pieces of wood while bending them and using adhesives to make a strong structure. If you prefer a relatively thinner wooden ring with a more consistent look, these are perfect. 
Bentwood rings are more suitable as wedding bands (in comparison to solid wood) as a result of their strength and unsusceptible nature to get damaged with long use. 
Below we have some examples of bentwood rings as an inspiration.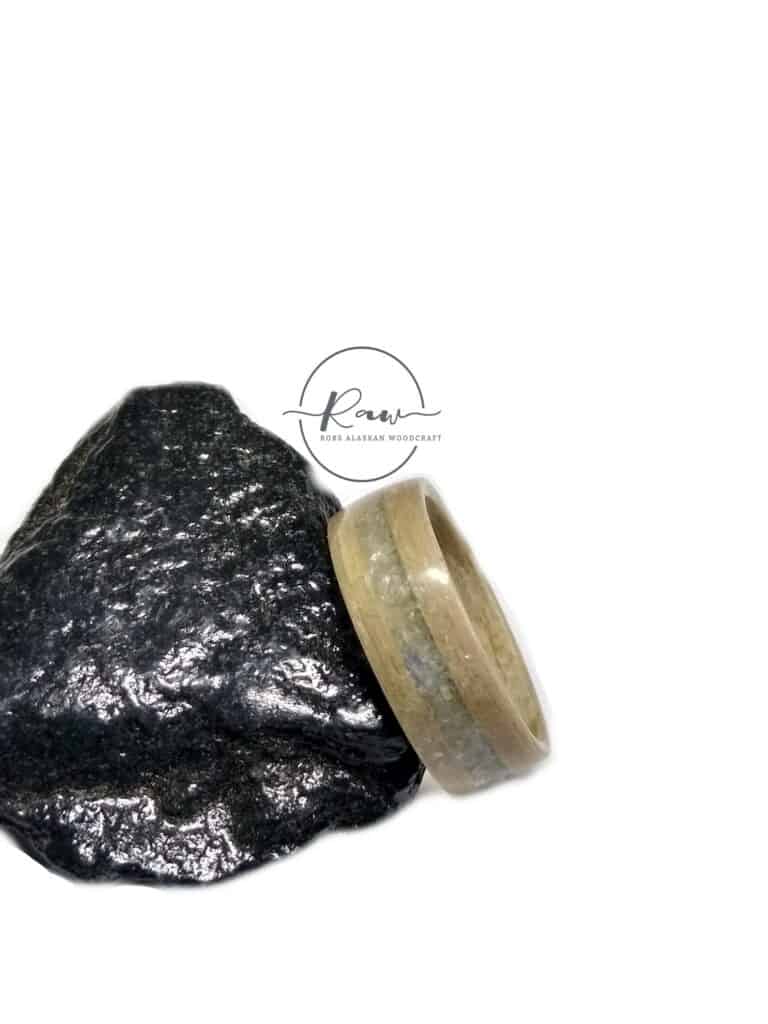 This bentwood ring is made from sand oak. The beautiful inlay of kyanite mineral makes for a glittery center all around. This is handmade, light, and durable.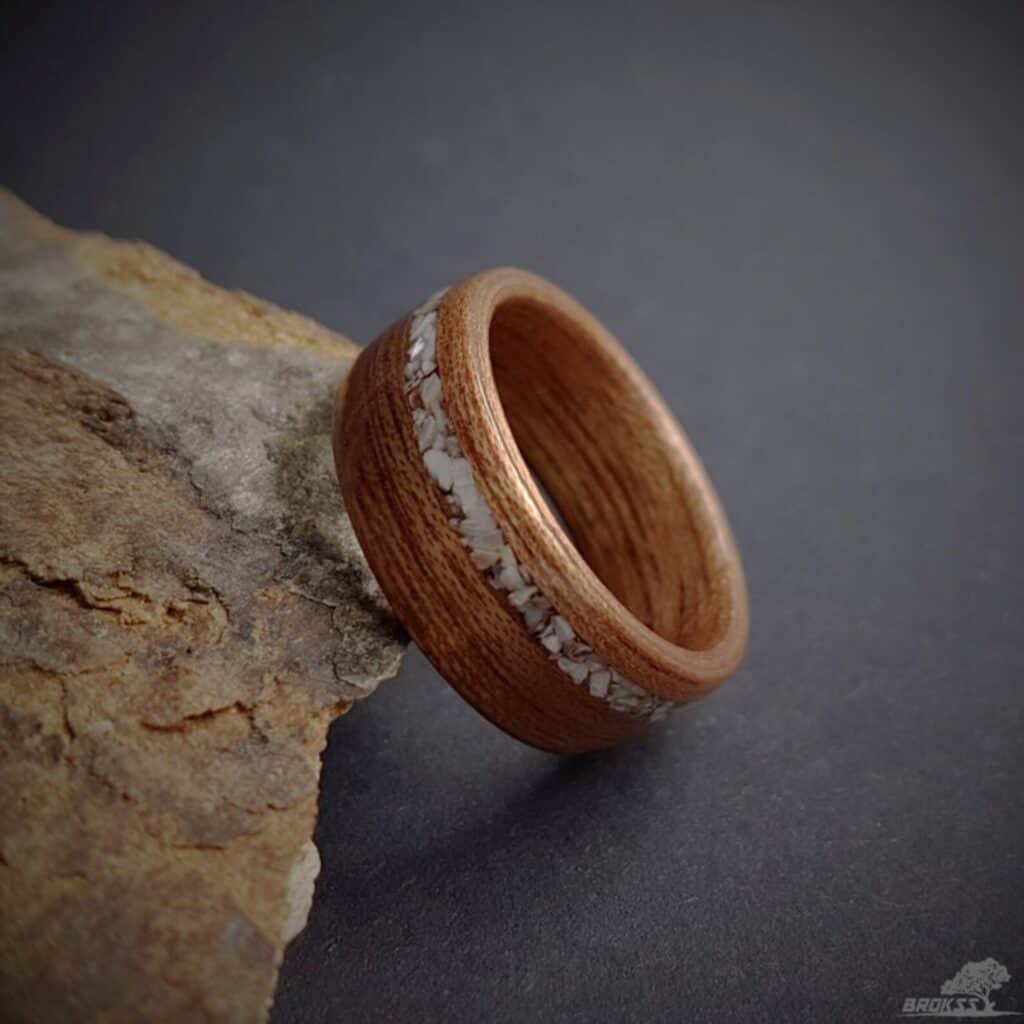 Made from mahogany wood, this bentwood wedding band features real shells from the Adriatic sea, way to go! The brown color gives this a natural stunning look.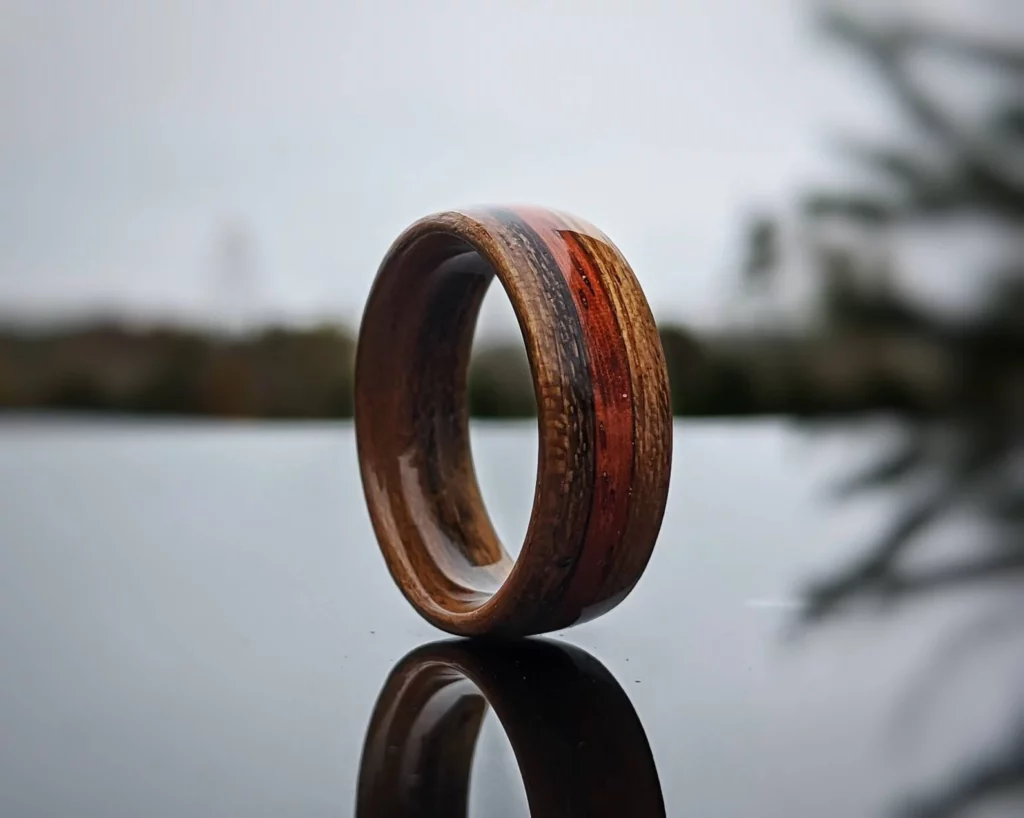 For those loving Hawaiian vibes, this extraordinary ring is the one. Two types of local Hawaiian woods are featured: cocobolo and padauk as an in-lay. Very natural and classy color tones.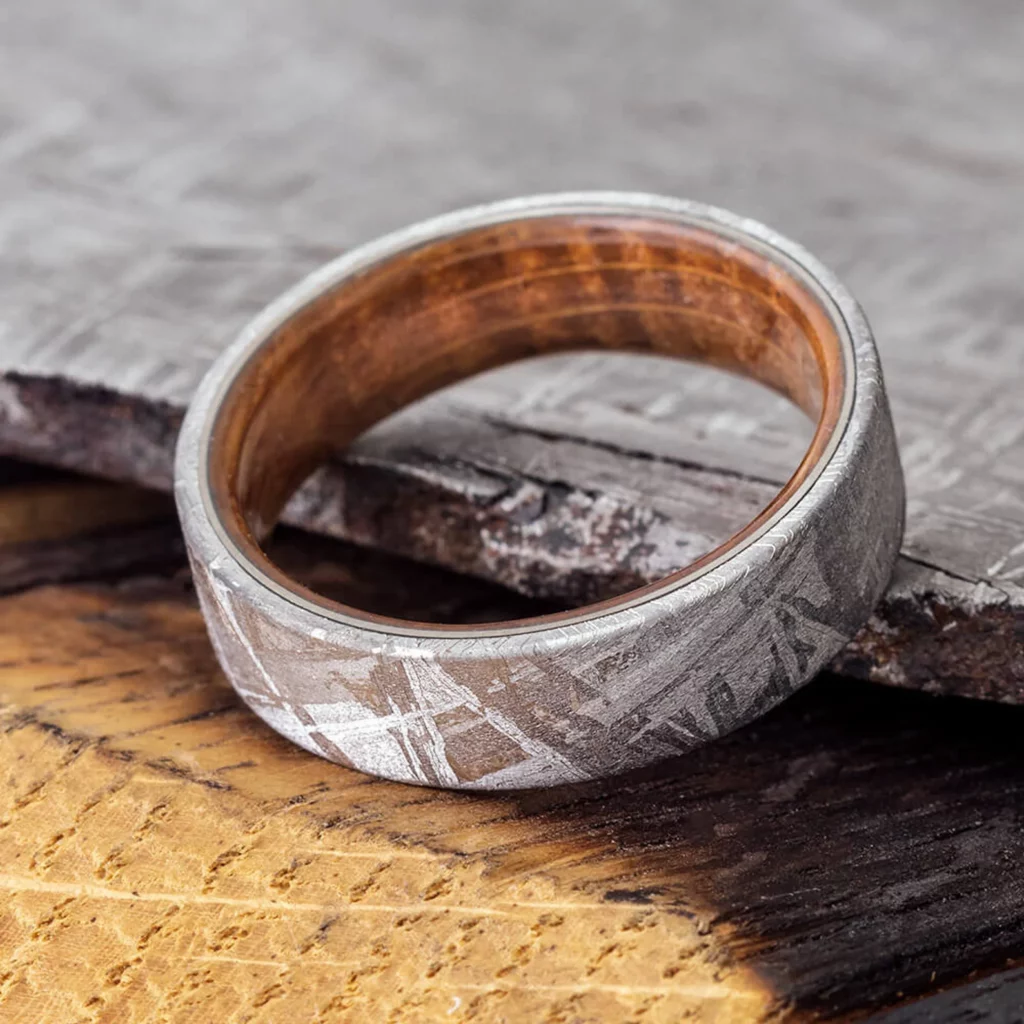 This hard-core Edwardian-style wooden ring is made from whisky barrel oak. It contains a layer of titanium and a top layer of gibeon meteorite stone. Suitable for men's wedding ring to last a lifetime. 
3. Macrame rings
If you're into DIYing a unique and personal engagement ring or wedding band, macrame might be for you. You can also shop for these. They can be cheaper than most other non-metal alternatives. 
Most macrame engagement rings come with varying sizes and styles of stones. Check these macrame rings for inspiration: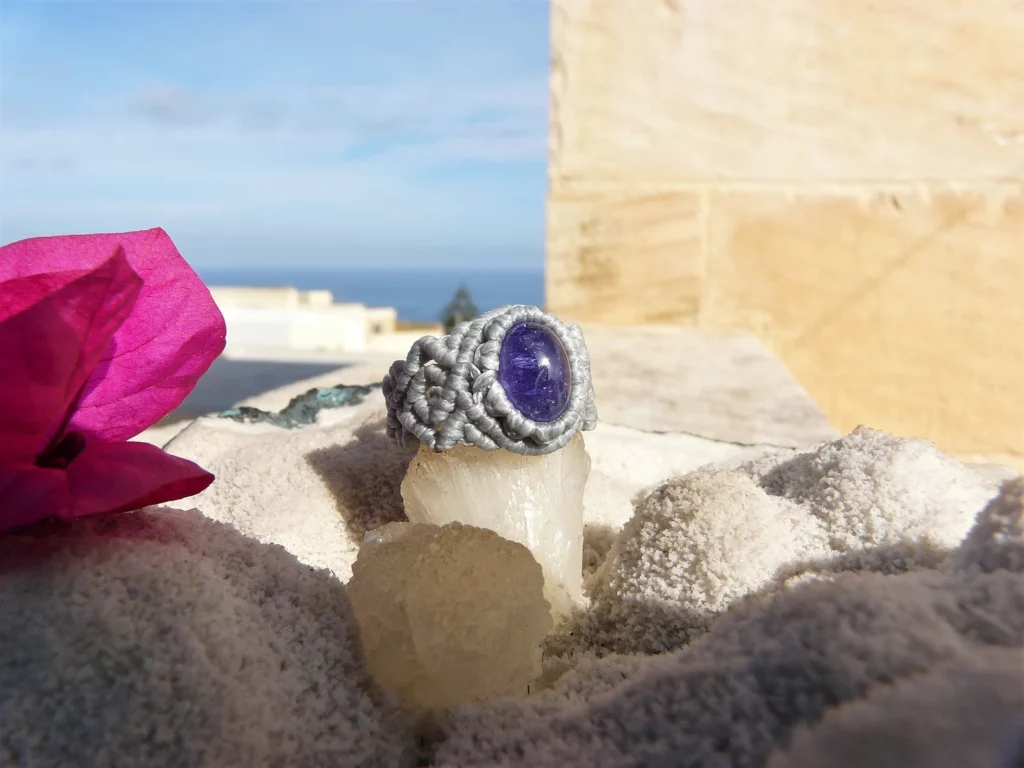 If you like the combination of grey and purple, check this ring out. With a large tanzanite stone, this is definitely a head turner.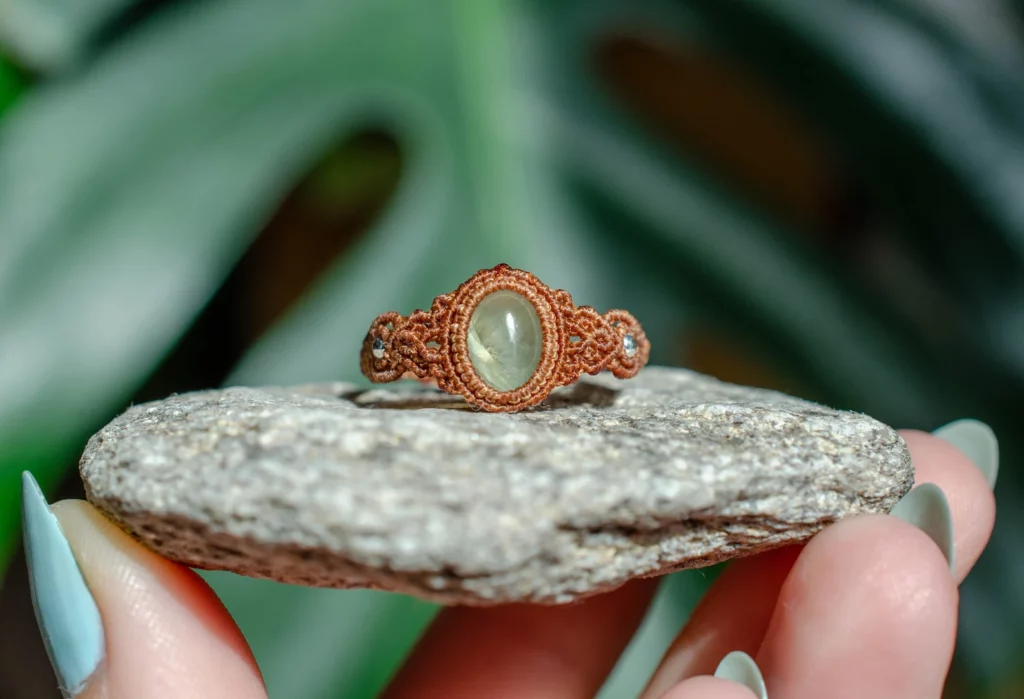 Featuring a moonstone and side silver pearls, this brown macrame ring is very unique. The twisting side threads give this a special feeling.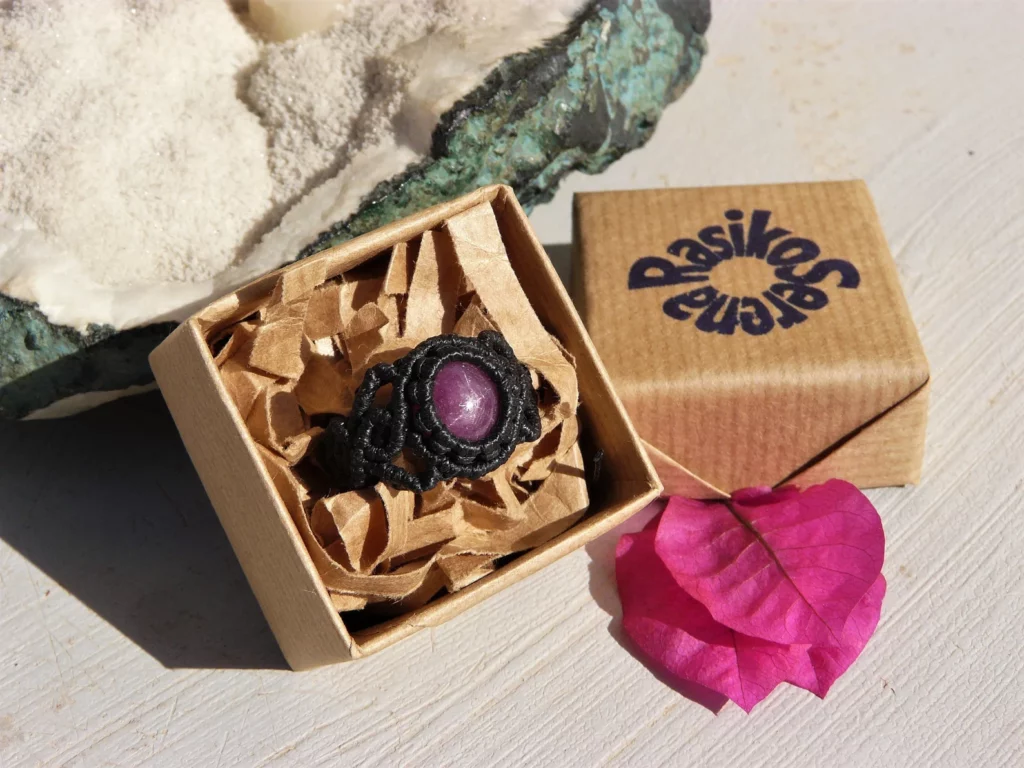 This black and pink boho-styled macrame ring features a star ruby centerstone and is metal-free. Star ruby is a stone of abundance and is known to have immense healing properties. 
While the band is made in Italy, this gorgeous ring ships from Spain.
4. Silicone
We're aware that silicone rings are becoming more trendy as couples look for alternatives. A more comfortable option due to the material and flexibility of these rings, they are suitable for active lifestyles and for those who will expose their rings to a variety of elements and temperatures. 
Some people have a silicone ring in addition to their metal rings for those days they need a more flexible alternative. 
Also if you travel or backpack often and don't want to attract attention to an expensive engagement ring, a silicone ring is a great anti-theft option.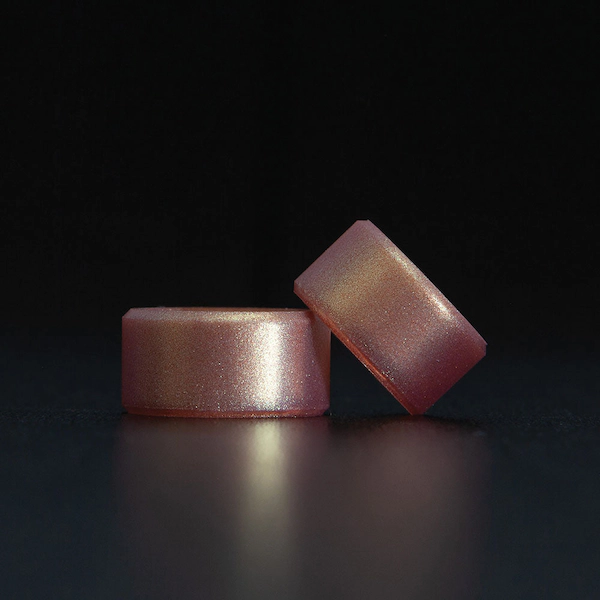 If you're looking for a warm color, this sepia silicone ring with a width of almost 12mm surely makes a statement.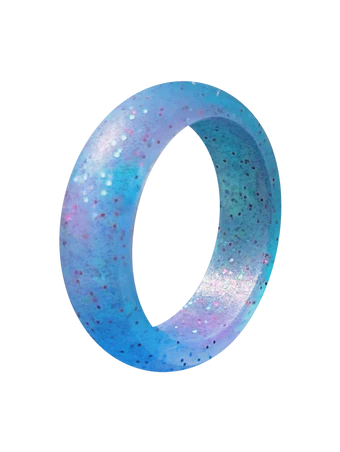 A perfect way to add sparkle to a silicone ring is to get one with glitters! This just reminds us of Cinderella colors, magical indeed!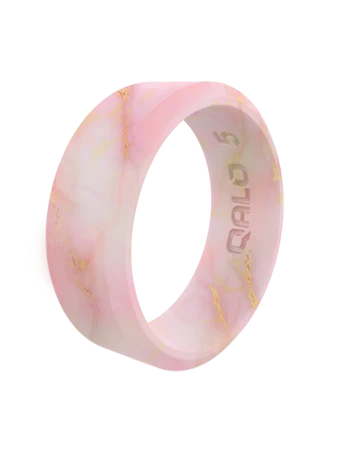 Fancy a marble design but on a silicone? This modern-style silicone ring has hues of pink for an added detail. 
5. Glass
Did you know that glass rings used to be one of the most popular jewelry in the middle ages? While they don't enjoy the same level of popularity in the 21st century, there are some very cool glass rings out there.
Glass rings can be a cheap alternative to gemstones. They are made using various methods such as fused, stained, or lampworking techniques.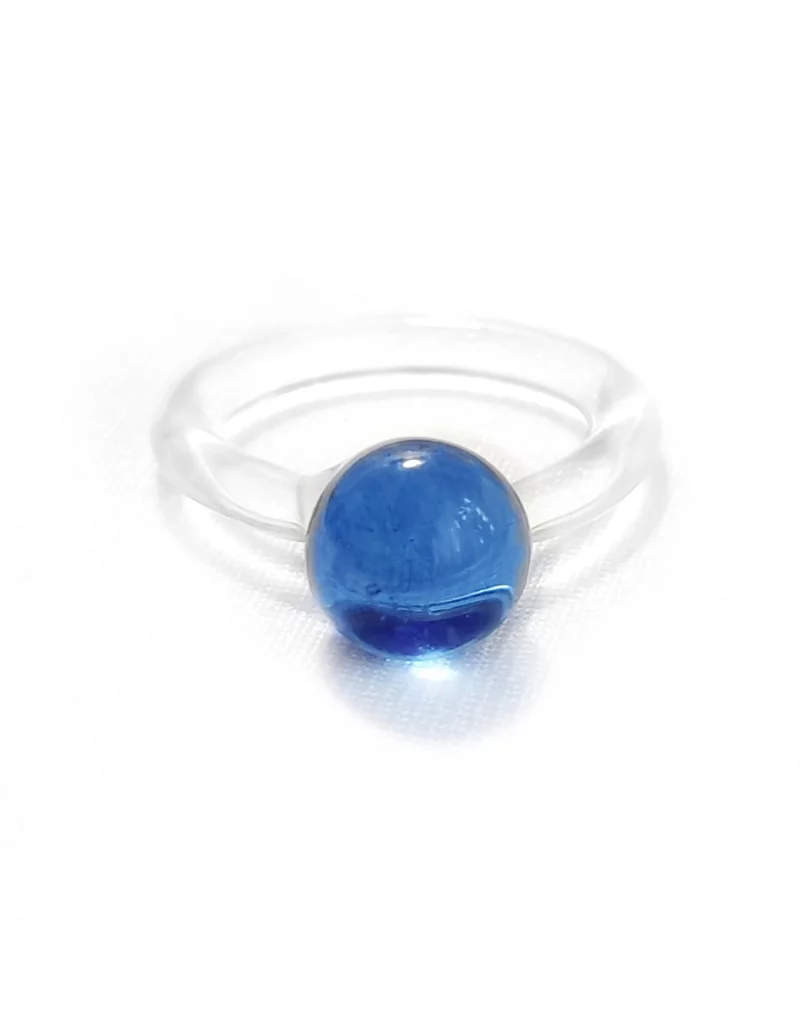 Made from borosilicate glass, this minimalist ring has a white shank and a blue dome. Definitely an eye-catching engagement ring idea!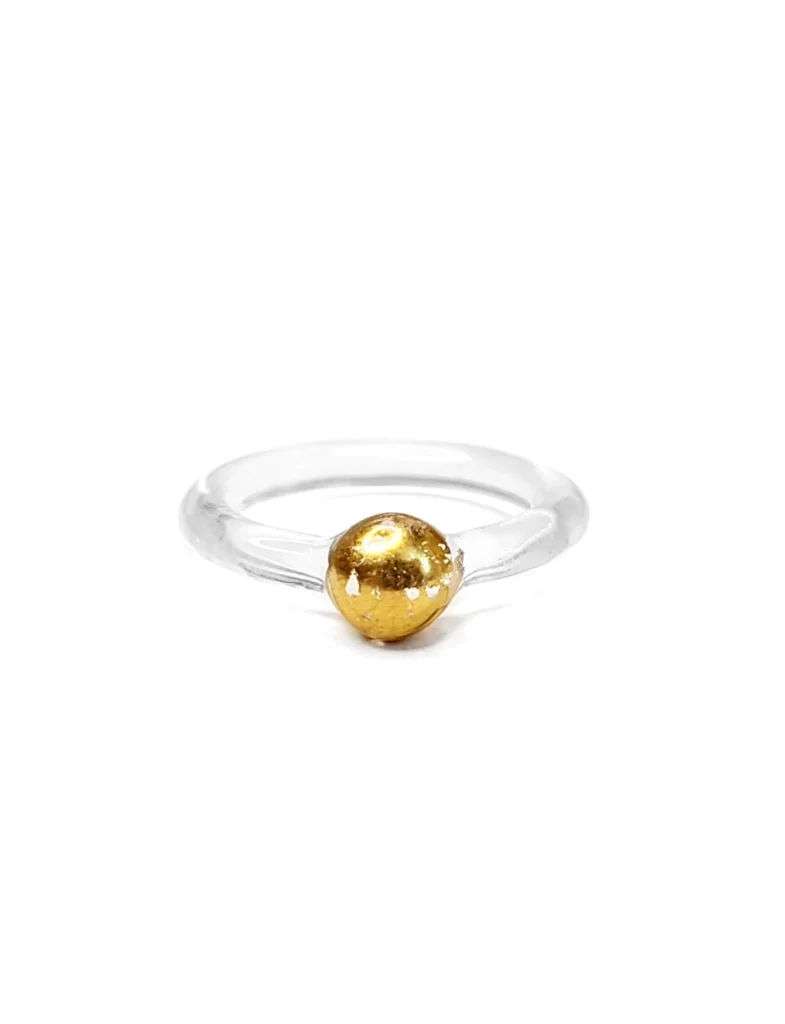 Featuring a gold-plated dome, this glass ring imitates a traditional ring with a twist. Definitely a unique ring!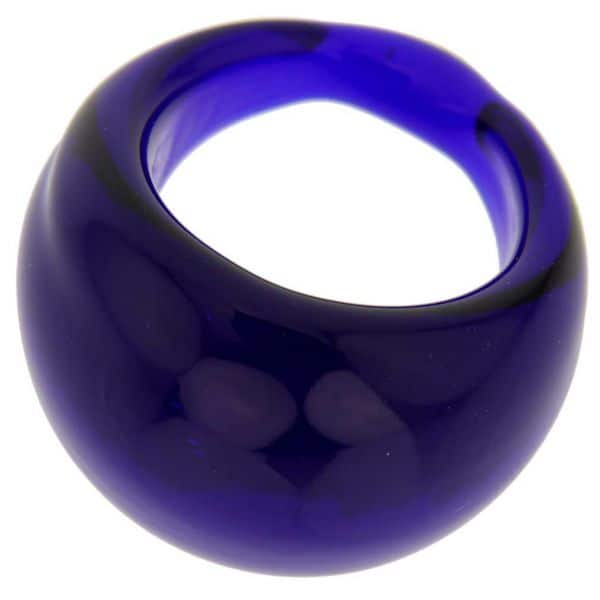 Wanting to make a statement with a glass ring? Look no further as this translucent navy blue is sure to turn heads. Made in a traditional Murano glass workshop in Italy, this is definitely a lovely ring.
6. Plastic
Acrylic resin rings are one of the widely available types of rings with many different styles to choose from. 
If you're thinking plastic rings aren't as special as you need them to be for an engagement ring or a wedding band, you're not wrong. At least most plastic rings aren't made for that purpose. However, there are very artistic designs out there that can change your mind. Let's see!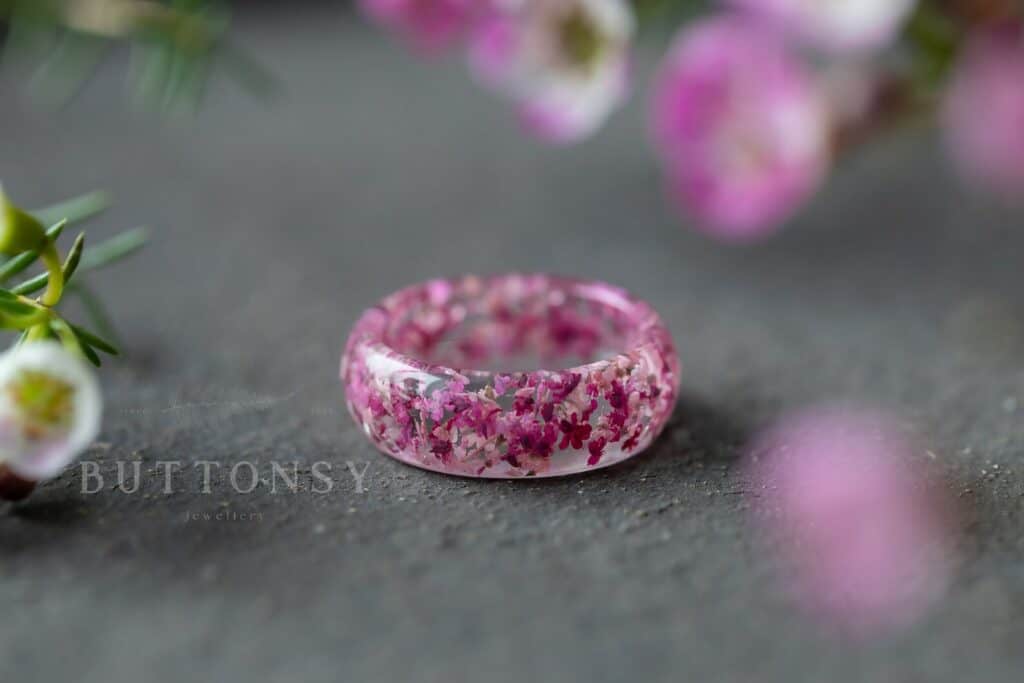 This dazzling cherry blossom spring ring with real flowers is a favorite. Spring is a symbol of new beginnings. As a newly engaged couple, this is a perfect ring choice to signal a new chapter of life.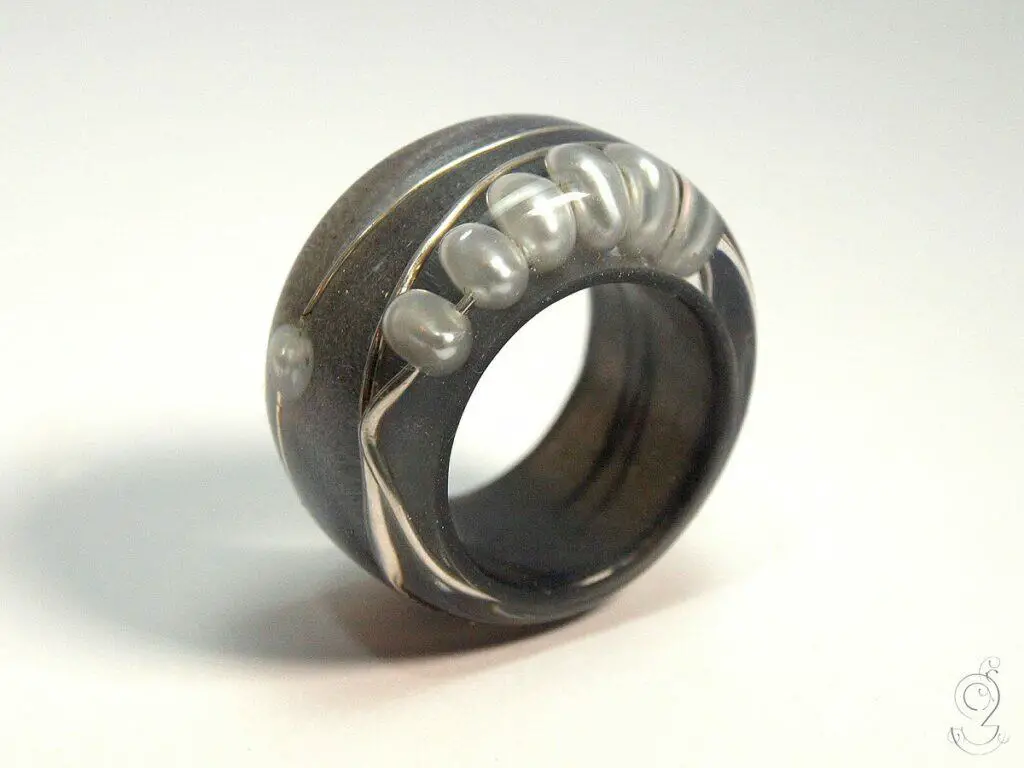 Pearl in plastic? Yap, in an artistic (gothic) way, connected together with stainless steel! What better way to protect a row of white pearls from exposure than to have a coat of resin on them?
Fresh wild flowers resin-pressed on birchbark (wood). If you're after a nature-themed ring, this piece offers real parts of nature that is wearable on a finger, for a lifetime!
7. Leather
Leather-made accessories such as bags and shoes are highly on demand and have their own loyal fans. Leather rings may be less trendy than other leather-made accessories, but that is changing as couples look for classy lasting alternatives to traditional metal rings.
Those who have a love for everything leather know that wearable leather products are unique in that they take the shape of the wearer after being worn for some time. This makes for a comfortable fit for those wanting something flexible.
Leather engagement rings or leather wedding bands are a good option for those who prefer a rustic style. These rings can come in either semi-leather in the form of embellishment or a full-leather band, either smooth or braided. Some leather rings have metal parts or stones.
Synthetic leather is cheaper than genuine leather, and might be easier to take care of. Genuine leather rings, on the other hand, have a great appearance and when taken care of, can last a lifetime. The key is to check the care requirements of the ring you want at the time of purchase.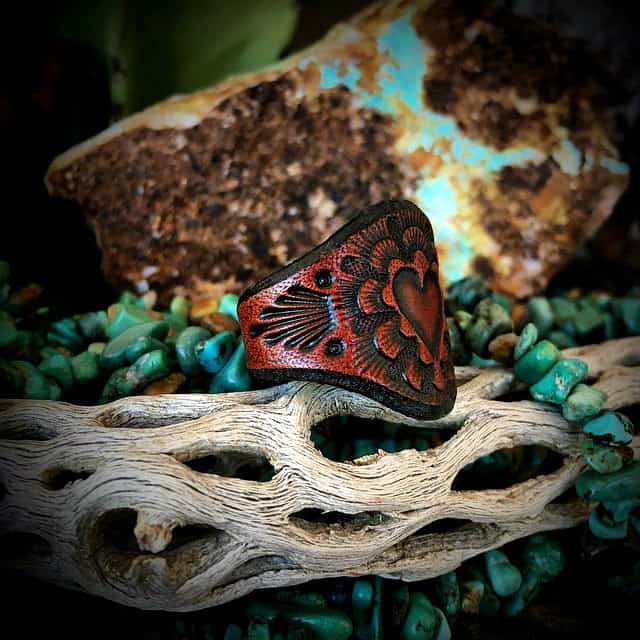 This soft ring features a sacred heart with an ora flare. The ring can be customized to your color of liking from a natural color to rustic brown, black, dark brown, and honeysuckle.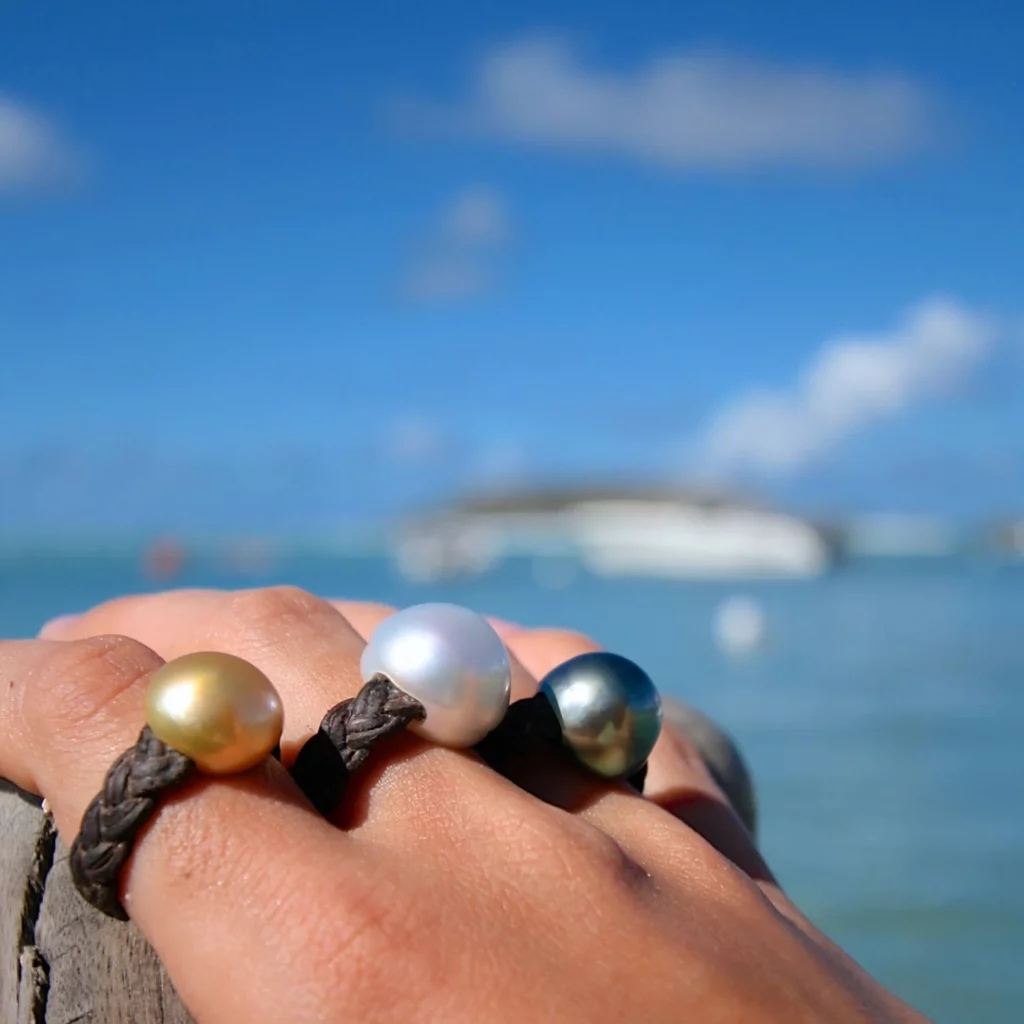 Featuring a braided leather band and a real large mounted pearl centerpiece, this ring is just lovely. The pearl type, grade, shape, and color are customizable. The pearls are sourced from Australia and Tahiti.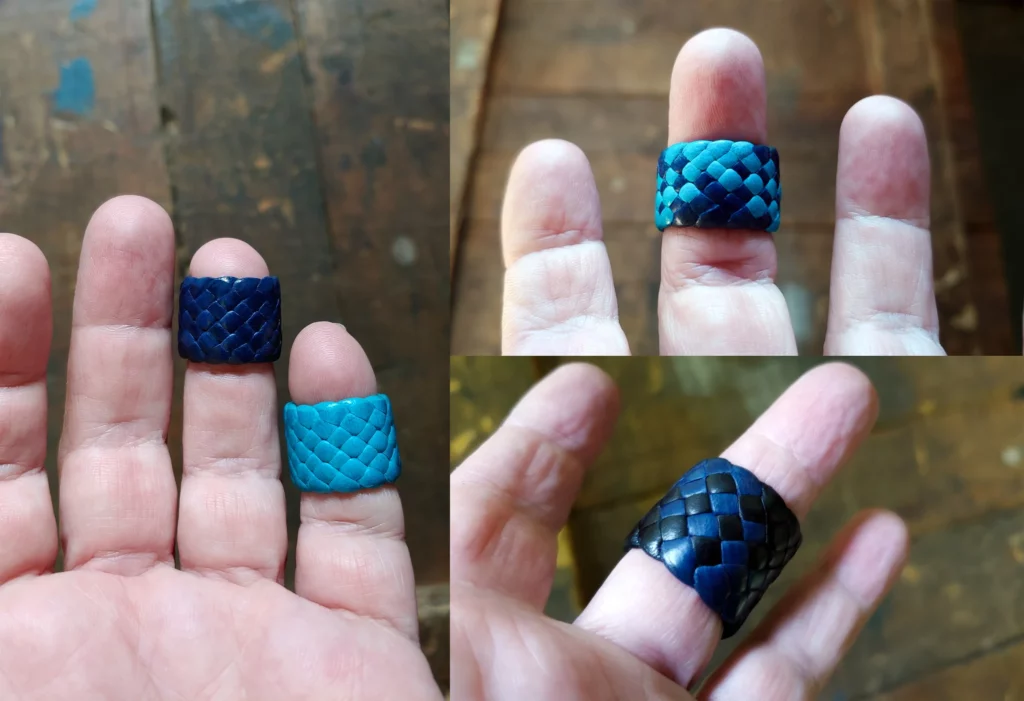 A design inspired by love, this braided dual-color leather ring is free from any other material and is made from deerskin leather. There are options to choose from if you prefer a different color mixture. 
8. Ceramic
A type of ring known to be extremely anti-crack and anti-scratch, ceramic rings are another alternative to traditional rings. In contrast to ceramic pottery, these rings are mostly made of titanium carbide. Let's look at some examples for inspiration!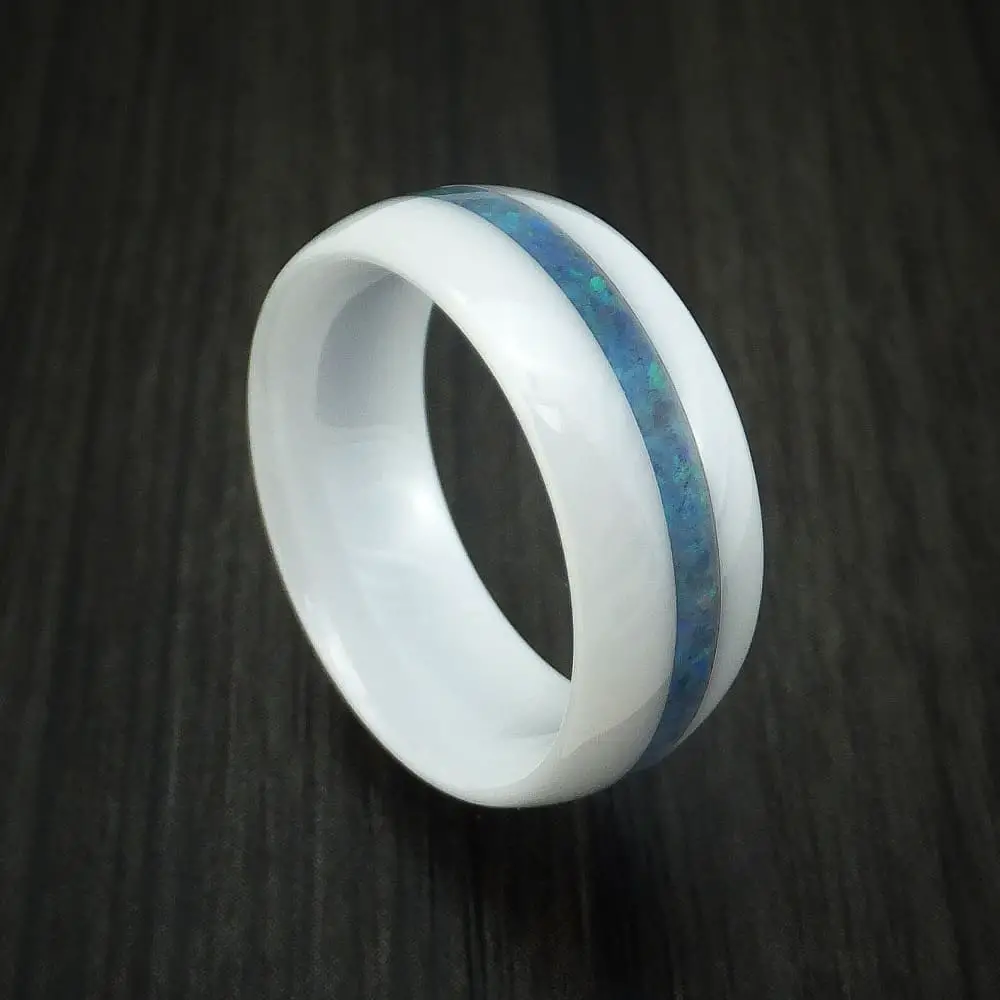 This white ceramic band has a beautiful opal in-lay, which is a great option for an engagement ring for her.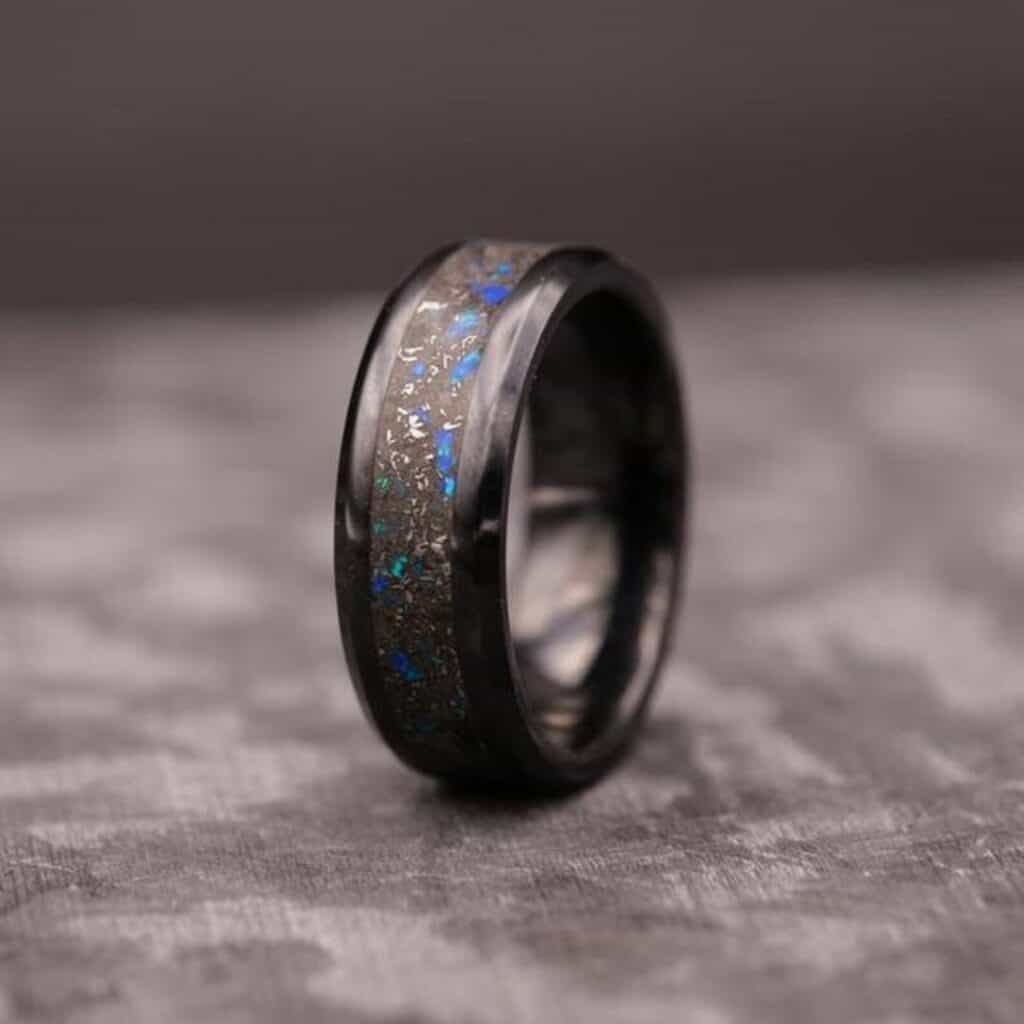 Looking for a glowing ceramic ring? This space-inspired ring has an in-lay which is made from a number of different materials such as crushed diamonds and moonstones. The band itself is black ceramic.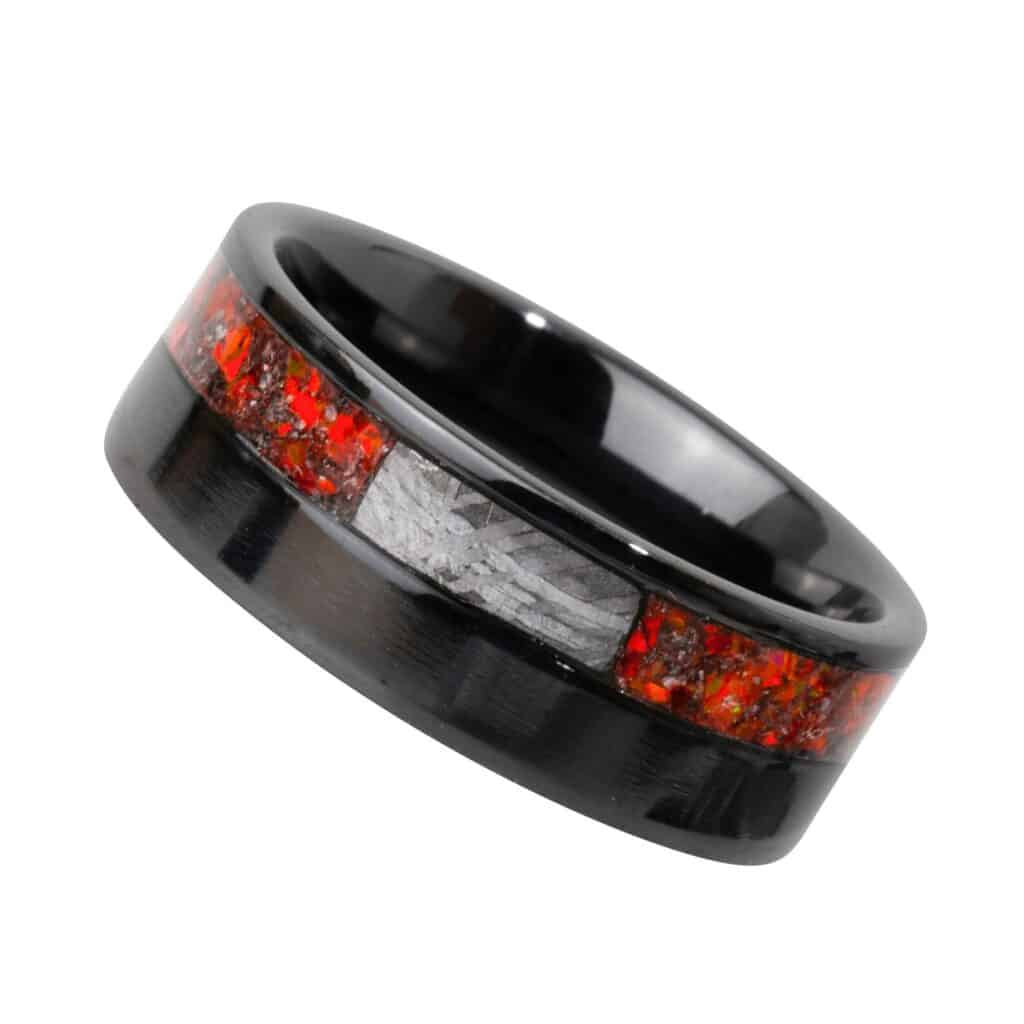 This striking Hawaii-made ring features a fire opal in-lay, which is set within a black ceramic band. A real meteorite sourced in Sweden is also etched onto the center of the ring. Wanting color, detail, and durability all in one? Voila! 
In Summary
If you are looking to find a perfect non-metal engagement ring or wedding band, rest assured there are many options. Particularly stone, wood, ceramic, glass, leather, plastic, macrame, and silicone rings are great alternatives.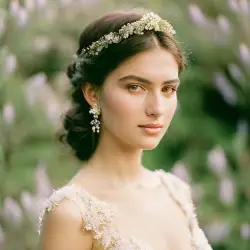 Latest posts by Rosie Liliy
(see all)