Some say blue engagement rings are a new trend. We say, they've always been a favourite (remember Princess Diana's elegant engagement ring).
Blue is traditionally associated with the sky and the sea, symbolising openness, freedom, and intuition. From sapphire, blue diamond, aquamarine, to tourmaline, turquoise, to larimar and tanzanite, there is lots of variety to choose from. 
If you are looking for a modern light blue ring, you can go for a band-style or a bezel setting.
If you're after elegance and significance, pear-shaped and large settings are made for you.
If your preference is vintage, pair old European cut diamonds with matt or brass shade gold. Classical designs are brilliant for a vintage light blue engagement ring.
If you're after themed light blue engagement rings, such as princess-themed rings, pair a blue diamond with a cathedral setting and voila! Blue topaz or aquamarine also work great on white gold for a magical Disney flair.
We've listed a few examples of light blue engagement rings below as inspiration to help you make your choice!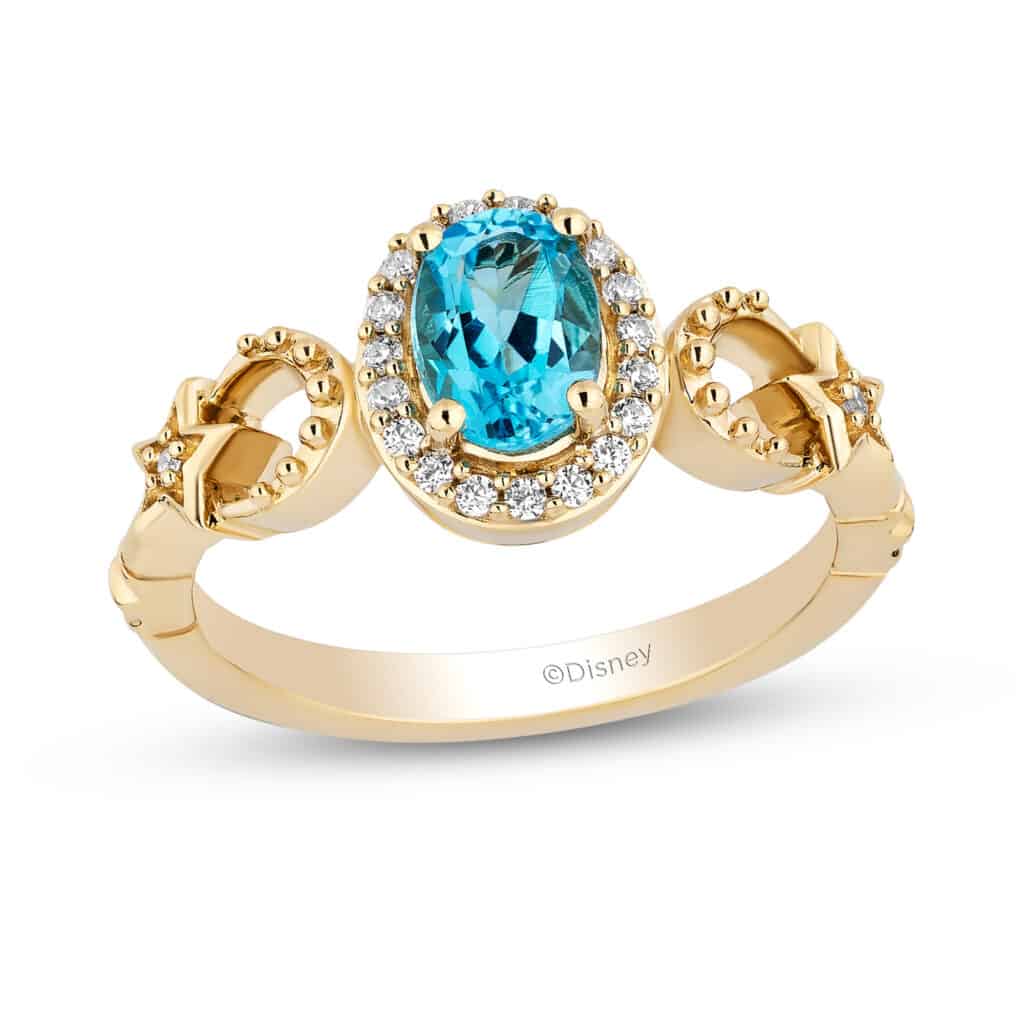 Disney-themed engagement rings have always had their own fans. This beautifully detailed Jasmine-inspired yellow gold ring features halo cluster diamonds accentuating a Swiss blue topaz centerstone.
Unconventional beaded loops ending in diamond-stars cast in a solid band surely make this a headturner.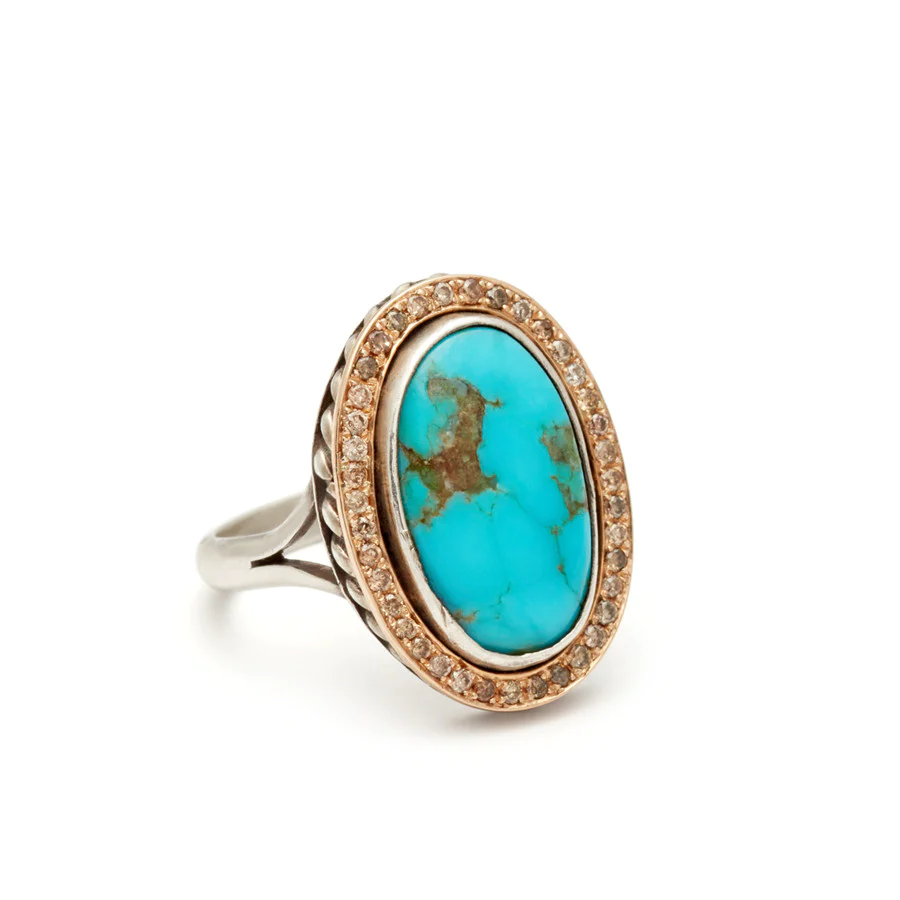 If you're after a vintage-inspired solid light blue engagement ring that is surely one-of-a-kind, this might be for you.
A large turquoise centerpiece with halo clustered diamonds in a 14k gold bezel setting on a silver split shank is a retro-era style engagement ring. Some say this is an Aladdin's Jasmine inspired ring. Who knows.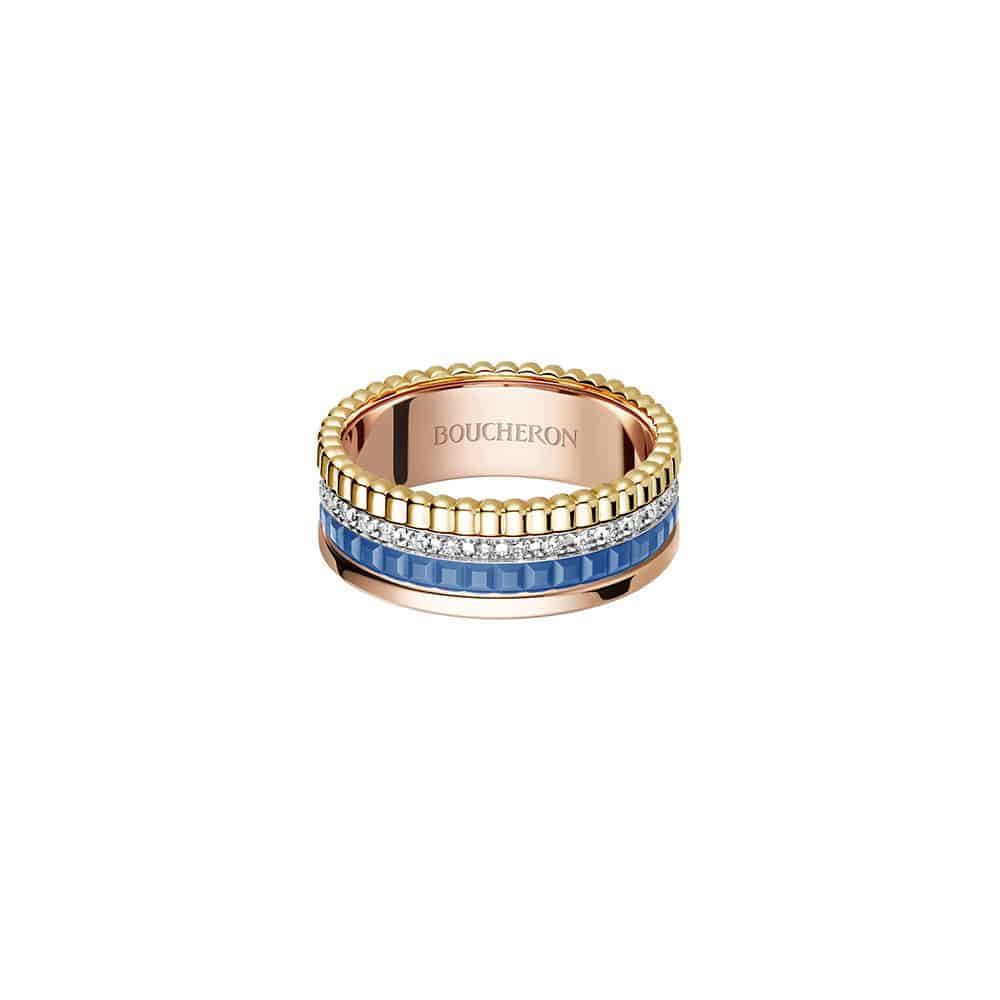 Looking for color, sparkle, and two shades of gold all in one? This four-banded offbeat design by French label Bucheron is a delightful sight. Perfect for those who lead active lifestyles and would go for a modern blue engagement ring.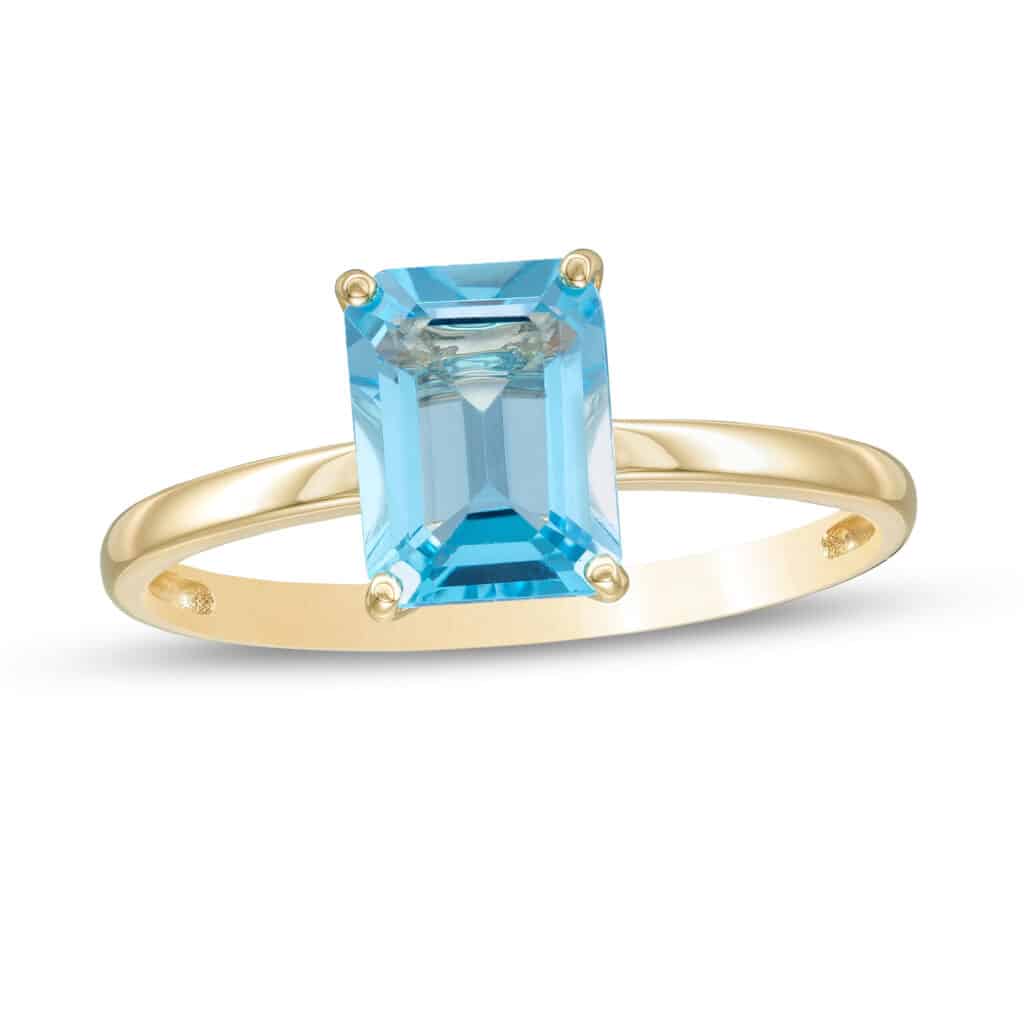 This lovely ring fashions a large blue topaz on a yellow gold band. If you're looking for a practical and gorgeous light blue engagement ring, you can consider this style which is simple yet dazzling.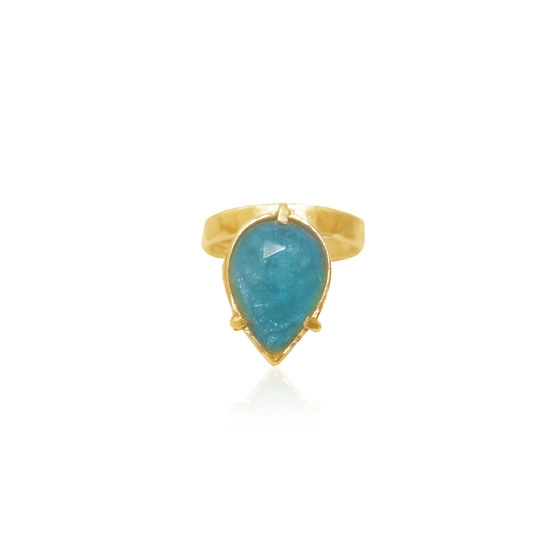 Different, unique, and simple? This light blue engagement ring reminds us of crystal blue mystical waters of a magical land, far, far away.
Featuring a large apatite stone set in gold-plated silver in a drop-shaped style, this Greece-inspired design is sure to win hearts yet won't break the bank.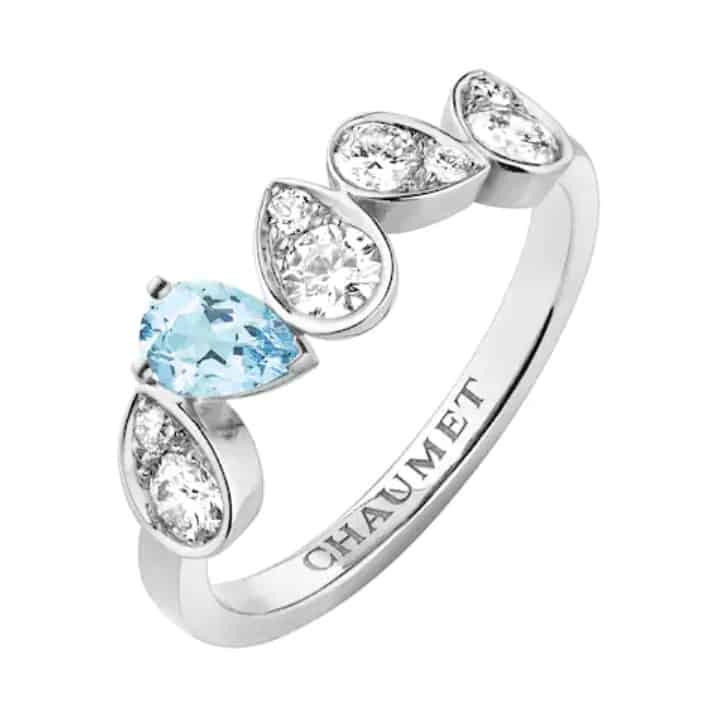 Fancy a unique unconventional engagement ring inspired by an empress?
Made after empress Josephine of France, this ring symbolises her creative and free spirit. The modern piece features four asymmetrical, pear-shaped diamond frames plus a gorgeous aquamarine. If you're after a rare design, this one is for you.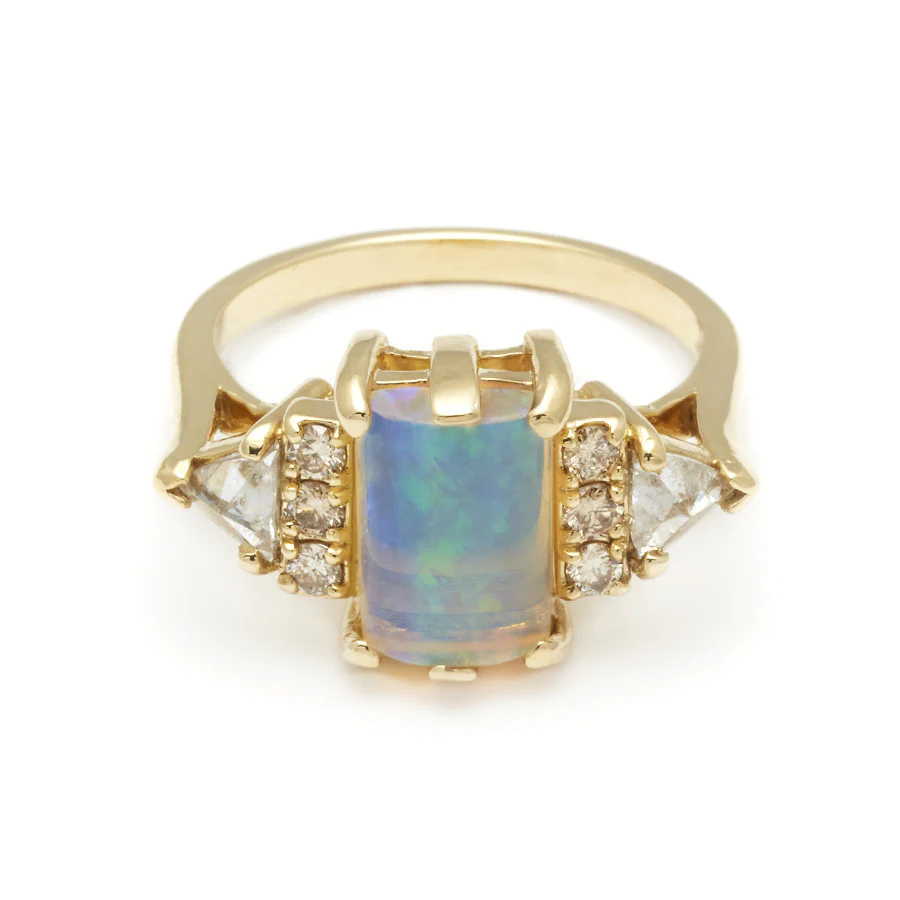 This ring is an inspiration if you're looking for a vintage, custom-designed piece with a rare stone.
Featuring an opal cabochon accentuated by a row of diamonds and inverted trillions on each side, the matt gold is a perfect band for this engagement ring. The opal has a more neutral color than other stones, which adds to the vintage feeling.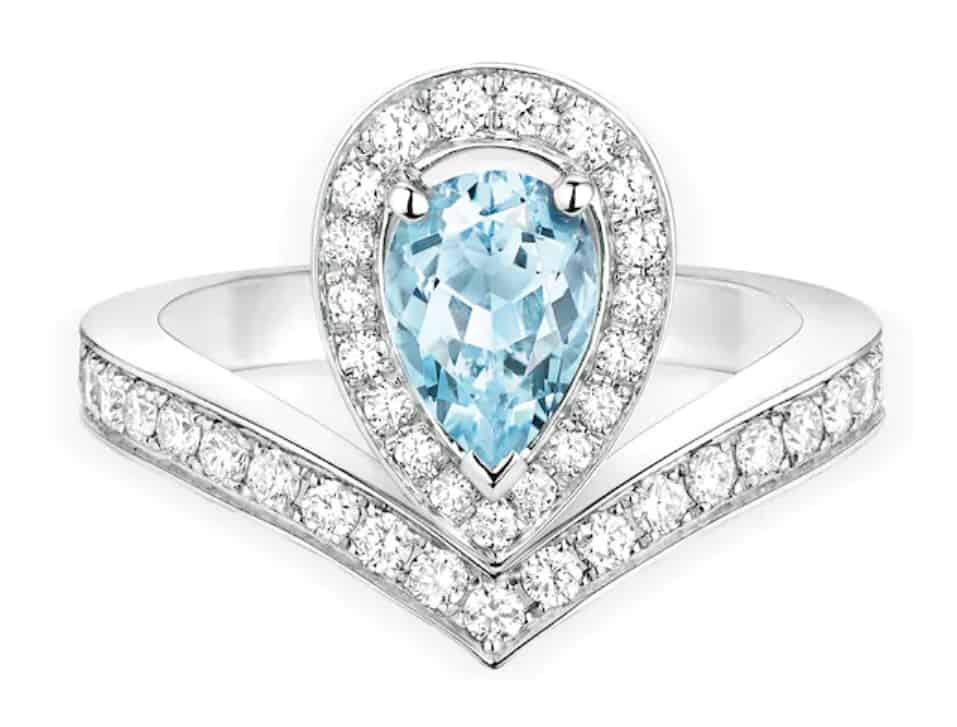 Who said you can't get fancy with a v-shaped pavé band? We love this gorgeous drop-shaped sky aquamarine set on diamonds all around. Bling out with this modern style light blue engagement ring.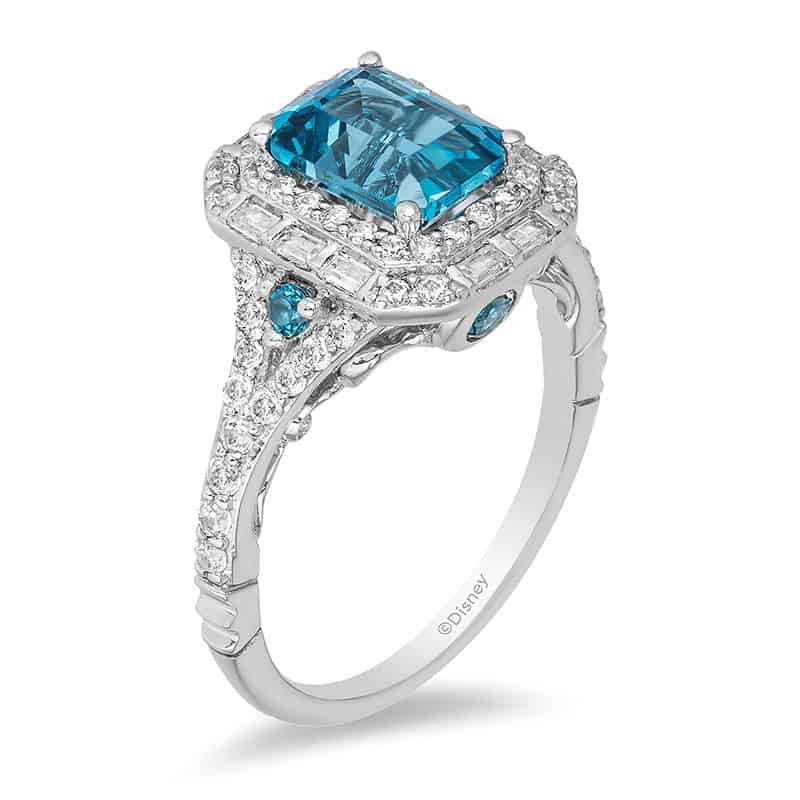 Sparkle, sparkle, oh my.
Looking for a Cinderella-themed engagement ring? This extraordinary emerald-cut swiss topaz framed in a double diamond cluster is surely the one to make a statement.
As if this amount of detail wasn't enough, the centerstone sits on a second blue topaz in a bezel setting surrounded by scrolling ribbons….Nope, that's not all…two other topaz stones sit on either shoulder of the ring for another layer of sophistication!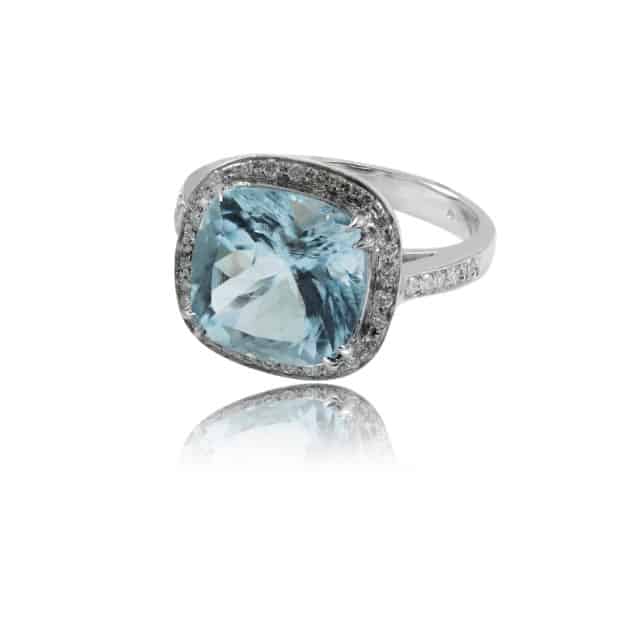 If you're after a large icy centerstone with a lot of luster and sparkle, this aquamarine ring is the one.
This cushion-cut stone with diamonds on each shoulder of the 18k white gold shank makes a lovely engagement ring which won't cost nearly as much as a similar-sized diamond.
Final Thoughts
Blue wedding rings and blue engagement rings come in a variety of shades, shapes, and styles. You can surely find your dream blue ring if you haven't yet, just know your preference and keep searching!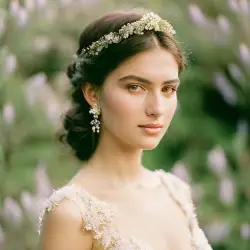 Latest posts by Rosie Liliy
(see all)