The nature is an endless inspiration to anyone interested in art and beauty. From the early times, humans have used natural elements to create works of art. Ancient jewelry often had seashells, dried leaves, and bird feathers. 
Today, many nature-inspired pieces of jewelry use carving techniques on precious metals such as gold and platinum to imprint natural elements. 
Alternative to classical ring designs, nature-inspired engagement rings embody unique and creative shapes and colors to tell a specific story. 
You'll see non-traditional gemstone colors and cuts and sometimes mixtures of different gemstones on the same ring to fashion a tapestry of details. Sometimes you'll see mixture of metal colors on the same ring to add detail. 
Designers often observe and cast elements of nature to handcraft these creative designs. They portray various forest, floral, tree, tree-bark, twig, and bird designs.
While dainty and simple nature-inspired designs are available, some jewelry designers invest a lot of creativity in grand, larger pieces to tell a story. What is for sure is that, there are so many different ways to portray natural elements that if you look enough, you'll find the one that's for you.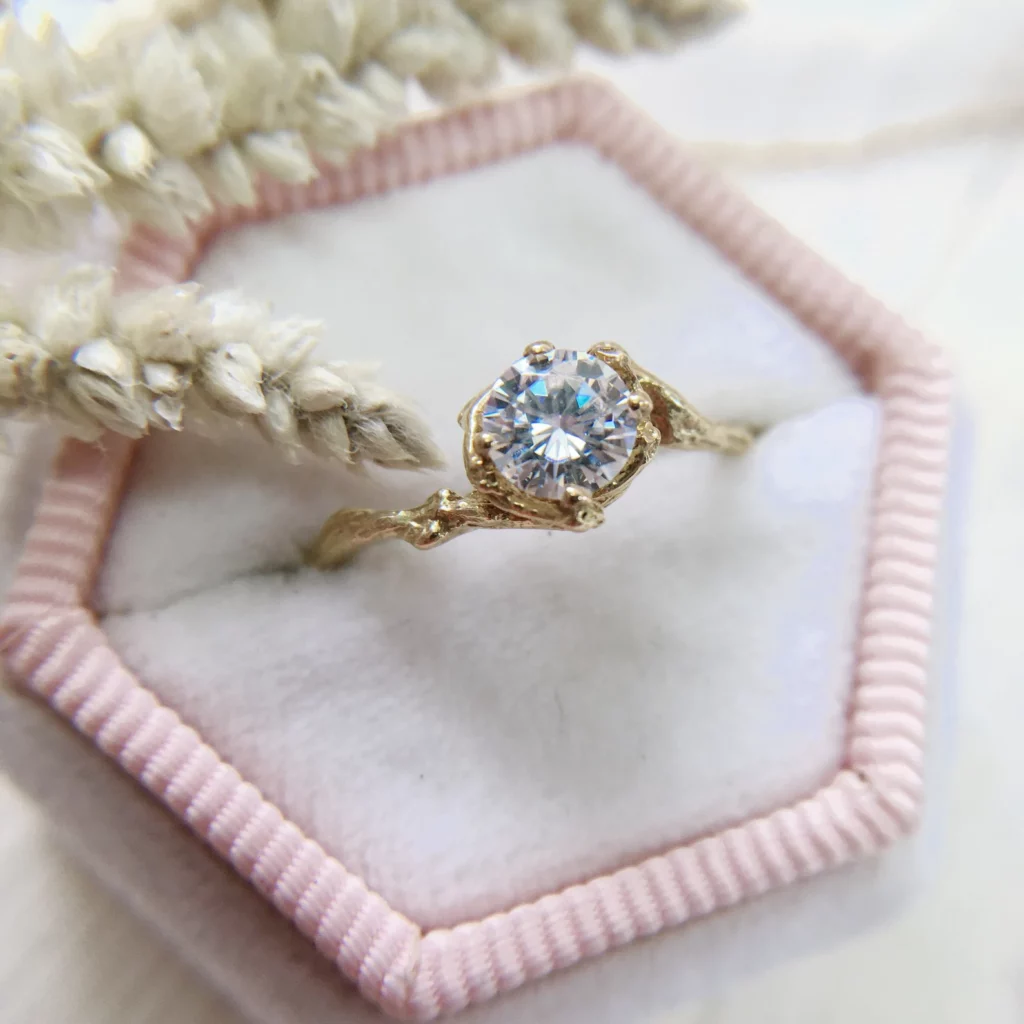 Inspired by natural settings in Brooklyn's Prospect Park in NY, this special boho-style twig diamond ring is very delicate and finely made in 18k gold. 
The designer casts real natural elements to imprint on metal for each of their ring creations. The bezel setting of the diamond makes it a practical option for those with an active lifestyle. 
Looking for a unique nature-inspired ring featuring an eye-catching gemstone? This extraordinary ring features a large centerpiece in rutilated quartz flanked by two brilliant cut diamonds on each shoulder. The twig-inspired band in 14k gold gives this ring a whimsical feeling. 
Rutilated quartz is a type of quartz that has lines of rutile mineral formed in the gemstone like golden needles.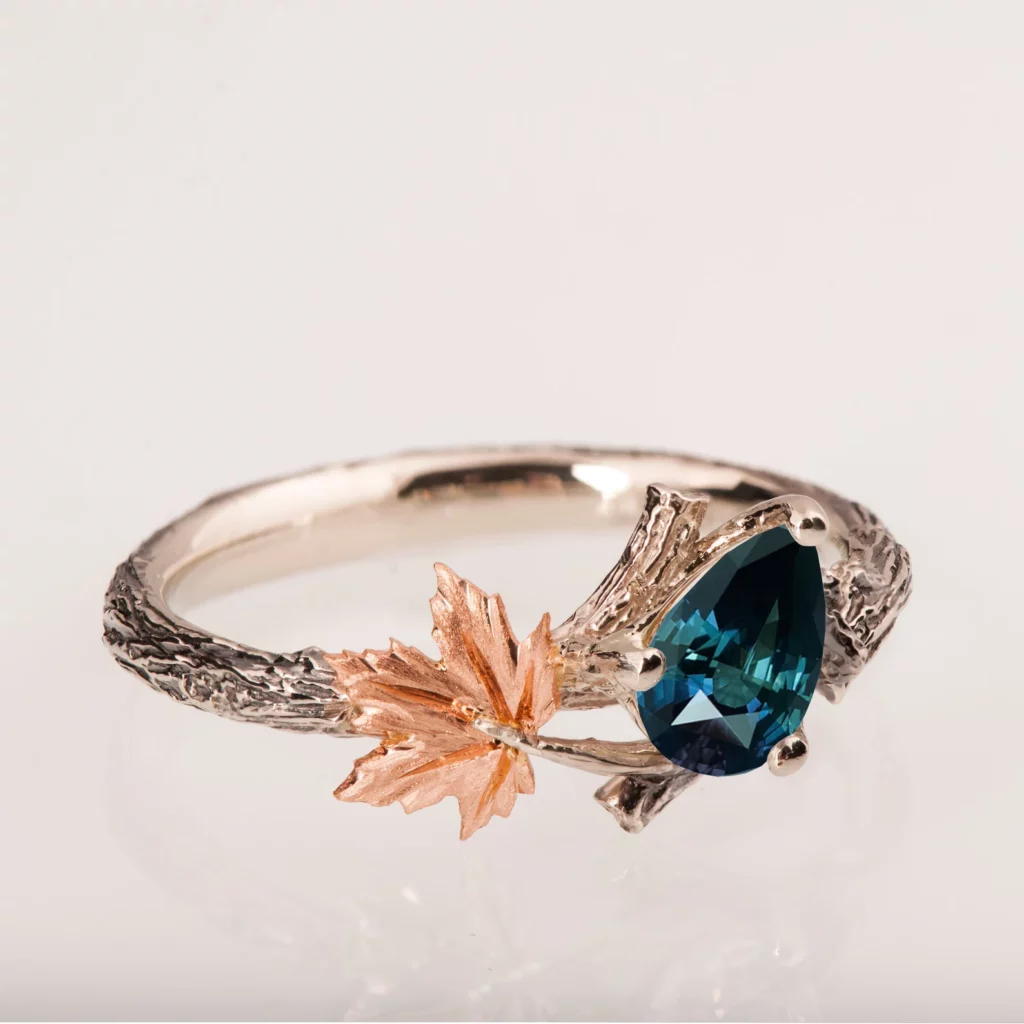 Looking for the 'happily ever after' ring for her? This gorgeous teal sapphire ring is inspired by a tree bark and maple leaf. Teal sapphire symbolizes infinity and faith, which is a great option for engagement rings. 
Black rhodium is used for the band texture, but this can be changed to rose or white gold upon request.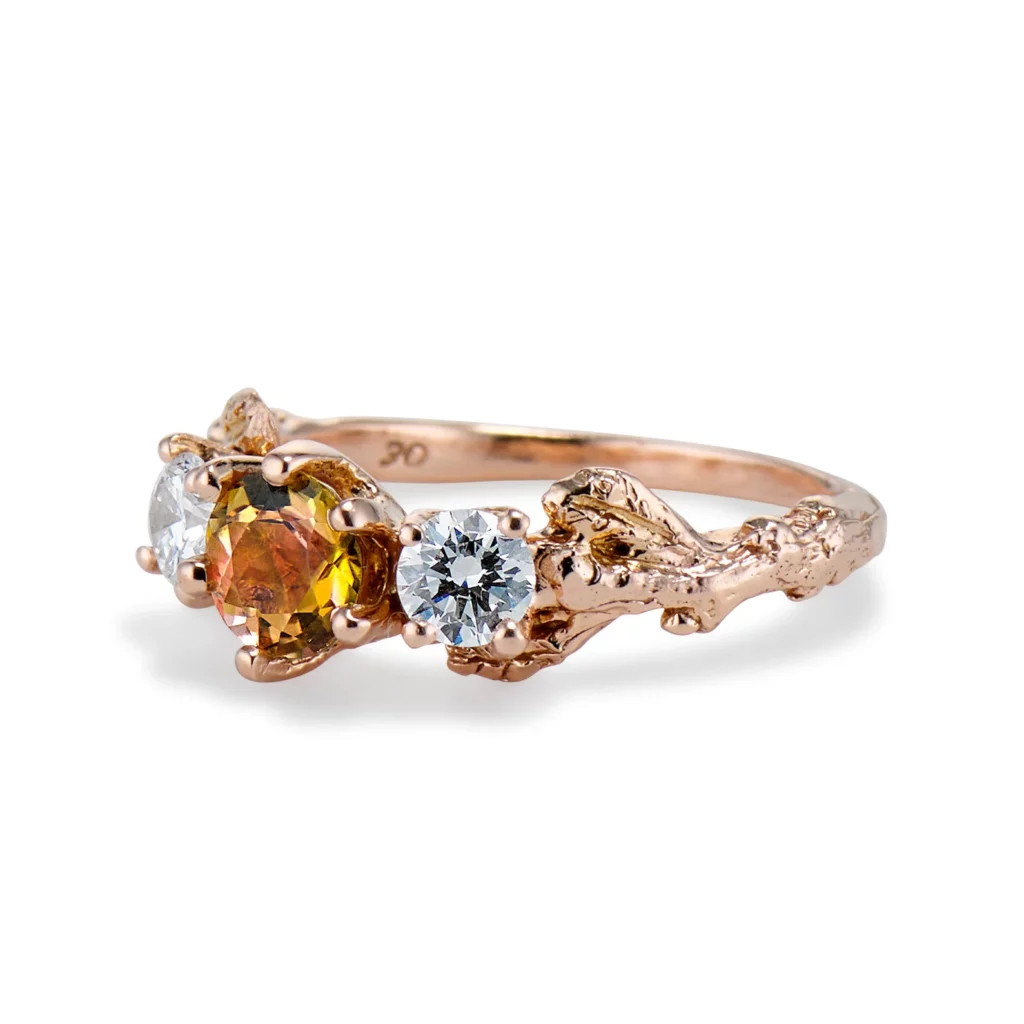 If you're looking into intricate hand-made detailing and a floral design, this lovely ring is a catch. 
Each shoulder of the ring is a leafy branch with a diamond as its flower. The extraordinary orange and gold color of the tourmaline centerpiece combined with the diamonds gives this ring a unique splendor. 
Orange tourmaline is believed to encourage spiritual growth and self-awareness for more spiritual couples and bride-to-be's.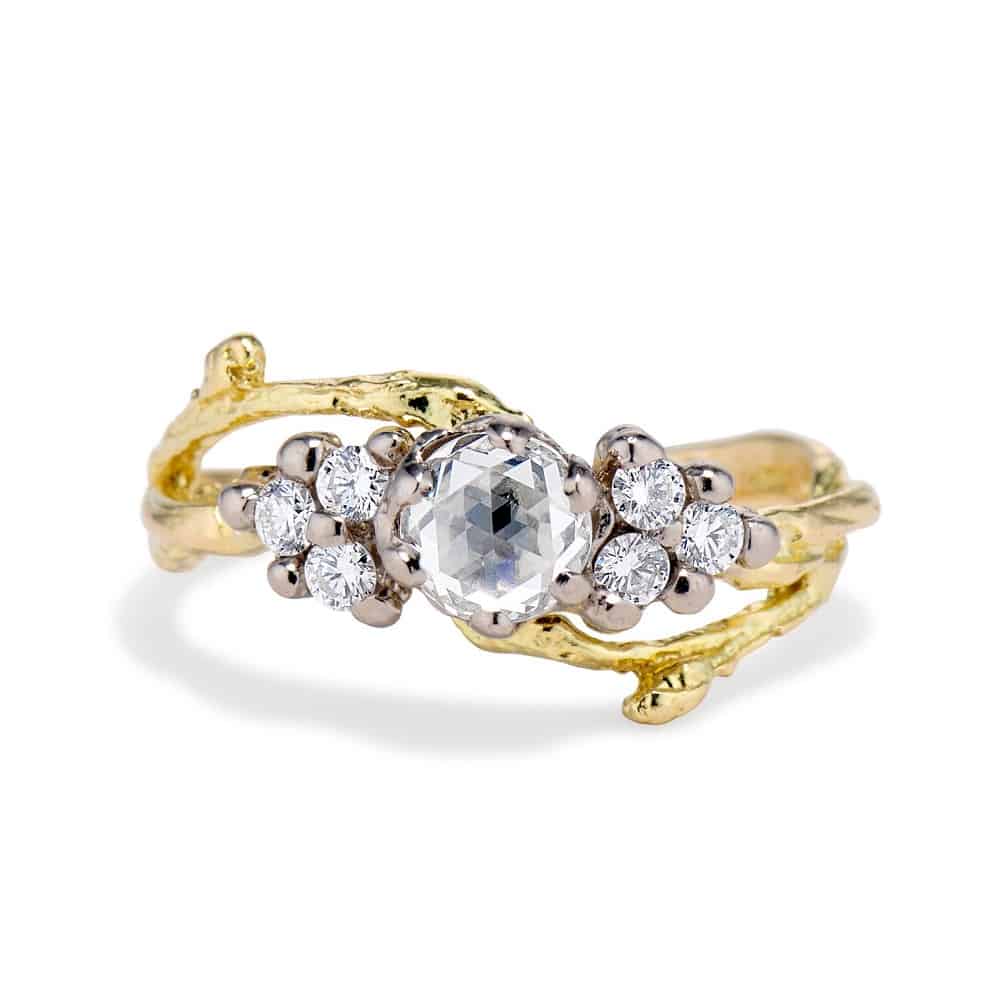 They say diamonds are a girl's best friend! If you or your partner are the diamond lovers in the house, this astonishing nature-inspired ring will surely wow you with seven diamonds.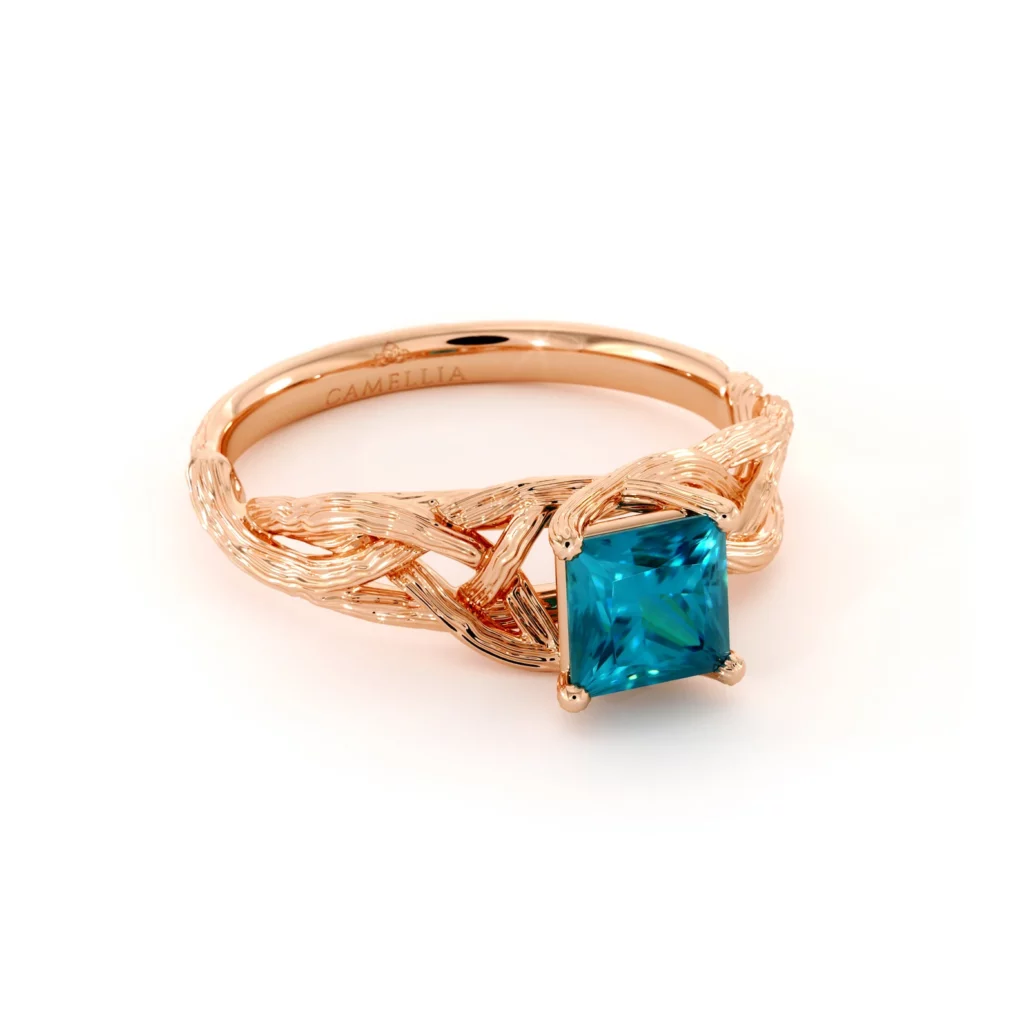 Looking for elegance, and wanting to turn heads wherever you go? This marvelous ring features an exquisite blue diamond on a 14k rose-gold twisted branch! 
Are you interested in a lot of detail, shine, and flowers? 
This one-of-a-kind Art-deco ring features large golden flowers on each side on a twisted branch, with a splendid centerpiece of blue sapphire. 
As if this wasn't enough to make us fall in love, the ring is adorned by rows of diamonds, making sure that there's shines from any angle you look!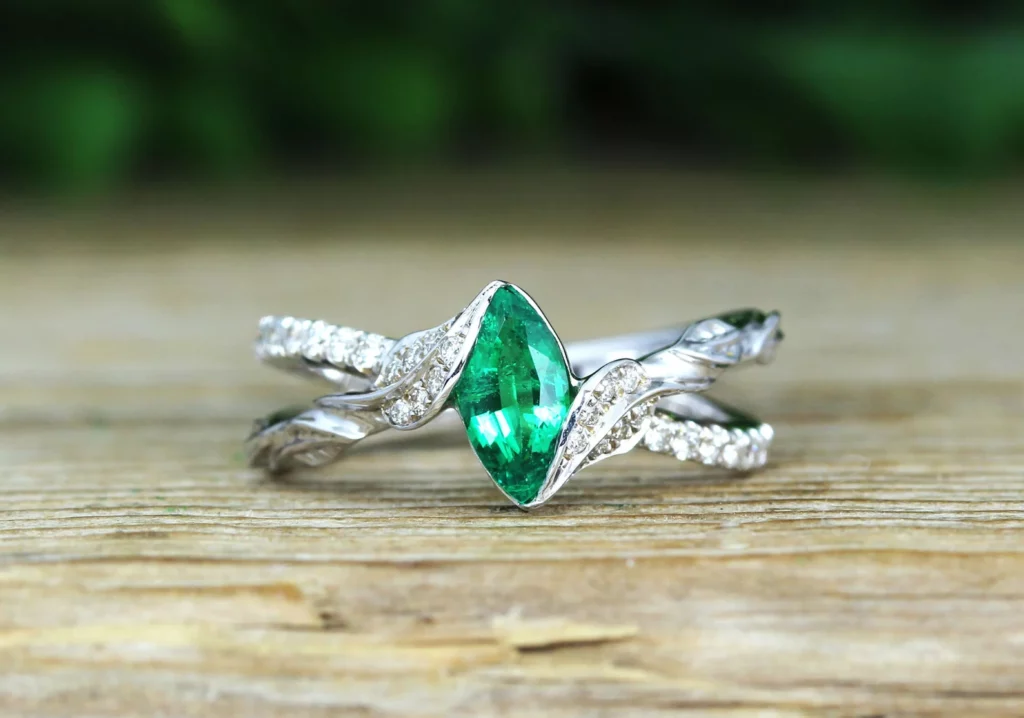 This emerald marquise ring is an elegant option with semi-pave split shanks. The diamond leaves are positioned as if they are embracing the floral centerpiece. 
A very creative Art Nouveau design on 18k gold with imprinted real leaves makes for a very satisfying garden inspired ring.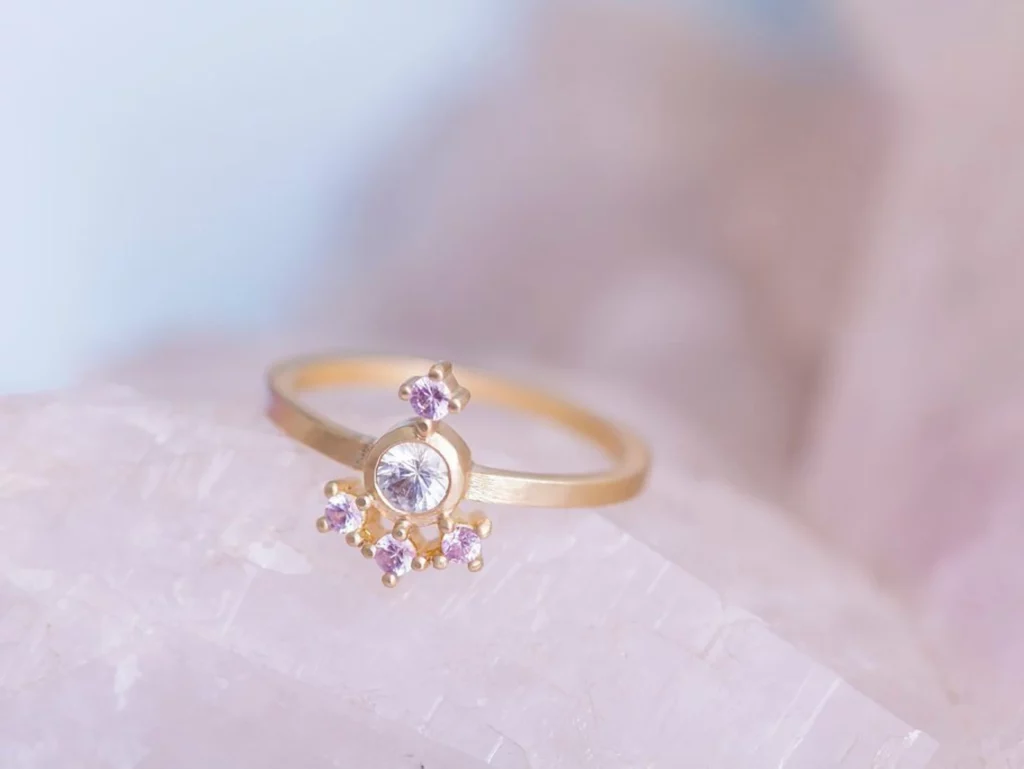 The first thing that comes to our mind with this one-of-a-kind sapphire and diamond ring, is an exotic white peacock graciously showing off its glory!
If you're looking for a dainty nature-themed engagement ring in soft colors, this is for you. The light yellow 14k gold compliments the color palette very well.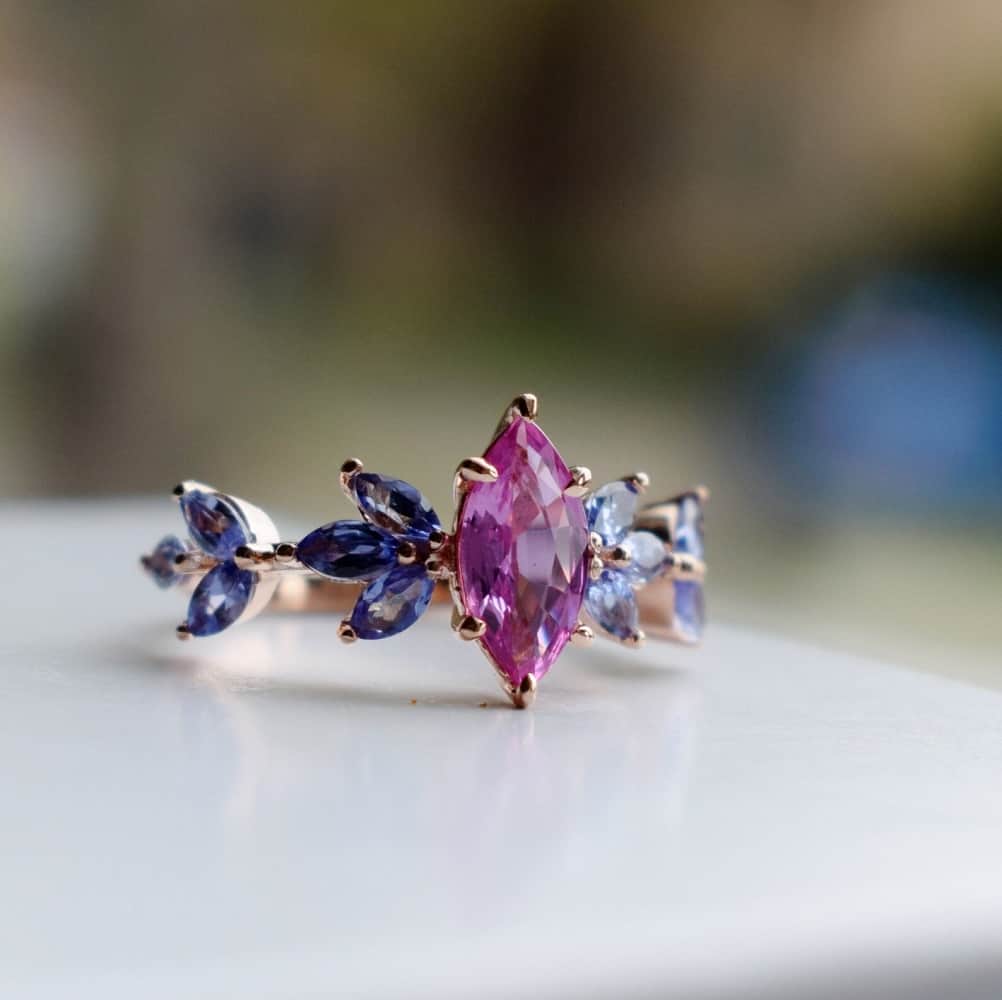 For bride-to-be's who are looking for nontraditional and colorful engagement rings! This exceptional floral themed ring is inspired by fragrant English lavenders. 
Featuring a magnificent marquise-cut pink sapphire, the lovely tanzanite gems on the shoulders are designed in the shape of lavenders to accentuate the centerpiece on rose gold.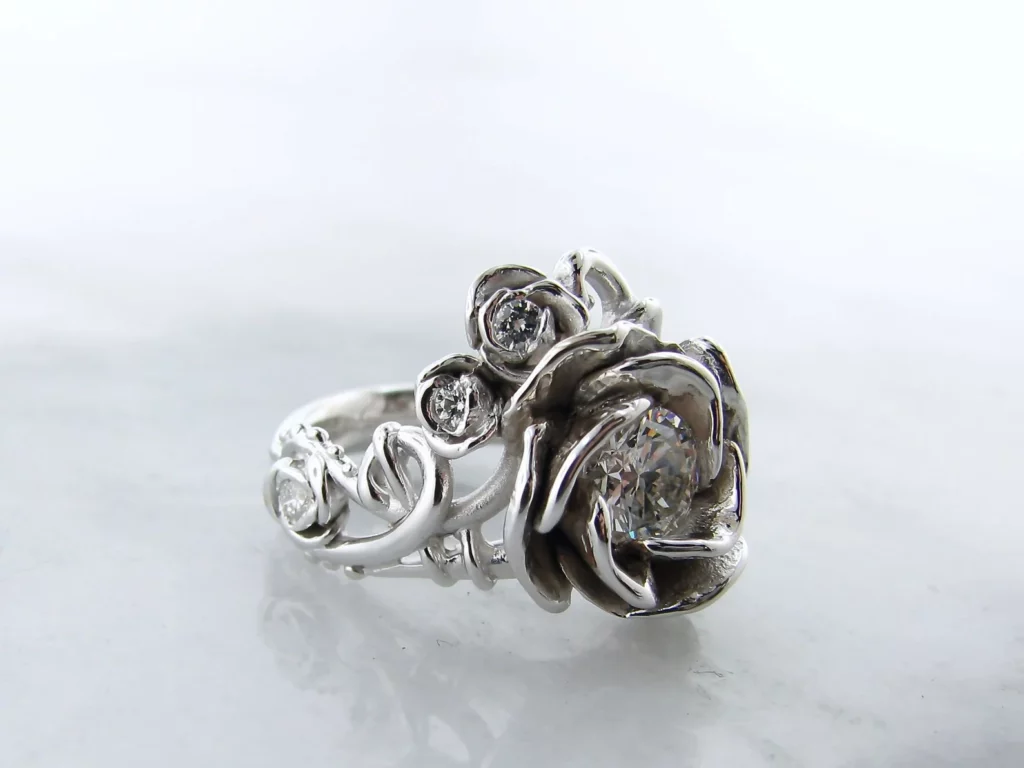 Inspired by blooming roses, this is perfect for those who like more than one flower on a ring. This grandiose white gold bouquet of blooming roses put on a display of vines and foliage intricately accentuating the large center bloom, and the five blooms on the shoulders each embrace their own diamond.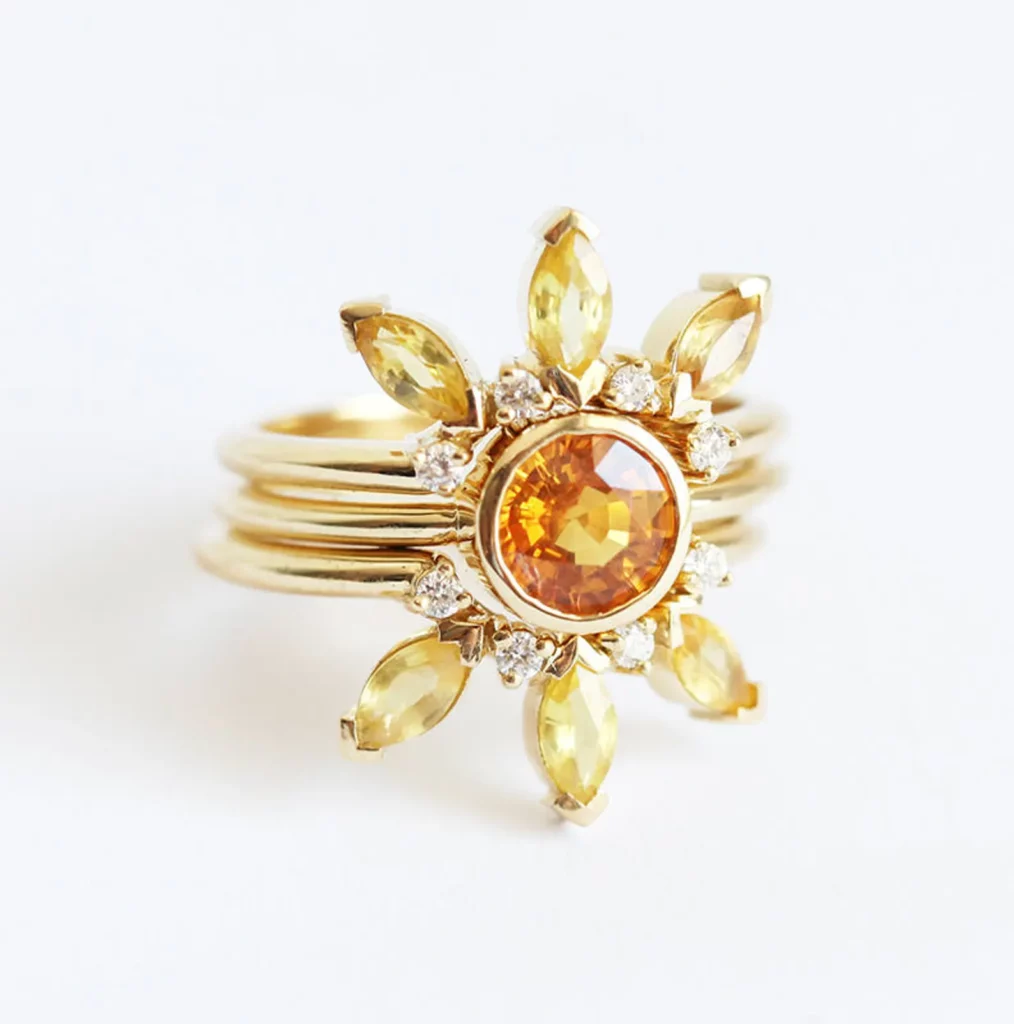 Do you want to tell the whole world you're engaged in one glance? This elegant trio-band engagement set is a symmetrical work of art symbolizing both a beautiful butterfly and a warm sun. 
The centerpiece is a darker shade of yellow sapphire in a round cut bezel setting. And the marquise cut light yellow sapphires of each matching band are alternated by round diamonds.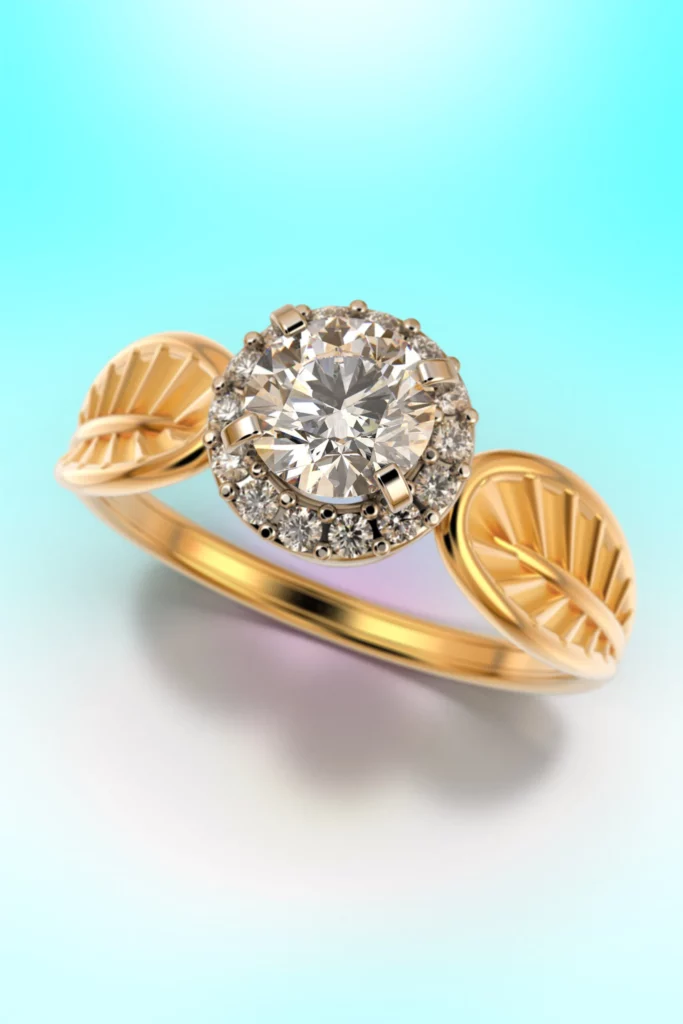 A classical halo diamond engagement ring with a nature twist? The leaf-inspired shoulders of this ring make it a special option for those who want to stand out.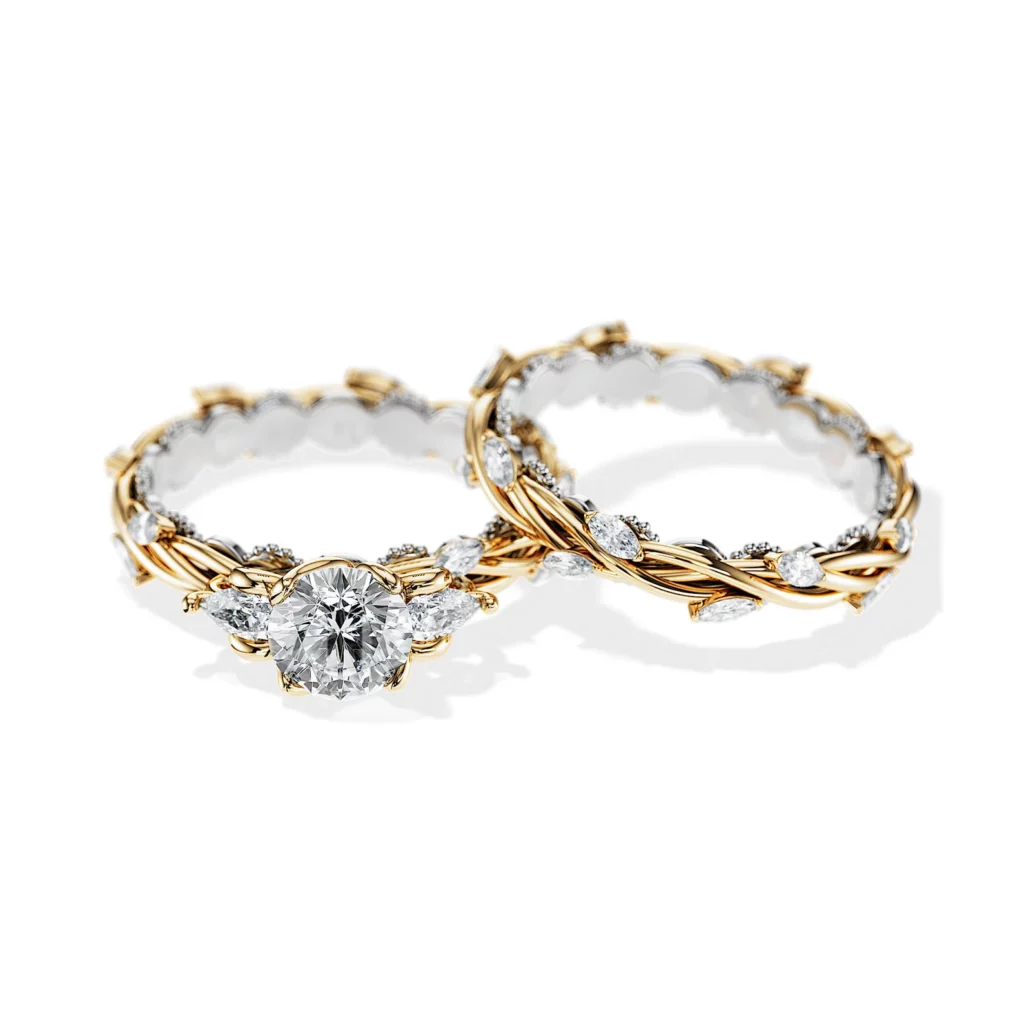 If you're looking for a lot of intricate detail, this lovely duo-shade gold engagement set is just breathtaking. 
The twisting branches intertwine and end in marquise-cut diamonds all round accentuating a round-cut center stone in a twig setting flanked by drop-shaped diamonds. 
The diamond center gem can be swapped for lab-grown diamond or moissanite for more affordability, and the tones of gold can be personalized to your liking.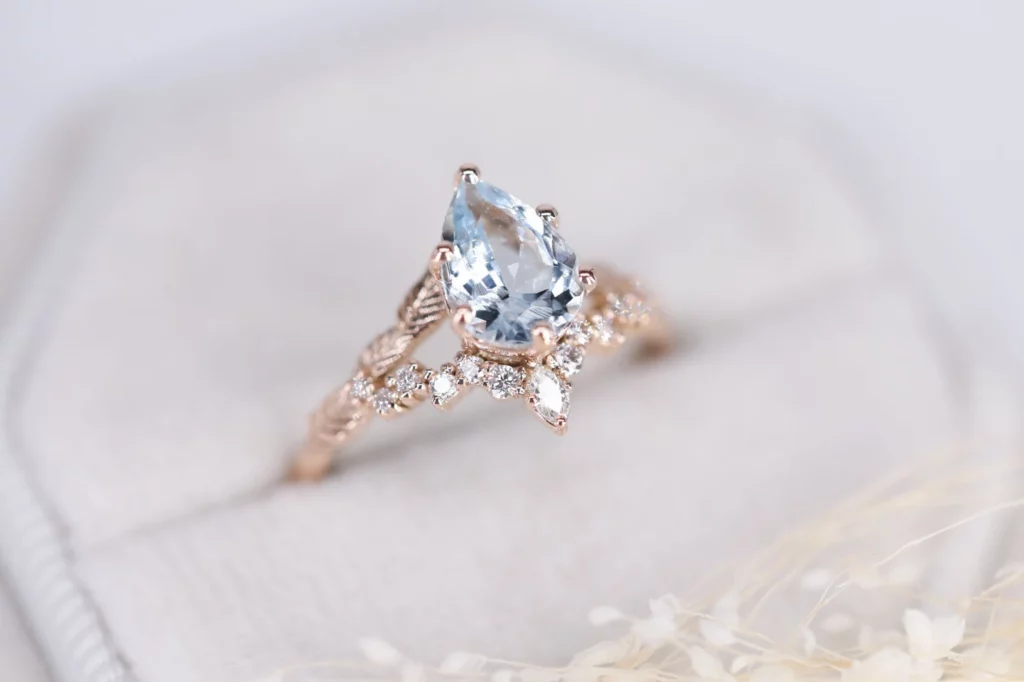 This light blue cluster ring featuring a leaf-shaped aquamarine gem, has a number of lovely reviews from those who bought it for their bride-to-be's, proving this to be a great choice. 
Two rows of delicate side leaves accentuate the large centerpiece as smaller gems add extra sparkle.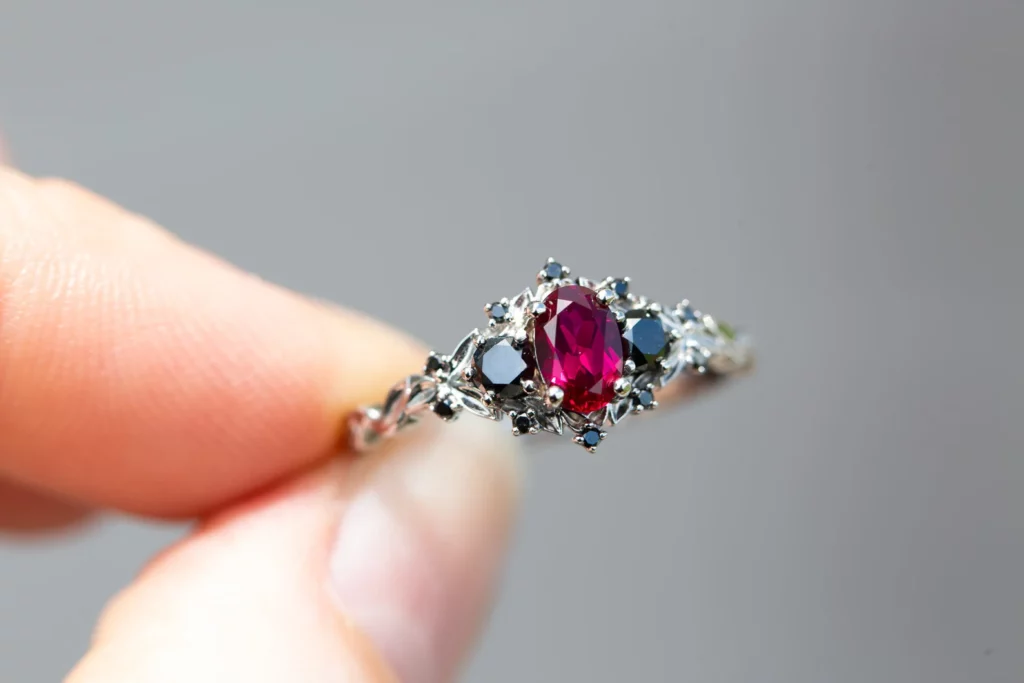 For a touch of royalty on a floral style, we recommend an out-of-this-world design like this ring. The centerpiece is a pear shaped lab ruby which is surrounded by 10 mini round-cut black diamonds. Don't miss the side leaves on the shoulders!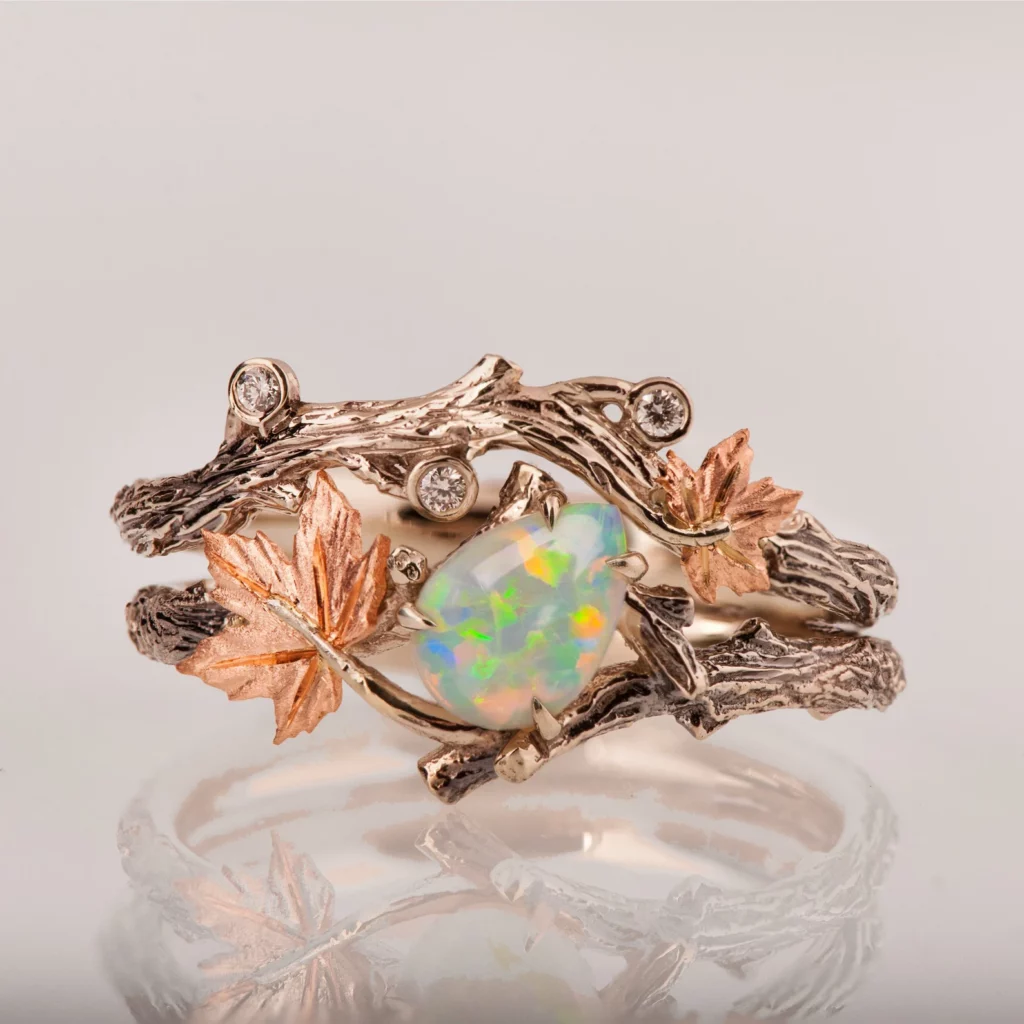 This whimsical carefully detailed nature inspired ring is a great non-traditional engagement option. With an asymmetrical design, the ring features two maple leaves and a mysterious white opal diagonally positioned in between.
The ring is made in double bands shaped in twisting twigs. Mini round-cut diamonds in a bezel setting add to the magical feel of this piece.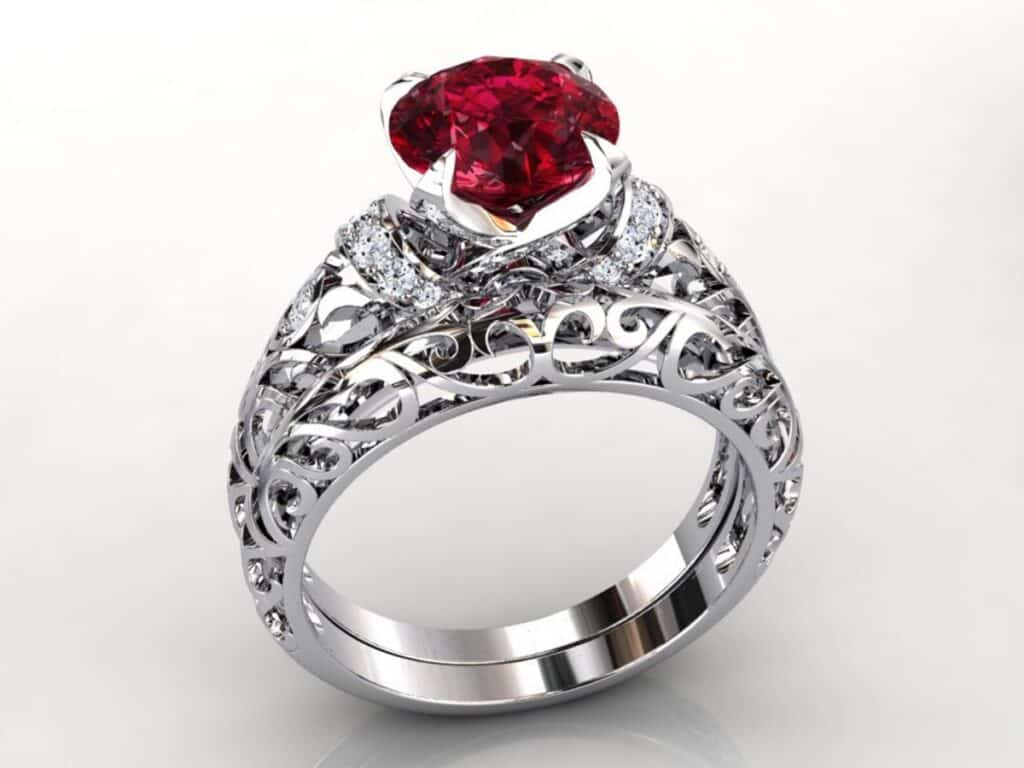 A romantic red rose to make her yours, forever and ever! This ring does it all…The delightful lab-ruby with all that filigree detailing and the diamond clusters on each side of the rose on platinum…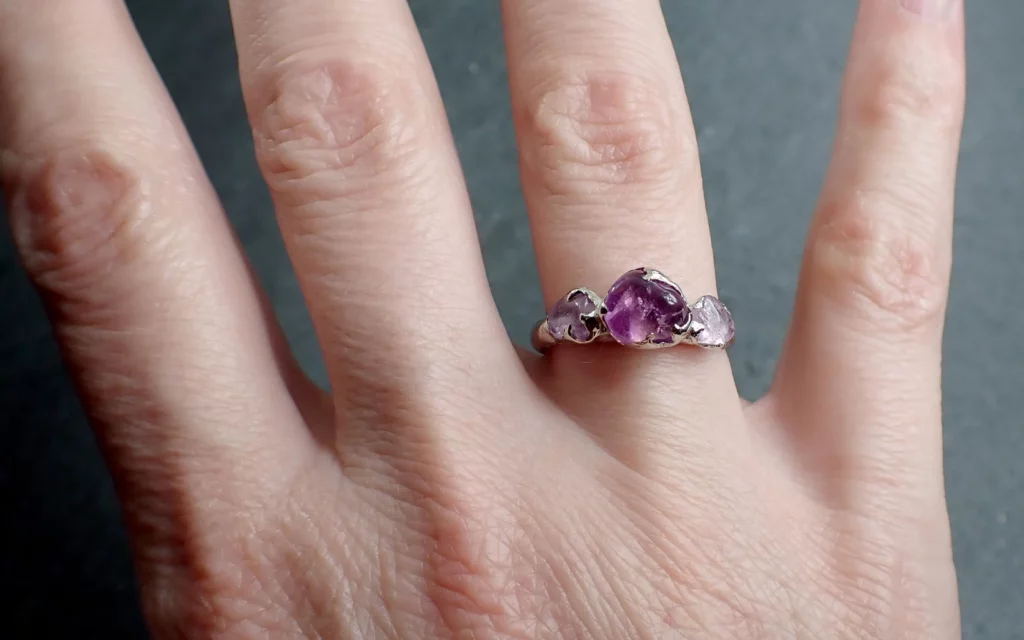 This non-traditional hand carved ring features a trio of lovely pink sapphire for a floral design.
The unique design of the prongs and the setting of the stones on the band give this ring a very special feel.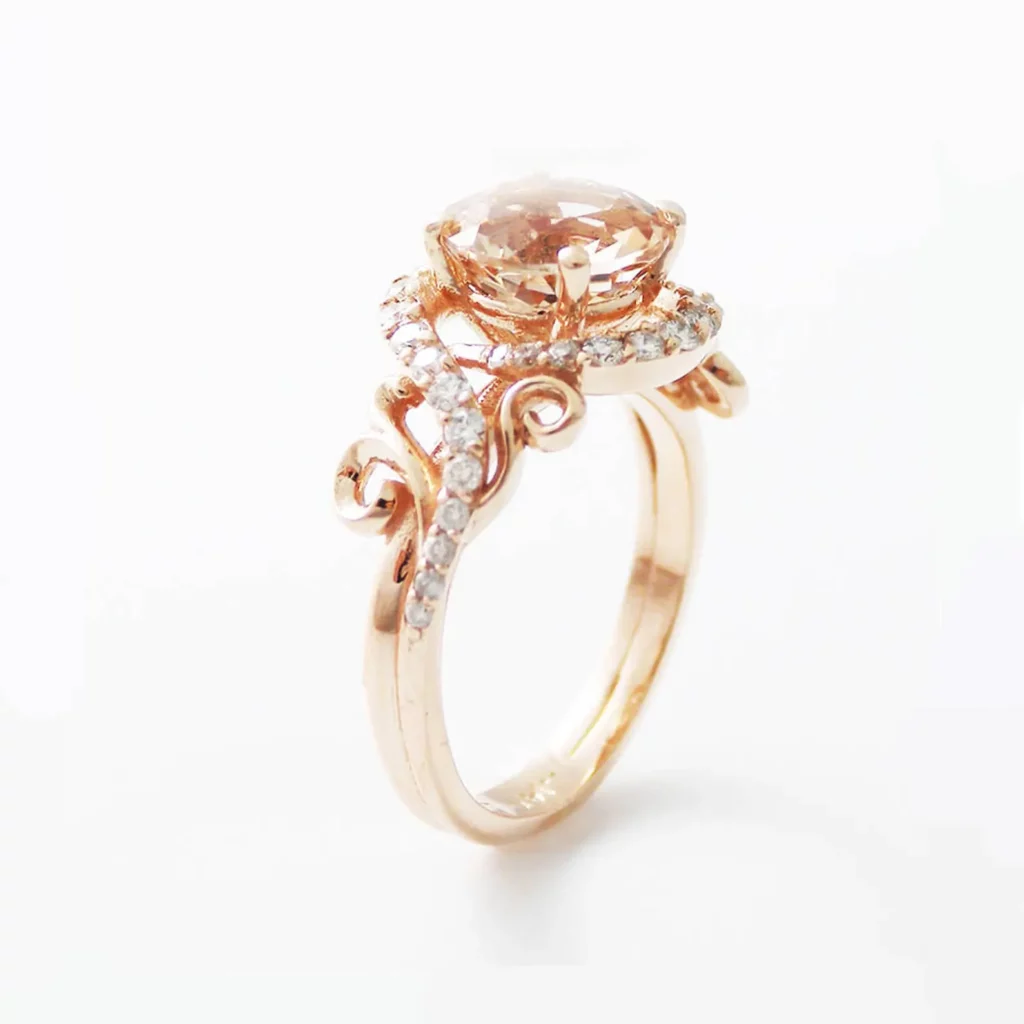 Elegant and delicate, this enchanting morganite ring makes a lovely engagement ring. If she is interested in Disney princesses, this is a perfect match for the princess Aurora (Sleeping Beauty) color palette.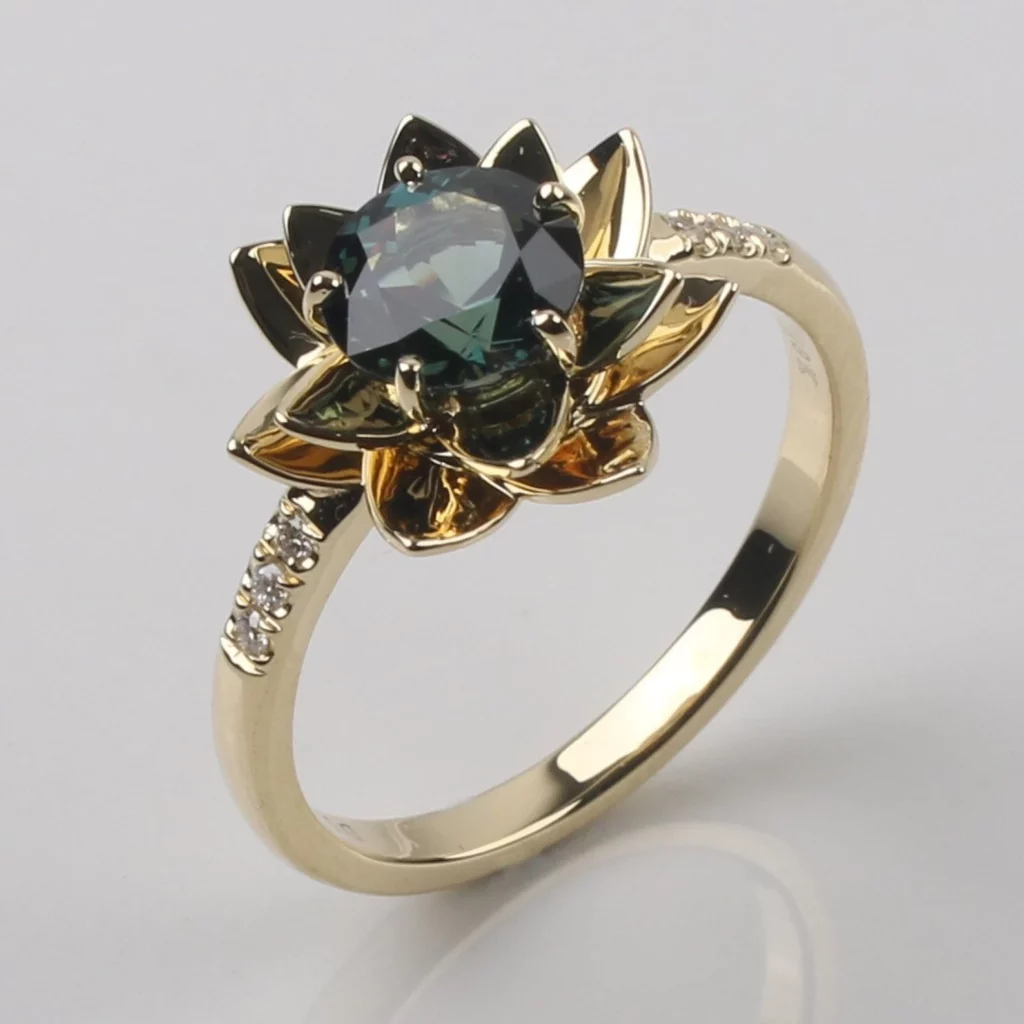 This one-of-a-kind teal sapphire floral engagement ring is a great option for those interested in an Eastern twist. As a symbol of enlightenment in Buddhism, the lotus flower represents purity and resilience in oriental traditions. The solid yellow gold band is embellished with a diamond trio on each shoulder.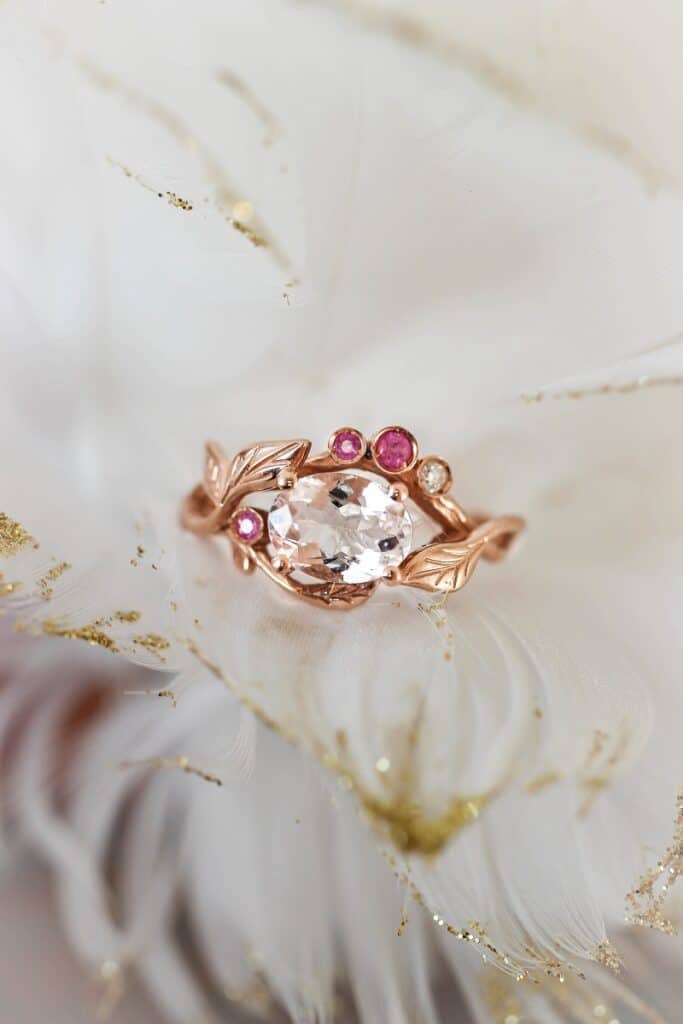 Sophisticated, colorful, and original, this lovely ring features a large morganite centerpiece, pink sapphires, and a diamond for a heart-melting proposal!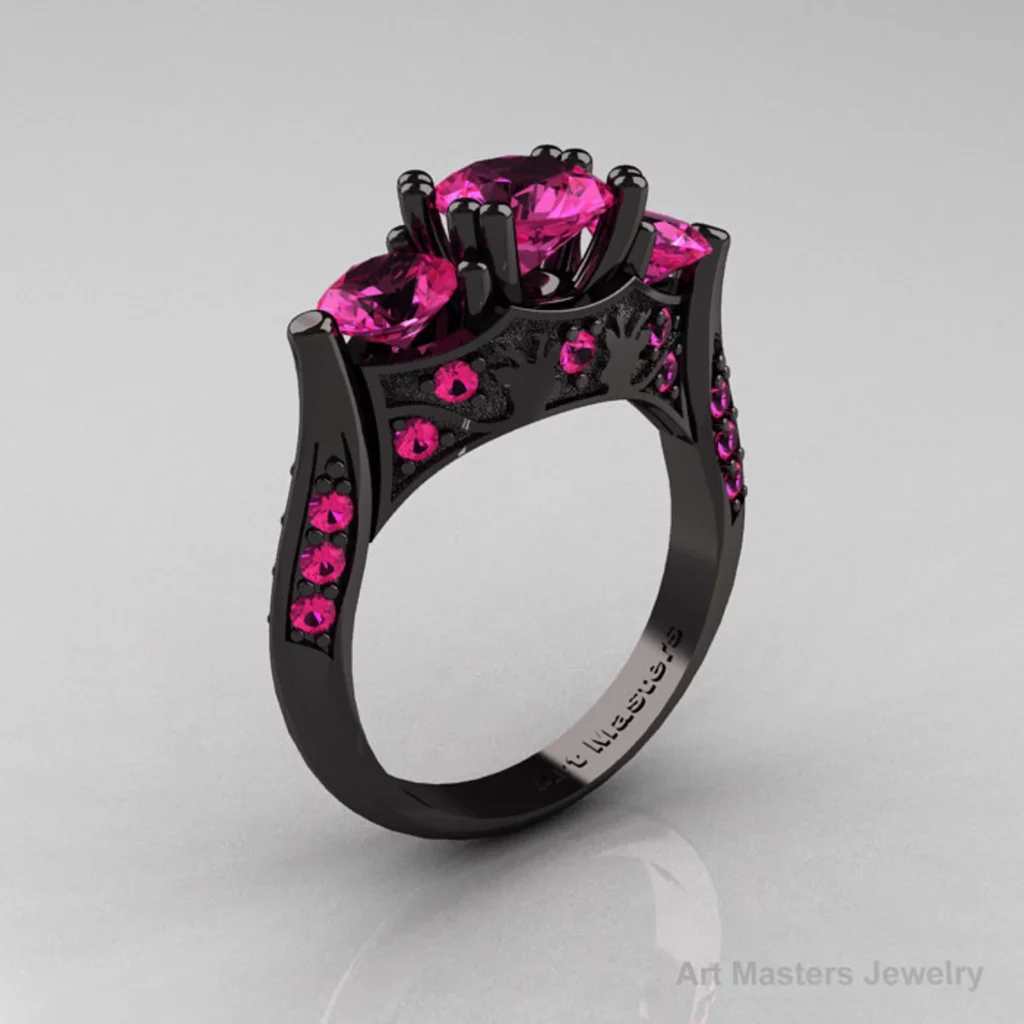 This unorthodox pink and black engagement ring is sure to make a statement of individuality and authentic taste. The band is black rhodium on 14k white gold and the stones are lab-grown sapphires for a special pink shade that makes heads turn!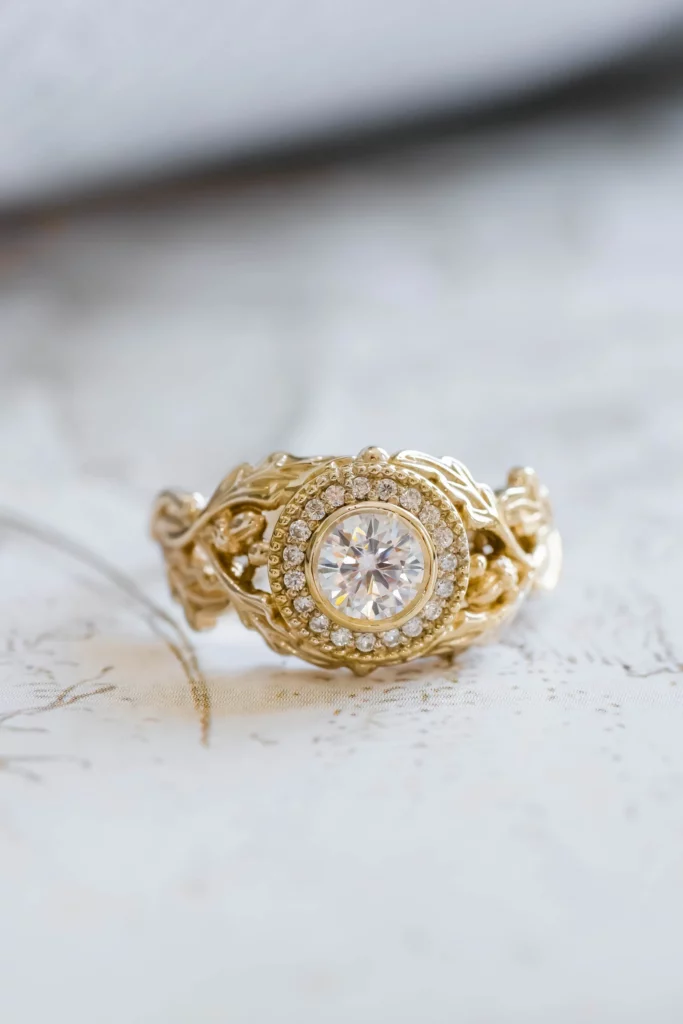 Classical halo designs never go out of fashion. If your girl (or yourself!) like a vintage feel to a nature-inspired ring, this is a great option. The designer's special detailing on this ring shows a delicate representation of oak leaves elegantly leading to the moissanite.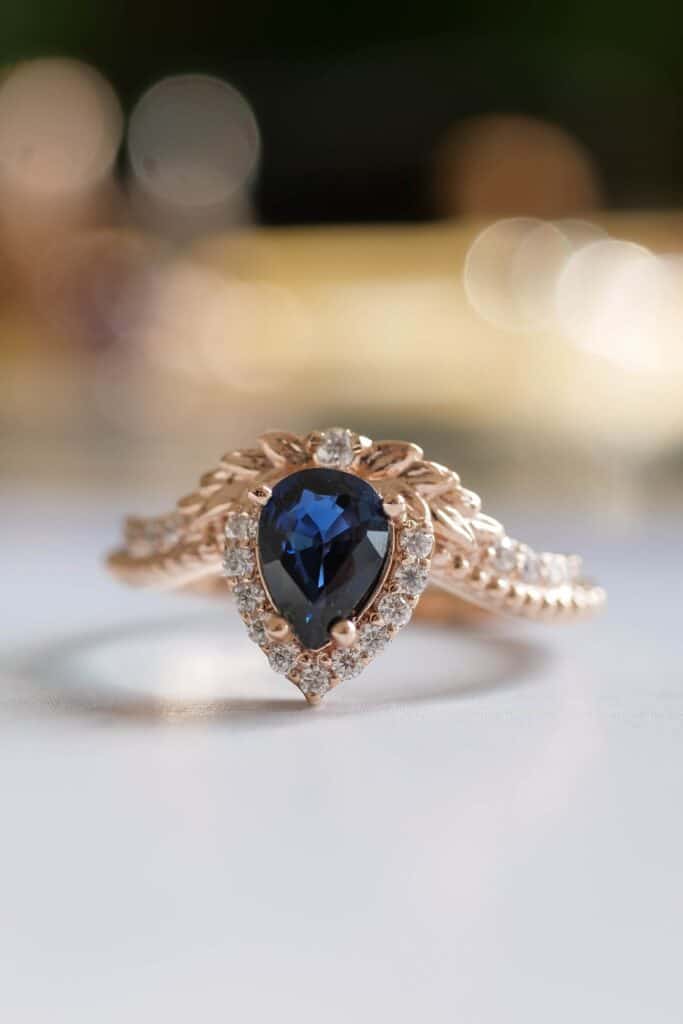 Bring on the glamour with this semi-halo blue sapphire engagement ring. We have fallen in love! The pear-shaped centerpiece sits on a double shank, one pavé, and another beaded. There is a matching band that can be bought together with the engagement ring for even more glamour!
This vendor accepts orders of moissanite instead of the diamonds for more affordability.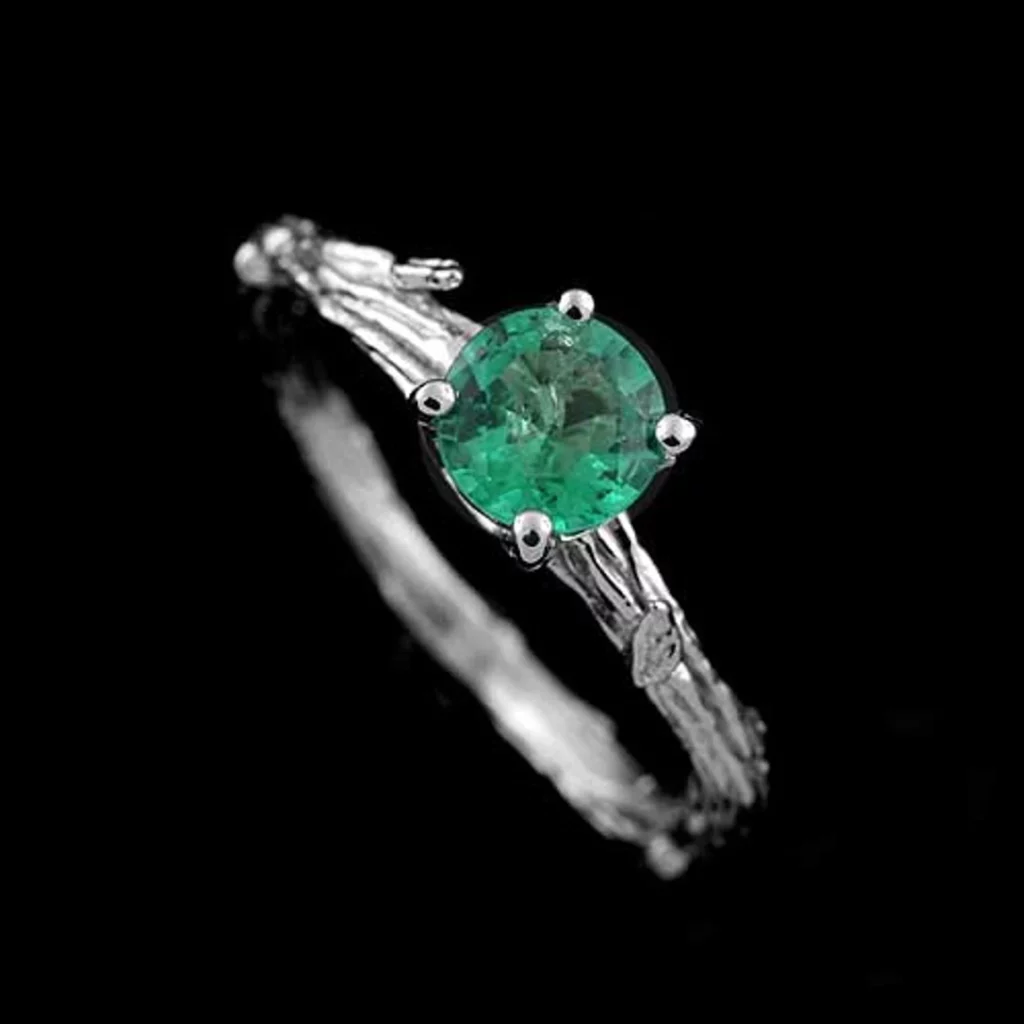 If you're a fan of dainty rings, this minimalist nature-inspired emerald ring is a great option. The white gold band is detailed as if a tree branch. This can be paired with a pavé wedding band for a stacked look.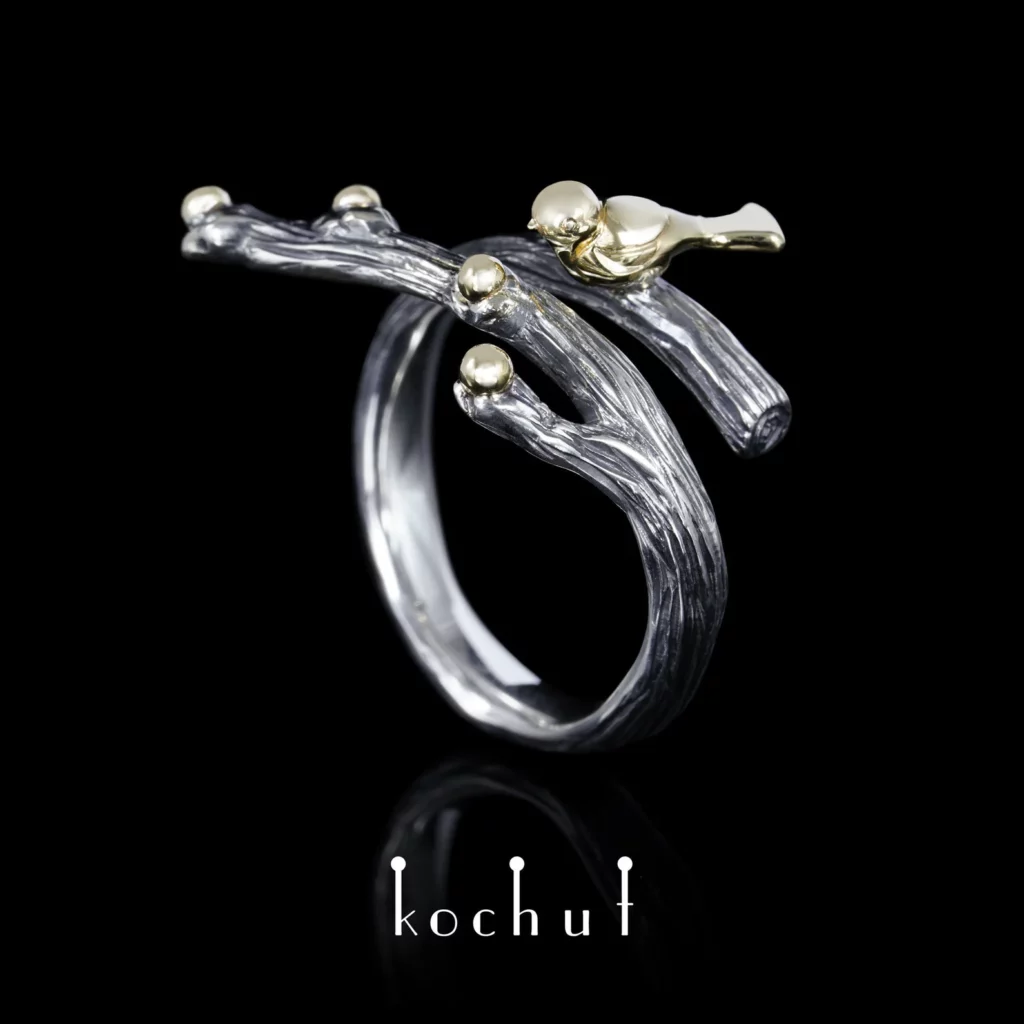 What's more nature inspired than a singing nightingale on a branch? A creative engagement ring for her who is nontraditional and courageously authentic.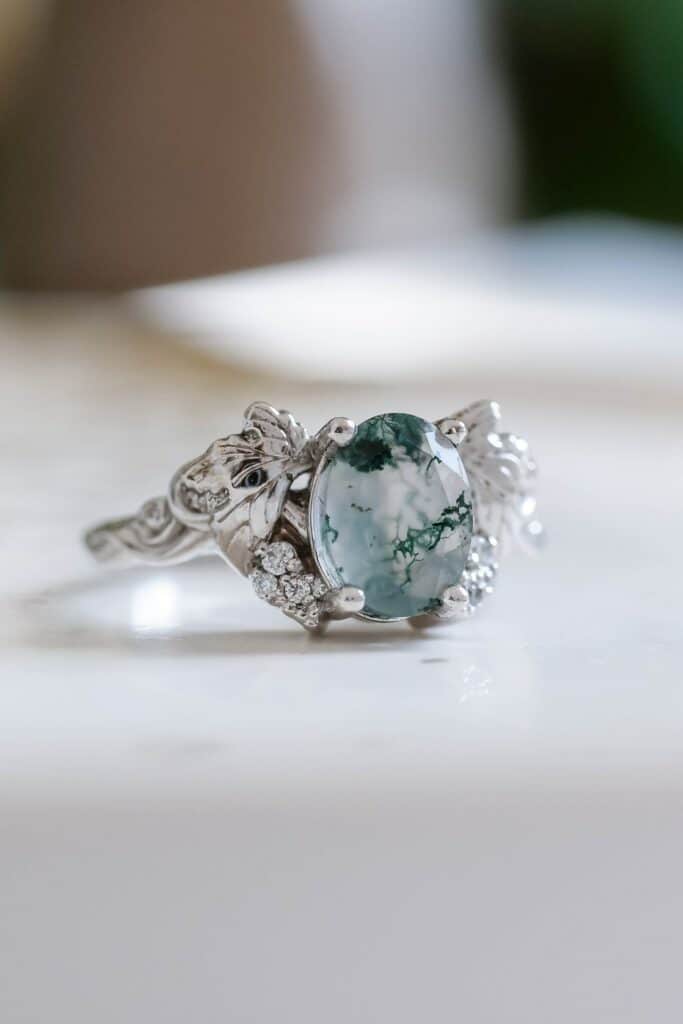 Inspired by Spanish vineyards, this rare green dendritic agate engagement ring is a lovely ring.
 From the detailed grape leaves to the swirling vine, this ring is a piece of art.
This type of agate symbolises stability and connection with inner-self. Traditionally, it has been used as a healing gem.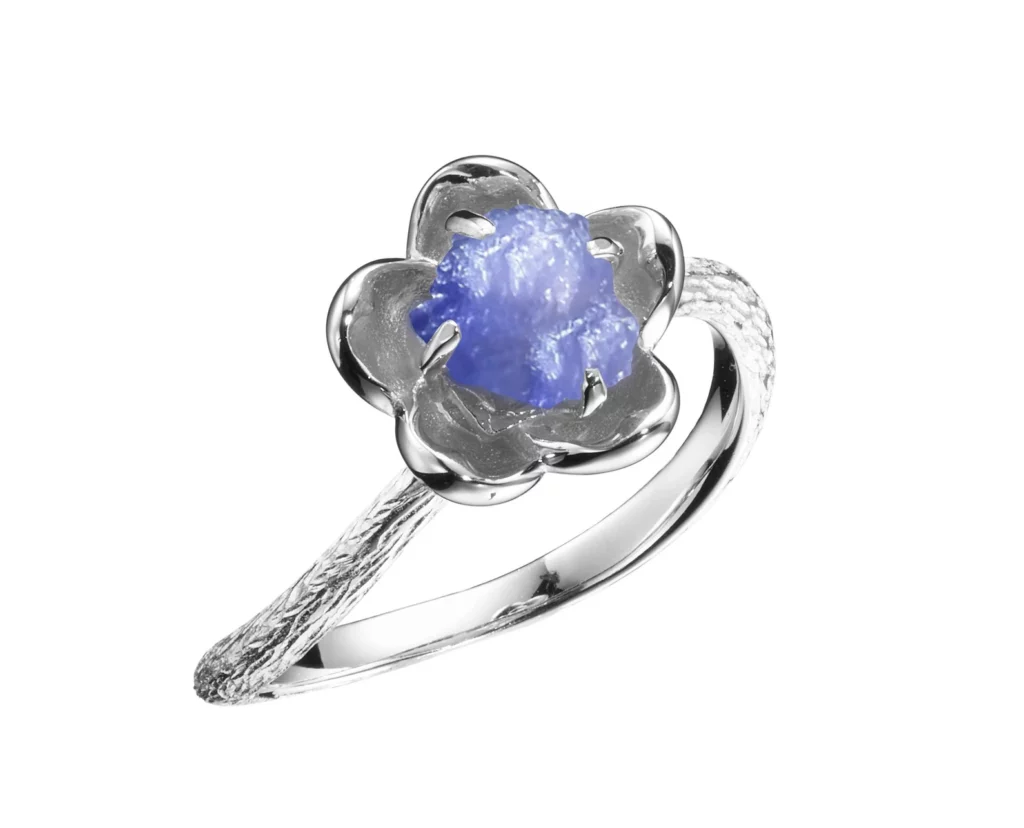 Is she a fan of natural beauty? This raw tanzanite floral ring is inspired by a blossoming plum in winter snow, which symbolises resilience.  Just stunning.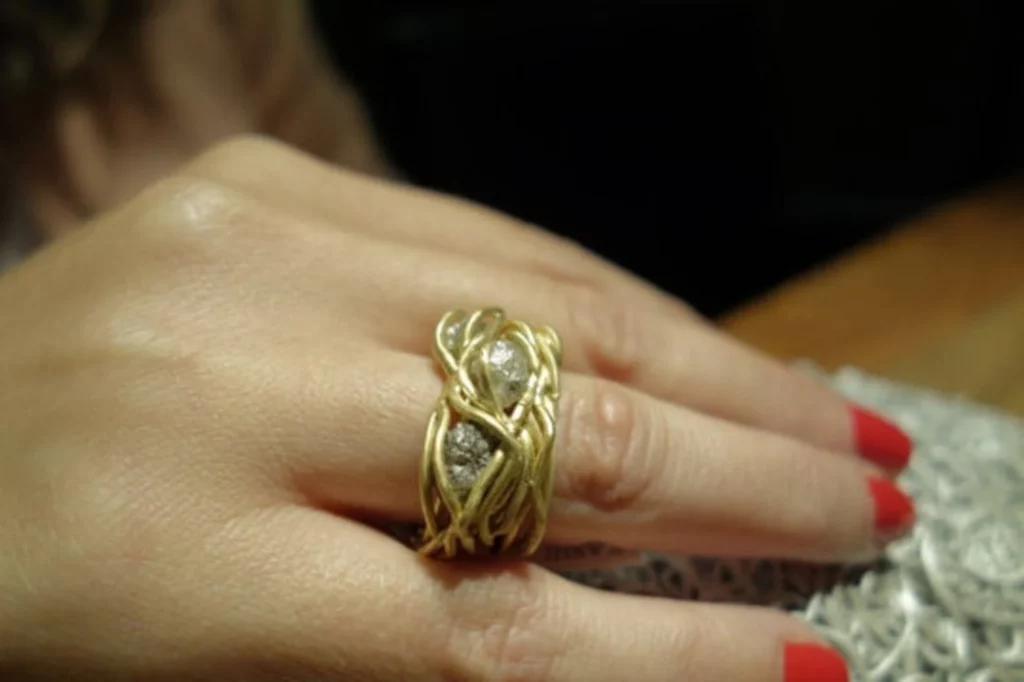 For a take on the wide-band engagement ring trend, this Moroccan nature-inspired design features rough diamonds in a twig cluster. Authentic and special!  
How to Choose Your Nature Inspired Ring?
Think about what elements you are interested in. Are you looking for a specific flower (like lotus), specific fruit (like grapes), or a special view (like waves in an ocean). Alternatively, you might like your ring to tell a story, for example, a budding flower that is embracing the sun, or a lovebird singing. 
Also make up your mind about the level of detail you want and the width that suits you best. Remember there are some wonderful dainty and simple nature-inspired designs out there for those who want a smaller ring. But there are also extravagant designs too. It all depends on your preference. 
Next, decide on color themes. Some nature-inspired rings have a mixture while others focus on one. There are various designers who focus on specific themes and colors. Be sure to find the ones that have a similar taste to yours. Check on google and platforms like Etsy and Amazon to aid your search.
Last but not least, decide on a budget and filter to a range. This will help with your search. 
In Summary
Mother nature has a lot to offer. The sky is the limit (or not even the sky!) for nature lovers who wish to start their life together with inspiration. The key is to guide your search toward finding the right nature engagement ring or nature-inspired wedding band for your liking.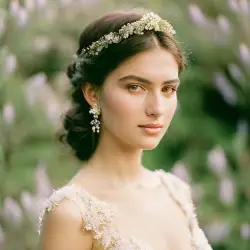 Latest posts by Rosie Liliy
(see all)