The Celts were one of the largest groups of people in Europe. Their wide-spread culture can be seen in historical record from 1200 to 600 BC. 
Today, Celtic themed weddings and jewelry including celtic engagement rings and wedding bands are gaining popularity for their intricate designs and meaningful symbolism that match this purpose well. 
Some of the most well-known Celtic symbols used in rings are the trinity knot, claddagh, ogham, and the warrior shield. To help you see for yourself how each of these are creatively used in wedding rings, we have a put together a list below. For each ring, the symbol is explained.
See also: Celtic Wedding Dresses For The Romantic Bride
A masterpiece created by highly skilled craftsmanship. One of the most famous of Celtic knot symbols, this endless looped knot symbolizes eternity.
Adorned with five diamonds, the dual-shade makes this wedding band an elegant option. 
The knots are made in 14K yellow gold, while the sides and interiors are of 14D white gold (read: white gold with palladium alloy for a better quality).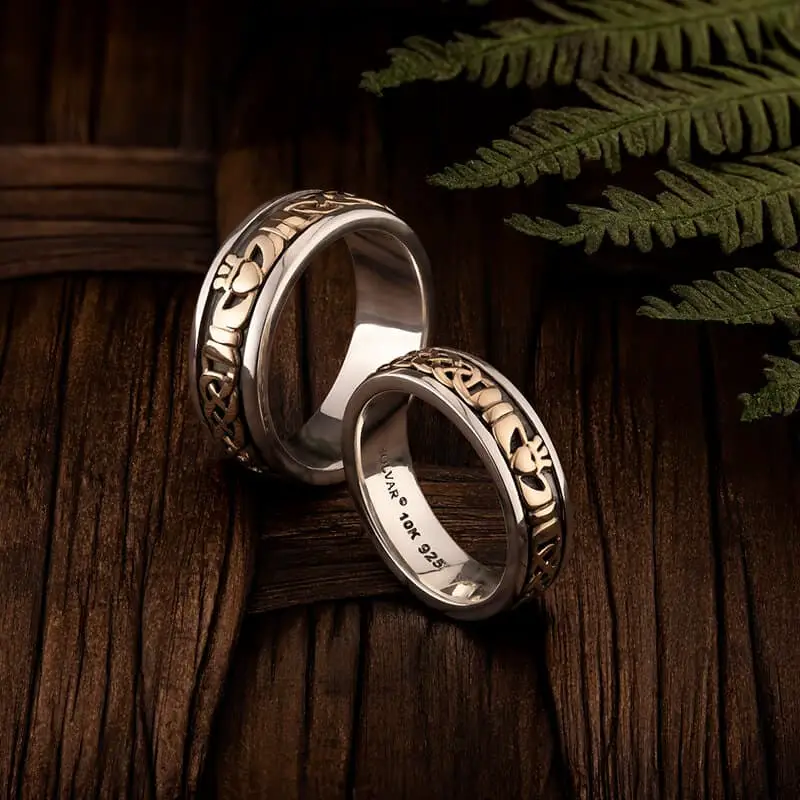 This intricately made ring features two Celtic symbols: the Claddagh and the Celtic knot. The center details are made in 10k gold while the band is made of sterling silver.
This can be ordered individually or as a set for him and her. What better than putting on a symbolic ring on each other while reciting wedding vows of love, friendship, and loyalty as represented by Celtic culture?
This magnificent Celtic knot wedding set features a classical princess cut diamond. A trio of diamonds contours the centerpiece beautifully within intertwined knots.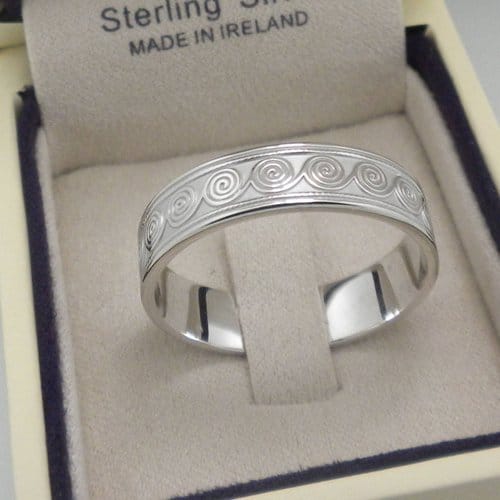 Simple and authentic, this handmade infinite spiral ring is made in Ireland. The Triskele symbol is another favourite Celtic design. The Celts believed everything important comes in threes. Each spiral has three lines representing family.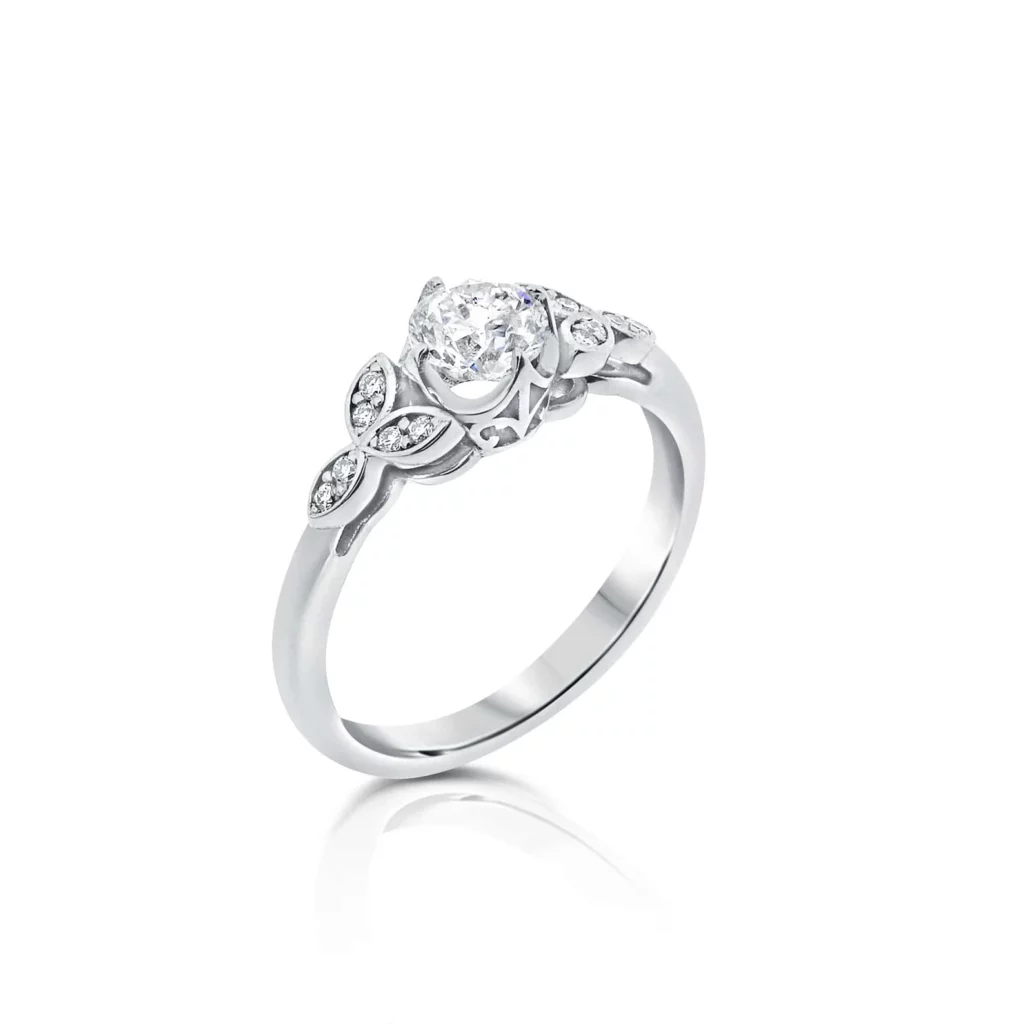 The Celtic trinity symbolizes endless love. This lovely ring has a round-cut diamond centerpiece and twelve small diamonds inside the knots. For added detail, there is a crown under the centerpiece on the bridge of the shank. Great for a romantic engagement!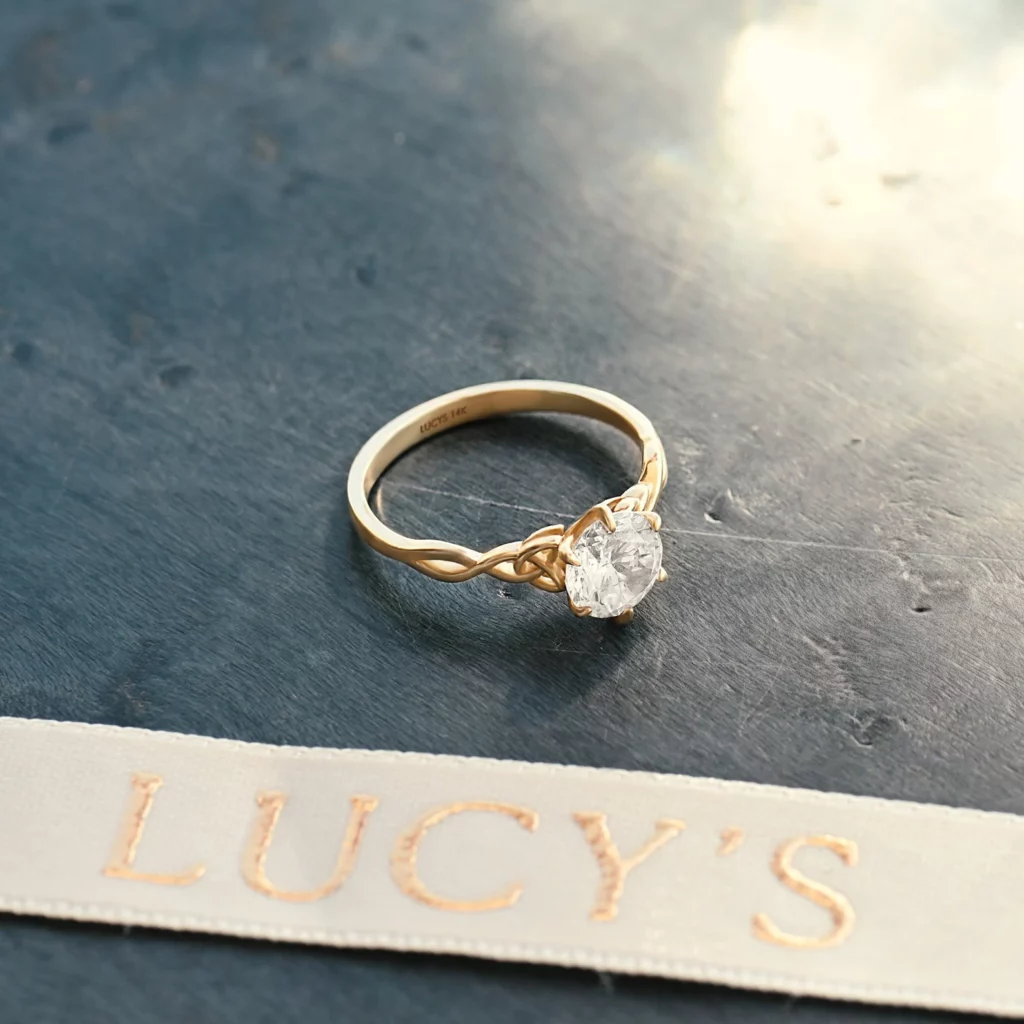 A Celtic twist to a classical single stone engagement ring? Voila! Featuring a large round diamond on gold, the Celtic trinity knots are carefully made on each shoulder.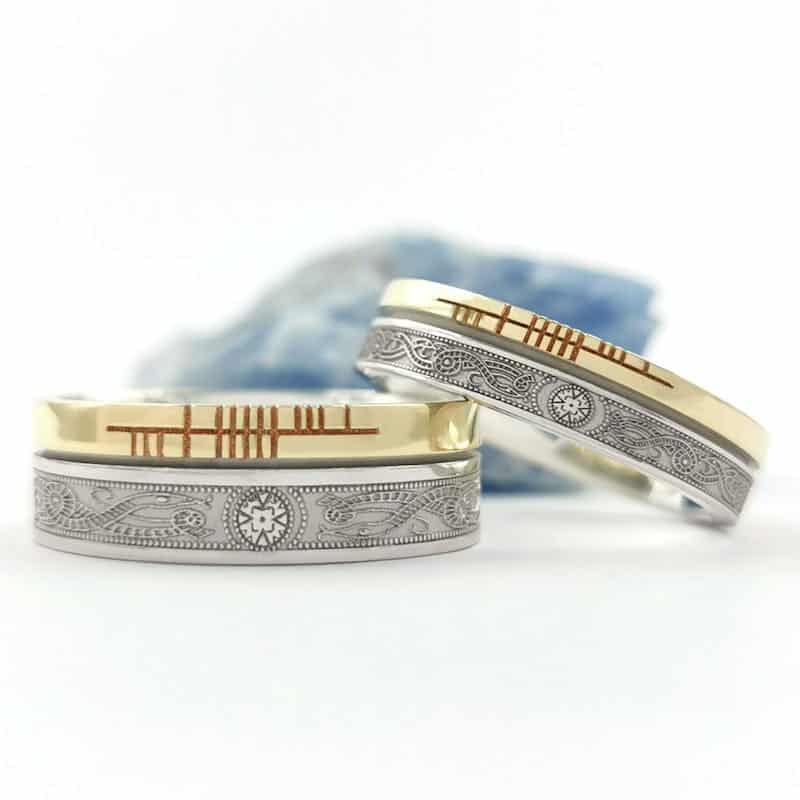 Highly detailed with a historical feel, this ring features the ancient alphabet Ogham and the Warrior Shield. 
Starting a new beginning with your life partner, the word 'faith' is written on this ring in Ogham as a blessing for a lifetime. A truly well-crafted ring designed to be a family heirloom.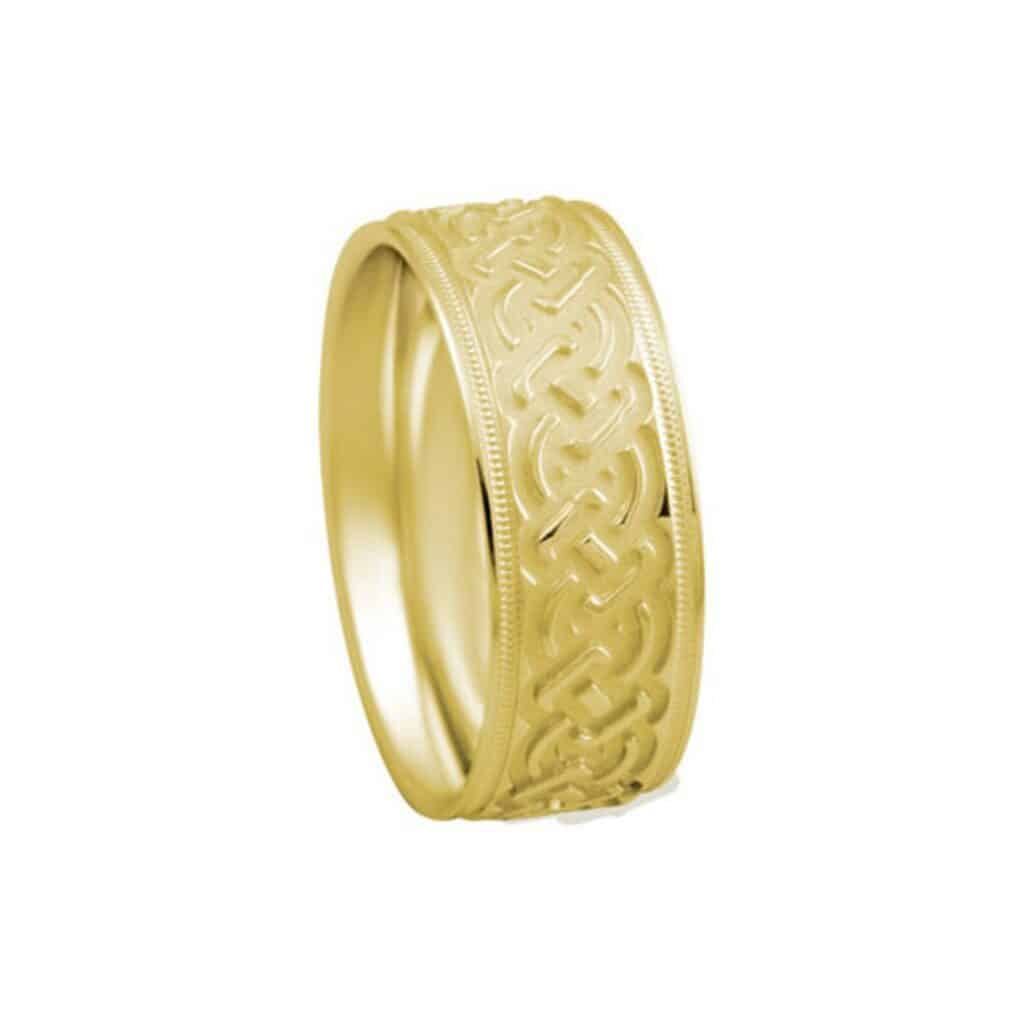 This simple yet elegant wedding band has Celtic knots imprinted on yellow gold. There is added detail on the edges of the band.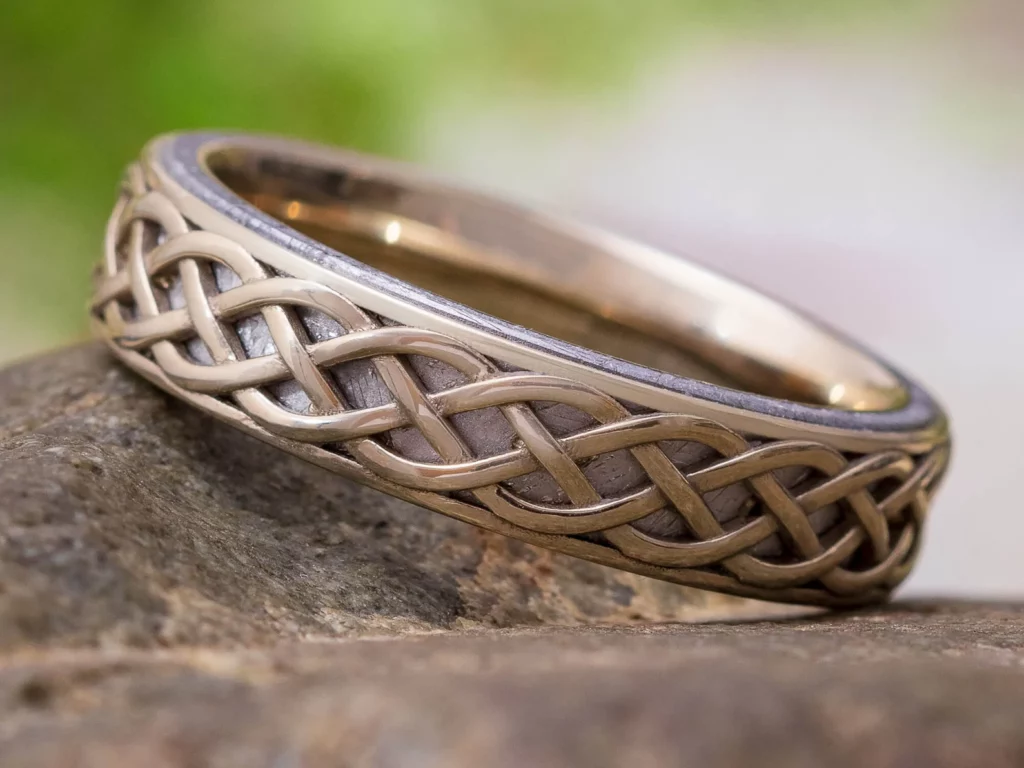 If you're after a creative ring that has both Celtic symbolism and a stone throughout, this out-of-this-world wedding band is an option. The Celtic knots are made in polished gold on meteorite. Original!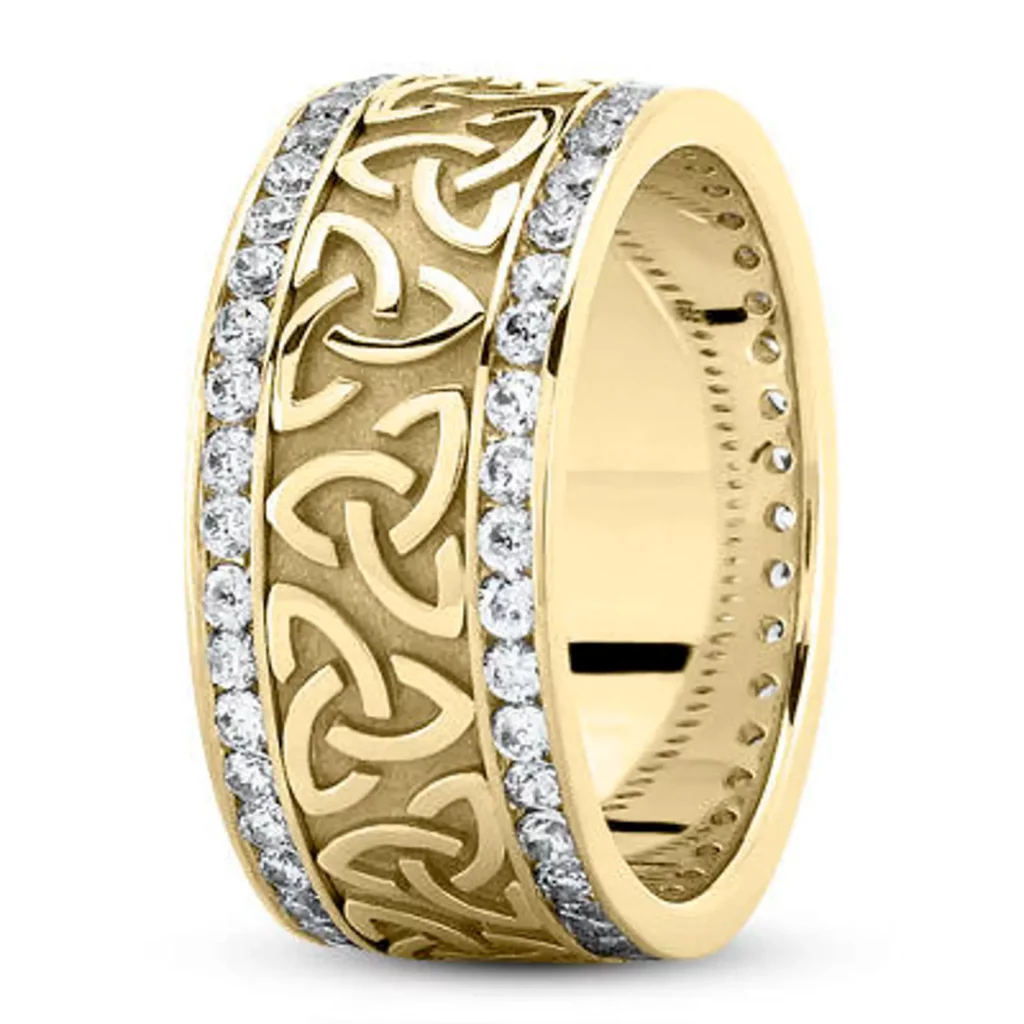 This grand design features trinity shaped knots on yellow gold. For added elegance, both edges of the wedding band have round-cut diamonds on channel setting. This surely makes a statement!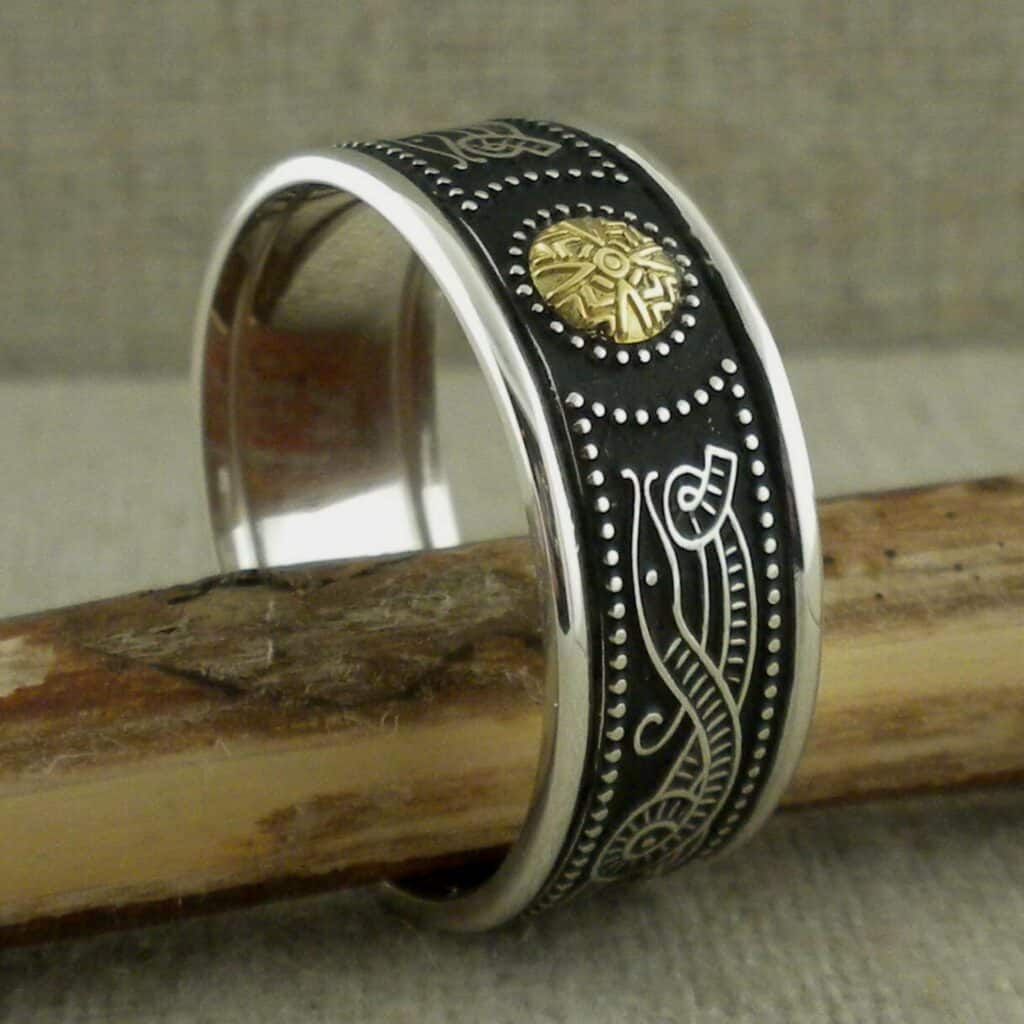 This Celtic design features a warrior shield and intricate details framed by beads. The center is in a different shade for emphasis.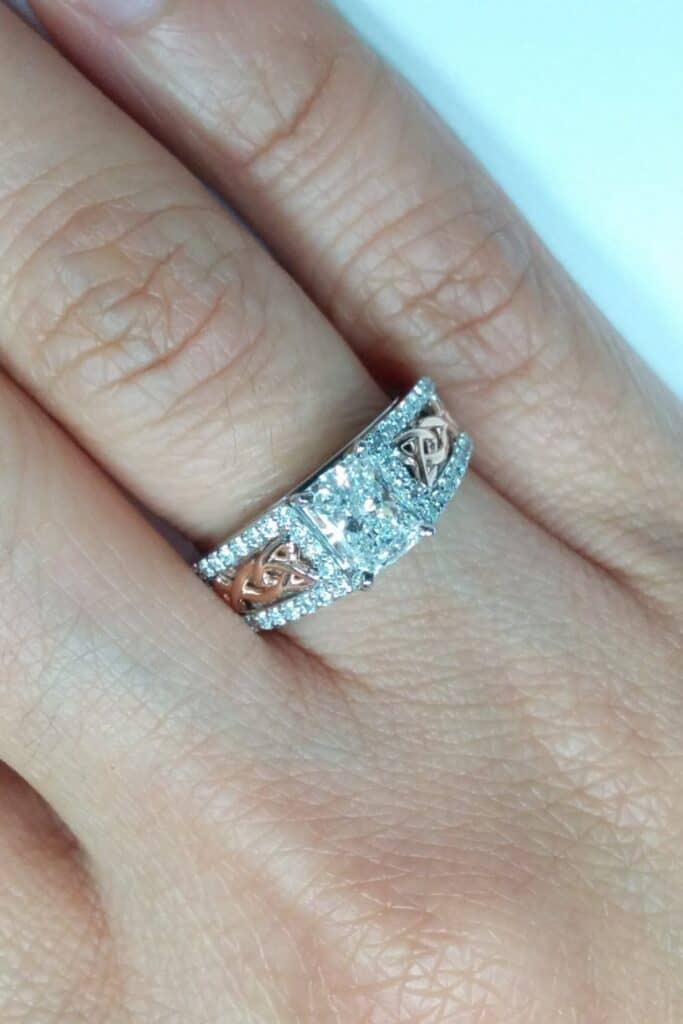 Celtic design with a sparkle? This classic cathedral style ring boasts a lot of blink with rows of round diamonds framing the Celtic trinity knots. The centerpiece is a radiant cut diamond.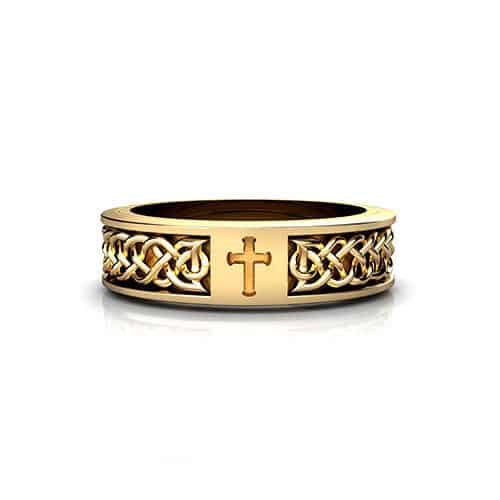 This wedding band features a Celtic weave with a cross at the center. As a Christian Celtic wedding band, this embraces both tradition and roots. 
The cross is one of the more well-known Celtic elements used to symbolize the four elements of water, fire, earth, and air.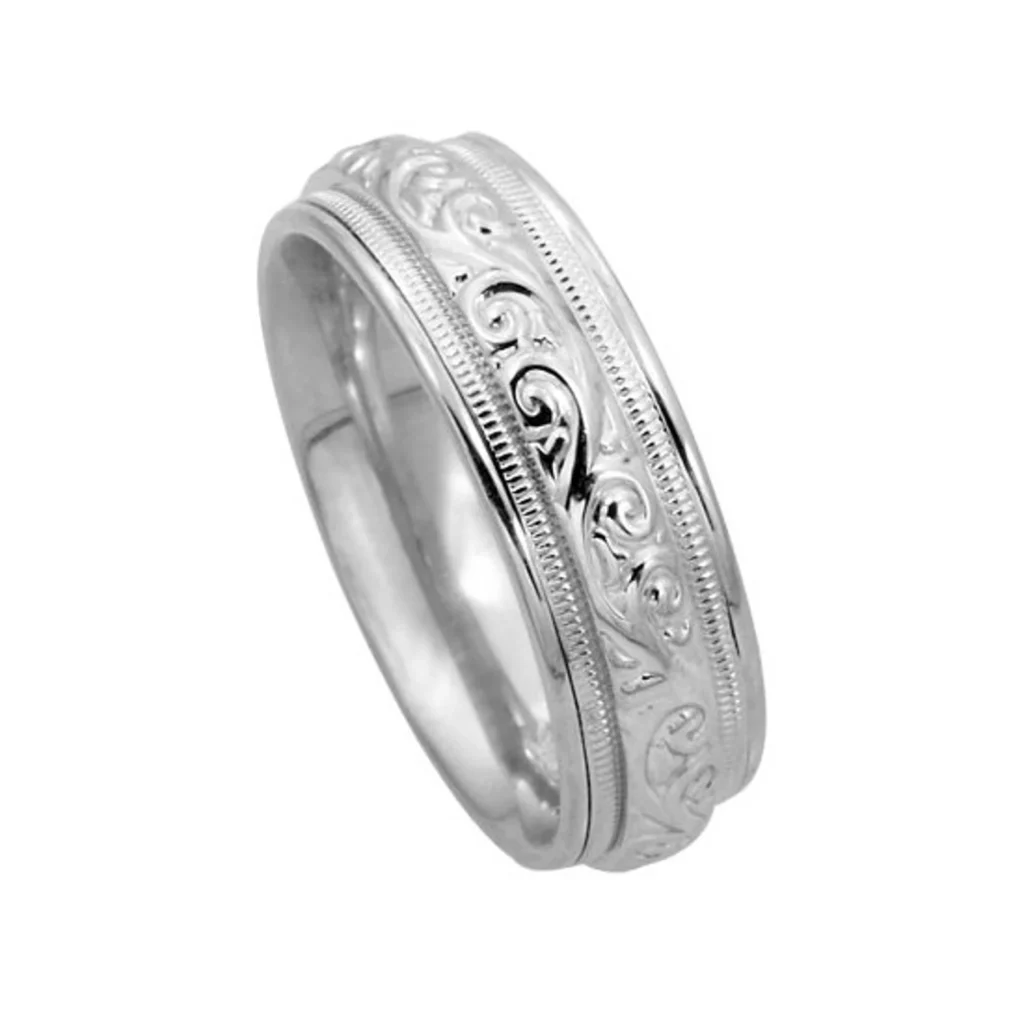 If you're looking for a nature-inspired Celtic ring, this wedding band is an inspiration. Minimalist and on-point!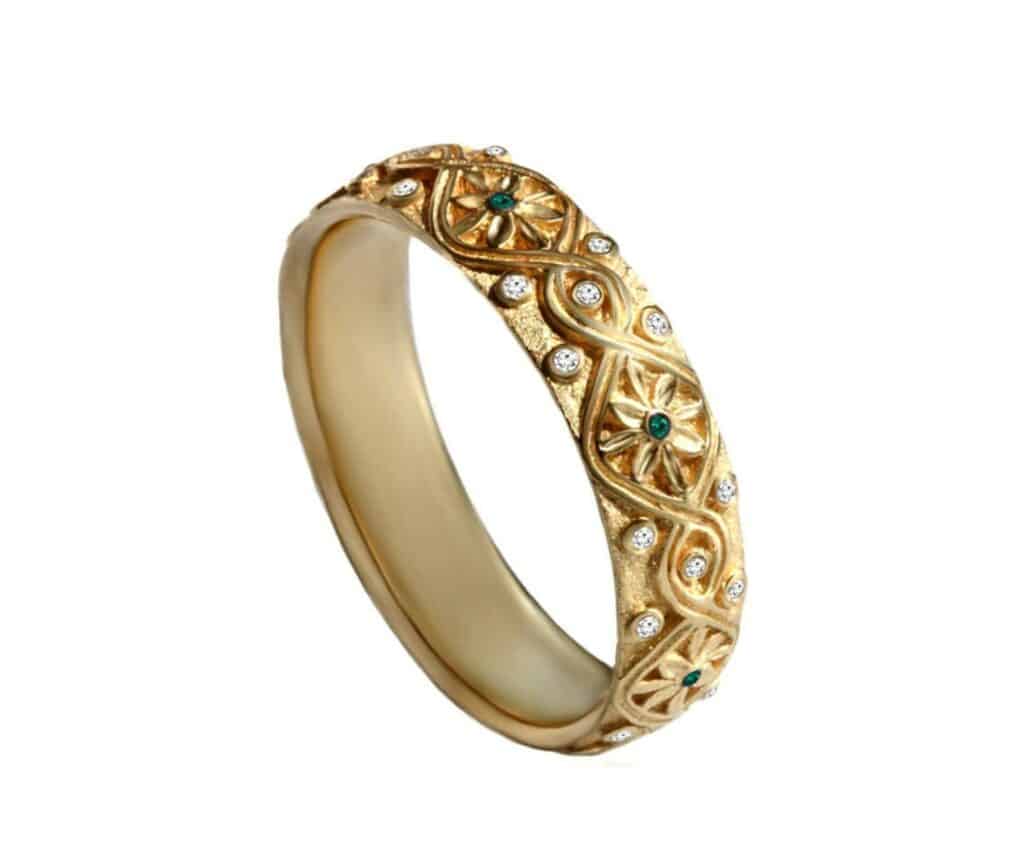 A floral take on the Celtic knot results in a lovely wedding band that is entirely unique. The addition of diamonds and emeralds give this ring a magical air.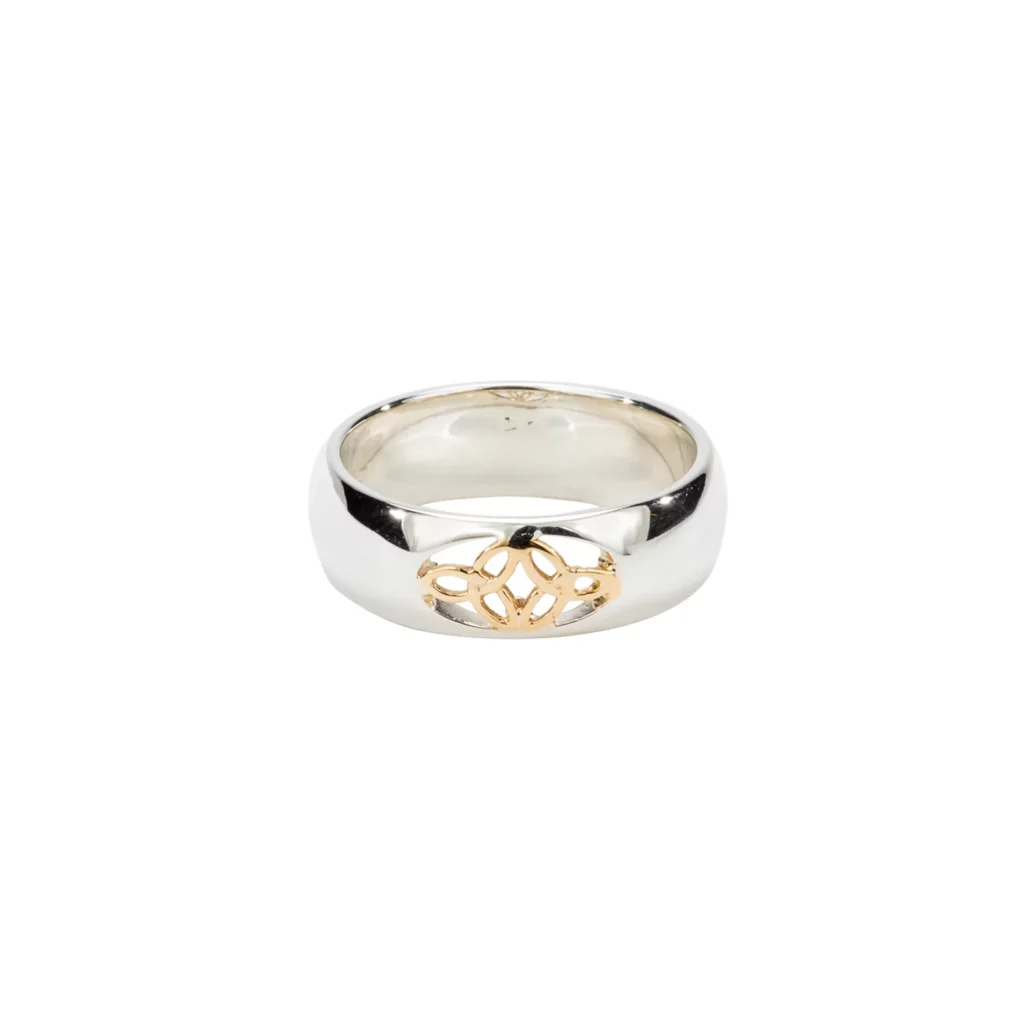 A well-designed solid silver wedding band highlighting two trinity knots in the center made with yellow gold. 
In Summary
Celtic engagement rings and wedding bands are a great option for those interested in symbolic meanings. If you suspect you have Celt ancestors or you just love their designs and the historical significance of iconic symbols, Celtic wedding rings are sure to complement your new chapter of life. 
To choose a Celtic engagement ring, first decide which symbol or mixture of symbols you like your ring to have. Sterling silver is traditionally popular with Celtic rings, but you can have more than one metal to add detail to your ring. Decide the shades of metal and the width you're interested in.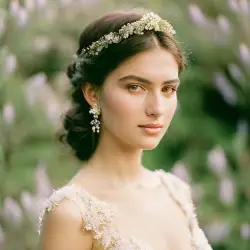 Latest posts by Rosie Liliy
(see all)