Viking culture originated in the Scandinavian regions from the 9th to 11th centuries. The Vikings had their own style of jewelry and art. Wearing various types of jewelry was popular among both men and women. 
The Viking jewelry were made to fit with the Viking lifestyle, to last through battles, travels, and nomadic adventures. They often had references to important symbols and made a statement of their identity. As Norse pagans, Vikings used symbols on their jewelry for protection and devotion to their Gods.
Modern Viking rings often have complex details, are wide, and can be chunky to represent the Viking style. While yellow gold is sometimes used, silver is the more traditional choice. 
Some of the popular symbols that can be seen are Thor's hammer (Mjolnir), Freya, Jormungand, Fenrir, and Berserker. The Viking alphabet, Rune, is also seen throughout the jewelry. 
Let's look at some modern Viking rings for weddings and engagements that might inspire you to make a choice for yourself or your partner.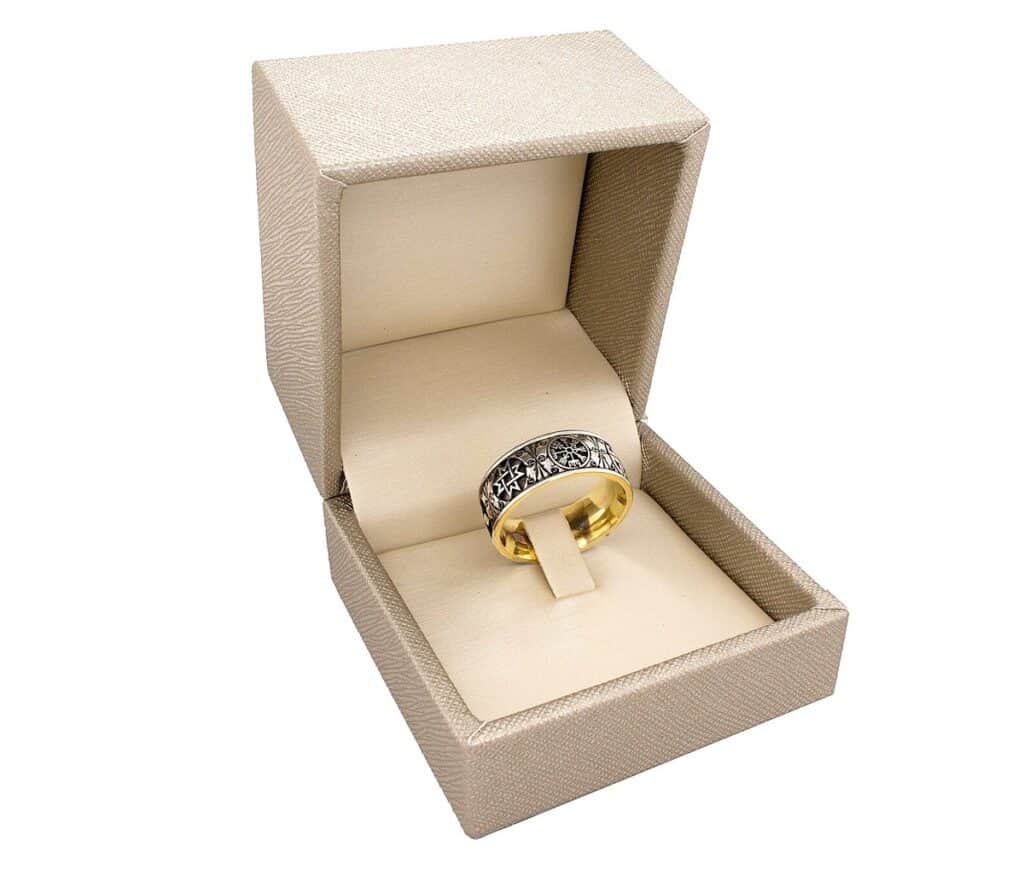 This extraordinary Viking inspired ring shows a lot of detail throughout. The use of Viking runes as well as several other Viking symbols are made of silver. The interior of the ring is made in 18k gold for added elegance.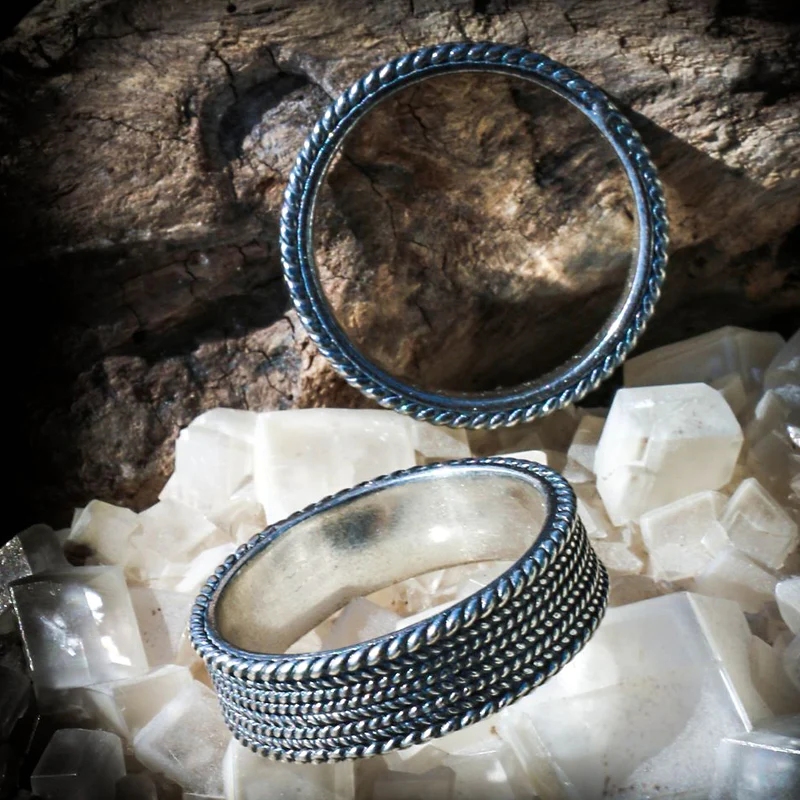 A wide wedding band inspired by the Viking style of knots on silver, for those who prefer a traditional band with added Viking details.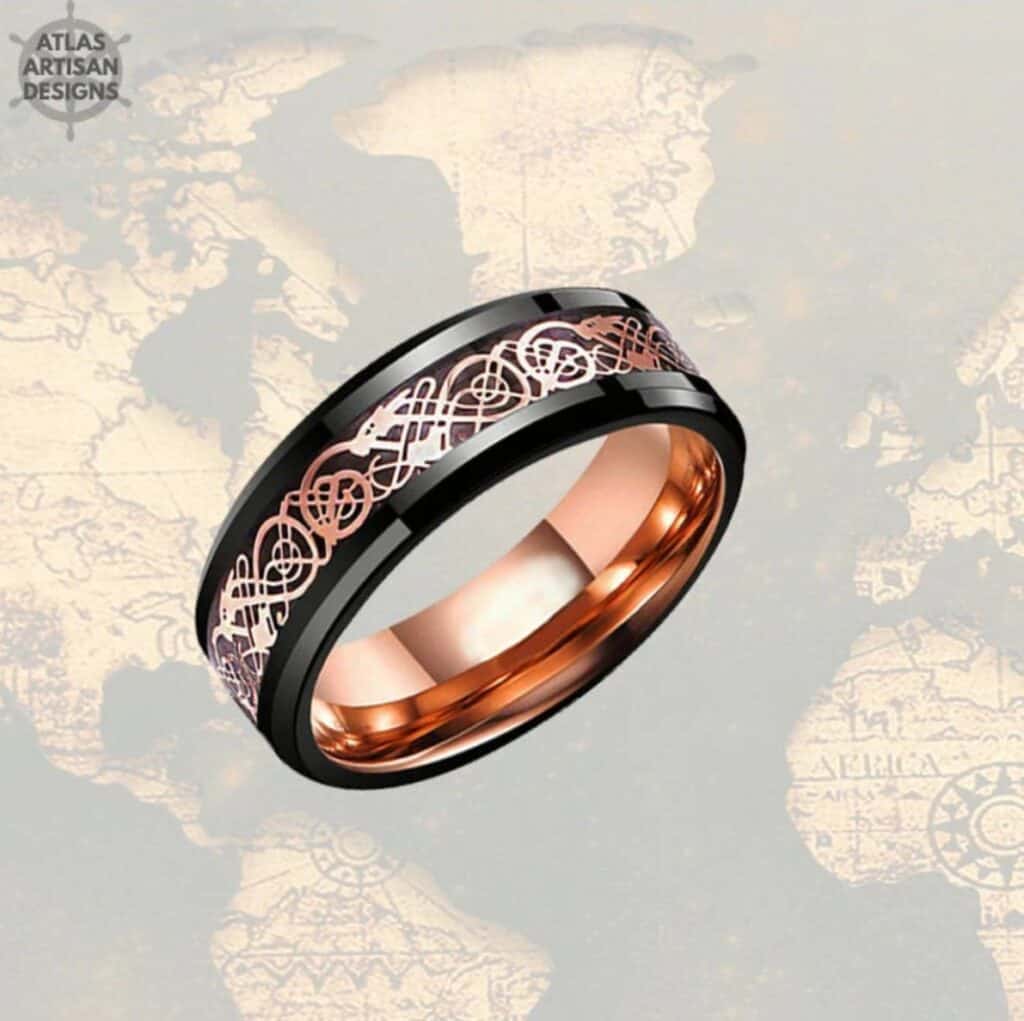 This Rose Gold Viking Ring is a rugged piece of jewelry that has unforgettable style and intriguing detail. It features an intricate rose gold dragon inlay, adding a daring and powerful look to your finger. 
The beveled edges bring out the eye-catching detail of the dragon perfectly, and the highly polished black tungsten creates a bold contrast of light and shadow.
The dragon inlay isn't just stylish; it also harkens back centuries to traditional Norse cultures. Across the North Sea, dragons were thought to be protectors, bringing wisdom, clear sight, and eternal security—exactly what you want in a special piece of jewelry like this one.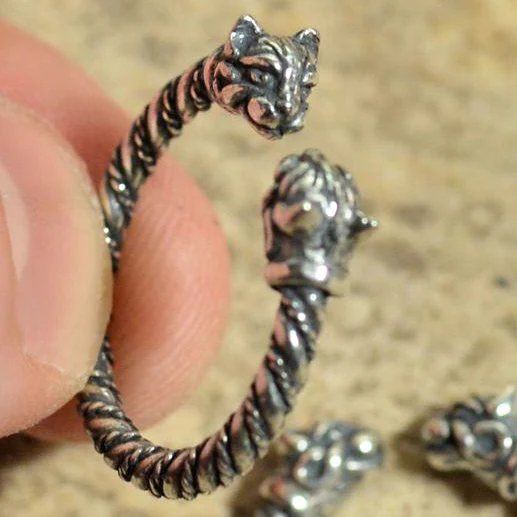 Cats are Freya's sacred animal. Freya is an iconic character in Viking mythology as a goddess that symbolizes love, beauty, and sex among others. 
Freya and various items or characters associated with her, are all symbolic elements in Viking jewelry.  This ring features her cats with a half twisted band in silver, which makes for an unconventional and striking wedding band for those couples looking for something authentic, historical, and different.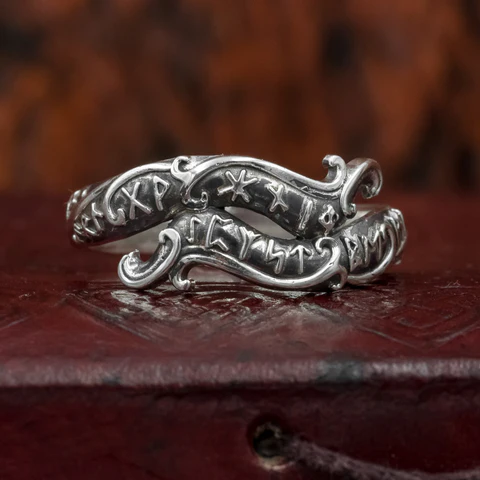 A very Viking ring! This features the Viking rune on a serpent-like silver band. Serpents are a popular Viking symbol.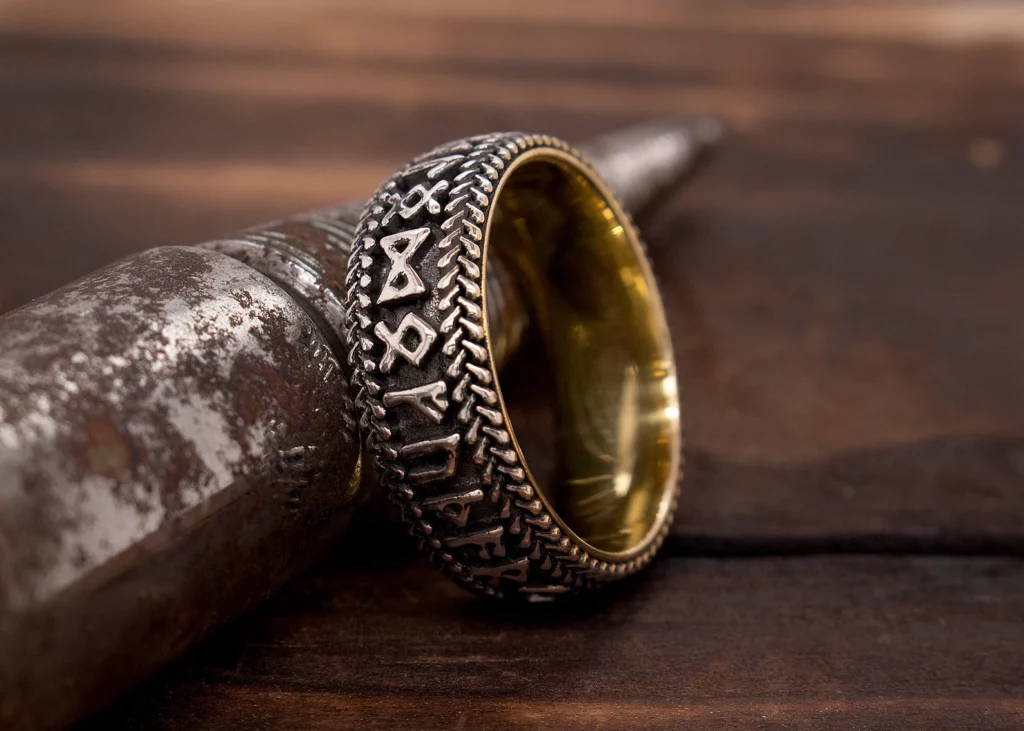 This two-tone silver and 18k gold Viking ring is for the bold and daring who want to add a burst of ferociousness to their style. Ready to stand out from the rest, yet devoted to honor the ancient Norse culture, these rings are an excellent way to make a statement. 
If you want something unique with an edgy touch, this is it! Inspired by Viking warriors and adorned with special mythological runes, the exterior of this sparkling ring is silver oxidized for a black color, paired with gleaming 18k gold details along its sides. 
On top of this awesome combination of colors, the exterior also features a braided design that wraps around the entire piece.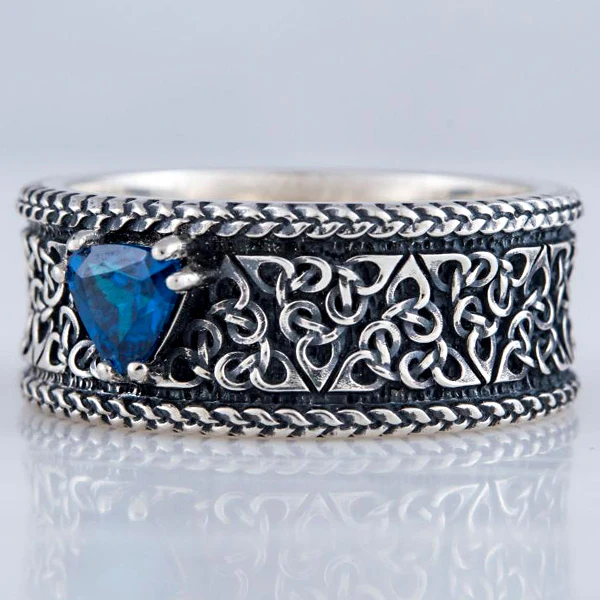 Step into an era of Viking glory and show your strength with the Son of Vikings Triquetra Ring with Gem. This stunning piece is handcrafted out of 925 Sterling Silver or 14k Gold, allowing you to find a look perfect for your own individual style and story. 
With the ring holding a majestic blue Cubic Zirconia gem in its center, you can feel proud and courageous as you wear this piece wherever life takes you!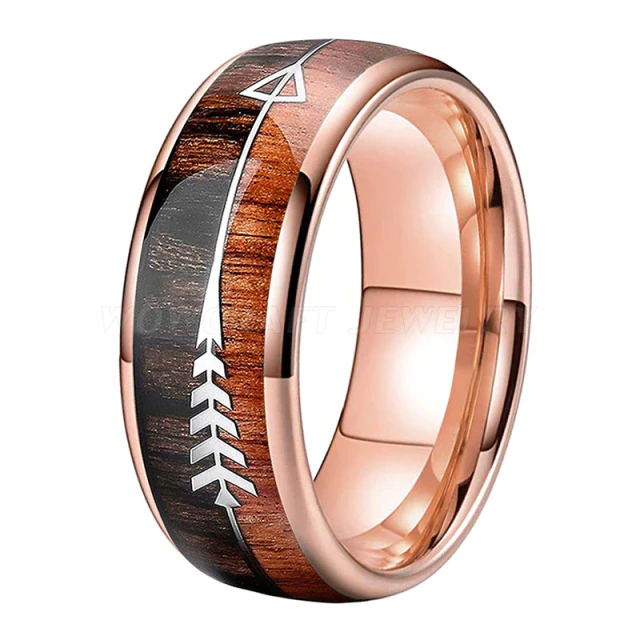 The Vikings are known for their lifestyle of travels and battles. The Viking bow and arrow were a significant tool of protection, which was crucial for their nomadic ways. They were used for food hunting and defending against enemies. 
This tungsten ring features a Viking arrow in silver, symbolizing wisdom and clarity of mind.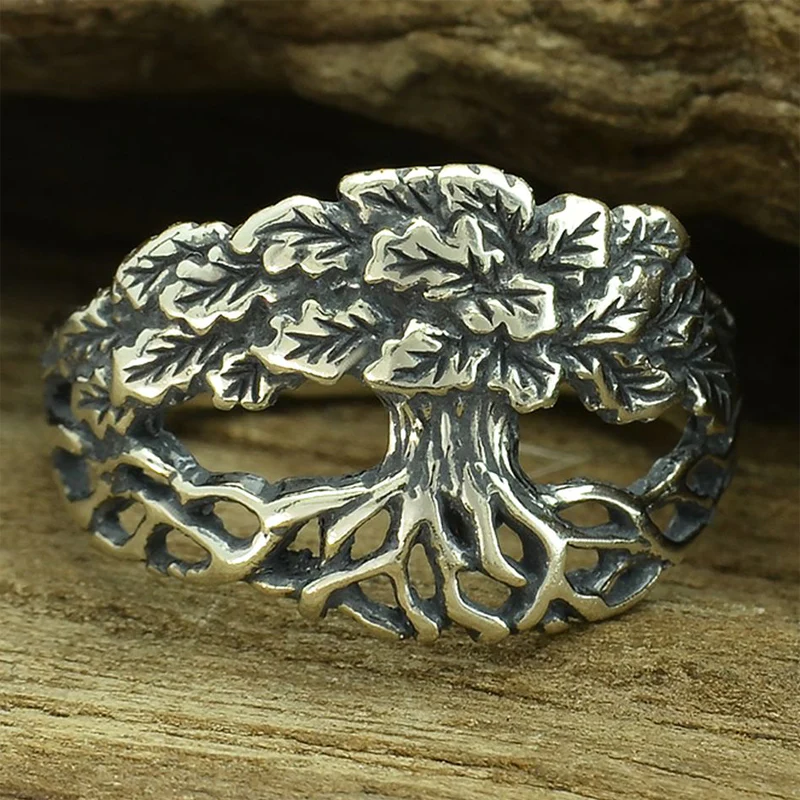 The Norse tree of life is a well-known Viking symbol, which connects all the different parts of existence in Viking mythology. It has a number of meanings including wisdom and eternity. 
This beautifully detailed tree of life ring is made in silver.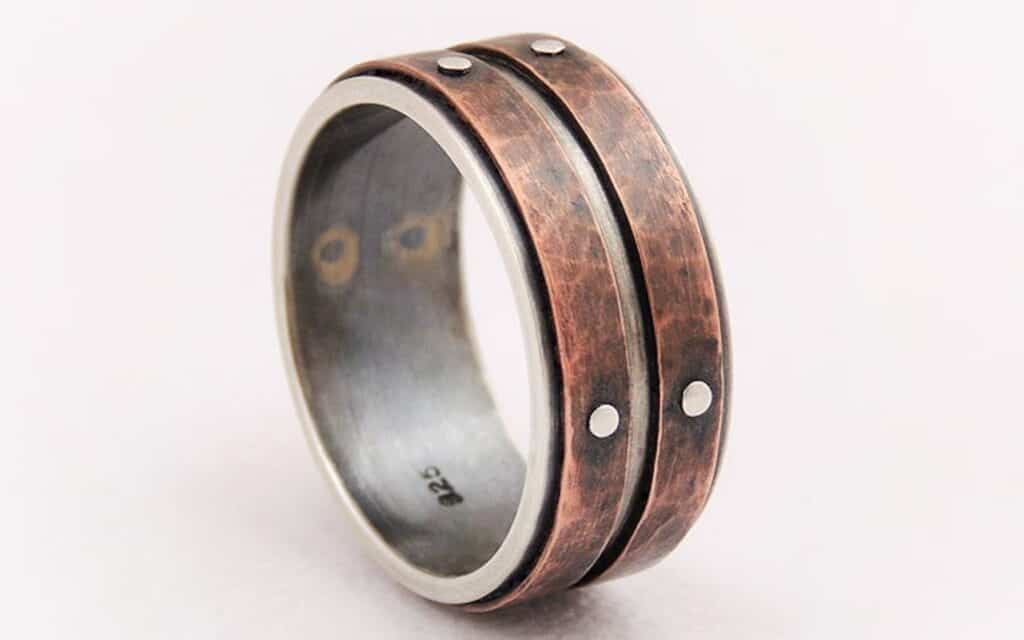 This one-of-a-kind silver ring features two hammered copper strips, each with four silver rivets. A great Viking inspired wedding band to make a statement.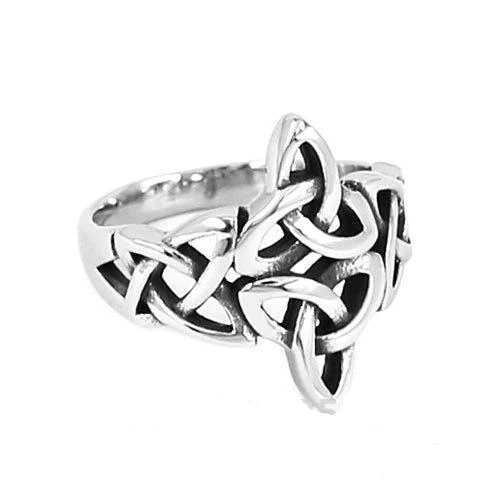 A Viking Ring with a Celtic twist. Triquetra is a Viking symbol that has a few different meanings. While Christian Vikings used this a symbol of trinity, some believe it was a reference to Viking paganism. As a commonly used Viking symbol on jewelry, variations of the triquetra can be seen in rings. 
This ring features four triquetras in stainless steel.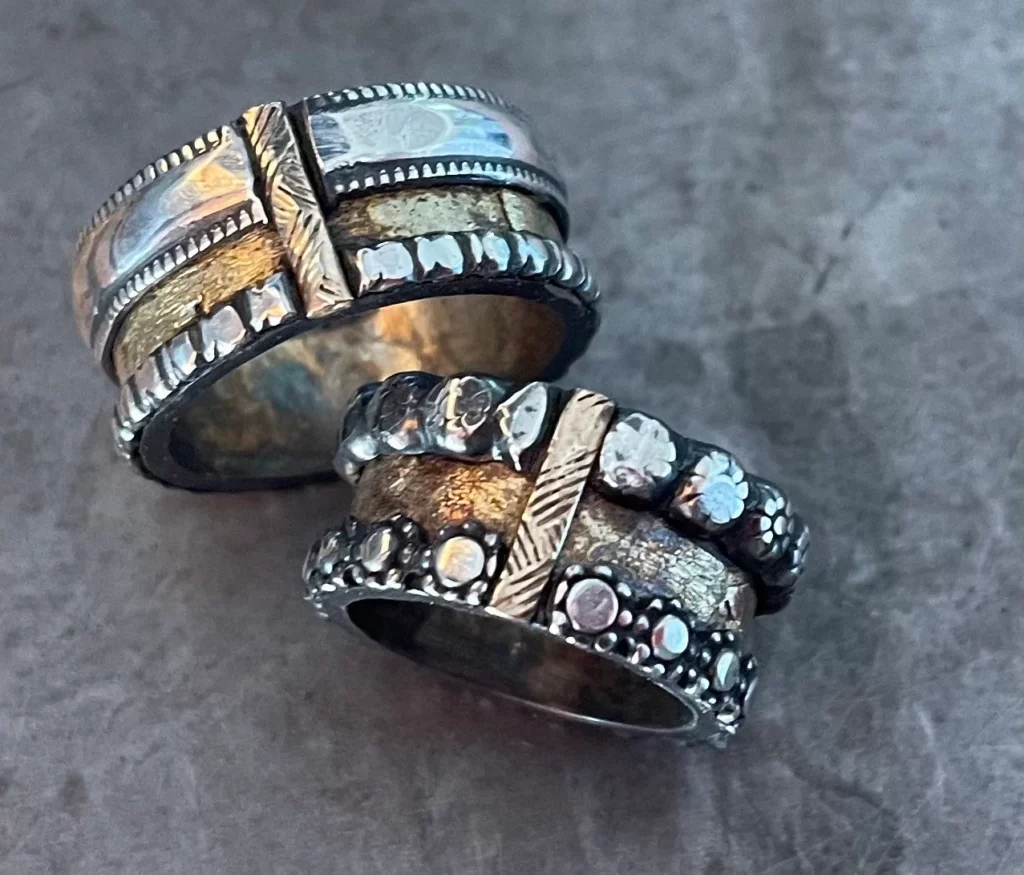 If you're looking for a Viking wedding set for the bride and groom, this is an idea for inspiration. These detailed silver rings are wide and chunky, resembling the Viking style. 
His ring has a milgrain and a beaded row, while hers has floral shapes. The addition of 14k yellow gold makes these rings a unique design. 
One thing to note is that the oxidation of silver on these rings will change with time. These rings are suitable for couples who are okay with changes in appearance in the long run.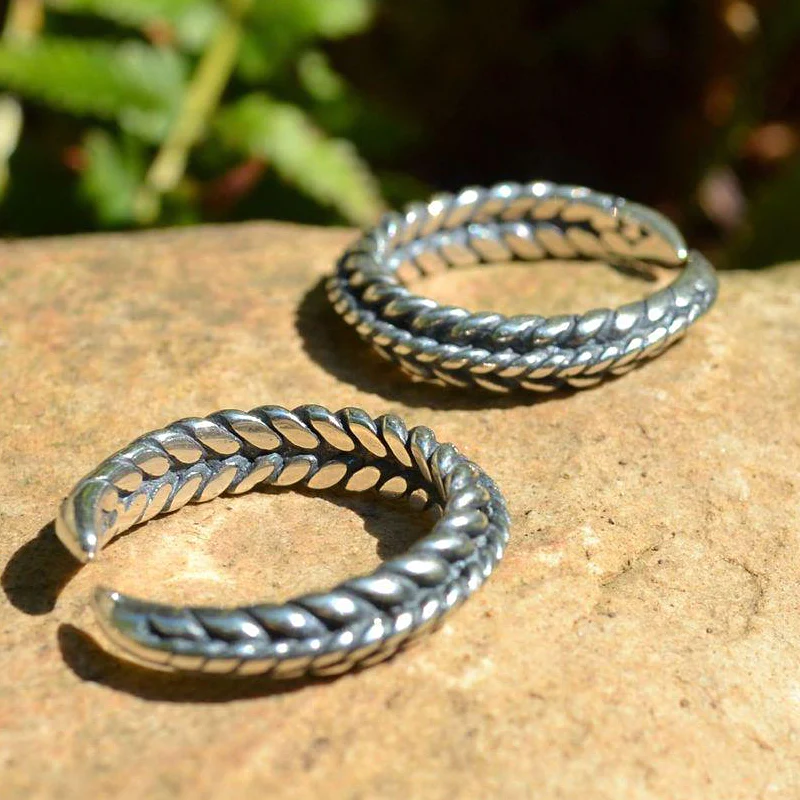 This Braided Viking Ring is a true handcrafted statement piece! Inspired by traditional Viking Torc Rings, the intricate braid pattern creates a timeless look. 
Whether you're a fan of folklore or history, this ring is perfect as an everyday reminder of courage, commitment, and finding inner strength. What's more, it's not just for him – both men and women can wear this striking piece of jewelry with confidence.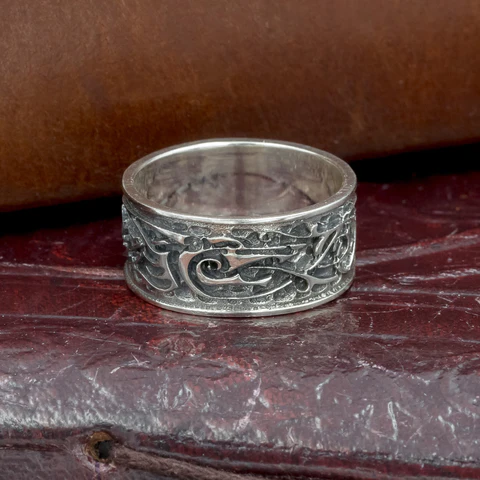 Are you looking for an eye-catching wedding band or statement ring? This Sterling Silver Fenrir Ring/Wedding Band is the perfect piece for you! 
Inspired by Norse mythology and crafted with utmost precision and care, this sterling silver band features the profile of Fenrir – an intriguing creature that embodies strength and mystery – embossed in jolting style.
With its twists and turns, this wolf figure sensually melts into the metal of the ring itself, making it distinctive and incomparable.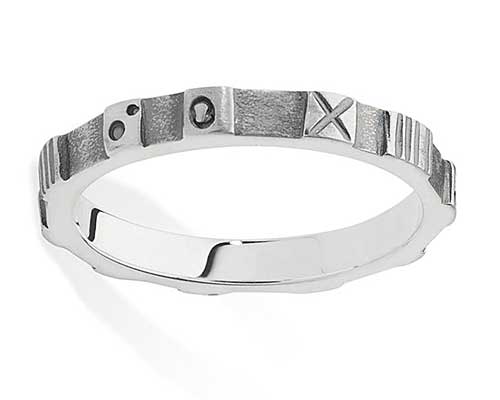 This Silver Viking Wedding Ring is a true beauty! Vikings were renowned for their ornate jewellery, and this ring pays homage to that tradition – its detailing looks like it has been hand-carved, resembling an authentic piece of Viking Norse treasure. 
The dark oxidising gives the ring a truly old-world feel. Imagine yourselves standing there proclaiming your vows surrounded by a flash of silver Viking magic! 
In Summary
The Vikings favored chunky jewelries mostly made in silver. If you're looking for a Viking wedding band or engagement ring, decide on the Viking symbols you'd like to see on your ring, and your desired width as these can get very wide.
Also remember that some silver rings may have a change in appearance over time. This can be discussed with the designer or vendor so that you make a decision that suits your lifestyle.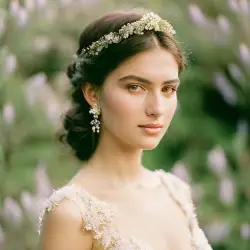 Latest posts by Rosie Liliy
(see all)