So, you have considered performing your ceremony at the courthouse. But you are unaware of what the rules are or if you can exchange rings. Are rings necessary for a courthouse wedding ceremony?
If you have been wondering about any of these questions then you do not have to look any further. Because we have the answers right here.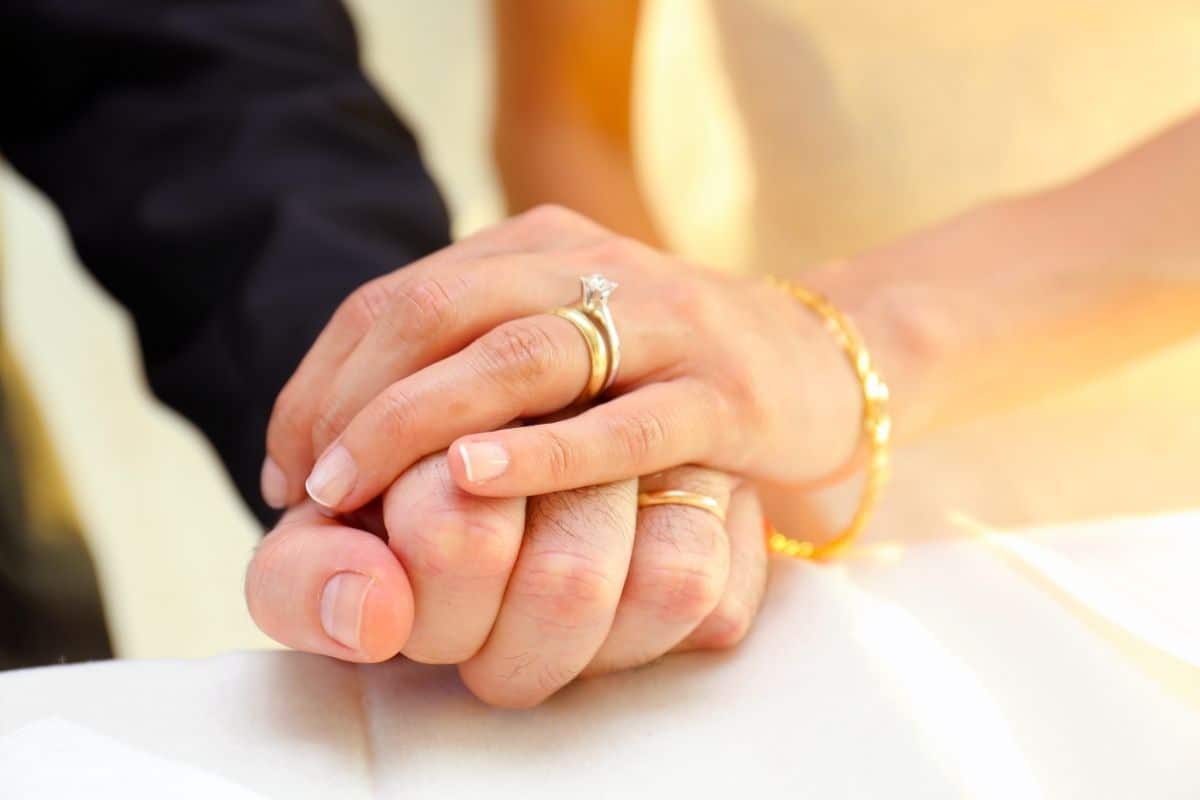 So, without further ado, let us jump right in!
Do You Need A Ring?
The short answer is no. You do not NEED a ring to get married at the courthouse. By that, we mean that it is not a legal requirement.
You can have an exchange of rings if you so wish but you are not bound to it. But before you head over to the course house to get married you will need to make sure that you have spoken to the ceremony officiant so that they are aware that you do not want to exchange rings. 
For the most part, couples that choose to get married at a courthouse will have quite a bit of flexibility when it comes to wedding plans.
The first thing you usually do is gather the documentation that is needed to apply for a marriage license. After all the paperwork is out of the way you can then decide if you want to go forward with an exchange of rings or not at your ceremony. 
But what documentation do you need for a courthouse wedding? Well, it can vary a bit but usually, you will need a birth certificate, proof of residency, your social security number, and a valid form of photo identification.
This list is by no means extensive, and the required documents might be different depending on the state you live in. So make sure that you check with your city regulation to make sure that you bring along the right document to get that marriage license. 
Once you have all these documents, or whichever documents your state requires, you can then apply to get a marriage certificate and this can apply for city hall weddings or a courthouse ceremony. 
But, what are the pros and cons of exchanging rings at a courthouse wedding? When you are considering these questions it is important that you take into consideration all the factors that could impact this decision. For these reasons, we have written this guide.
We hope that it will help you to make a well-thought-out decision. For the moment we know that whether you exchange rings will be entirely up to your preferences.
Anyway, let us take a look at what will happen if you want to exchange rings at your courthouse wedding. 
Yes to Exchanging Rings at a Courthouse Wedding
As the years go on more and more couples have expressed less interest in going through traditional or religious wedding ceremonies. Because of this many couples may have their heart set on having a courthouse ceremony.
On top of being non-traditional, it is a much cheaper option after all.  In fact, the majority of people that choose to have a courthouse ceremony really want to save money.
Weddings can get extortionately expensive, after all. Civil unions are less expensive but sometimes we want to be married without the extra fluff. This is where courthouse wedding ceremonies come in. 
So, if a couple wants to have an exchange of rings at their wedding one of the first things they will need to do is let the officiant, marriage registrar, or clerk know.
In one of these private wedding ceremonies, you will be able to have personalized wedding vows, exchange rings, and even have family or friends do readings.
So, in reality, a courthouse wedding can consist of traditional wedding elements without the extortionate cost.
But if a couple does not want to have the formalities at even this level they do not need to be worried. All they have to do is follow a short list of rules that have been set out by the person that is officiating the union. 
No to Exchanging Rings at a Courthouse Wedding
So, what if you do not even want to exchange rings at your courthouse wedding? Well, this is actually quite a popular choice.
One common reason for this could be that couples cannot afford a ring at this time and may get one later. There is absolutely nothing wrong with that.
Couples like this will often have a civil wedding and opt not to tell any of their family or friends while still formally getting married. 
All you will need is a witness. A wedding like this will be an elopement. If you do not want to exchange rings this is a fantastic option and one that will not let your secret out to family or friends that might not approve.
But if you are strapped for cash and cannot afford expensive rings some couples opt to use cheaper token rings as a symbol. Later on, they will usually purchase a more permanent ring.
Final Thoughts
If you are interested in having a courthouse wedding and eloping you can find out everything you need to know (see also: Planning An Elopement In Vegas: Everything You Need To Know)about the rules in your state at your county clerk's office or even at your city or state's official website.
So, before you head down and tie the know, make sure that you do your research and find out everything you might need to know. On the same website, you can even find out how much it will cost to get married at the courthouse.
The price will be different depending on which US state you live in as the marriage license fees will be different. You can also take a trip down to your local circuit court if you need more advice.
You will not need to bother the judge as the staff that works there will usually know what you need. 

Latest posts by Jodie Messines
(see all)