There's so much more to Las Vegas than gambling and shotgun weddings. Believe it or not, it's actually an amazing place to elope with your beloved!
With venues to suit every taste and incredible sights to see, your wedding can be everything you've ever dreamed of in the city of Las Vegas.
If you're thinking about eloping in this exciting city, you've come to the right place. We've put together this ultimate guide for planning an elopement in Vegas to help you get started.
With so many possibilities, you can have the perfect wedding that you will never forget.
Planning Your Elopement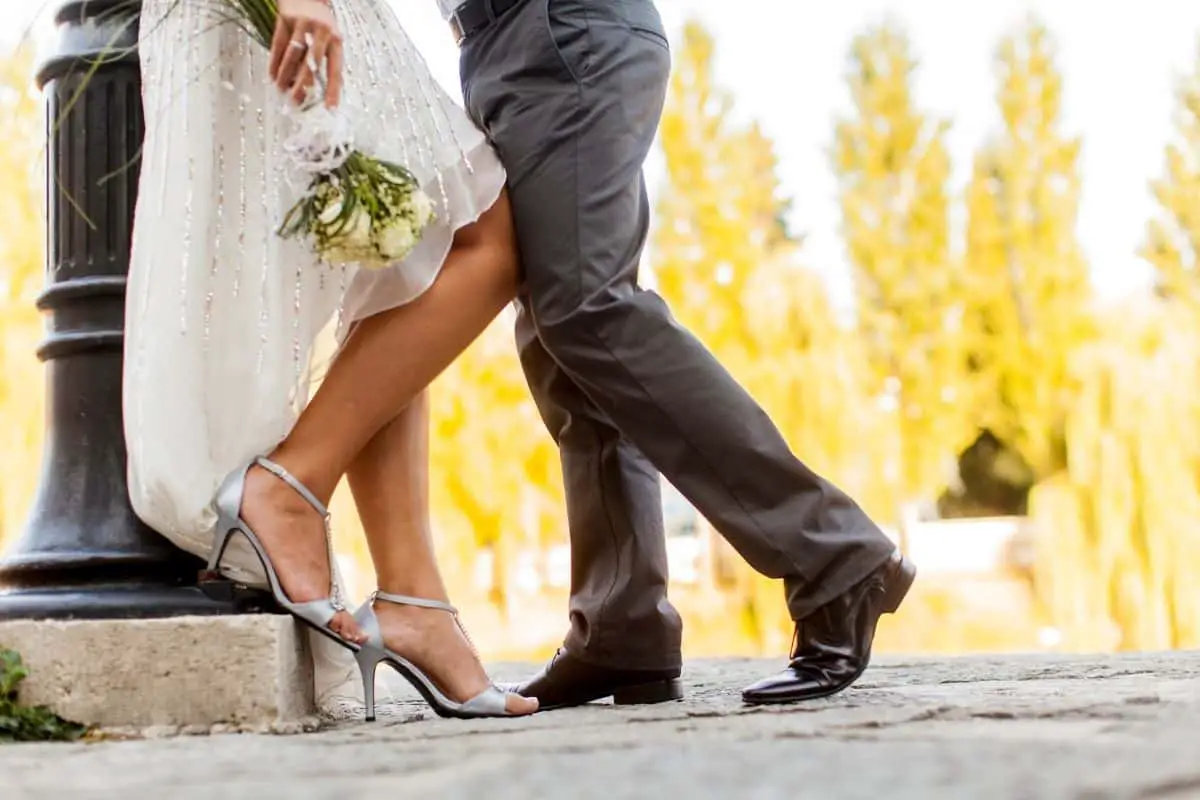 The great thing about planning an elopement is that it's so much easier than planning a traditional wedding.
If you choose an elopement package, many of the details will already be taken care of, but even if you want to do it yourself, there's not a whole lot you need to do!
Regardless, there still has to be some planning involved when eloping in Las Vegas. So, let's get into it.
Set Your Date
Selecting your date comes naturally after deciding that you're all in for a Las Vegas elopement. Look up the weather for the time of year you are thinking of, rather than choosing a date at random.
Although the winters in Nevada are moderate and pleasant, the summers can be extremely hot, especially if you want to elope in a desert location where there is little shade. You should take this into consideration before finalizing your wedding date.
To help you decide when you should have your wedding ceremony, here are the average temperatures for each season.
Spring – Cool and comfortable with a low chance of rain; temperatures can reach 70-80F.
Summer – Can get very hot, but significantly more comfortable during the mornings and evenings; temperatures can exceed 100F.
Fall – Weather starts to get cooler; temperatures usually stay around 80-90F.
Winter – Cool and crisp; temperatures can reach highs of 60F and lows of 40F.
Choose Your Budget
The next step in planning an elopement in Vegas is to chat with your partner and decide on a budget, much as you would for a conventional wedding.
The good news is that if you decide to elope alone, your budget simply needs to cover the essentials, like an officiant, a photographer, and a venue.
Before making a decision, make sure you learn as much as you can about every aspect of your wedding day because the prices of various vendors can vary.
Start Hiring
If you're looking to completely personalize your elopement, there are countless services available in Las Vegas to help you craft the perfect wedding. 
You'll have to first look for the essential vendors for your big day, such as a photographer, a hair and makeup artist, and a caterer. The rest of what you have at your wedding is completely up to you!
Depending on your budget and if you have any guests attending the ceremony, you might want to keep it simple and convenient, but again, this is down to you and what you want for your wedding day.
Consider An Elopement Wedding Package
Another amazing thing about Vegas is that many companies and venues offer elopement wedding packages! This means that all the details will be taken care of for you!
Some of the most popular elopement packages in Las Vegas include:
Caesars Palace Weddings
Chapel of The Flowers
Valley of Fire Weddings
Drive Thru Weddings
High Roller Weddings
There are a lot of packages to choose from, whether you want to elope in the middle of the desert, in a grand casino hotel, or with an Elvis officiant!
These packages will usually include a minister, a photographer, flowers, and a ceremony space, and of course you're welcome to add any extras that will make your big day extra special. 
Book Your Transport
On your wedding day, timing is important to make sure everything runs smoothly and that there is no unnecessary stress on the happiest day of your life.
It's important to have all your transportation booked, from your hometown to Vegas, from your hotel to your ceremony, and from your ceremony to the reception.
Pre-booking transportation means you'll have one less thing to worry about on the big day. If you're having guests at your wedding, you should also make sure that their transportation is taken care of so no one gets lost in an unfamiliar city.
Book Your Accommodation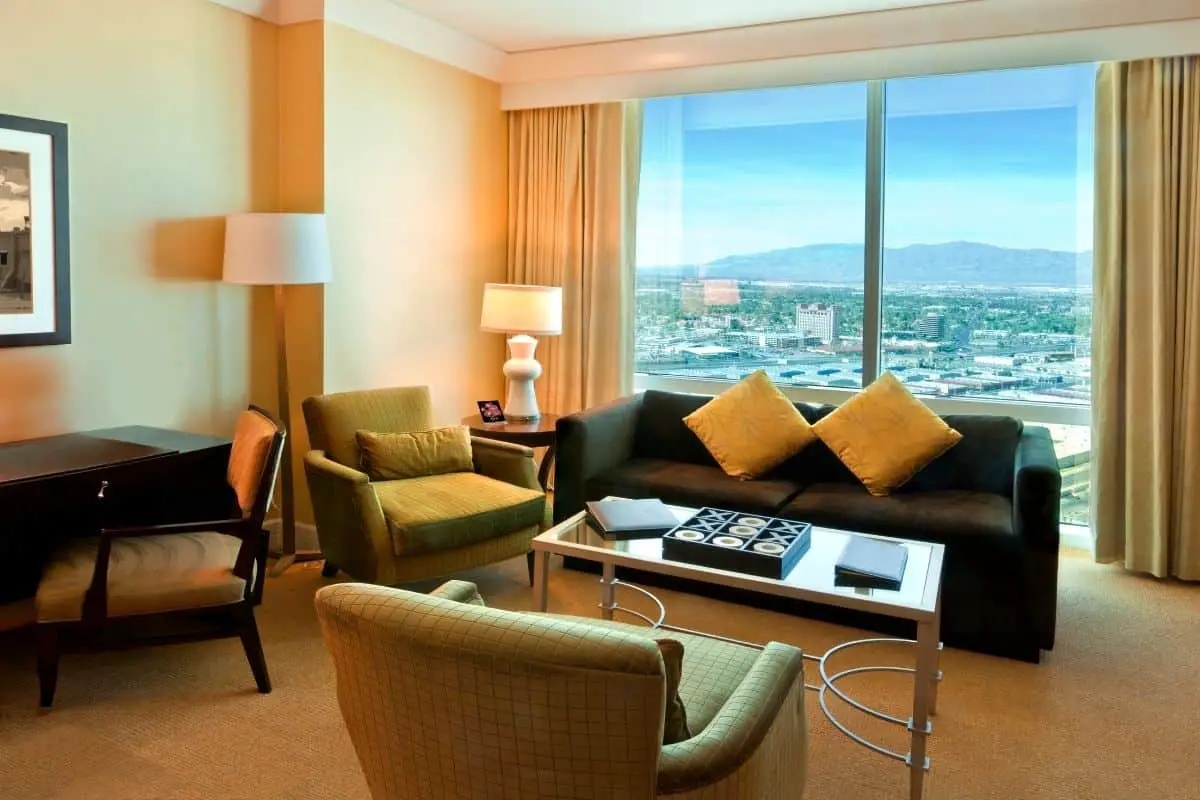 Las Vegas is a huge tourist destination, so you'll have no trouble finding accommodations. There are plenty of options that will suit both your style and budget.
If you're visiting Vegas for the first time and enjoy the energy of the city, consider staying on The Strip or Downtown. Here, you can find the best bars, clubs, and casinos and really see what Las Vegas has to offer when the sun goes down. 
If you're looking for something a little more relaxed and away from the noise of the city, look for places in Spring Valley or Summerlin.
You'll find high-quality hotels that can give you a quieter experience than the main city, but you'll still be surrounded by beautiful restaurants, stores, and local events taking place in the area.
Consider Your Guest List
The whole point of an elopement is that you and your partner get to do it your way. That might mean jetting off to Vegas in secret, or it might mean bringing the family along!
It's entirely up to you what you decide to do, but be aware that having guests means that there are a few more considerations to make when it comes to transport, food, drinks, and accommodation. 
When it comes to destination weddings, it's usually best to keep the guest list small, especially if you and your guests are on a tight budget. You should be prepared for some people not being able to make it, especially since Vegas can be quite an expensive city.
If you've decided to elope alone and in secret, make sure you're tactful in how you announce the news. It might go down well with no problems, however some friends and family may feel hurt that they weren't included in your wedding.
It can be difficult for some, especially immediate family members, to understand that you wanted your big day to be between you and your partner. 
Sending photographs and a memento from your wedding day can help ease the impact of the news. Seeing you and your partner so happy is bound to make them smile, so do what you can to convey this news in a delicate way.
Choose Your Rings And Wedding Outfits
One of the most exciting parts of planning your elopement is choosing your wedding outfit and rings! It's the perfect way to symbolize your union and show off your personality.
What you decide to wear is completely up to you. You might want to go with a traditional white wedding dress and suit, or something completely different! The only rule is to make sure you're comfortable and wearing something that makes you happy.
Get A Marriage License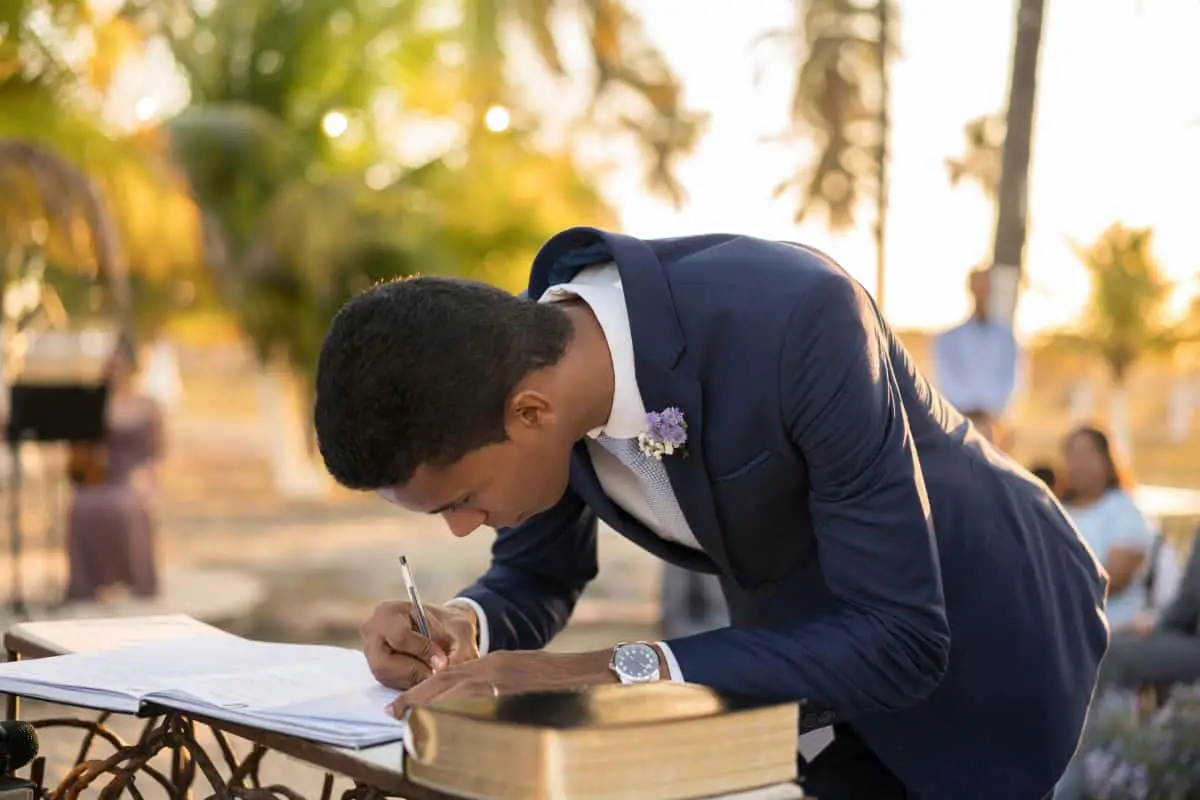 Now for the boring part! To make sure your union is legal, you'll need to obtain a marriage license.
If you've chosen an elopement package, make sure you go through it to see if you need to pick it up before the ceremony or if the package includes transport to pick it up. 
Getting a marriage license is quite simple and can be done within a day! To get one as quickly as possible, you need to:
Visit the Clark County Clerk's Office website and fill out a pre-application online form before you leave for Vegas.
Once you arrive in Vegas, head to the Clark County Marriage Bureau with a legal form of ID for both you and your partner, your Social Insurance Numbers, and the $102 dollar fee. The Bureau accepts driver's licenses, passports, military, and US or foreign country ID cards as a form of valid identification.
At the Clark County Marriage Bureau, you can use the express lane because you've already filled out the pre-application form. After they have checked your paperwork and IDs, you'll be given your marriage license.
Keep in mind that if you're an international couple eloping in Vegas from another country, you'll need to check what legal marriage documents your country of residence needs you to fill out beforehand so that your marriage is legal and recognized. 
How Much Does It Cost?
There are many things that might influence the cost of your elopement. It all depends on how elaborate you want your ceremony to be, how long you'll be staying in Vegas, and what wedding package you choose, if you choose one at all.
The good news is that there are options for all budgets in Las Vegas. You can even get married for less than $100 if you're happy to keep things very basic. Simply put, how much your elopement costs depends on how much you have to spend.
Eloping In Vegas On A Budget
If you want to elope in Vegas but your budget is tight, there are a few things you can do to save money and still have a beautiful wedding.
Firstly, when you book your accommodation, make sure you thoroughly check the website and look for any hidden fees. While some hotels are relatively cheap, they can add a resort fee before you check out, which can add another $100 to your total cost.
This is why it's important to know the total cost of your stay and not just the cost of the room.
It's also recommended to travel and stay on a weekday if you're planning to elope on a small budget. Weekends are often the most expensive days to fly and stay in a hotel, so look for a lower weekday price.
You should also take the time of year you'll be visiting into consideration, as Vegas can be busier and more expensive during the different seasons when tourists arrive.
Finally, if you decide that you want to book an elopement package, consider one of the luxury packages. While the basic packages are cheaper, the luxury packages will include plenty of extras and make the overall package better value for money.
It'll save you time and money if you pay one price for everything your wedding needs.
The Best Elopement Venues In Las Vegas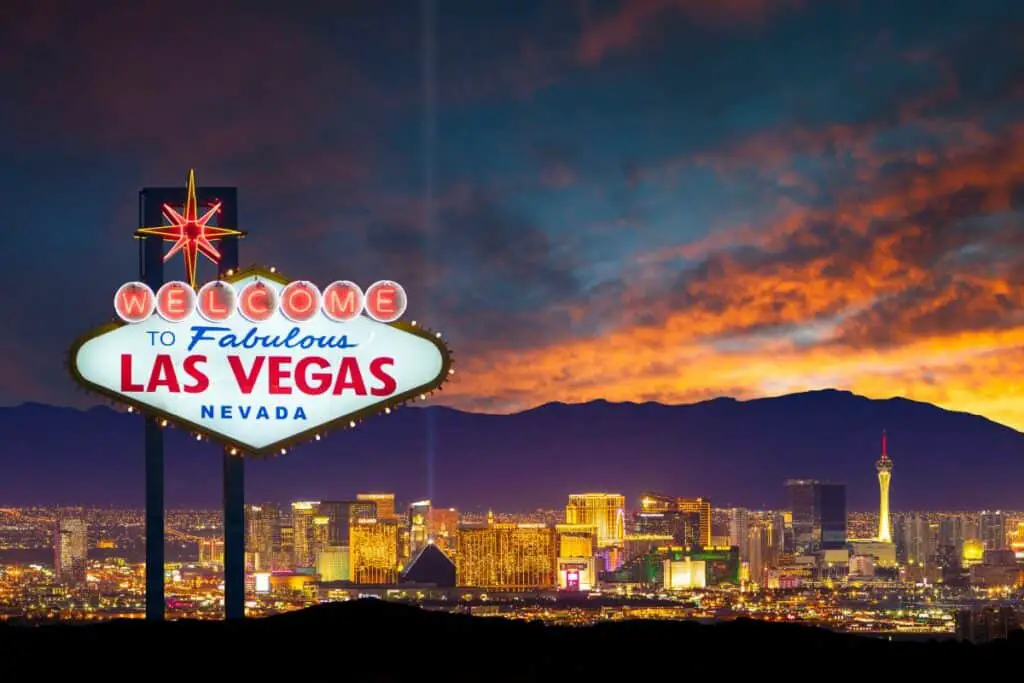 Now that you have planned your elopement in Vegas, it's time to choose the perfect venue for your ceremony! 
Las Vegas is full of incredible venues that suit all different styles and tastes, so here are some of the best ones that might be perfect for you and your partner.
Caesars Palace
For an extravagant wedding in one of the most famous hotels in the world, you can get married at Caesars Palace and take advantage of one of their wedding packages!
This huge hotel offers five different on-site locations for you to choose from, including an outdoor gazebo, the main ballroom, or an indoor wedding chapel.
Their packages include plenty of extras and can give you everything you need for your ceremony, even accommodation in one of their incredible rooms!
Under The Las Vegas Sign
The "Welcome to Fabulous Las Vegas, Nevada" sign is one of the most well-known aspects of this great city. Many couples choose to say "I do" under the sign and make it known that their marriage began in Las Vegas.
Getting married under the Las Vegas sign is the perfect option if you're on a smaller budget; Las Vegas Strip Wedding offers a package that includes your venue, minister, photographer, and flowers for only $299! 
Graceland Wedding Chapel
For couples who can't resist a bit of tacky fun, the Graceland Wedding Chapel is perfect! For just $299, you can have a classic Vegas wedding with your very own Elvis impersonator!
It might not be for everyone, but a singing Elvis that will marry you to your one and only could be exactly what you're looking for.
Valley Of Fire
The beautiful red sandstone outcrops that give the Valley of Fire its name provide an amazing background for your wedding and photographs and could be exactly what you're looking for in a wedding venue.
If you enjoy the peace of the desert and want to take the most beautiful wedding photos, you can get in touch with a planner who can help you walk into the sunset with your new spouse
Paris Las Vegas Hotel
Paris might be just out of your reach, but thankfully, Las Vegas has its very own! At the Paris Las Vegas Hotel, you can walk down the aisle in classic French style!
Wedding packages start at $849 and have everything you need to make your big day special. You can even upgrade your package and get married on their replica Eiffel Tower Viewing Deck. Now that's magnifique!
Venetian Resort
The incredibly unique Venetian Resort features a Grand Canal with gondola rides that really capture the romance of Italy. 
As you float down the canal and see the sights of Vegas' own little Italy, you can elope on one of the resort's signature wedding gondolas in brilliant white. A ceremony like this will make you feel like you're in a completely different world!
Red Rock Canyon
Red Rock Canyon is about 20 minutes from The Strip and provides a distinctive desert setting for an intimate wedding.
When you arrive in the canyon, you'll discover serene, undeveloped areas for your ceremony that are guaranteed to delight any fan of the great outdoors.
The Overlook, Red Springs Boardwalk, or Ash Springs are three additional ceremony venues in the park that all offer stunning photo opportunities.
You can get the permits, a ceremony, flowers, pictures, and limo transportation with a Red Rock Canyon elopement package for a price you can't ignore!
Your Honeymoon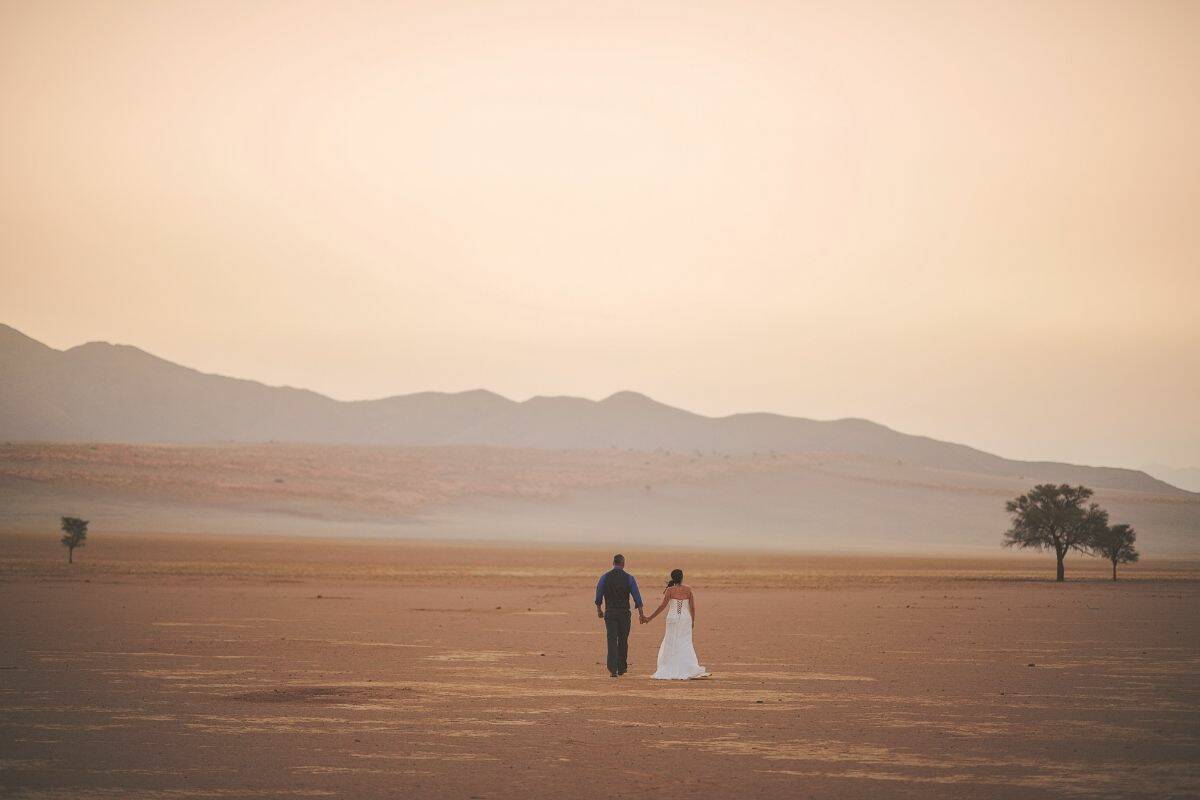 Once the wedding is done, it's time to celebrate! If you have guests, you might head to your reception, but if it's just the two of you, the honeymoon begins!
What's great about an elopement in Las Vegas is that it's a wedding and honeymoon in one! You're already on vacation, so now you can relax and enjoy the start of married life. 
There's plenty to do and see in Las Vegas, and for many people, it's the vacation of a lifetime. Start with a fancy meal or a relaxing trip to the spa to wind down after your big day, and then you can start exploring everything the city has to offer.
Fremont Street Experience
The historic Fremont Street casino sector, which is still one of the best things to do in Vegas, keeps reinventing itself into a spectacular entertainment area thanks to new attractions, ongoing live entertainment, and affordable dining options.
Nearly everyone pauses to see the above-canopy light and sound display, which plays favorite tunes with digital light accompaniment.
Downtown Container Park
This outdoor shopping mall was built from refurbished shipping containers and offers places to shop, unwind, and eat.
There is always something going on thanks to the frequently featured events and entertainment, and there is nowhere better to enjoy some outdoor dining.
The Fountains Of Bellagio
The distinctive dancing fountains at Bellagio are possibly The Strip's most well-known feature.
The 8.5-acre lake in front of the resort is home to more than 1,200 geysers. The musical fountain bursts into action every half-hour in the afternoon and every 15 minutes from evening until midnight.
High Roller Observation Wheel
In the heart of the city, you can find the world's largest observation wheel, where you can admire the incredible views of Las Vegas. 
The slow-spinning wheel takes you 550 feet above the city, showing you the entire Las Vegas skyline and the desert that surrounds it. In just 30 minutes, you will have seen the whole city!
Check Out The Elopement Venues!
Even if you don't choose one of the above venues for your wedding ceremony, you should still pay a visit to each of them! They're all must-see landmarks that you should make the most of during your Las Vegas experience.
Final Thoughts
Elopement planning in Vegas is one of the most exciting things you can do, and it truly is an adventure! With this guide, you'll be able to have the wedding of your dreams and take advantage of everything Las Vegas has to offer.

Latest posts by Lisa Plaitt
(see all)