The average cost of a wedding in America is well over $30,000. And while some people spend less, others are willing to shell out even more money for the perfect day.
But what happens when you don't have a big bank account?
There are plenty of affordable options for those looking to tie the knot without breaking the bank. You just have to know where to look.
For instance, if you're planning a destination wedding, consider taking advantage of the many resorts that offer all-inclusive weddings.
These venues typically include everything from accommodations to entertainment. Some even provide transportation to and from the airport.
While these types of events aren't cheap, you'll likely save hundreds of dollars compared to traditional weddings held at hotels.
Plus, you won't have to worry about finding a caterer because the resort does it for you.
Another option is to host a destination wedding at one of the many beaches around the world.
Many of these spots offer free lodging, plus there are usually plenty of activities to keep guests busy during the day.
If you're looking for something a little different, consider renting a houseboat or yacht.
Guests can enjoy the view from the water while enjoying drinks and snacks served aboard. There are also plenty of activities to do, such as kayaking and snorkeling.
Other options include hiring a local vendor to perform certain tasks, such as DJing or providing catering. This way, you can focus on making sure everyone feels comfortable and relaxed.
Really Cheaper?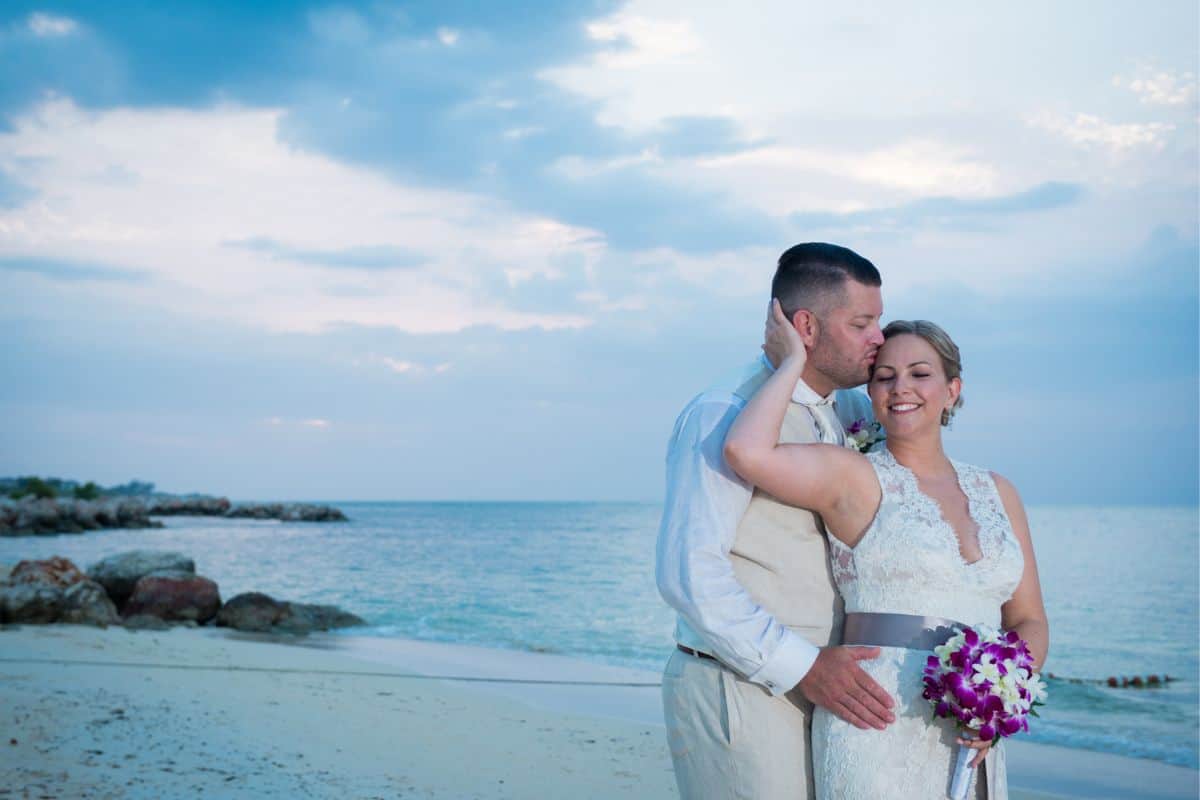 Destination weddings are becoming increasingly popular. They're great for couples looking to elope, honeymoon abroad or just enjoy some special time away.
But do they really offer a cheaper alternative to traditional ceremonies?
A recent survey found that the average cost of a destination wedding is $12,500.
While that price tag might seem high, there are ways to cut costs without compromising quality. A destination wedding can still be very personalized and unique while saving money.
Overall Budget
A destination wedding takes some serious planning.
You'll pay for your travel expenses — flights, hotels, car rentals, etc. — along with the wedding package at the resort where you plan to tie the knot.
Plus, you'll need your wedding gown, tuxedo, accessories, shoes, flowers, food, music, photography, videography, invitations, reception hall rental, cake, and alcohol.
And don't forget about the honeymoon.
It's a good idea to figure out how much you can afford to spend all together. Then figure out how much you can save between now and your wedding.
Travel Costs
If you want to save money while traveling, it pays to look into booking a charter package.
A charter flight typically costs less than a regular ticket because there are fewer passengers on board. Plus, you won't have to worry about paying for checked baggage or changing planes.
Charter packages include everything you need to make your trip comfortable. You can usually find discounts that apply to specific cities, hotels, resorts and airlines.
Destinations
Planning a destination wedding can save you money, but it does require a lot of work.
You'll want to make sure you're working with someone knowledgeable about what you want, where you want to go, and how much things cost.
If you're interested in a destination wedding, (see also: Welcome Bags For A Destination Wedding)here are some places that offer great options.
1. Mexico
Mexico is an easy choice for a destination wedding because it offers a diverse landscape and a variety of climate zones.
It is filled with gorgeous beaches, tropical islands, lush rainforests and relaxing resorts, and there are plenty of options for outdoor weddings.
Plus, it's close enough to the United States to allow guests to travel easily. One downside to Mexico is that it isn't the cheapest option. However, it's still reasonable compared to others.
And while some couples might opt for a traditional ceremony in one of the many beautiful cathedrals located throughout the country, others might choose a more casual affair at a friend's backyard.
The most popular locations include Puerto Vallarta, Riviera Maya, Playa del Carmen, Cozumel, Tulum, Oaxaca, Veracruz, Cabo San Lucas, and Mazatlan.
These cities offer everything from charming colonial towns to bustling metropolises.
Whether you want to say "I do" amid breathtaking views of the Caribbean Sea or among the ruins of ancient civilizations, Mexico has something for everyone catering for all budgets.
If you are looking for a resort where you can enjoy some privacy while still having access to the amenities of a full-service hotel, look no further.
Finest Playa Mujeres
Finest Playa Mujeres is a beautiful Mexican resort that offers couples everything they could possibly want for their special day. From elegant dining options to gorgeous beaches to adult-only retreats, there is plenty here for everyone.
Finest Playa Mujeres caters for up to 250 people and includes accommodations for both families and singles alike. Couples can choose from one-, three-, five- and seven-bedroom villas.
Each villa features a large living room, fully furnished kitchen, separate bedroom(s), bathroom, patio area and outdoor pool.
The resort has a variety of activities for guests of all ages. There is a children's club, tennis courts, golf course, spa, fitness center, restaurants, bars, shops and even a movie theater.
Guests can relax around the pool, take advantage of the spa treatments or play games in the arcade.
Prices start at $850 for a basic wedding package.
Costa Sur Resort & Spa, Puerto Vallarta
This affordable beachfront property offers couples a romantic setting for their nuptials. Couples can choose from three ceremony locations: the beach, the garden, or the rooftop terrace.
The resort also features a variety of packages, including weddings where guests receive free food, drink, and accommodations.
There are several dining options, including a buffet restaurant, a Mexican restaurant, and a steakhouse.
Guests can relax by the outdoor swimming pools or work up a sweat in the fitness center. Other amenities include a spa, sauna, steam room, and massage therapy.
Wedding packages start at $119 per person per night.
2. Hawaii/Hale Koa Hotel – Honolulu, Oahu
Hawaii is full of natural beauty, including stunning beaches, volcanoes, waterfalls, and rainforests. Couples can enjoy the outdoors without breaking the bank.
There are plenty of resorts located throughout the state that offer everything travelers could ask for.
Plus, Hawaii is relatively easy to reach from major cities like New York City, Los Angeles, Chicago, and San Francisco.
Hale Koa has a selection of beautiful outdoor and indoor event spaces for wedding ceremonies and receptions located in Honolulu, Hawaii.
They also have other amenities including catering and event design. Couples looking to get married at Hale Koa must have a military sponsorship or be in the armed forces.
They offer very affordable rates for wedding reception at an average of $40 per guest. Wedding ceremonies at their gardens start at $750.
3. Aruba
Aruba is one of the most romantic destinations in the world. With clear turquoise waters, white sand beaches, and lush tropical vegetation, it's no wonder why couples choose this idyllic locale for their dream wedding.
The gorgeous island of Aruba offers couples a wide variety of wedding options.
From intimate resort settings to lavish five-star resorts, there is something for every couple looking for a memorable experience.
Whether you're planning a small ceremony and reception or a large celebration, Aruba has everything you could possibly want. You can even book multiple events throughout the day to accommodate everyone involved in your big day.
RIU Palace
RIU Palace offers their 4 New Wedding Collections that are designed to help couples plan their special day while staying within their budgets. They offer different collections depending on what type of venue you choose.
Each package includes a beautiful invitation, a personalized map of your chosen destination, a detailed itinerary and a list of recommended hotels.
All of their packages include a professional photographer, a videographer and a florist. They also come with a personalized thank you note from the resort.
They have customizable options depending on budget, making it a reasonably priced option for a wedding.
Amsterdam Manor Beach Resort
Another Aruba offering, this Dutch-colonial boutique resort sits on the edge of the Atlantic Ocean in Aruba. Its bright colors and playful atmosphere make it perfect for honeymoons and elopements.
Guests can choose from four different room types, including villas, suites, and oceanfront rooms.
Each unit features a balcony, king bed, air conditioning, flat screen TVs, Wi-Fi, minibar, safe box, and en suite bathroom. There are three pools on site, including a large infinity pool, Jacuzzi, and children's pool.
4. St. Thomas
St. Thomas is one of the most beautiful and unique places on earth.
This tiny island located off the coast of Puerto Rico attracts engaged couples looking for a relaxing vacation where they can explore nature, relax, and take advantage of some great beaches.
Couples planning a destination wedding in St. Thomas are finding themselves drawn to the island because it offers many advantages over traditional destinations.
They include affordability, easy access, and a wide variety of accommodation options.
The island is home to several popular wedding locations including the historic Christiansted National Historic Site, the Hilton Virgin Islands Resort & Spa, the Westin St. John Resort & Villas, and the Wyndham Grand Hotel.
These properties offer everything from intimate ceremony sites to larger reception spaces that accommodate up to 500 people.
In addition to being able to choose from a number of different accommodations, couples can find plenty of incentives to make things even easier.
5. Jamaica
Jamaica is one of those places where it feels like every day is a vacation. From the moment you arrive until the moment you return home, there are endless opportunities to enjoy yourself.
This beautiful island offers everything from white sand beaches, lush jungles to towering mountains and friendly locals. You can find a wedding package here that lets you tie the knot in style.
Compared to some other destinations in the list, Jamaica does not offer a high number of hotel rooms. In spite of this, hotels tend to charge less per room compared to other destinations.
Sunset at the Palms
Located just outside of Negril Village, this resort offers guests the chance to enjoy a secluded getaway while still being close enough to everything else.
Situated among lush forests and providing a level of tranquility almost unparalleled, this resort aims to deliver the most intimate Jamaican marriage experience possible.
Guests stay in raised Asian/Caribbean style treehouses to offer a cozy, unique tropical setting.
The entry-level wedding package starts at just $599 and can be free when meeting certain booking requirements.
This package offers the continual assistance of their experienced wedding planner, floral bouquets and boutonnieres, wedding cake and sparkling grape juice, and special dinner reservations amongst many other amenities.
Upgrading options include custom decorations, catering, and even a honeymoon suite.
The Caves Hotel
The Caves Hotel is a Jamaican wedding destination offering breathtaking views and luxurious amenities, The Caves Hotel is the perfect setting for couples looking for the ultimate tropical wedding ceremony.
The hotel features 12 cliff-side cottages, each with its own terrace overlooking the ocean, and a grand villa ideal for larger celebrations. Couples can choose from three packages, ranging from $2,500-$5,500 per couple.
Guests can enjoy the convenience of having everything they need within walking distance, including restaurants, bars, and shops.
6. Vietnam/Swandor Cam Ranh
The beaches of Vietnam are beautiful and wide with soft, white sands and warm, deep blue waters. But there's one beach that stands out above all others – Bai Dai Beach.
Located about 20 minutes south of the resort town of Nha Trang, it's the largest stretch of sand in southern Vietnam. And it's home to the Swandor Cam Ran­h Resort.
This is a large, cheap all inclusive resort set right on the beach. Rooms come with air conditioning, Wi-Fi, cable TV, minibar, safe, fridge, balcony and en suite bathroom. They even offer free laundry facilities.
If you are planning a wedding here rest assured there's plenty to do here. Guests can swim in the sea, play volleyball, go scuba diving, try snorkeling, join a fishing trip, go horse riding, take part in sports competitions, watch movies under the stars, or simply relax on the beach.
In addition, there are lots of restaurants and bars serving up Vietnamese food, Western dishes, seafood, pizza, ice cream, coffee, tea and cocktails.
7. Dominican Republic/Viva Wyndham Tangerine
Viva Wyndham Tango Beach Resort & Spa sits on the beautiful white sand beaches of Cabarete, Dominican Republic. From here you can experience the tropical beauty of the Caribbean Sea and the turquoise waters of the Atlantic Ocean.
With a total of 474 guest rooms and suites, including 20 villas, the resort offers plenty of space for families and wedding groups alike.
Guests can choose from a wide range of room types, from standard hotel rooms ideal for couples to spacious junior suites perfect for large families.
All rooms feature air conditioning, cable TV, minibar, safe, Wi-Fi internet access, and en suite bathrooms complete with shower, hairdryer, toiletries, and bathrobes.
In addition, guests can take advantage of the restaurant and bar options available at the resort.
Four dining venues offer a choice of international cuisine, including Italian, Mexican, Asian, and American dishes.
For drinks there is a full selection of cocktails, wines, beers, and spirits. A fitness center and spa provide additional recreation opportunities.
In Summary
Getting married need not cost the earth. With careful planning and research, you can have your dream wedding without breaking the bank.

Latest posts by Lisa Plaitt
(see all)