Ever stumbled upon a picture-perfect wedding album and found your gaze immediately drawn to the groomsmen attire? It seems as though they've got their game right on!
From their waistcoats to suspenders, pocket squares to shoelaces, everything is impeccably in sync. That casually thrown over the shoulder suit jacket had you telling yourself – "Now these guys know how to dress!" And why not? The spotlight isn't just on the bride and groom anymore.
Dressing up your band of brothers just got interesting, exciting, and let's admit it – sometimes confusing! Because let's face it, that wedding celebration is also a fashion ramp awaiting your distinct signature style!
Whether you are basking in the classic charm of structured tuxedos or flirting with the casual chic vibe of pastel linen suits – getting your groomsmen attire on fleek can feel like acing that perfect putt on a golf course – victorious yet satisfyingly elusive.
So, buckle up as we embark on this sartorial journey, living breathlessly through the sea of satin, wool, silk or tweed – decoding those elusive gentleman codes from the classic aisle stroll black-tie events to footloose beach weddings.
With a merry brigade of brand reviews and styling hacks, here's your breakdown of 'Unique Groomsmen Attire Ideas: From Classic to Casual Chic'! Let the stylish mayhem begin!
Understanding the Importance of Groomsmen Attire
The unison stomp of top-notch designers' shoes. The swashbuckling swing of thoughtfully chosen cufflinks. And oh, the undeniable appeal of a perfectly-tied bow tie!
Beyond the dazzle and glimmering aesthetics lie the subtle yet significant roles of style choices. That's precisely where the groomsmen attire steps in on your big day!
Gone are the days when it was just about slapping on a suit, a matching tie and calling it a day, folks! No no, groomsmen's attire is now less about uniformity and more about expressing individuality while still being part of a harmoniously dressed tribe.
Consider this freedom as your stylistic wild card – one that can make your wedding photos screamingly eye-catching! But wait, there's more.
Dressing up your groomsmen well isn't just about their dapper looks. It adds an additional feather in your wedding theme's cap! A well-coordinated groom-party breathes life into the vibe you've envisioned for your happily ever after.
Think quaint suspenders for rustic-themed weddings or debonair tuxedos for luxurious castle settings – every choice narrates a story so distinctively you!
Dreamy musings aside, know that these valuable strains of insights start making complete sense when you see your neatly attired comrades buoyantly walking down that aisle.
Hail to those good-looking gents complementing your grand celebration in a spectacularly sartorial symphony!
Exploring Sophisticated Groomsmen Outfit Ideas
A smoky jazz lounge. A glass of neat scotch swirling around casually in hand. If that invokes an image akin to James Bond or Don Draper, then you're halfway into understanding the realm of sophisticated groomsmen outfits.
If there's an undeniable invitee to Sophistication Central, then it's the classic black and white tuxedos.
Timeless, debonair, and as slick as a secret agent on a mission, they bring an unmistakable level of distinction to your groomsmen. Picture Sinatra crooning in the background as your friends epitomize that golden-era charm.
Setting sail towards modern elegance? Dock at navy suits adorned with floral ties – envisioning your squad in nautically-inspired classiness. Now who's to say sophistication doesn't have color, eh?
For outfits that serve style hot and haute, mix your stylistic cocktail with mismatched gem-tone suits topped off with bolo ties and flat brim hats! An oddball combination but cleverly done that oozes an intrinsic swagger whilst staying within the realm of refinement.
The stylistic repertoire of sophistication leans heavily on factors like season, venue, time of day and overall wedding style. It's not just about being elegant but being appropriately elegant.
Rent from companies like Generation Tux if buying seems too steep. Because sophistication shouldn't come at the cost of being financially savvy!
Dressing Down: Casual Groomsmen Attire
Who said casual can't be stylish? Fashion happens when you're having fun and nothing screams fun louder than rolling up your sleeves, loosening your ties, and turning the sophisticated dial down a notch or two.
Let's talk untraditional. Casual groomsmen attire is not about donning worn-out jeans and t-shirts. Oh, surprise! Rather, it's about light-colored suits, varying patterns, and fabrics that break away from the traditional monochrome of formal weddings.
Think beach wedding – sandy toes, saltwater breeze, and groomsmen in breezy linen suits with tropical print shirts underneath. Or imagine a rustic barn affair with your party sporting earthy tones with a plaid shirt charm. Now tell me if casual hasn't suddenly become far from ordinary!
Accessories aren't sidelined in this laid-back vibe. On the contrary, they become significant contributors to uplift the style quotient. The right tie with a quirky pattern or a fashion-forward watch can do wonders to jazz up even the most relaxed outfit.
Fashion-savvy man about town? Navigate through brands like The Tie Bar, J.Crew, Dandy Del Mar, Percival or Banana Republic to set your scoo in casual depiction.
Getting Dapper with Groomsmen Accessories
Accessories – the small yet mighty wingmen to your groomsmen ensemble. Though working silently in the backdrop, they play a decisive role in personalizing the outfits while adding an extra dash of dapperness.
Think along the lines of a sleek pocket square color-coordinated with your wedding palette, or a standout pair of cufflinks inching up the exclusivity.
For a ritzy twist, elevate the ensemble with washable ties in lustrous blush silk – sophistication that equals sustainability.
For those stepping into relaxed informal settings, reach for alternative accessories that exude an easy-going vibe. A Bohemian-inspired beaded bracelet, wooden bowtie or perhaps a vintage leather belt could spin the magic!
Pondering over ideas that magnify meaningful connection? Consider customizable accessories. Nixon, for example, offers splendid watches which can easily be engraved with messages or initials, creating timeless memoirs for your groom's party.
Remember, the key lies not in decking up your tribe in accessories but selecting few impactful ones that cater to individual personalities — thus helping each one to stand out within the unified look.
Maximizing Utility with Rental Options for Groomsmen Attire
Let's embrace it: weddings are expensive and prudence, especially when it comes to spending on one-time outfits, can be quite a savior. Enter the world of rentals – your knight in shining armor rescuing you from those sky-touching bills!
Now, if you're visualizing worn-out, ill-fitted ensembles when I mention rentals – let's divert our thinking! Quality rental services like Generation Tux have embraced the call for fashion-forward yet affordable solutions.
Offering a wide range of suave tuxedos and stylish suits perfect for your groomsmen gang; rentals are no longer the shabby backup option but rather, a smart canvas for your experimenting streak.
Couple that with perks like free trials of designs, complimentary swatches for color matching, and hassle-free returns. Suddenly, rentals assume this overarching aura of convenience with sophistication tucked in comfortably.
In conclusion: For those seeking to cut some corners without compromising on style or suffering wardrobe malfunctions – renting is indeed a strategy worthy of considering.
Mixing and Matching Groomsmen Outfits for a Unique Look
Okay, let's be real. Who doesn't love to mix things up a bit, especially when it comes to playing the style game? It's about taking your groomsmen attire from merely matched to majestically diversified!
The secret lies in mishmashing patterns, colors, and accessories without making it look like a mardi gras! The idea is to make each groomsman stand out while still maintaining the squad vibe. If that sounds like a tricky balance, hang on.
Try this on for size: opt for different patterned ties or varied textures for each groomsman while keeping everything else same. Or maybe same suits with different shirts underneath? This way, each one gets their moment in the sartorial sun while all together; they still look like part of one chic collective.
The cherry-on-top lies in playing with accessories – they can easily transform an otherwise similar outfit into something uniquely individualistic. Because your big day deserves that special touch!
Choosing Groomsmen Attire for Formal Weddings
Let's face it, formal weddings and classy groomsmen attire go together like crumpets and tea. There's something irresistible about a dose of classic elegance clashing with refined style. But how do you translate that into the perfect outfit? Let's break it down!
When considering formal attire, think rich, deep colors. Black may be the go-to hue, but who's to stop you from exploring shades like indigo, burgundy or dark forest green? Richer colors have a knack for injecting a sense of formality while keeping things interesting.
As for accessories, subtler is better. Yes, less can indeed be more! Go for ties or pocket squares with slight patterns that don't steal away the focus but rather complement and uplift the complete attire.
Is it even formal if it's not tuxes? Well, yes and no! While tuxedos can uphold formality like nothing else, dark-colored business suits are also a charismatic choice. It all comes down to your personal preference and what reflects the couple best.
Bottom line: Dressing your pals in formal attire can infuse your wedding with an air of traditional chicness that remains timeless in photos.
Setting a Casual Groomsmen Attire Theme
Pipe down, formal wear; casual has entered the building! Or shall we say, wedding? If you're all for breaking away from conventional norms and injecting your big day with a freestyle flair, setting a casual groomsmen attire theme is the way to go!
There's a common misconception that casual equals shabby or unkempt. Oh, how wrong can one be! The secret lies in picking relaxed wardrobe pieces that are tailored to perfection.
Visualize well-cut blazers paired with neat chinos in vibrant hues or beach-ready linen shirts teamed with smart trousers. And just like that, your wedding party is looking sharp and feeling comfortable – winning combo!
The beauty of going casual is the versatility it affords. Brands like Banana Republic not only offer a stellar range of relaxed yet smart options but also allow for mishmashing of outfit components to whip up a style that's uniquely yours.
In accessory land too, informal doesn't mean lackluster. Think leather bracelets or quirky hat additions that mirror the easygoing essence while maintaining their stylistic prowess.
Finding the Balance: Selecting the Right Groomsmen Attire
Ever tried walking on that ridge-like edge of a see-saw, simultaneously trying to balance both sides? Well, selecting groomsmen attire can sometimes feel a bit like that; balancing act between the overall wedding style and individual outfit choices. But worry not, my friends! Let's conquer this style conundrum together!
Your first consideration should be the wedding's overall tone. If it's a black-tie extravaganza, obviously you don't want your groomsmen showing up dressed for a backyard BBQ. Similarly, for a casual seaside 'I do', penguin suits would look awfully out of place while linen shirts would fit perfectly.
The next player on our balancing beam is matching or complementing the couple's outfit. Here's your golden rule – it doesn't have to be an exact match!
Rather than identical colors or fabrics, focus on capturing the same vibe or essence. A floral tie for an outdoor botanical wedding or textures echoing the bride's lace gown can help bridge that aesthetic gap wonderfully.
Finally, ensure your decisions honor your buddies' comfort and preferences as well. After all, they're shouldering important roles in your celebration!
Frequently Asked Questions
Can I mix and match attire for my groomsmen? Absolutely! Mixing and matching can add a fashionable flair to your wedding aesthetic, allowing each groomsman to exhibit his unique style. Remember to keep a unifying element to ensure the look is still cohesive.
Is it okay to choose casual attire for groomsmen at a traditional wedding? While ultimately it's your call, consider that casual outfits might seem out of place at a highly formal event. That said, if you're redefining 'tradition' with a twist, go for it!
What factors should I consider while selecting groomsmen attire? Look at the venue, wedding theme, season, time of day, and of course, the couple's outfit. It's about finding harmony between these factors to select the perfect attire.
Should groomsmen attire match the bride's dress? Not necessarily, unless it fits your vision! Instead, aim for complementary styles and colors that sync well with her gown without overshadowing it.
Where can I buy or rent groomsmen outfits? There are numerous options available – both online as well as in-store. Brands like Generation Tux or The Tie Bar for formal wear and Banana Republic or Percival for casual chic offer extensive choices.
Are rentals a good idea for groomsmen attire? Rentals can be an excellent option to save costs without compromising on style – especially if your preference leans towards designer suits or tuxedos! Plus, several rental services offer trial options and easy return policies.
Remember: Each wedding is unique and so should be its sartorial story! Embrace this opportunity to create memorable style moments.
Wrapping It Up
So there you have it, folks – unlocking the fashion combination to your impeccable groomsmen entourage doesn't have to be a puzzling endeavor anymore! It's all about embracing the wedding vibe, advocating individuality within a collective, knowing when to stick to classics or shake things up a bit.
Remember, whether you go for the suave sophistication of tuxedos, the relaxed charm of casual chic, or something entirely unique on the style spectrum – it's all about feeling fabulous and picture-ready at every step! So go ahead; let's show those aisle walkers exactly how it's done.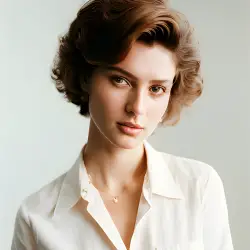 Latest posts by Carol Chatham
(see all)