Imagine your big day, right at the edge of cerulean waves, under a mesmerizing sky. Yes, a beach wedding is undeniably enchanting.
What if I told you, you could elevate this magic a notch higher? Oh yes! Welcome to the world of stunning beach wedding arches that not only add charm to your wedding photos but also drop jaws in real-time.
From rustic Tuscan olive twig arches blooming with roses and daisies to vibrant tropical-themed arches that flaunt a splash of color, each style tells its own love story – your love story. You could even take the boho route and opt for a palm-made arch, fusing perfectly with the natural beach environment.
And for our daring brides allergic to flowers? We've got mirrored wedding mandaps designed exclusively with non-allergic materials – just as splendid as traditional arches!
But don't just let my words paint you a picture. Stick around as we explore these breathtakingly beautiful arch designs and more, offering you inspiration from real-life weddings and event planning pros.
You see, whether it's autumn hues incorporated into your setup or gazebos replacing traditional arches for some exclusivity, your wedding backdrop can be as unique as your love story!
Inspiration Behind Unique Beach Wedding Arch Design
Are you puzzled over how to pick the perfect beach wedding arch? Right choice of the wedding arch is influenced by a combination of factors: your theme, your location, your personal style and color palette, and yes – even the season of your special day. The key lies in keeping it in harmony with your overall vibe.
And where can you find inspiration for these awe-inspiring designs? Look no further than social media darlings like Pinterest and Instagram. They are teeming with flamboyant visuals and trendsetting ideas that can serve as your design go-to.
But wait, there's more! Porch through wedding photography websites like Amy Abbott Events, June Bug Weddings, and Deer Pearl Flowers. They house tastefully curated arch designs which are nothing short of artistic brilliance.
And remember this— there's no single custom-fit arch destined for you. Feel free to mix and match elements from diverse designs to create something uniquely 'you'. Want an autumn-colored arch for a summer wedding? Go for it! It's all about creating that individualistic blueprint that resonates with your love tale.
The Allure of Tuscan Olive Twig Wedding Arch
Romance in the air and rustic charm on the ground – sounds like a Tuscan-inspired beach wedding, right? Imagine exchanging vows under an arch adorned with olive twigs and a medley of roses, daisies, and freesias. Ah, pure bliss!
It's not merely about the constituents of the arch – it's about telling a tale. A tapestry of white, pale pink and yellow floral notes intertwined with olive twigs unravels a narrative of romance, rusticity, and everything inherent to Tuscany.
The rustic tone of olive twigs creates an amorous connection with the surroundings while the soft-hued florals effortlessly complement this palette. The result is a wedding venue that whispers sweet tales of an Italian countryside right onto your tropical beach. Isn't that quite something?
So if you're looking for an arch theme that speaks volumes of rustic beauty and love, borrowing from the scenic vineyards of Tuscan countryside could be your perfect bet!
Going Boho with a Palm-made Beach Wedding Arch
Planning a destination wedding? Why not let your wedding locale inspire the decor! Consider a Mexican beach wedding, where the palm fronds sway to the rhythm of your love. What could be more fitting than a palm-made arch for some added boho bliss!
This nifty idea, a palm-made arch, isn't just about tapping into the destination's vibe but about bringing out the relaxed, fun spirit of boho style. It's uncomplicated yet winsome, ideal for couples that believe less is indeed more.
Picture this: A streamlined arch made entirely of palm leaves; beach sand underfoot matches the sun-bleached color of weathered wood, the quiet ocean waves whispering blessings in your ears. Certainly feels like you're standing in a unique piece of nature's artwork, doesn't it?
So if you're seeking to blend tradition with fun and festivity, then let nature be your muse. Bring out the free-spirited bohemian in you with an easy-breezy palm-made beach wedding arch!
Elevate Your Autumn Wedding with Seasonal Colored Arch
Dreaming of a fall beach wedding? Well, then let's turn that beach sunshine into golden autumn sunrays under a seasonally-inspired wedding arch!
Think about it – the ubiquitous blue of the ocean meeting the rich hues of fall can create an extraordinary backdrop for your "I dos."
Incorporating the colors of autumn such as burnt orange, deep red, and marigold yellow into your beach wedding arch can yield a stunning balance between the serene aquatic and the cozy autumnal vibes. Think cascading fall leaves, burgundy roses, or even amber-hued ribbons waving in the gentle sea breeze.
Remember, marrying off-season needn't imply compromising on aesthetics. In fact, the fusion of sea and season can set your wedding apart – reflecting both your adventurous spirit and your love for coziness.
This way, you'll not only celebrate your union but also give a loving nod to Mother Nature in her resplendent autumn garb. Now isn't that elevating romance to a whole new level?
Gazebo as a Unique Beach Wedding Arch Alternative
In the playbook of distinctive weddings, tradition often makes way for innovation. So, how about swapping the conventional wedding arch with an elegant gazebo? Right at the beach, this might just be your key to exclusivity!
Imagine a quaint gazebo, standing tall amidst sun, sand, and the sea. It not only brings together the magnificence of the beach but also lends an aesthetic structure to your ceremonial setup.
Picture it: draped in swaths of pastel-hued fabric, adorned with floral garlands or laden with climbing roses – you've got yourself a romantic gateway that'll wow your guests!
Take a leaf from resorts like Sandals Emerald Bay in the Bahamas where gazebos have seamlessly replaced traditional wedding arches. As you step into marital bliss beneath this charming structure, you create an unforgettable spectacle – adding that extra dash of elegance and novelty to your big day.
Styling a Wooden Beach Wedding Arch
Designing a beach wedding arch often leans towards elaborate floral or fabric arrangements, but what if we took it back to basics? Let's talk about the seamless marriage between natural beauty and minimalistic elegance: a wooden beach wedding arch.
Combining wood with simple floral elements results in a clean yet elegant aesthetic, which effortlessly blends with the serene beach environment.
The unpretentious charm of wood adds depth to the design without compromising its simplicity, while sparse floral embellishments lend a soft, romantic touch.
Conceptually, a wooden arch supports not just the intricacies of the ceremony but also encapsulates values like strength and enduring beauty that resonate with the institution of marriage. Aesthetically, it harmonizes the sandy ambiance with its earthy hues – creating an eye-catching yet subtle setup.
And remember, simplicity doesn't mean boring. You could add an element of personal flair with unique wood staining, intricate carving, or by combining different types of wood for visual interest.
More than just an arch, it will stand as the emblem of your bond – raw, robust and gracefully adorned!
Unfolding the Drama with Pampas Grass and Flower Arch
Ready to dial up the drama on your big day? Let's flirt with the bohemian side of beach weddings and introduce you to the game-changer: a combination of pampas grass and colorful flowers in your arch design.
If you're a fan of the boho-chic aesthetic but still want a touch of traditional blooms, a marriage between pampas grass and vibrant florals will be right up your alley.
The texture and earthy tone of the pampas grass adds depth to your setup, while the vibrant flowers bring in color and variety.
While pampas grass lends an effortless charm to your arch, colorful blooms spin their own enchanting tale — creating a visual treat for everyone around. As a result, you get an assemblage that's not only stylish but also draws attention through its unique blend of elements.
By choosing a pampas grass and flower combo, you welcome your guests into a fairytale-like scene: equal parts whimsical and dramatic. It's minimal, it's majestic; it's nothing short of striking!
Wedding Mandap – A Sensible Choice for Allergic Brides
Attention, brides! Have you ever wanted a beach wedding with a gorgeous arch but thought you couldn't because of your flower allergies? Well, fret no more. Let's introduce a mirror to your situation – a mirrored wedding mandap to be precise!
In case you've been wondering, "mandap" is not just an Indian wedding element; it can be adapted for any wedding. For brides who combat sneezes with bouquets, mirrored mandaps decorated with non-allergic materials like capiz shells are the way to go.
This innovative solution gives an interesting twist to your traditional flowery arch definition.
Therefore, being allergic does not mean you can't enjoy the perfect beach wedding setup. A Cabo beach bride chose such a mandap and guess what? It was as stunning as any florally decadent set-up can be! So go ahead, replace those flowers and get your dazzling mirrored mandap all decked up in shells.
Your aisle need not be strewn with petals that make you sniffle. Make it an avenue that mirrors your dreams.
Artistic Approach: Metal Sculpture Wedding Arch
Are you someone who's always up for a dash of difference, ready to step away from the norm? If yes, we've got just the thing for your beach wedding. Enter: metal sculpture wedding arches.
Not your traditional wood or flower settings, a sculpted metal arch brings in that unconventional touch you've been looking for. Modern aesthetics meet timeless sentimentality, adding an avant-garde twist to your setting.
While metal might not be the first material that comes to mind for a wedding arch, it makes quite the statement when sculpted into a gorgeous arrangement at the altar.
And don't think you're limited by your material choice either; play around with designs and finishes to add that personalized touch.
Take inspiration from Tom Ham's Lighthouse in San Diego where an intricately designed metal arch set against the ethereal backdrop of the ocean made the wedding utterly picture-perfect – proving that love stories need not always bloom under floral archways; sometimes they unfold beneath artistic metal masterpieces.
Choosing Vibrancy – A Tropical Themed Destination Wedding Arch
Have you ever considered letting your location play muse to your wedding décor? Welcome to the world of tropical-themed destination wedding arches, where vibrancy rules and spirits soar!
One of the greatest perks of a beach-side wedding is the infinite inspiration it draws from its surroundings. In a tropical setting, think about having an arch adorned with multi-colored flowers representative of the local flora.
An eclectic mix like hibiscus, plumeria or the classic orchid can add a vibrant pop to your wedding ceremony, making it both visually magnificent and inviting.
But hey, no need to stop at flowers. Add tropical leaves for that authentic touch or sprinkle some exotic fruits in between for fun!
And remember, no matter your color palette, there's always room for personal expression. After all, weddings are all about celebrating the uniqueness of two individuals joining together in love.
So here's to getting inspired: to turning toward nature's grand color palette, and to weaving these elements effortlessly into your day so that it not only wows your guests but also fills you with joy!
Going Beyond Tradition: Flower Wall as a Wedding Arch Alternative
Who says only arches can grace a beach wedding? Innovation is the new language of love, and if you're ready to converse, let's replace that arch with a brilliant flower wall!
Think of a traditional wedding arch, but make it wow. A flower wall acts as an innovative backdrop to your vows that adds an extra splash of color and character.
It could be drenched in lush roses or festooned with peonies; whichever flower tickles your fancy can be incorporated into this fresh take on the nuptial symbol.
Remember, when selecting blooms, consider volume—this can transform your backdrop into a lush floral tapestry that's literally blooming with innovation!
A winery used this brilliant concept for weddings where sprawling flower walls created a fantastic backdrop against breath-taking vineyards–case in point!
So here's to you—the bold bride; the gutsy groom. You're choosing to step beyond tradition into a world colored by creative expression. In choosing a flower wall, you're making more than just a style statement; you're crafting an unforgettable experience.
Frequently Asked Questions
1. Can I really replace my beach wedding arch with a gazebo?
Absolutely! If you're all for standing out and making your ceremony memorable, a gazebo could be a lovely alternative to a traditional arch. It provides an elegant structure to your setup and marries the beach's majesty splendidly.
2. I love the sound of the wooden beach wedding arch but will it hold up against seaside elements?
Wood is resilient and ideal for outdoor settings like beaches. To maintain its beauty, choosing weather-resistant types of wood or including protective coatings in your design plan can make it resistant to sea-salt air and humidity.
3. What kinds of flowers work well for a pampas grass and flower arch?
While pampas grass provides an earthy base, the choice of flowers should resonate with your personal style and wedding theme. Bright, colourful flowers like poppies, gerbera daisies or sunflowers can create an intriguing contrast.
4. Can I customise my tropical-themed wedding arch?
Definitely! The idea is all about letting your individuality shine through. From the choice of tropical flowers to the addition of other local elements like fruit or tropical leaves, you have total control over your arch's appearance.
5. Working with metal sounds interesting. How do I ensure it doesn't look too industrial for my beach wedding?
That's where creativity comes in! Choosing an artistic approach, working with a knowledgeable blacksmith and opting for elegant designs can result in a truly one-of-a-kind metal sculpture wedding arch that is neither too harsh nor too industrial.
Wrapping it Up
So there you have it, beach brides and grooms! We've journeyed from traditional floral arches to modish metal ones, sailed under rustic wooden canopies to luxuriating in tropical vibrancy, even explored nifty allergy-friendly alternatives like mirrored mandaps. There's an exotic world out there enriched with creative possibilities just waiting to be seized for your special day. So dare to dream and step out of bounds. After all, your love story is unique and that's exactly how your beach wedding should be!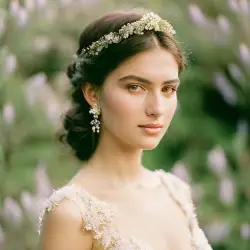 Latest posts by Rosie Liliy
(see all)